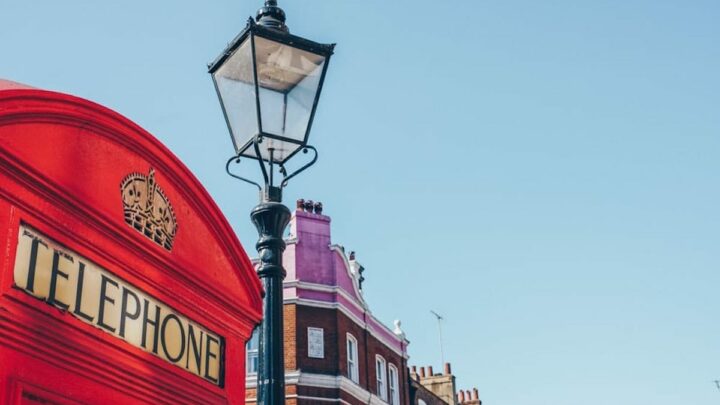 London is a vibrant and ever-changing city made up of a series of interconnected, but independent neighbourhoods. Don't miss this London area guide – 17 London neighbourhoods you shouldn't miss during your visit.
London is large, sprawling and can be hard to get your head around. Don't get us wrong – we love the capital, but we get that it can be difficult to make sense of.
From the old City of London to newer neighbourhoods, London is basically a collection of interrelated areas, each with their own independent identities, subcultures and (dare we mention it), football teams.
Where do you start? Where should you skip? Which are London's poshest areas? The coolest?
No fear, we've created this in-depth London area guide to help you navigate your way around the city like a pro.
A Guide to the Best London's Neighbourhoods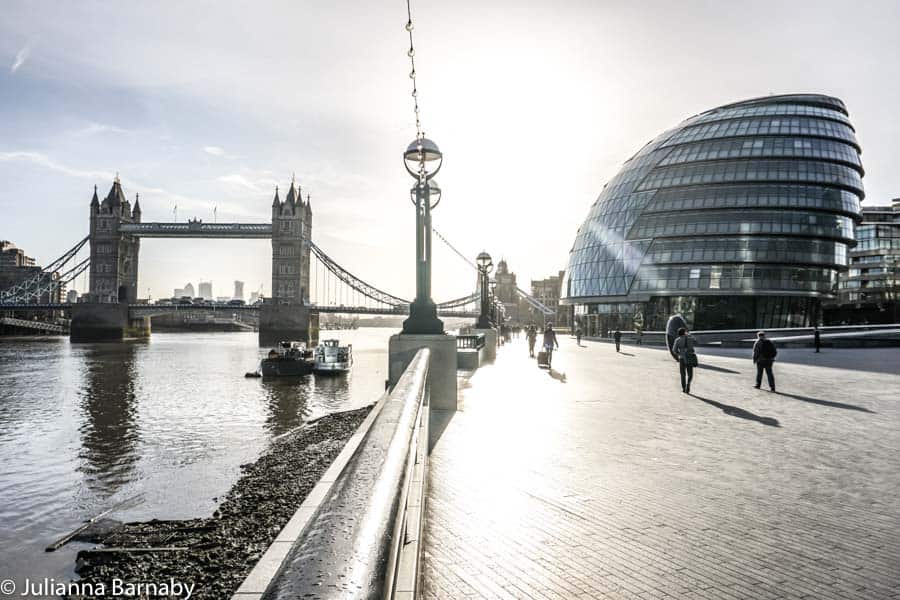 Choosing the best neighbourhood to stay in London or to visit during your trip can be overwhelming, with so many great options to pick from.
Do you go for the South Bank? Or perhaps trendy Shoreditch?
The answer really depends on what you're looking for during your trip.
If it's your first time exploring the city, then convenience will probably rule – whereas returning visitors may prefer to head further out and discover some of the quirkier spots in London.
Overall, we recommend basing yourself in the London neighbourhoods that sit in the shadow of the city's most iconic attractions, especially if you're visiting for the first time.
This way, you can wake up with pinch-yourself views of the city, and be just a short hop, skip and jump to their front door. Plus, there are great transport links to other parts of the city.
This includes the neighbourhoods of Covent Garden, South Bank, London Bridge and Mayfair.
If it's the glitz and glamour of London's nightlife that draws you to the Big Smoke, then we recommend basing yourself in Soho.
It's toned down its naughty character in recent years, but it's still got that general feeling of debauchery (not to mention brilliant cocktail bars) that makes it a fabulous nightlife hotspot.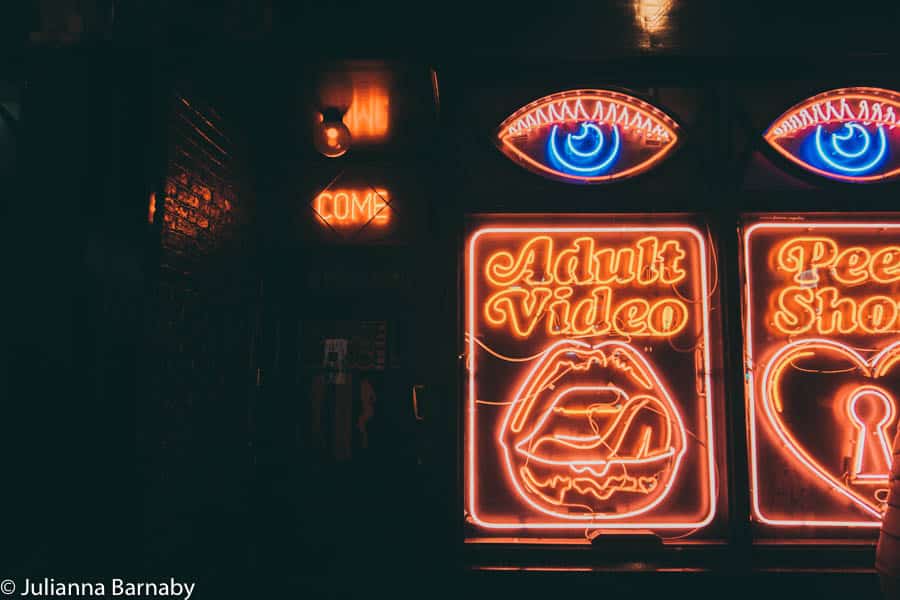 Looking for a luxe break in London? It doesn't get much better than Mayfair, with its beautifully elegant hotels, fabulous shopping and indulgent spas.
On the other hand, if you want to soak up the cool side of London then we say head straight for Shoreditch where you'll be surrounded by epic street art, ultra-cool bars and quirky markets.
Handy Tip: One thing to note is that London's famous underground system – the Tube – connects the whole city easily. Just because you are staying in one location doesn't mean you can't easily access somewhere totally different. The centre is also surprisingly walkable – so put on a pair of comfortable walking shoes and explore at your leisure.
Covent Garden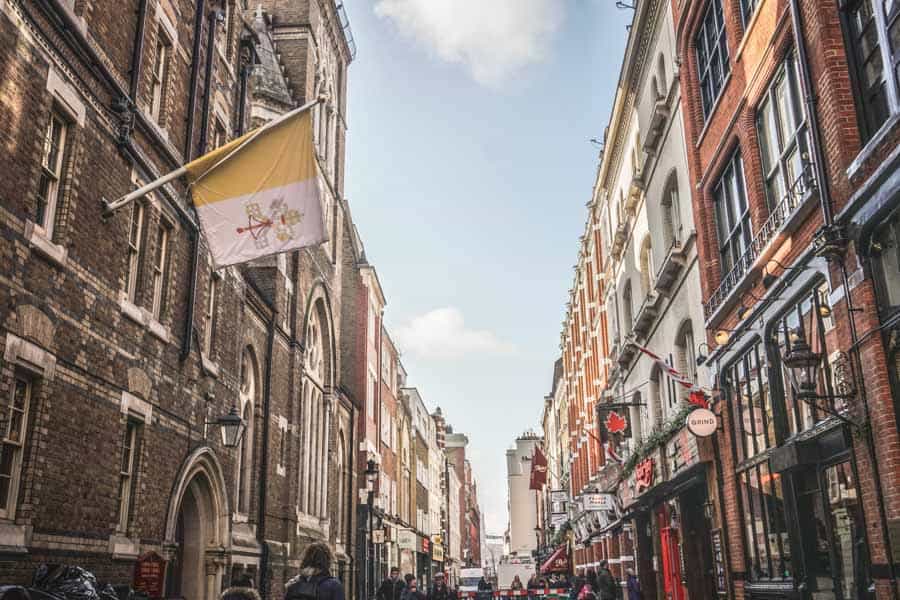 It's pretty common for fabulous neighbourhoods to be centred around a city's theatre, and Covent Garden fits the bill.
Right on the doorstep of London's amazing theatre scene, it's also one of the popular areas to stay in London for foodies, with many of the city's best restaurants located here.
Another reason that it's one of the best places to stay in London is how convenient it is for the city's main attractions.
At the heart of Covent Garden you'll find a famous (and awesome) market, as well as a bunch of cool theatres. It's also close to other attractions like the National Gallery and Trafalgar Square.
Neighbourhood Highlights in Covent Garden
Bob Bob Ricard – one of our favourite London restaurants, serving European-Russian cuisine in a spectacular setting.
DRP – a chic cocktail bar with some of the best sips in town.
Neal's Yard – A cute collection of colourful shops, restaurants and bars hidden down a secret passageway.
Cecil Court – Hunt down your next great read in this quaint collection of indie bookshops.
Watch a theatre show – Covent Garden is dotted with West End theatres – from the traditional (like the Savoy Theatre) to more contemporary ventures (the Donmar Warehouse is one of our go-tos).
Suggested Places to Stay in Covent Garden
Read Next: The Covent Garden Area Guide: Cool Things to do and Places to Visit in Covent Garden
Westminster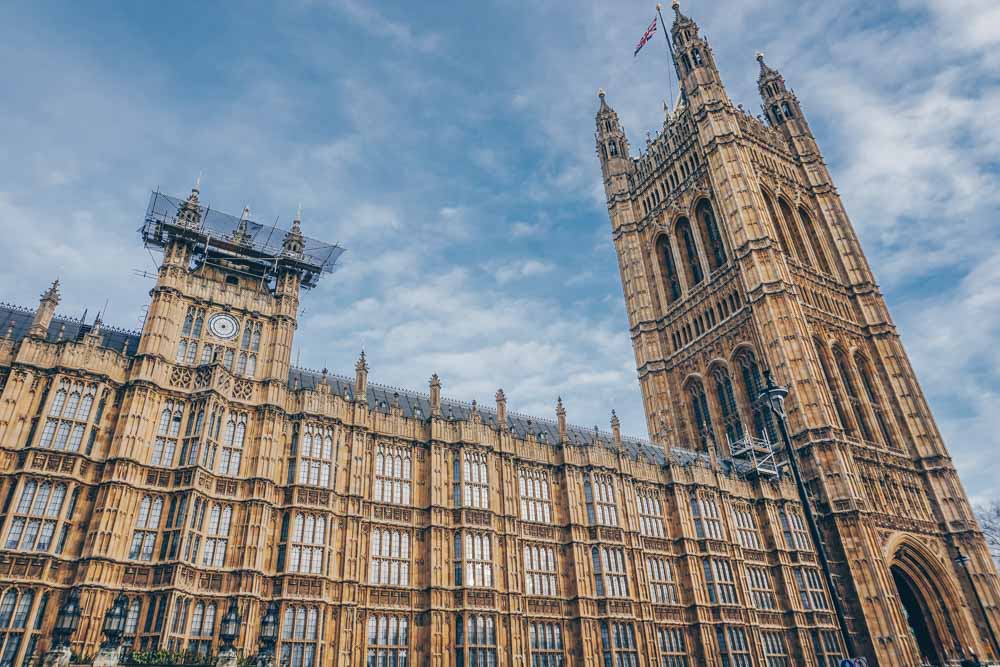 If you're on a short timeframe and want to make sure you tick off all the big-ticket items on your "must-see list", then staying in Westminster is a good shout.
You'll almost certainly swing through Westminster during your time in London, as it is home to an abundance of historical and cultural attractions.
Even in a city where history is king, Westminster is one of the parts of London of huge historical significance (not to mention the fact it's still the seat of British Parliament).
Start with a peek at The Houses of Parliament (and Big Ben) before swinging by Westminster Abbey and down Whitehall.
The only downside of Westminster is it has fewer restaurants and cafes (except for a few chains) than other central London areas (though we do adore The Cinnamon Club) – aside from this we recommend heading out a neighbouring borough to eat.
Neighbourhood Highlights in Westminster
The Houses of Parliament – Not just a pretty building, make time to visit with this handy guide.
Westminster Abbey – It's not actually cathedral but it is beautiful. Check out Poet's Corner – the final resting place for many of the UK's leading literary figures.
Westminster Cathedral – No, it's not the same as Westminster Abbey but it is a great spot for grabbing views of central London.
Suggested Hotels in Westminster, London
The Corinthia – a glamorous spa hotel that's so luxurious you'll never want to leave
St James' Court Taj Hotel – a modern and stylish 4-star hotel that has a Michelin-starred onsite restaurant
Read Next: The Westminster Area Guide
Soho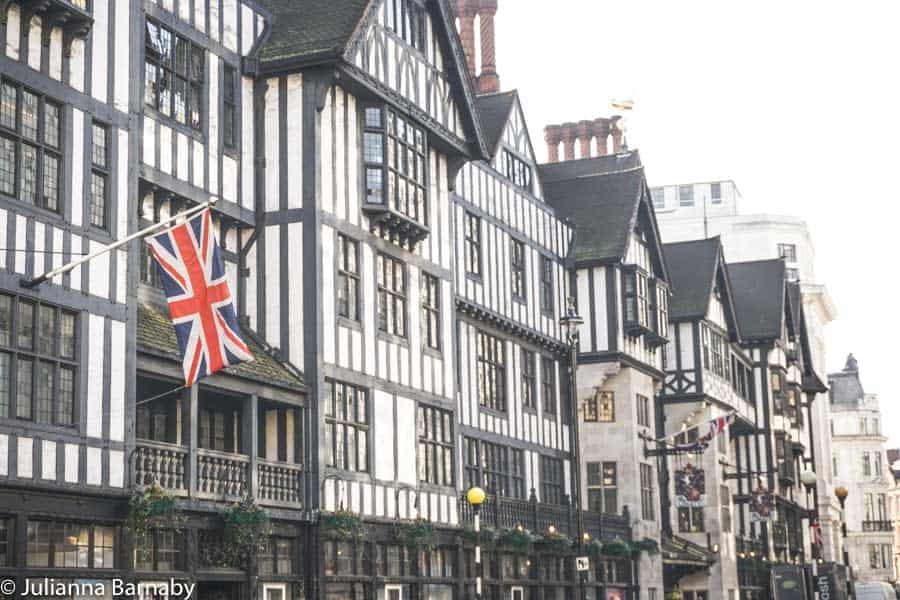 Ah, brilliant Soho. Who doesn't love a glamorous central London neighbourhood that wears its slightly salacious past on its sleeve?
Soho was once known as London's premier red-light district, and the central London area has never quite shaken off its cheeky approach to life. Nor would we want it to.
Today, Soho is best known for its vibrant nightlife and one of our favourite areas of London to explore – think uber-chic cocktail bars as well as fabulous pubs, where drinkers often spill out onto the street. The nightclubs are largely gone, but there's still plenty to keep this area quirky and lovable.
Food-wise, you're spoilt for choice, with many of the city's best restaurants dotted around the area.
Highlights of Soho, London
The Photographer's Gallery – Intimate gallery with thought-provoking exhibitions.
Bob Bob Ricard – Stylish but pricey restaurant in the heart of Soho.
The House of Minalima – Harry Potter fans should make a beeline for this emporium, the brainchild of the two graphic designers responsible for bringing the films to life.
Cocktails – Soho is jammed with great cocktail bars. You should definitely pop into at least a couple of them.
Suggested Soho Hotels in London
Ham Yard Hotel – because it makes sense to stay in a gloriously quirky hotel in Soho – and this one even has a bowling alley
Hazlitt's – another unique hotel with grand, antique furniture and a great location in sought-after Soho
Read Next: The Soho Area Guide
London Bridge & The South Bank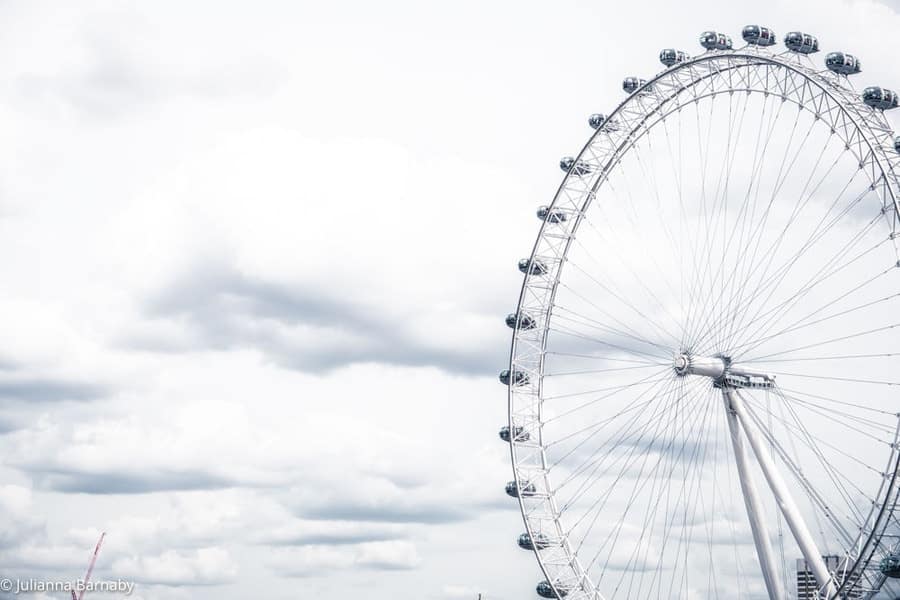 You can't visit London without spending some time in neighbouring London areas London Bridge and the Southbank.
Why? First up, you should make a beeline for some of London's most famous attractions – like the Shard, Borough Market and Tower Bridge.
Secondly, The South Bank is a hub of theatres, restaurants and cultural attractions. There are few places better to wander around looking for your evening's entertainment.
South Bank and London Bridge Neighbourhood Highlights
Tower Bridge – Not to be confused with the much less attractive London Bridge, Tower Bridge is an absolute must.
The View from the Shard – Make your way to the top of London's tallest building for epic views of the city.
The London Eye
Borough Market – Gorge yourself on fabulous food at the city's best-known market.
The National Theatre – Pick up tickets for a theatre show at The National
Explore The South Bank Centre – home to Royal Festival Hall and a never-ending calendar of events.
Suggested London Bridge/South Bank Hotels in London
The Shangri La – stay at London's most exclusive address, inside the Shard itself
Sea Containers – a quirky yet surprisingly stylish and comfortable way to enjoy a central London location
The LaLit – an amazingly opulent hotel inspired by the East – you can certainly live the grand life here.
Read Next: The London Bridge Area Guide
Victoria, St James & Belgravia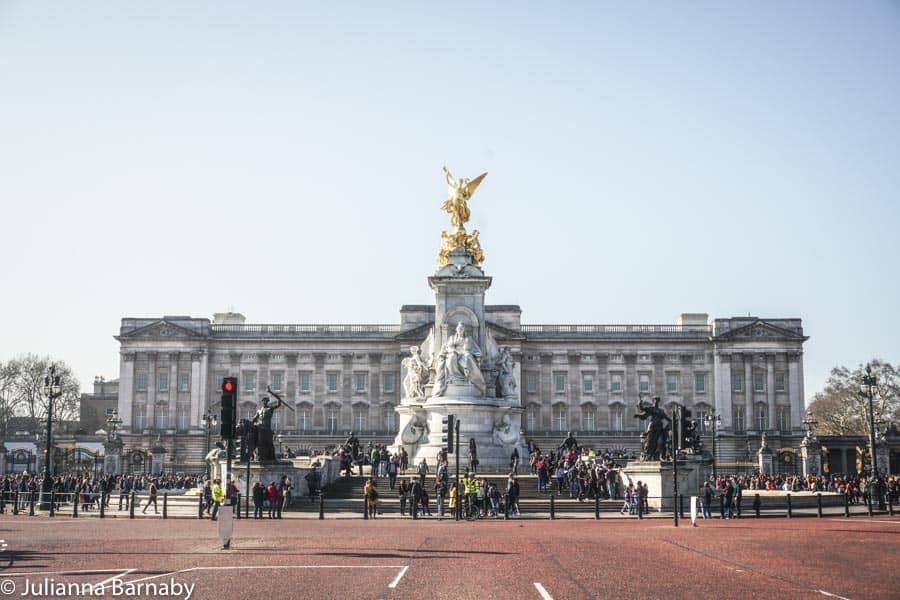 Charming Belgravia is one of the prettiest neighbourhoods in London. In parts, it looks a little like a flower shop exploded – in the best possible way.
Victoria borders up to it, and is a great place to stay in its own right. What it lacks in sugary sweet charm, it makes up for in great transport links and yet more excellent theatres.
Of course, there's no need to hop on a train when you're so close to London's best attractions. Just a short walk from Victoria, St James and Belgravia you'll find highlights such as Buckingham Palace, St James's Park and Horse Guards Parade.
Neighbourhood Highlights in Victoria, St James & Belgravia
Buckingham Palace – let's face it, if it is good enough for The Queen we should probably at least give it a look.
St James's Park – The prettiest park in London, end of. Bring a picnic and chill by the lake.
The Changing of the Guard – The pomp and spectacular of the Changing of the Guard parade takes some beating.
Suggested Hotels in Victoria, St James & Belgravia
The Nadler – a family friendly hotel complete with self-catering facilities and plenty of charm
The Goring – still family owned, this luxury hotel mixes both a warm welcome and elegant grandeur
Read Next: An Insider's Guide to Belgravia
Mayfair & Piccadilly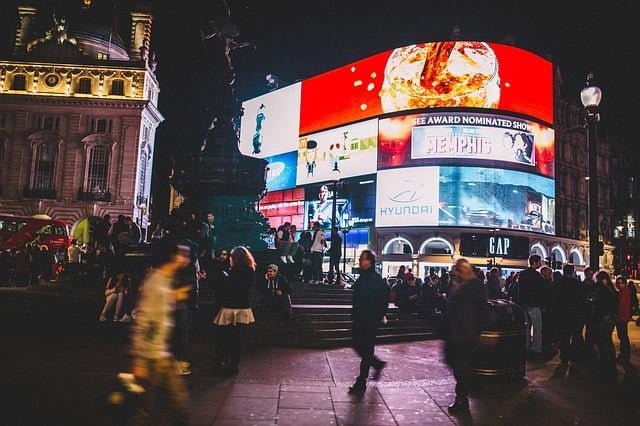 If you're looking to experience the posh side of London, then you'd best head for the fancy hubs of Mayfair and Piccadilly.
They're expensive for a reason – what else would you expect from beautiful little neighbourhoods right smack bang in the middle of central London.
To cater for the well-heeled residents (and visitors), both offer a great selection of art galleries, chic restaurants and luxury boutiques and stores.
If the concrete gets to you, you'll be pleased to know that plenty of green space is nearby – including the famous Hyde Park.
Mayfair & Piccadilly Neighbourhood Highlights
Afternoon Tea at The Ritz – it's a classic, and it's so very, very good.
The Handel & Hendrix Museum – Discover the unlikely connection between these two musical geniuses at this small museum.
Royal Academy of Arts – The frequently-changing exhibitions are never dull, that's for sure.
Visit Piccadilly Circus (if you absolutely have to, we personally hate it).
Suggested Mayfair and Piccadilly Hotels in London
Read Next: The Mayfair Area Guide
The City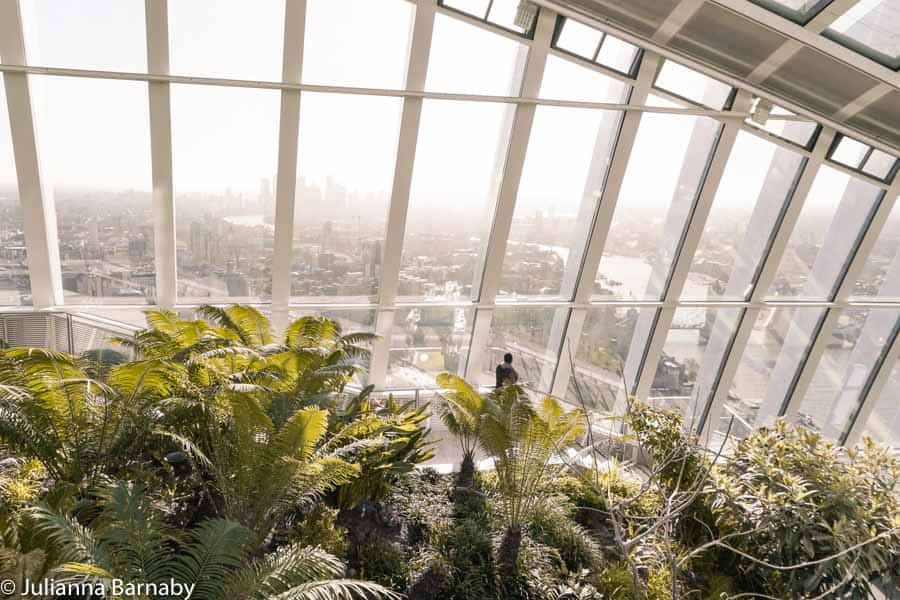 While much of the sprawling metropolis is often colloquially referred to as the city, in fact, The City of London technically refers to just one square mile.
This is considered the absolute heart of London – the spot where the Romans first set up a small settlement known as Londinium.
Within this area you'll find many of the city's most famous attractions. This includes the stunning St Paul's Cathedral, as well as the more recent addition, the Gherkin.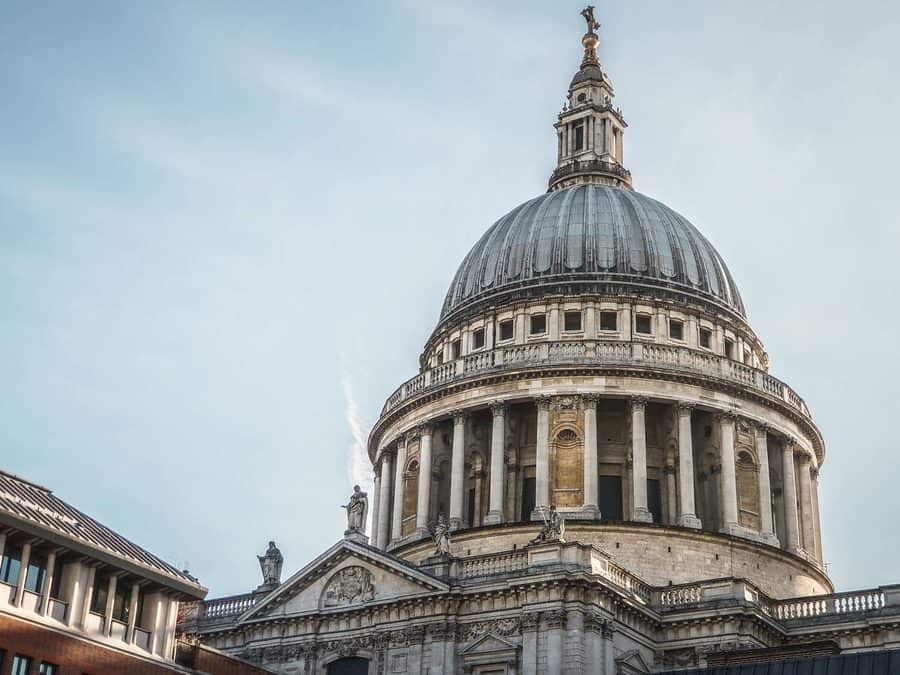 The City is quite a business hub, being home to the London Stock Exchange. However, it's also very convenient for exploring East London spots like Shoreditch and Hoxton.
Highlights to Explore in The City of London
Sky Garden – Head to the top of the walkie talkie building for stunning views of the Thames. All for free.
Visit the London Mithraeum – One of our favourite finds, the London Mithraeum is a Roman Temple in a cool complex underneath Bloomberg's UK headquarters.
Pop into The Museum of London – and chart the history of what we're sure is, by now, your favourite city.
Explore The Barbican – Brutalist and beautiful, The Barbican might split opinion with its appearance but its position as one of London's leading cultural venues is undisputed. Don't forget to pop up to The Barbican Conservatory, which is open on selected Sundays.
Suggested City Hotels in London
The Ned – a new, slightly quirky hotel that proves that staying in London's financial district doesn't mean you can't have any fun
Threadneedles – a chic and elegant luxury hotel that's right in the centre of the City of London.
Read Next: City of London Area Guide
Notting Hill & Kensington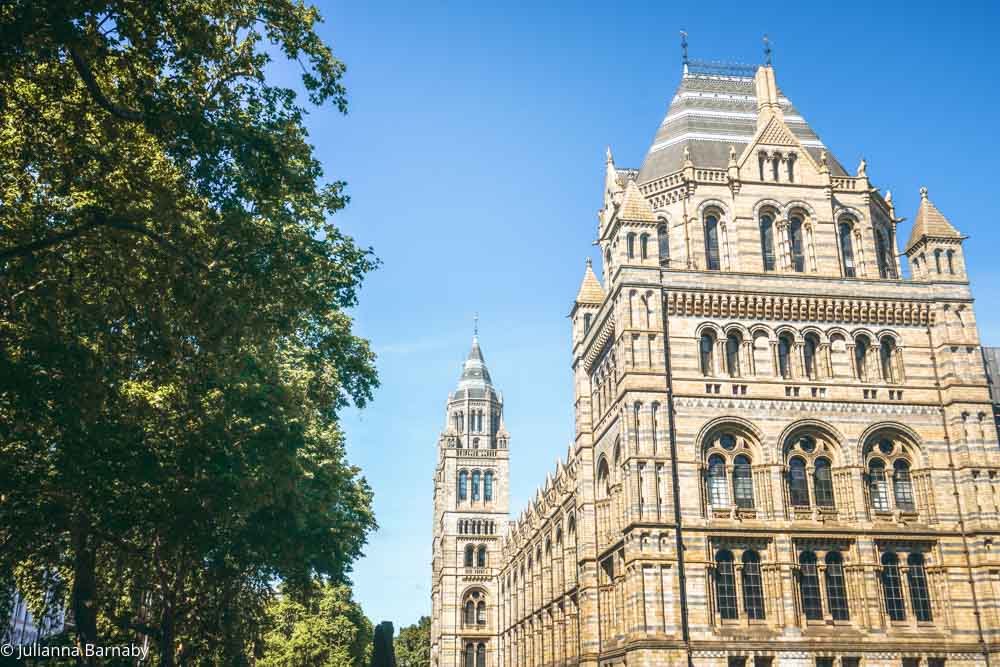 Notting Hill and Kensington are two more of London's most beautiful, popular (and poshest) neighbourhoods.
If you are looking to enjoy the London that has been popularised in films like, umm, Notting Hill, then there's plenty to keep you on your toes.
You see, there's a good reason that these two neighbourhoods have been popular with film-makers for a while – the pastel buildings and abundance of pretty cafes are super photogenic. Kensington also holds the questionably desirable title of the most expensive area in London.
Notting Hill and Kensington aren't just pretty faces, however. There's a lot to do here, from indulging in a fabulous cream tea to checking out sites like the Museum of Brands.
Highlights You Shouldn't Miss in Notting Hill and Kensington
Kensington Gardens – Hyde Park might steal all the attention but adjacent Kensington Gardens with Kensington Palace is the real star of the show.
Royal Albert Hall – See a performance or snag a ticket for the much-hyped Last Night of the Proms.
The Churchill Arms – London has no shortage of pubs but this flower-bedecked spectacular really stands out.
Museum Mile – Three of London's most famous museums, The Science Museum, Natural History Museum and The Victoria & Albert Museum all sit within a stone's throw of each other.
Suggested Notting Hill and Kensington Hotels
Read Next: Our Handy Guides to Notting Hill and Kensington
Greenwich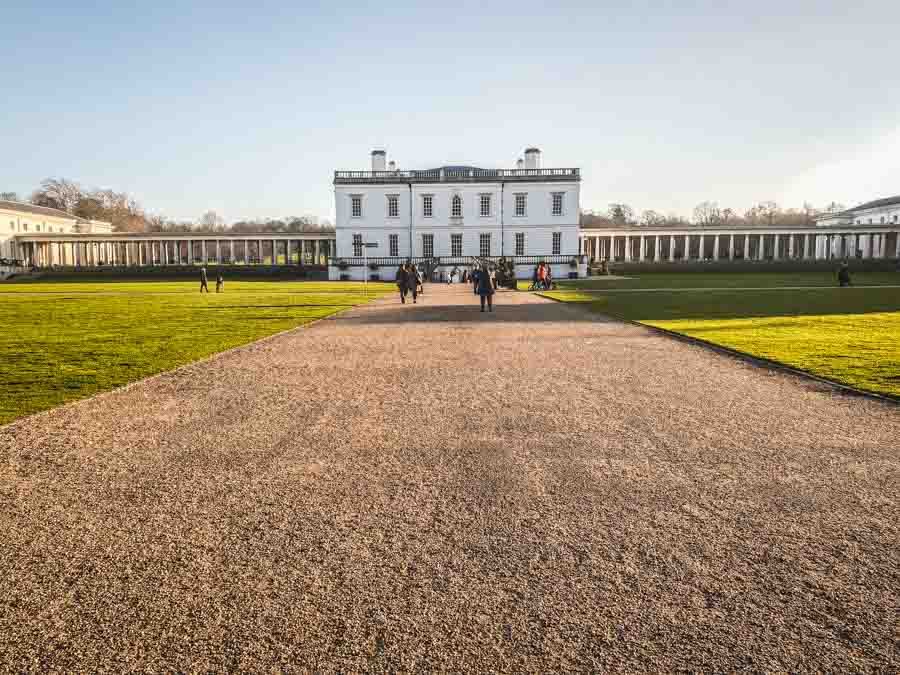 While it is a little bit further out for general sightseeing, Greenwich is one of the quaintest areas of London.
It has a lot going for it – most famously, Greenwich is the namesake for Greenwich Mean Time – i.e. "latitude 0" and the spot where time is measured from. You can check it out at the Royal Observatory.
It also had a long affiliation with the British navy. The Old Naval College is located here, as is the historic ship The Cutty Sark, not to mention the National Maritime Museum.
In recent years, Greenwich's restaurant scene has seriously upped its game – we would head there for Peninsula alone.
Greenwich Neighbourhood Highlights
Queen's House – A gorgeous collection of art in a former royal palace and still one of the quieter places in London.
Greenwich Park – Watch out for the deer and the great views at the top of the (steepish) hill.
The National Maritime Museum – Learn about the UK's naval history at this surprisingly interesting gem.
Suggested Greenwich Hotels in London
DoubleTree by Hilton – As you'd expect from the well-known chain, this hotel is modern, stylish and an excellent base in Greenwich
Read Next: The Greenwich Area Guide: Best Things to do and See
Shoreditch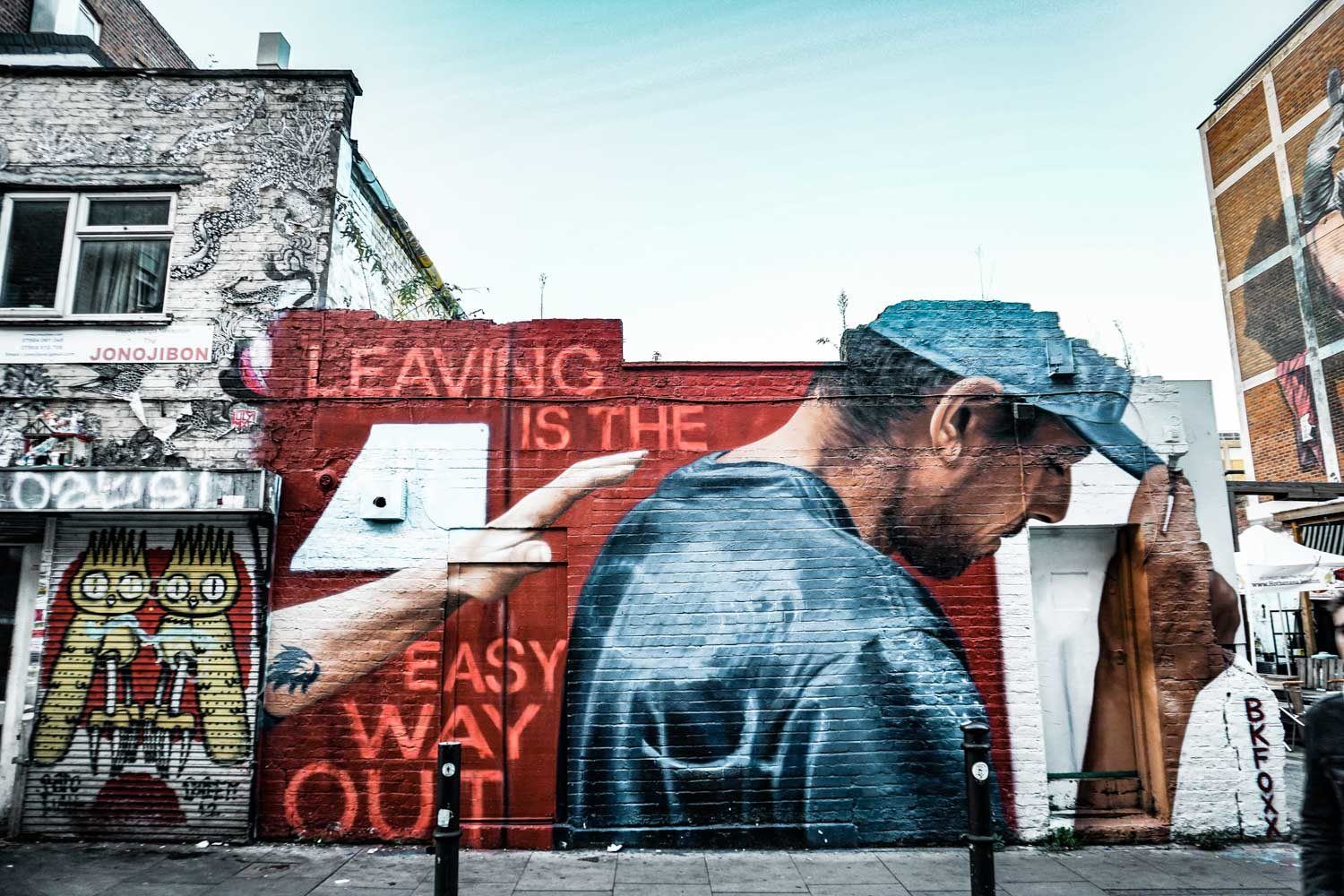 When it comes to cool areas of London, one spot comes to mind: Shoreditch.
Once upon a time, Shoreditch would have been the kind of London neighbourhood visitors were told to avoid. Those days are long gone, ushering in an age of endless flat whites, hipster culture and some very, very hip bars and restaurants.
The neighbourhood's industrial past is still on show with lots of old warehouses. Many are adorned with the street art the area is famous for.
It's not just murals that make Shoreditch a great place to stay in London. There are also plenty of vintage shops, foodie faves and great nightlife to boot.
Overall, Shoreditch is one of our picks for the best neighbourhoods in London – especially if you're looking for somewhere with that effortless cool factor.
Neighbourhood Highlights in Shoreditch
Suggested Shoreditch Hotels in London
Ace Hotel – ultra-cool Shoreditch calls for an ultra-cool hotel, like bustling ACE which is popular amongst creative types
The Mondrian – a Moroccan-inspired hotel in Shoreditch? It might not sound like it works but, oh boy, it really does.
Read Next: The Shoreditch Area Guide: Cool Things to do and Places to Visit
Holborn & Bloomsbury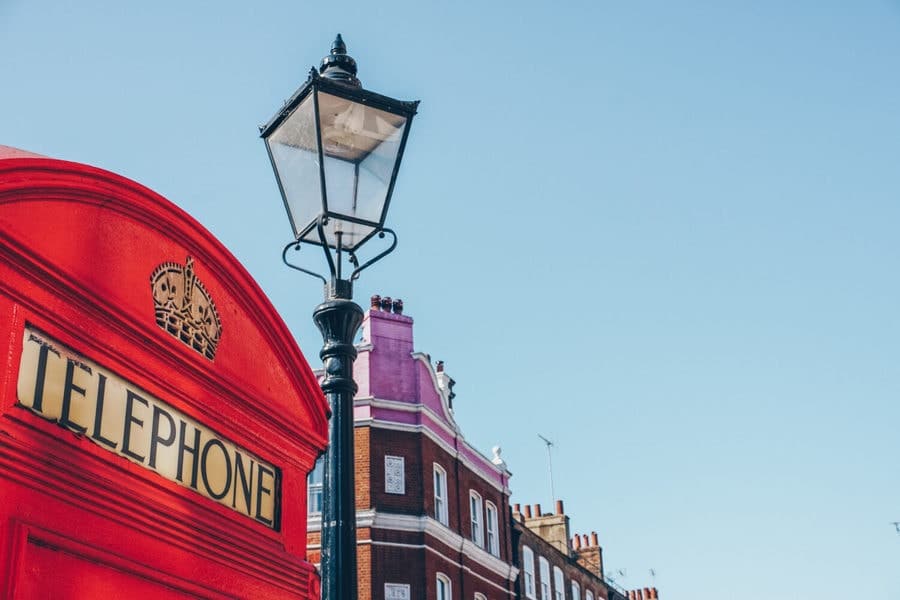 The boundary between Holborn and Bloomsbury is fairly blurred, no matter though – both are worth exploring.
Home to one of London's biggest and best museums (The British Museum in case you were wondering) as well as many a literary haunt hailing from the days when Bloomsbury was home to leading writers such as Virginia Woolf and E.M Forster.
All of this combines to create an area with a more high-brow, academic feel.
Both neighbourhoods are safe and clean, with Bloomsbury being a little more residential than Holborn. So if you'd like to base yourself in a central location without the frenetic pace – these could be perfect.
Holborn and Bloomsbury Highlights
The British Museum – Delve into the world of history, ancient and modern in the museum's extensive collections.
Sir John Soane's Museum – One of London's quirkiest collections lies on a square behind Holborn station. You can even visit the museum when it's lit up by candlelight once a month.
The Brunswick Centre – Forget the better-known Barbican, The Brunswick is an ode to Brutalist design.
Suggested Holburn and Bloomsbury Hotels in London
King's Cross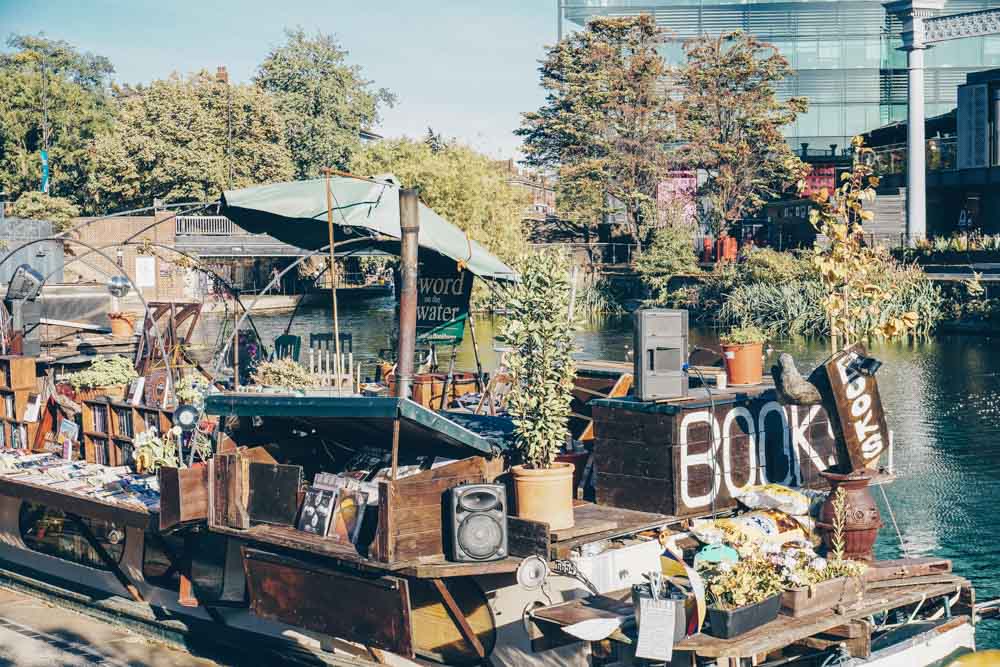 King's Cross used to have a reputation as a bit rough and ready. It's undergone quite the reinvention in recent years though, and today is a great option for a home base.
Not to mention it's in close proximity to central London's neighbourhoods.
You'll now find lots of cool shops and eateries located in the old canalside warehouses, while a new cool bar seems to pop up every weekend.
One of the most enduring highlights of King's Cross, however, is the chance to stroll along the Regent's Canal – don't forget to pop into Word on the Water – a cute bookshop on an old barge.
King's Cross Neighbourhood Highlights
Suggested King's Cross Hotels in London
The Standard London – A luxury hotel that although large (with 266 rooms) still has plenty of character and charm
Pullman London St Pancras – a very modern chain hotel that's perfectly situated for the St Pancras railway station
Read Next: King's Cross Area Guide
Clerkenwell, Farringdon & St Paul's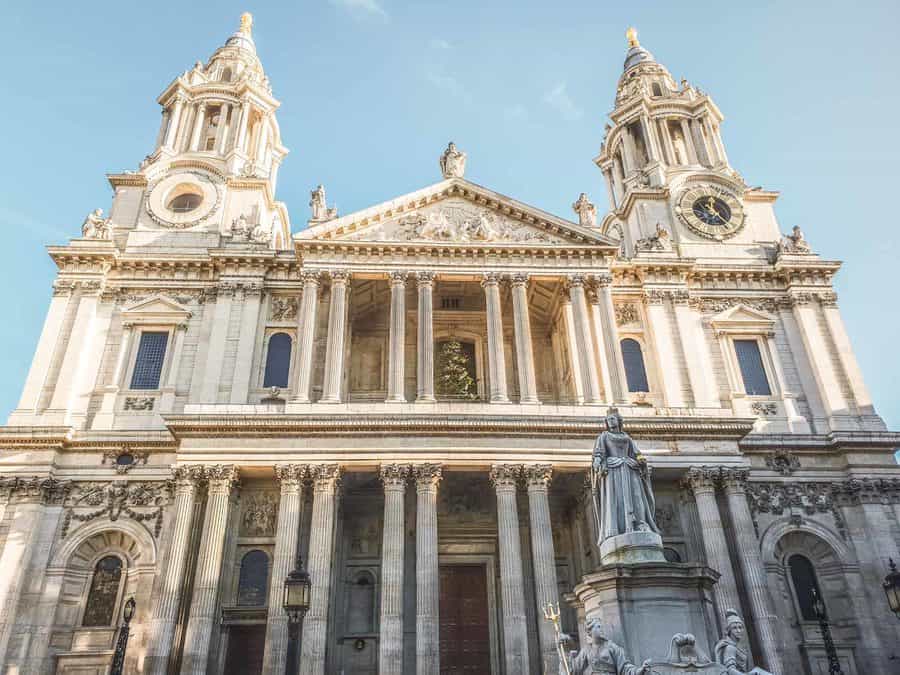 Cool without being pretentious, Clerkenwell, Farringdon and St Paul's are hidden gems that are home to some of our favourite restaurants and cocktail bars. They rarely make it onto lists of the best neighborhoods of London, which is a shame as they have a lot to offer, even to visitors.
Maybe it's because you can walk around without being overrun by tourists (well, unless you're sitting on the steps of St Paul's), but they're some of our favourite areas in London.
Much like Soho, they haven't always had a stellar reputation – in Victorian times, Farringdon was known as a meeting spot for pickpockets.
Don't worry, today you – and your belongings – will be totally safe enjoying the hip cafes, bars, boutiques and restaurants of these neighbourhoods.
One of the highlights of these neighbourhoods are the many great markets to visit, including street food hotspots Exmouth Market and Leather Lane, as well as some rather brilliant pubs.
Clerkenwell & Farringdon Highlights
Oriole – Ditch Nightjar, the bar's famous older sister in Shoreditch, Oriole is the place to go for cocktails with a fin-de-siecle vibe.
Exmouth Market – Lined with some of London's best restaurants, Exmouth Market is always a good choice for a tasty dinner.
St Paul's Cathedral – Hard to believe that when it was built, St Paul's Cathedral was the tallest building in London. Not hard to believe that it was its most impressive – it's still a strong contender for the title today.
Suggested Hotels Clerkenwell and Farringdon
Fox and Anchor – Get the real London experience by staying inside this authentic pub, which offers rooms with plenty of charm and a touch of luxury
The Zetter Townhouse Clerkenwell – A fabulously quirky hotel inside an old townhouse, which also offers up a great cocktail bar
Read Next: The Farringdon Area Guide
Marylebone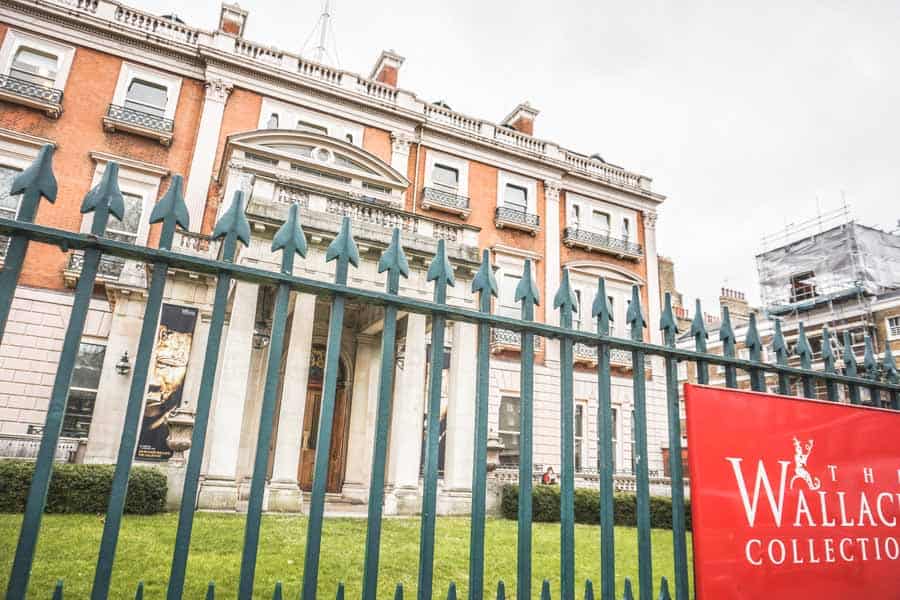 Marylebone is especially popular with the well-heeled crowd, who flock to the many luxury boutiques and stores that are dotted throughout.
That's not to say that all Marylebone offers is a chance to splash your cash – far from it. It also has cultural attractions, like the Wallace Collection (one of London's lesser-known free museums), and great foodie spots too.
It's also convenient for other attractions including Regent's Park, the Sherlock Holmes Museum and Madam Tassaud's.
The other sights of London are just a short tube (or brisk walk) away – making it one of the top neighborhoods to visit in London.
Neighbourhood Highlights in Marylebone
The Wallace Collection – A traditional art collection housed in a former aristocratic mansion.
Visit Baker Street – The street made famous by Arthur Conan-Doyle's legendary sleuth Sherlock Holmes. Don't miss the Sherlock Holmes Museum either.
Take a Stroll through Regent's Park – one of the prettiest parks in London.
Suggested Marylebone Hotels in London
Zetter Townhouse – this gloriously quirky hotel is hands-down one of our favourite London hotels. Boring chain hotel decor, be gone.
The Langham Hotel – a luxurious hotel with an excellent bar and restaurant to boot
Read Next: The Best Things to do in Marylebone – An Insider's Guide
Paddington
Most famously associated with the beloved bear, Paddington might not be as popular a place to stay in London but it's a good base, thanks to great transport connections and lots of cool spots within striking distance.
It's no surprise – this borough borders onto hotspots Mayfair and Marylebone, making it super convenient for attractions including Kensington Palace.
Another plus for Paddington is that while it's super convenient for these swish places, it doesn't carry the same price tag.
If you'd prefer to stay within Paddington, there's a good selection of shops, markets and cafes to enjoy here.
Neighbourhood Highlights in Paddington
The Rolling Bridge – You won't believe us, but this bridge really does roll out over the water.
Paddington Basin – Less hyped than nearby Little Venice, Paddington Basis is nonetheless a nice place to spend time by the water.
Suggested Hotels in Paddington
The PILGRM – perfect if you're on a budget, this hotel offers luxury for less – just with a couple of quirks (like a lack of reception).
The Chilworth – an elegant hotel that offers a convenient location near to many transport links.
Camden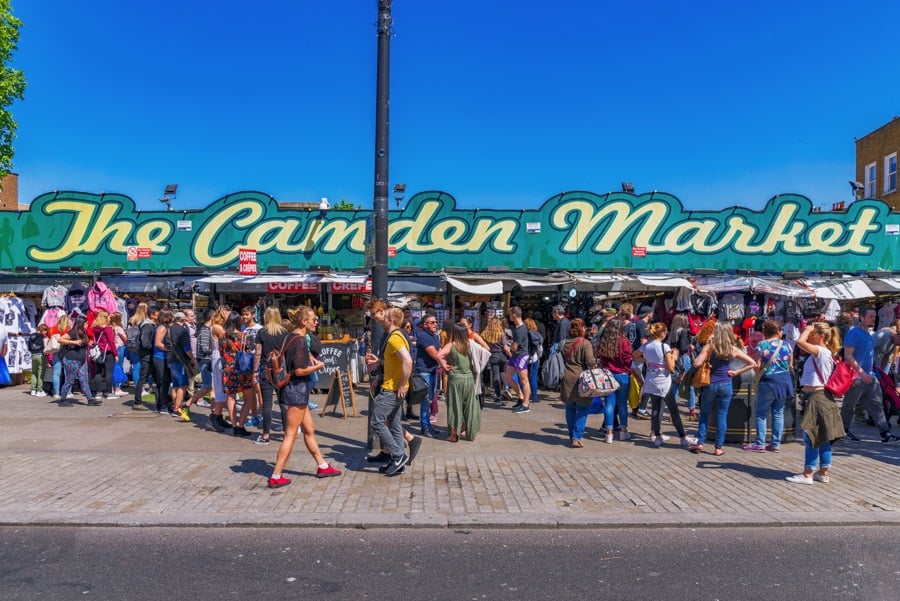 Like King's Cross, Camden is popular with visitors looking to do a little less damage to their wallet while staying in London town.
It's long been proudly alternative, in a similar way to Shoreditch. You'll find some cool street art and lots of quirky vintage shops here.
If it's fashion you're after, then you can't miss the famous Camden Market. This canalside market is popular with both locals and visitors, and is the perfect place to pick up some new, cool threads.
Camden's also filled with some of London's best street food: KERB Camden is located in the market and offers everything from filthy vegan burgers to light Mediterranean snacks.
At night, we recommend hitting up some of the live music venues – because of this, it's one of our favourite areas of London to explore.
Camden Highlights
Street Art – Camden is another of London's best-known street art hubs. Take a wander and find your new favourite piece using this guide.
Camden Market – There are actually quite a few markets dotted around Camden, and they still form the epicentre of London's alternative shopping scene.
Regent's Park – Want to get away from the crowds? Find yourself a patch of grass in Regent's Park.
Suggested Camden Hotels in London
Read Next: Cool Things to do in Camden
Further Afield: Exploring Different London Neighbourhoods Outside the Centre
East London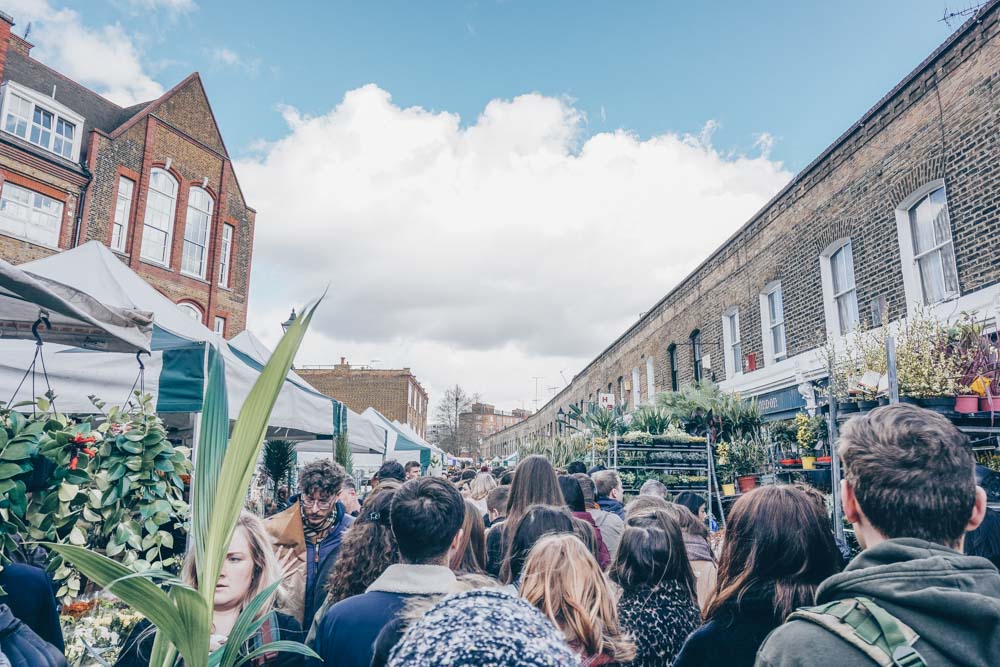 Centuries ago, East London was the rough fringe of the city – this is, afterall, the region of Jack the Ripper and other dark figures of London's history.
Today, however, it is the poster child for urban renewal, home to many fabulously cool areas in London such as Hackney and Bethnal Green.
While these are a little further out for the most iconic London attractions, there's good transport links with the Tube. Plus, they have many attractions in their own right.
One highlight of East London is the many great markets to browse. From fashionable Brick Lane to the explosion of colour that is the Columbia Road Flower Market, it's a great place to shop.
West London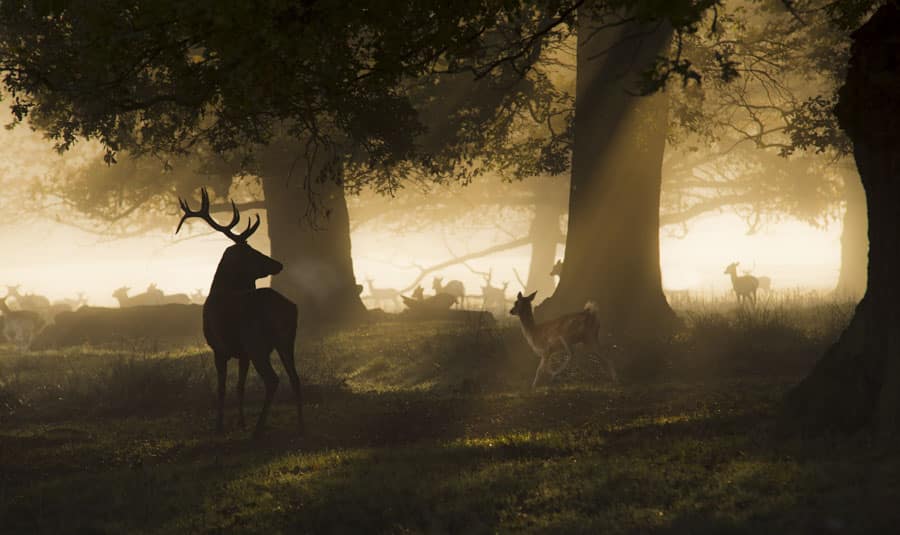 West London is famous for its many cultural institutions, from galleries to arthouse theatres. It's also a popular residential hotspot, thanks to its beauty and ease of getting around.
Prices here tend to be a little bit steeper than over on the east, but in return you'll be in the heart of some of London's best shopping, dining and sightseeing.
Areas including Chiswick, Chelsea, Hammersmith, Richmond (with its famous Richmond Park) and Putney are all gorgeous areas in West London.
Chelsea is great if you hope to spend plenty of time sipping coffee in a picturesque cafe or shopping along the famous King's Road – while Hammersmith (and nearby Shepherd's Bush) are legendary players in the live music scene.
Don't forget to swing by the iconic Kew Gardens either.
North London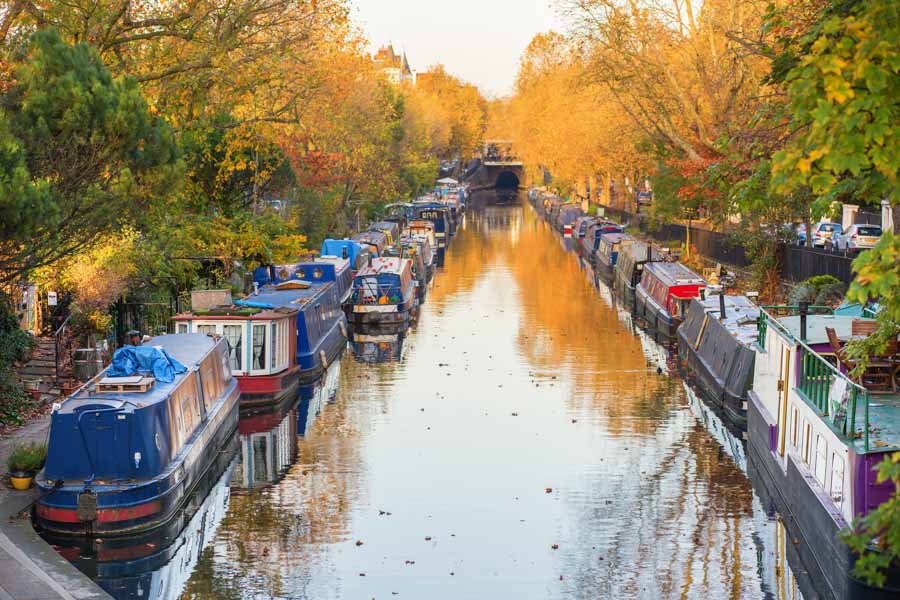 Heading further north, London becomes quite eclectic – with everything from village-y feeling neighbourhoods to popular nightlife hotspots.
Areas like Little Venice, Hampstead Heath and Highgate (home to the famous cemetery) are far more laidback than their inner city counterparts, and perfect if you like things a little more peaceful.
On the other hand, Islington and nearby Angel are far more bustling. Here, you can expect to be amongst a great selection of boutiques, restaurants and artsy theatres – check out what's on at The Almeida for starters.
South London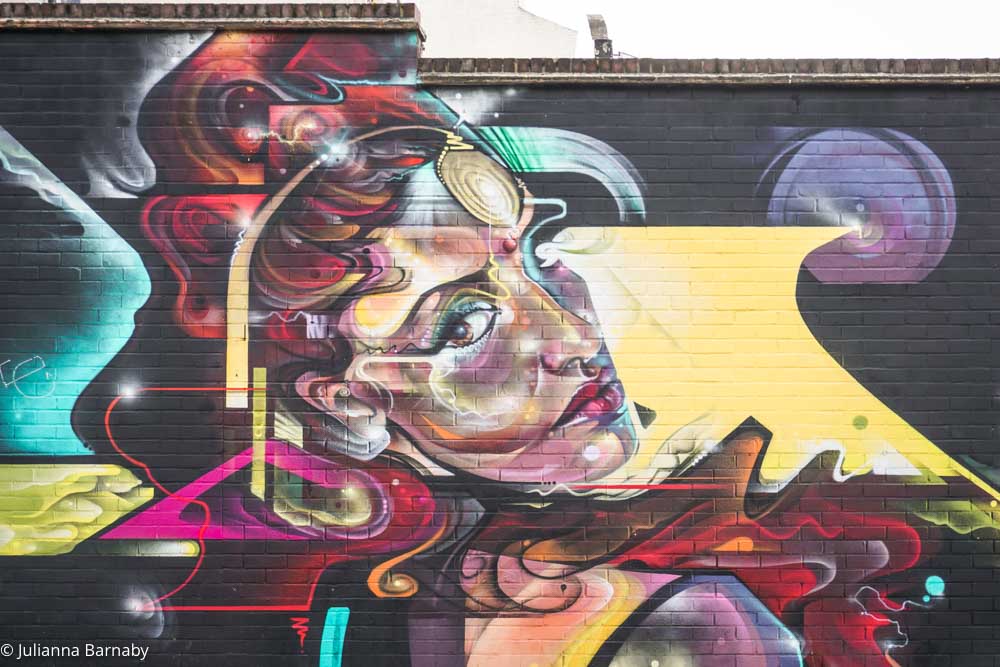 Many city dwellers call the areas in South London home, as many neighbourhoods boast ample green space and that sought after village-y, community feel.
That's not to say that South London is sleepy – far from it. You'll still find plenty of great shops, bars and pubs (of course) in these areas.
Some hotspots in South London include, Peckham, Clapham, lively Brixton and eclectic Tooting.
The Best Areas in London: Frequently Asked Questions
Which is the Best Area in London for First-Time Visitors?
On your first-time visit to London, you'll probably want to cross off as many big ticket items as possible. So, we recommend staying as central as possible.

Westminster, London Bridge and South Bank are all ideal London neighbourhoods for tourists as they'll keep you close to the action.

Where Should I Stay in London to Walk Everywhere?
If your favourite transport option is your own two feet, then we recommend sticking to the area between Tower Bridge in the East and Victoria in the West – preferably within ½ mile of the river.

Anywhere here will have you in walking distance of the sights – with some popular options being Westminster, Covent Garden, London Bridge or The City.

What is the Best Neighbourhood to Stay in London?
As mentioned above, choosing the best neighbourhood in London is kind of like choosing your favourite child. You love them all equally, because they're all unique (or at least that's what we were told as kids).

Overall, however, you really can't go past the convenience of Covent Garden, South Bank and London Bridge. These are great bases, with excellent transport links that will have you exploring the rest of London in a jiffy.

Which are the Most Affluent Areas in London?
This seems to change from week to week as house prices in London push ever higher, but generally the most affluent areas in London are:

Kensington
Chelsea
Knightsbridge
Mayfair
Notting Hill and
Westminster

The list could go on…

What about the Best Neighbourhoods in London to Live?
Well, isn't that the million-pound question? We would pick Brixton, Shoreditch and Peckham if you're looking for happening areas with a lot of local culture.

If money's no object, Notting Hill strikes the right balance between being chi-chi yet still actually lovely rather than just a bit sickening and dull.

Practical Tips to Consider Before Booking Your London Accommodation
The Tube is your friend when getting from neighbourhood to neighbourhood. We recommend picking accommodation that is close to a stop, so you can get around quickly and easily. That said, London is very walkable so if you're willing to put in the miles, you need never get on public transport at all.
It's no surprise that the more central you are, the more you can expect to pay. If you are on a budget, consider staying a bit further out. The great public transport links means even places on the outskirts are easy to get to.
Great hotels in popular parts of London can book out quickly, especially if your visit coincides with a big event (like the Notting Hill Carnival). Book as soon as you can – especially since most hotels will offer free cancellation via Booking.com if your plans change.
Love this? Save and Share on Pinterest