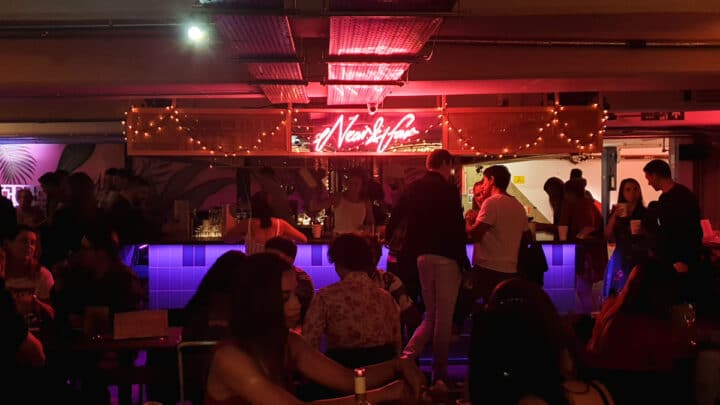 Ready to discover the best things to do in Peckham, London's top area for brilliant rooftop bars and cool things to do? This Peckham area guide is for you.
Peckham has a long and colourful history, having transformed from a residential area for the wealthy in the 16th century to that of an industrial centre in the 18th century, when it was known for its large gardens that grew figs and melons for the London markets.
The area was mainly rural until development took hold in the 1800s and a new district called Peckham New Town was built on Peckham Hill Street by the Hill family.
Following this development, the transport links in Peckham and Peckham Rye increased, making the area far more accessible for young people again. Peckham bloomed, becoming a trendy area to hang out…until it wasn't.
After a hiccough in the 70s when the area was one of London's worst-off, Peckham has emerged in recent years as one of the coolest parts of London. Packed with old-school hangouts and un-fussy spots alongside brilliant rooftop bars, restaurants and fun things to do, there's something for everyone.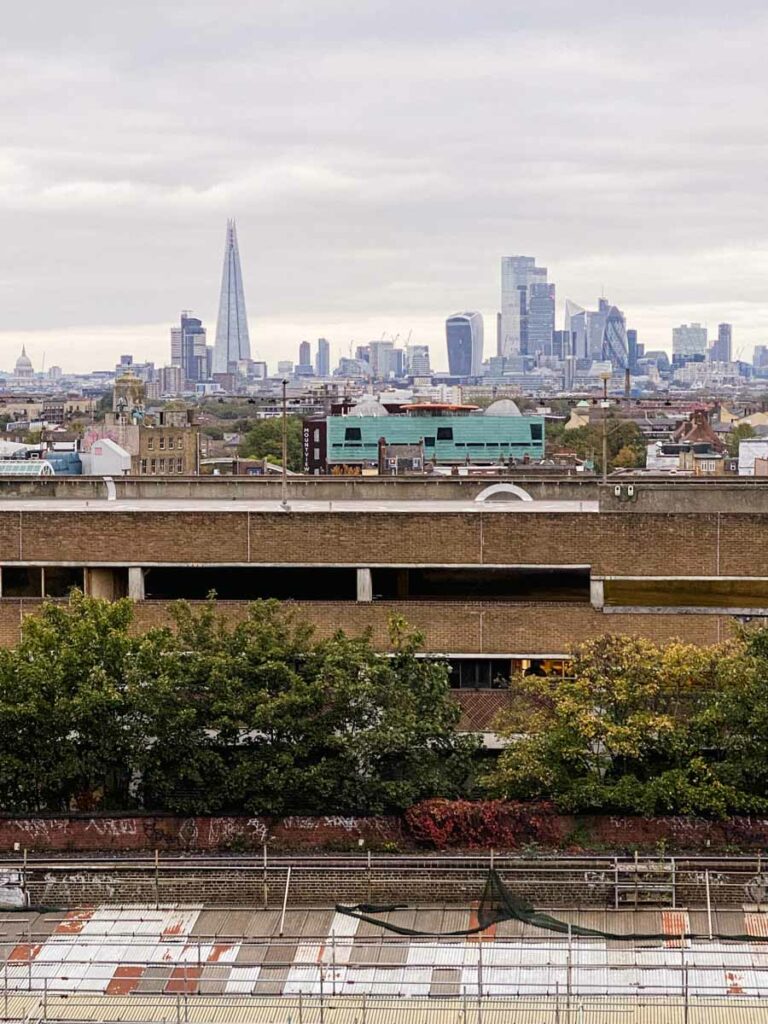 Top Picks for Things to do in Peckham
Things to do in Peckham
Delving into the spots you shouldn't miss.
Rooftop Film Club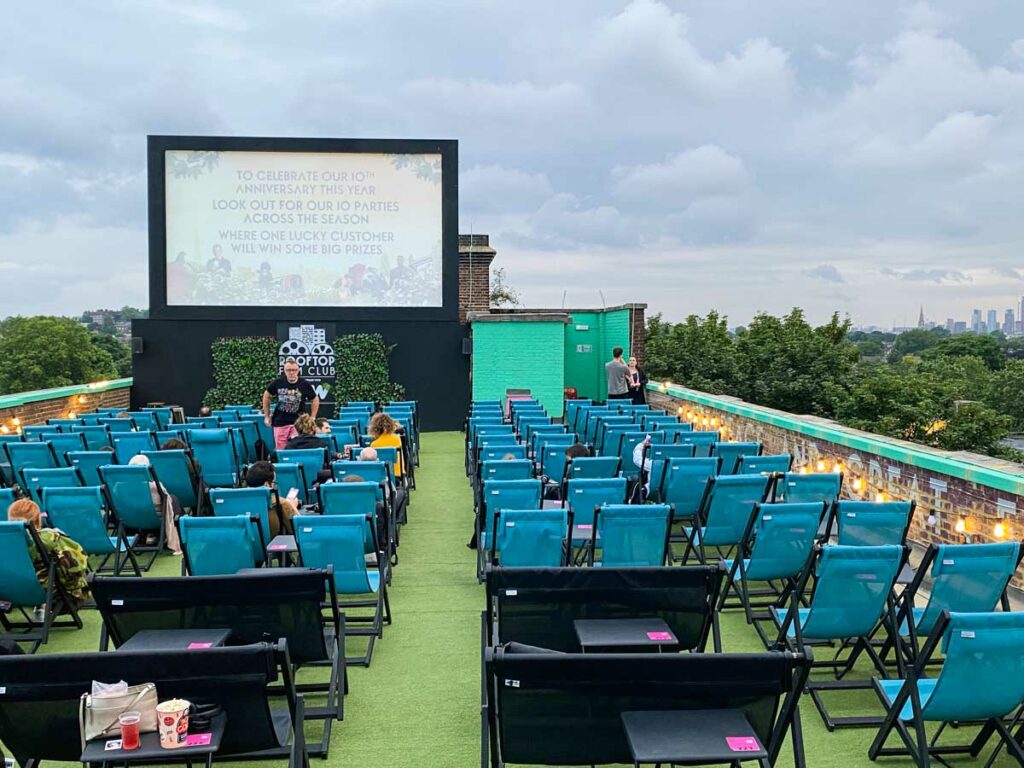 Whilst you can find plenty of outdoor cinemas dotted across London, Rooftop Film Club's offering on top of the Bussey Building is definitely one of my favourites.
Showings include everything from the latest Hollywood releases to much-loved cult classics and uber-cool arthouse productions. Basically, whatever your film taste is, there will be something here for you.
Peckham Levels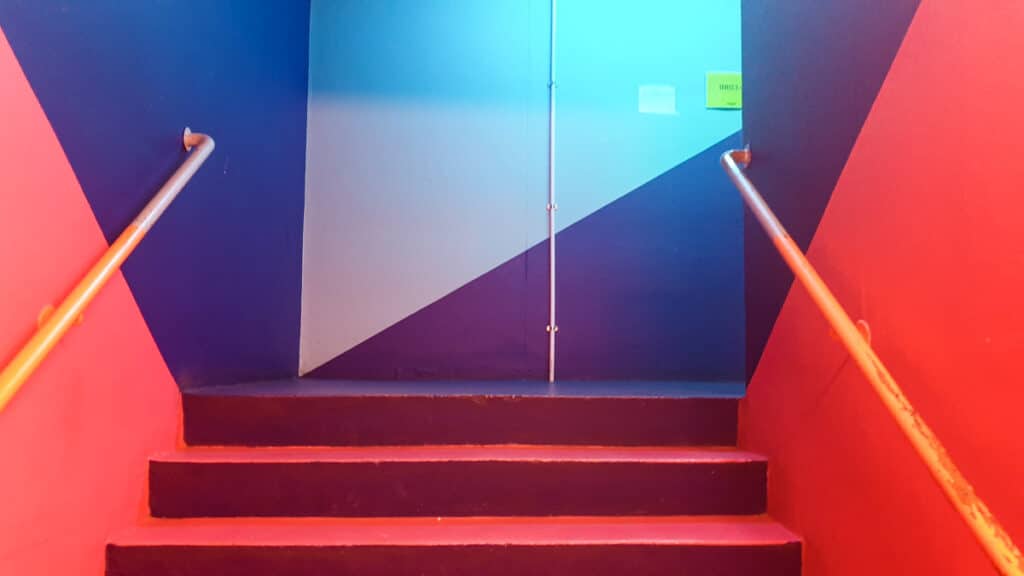 Originally opened as a space to support the local community, Peckham Levels is a multi-story car park converted into a food and drinks hub. Oh, London… Where else can you have a socially acceptable cocktail in a car park?
Not only can you find some of the best grub in the area at the street food market, but you've also got an art studio, a coffee roaster, and a live music venue as well. Head to levels 5 and 6 – that's where you'll have the most fun.
Street Art Hunting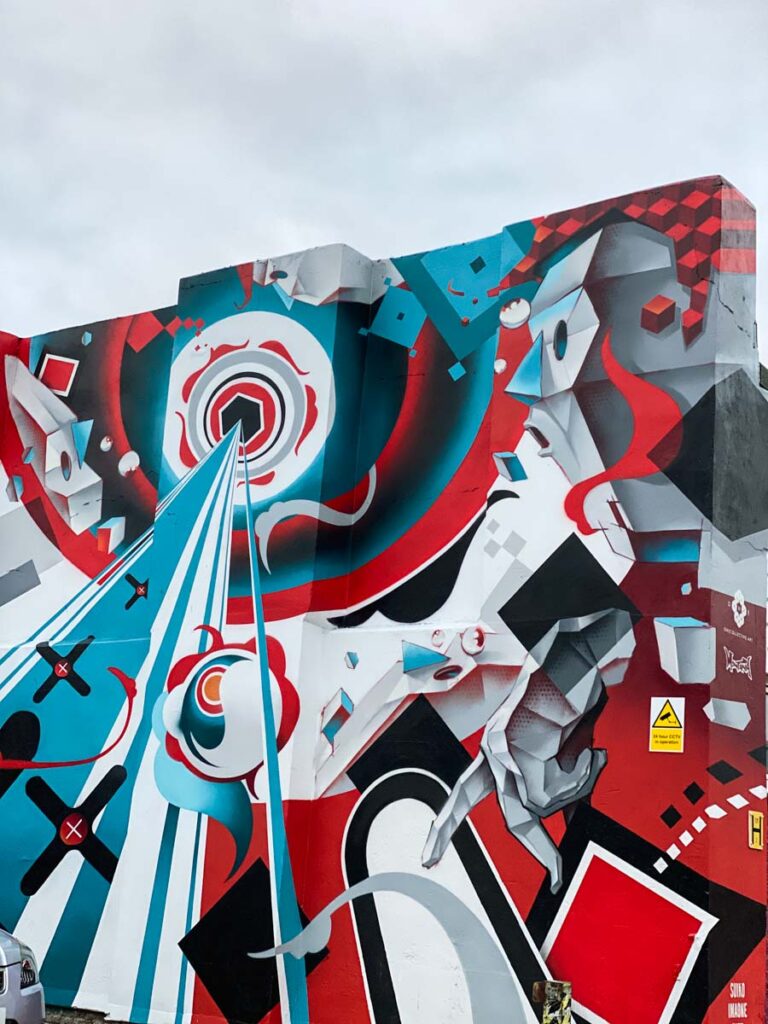 Wander through Peckham and you'll easily spot some of the impressive street art pieces that line the streets.
Some pretty famous street artist names have made their mark on Peckham, including Conor Harrington, Stik, and Remi Rough amongst many others.
If you head to Copeland Park and the Bussey Building, you'll see where Suika, Imaone, and Fate completely transformed some of the walls, taking them from grey and aged to totally fun.
Peckhamplex
Another of Peckham's brilliant spots to catch the latest movie is Peckhamplex – you'll find a full list of the upcoming showings on their website.
As one of the largest independent cinemas in London, this is also one of the cheapest. We're talking £4.99 tickets all day, everyday. Yes please.
Hang out on Peckham Rye
Taking up a whopping 13 acres, Peckham Rye Park is a mini paradise of green space inside the otherwise commercialised Peckham area. There's a skatepark, a green gym, an adventure playground, and even a cafe so you can grab a bite to eat.
This is a great spot to bring a picnic on a hot day.
Visit Nunhead Cemetery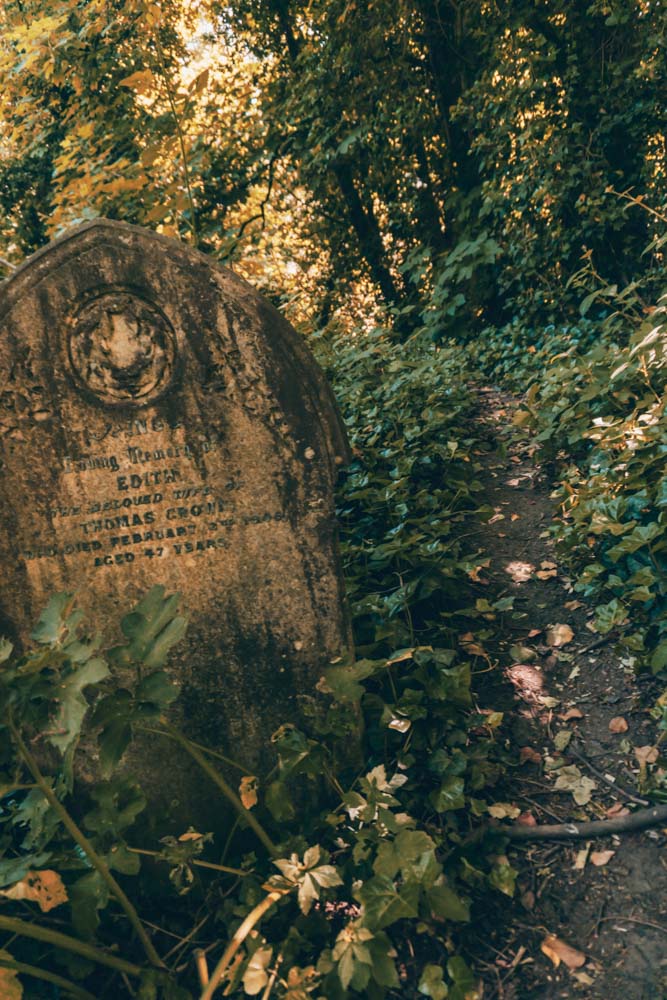 Paying a visit to Nunhead Cemetery might seem like a strange way to spend your time in Peckham, but as one of the "Magnificent Seven" built around London in the 1800's to combat overcrowding in the graveyards, it has an interesting history that makes it worth a trip.
Not only is the history fascinating, but the cemetery is unbelievably beautiful and it's also a dedicated nature reserve, so it's a great place to spot some wildlife.
South London Art Gallery
Originally founded in 1891 by Philanthropist William Rossiter, South London Art Gallery is one of the most influential galleries in the capital.
Showcasing a mix of local and international artwork, alongside some fun workshops (the upcoming one for Caribbean cooking looks incredible), this is a brilliant place to admire world-class art for free.
Peckham Library
Alright, a visit to a library might not thrill everyone. But a visit to Peckham's award-winning library is a must-do.
The library originally opened on March 8, 2000, and it was shortly after awarded the Stirling Prize for architecture due to its unusual design. Even if you don't fancy going inside, I recommend a visit just to witness the wonky steel beams on the front of the library.
TRAID
I'm all for a bargain and I'm all for donating to charity. Combine these two things at TRAID: a huge warehouse stocked with brilliant second hand bits that you'll feel absolutely guilt-free browsing.
Money spent at TRAID goes towards a number of projects, most to do with sustainable living and ending the exploitative labour that comes with fast fashion. If that wasn't great enough, the clothes are curated, so you don't need to waste hours trawling through terrible pieces.
MOCA London
A visit to Peckham isn't complete without an afternoon exploring the Museum Of Contemporary Art. Founded in 2004 as a project-based museum space, the MOCA showcases the best of sculpture, video, painting, photography, and installations.
Upcoming exhibitions are from the likes of Ajamu Ikwe-Tyehimba, Kjetil Bjørheim, and Vibha Galhotra, but keep an eye on the website for all the latest announcements.
Kanpai
Ever wondered how Sake is brewed? Luckily for you, Kanpai offers you the chance to get a glimpse into their craft brewery, and more importantly, try some of the best Sake the UK has to offer.
The bar serves fresh sake on tap, in glass and bottle offerings, as well as guest sake from international and local brewers. But, don't panic if you don't enjoy the plum-based drink, there's also a pretty extensive list of craft beer and cocktails for you to choose from.
The Kiln Rooms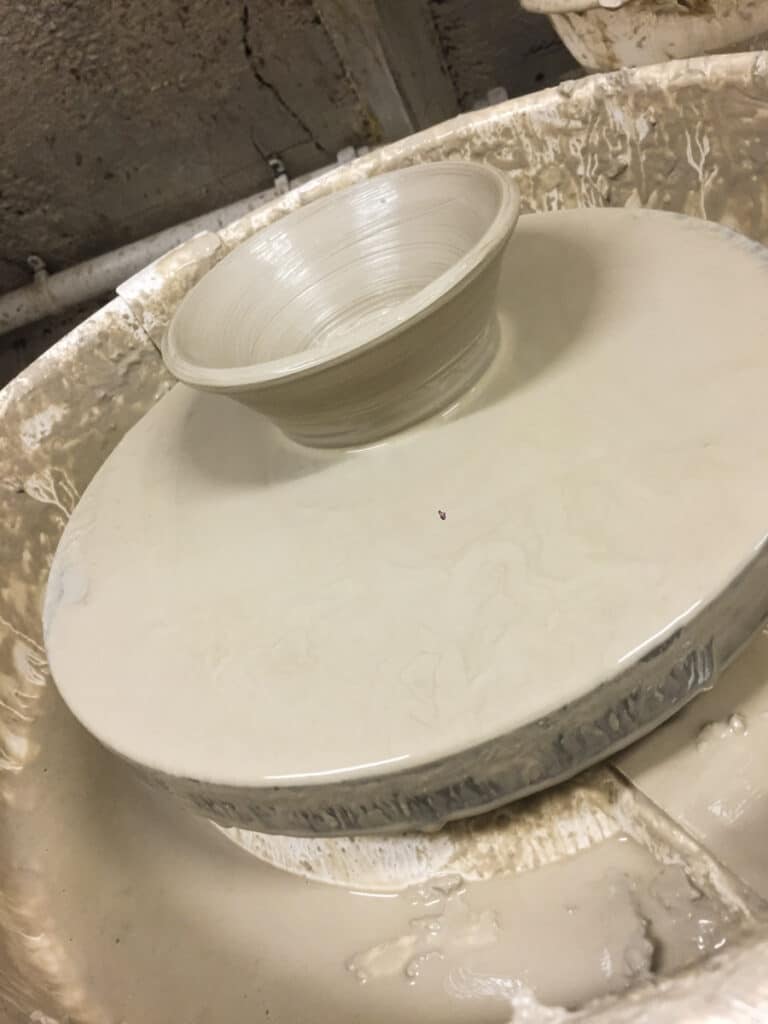 If you're looking for a fun activity to do in Peckham, look no further than a day at The Kiln Rooms.
Whether you're a pottery newbie or an experienced pot-lover, there are plenty of classes here that can help you to develop your pottery skills, or simply allow you to spend an afternoon trying your hand on the wheel.
Things to do in Peckham: Eating and Drinking
My favourite places to eat and drink in Peckham
Levan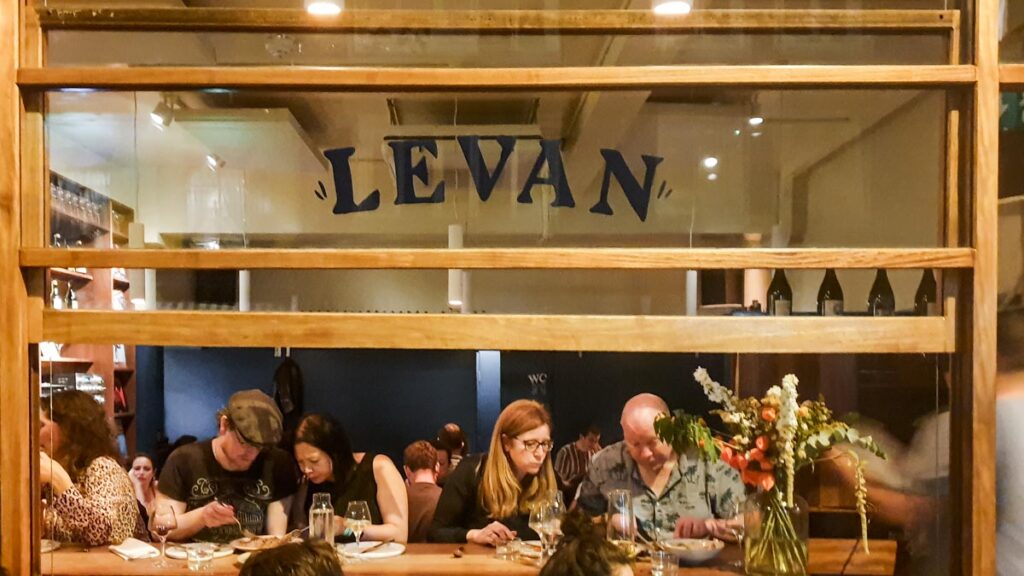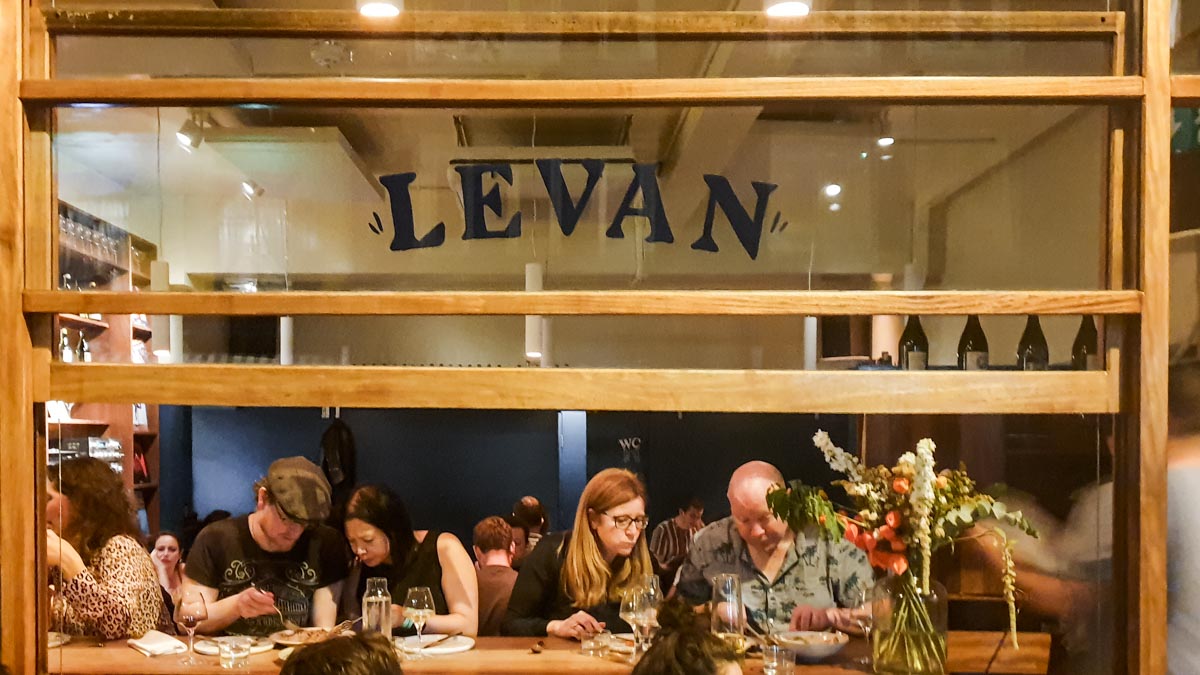 It's no secret that Levan has a special place in my heart: a friendly neighbourhood bistro serving up seasonally-based European cuisine.
The menu changes almost daily, not that it matters because I would hand on heart recommend pretty much everything I've ever tried from here. Particular favourites include the beef tartare and the pork belly, but, honestly, everything is just so good.
Bussey Building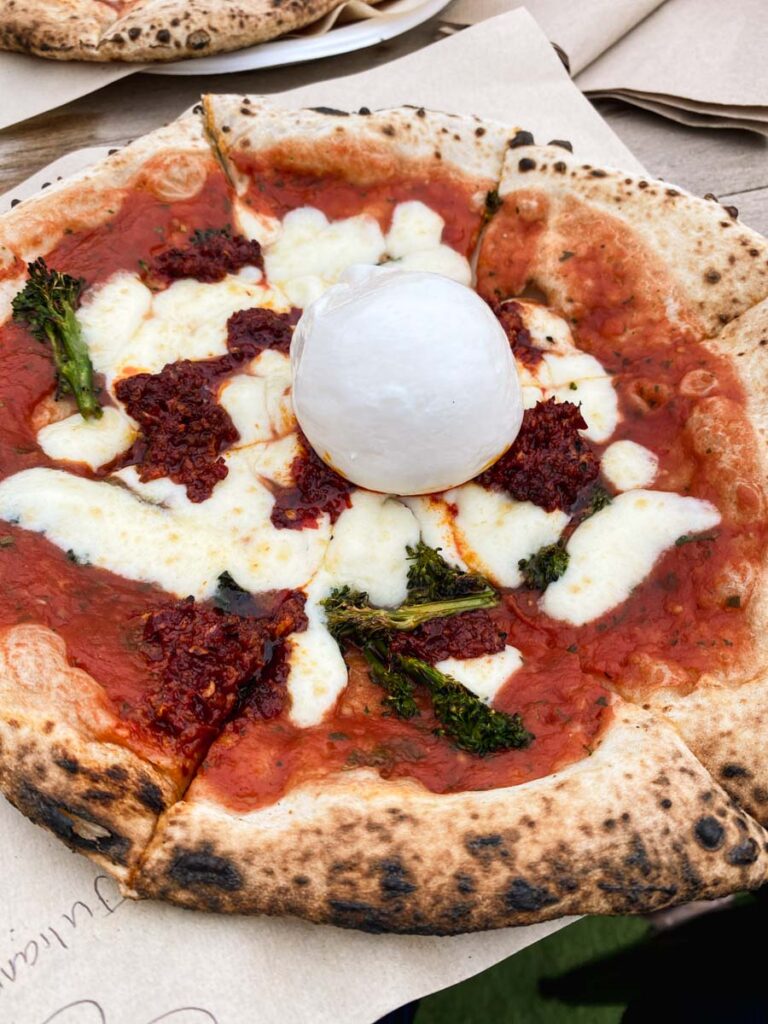 Also known as CLF Art Cafè, Bussey Building is a multilevel bar offering 360 rooftop views, delicious cocktails, and an array of pizza options.
This floral paradise was originally opened as a place to support local businesses, but is now a thriving spot where people from across London travel to visit.
Cocktails range from classics to pure outlandish (see: a delicious cotton candy Collins), and there's also craft beers and wine on the menu too.
Forza Wine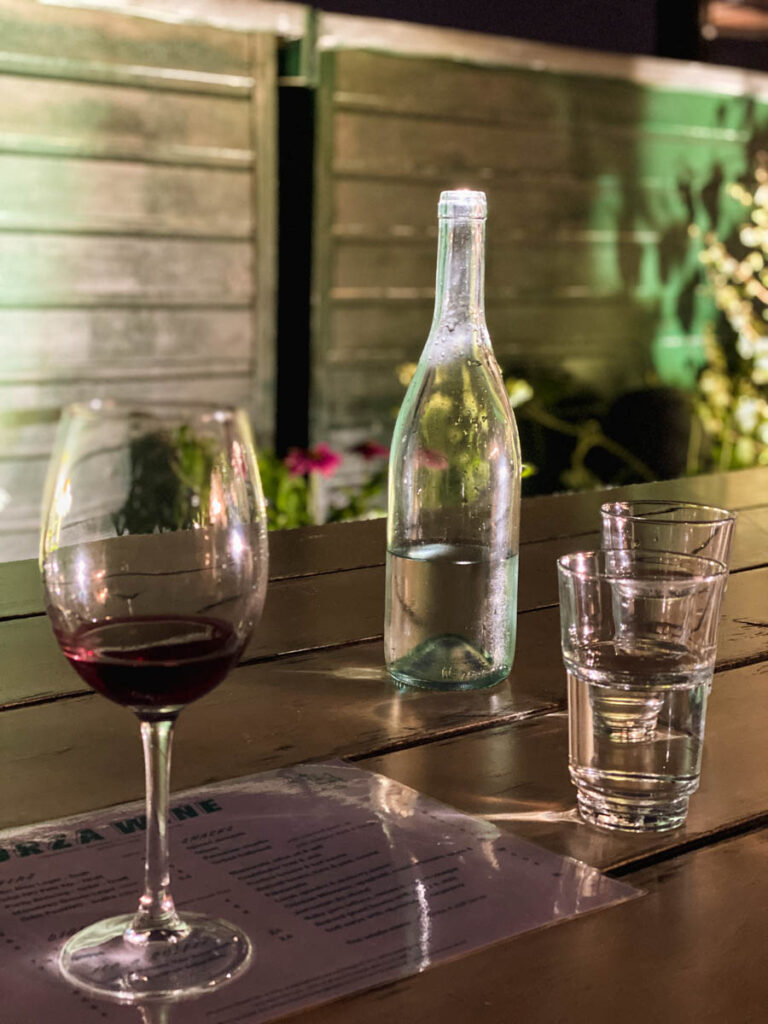 For pretty views and even better drinks, head to Forza Wine. Situated atop Market Peckham, Forza Wine serves up tantalizing bar snacks and cocktails that pair perfectly.
Their selection of house cocktails includes an unusual earl grey martini, blackcurrant G&T, and a smoked negroni – all delicious.
Skylight Peckham
Perched on top of the Mountview Academy of Theatre Arts, Skylight Peckham is an all-day venue that acts as more of a cafe in the day, but comes alive at night with a tasty food and drinks menu.
The menu includes roasted poussin with chicken fat mash and truffle & honey vinaigrette, and a burrata on toasted sourdough, alongside some pretty innovative cocktails.
Bar Story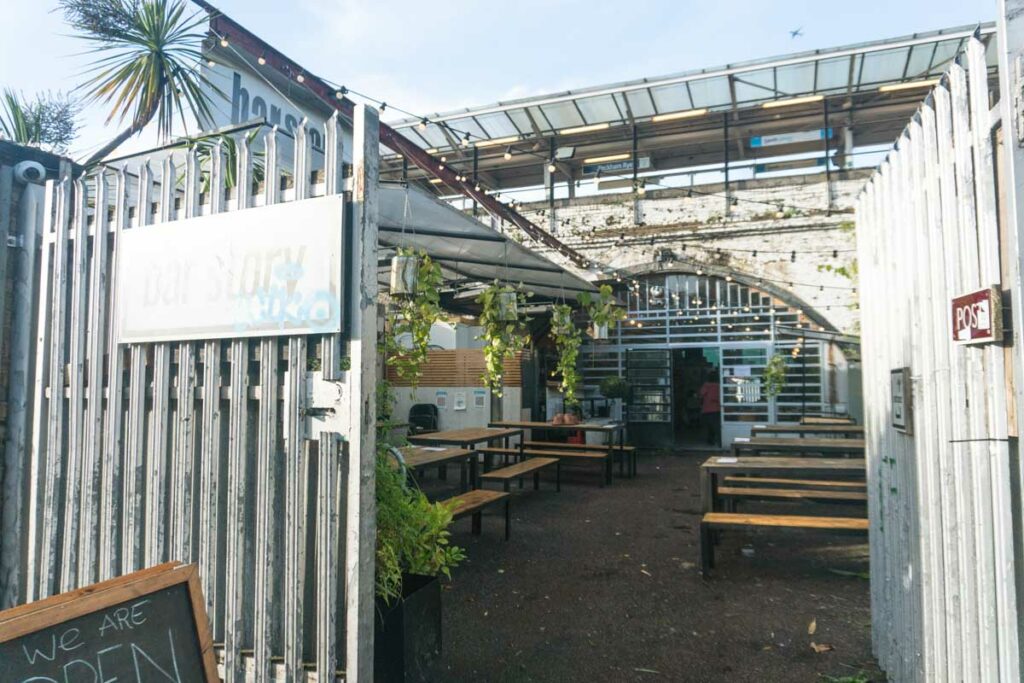 For casual drinks at great prices, all housed under a railway arch, Peckham's Bar Story has got it covered. This is one of those bars that looks rough around the edges, without actually being run down.
It can get incredibly busy during happy hour, but it's worth it as the drinks are strong and the prices cheap – it's one of the best places to get a feel for the real Peckham.
Begging Bowl
Inspired by all things Thai, The Begging Bowl serves up some delicious Asian cuisine in a light, airy restaurant.
The menu includes delights such as stir fried beef-rump, hispi cabbage, and braised pork belly curry, alongside unlimited sticky rice and traditional desserts and drinks.
Mr Bao
Located on Rye Lane, Mr Bao is an independent Taiwanese gem. Widely regarded as one of the best Baos in London, their Asian take on a full English breakfast is bizarre (complete with sausage bao), and shouldn't work… but it does.
Their more traditional offerings are, of course, stellar. Opt for the shiitake mushroom or beef brisket bao and you won't be disappointed.
Near & Far Bar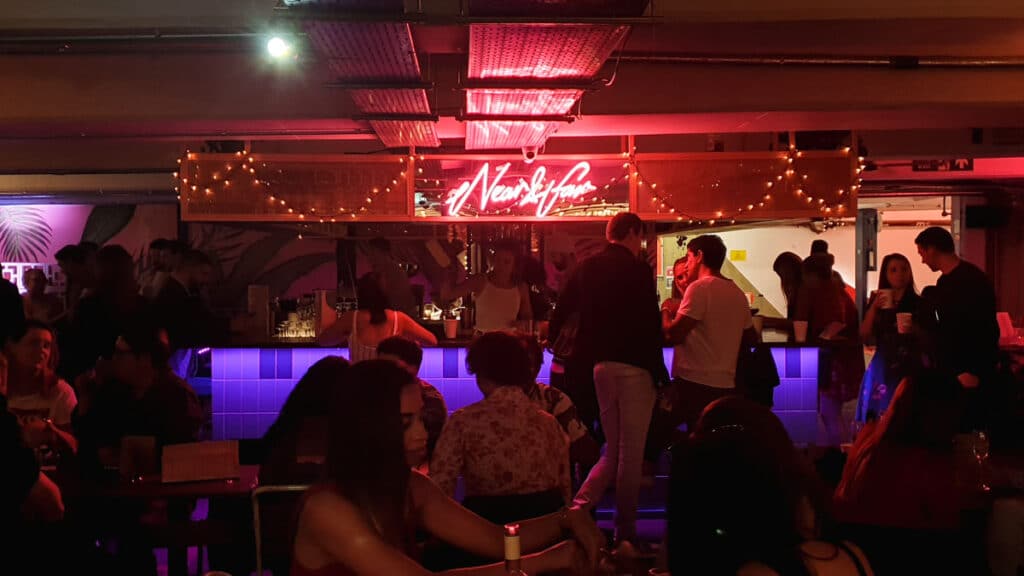 I know I've already talked about Peckham Levels, but Near & Far on level 6 deserves it's own mention.
The colourful bar is a haven of all things neon, tropical, and ultimately paradise. Their drinks include the likes of Coco-loco, Henny G, and the hilariously titled Benedict Cucumberbatch (a gin and elderflower cordial, if you were wondering).
Peckham Bazaar
With a menu boasting incredible Mediterrannean food, Peckham Bazaar is a stylish restaurant drawing its inspiration from the four Ottoman lands.
With mezze and grilled items taking centre-stage, lovers of Greek cuisine will absolutely adore this place. I'm talking rack of lamb with artichoke, courgette fritters, and sirloin kebabs, paired with a decadent wine list.
Discover The Best Restaurants in Peckham
Discover The Best Beer Gardens in London
Top Shopping Spots in Peckham
Peckham High Street – Rye Lane
In its heyday, Rye Lane was the place to shop. Although it isn't as popular now, the high street has the majority of the chain and indie shops in Peckham, including the vibrant Rye Market packed with local vendors – this is a fun place to wander through.
Holdrons Arcade
Holdrons Arcade can only be described as eclectic – a tiny corridor filled with independent businesses in Copeland Park.
Businesses here include vegan cafe Deserted Cactus, the Little Sister vintage shop, and even the radio station Balamii which broadcasts DJ sets throughout the day.
Map of Peckham
Half Moon
Boutique hotel
A pretty hotel located between Brixton and Peckham.
The Crown and Greyhound
Basic hotel
Basic but clean. Everything you need for a Peckham trip.
Read More London Guides