Camden is one of London's quirkiest neighbourhoods and is packed with brilliant places to see. Not sure where to start? Here are 26 cool things to do in Camden, London that you shouldn't miss.
You won't be able to quite put your finger on what makes Camden buzz.
Is it the brilliant market bursting with indie and alternative finds? Is it the cool street art? The lively bars? Let us guess – the old-school pubs?
Who knows. As lifelong Londoners, we still can't say what it is that makes Camden tick.
What we do know is that Camden's reputation as one of London's most iconic areas lives on. Planning your visit? We've chosen our favourite things to do and places to go in Camden.
Best Things to do in Camden
Go Shopping in Camden's Famous Markets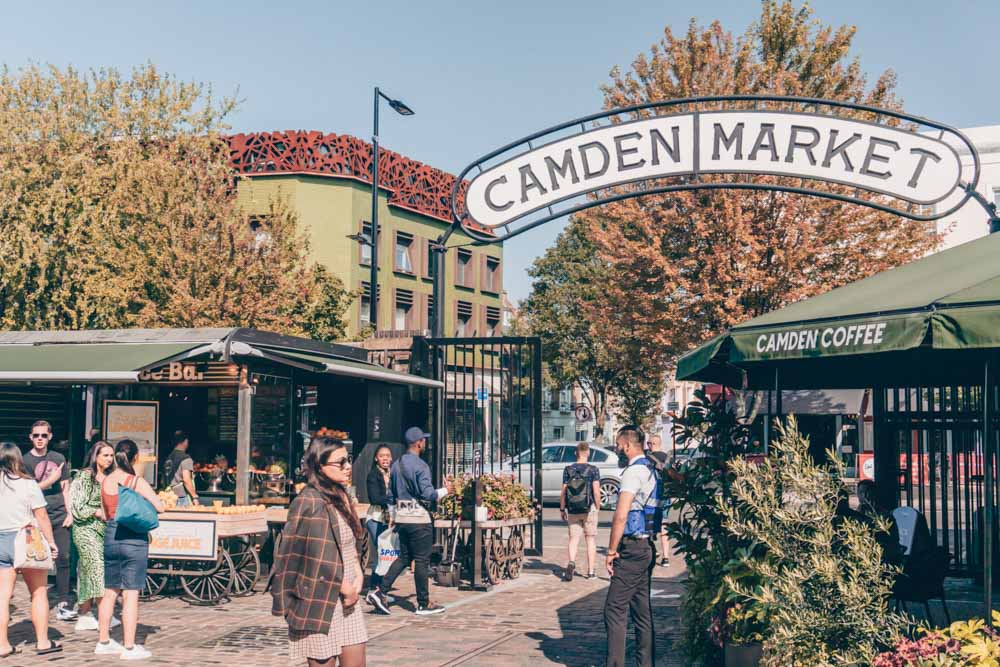 We love Camden Market, as it's like a little microcosm of everything there is to love about London.
Think quirky clothing and cool accessories that are the perfect antidote to bland high street fashion.
Camden Market is actually a series of markets. Camden Lock Village, Inverness Street Market, The Stables Market and Buck Street Village. They're all slightly different – but within a short walk of each other – perfect for hunting out your next purchase.
You could easily spend an entire day or more just exploring the markets and all their hidden gems.
In particular, if you're looking to recreate that effortless London style, you'll love the selection of boutiques at the market.
We particularly love "Everything 5 Pounds", a stylish stall where everything is (you guessed it) 5 pounds, as well as Time Tunnel Vintage, for more luxe retro pieces.
Street Art Hunting around Camden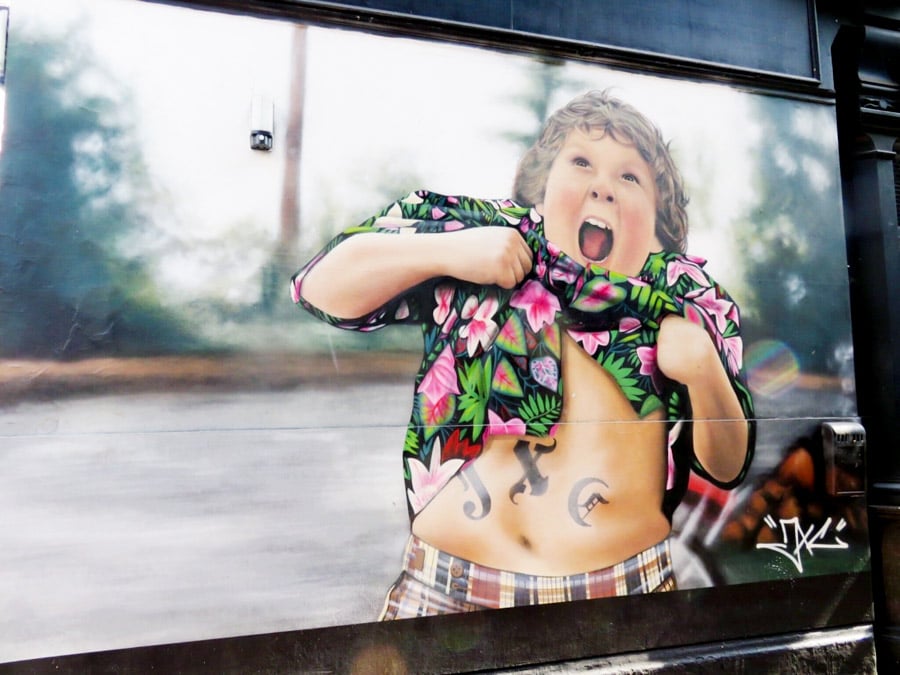 Camden is known as an artsy and creative hub, so it should come as no surprise that its walls are home to plenty of ultra-cool street art.
There are a number of tours aimed at helping you to find the area's best gems, or you can have a nose using our Camden Street Art Guide.
In particular, the Camden North area has many striking pieces, including some from well-known street artists.
While some of the identities behind the works are revealed, others are totally anonymous while some artists are known only by nicknames like Bambi.
All we know is that she's female, and the artist behind well-known works such as Amy Winehouse's portrait on Camden Road.
Other street art hotspots include Hawley Street, Castlehaven Road and Kentish Town Road, which all have some amazing works.
Read More: Street Art Hunting in Camden
Hang Out on Regent's Canal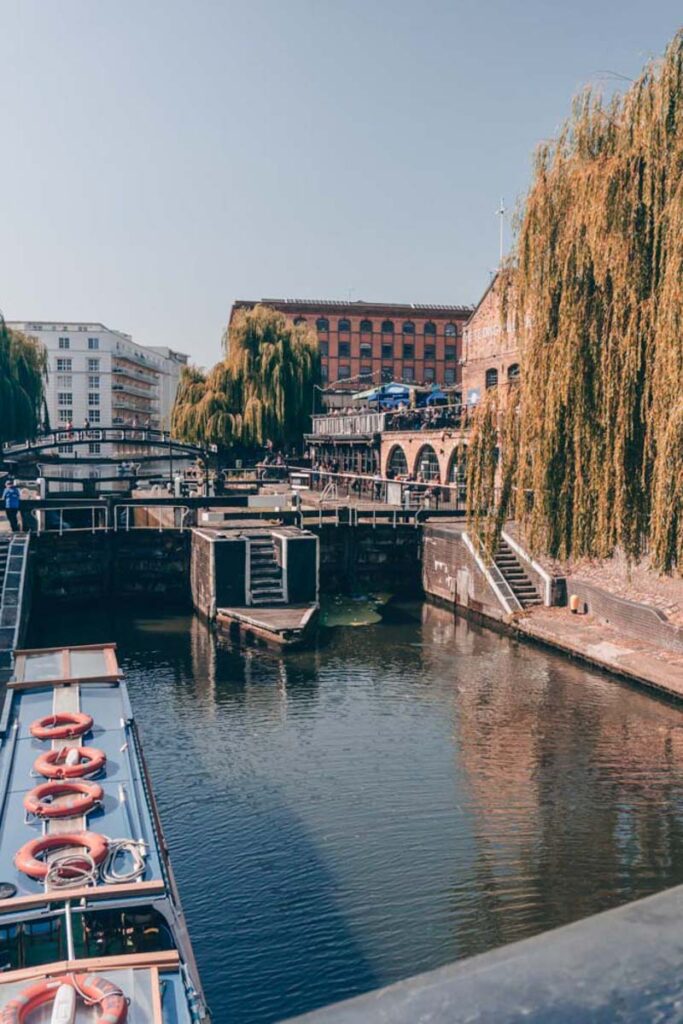 Want a break from the hustle and bustle of central London? Head for Regent's Canal towards the gorgeous area known as Little Venice.
It's quite the hidden gem and one of my favourite things to do in the area, thanks to the sight of the river and the peaceful and quiet atmosphere.
Although it is on the quiet side, there's still enough liveliness to remind you that you're in the midst of London town.
You can expect to see plenty of walkers, joggers and people out aboard row boats – why not join them?
For more than 200 years, Regent's Canal has been a peaceful little oasis that has a totally different feel and pace than the rest of Camden. It's free to take a stroll (obvs) and if you plan ahead and bring a picnic lunch, it's nice and cheap too.
Read More: Little Venice – Discovering London's Offbeat Gem
Catch a Gig at KOKO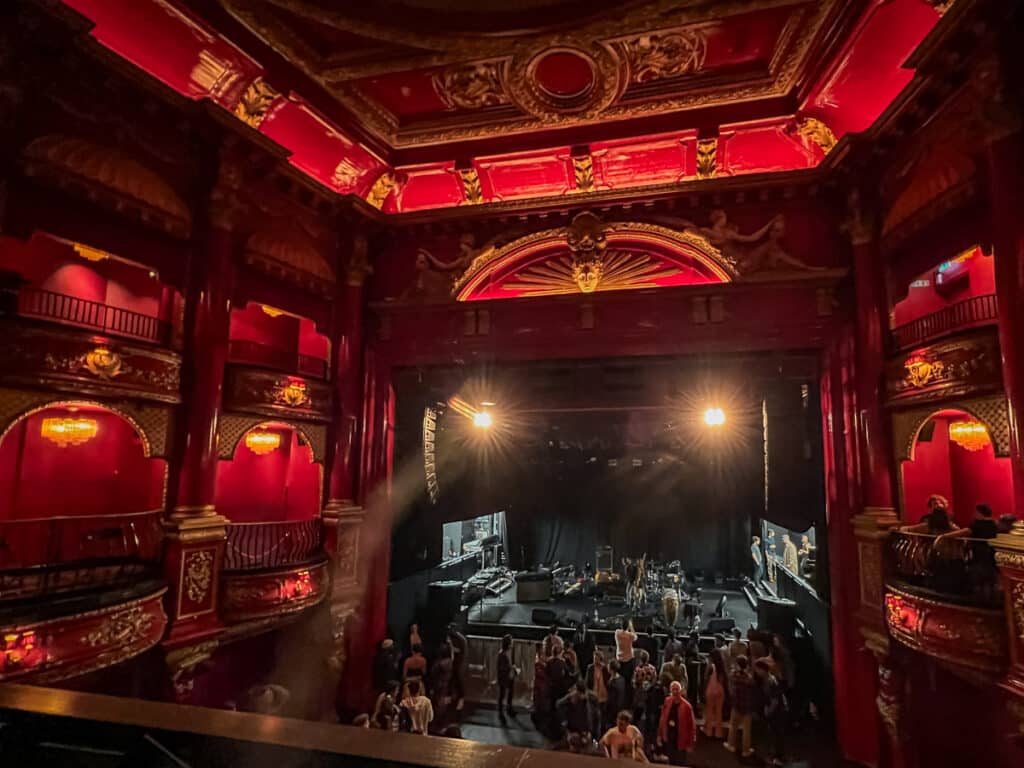 It must be clear by now that Camden is not short of fantastic music venues. Another one of those that should be on your radar is KOKO. The hall has a history of entertainment stretching back to the year 1900 and has played host to some of music's most famous faces.
The Clash, the Jam, and artists as varied as Prince and The Prodigy have performed here and the venue keeps up with its star-studded tradition.
When they've not got the big bands on they usually turn the main hall into a club – one that regularly packs out over the weekend, and functions as an unmissable late-night hotspot.
Find Out about Folk Music at the Cecil Sharp House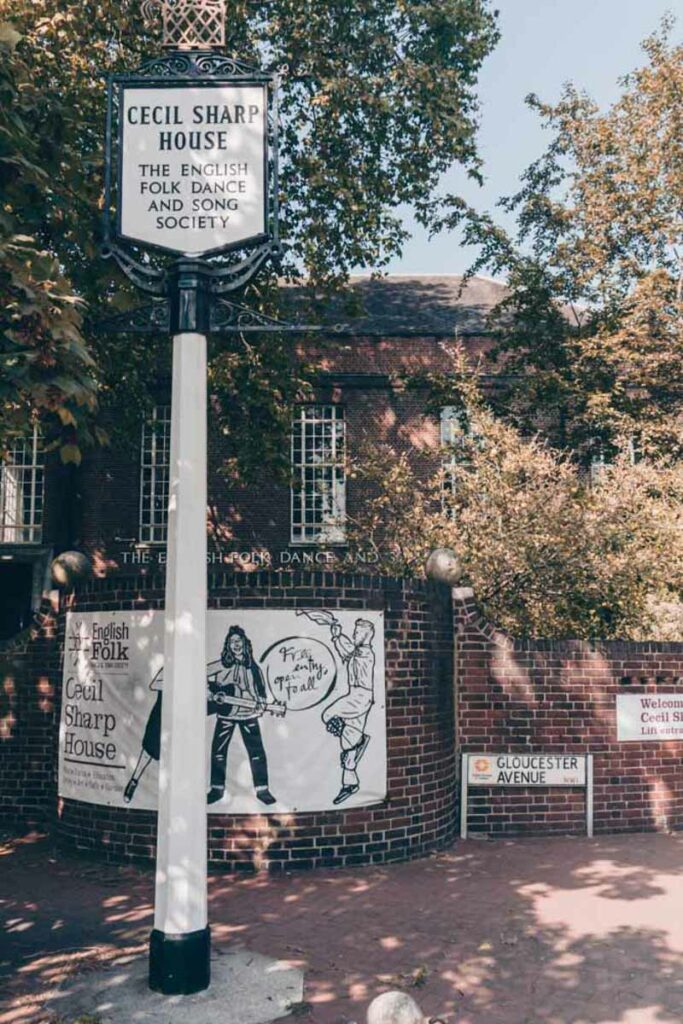 Before Camden Town was all about jazz and indie music, there was folk. For centuries, UK artists have produced traditional folk songs and music.
However, the genre is certainly not relegated only to the pages of the history books. Folk has been reinvigorated in recent times, with the rise in popularity of bands like Mumford & Sons incorporating the style.
If you want to learn more about folk music and catch a gig, then we highly recommend the Cecil Sharp House. It's been a premier folk venue since the 1930s.
Nowadays, it holds a huge collection of memorabilia relating to folk music and dancing.
There are also frequent shows of everything from traditional folk dancing to modern pop/folk that you might have heard on the radio. There are also workshops, classes and courses if you fancy learning more.
It's also been named as one of the best live music venues in London. Just saying.
Go on an Adventure at Babylon Park
Whether you're out and about with the family, or want somewhere to enjoy a fun date night with a mini-competitive edge, Babylon Park is the ideal spot.
Enjoy all the fun of the fair undercover, whatever the weather, at this indoor theme park that includes roller-coasters, dodgems, tea-cup rides, classic arcades, vending machines, and of course, sideshow games where you can grab your kids or loved ones the cuddly toy they've dreamed of having.
Open 7 days a week from midday to 9pm Mon to Fri, and 10am to 10pm at weekends, entry to Babylon Park is free but you'll need to purchase coins to enjoy the amusements once you arrive.
Snap the Pretty Houses (and the Views) at Primrose Hill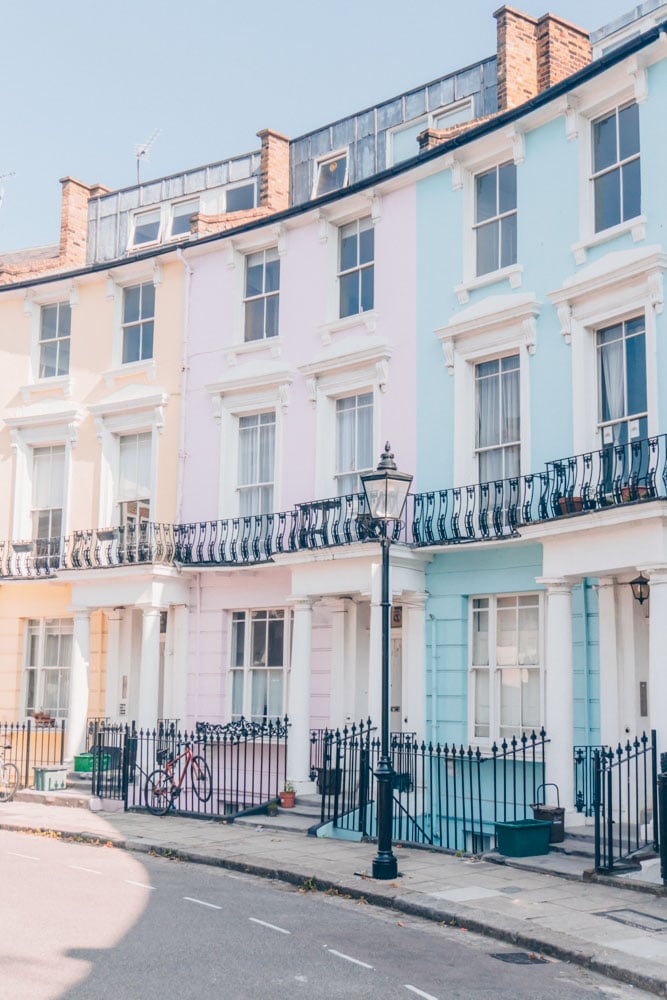 If you're wondering what to do in Camden on a budget, then a visit to Primrose Hill is a great option.
This beautiful green space is loved by both Londoners and visitors, who retreat into the green space to get away from the hustle and bustle of the English capital.
One of the highlights of Primrose Hill is the gorgeous houses around it, and especially at Chalcot Crescent and Chalcot Square. They are so pretty with their pastel colours and traditional charm – don't forget to take plenty of snaps!
Amongst those that have lived in Chalcot Square are the author Sylvia Plath and poet William Butler Yeats.
From the top of Primrose Hill, you'll also be treated to some amazing views out over the city of London.
Gorge on Street Food at Camden's Cool Street Food Spots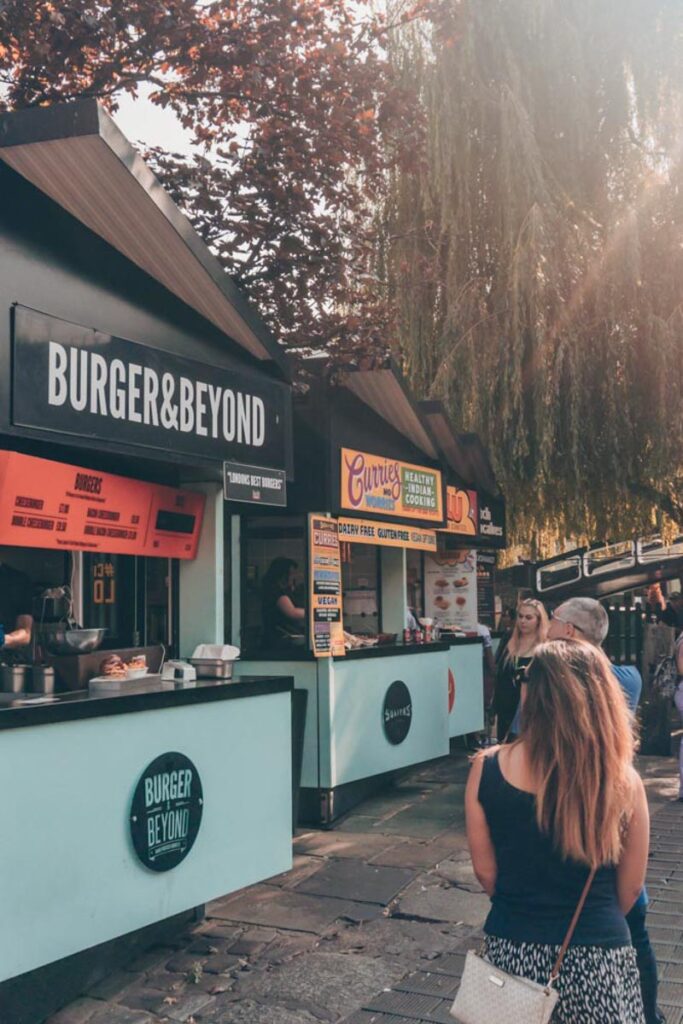 Sure, sometimes you want to head out for dinner at one of Camden's fancy restaurants – and then sometimes, you just want to snack on delicious, unpretentious food from one of the city's many cool food markets.
In particular, check out the East Yard at Camden Market? This part of the market boasts 30 different street food vendors (mostly food trucks) all in one convenient location.
There are so many great choices – from Vietnamese to Mexican and everything in between – the hardest bit is choosing your meal.
Stroll Around Regent's Park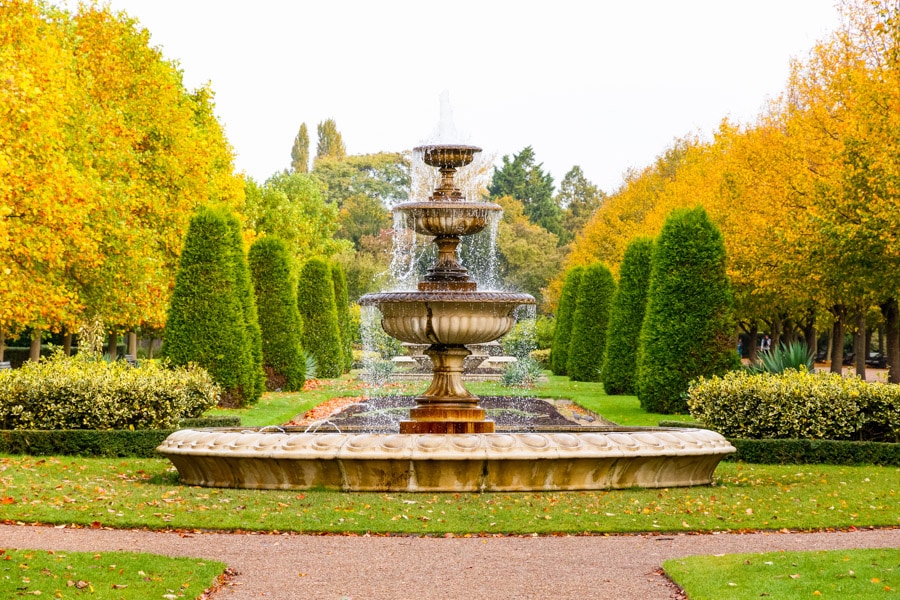 Regent's Park lies adjacent to Primrose Hill, and is one of the most beautiful green spots in London.
It's a large green space that was named after King George IV, who before his coronation was often called "the playboy prince".
He obviously had great taste in gardens, as to this day the park is a wonderful place to spend a morning or afternoon. In particular, the rose garden – complete with over 12,000 roses – is a particular highlight.
The park is also popular with local wildlife. There are many different species of birds found in the park, but perhaps everyone's favourite resident is the adorable hedgehog. If you see one, be sure to get some pictures, but keep your distance so as not to frighten them!
Feast on Dessert at Chin Chin Labs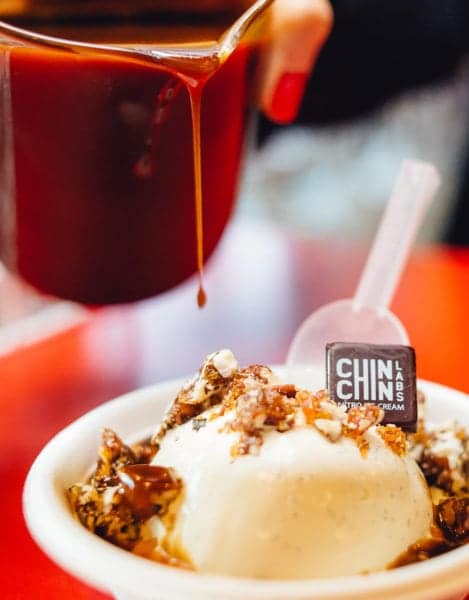 It's no secret that Camden's restaurant scene is thriving – it feels like every month a clutch of new eateries throw open their doors to tickle diners' tastebuds with outrageously good food. Cheese lovers should make a beeline for The Cheese Bar – a space that's best described as an ode to British cheese.
Their decadently good grilled cheese sarnies surpass anything you could rustle up at home – and the bottomless raclette is the stuff of dreams – 90 minutes of unlimited raclette with ham and cornichons. Oh cheesus.
On a decidedly lighter bent, Japanese restaurant come whisky bar YoKOYA is one of the best, and most authentic London sushi bars, thanks to their extensive selection of small plate Japanese fare.
Not sure what to go for? The salmon skin rolls are *chef's kiss* a delight.
Need more recommendations? Read our Camden restaurant guide
Rooftop Drinks at The Lucky Club, Camden's Newest Roof Terrace
Yeah yeah, we all know that Camden is hella cool… but you know what it's been missing until now? A cool rooftop terrace specialising in margaritas and mezcal cocktails (oh and tacos – there's always room for tacos).
That's where The Lucky Club Camden comes in.
After opening in May 2002 on the former site of the PROUD terrace (no doubt many of you have hazy memories of boozy nights spent up there – we certainly do), The Lucky Club has brought a zinging touch of Mexican fiesta to the city.
Don't worry, there's also a retractable roof for when the London weather decides to do its thing too.
Go on a Pub Crawl around Camden's Famous Pubs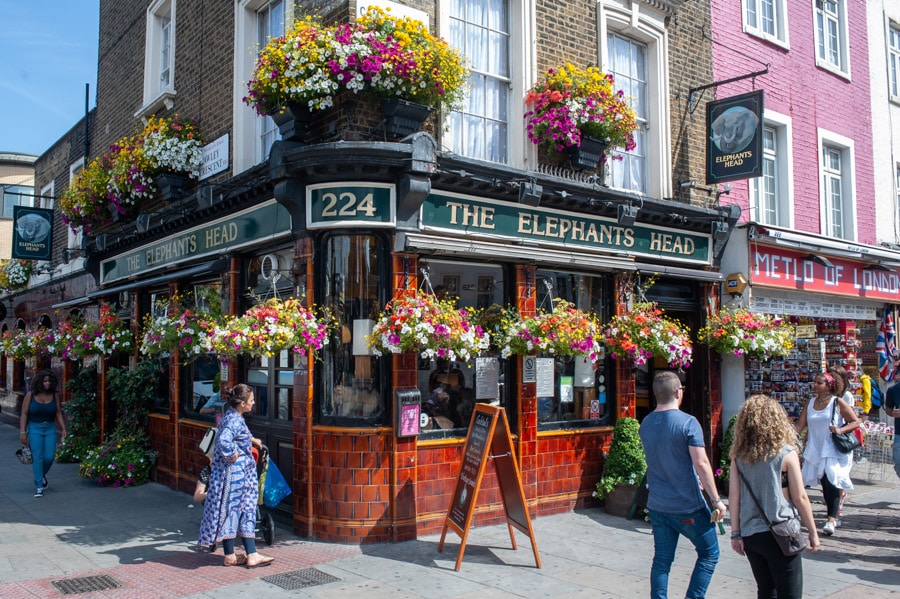 Visiting the pub is an essential part of any trip to London and Camden Town. Why visit just one, when you can make a night out of it and go on a pub crawl?
Camden is simply teeming with historic, quirky and/or charming pubs where soaking in the atmosphere is just as important as downing a pint (although that's important too).
Be warned: some are very, very quirky – especially the metal ones.
There are a number of organised pub crawls that you can join in, especially if you're visiting solo. The other option is to make up your own itinerary – this way you have total freedom over what you see and what you drink.
The sky's the limit (well, your alcohol tolerance actually), but some of my favourite pubs in Camden include the gothic Black Heart, the brightly coloured Joe's (you cannot miss it) and the stylish Lock 17.
Head to a Gig at The Roundhouse
Camden is synonymous with music and the arts, so to be considered an absolute stand-out, you have to be good. Really good.
Luckily, the Roundhouse absolutely is. This amazing performing arts space lives up to its stellar reputation, offering an incredible calendar of theatre, live music and more.
More than just a performing arts space, the Roundhouse is committed to the power of the creative arts to transform lives. They give back through frequent workshops and other events, which are frequently aimed at young people.
Catching a performance at the Roundhouse, especially if it's in the round, is an experience not to be missed.
We highly recommend checking out their calendar with an open mind.
Chill Out to Music at The Jazz Cafe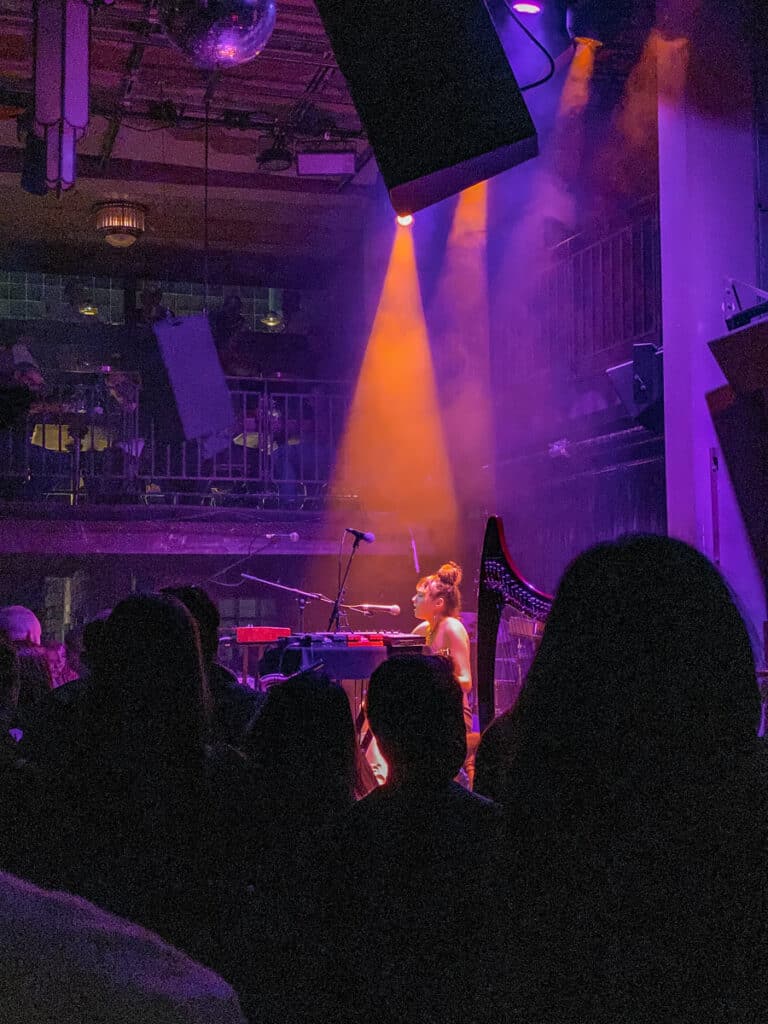 The Jazz Cafe sits right in the heart of Camden Town, serving up jazz as it should be. Think of an intimate venue with a very impressive set list all through the week.
While the emphasis is on jazz, they actually offer a little more variety than that. Reggae and soul are frequently on the calendar, while other genres pop up occasionally too.
The Jazz Cafe does a great job of promoting both up-and-coming local artists as well as larger international acts.
It's a bit of a mixed bag as to who and what you'll hear and see, but it's always an amazing experience.
As the name suggests, they also do great food to enjoy with your tunes (though you'll need to book a spot in the upstairs restaurant to try it). It's a delicious menu with classics like crab linguine and southern fried chicken, while they also do a mean cocktail as well.
Read More: The Best Bars in Camden
Paint Your Own Pottery At A Boozy Social Pottery Session
Art and booze sounds like a potentially cataclysmic combination. Yet, at Social Pottery on Kentish Town Road you can rock up with your £5 entry fee, pick your piece of pottery, and begin to decorate, all while drinking your own booze.
The sessions, which run regularly throughout the week, are a brilliant way of socialising, whipping up a creative storm, and once it's been heat-blasted, taking your items away to take pride of place at home, or make the perfect holiday gift for your loved ones.
Tour Camden's Famous Music Spots
It's no secret that Camden has long been considered one of London's musical hotspots.
In fact, it's one of the most iconic areas in the music world, having inspired performers including Amy Winehouse, Pink Floyd and the Sex Pistols.
There are so many different iconic landmarks, from venues which launched international careers to art honouring fallen legends (Amy Winehouse, who lived in Camden until her death, features prominently).
Taking a tour to learn all about the significance of various landmarks is a great way to see Camden and learn more about its musical history.
You can either join a guided tour or make up your own. Don't forget to add in iconic sights like the venue Koko and the Amy Winehouse statue at Camden Market.
Watch Fringe Theatre at Etcetera
It's easy to get wrapped up in the glitz and glamour of London's West End theatres, but some of the best performances you can find in this city are happening in the places you might not expect to find them.
Take Etcetera for example. This award-winning theatre is inconspicuously part of a pub, The Oxford Arms. They've been running since the 80s and have been a springboard for many of the theatre's best when they were looking to break into the industry.
They're still going strong on that reputation. We highly recommend getting tickets to one of their productions. You can't go wrong.
Tour Camden Town and Spot Its Blue Plaques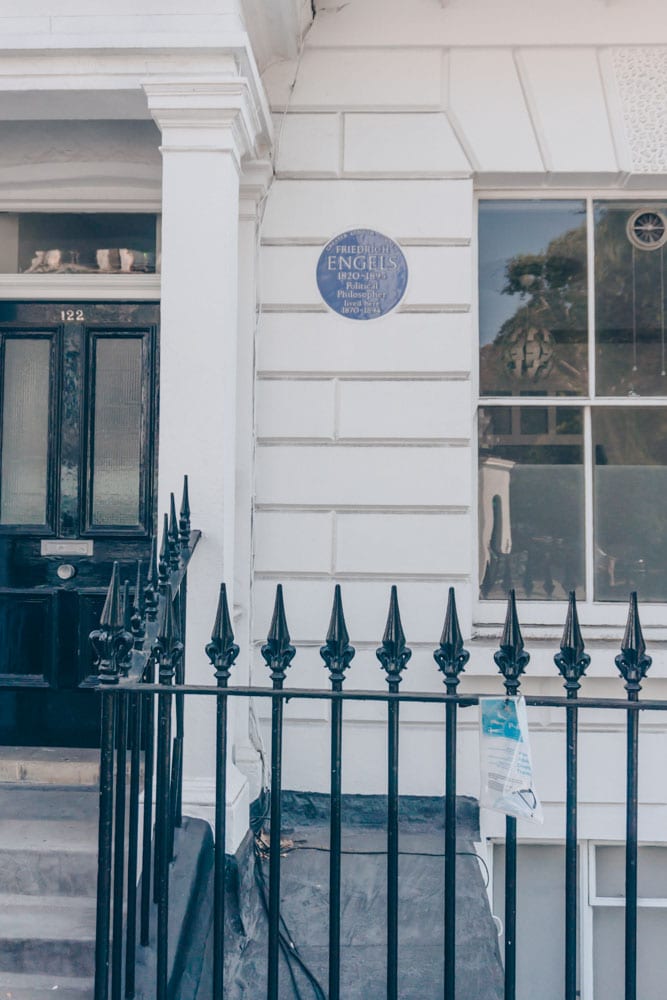 If, like us, you love to indulge in a little historical nerding, Camden Town is a real hotspot for finding places where many of yesteryear's famous faces from the arts and medicine lived.
Wandering through Camden, you can look out for the English Heritage blue plaques that add a little context to the area's history.
Look out for Dylan Thomas at 54 Delancey Street, George Orwell at 50 Lawford Road, the first President of Ghana, Kwame Nkrumah at 60 Burghley Road, and Walter Sickert at 6 Mornington Crescent.
Also check out the Camden School for Girls on Sandall Road, which pays homage to women's educational pioneer Frances Mary Buss, and 13 Lyme Street where South African freedom fighters Ruth First and Joe Slovo, student contemporaries of Nelson Mandela, resided between 1966 and 1978.
You can extend the walk to Primrose Hill too to see plaques for other important figures including Frederich Engels and Sylvia Plath.
Turn Your Eye into Art Work at the Iris Galerie
A new artistic experience has opened up in the heart of Camden Market with Iris Gallerie where your eye becomes a stunning piece of art.
The experience begins with a photo taken of your eye before allowing you to choose from a near endless array of effects and splashes to truly exhibit the glorious beauty of your iris and letting you take home prints that will wow visitors to your home.
Indulge Your Closet Raver at Cyberdog
Also located in the heart of Camden Market is Cyberdog, a trance music and cyber-clothing retail outlet that's a cult hangout for Camden's dance music fans..
Stacked with everything you need if you're heading out raving or during festival season, with whistles, glowsticks, retro raving outfits and fluorescent clothing aplenty to choose from.
Granted, the never-ending banging trance tunes pumping through the shop may target a niche crowd, take some time to go snooping through the goods in the basement of the store.
Unleash Your Inner Rock-God(dess)
If you've ever wondered what it would be like to be a rockstar and form your own band, whether becoming the new Rolling Stones with mates, or Brady Bunch with family, We Jam Studio can make your dreams come true.
Located in a basement music studio in a Camden guitar shop, We Jam Studios allows you to pick up an instrument and find your way through the rock classic of your dreams on real instruments.
Pup on wigs to bang out the hair metal classic of your dreams, and aim to post the highest score on the studio's interactive leaderboard. Best (or perhaps worst) of all, you get recordings of your performance to take home!
Things to do in Camden: Map