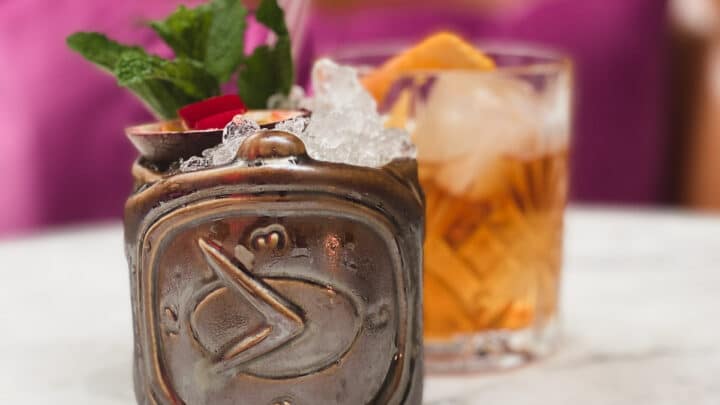 Soho is one of London's coolest drinking spots. It's got it all – hush-hush speakeasies serving decadent cocktails, bars in abandoned underground stations, there's even a rooftop bar thrown in for good measure. Looking for the best bars in Soho? Don't miss these brilliant drinking dens.
It's no secret that Soho's bars are banging. What was once one of London's seediest spots has blossomed into one of its coolest areas for nightlife – and with that comes a healthy dose of great bars.
Now, Soho isn't just about drinking – there are loads of things to do in this bustling area to keep you entertained… but Soho does do drinking ever so well.
We've been drinking in Soho for a long time, but we almost bust our livers revisiting our favourite spots just to make sure that we were only recommending Soho's absolute best bars.
Here are the ones that you shouldn't miss.
The Best Bars in Soho
Disrepute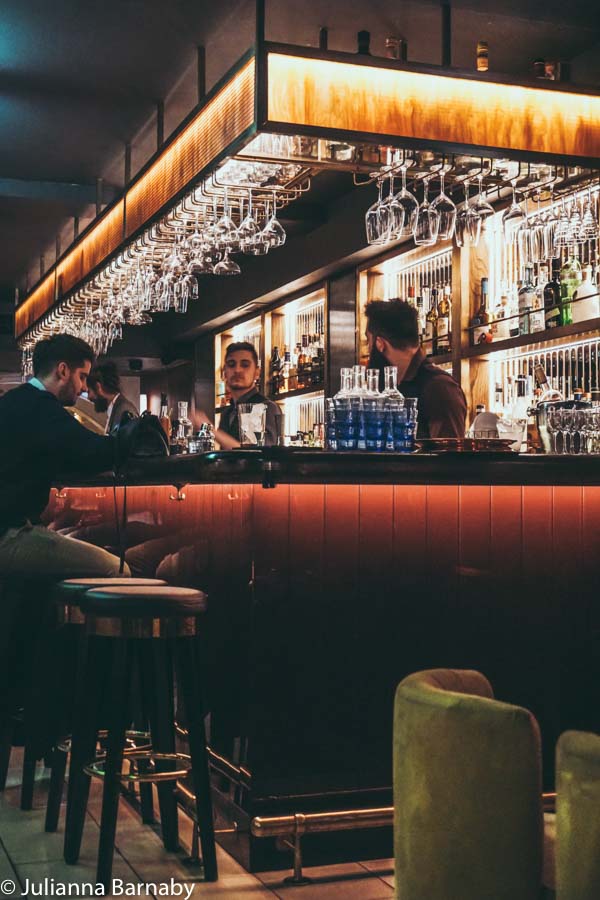 If you only make time to visit one bar in Soho, make it Disrepute.
We should play coy and pretend that we don't have favourites, but that just isn't true. Disrepute is one of (if not the) best bars in Soho. Fact.
If there was ever a cocktail bar that embodied the phrase "retro chic", it's Disrepute. Think 1930s railway-carriage meets underground speakeasy with a touch of extra class and you are probably on the right track.
Yeah, it looks great. But what about the cocktails? In one word: excellent.
Choosing a cocktail is an experience in itself, as rather than your regular run-of-the-mill menu, there's a little story to accompany each drink. Choosing based on which one captures your imagination is encouraged, although ingredients are listed on the back.
Although Disrepute is a relative newcomer, it's built on the site of infamous Pinstripe Club – which served backdrop for an illicit affair between a certain politician and a young model, which eventually caused the downfall of a government.
Things aren't likely to be quite so dramatic on your visit, thank God.
Technically, Disrepute is a member's only club – but the public are allowed in. Book ahead to be sure. This is one Soho bar that you don't want to miss.
Read More: Disrepute Soho Review
American Bar at Brasserie Zedel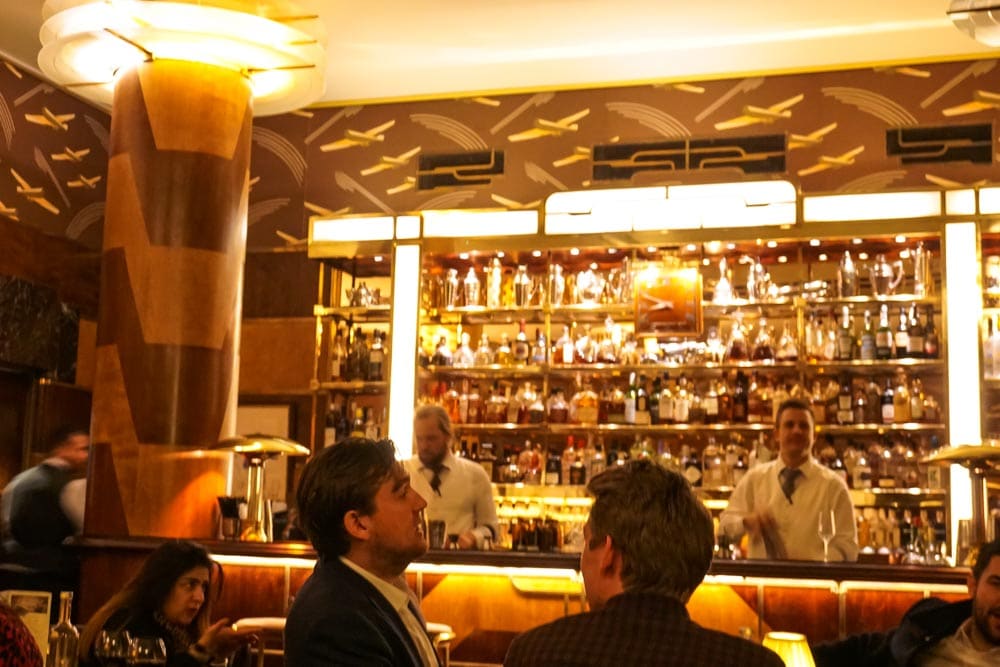 Although it's called the American Bar, this chic little hideout has the style of a Parisian brasserie and the soul of a classic Soho haunt. What's not to love?
Plus, while the art deco interior is elegant and stylish, the atmosphere is welcoming and unpretentious. It's opulent, without being gaudy.
Then there's the amazing cocktail list, filled with choices like the scrumptious le donnet to ease you into the evening. As if that wasn't enough to tempt you, the bartenders can even craft you up something unique.
Heritage Restaurant & Cocktail Bar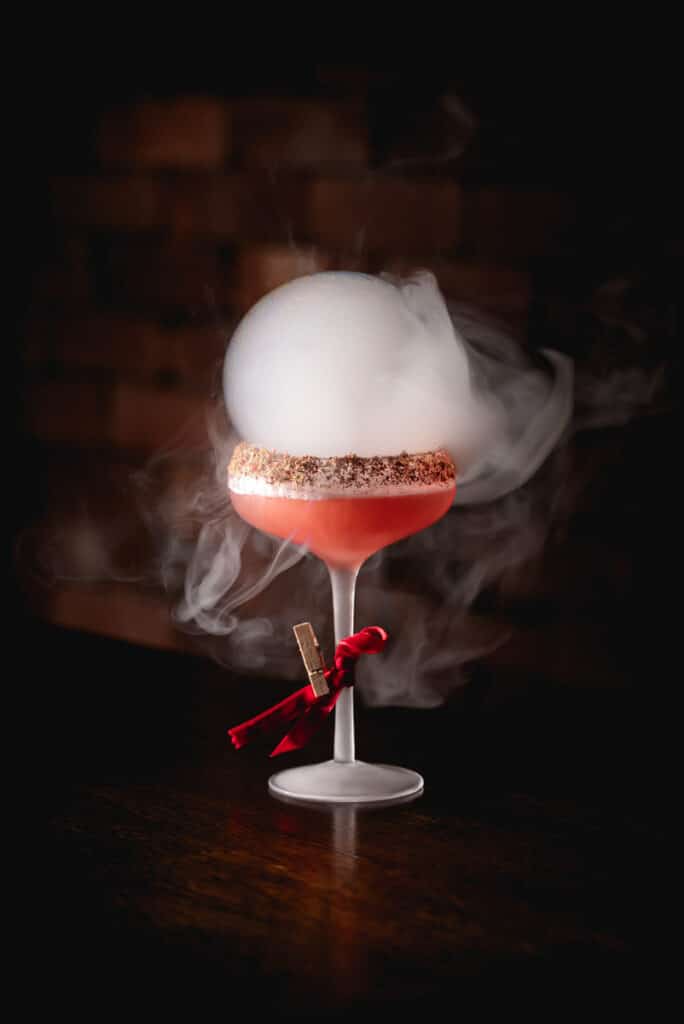 For a touch of the Alps in Soho, head to Heritage Restaurant & Cocktail Bar.
Not only does the interior of the bar feel like you've stepped straight into a chic Swiss chalet, but the drinks have been carefully crafted to immerse you in the theme.
A balance of sweet, sour, and bitter notes, along with herbal elements, transform your drinking experience into one of pure escapism.
Cocktails include a gin-based Bubble Supernova and The Moon Juice, a rum-based cocktail that represents the feeling of staring up into the sky from your ski resort and seeing the moon shining bright. Told you… pure escapism.
Carefully-curated art also adorns the walls of Heritage, which reflects the atmosphere of a resort perfectly and brings a fun splash of an apres-ski party. A limited edition Keith Haring piece and Lucy Danielle's colourful snowboard creations are particularly funky additions to the otherwise sleek and minimalistic bar.
Trisha's Bar – New Evaristo Club
It seems every weekend there are several new bars around Soho, while others shut their doors for good. Things come and go.
Not the New Evaristo Club, also known as Trisha's Bar. It's a true Soho stalwart – 75 years and counting. Most of them have had Trisha at the helm, and she's quite the Soho icon in her own right.
The secret to this club's longevity? We suspect the friendliness factor has got something to do with it – it's one of the most approachable "member's only" clubs in London.
It may not be the fanciest bar out there, and the drinks mightn't be the best in Soho, but sometimes all you really want is a big smile and to be greeted like a local.
Antidote
There are a number of wine bars in Soho but we particularly love the simple approach of Antidote.
Far from stuffy or pretentious, it serves an interesting list of wines from its breezy and friendly cafe/bar. It also does fresh and simple French-inspired meals.
As for the wine, there's an emphasis on organic, biodynamic wine as well as promoting newer producers who are shaking up the industry. This makes it a great place to go and discover something new.
There's even a wine shop so you can leave with a few bottles for later if you find a new favourite!
Why not pop to Bob Bob Ricard for dinner? Read our full review
The Vault Beneath Milroy's
Step through the bookcase and find yourself in a hidden, underground bar that is so good you'll want to keep the secret.
Exposed brick and wooden bunkers give the Vault a gritty industrial edge, while friendly service adds some much-appreciated warmth.
There's a great cocktail list with some inventive names, but the whiskey selection is where the Vault really shines. It's under a scotch store, after all, so it's only fitting really.
You certainly don't need to be a whiskey snob to enjoy it, though, as it's perfect if you're just looking for a nice bar in Soho.
Read Next: Cool Gin Drinking Spots in London
The Blind Pig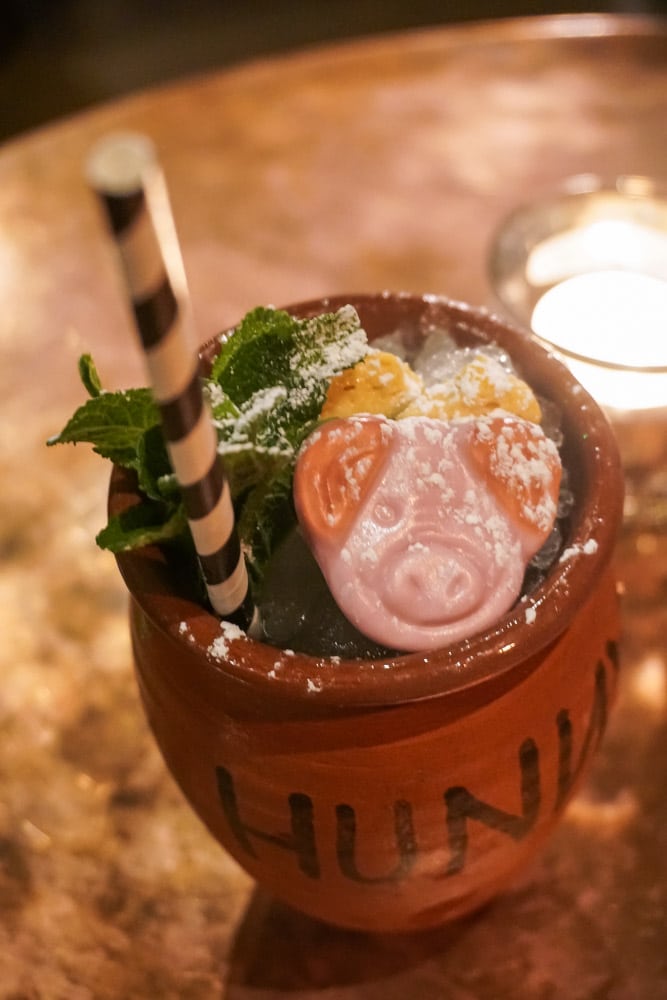 In true speakeasy fashion, The Blind Pig isn't easy to find, but once you do, you'll be treated to one of the best places to drink in Soho.
While the decor is luxurious with leather and deep hardwood, the cocktail menu is positively adorable. Most of the cocktails are inspired by classic children's books, like the Winnie the Pooh inspired 'Hunny Pot'.
It's not cheap but it's not outrageous, and it's the kind of place where you can sit and sip your cocktail slowly, taking in the vibes.
It's best to call and make a booking beforehand, although the staff do their very best to find room for walk-ins.
Read More: Drinking at The Blind Pig – The Full Review
Bar Termini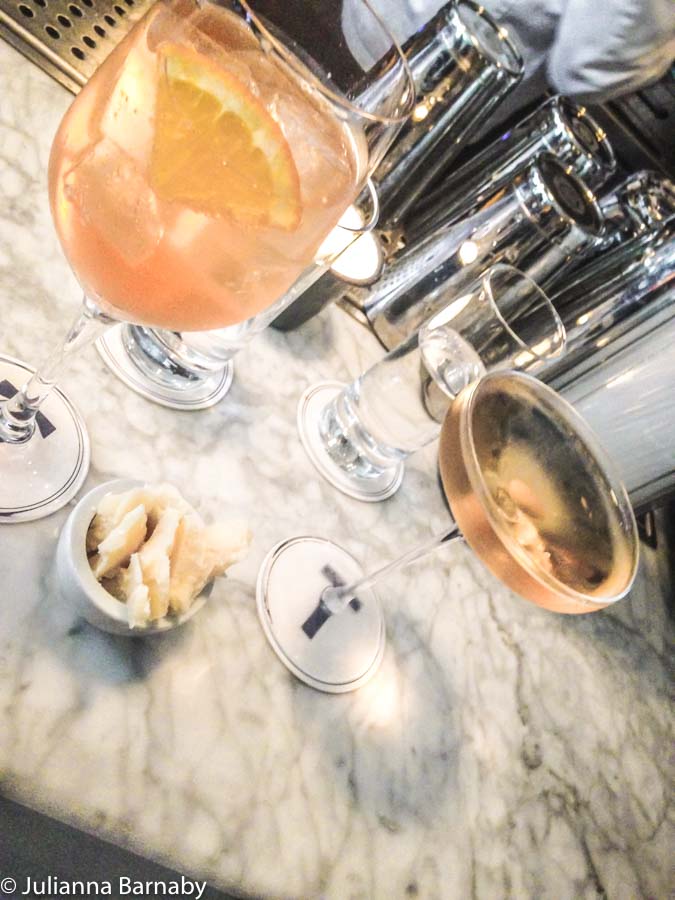 Mixology legend Tony Conigliaro is the powerhouse behind the popular Soho cocktail bar Bar Termini.
This quirky and approachable venue deserves its place amongst the coolest of the cool bars in Soho. Seating just 25, the bar/cafe takes its coffee and cocktails equally seriously.
Like the capacity, the number of choices on the menu is modest, but that allows Bar Termini to focus on exceptional quality drinks – of both the hot and cold variety. There's also a small selection of sharing platters.
Bookings are recommended, as it doesn't take long for all the seats to vanish.
Swift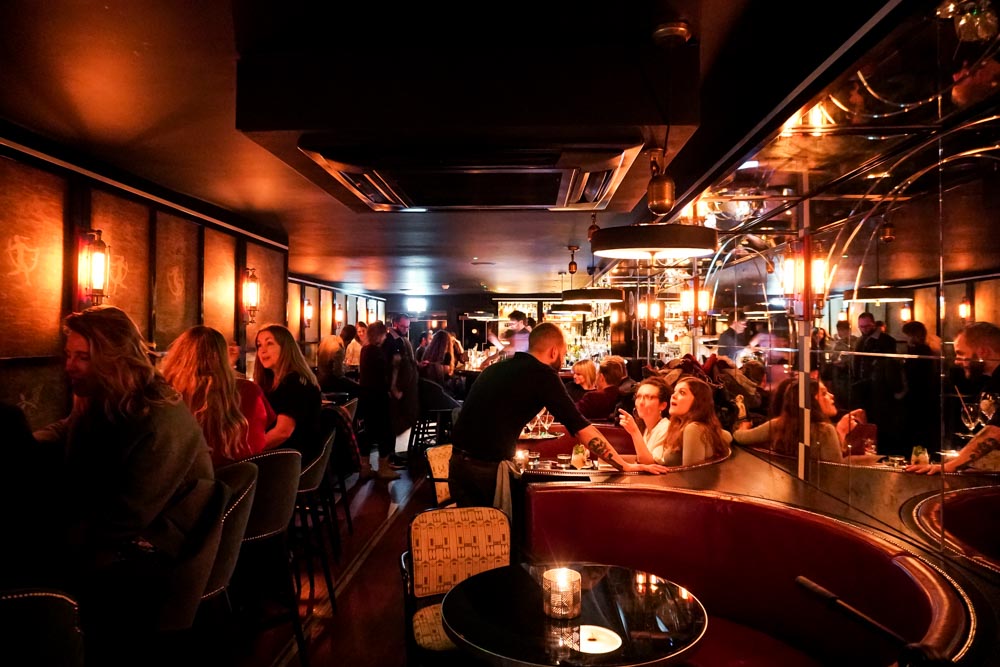 Swift takes its inspiration from the relaxed bars on the continent – offering a comfortable and chic spot for you to sip on excellent cocktails throughout the night.
There are two floors – the light and airy ground floor and the slightly more formal downstairs speakeasy.
Whichever you opt to drink in, the bar has a friendly, approachable vibe that's as much local pub as a high-class cocktail bar. Just with really, really good drinks and a rather beautiful interior.
So whether you stop by for a quick tipple or settle in to sample the drinks and (mouthwatering) food menu, Swift is a great choice for a nice bar in Soho.
Read More: Swift Soho: Two Bars, One Cocktail Lover's Dream
Basement Sate
Music, dessert and cocktails – it's a match made in heaven. To be honest, we're surprised it took as long as it did for Sate to hit the scene in Soho.
Sate is not a cocktail bar that serves a few desserts. Half its quirky menu is devoted to the sweeter things in life, from classic carrot cakes to decadent chocolate cigars (not smokeable, unfortunately!)
Each has a recommended cocktail pairing, while there are also a few savoury dishes if you want to skip the sugar overload.
Sate is the brainchild of two friends, and the atmosphere is welcoming. A great place to satiate that sweet tooth!
Experimental Cocktail Club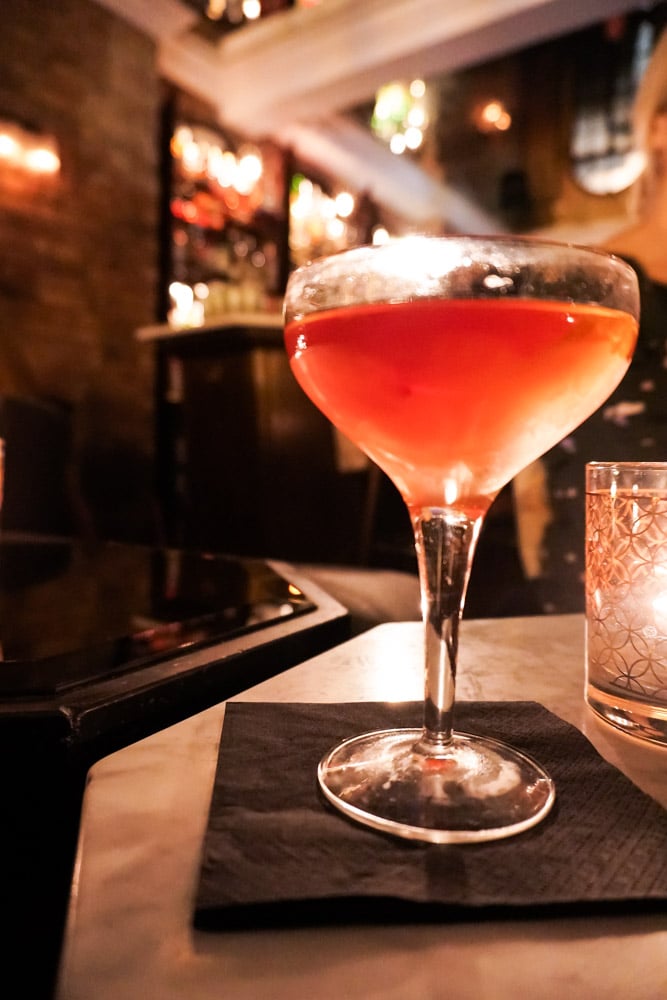 We recommend giving yourself a minimum of ten minutes to find this place; it's very tucked away in the midst of Chinatown.
The Experimental Cocktail Club is worth any confusion you might run into finding it. This three-floored bar is bigger than it first appears, yet still manages to have a cosy Speakeasy vibe.
The real standout – as you might expect from the name – are the amazing cocktails. Give the bartenders carte blanche or pick something from the menu, such as a Negroni made from genuine 1970s Campari.
Reservations are only by email so if you definitely want a table, make sure to plan in advance. If you're looking for Soho bars open late, this is a good choice, as it tends to stay open late, even on weekdays.
Read More: Experimental Cocktail Club Chinatown Review
Jack Solomon's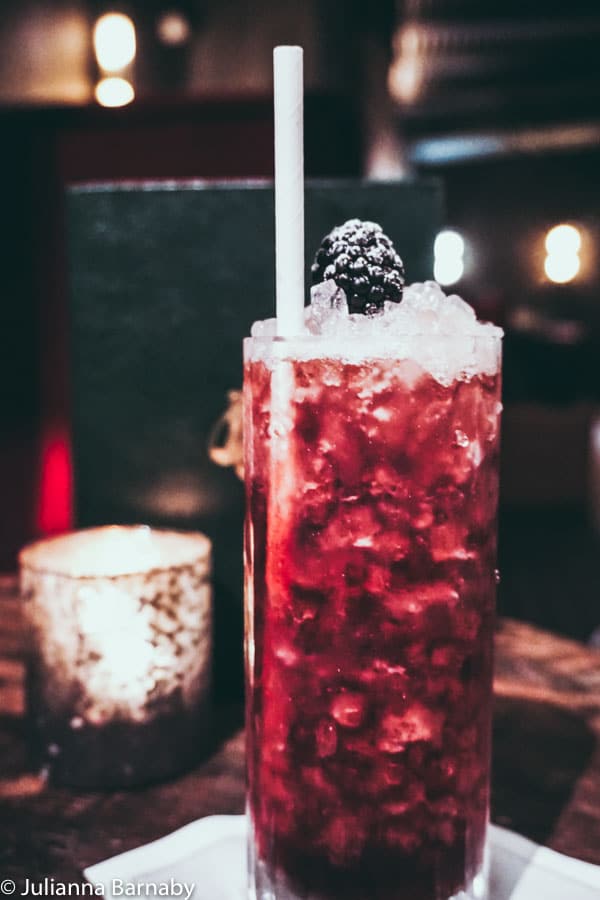 There's no shortage of quirky Soho bars with a backstory, but Jack Solomon's is one of the best.
The bar is named after Soho's most famous boxing promoter, who arranged plenty of bouts beginning in 1930. He also ran his own boxing gym, but his first gym was destroyed during World War II.
As a result, he moved premises to 41 Great Windmill Street. What used to house up-and-coming boxers now houses Londoners more keen for a delicious cocktail than slogging it out in the ring.
It's a great story and the bar does it justice, too. There's a great cocktail list and the decor is stylish and retro – don't miss out on experiencing this cool bar in Soho.
Read Next: Cool Soho Pubs for a Cheeky Pint
Aqua Spirit
It seems cocktails taste better at altitude – or maybe it's just the amazing views. Whatever it is, everyone loves a good rooftop bar in Soho, and you won't be disappointed at Aqua Spirit.
It's the Soho offering of an exclusive worldwide chain, so it's certainly a sleek operation with beautiful views and an impeccable cocktail list that's heavily inspired by Japanese flavours.
There's also an inside bar, that's a little moodier and perfect for escaping those chilly nights, yet still catching glimpses of the gorgeous London skyline.
It's a luxurious option with a price tag to match – but the views certainly don't come cheap.
Arts Theatre Club
There are plenty of prohibition-themed bars near Soho, but few have the chops to back it up like the Arts Theatre Club.
Infamously, the venue was once owned by the Kray twins, a pair of London gangsters who were eventually locked away for life for crimes including arson, racketeering and murder.
Despite their very, very dodgy dealings, they still rubbed shoulders with plenty of stars such as Judy Garland and Frank Sinatra. Sometimes at the Arts Theatre Club.
Today it's a private member's club (£100 per year) that's more glamour than gore – the flowery teapots certainly seem at odds with the wicked reputation. Nonetheless, it's a vibrant and intriguing place to enjoy a delicious cocktail.
Iceberg Lounge
Park Row's Iceberg Lounge is a Gotham City inspired jaunt tucked away in Soho, serving up luxe signature cocktails and champagne.
Appreciate the excellent Penguin-theming whilst quaffing the likes of Love Me, Love My Umbrella, a tantalising concoction of Grey Goose, sacred dry vermouth, St Germain, lemon juice, strawberry syrup, and soda.
You can indulge even further with a devilish selection of oysters and caviar – or opt to make your way through a seafood sharing platter as you down drinks.
Throughout the week, expect a dazzling array of performers to take to the stage. Singers and cabaret acts mainly, although you may spot a few familiar faces if you keep your eyes peeled.
Soho Residence
After the iconic Roundhouse had a complete facelift in 2019, Soho Residence emerged quickly as one of the best bars in Soho. Spread over three floors, there's a room to match whatever mood you're in.
The downstairs botanical bar is undeniably the most impressive spot and if you head there before 8pm on weekdays or before 6pm on weekends, you can save up to 50% on drinks (a cocktail for 6 quid is practically unheard of in the capital).
The dedicated cocktail lounge is a swanky, velvet-accented room – balancing elegance with coolness perfectly. Nab a seat by the window and people-watch while you sip on a signature mojito or a Manhattan.
If you're feeling like you fancy a boogie, you can always head upstairs to the festival club to continue the party.
Barrio Soho
Barrio has a couple of locations dotted throughout the capital, but no matter which one you visit, you're guaranteed an evening of pure fun.
The interior is ridiculously bright: pink and yellow accents, garish floral walls, and drawings of Latin American icons gazing at you as you drink. But, it's done in a way that adds to the bar's experience, rather than totally overpowering it.
Cocktail-wise, expect cheeky takes on classics – the Raspberry Beret, a combo of raspberry vodka, vanilla, and passion fruit, is particularly delicious. Or you can choose from plenty of classic beers, wine, and fizz.
The Pink Chihuahua
Soho's El Camion Mexican restaurant holds a feisty little secret… The Pink Chihuahua.
After you have scoffed tacos until your heart's content, head downstairs where an intimate Mexican dive bar serves up mind-blowing margaritas made with their very own Pink Chihuahua tequila.
With neon graffiti and sugar skulls plastered across the walls, it's a total cliche. But the drinks are delicious (and decently priced) and the vibes are extremely fun.
Read More: Cahoots – An Overhyped and Underwhelming Experience at Soho's 1940s Themed Cocktail Bar
The Little Scarlet Door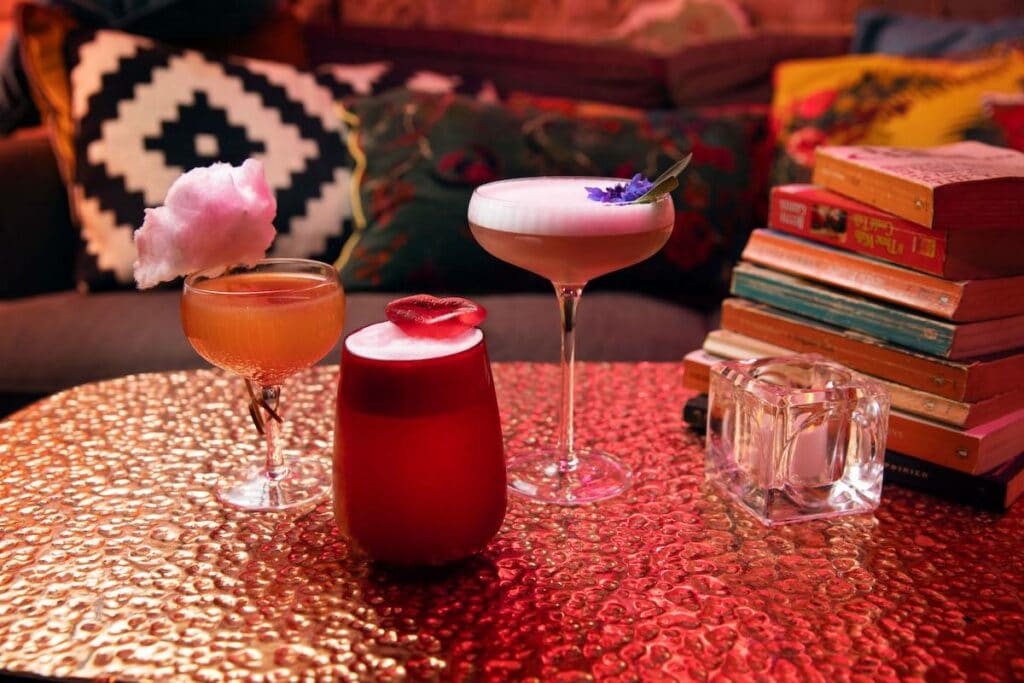 What does outrageously cool decor, quaffable cocktails, and ultimate party vibes all have in common? Answer: They can all be found at The Little Scarlet Door.
With DJs and dancing from Wednesday to Saturday, it's a no-brainer that The Little Scarlet Door is one of the top spots in Soho.
If you like your drinks sweet, opt for the Crimes of Passion, a concoction made from strawberry and cream-infused Element 29 Vodka, Passoa, passion fruit, and fizz – served in a goblet with a flaming marshmallow, no less.
If, however, you fancy something a little more grown-up, the Y Tu Mama Tambien is just the cocktail for you: Enemigo Cristalino Tequila, QuiQuiRiQui Mezcal, agave, and rosemary. Absolutely delicious. Pair with the house mezze board and let the party begin.
Louche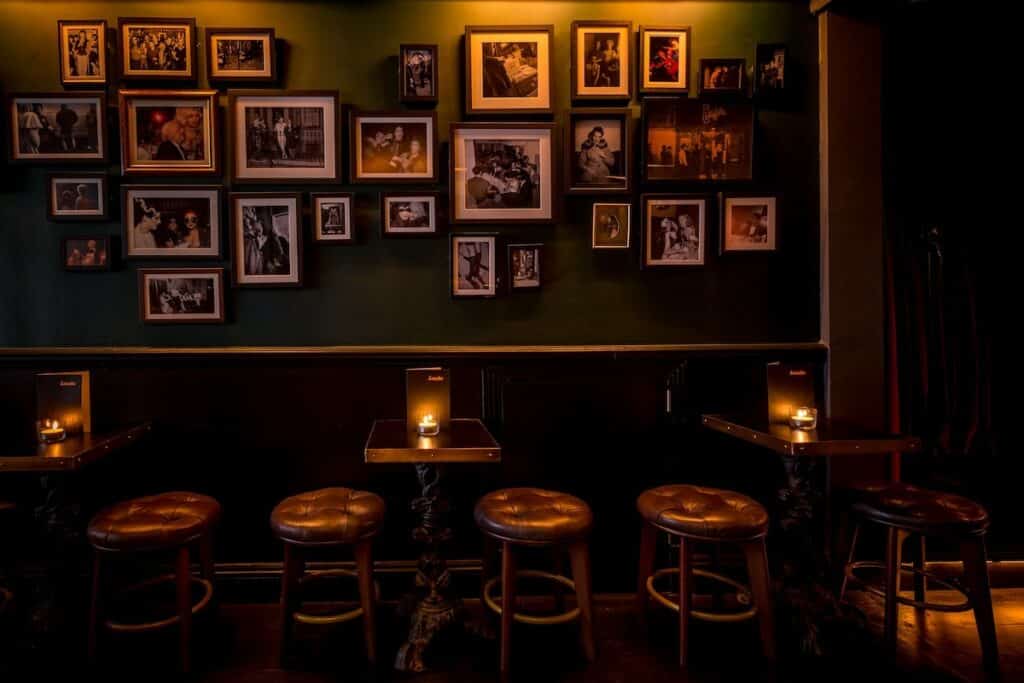 Another new spot in Soho, Louche is a dimly-lit, two story bar promising jazz music and all the debauchery of old Soho.
There are three different spaces to choose from (given there aren't any parties happening that evening), but head to the church room for gorgeous aesthetics. When it comes to brilliant Soho cocktail bars, this is one of the coolest.
The best bit? House cocktails are two-for-one throughout the week and between 4pm – 6pm on weekends, so head there for a couple of Picantes before dinner. That said, if you're after live music, go late as that is when it seems to be playing.
The Thin White Duke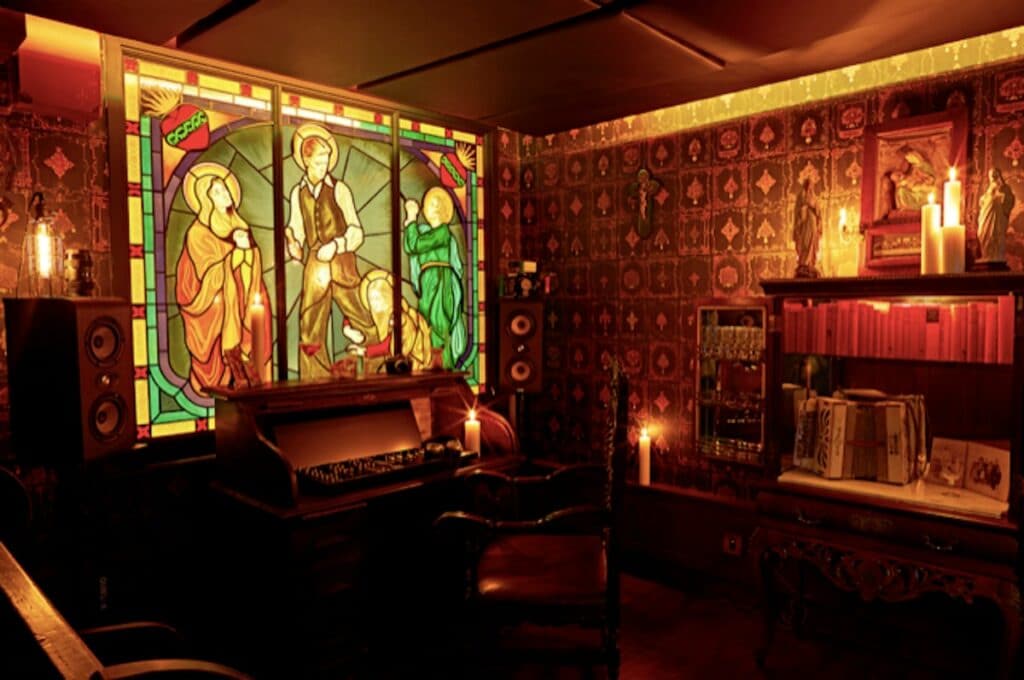 It's no surprise that Soho now boasts a bar dedicated to David Bowie himself, and it's even less of a surprise that it's one of the coolest new bars in London.
The Thin White Duke pays homage to Berlin and Japan, with a number of impressive rooms to choose between as you booze. We can't quite get over the impressive stained glass window of the legend himself, though the tranquil Kyoto-inspired room is almost as impressive.
Drinks-wise, expect an innovative selection from mixologist wizard Dev Eames. We're talking classics like a Gin Fizz paired with signature options such as the Mezcal-based …Away and the apple brandy-fuelled Lover's Eyes.
Amalfi
For all the summer feels, head to Amalfi, a restaurant and one of the best bars Soho has to offer.
If you couldn't guess by the name, this joint heavily takes inspiration from the Amalfi coast. The result is a verdant oasis with marbled floors and terracotta tiles – this spot seriously brings the sunshine.
The drinks menu balances aperitifs with punchier cocktails, wines, and beers, as well as soft drinks, so you're catered to no matter your poison. Not sure what to drink? Go for the ultra-refreshing Grapefruit Negroni – you won't regret it.
Wun's Tea Room
You may have spotted Wun's Tea Room before. It's the hopping place on the corner of Greek Street and Old Compton Street. They like to slide back the retractable doors when the weather's good and it creates a scene you almost can't help but want to get stuck into.
The vibe of the place is 60s-era Hong Kong. Lighting is low, waitresses wear qipao dresses and cocktails draw on Asian ingredients to create a concise menu of twists on the classic drinks and creative signatures.
To touch it off, neon drips from the place and the soundtrack of 60s Hong Kong pop is piped in over the hum of happy punters. It's a combination that totally wins.
Soma
Soma is named after the Hindu god of the moon. The Indian connection? This swanky watering hole was the first bar venture of popular Indian restaurant Kricket. If you love what goes on there, you'll like this place.
There's a similar dedication to quality running through the cocktail menu, and many of the same flavours too – drinks here riff on Indian ingredients to create playful new versions of classic cocktails.
We love this spot because they stay open late, 3am late to be precise. The trouble is with 23 seats it's not always easy to get in. If you do manage to land a spot, try to make it one at their stunningly long bar.
Beasy Bar
Looking for a cool bar in Soho? Beasy Bar will tick all your boxes. While many of the neighbourhood's drinking spots can wander into the high-end (some might say stiff) realm. Beasy likes to keep it easy.
That doesn't mean they sacrifice on quality. The drinks here are really good – as good as any of Beasy's swanky contemporaries, and the place looks just as cool. What it does mean though, is that when you're peckish they've got a menu of hotdogs and loaded tater tots to choose from.
Can anyone argue with that?
The Mulwray
Sitting above the Blue Posts at the end of Rupert Street you'll find the Mulwray. It takes its name from the character of Evelyn Mulwray in the noir-classic Chinatown – appropriate (probably) because of the bar's proximity to the place in London.
It's also appropriate as The Mulwray is just the place you could image running into a femme fatale – a chicly done spot with plenty of private spaces for a touch of intimacy and cocktails that would match very nicely if you're other hand was filled with with a cigarette holder, and smouldering cigarette.
Practical Tips for Visiting The Best Bars in Soho
Many bars describe themselves as members only however most allow walk-ins from the public. If you're a local, membership can be cost-effective – so you might want to check it out.
You might be surprised at how early a lot of the bars around Soho start to close up – 1am is common, especially through the week. That said, some are known to party on if you're not ready for bed.
Many bars will add on a service charge of about 12.5% to your bill – keep an eye out in the fine print. Tipping beyond that is not expected, although always gratefully received.
Check out the dress code before you go. Many of the fancier bars have stricter dress codes.
Cool Soho London Bars: Map
Best Soho Bars: Discover More Soho Guides