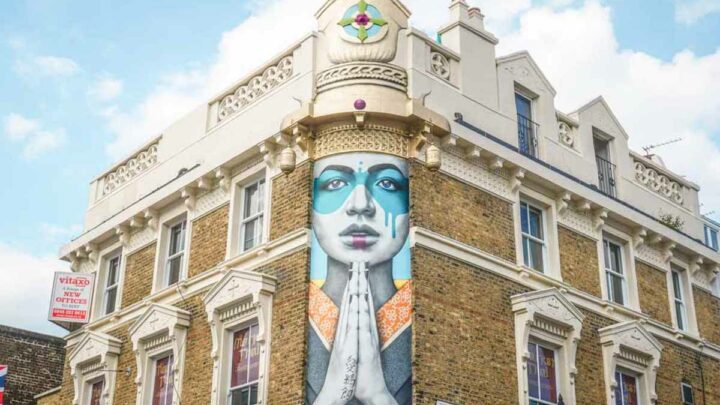 Notting Hill is one of London's most eclectic areas – a meeting of chi chi cafes, high-end boutiques and cool spots – not to mention that carnival.
Looking for the best things to do in Notting Hill? We've got you covered.
Brilliant Things to do in Notting Hill
Take a Peek at the Colourful Houses of Notting Hill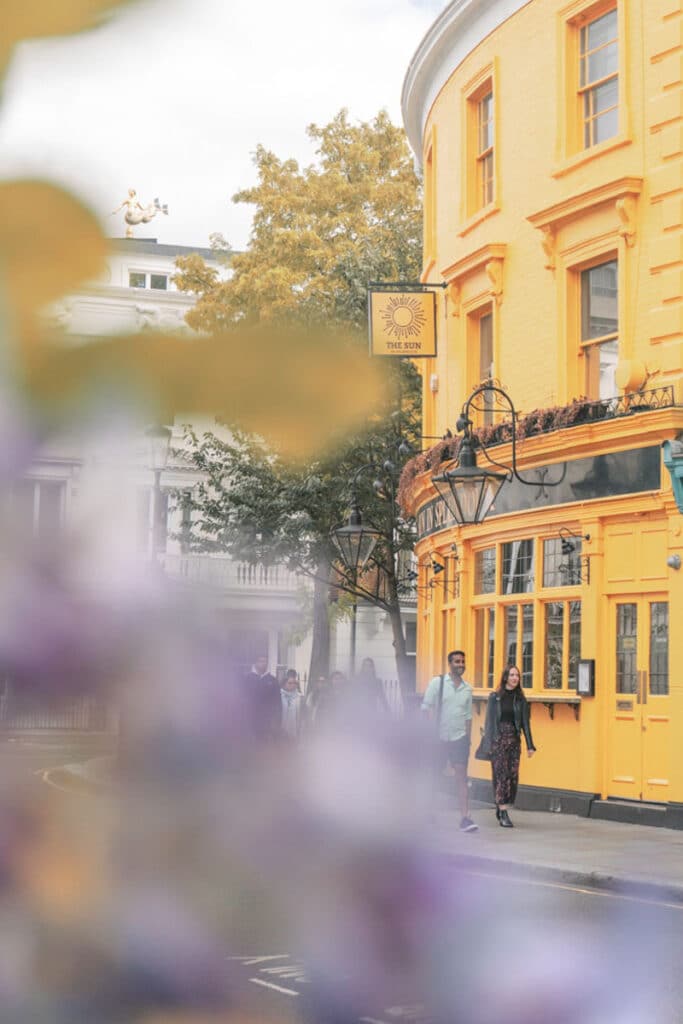 Notting Hill is an area of contrasts – on the one hand, you have brutalist concrete towers and on the other, row after row of pretty pastel houses.
You might recognise the rows of pastel houses from the movies, or perhaps the 'gram – they're certainly a hit there.
Personally, our favourite way to enjoy them is phone down, just soaking in the little details and the overall atmosphere.
A snap or two is fine, but do bear in mind that these are people's homes before you start hanging off the doors and rampaging around in pursuit of the perfect (but in all honesty, cookie cutter) photo.
If you do have to hang out in the middle of the road for that picture, be sure to watch out for bikes – they're not known to stop for those enjoying a spot of Notting Hill sightseeing.
Spotting the pastel houses of the best things to do near Portobello Road, so that's usually the starting spot for seeking them out.
Other roads including Lancaster Road, Clarendon Road and Westbourne Grove, also offer up plenty of pastel-y goodness.
Read Next: The Ultimate London Bucket List
Portobello Road Market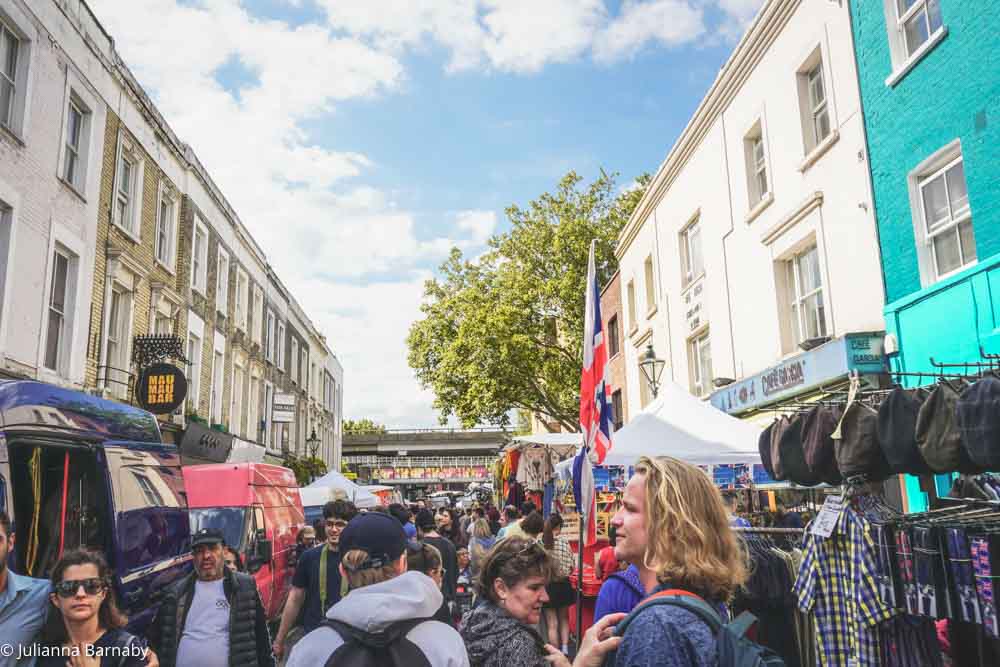 All your Antiques Road Show dreams can come to life at the amazing Portobello Road Market.
It's the largest antiques market in the world with over 1,000 stalls. You can find anything and everything from retro fashion to collectable stamps and antique porcelain scattered between the jumble of stalls.
Fair warning: you may have to sort through a fair bit of trash to get to the treasure, but that's all part of the fun.
While we can't promise you'll go away with a million-pound gem in the rough, you're sure to have a great time exploring all the stalls. This is really one of the best things to do in Portobello.
Antiques may be the main drawcard, but we're also pretty fond of the food stall selection as well. Jake's Vegan Steaks are just what the name suggests, and a great pitstop once you've worked up an appetite exploring the stalls.
Visit Trellick Tower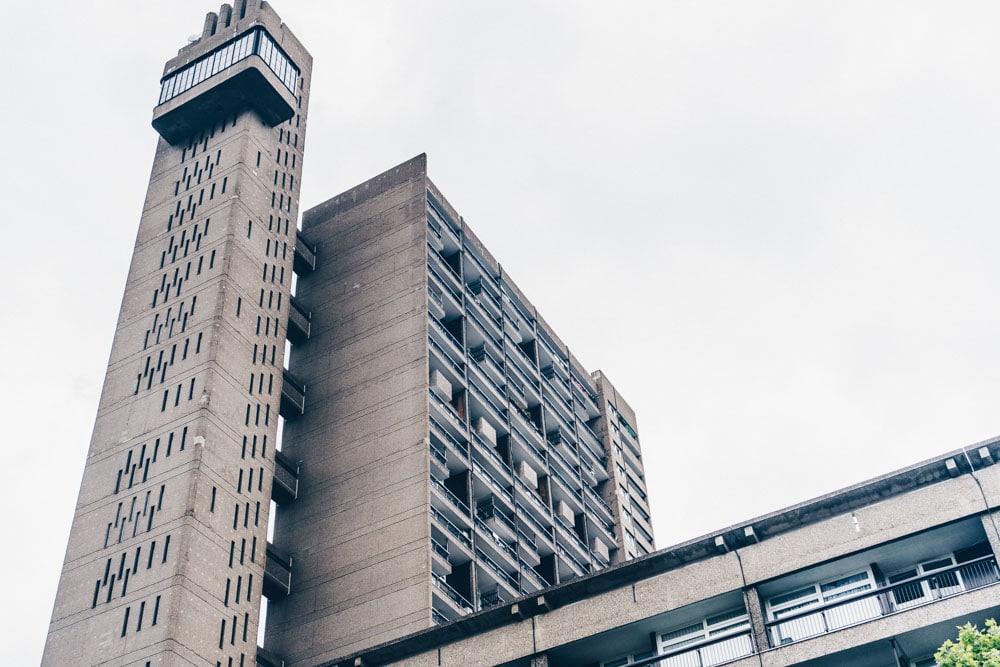 There are lots of beautiful things to visit in London – but you shouldn't forget that there is so much more to the city than #pursuepretty and #thatsdarling. Before you rush to snap yet another rose latte, why not check out one of the city's most striking Brutalist buildings?
When a building served as the inspiration for a dystopian novel, you know things are about to get pretty dramatic.
Trellick Tower is one of the city's most striking pieces of architecture. Built in 1972 in the "brutalist" style, it was supposed to lead the way in social housing design.
Rather, it became a hotbed for crime and vandalism for a number of decades. By the 1990s, however, gentrification stretched out its grasping hand over Notting Hill and all of a sudden the uncool was cool again – Trellick Tower being no exclusion.
So much so that it was Grade II listed back in 1998 and is today one of Notting Hill's most iconic buildings.
Dig into a World of Street Art at Graffik Gallery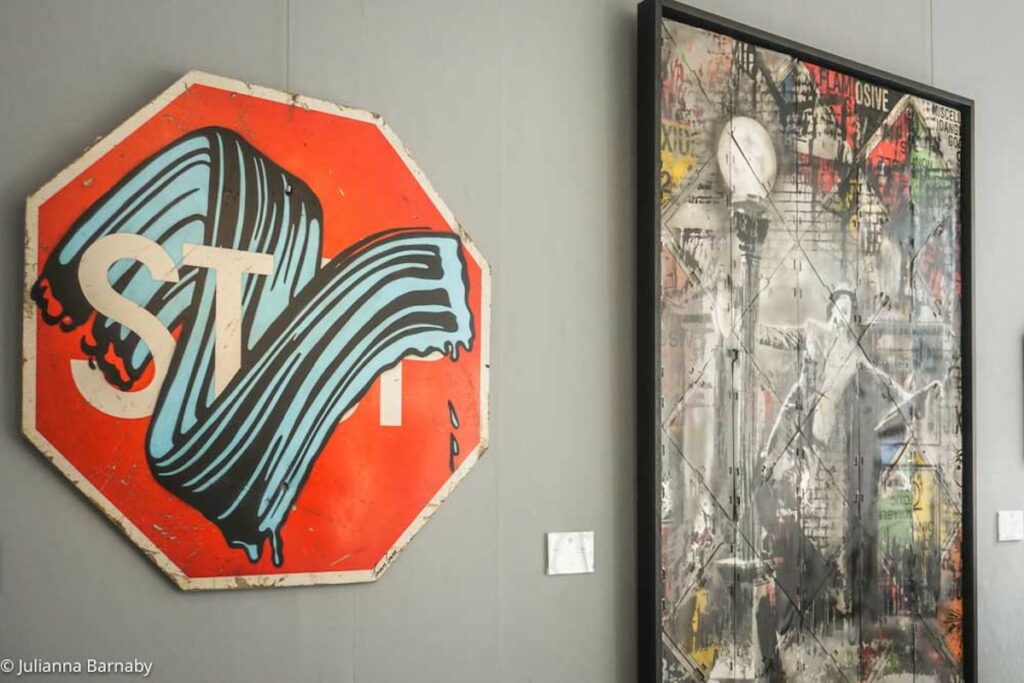 While Notting Hill might seem awfully fancy, it's also got a discernibly urban edge. In particular, it plays host to one of the capital's premier street art galleries.
That's Graffik Gallery, an ultra-cool space devoted to some of the world's best street art. You're sure to recognise some of the names on display here, like that little-known dude, Banksy.
While the Graffik Gallery sells art pieces to people looking to add to the overall cool factor of their homes, it's also open to the public.
Not everyone will be able to take a piece home (if you can, we're very jealous) but everyone can drop by and admire the works of some of street art's biggest names like Banksy, Stik and Dotmaster.
Read Next: Discovering Street Art in Camden
Catch a Flick at Electric Cinema
An unusual stop during your Notting Hill visit is to the charming Electric Cinema. It's one of the oldest – and dare we say the most charming – cinemas in the UK.
When the beautiful building was constructed in 1910, it was one of the first purpose-built cinemas in Britain.
In fact, it's so old that it was designed for silent films, with no sound facilities. Imagine the refurb that was required once "talkies" were invented some two decades later!
Today, the cinema very much has sound and shows all the latest releases as well as a selection of artsy flicks.
You'll find it sitting proudly on Portobello Road and it's a great stop, especially if the weather outside is gloomy.
Hang Out in One of Notting Hill's Chic Cafes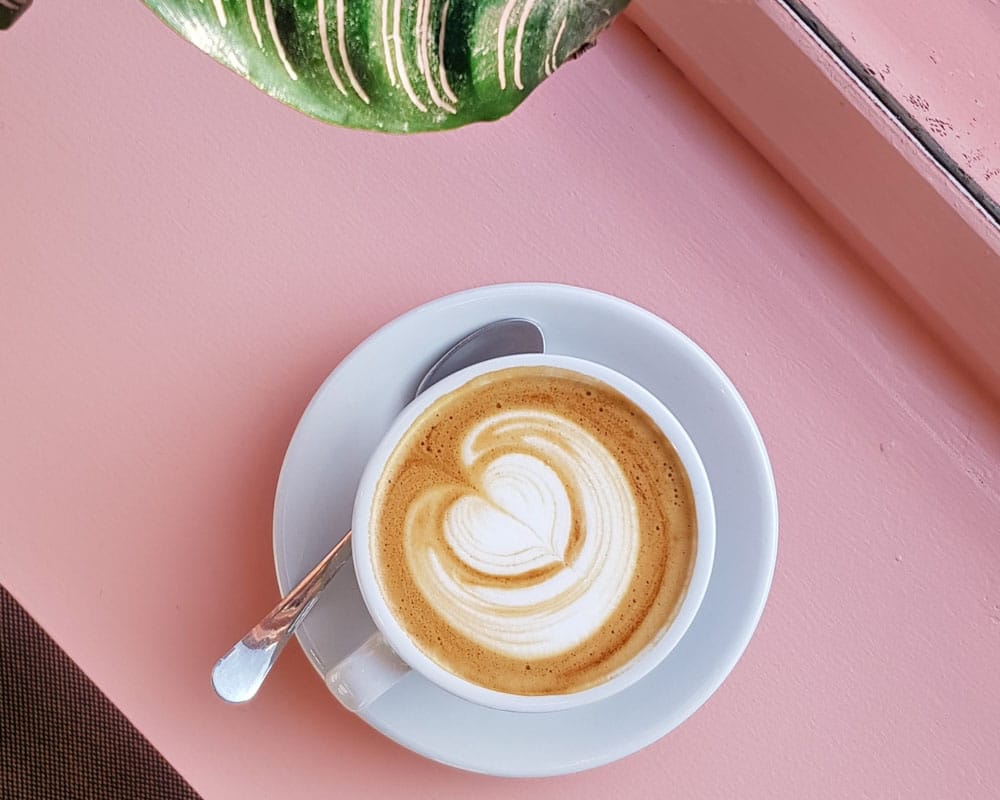 Notting Hill is full of cafes that are just as sugary sweet as the cream teas they do so well. No wonder these sweet hotspots are some of our favourite Notting Hill attractions.
Notting Hill's quaint, bohemian vibe matches up perfectly with enjoying a long and lazy coffee and cake.
There are so many ultra-adorable places where getting a coffee is a true excursion rather than a pitstop – not to mention the fact that they do a stellar breakfast and brunch trade too.
I love the charming Farm Girl (don't let your coffee go cold as you admire the decor), while another fave is Biscuiteers with its impossibly photogenic exterior.
Read Next: The Best Cafes and Coffee Shops in Notting Hill
Get Lost in a Book in one of Notting Hill's Independent Bookstores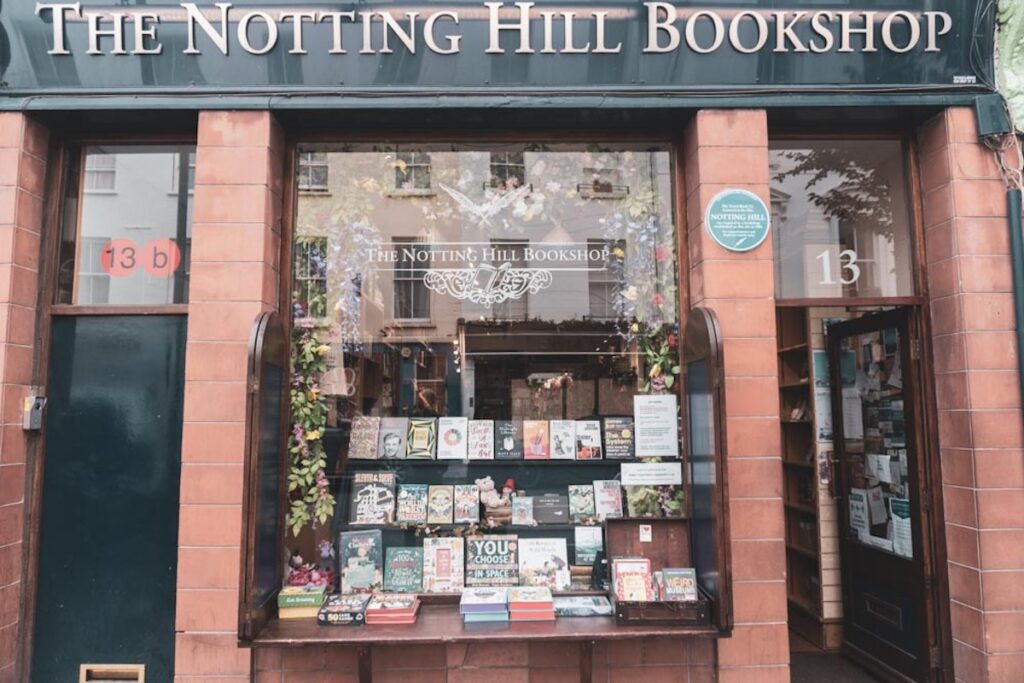 You know what goes hand-in-hand with picturesque streets, to-die-for cafes and retro-chic?
Independent bookstores. And, luckily, Notting Hill boasts quite a few good ones. So, if you're looking for a slightly worn novel (the best kind) to read at a cafe, you're in luck.
There is, of course, the Notting Hill Bookstore – the one that inspired the iconic film of the same name (did you think we were not going to mention it? Don't worry – more coming up soon.)
Not all of Notting Hill's bookstores have quite the same claim to fame, but if you want to avoid avid fans snapping away, there are other options. Book and Kitchen combine two of our fave things – the hint is in the name – so it's a definite must-see in Notting Hill, London in our eyes.
Pop into the Museum of Brands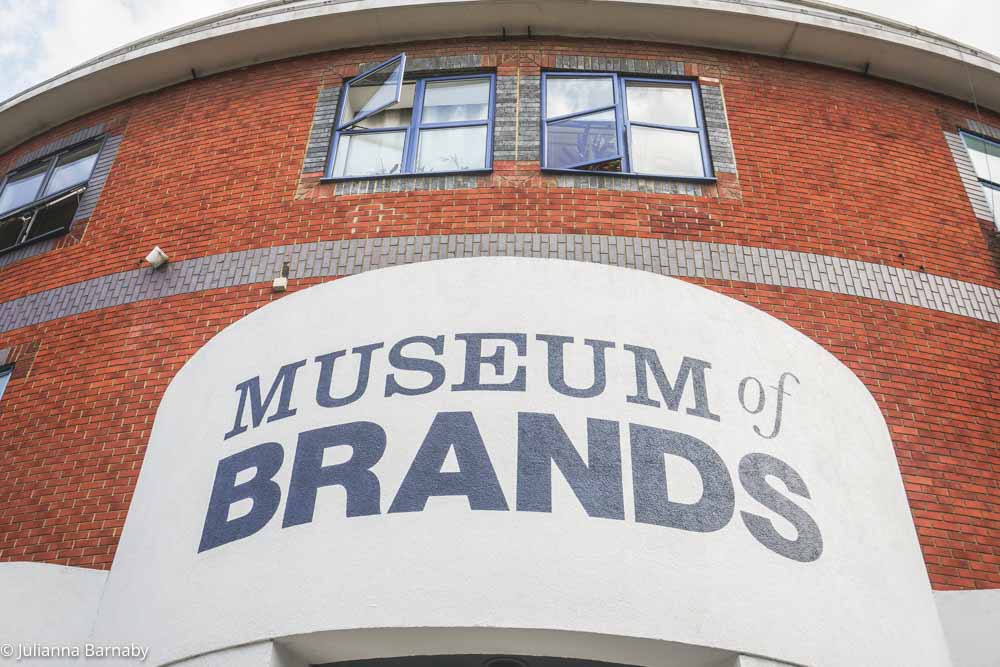 A museum devoted to advertising might seem a little like a consumerist nightmare, but trust me when we say that it is an interesting way to spend an afternoon.
The Museum of Brands takes a critical look at the industry. It considers how branding shapes and reflects our society, and strips back some of the psychology behind advertising.
There's also a hearty dose of nostalgia with some products you'll recognise from your childhood.
As well as the permanent exhibits that feature marketing materials throughout history, there are also frequent events, speakers and workshops as well.
Read Next: Free Museums in London
Hunt Out the Spots from The Notting Hill Film
If you're anything like us, we can't visit Notting Hill without hearing a voice in our heads reciting the iconic Julia Roberts line – "I'm also just a girl, standing in front of a boy, asking him to love her."
Which, now we read it, looks cheesier in print than we thought it was when we heard it uttered by Julia.
Cheesy or not, hunting out the filming locations from the 1999 film is undoubtedly one of the top things to do in Notting Hill.
Of course, there's the famous Notting Hill Bookstore which is the setting for Anna and William's meeting.
Then there's the blue door that led up to Wills' humble abode – you'll find it at 280 Westbourne Park Road.
Grab Lunch at Acklam Village Food Market
All that hunting down movie sets and vintage shopping makes hungry work, so no doubt you'll be needing to refuel before you crack on again.
Notting hill has plenty of excellent places to eat but one of the coolest has to be Acklam Village Market. It's a literal stone's throw from portobello market or the famous Notting HIll blue door depending on which way you're coming from, and full of worldly delights.
By that we mean you'll be dining out on street food from pretty much every continent.
You can't go wrong with the Berlin Donner – a kebab that's actually acceptable to eat outside the confines of a sloppy night out – but you'd be remiss not to have something from one of the jerk stands. Or the banh mi…
Visit London's Japanese Gardens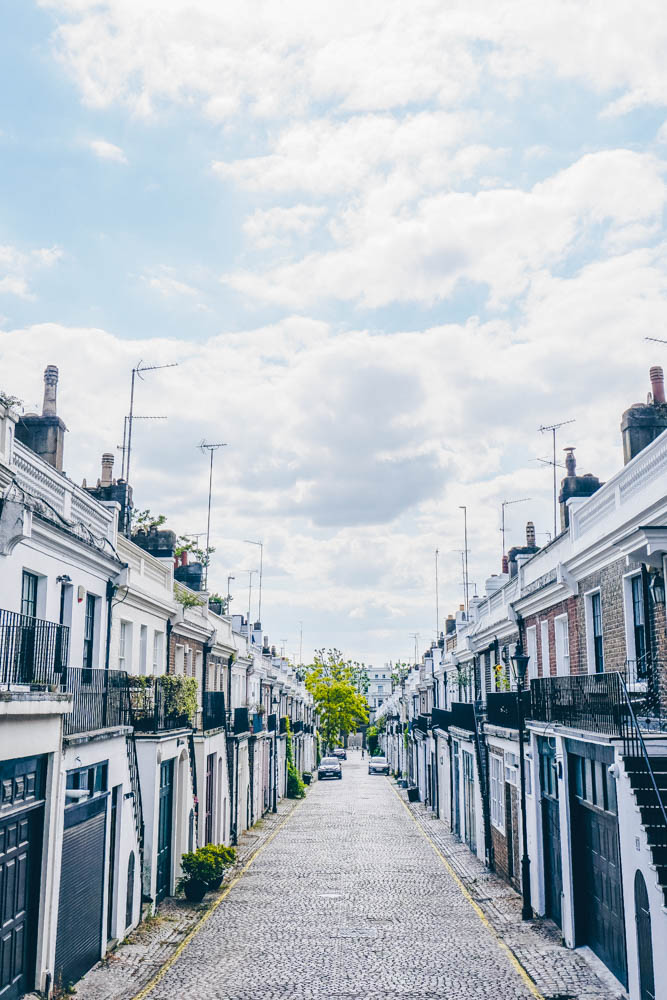 Once you've had a stroll through those famous pastel coloured houses on Kensington and Hillgate place you'll be only a short walk from one of London's lesser-known but most interesting green spaces.
It's Holland Park, a small (by London standards) park with a pretty stunning Japanese Garden. The Kyoto Gardens were a gift from the city of Kyoto and symbolise the long-standing friendship between Japan and Great Britain.
They're a delightful sprawl of perfectly manicured lawns, trees and shrubs from Japan, and peaceful ponds full of carp. There's even a waterfall and if you're lucky you might catch a look at one of the park's peacocks.
If you're wondering what to see in Notting Hill, this won't disappoint.
Learn about (and Drink Plenty of) Gin at the Ginstitute
People love Notting Hill because it feels quintessentially British and what could be a more quintessentially British drink than gin?
OK, we'll grant you that a cup of tea would have also been a strong answer there, but we're here to tell you about the strong stuff, and where you can find it. That would be at the Ginstitute, part of a four-floor mecca of booze known appropriately as The Distillery.
They offer an experience where you can learn all about the history of gin from its creation in Holland, to the hipster distillation boom of the present day. Of course there's lots of tasting involved (after you've done your history class that is) and some gin-based cocktails to try.
And best of all, after the class you can leave with a bottle of your own personal blended gin.
Shop at the "World's Coolest" Music Store
While you're on a roll with all the shopping, why not browse some vinyl. If you went to Rough Trade you'd only be doing so in one of the world's coolest music stores. Yes, people actually call it that and not for no reason.
Rough Trade was founded in the 70's and quickly went on to open a record label under the same name. That same record label has signed none other than The Smiths and The Libertines – you don't get much cooler than that.
With all that success Rough Trade now has a few stores around London, the UK and even one in New York. The Notting Hill branch is the original though and still packed with an epic selection of vinyl and other music-related merch. Happy shopping.
See the Cute Mews Houses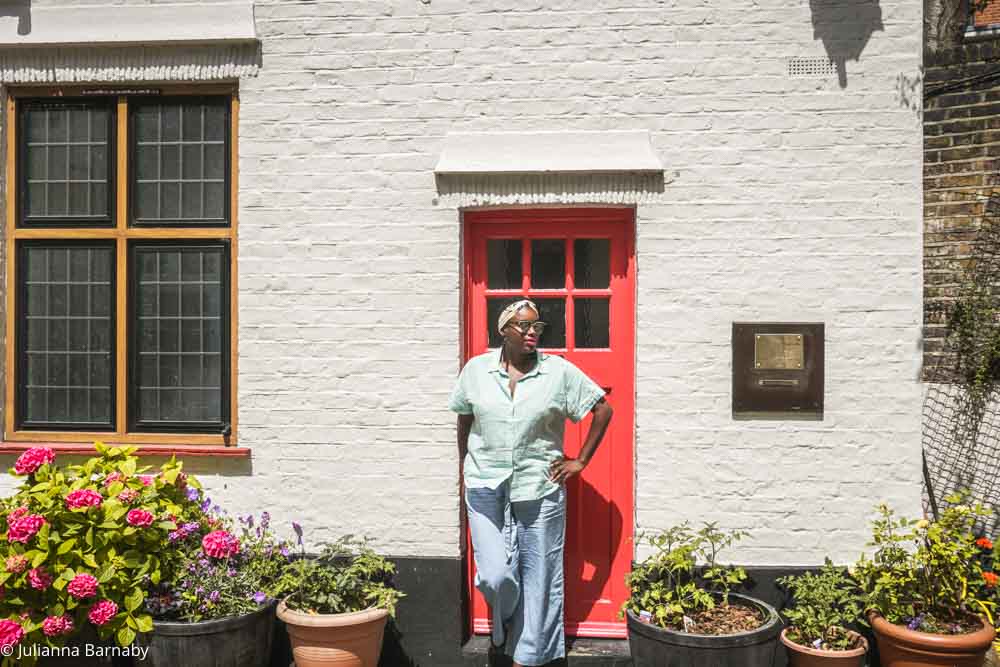 A big reason for London's truly horrific traffic is that our roads just weren't made for cars. Back in the day, it was horse-drawn coaches that ruled the streets.
As a result, London is full of "mews", or little lanes that once housed the horses and drivers who were responsible for carting aristocrats from mansion to mansion.
Of course, because:
a) gentrification is a real and present thing,
b) the London housing market is intense and
c) they are drop-dead gorgeous
the mews where horses and coachmen used to sleep are now some of the area's most sought after properties.
Some of the cutest mews houses in London can be found in Notting Hill, so don't miss them.
Colville Mews is a particular delight – you'll find it just off the shopping strip of Westbourne Grove/Ledbury Road.
There are also tonnes of cute mews houses in Kensington. Check out my guide to what to do in Kensington for more!
Head to The Elgin for a Pub Lunch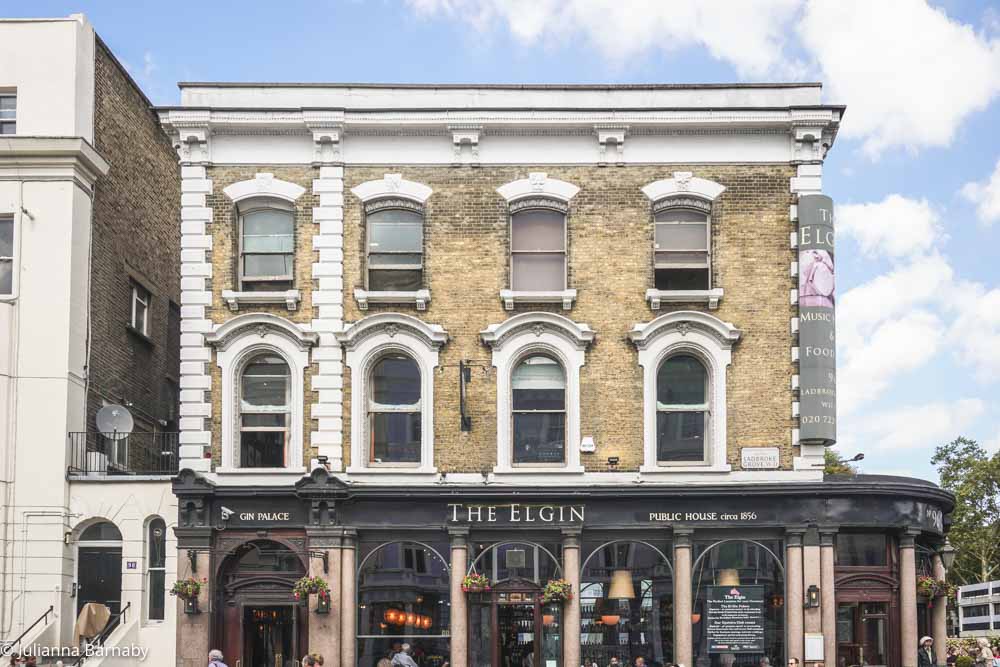 Good food? Check. Photogenic exterior? Check. Live music? Yup, The Elgin has all the ingredients for a great British boozer – so it's the perfect pub stop in Notting Hill.
In keeping with Notting Hill's oh-so-charming character, the inside of this pub is quirky and opulent. A charming fireplace, as well as a historic Grade II listed bar, are particular highlights.
The pub serves up classic British pub fare, with fresh local ingredients. Their burger is delish, while their "wine platter" lives up to all expectations.
The wine list is impressive, while there are plenty of local and international beers and a generous gin selection. Bottoms up!
Notting Hill Gate Farmers Market
One thing we love about Notting Hill is that despite its London location, it still retains quite a village-y feel, complete with community spirit.
And it obviously wouldn't be an English village without a farmer's market on a Sunday, right? Enter the Notting Hill Gate market – a weekly farmer's market just a stone's throw from the tube stop.
To get the best stuff, you'll want to spring out of bed early – the crowds usually start forming around 9am, at the ready to shop. All is fair in love, war and the pursuit of the best preserves!
You'll find lots of fresh fruit and veg, as well as fresh flowers and herbs and spices. Our fave, though, is the honey from Bee Friendly.
Take a Stroll Through Kensal Green Cemetery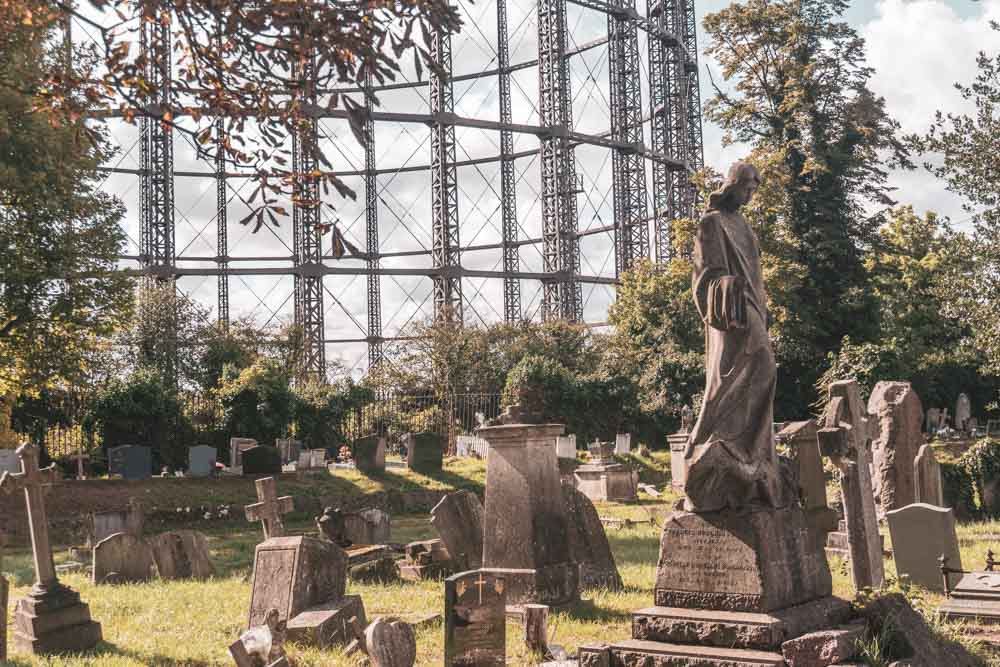 Notting Hill is not just a charming place to live, but if you're wondering about which are the unique places to go in Notting Hill, try popping into Kensal Green Cemetery.
Set over 72 acres, it was inspired by Paris' Pere Lachaise cemetery, perhaps the world's most famous graveyard.
With opulent Gothic monuments and tombs set amongst an overgrown garden, it's a beautiful and interesting place to stroll through.
A number of famous people are buried in the cemetery, from actors to artisans. A personal favourite is Maria Graham, one of the world's first travel writers – her first travel book was published way back in 1812.
Quite the trailblazer and one of many graves worth finding in the cemetery.
Head to BaySIXTY6 Skate Park
Do you fancy yourself as a bit of a Tony Hawk-in-waiting? Or, maybe you plan on keeping your feet very much on solid ground, but being amazed by the feats of others?
If so, we highly recommend dropping by the BaySIXTY6 Skate Park.
Now, skate parks can be found all around the world – with or without groups of shifty-looking teenagers, but the BaySIXTY6 Skate Park is pretty special.
It's quite the mecca for fans of the sport, and also functions as a not-for-profit to help grow skateboarding and provide an outlet for local kids and residents.
They run regular skate schools which are suitable for everyone from pros to beginners (tip: wear helmets. And elbow pads. Actually, just pad everything.) as well as events that are super fun to watch.
Drink Rum at Trailer Happiness
It's no secret that Notting Hill boasts cool bars in abundance. However, there's just something so special about Trailer Happiness.
Is it because owner Sly Augustin is one of the coolest dudes ever? Perhaps. But the welcoming ethos and stellar menu of rum-based drinks certainly add to its charm.
Take it from us: if there's one drink you just have to try here, make it the Dia de Muertos, a smoky take on a classic margs. Dream.
Eat Michelin-Star Food at Core by Clare Smyth
With a booze scene so good, it's only right that Notting Hill's food game is on fire. The area is packed with brilliant restaurants – though none are more impressive than Core by Clare Smyth.
If we had to describe the restaurant we would use the words stylish and elegant – yet it's not too faffy (and we're so glad about that).
Core uses seasonal and sustainable dishes on its ever-changing menu – so whatever's on offer, you can guarantee it's of the highest quality.
Visit Maddox Gallery
Wondering what to do in Notting Hill? In an area as cool as this one, it's only right that there are plenty of creative spaces to explore – though one of our favourites is Maddox Gallery in Westbourne Grove.
Inside the Grade II listed building you'll find plenty of cool exhibitions to admire – many of which are by British artist David Yarrow, who was first to host a collection of art here when the gallery first opened in 2017.
Check out the upcoming events here.
What About Notting Hill Carnival?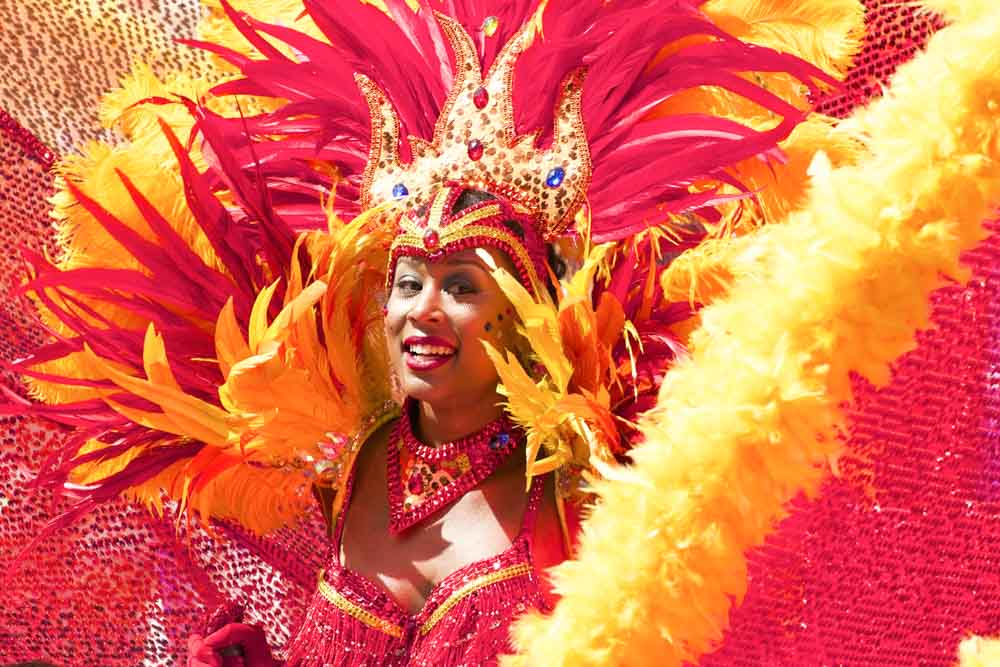 Have you ever looked at the bright, loud and joyous celebration that is Carnival and dreamed of attending?
What if we were to tell you that Notting Hill, London plays host to its very own Carnival. And it's pretty amazing.
If you get the chance, attending Notting Hill Carnival is definitely one of the best things to do in Notting Hill. Fact.
Notting Hill Carnival is a spectacular celebration of Caribbean culture in London, with all the music, costumes and food you'd expect.
Although it started from very humble beginnings way back in the 1960s, today the Notting Hill Carnival is quite spectacular, attracting over two million visitors.
So, why not join the fun – just head for Notting Hill for the August bank holiday weekend, and get ready for an amazing time.
Notting Hill Area Guide: Practical Information
Where is Notting Hill?
Notting Hill is located in West London in the borough of Kensington & Chelsea.
Where to Stay in Notting Hill: The Distillery London
If you're looking for accommodation in Notting Hill then you have to go quirky. The neighbourhood has such a fun character, that it's only right to stay somewhere equally charming.

Luckily, we have got you well and truly sorted with a recommendation: The Distillery!
This amazing distillery not only does fabulous gin tastings, but also has some pretty slick lodgings.

Whether it's to sleep off the last of the delicious gin, or you're just looking for great accommodation close to the Notting Hill gate shops, cafes and restaurants – this is a pretty fab pick.

You can find our complete guide to accommodation in Notting Hill here.
How to Get to Notting Hill
Notting Hill is located in west London and is very easily accessible by public transport.

You could drive – but why spend the time cursing the London traffic, when you could be sipping coffee in a charming cafe? Instead, we recommend getting the tube.

Notting Hill Gate will land you smack bang in the middle of the action. It's serviced by the Central Line.
Alternatively, Westbourne Park and Ladbroke Grove stations (on the Hammersmith and City, and Circle lines respectively) are also close by.
Things to do in Notting Hill: Map