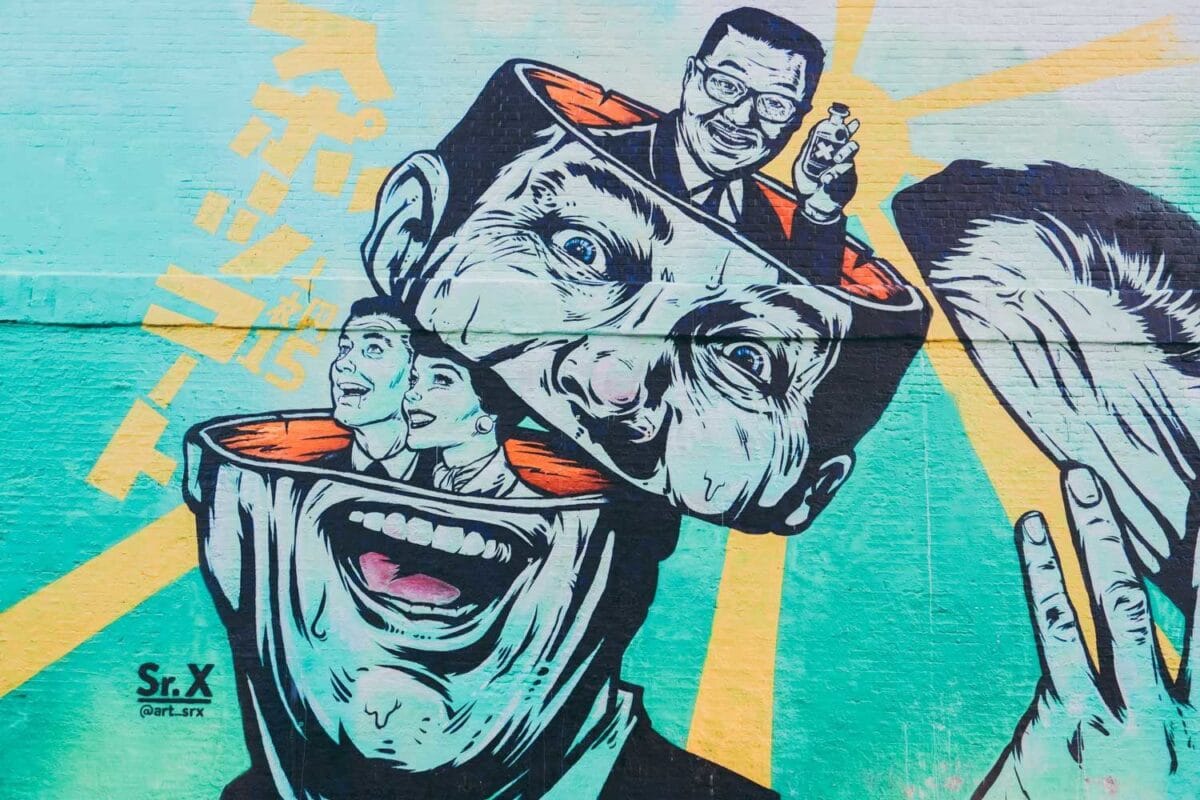 Shoreditch is home to a thriving street art scene that's ever-changing and never boring. The ever-cool hub of London's urban art, don't miss these 20 Shoreditch street art spots – complete with a Shoreditch street art map for you to do your own free tour.
As a born and bred Londoner, I'm sometimes guilty of taking the city (and the UK in general) for granted. Though I've written about the street art in Lima, Denver and Lisbon, until last year I hadn't said a word about the thriving urban art scene in my hometown. Mistake.
Over the weekend, I set out to fix that. 12 miles of walking, several tube/ train/ bus/ overground rides, many Instagram posts and here is the result. The definitive guide to Shoreditch street art – to go straight to the top of your London bucket list.
This is the first in a series of articles chronicling where you can find the best street art in London – you can also read about street art in Camden and Leake Street Tunnel – plus this guide to the works that have just gone up as part of the first London mural festival and there's more to come.
Psst – I've also written a pretty cool guide to things you shouldn't miss in London that are completely free!
You can't write a series about street art in London without talking about Shoreditch. It's arguably the place that everyone thinks of when they think of the capital's street art scene.
I've written this by location, along with information about the current pieces you can spot in them – even when those pieces change, you can still visit those locations and use the handy Shoreditch street art map at the end of the article to create your own Shoreditch street art trail.
PS – Looking for more Shoreditch tips and inspiration? Check out my guide to the best things to do in Shoreditch or this one on the best Shoreditch bars.
1. Starting the Shoreditch Street Art Tour: Camille Walala's Dream Come True on the Splice Building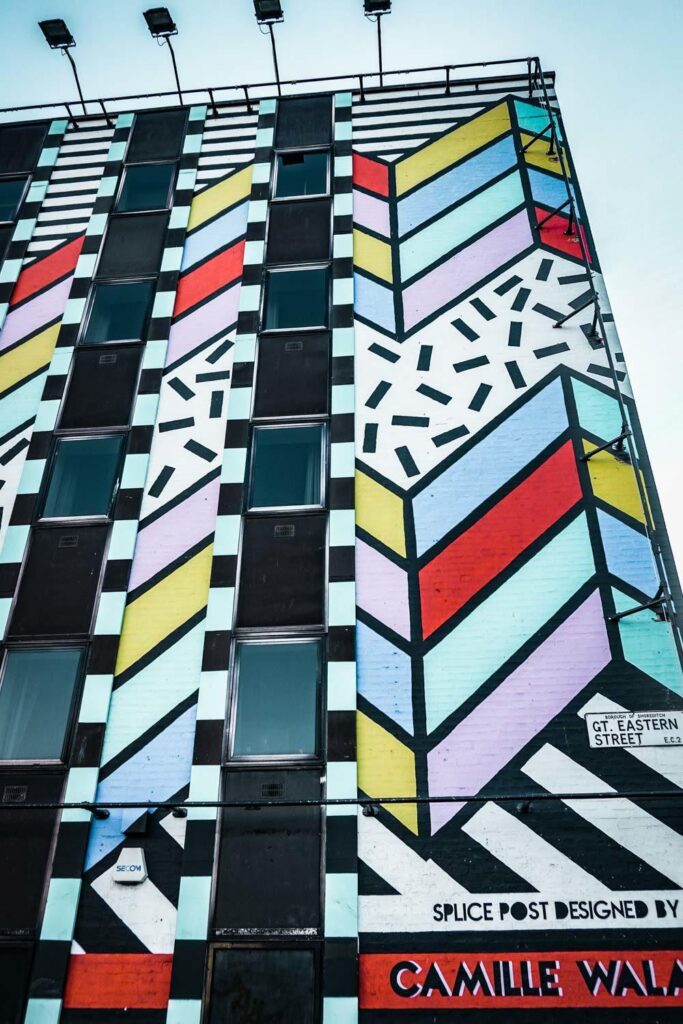 Camille Wallala's Dream Come True brings some much-needed to colour to concrete-heavy Old Street.
Taking up the whole of the building's facade, Dream Come True is a colourful amalgamation of dots, lines and blocks to make a powerful visual statement. I love Wallala's work – its nod back to eighties graphics and use of bright and bold colours is so different to the other Shoreditch art walls you will find on the route.
2. Red Gallery, Rivington Street
If you ever want to film a tumbleweed blowing down an empty street, try walking from Old Street to Shoreditch High Street before 10am on a Sunday morning. So much empty.
It was pretty perfect as I could do that dangerous tourist thing and take photos in the middle of the road. I'd say it was worth it…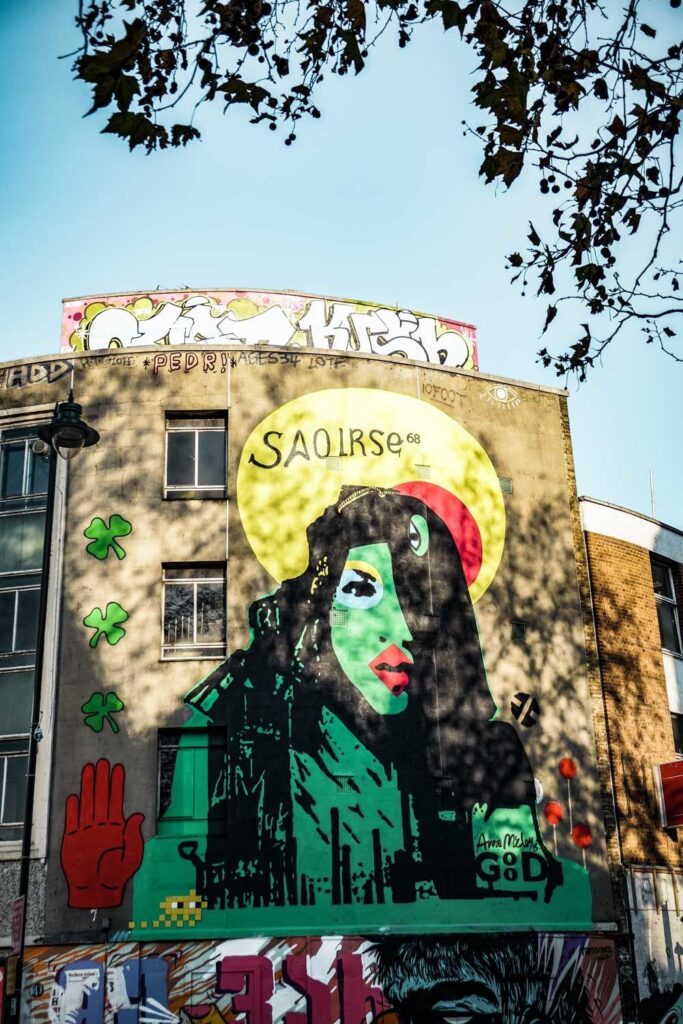 The exterior of the former Red Gallery on Rivington Street is a visual compendium of some of the world's hottest urban artists. Sure, The Red Gallery might not occupy the building anymore (it closed in June 2018), but that hasn't stopped its walls from continuing to display some of the best street art in Shoreditch.
Let's hope that continues as it's developed into yet another hotel – because London doesn't have enough of those already.
The current work on the gallery's facade, 'Saoirse 68' by Anne McCloy is one of the largest pieces of street art in London.
I also spotted pieces by Georgian artist Tamoonz, Spanish artists El Rughi and Jose Mendez as well as British Sam King lower down on the walls.
Honestly, there are so many pieces of the best graffiti in Shoreditch on and around this one building that it's a great one to visit if you only have limited time in the area.
3. New Inn Yard
Breeze your way down Great Eastern Street and turn left onto New Inn Yard, the next stop on our Shoreditch street art trail.
Now, I know that it's wrong to have favourites but I just love Mr Cenz's work. He's one of Shoreditch's most prolific and visible artists – no doubt thanks to his striking pieces that grab your attention.
Mr Cenz has been a seminal figure in the London street art scene since the 80s. No street art tour of London or piece on street art in Shoreditch would be complete without seeing some of his work (I'm not sure you could manage it anyway, he's pretty prolific). His surrealist take on large-scale murals, complete with bold lettering and technicolored strokes, has established him as one of London's most exciting urban artists.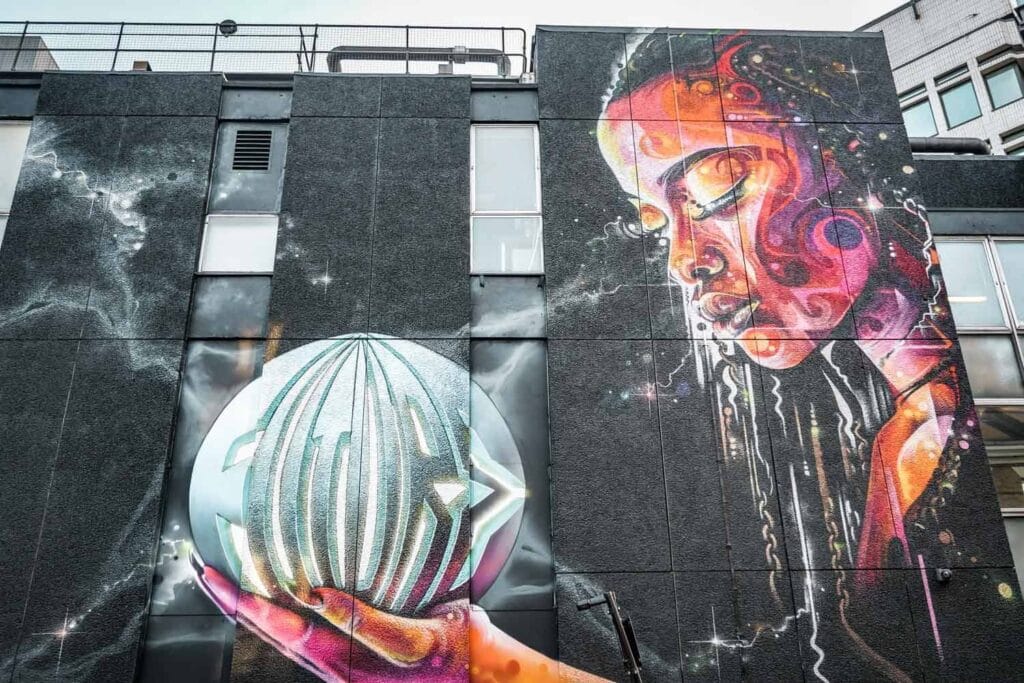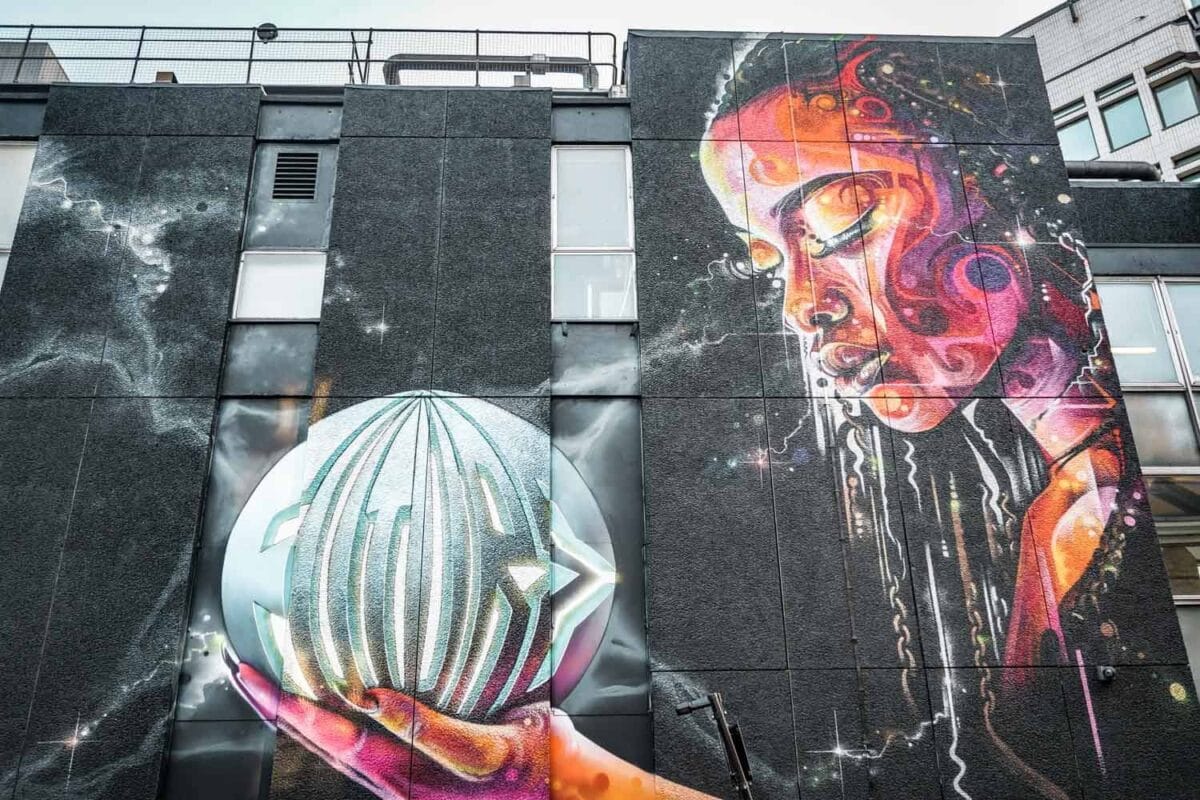 See what I mean? This mural, created by Mr Cenz and Lovepusher is one of my favourites.
In the interest of full disclosure, I actually met Mr Cenz one morning last year while I was mooching around and checking out some of the quieter Shoreditch graffiti spots (in this case, the wall at the 5th Base Gallery – we'll head there later).
I'll show you the video of the man at work – but only if you promise not to mock my blatant fangirling. I'm all like "wow, you like made that, wow. I mean, LOOK AT IT. Wow" and he's like "err OK, chill, I'm just doing what I do". Look, playing it cool is not my thing. I hope we have a deal.
Away from Mr Cenz, there are plenty of other cool pieces of street art on New Inn Yard.
4. King John Court
The small triangle formed by New Inn Yard, King John Court and Holywell Lane is packed, absolutely packed with some of Shoreditch's most creative street art murals.
Want to see for yourself?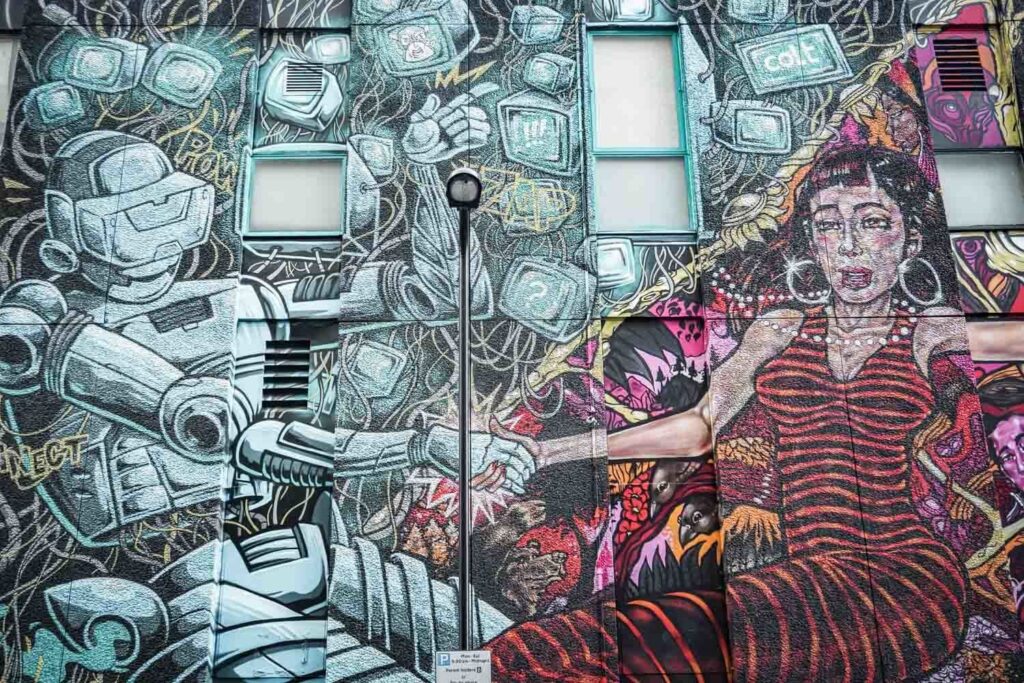 This building on the corner of King John's Court is covered in pieces by Busk, Oliver Switch, Hicks, Dr Zadok, Ninth Seal, Hunto, Thoms, Captain Kris, Tizer and Best Ever. The piece I discussed above for New Inn Street actually forms part of the same series of murals – all of which revolve around the theme of connectivity.
The shape of connectivity in the past, present and future is taken from a theoretical concept and brought to life in these jaw-dropping murals. Don't miss it.
5. Holywell Lane
There's a sense of urgency lent by street art as it's almost always temporary. If you walk the same route from one month to another, you'll never find quite the same pieces.
Walls are painted, sprayed, whitewashed and sprayed again. Hoardings are taken down. Pieces are vandalised or hidden under posters.
The temporary nature of street art is part of its appeal, but it's also sad when a favourite piece disappears forever.
Over the years, Village Underground's mural space across from CitizenM has proudly displayed the work of a roster of talented artists. The current piece, by Sr. X is no exception.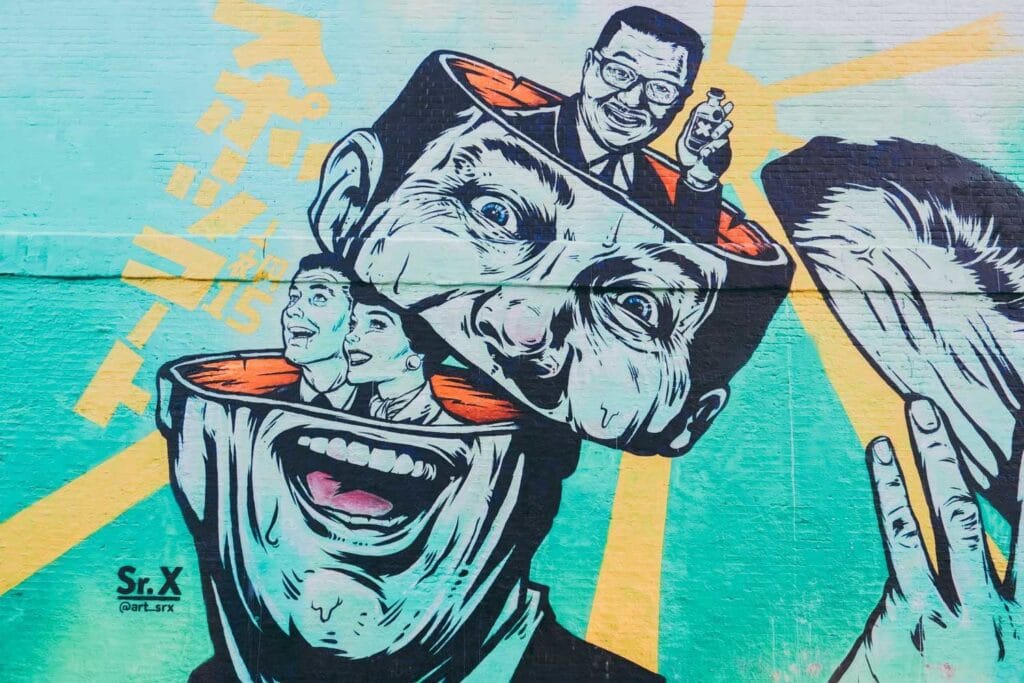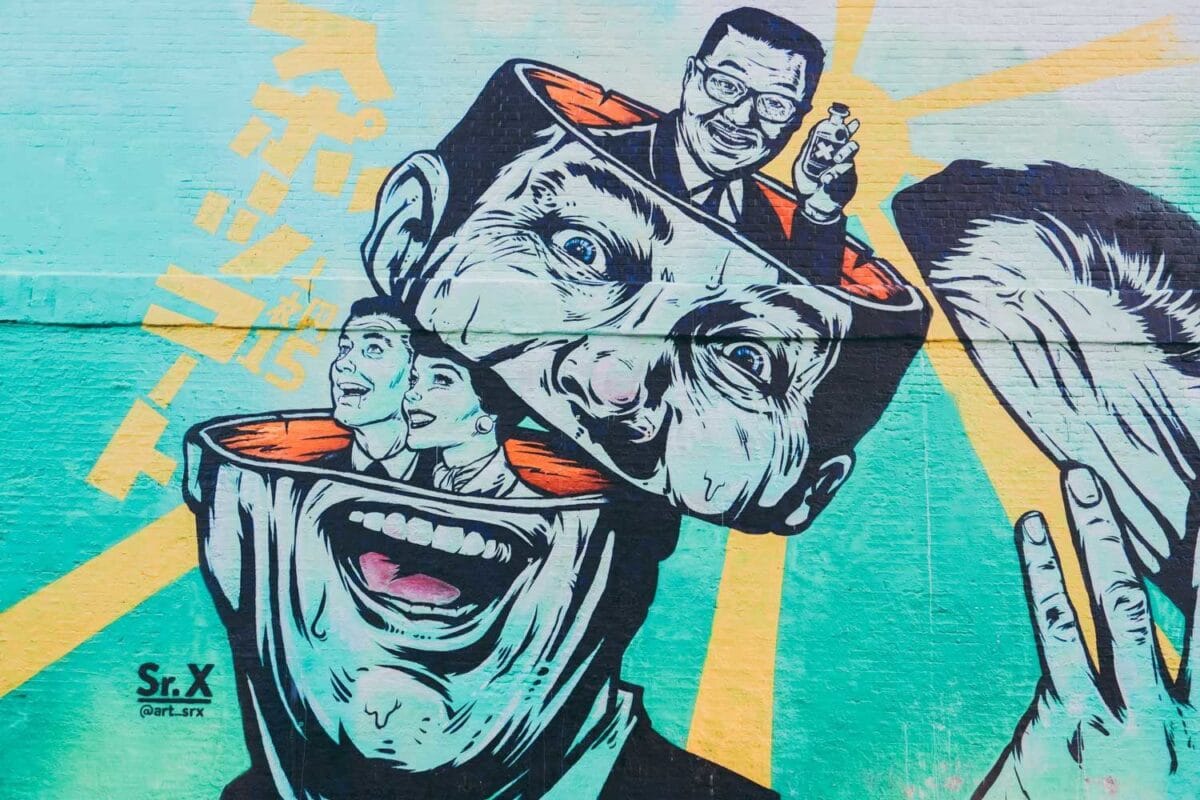 Prior to that, it was an absolute gobsmacker by London street art genius Dale Grimshaw. In other words, whatever's there is going to be worth a look, so make sure you do.
6. Railway Hoardings Underneath Shoreditch Overground Line
Duck left next to CitizenM to the railway hoardings. Running underneath the overground line that leads to nearby Shoreditch High Street station, it's another cool little spot filled with Shoreditch graffiti.
I was lucky enough to bump into this lovely chap Oliver, who was just putting the finishing touches on this striking piece.
Just on the other side of Hanbury Street you can also pop into the car park where murals crop up quite frequently.
7.Ebor Street
Moving in to the very heart of Shoreditch, Ebor Street currently sports some very large-scale work.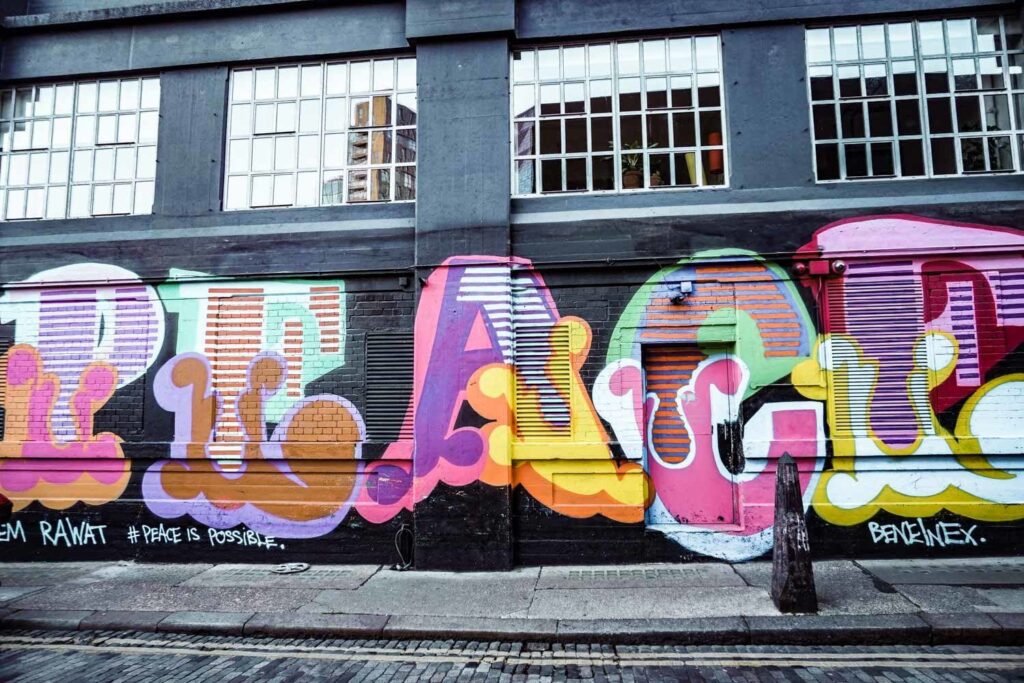 This one by British-born Ben Eine displays his typical circus-style typography resplendent in bright colours on a black background. The elaborate lettering conveys a simple message "Peace is Possible". It stands in contrast to his other piece on the same street "Extortionists".

8. Wheeler Street
Duck past Boxpark and the entrance to Shoreditch High Street Overground station to Wheeler Street. The arches underneath the station normally have a couple of pieces – although there wasn't much to see yesterday.
You can always find a couple of smaller works further along the street though.
9. Whitby Street
Whitby Street might be tiny but it punches well above its weight in terms of London street art in Shoreditch.
I almost skipped the street and I'm so glad that I didn't. Not only did I find a second Wallala, but also these striking works by Aka Jimmy C (real name James Cochran) who originally hails from Australia but who sacrificed the sunshine to live in grey old London instead. With a nod to impressionism and his use of repeated patterns, Jimmy C has created two unmissable pieces for your Shoreditch street art trail.

10. Sclater Street
Back that a** up and make your way down Sclater Street – Brick Lane's graffiti beckons, but first there are always a few works on Sclater Street to check out.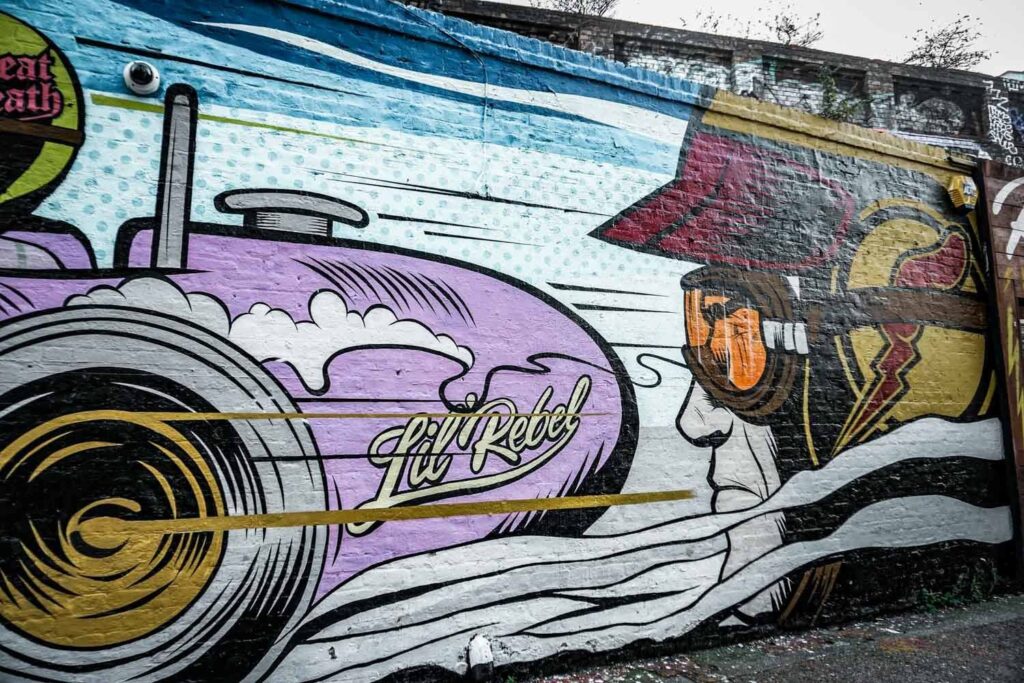 11. Brick Lane
From there, it's onto Brick Lane. So much has been written about Brick Lane's street art that it almost feels a shame to add more words to the count… But I shall.
If you want to get a glimpse of east London's street art scene but don't have much time, Brick Lane and its immediate surrounds is the place to go. It feels like there's a new piece waiting to be discovered around every corner. Not even the bins have escaped Brick Lane's graffiti craze untouched.
Seriously.
Keep an eye out for one of my long-time favourites from Zabou.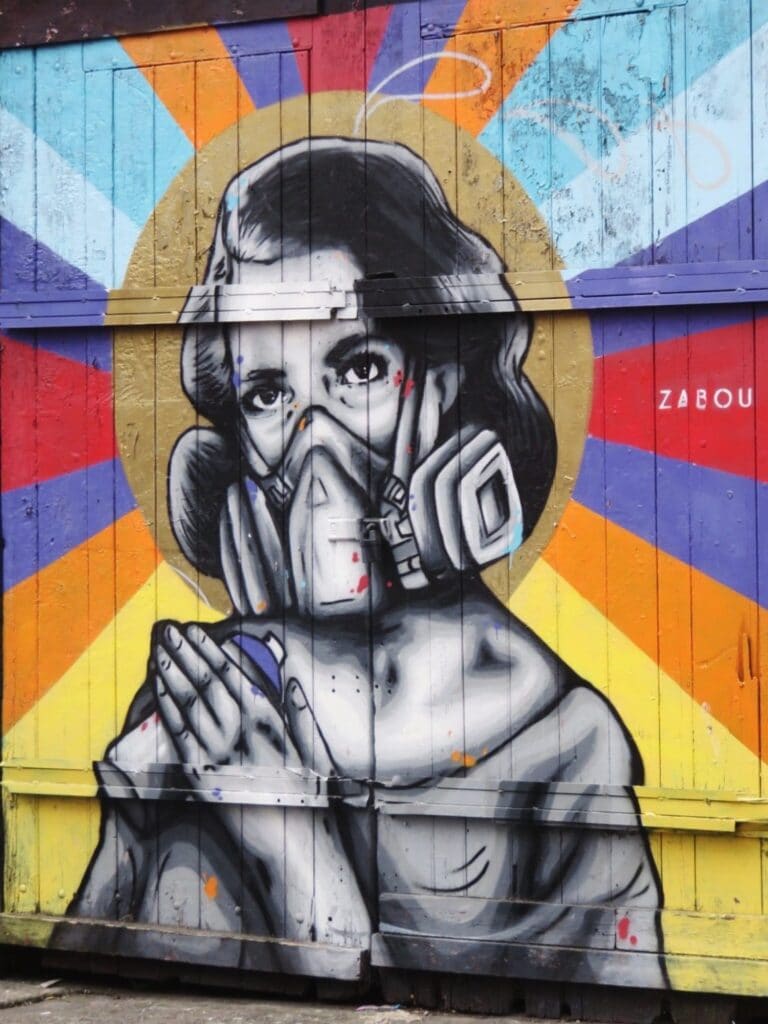 Zabou is one of the most prolific names on the London street art scene (I am always finding her pieces dotted around London). The French artist has been living in London since 2012 and has been bringing the capital's walls to life ever since.
sPray in London sits proud on Brick Lane (just across from Grimsby Street). The piece is rich with bright hues, capturing the viewer's eye with its unmasked political and religious connotations. Even though it's been partially covered, it's still hanging in there… for now.
12. Pedley Street
Escape the madness of Brick Lane to much quieter Pedley Street.
Brace yourself for a barrage of audacious Shoreditch art walls – the names and the pieces might change but the overall effect is the same.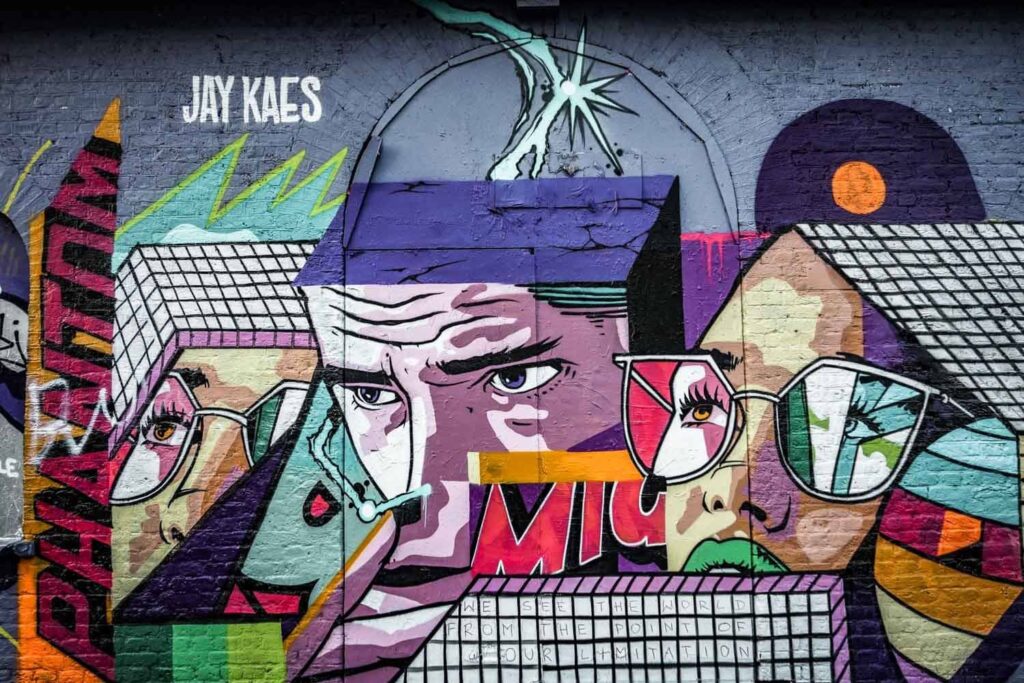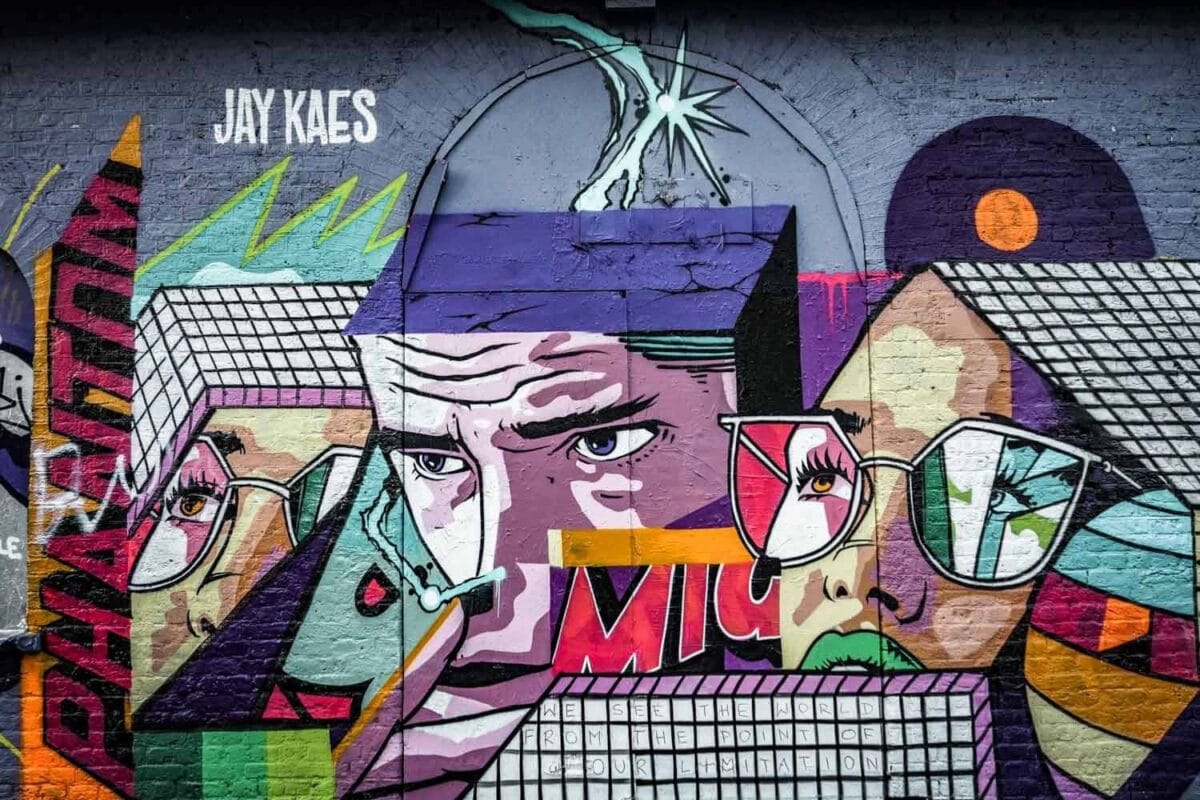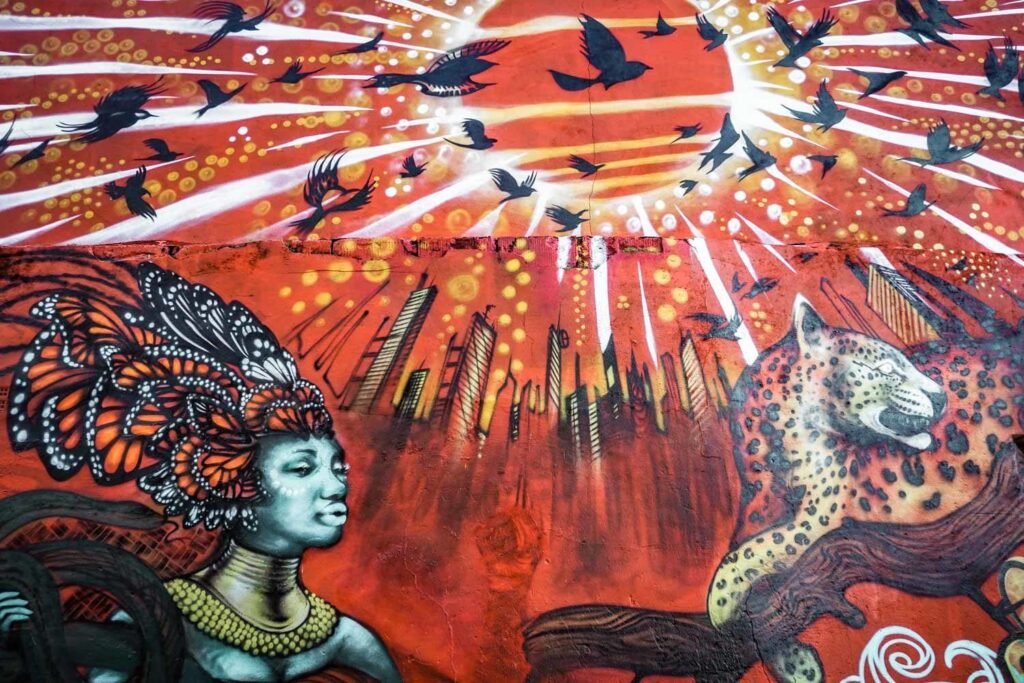 It's amazing how one small spot consistently hosts such diverse and sensational pieces. One not to miss.

12. Allen Gardens
London is full of green spaces – and many of those are no stranger to a spot of graffiti – but Allen Gardens is different. This small park, at the end of Pedley Street, is one of the most dynamic spots for street art in Shoreditch.
I counted no fewer than ten new pieces going up on yesterday's visit.
Every wall, particularly those along the railway, is either sporting a fresh piece of Shoreditch graffiti, or is in the process of getting one. It was a hive of activity – the smell of spray paint and concentration hovering in the air as artist after artist worked to show the world their talent.
Don't forget to duck under the arches to see the pieces along the other side of the railway and in and around the Nomadic Community Garden too.

13. Hanbury Street
Look, don't worry, I'm not going to go gaga over Mr Cenz again. There's only so much a girl is willing to embarrass herself in one piece but you should turn into Hanbury Street to see yet another piece from his ever-impressive canon of works.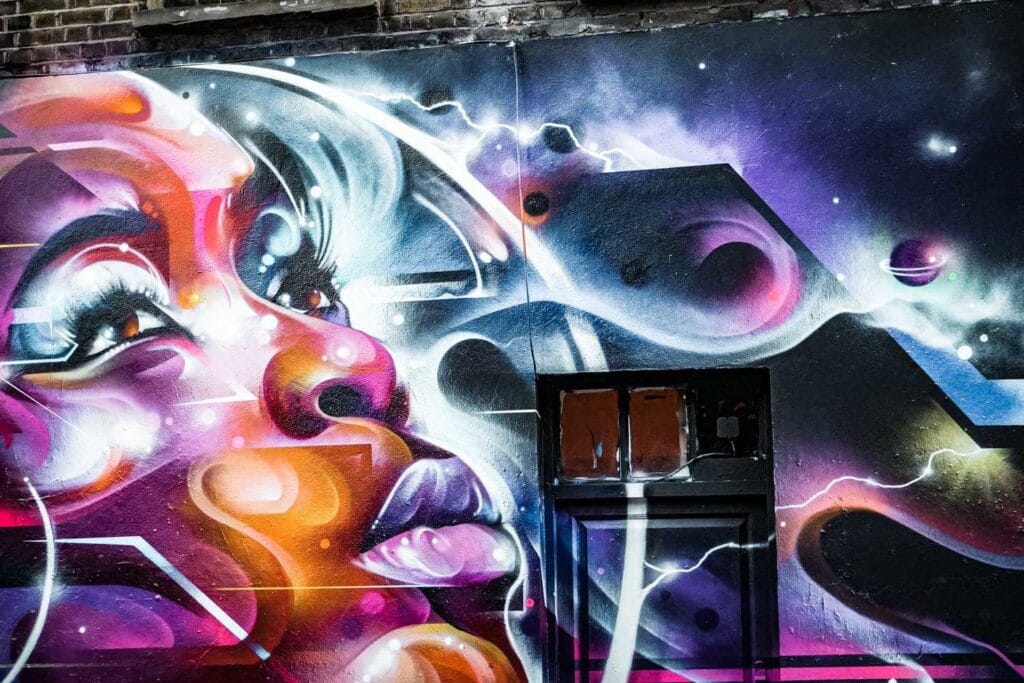 Walk further along for this larger-than-life representation of Drizzy looming down at you with some other cool-looking person sporting a questionable haircut. It's probably clear that I don't know who the other person is, guess I should be ashamed about it. I'm not.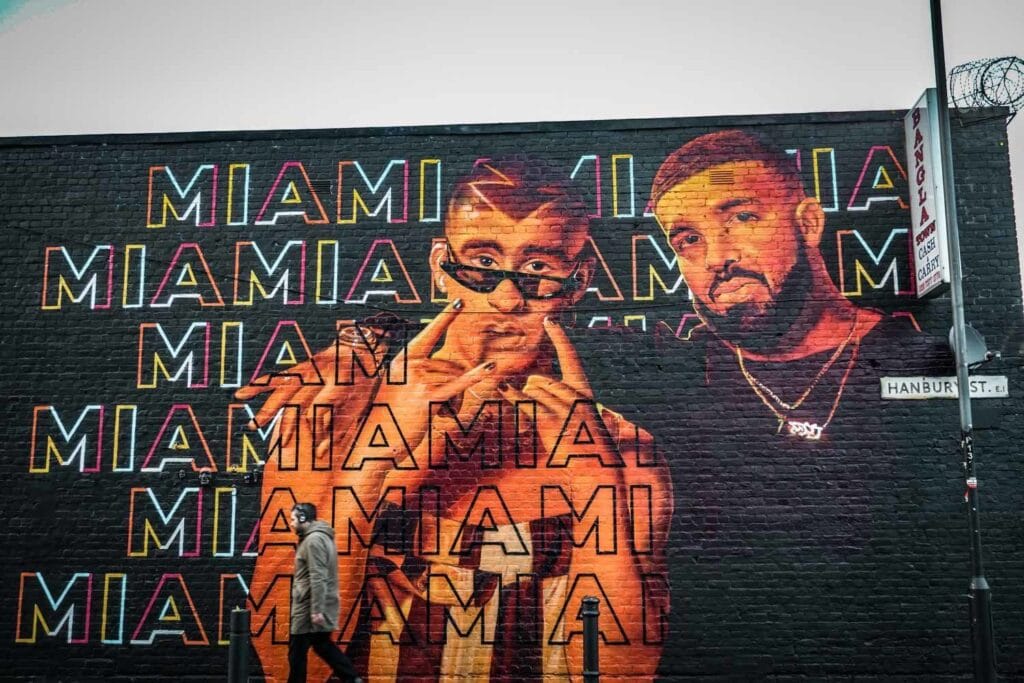 14. Princelet Street
Sitting at the heart of the Brick Lane graffiti bubble, there are some brilliant pieces on Princelet Street.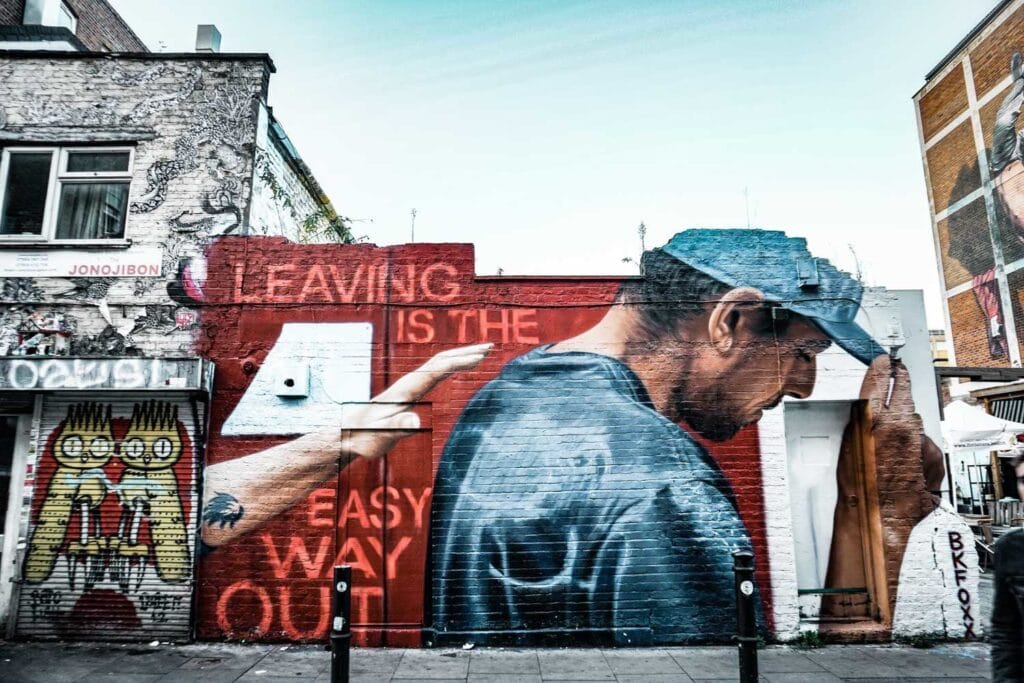 Just know that you are going to have to fight to the bitter end with the hoards of selfie-taking hipsters to even have a chance of actually seeing one.

15. Shoreditch Graffiti Wall at Seven Stars Yard
Further along Brick Lane, you'll find one of Shoreditch's most talked about street art hubs, the Seven Stars Yard (otherwise known as the Shoreditch graffiti wall).
The pub's car park has established itself as one of the most exciting places to see street art in London. Check out the location on my comprehensive Shoreditch graffiti map. The line up is always changing, but this is what's currently up at the end of November 2018.
Exactly. There's a reason the Seven Stars Yard is always busy – the walls feature the creme de la creme of international street art talent. At the moment the line-up is pretty stellar, but then again, it pretty much always is.
17. Fashion Street
As soon as I walked around the corner to Fashion Street, we gatecrashed one of Shoreditch Street Art Tours weekend outings.
Sure enough, the guide pointed to one of Mr Cenz's pieces and proclaimed "Now this is beautiful. Even people who don't really get the idea of street art can appreciate the beauty and skill of this piece".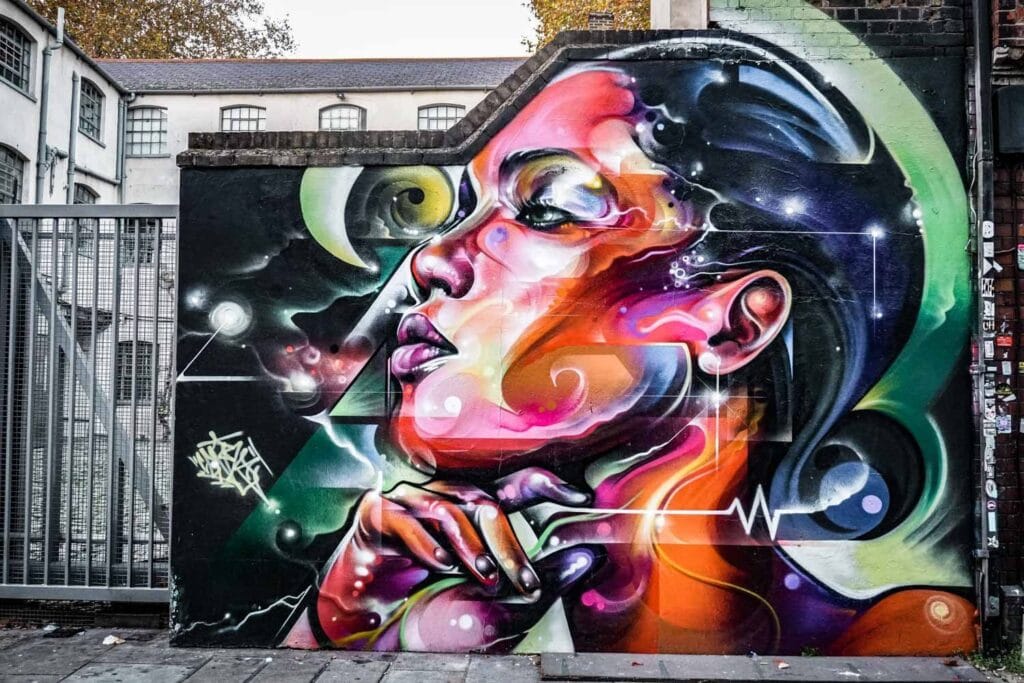 Now, isn't that the truth.

18. 5th Base Gallery – Heneage Street
Innovative 5th Base Gallery is well worth a visit at any time. The gallery hosts a series of exhibitions, film screenings and workshops in the heart of Shoreditch. It also just so happens to have one of the biggest piece of Shoreditch street art tucked away on its side wall.
The wall changes frequently – at the moment it's a 3D work by reputed artist Fanakapan (who's exhibition inside the gallery has now sadly finished). Up next? Who knows…

19. Old Truman Brewery
Best-known as a drinking den (and quite rightly too), there are a couple of street art pieces dotted around the Old Truman Brewery if you know where to look. Hint: look up.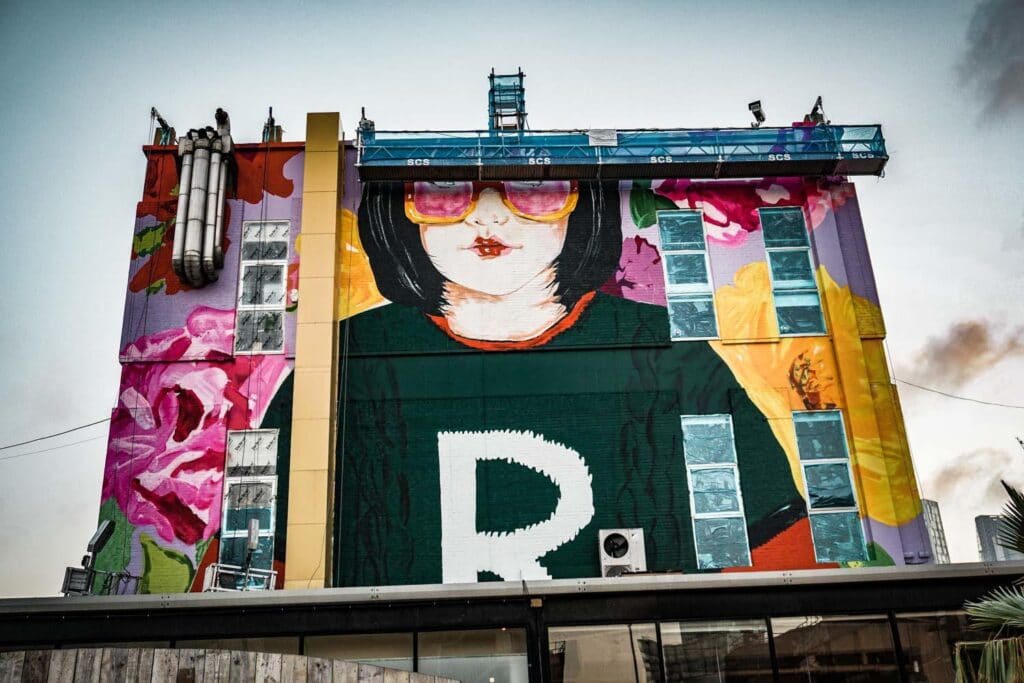 20. Great Eastern Street
We're almost back where we started on our free Shoreditch street art tour. Feeling sad?
No worries, there are a couple of pieces to see on Great Eastern Street as we trudge our way back up to Old Street to where it all began.

Practical Information for Your Shoreditch Street Art Tour
Start and Finish Point for the Shoreditch Street Art Trail
I started and finished this tour at Old Street Station, which is on the Northern Line and also a National Rail Station.
You can also use Shoreditch High Street Overground station. If you do this, start with Ebor Street and add those you've missed to the end of the tour.
Taking a Guided Shoreditch Street Art Tour
There are plenty of guided tours of the graffiti in Shoreditch. Obviously you get a lot more background and information on a guided tour – particularly if you book onto a private tour. Check these ones out for starters.

How Long Does it Take to Follow This Shoreditch Street Art Trail?
About two hours. I'd allow three so you can take your time and don't have to hurry. All of the spots are close together, so it's not too bad distance-wise.

Shoreditch Street Art Map
Ready to set off? Don't miss this Shoreditch street art map (which doubles up as a Brick Lane graffiti map if you just focus on Brick Lane and its immediate surrounds).
Any other suggestions? Let me know in the comments below and I'll add them to my Shoreditch street art guide.
Of course, the street art mentioned in this piece will continue to change over the coming months and years, but the places featured are long-standing canvasses for artists, so there should always be something to see in those spots.
Don't forget to come back for the rest of the series on the best street art in London (hint, Camden, Walthamstow, Croydon and Peckham will be making an appearance).
Read more London guides and tips.
Like this? Share the love on Pinterest.