Leicester Square

Tacky, brash and little overwhelming, Leicester Square (it's pronounced Lester not Lei-ces-ter by the way) still remains one of London's bigger tourist spots.

Still, there are plenty of gems to be found, if you know where to look. That's exactly what this guide is for.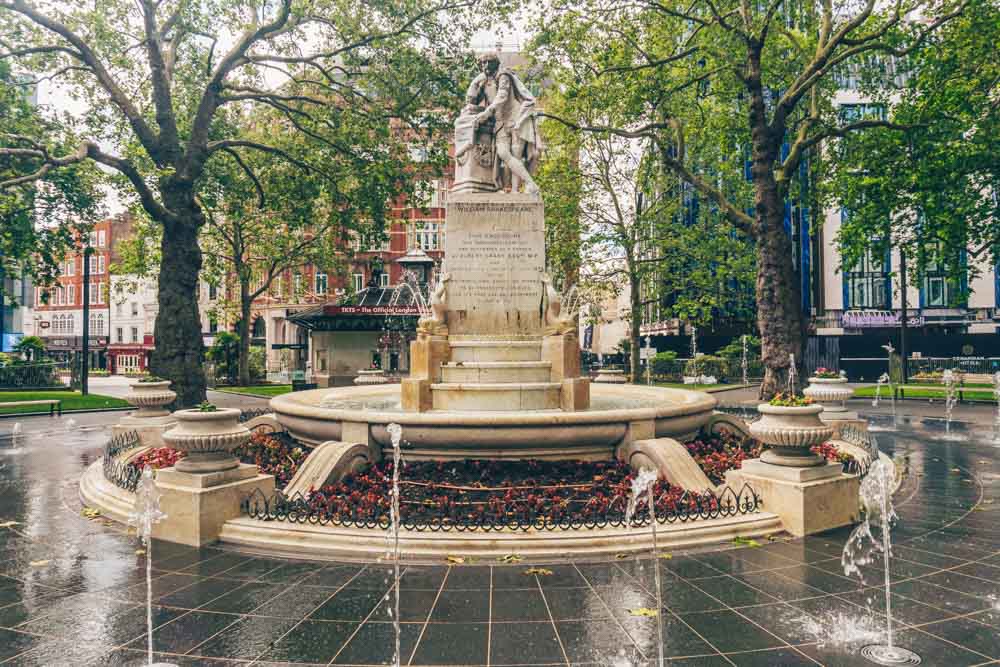 Most Londoners avoid Leicester Square like the plague – somehow, despite being surrounded by Soho, Chinatown and Trafalgar Square, it's never quite developed an appeal of its own. 
Gone are the days when Leicester Square was the base for the boujee 18th century "Leicester House set", bad boy Hanoverian princes who didn't quite see eye to eye with their royal families over at St James. 
Over the years, the square has become a haven of brashness, the bright lights in this big city. 
That said, I can't deny that it is one of the city's iconic tourist attractions and it's not all bad – in between the tacky megamalls and overpriced restaurants there really are some treasures to be found. 
I'm not going to tell you to go to the boring casinos, the disappointingly sh*t restaurants or to eat in a fast food chain – you want better than that, and I want better for you. 
Together we're going to discover the things in and around Leicester Square that are actually good rather than the things everyone just does because they're there and they don't know better.

Top Picks for Leicester Square
What to do, where to drink and where to eat….
Things to do in Leicester Square
Delving into the unmissable spots in the heart of theatreland.
Explore Leicester Square Gardens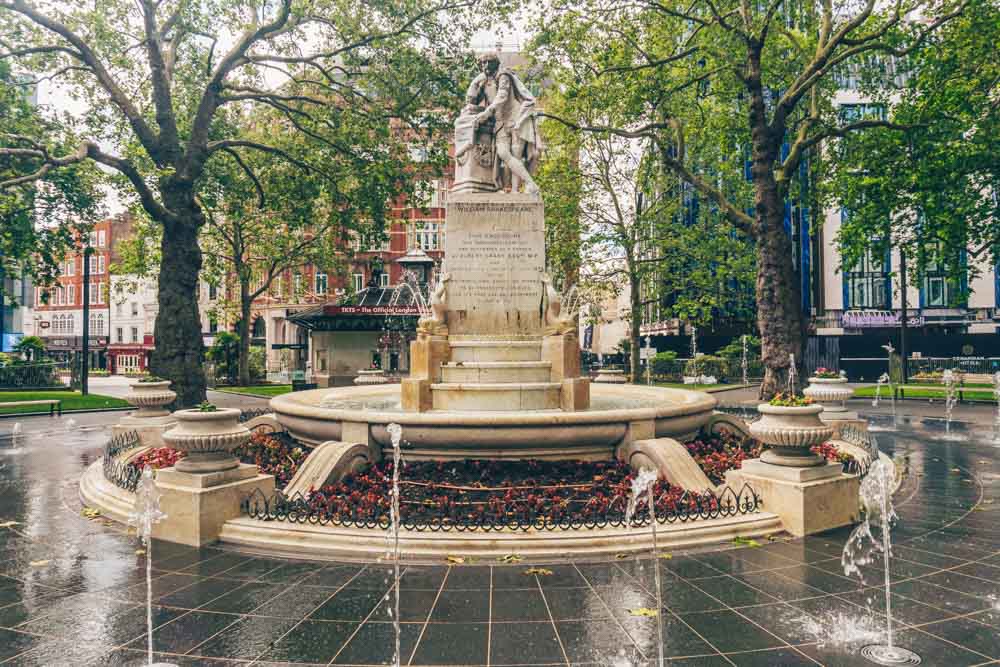 Leicester Square has been a hub of London's entertainment scene since the 19th century. At the heart of it all sits Leicester Square Gardens- adorned with a fountain, complete with a bust of Shakespeare in the middle and surrounded by benches.
If you catch it on a rare, quiet moment, you can see the glimpses of the once fashionable square surrounded by ornate architecture that attracted the hoi polloi of society. 
Scenes in the Square
To be honest, I've always thought the square at the heart of Leicester Square was something of a disappointment – a relatively big area with very little going on. 
Apparently, the powers that be agreed as they've installed a series of statues of well-known fictional figures to jazz it up. The project, known as Scenes in the Square was unveiled earlier this year. 
Now you can grab your photo sitting next to Mr Bean, or get a snap next to Mary Poppins – it's a nice touch that brings some interest to the square – there's even a snazzy Spotify playlist   to accompany it too.  
See a West End Play 
You can't spend any time in London without seeing a West End play – fact. At any given time, the capital hosts such a diverse and eclectic range of plays and musicals that it would be a real shame not to at least dip your toe in. 
The area around Leicester Square counts some of London's best-known theatres.
Buy tickets from London Theatre Direct.
Grab Last Minute Tickets from TKTS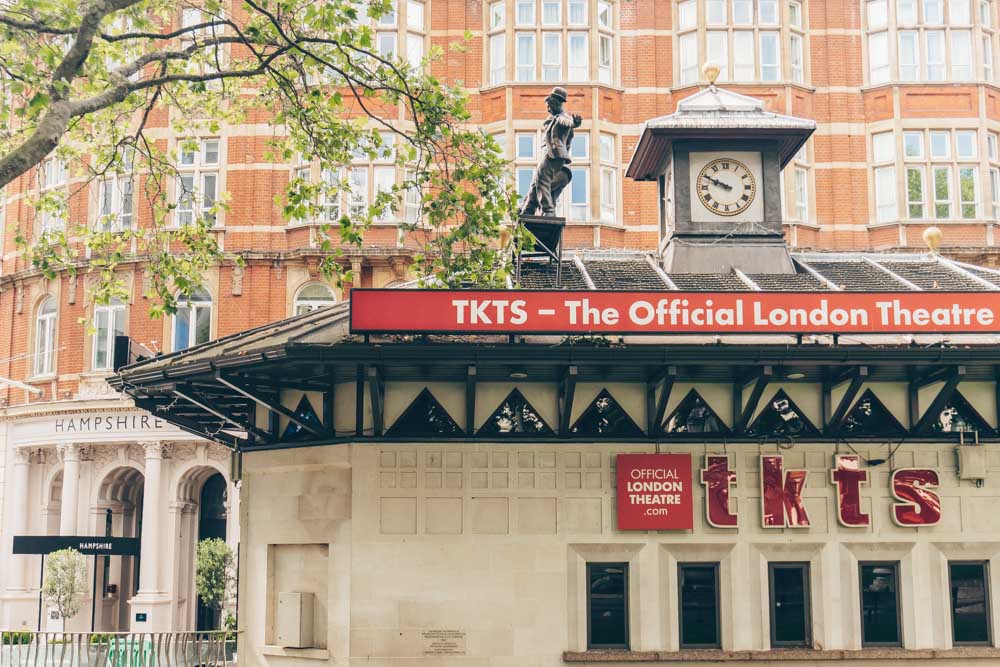 Want to play it by ear? You can pick up last minute theatre tickets from TKTS in the middle of Leicester Square. It's run by the Society of London Theatre, so there's always plenty to choose from and the discounts are great. 
Chinatown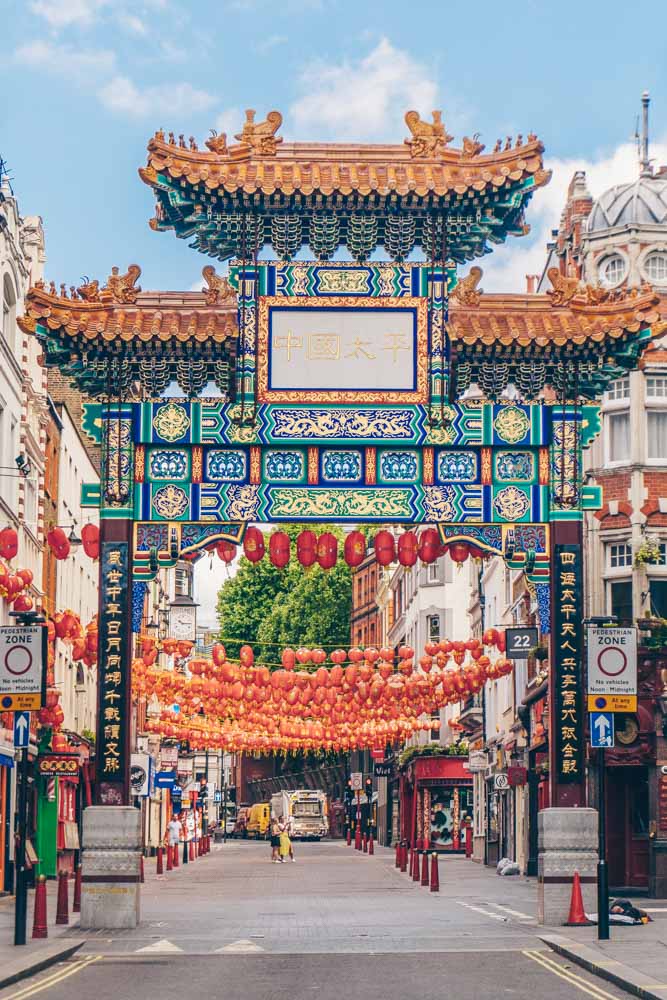 Just a stone's throw away from Leicester Square, Chinatown stands in stark contrast to the square.
You'll know when you're there – the four main entrances are marked by ornate gates  and red lanterns bob in the breeze overhead.
Don't just go for the photos though, Chinatown is brimming with fantastic places to eat, drink and shop – Yolkin, Rasa Sayang and Four Seasons to name a few. 
Read my full guide to Chinatown here. 
The Eros Statue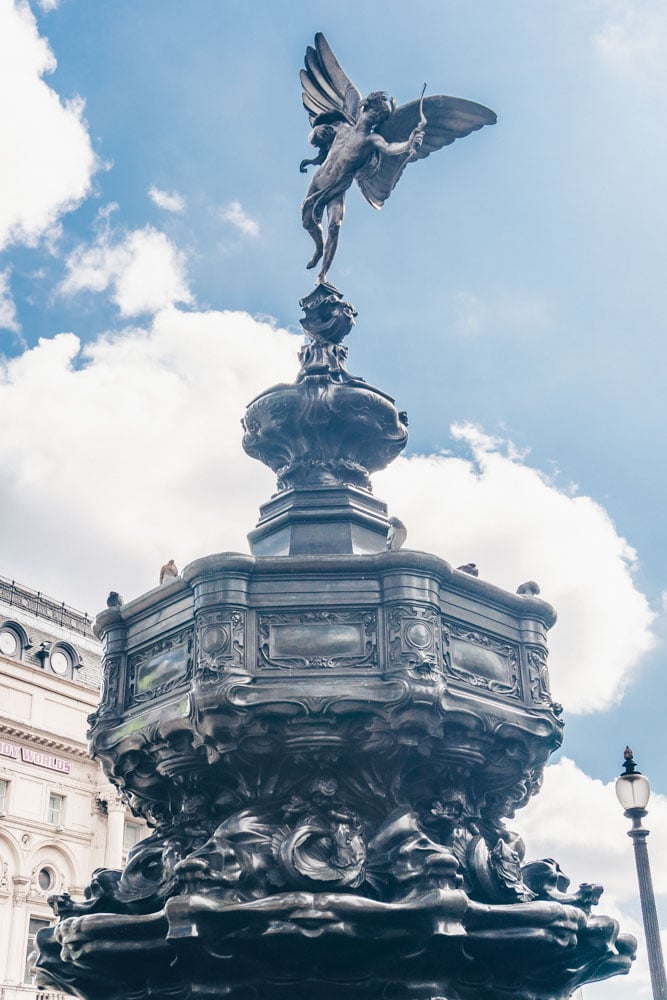 Sat on the edge of Piccadilly Circus, the Eros Statue is one of London's best known… but there's more to this cheeky winged figure than meets the eye. First of all, it's not even Eros at all, but Anteros, the sibling god of platonic and philanthropic love. 
Where's the statue's missing arrow? Why did it cause controversy when it was erected? Find out more. 
Piccadilly Circus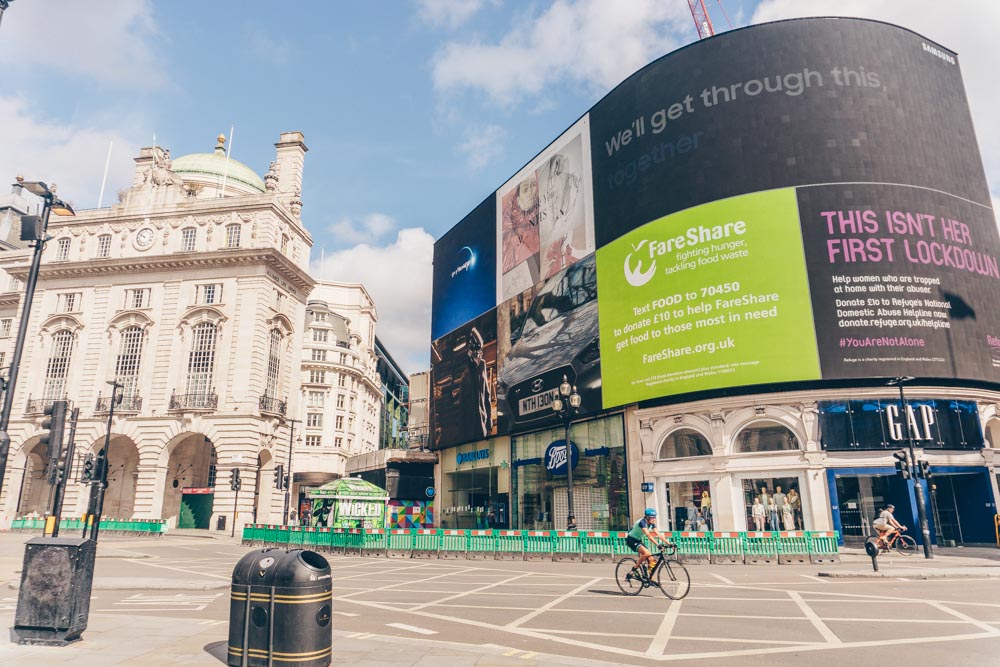 It's one of London's busiest spots, a throng of tourists, neon lights and huge advertising signs that shouldn't be as entrancing as they are.
No, Piccadilly Circus is not for the faint-hearted but it does make for a cool photograph, particularly at night when it's all lit up. 
Catch a Film Premiere 
Leicester Square is synonymous with the glitzy movie premieres that roll out the red carpet for all manner of celebrities… so it figures that it's a great place for a bit of star-spotting. Check the schedules of the cinemas on the square to see what's coming up. 
Prince Charles Cinema
Skip the boring bland mega-chain cinemas on the square in favour of The Prince Charles Cinema.
This is one of London's quirkiest cinemas, with a schedule that's always stuffed with cool sing-along (and dress up) screenings of classics like Grease and the Rocky Horror Picture Show.
They show current films too – be sure to check the schedule to see what's on. 
Check out the Swiss Glockenspiel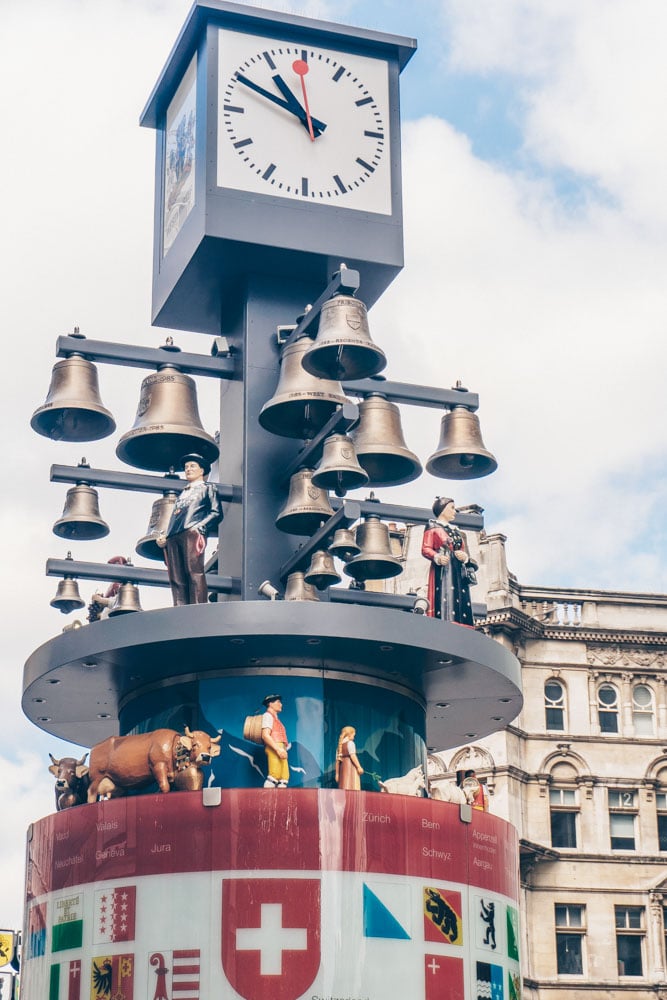 Just outside of M&M world, you'll clock something a bit odd… a large Swiss Glockenspiel in the middle of the pavement, decorated with the flags of the cantons of Switzerland. 
It's a throwback from when M&M World actually was the Swiss Centre – a shop and exhibition dedicated to Swiss culture and brands. 
The centre is long gone but they rescued the clock from the building and put it on display – you can even catch it playing its melody and accompanying figurine show at 12, 5, 6, 7 and 8pm Monday to Friday and also at 2,3 and 4pm at the weekends. 
Trafalgar Square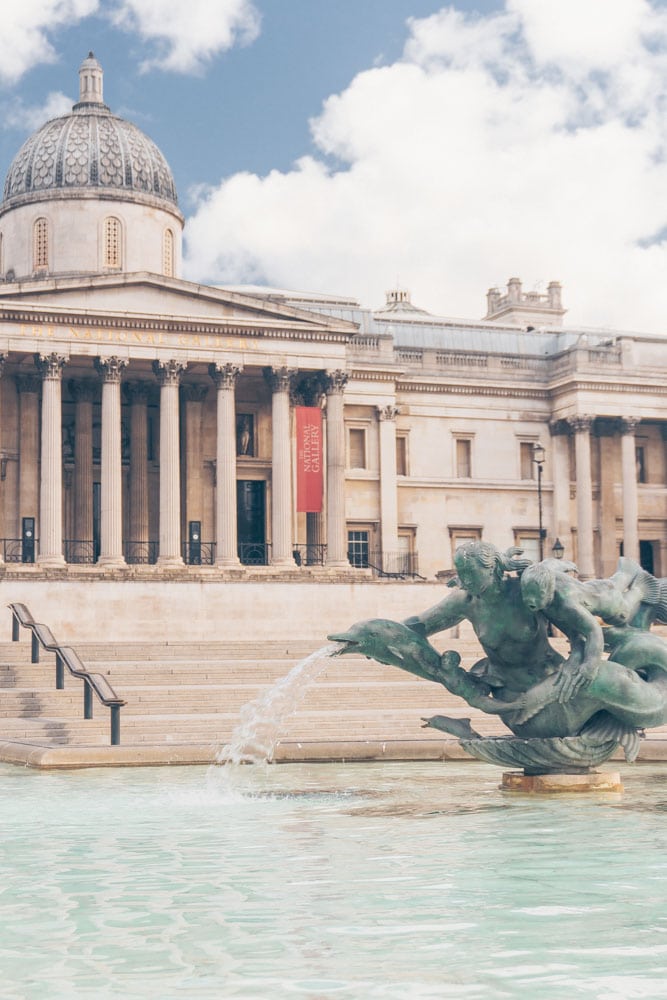 Trafalgar Square, London's most iconic square is mere paces away from Leicester Square.
On it, you'll find The National Gallery, The National Portrait Gallery, Nelson's Column, the famous Lion Sculptures, St Martin's in the Fields as well as Britain's smallest police station.
There you were thinking it was just another overhyped spot. 
More than just a jumble of London landmarks, Trafalgar Square is actually a pretty lively place. There's always something going on – whether it's street musicians, protests or the famous Christmas tree and you should visit at least once. 
Want to Know More? Read my Trafalgar Square Guide. 
National Gallery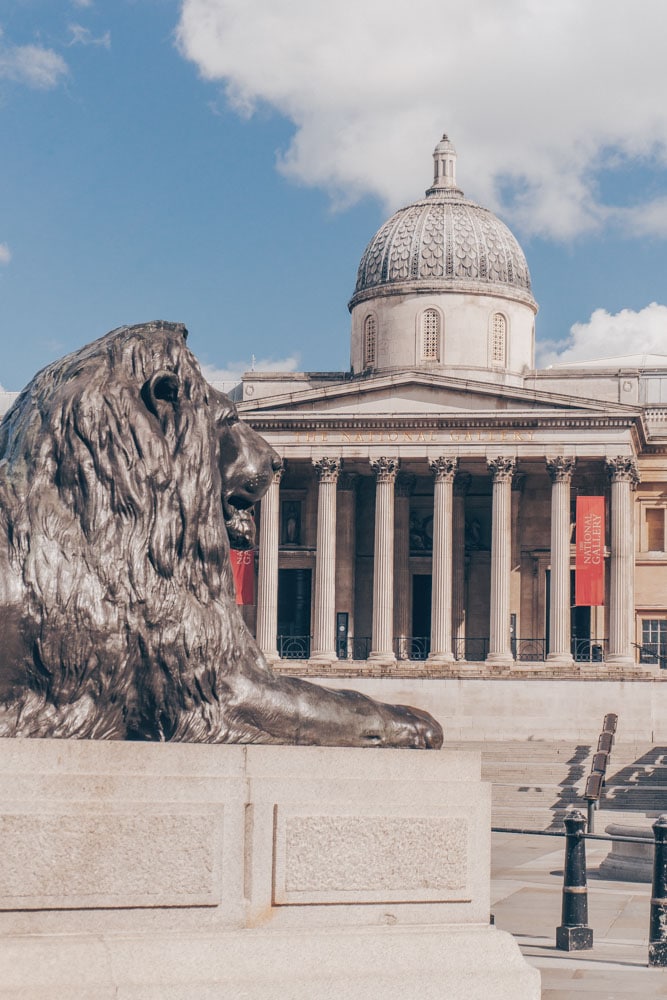 I'll warn you, The National Gallery is HUGE. If you're an art lover, you should set aside at least half a day to explore it (I can't count the number of times I've been and I always find something new and exciting). 
Rembrandt, Vermeer, Turner, Gainsborough – the breadth and scope of the exhibits is vast. Prepare to be overwhelmed. 
National Portrait Gallery 
You can learn a lot about a period of time from the portraits produced within it. I've always loved the National Portrait Gallery because it gives you a small glimpse of the lives and times of so many influential figures from the Tudor times onwards. 
Cardinal Wolsey, Bloody Mary, Bonnie Prince Charlie, The Bloomsbury Group, Blur – all are immortalised on the walls of the National Portrait Gallery.

Eating & Drinking in Leicester Square
My favourite places to eat and drink around Leicester Square.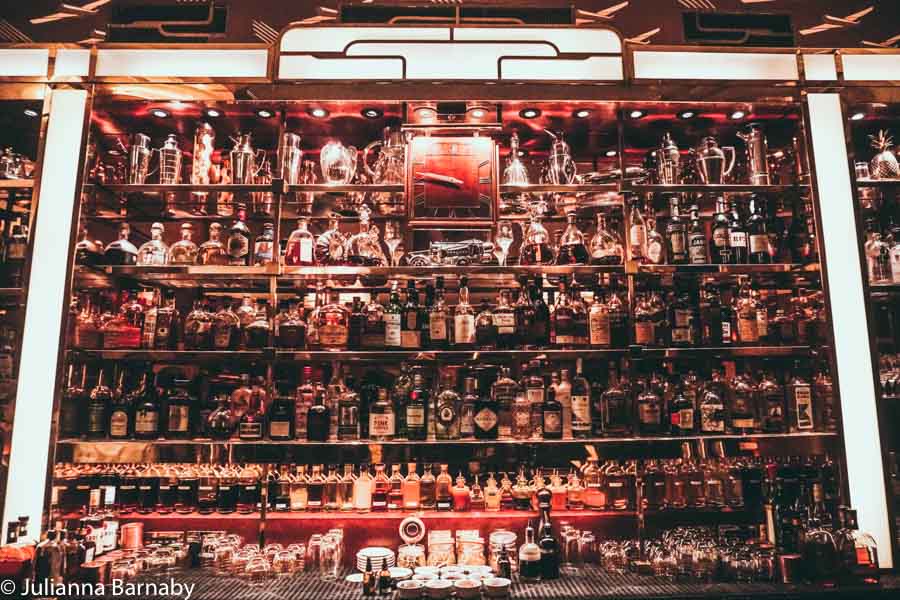 Skip the crappy bars, pubs and restaurants on Leicester Square itself – there's nothing for you there. Instead head into its immediate surrounds for some dining and drinking delights. 
Experimental Cocktail Club 
You have to know where to look to find The Experimental Cocktail Club. Climb the stairs behind the unmarked door for access to this high-end speakeasy and enjoy stellar cocktails in a moody and atmospheric setting.  
Rasa Sayang 
This no-frills Malaysian restaurant in the middle of Chinatown is one I return to again and again. Sure it's great value, but it also serves some of the best Malaysian food you can get your hands on in London. 
Indigo Bar 
I'm not normally a fan of hotel bars (boring, soulless and a bit depressing) but I will make an exception for the Indigo Bar. Ensconced on the 9th floor of the Hotel Indigo, this hidden gem boasts one of the best bar views in central London. 
The wrap around balcony and floor-to-ceiling windows show off landmarks such as The Shard, The London Eye and The City of London at their best. 
Granaio
Swank swank swank it up with a meal at Granaio. It's housed in the former buildings of The Criterion – one of London's historic restaurants until its closure in 2015. 
As Granaio, things are a bit more rustic –  the focus is on authentic Italian cuisine and the setting is far more laid back than in the old Criterion days.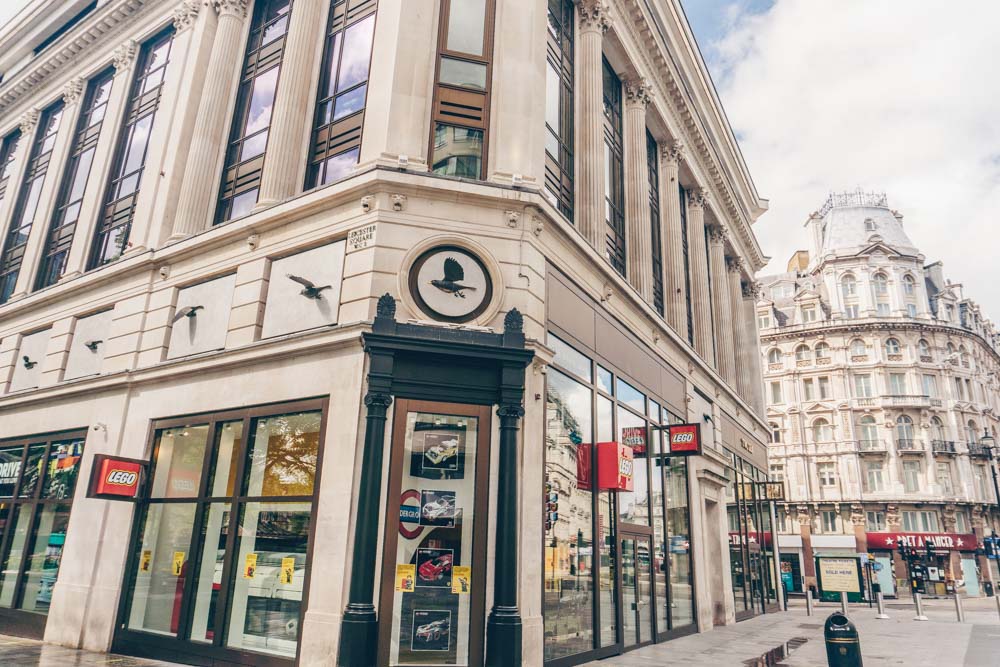 Japan Centre 
The Japan Centre is something of a secret treasure a couple of streets away from Leicester Square.
Sure, it might sound a bit tacky, but in reality it's a great place to pick up Japanese ingredients and, dare I say it, some of the best sushi in the city (take-away only). 
Long Acre
OK, technically Long Acre falls within the remit of Covent Garden (although one end of it does finish on Leicester Square).
Either way, it's one of the best shopping spots in the area. There are some of the same old yawn brands you find everywhere, but there are also smaller indie names and Stanford's, London's biggest travel bookshop for you to poke around too. 
The Lego Store
Lego fanatics come from all over London to pay homage to the giant Lego store one the corner of Leicester Square. 
London's flagship store contains full-size models of some of the company's biggest creations and has brick specialists on hand to help with those tough Lego decisions.

Map of Leicester Square
Read More London Guides
Love This? Save and Share on Pinterest!