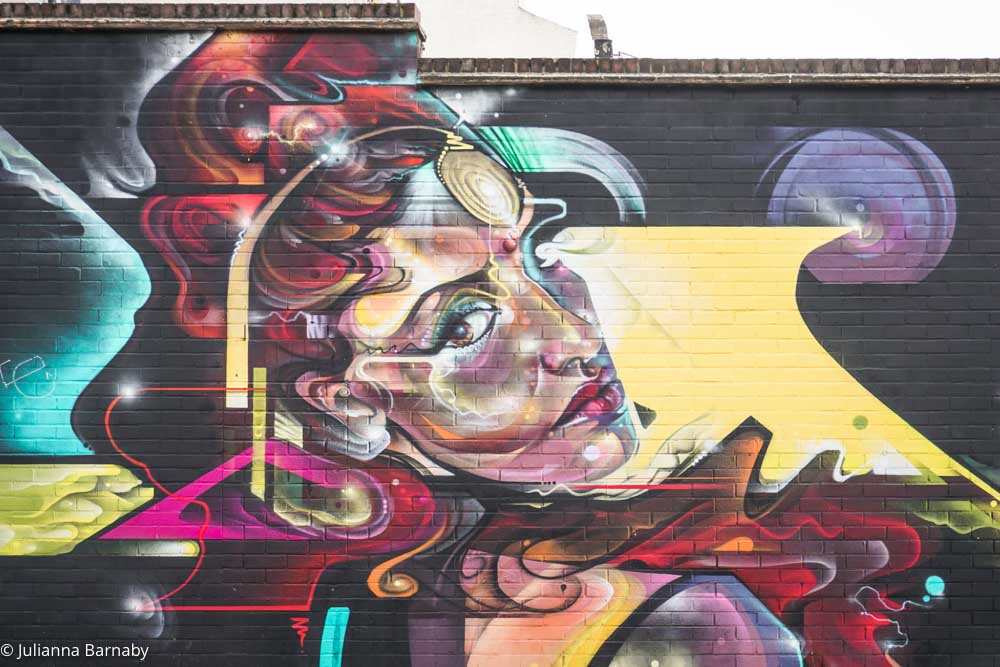 Looking for the best things to do in Brixton? Look no further: I've picked my favourite things to do in this vibrant neighbourhood. From hunting out the incredible street art to sampling the beers at a craft brewery – here are 19 things to keep you out of trouble.
Can we talk about Brixton?
This cool neighbourhood is one of my favourite parts of London (so much so that I lived there for a couple of years) and PACKED with things to do.
Whether it's your first time in the area, or it has been a long-time haunt I've pulled together a Brixton guide will blow your socks off.
Now all we need is a special sprinkle of South London magic and we're good to go.
Things to do in Brixton in the Day
Hunt out the Street Art in Brixton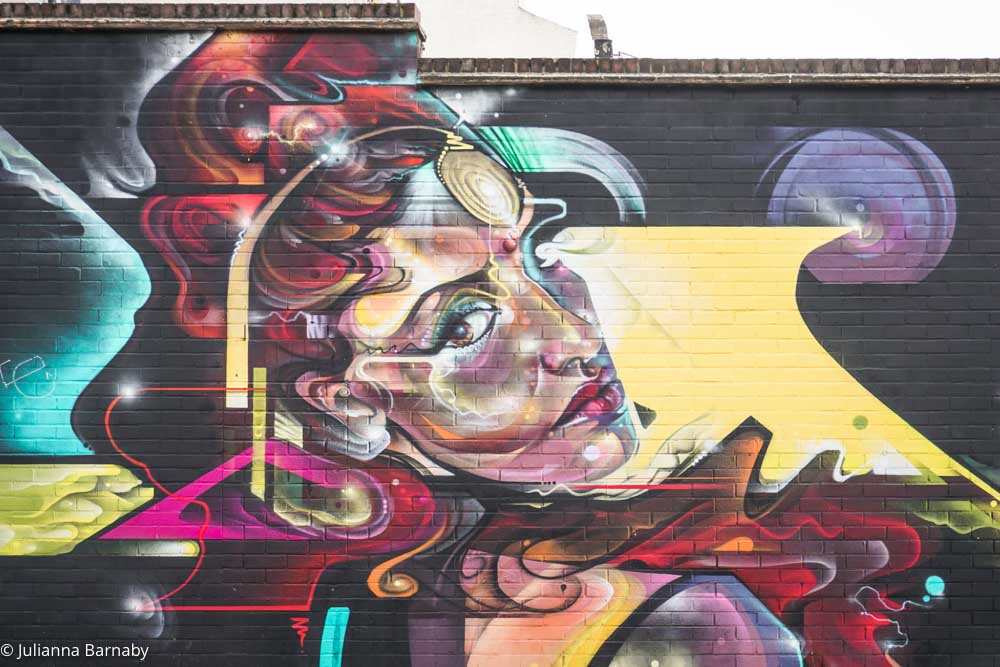 London boasts plenty of uber cool street art (check out my guides for Shoreditch and Camden to give you an idea or two), but I've got to admit what's on offer in Brixton is particularly special.
It very much reflects the neighbourhood's heritage — you can expect to see plenty of homage to the arts, as well as some political statements.
Much of Brixton's street art is constantly in flux, so one of the best ways to explore it is just to stumble upon some amazing pieces.
Case in point? I was poking around last week whilst looking for Brixton Windmill and came across the stunning piece by Mr Cenz shown above (it's on Josephine Ave at the Brixton Hill end if you want to have a nose yourself).
In particular, I'd recommend heading for Electric Avenue to check out some quirky and colourful works. There's also the famous – and possibly a little unnerving – portrait of David Bowie in all its glory on Tunstall Road.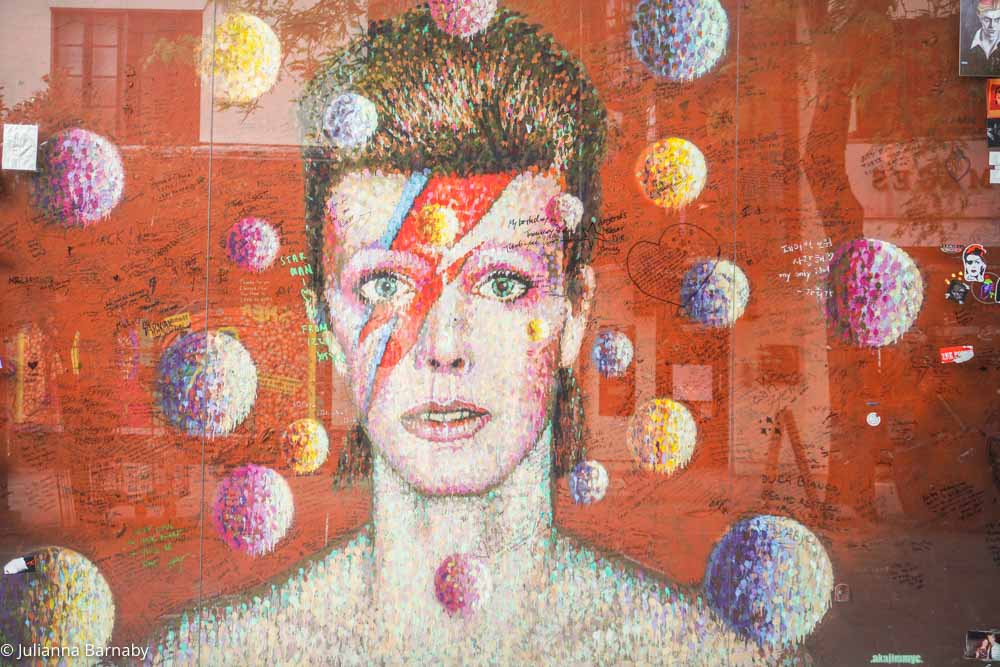 One stalwart of the Brixton street art scene is the Brixton Murals, and they're definitely unmissable.
Created in the aftermath of the Brixton riots in 1982, these often politically-charged murals speak to the history of the area. It's street art at its best – colourful, unapologetic and a real piece of living history.
You'll find some along the Stockwell Park as well as at the railway station. Checking these out is definitely one of the best things to do in Brixton.
Learn About Brixton's Heritage at the Black Cultural Archives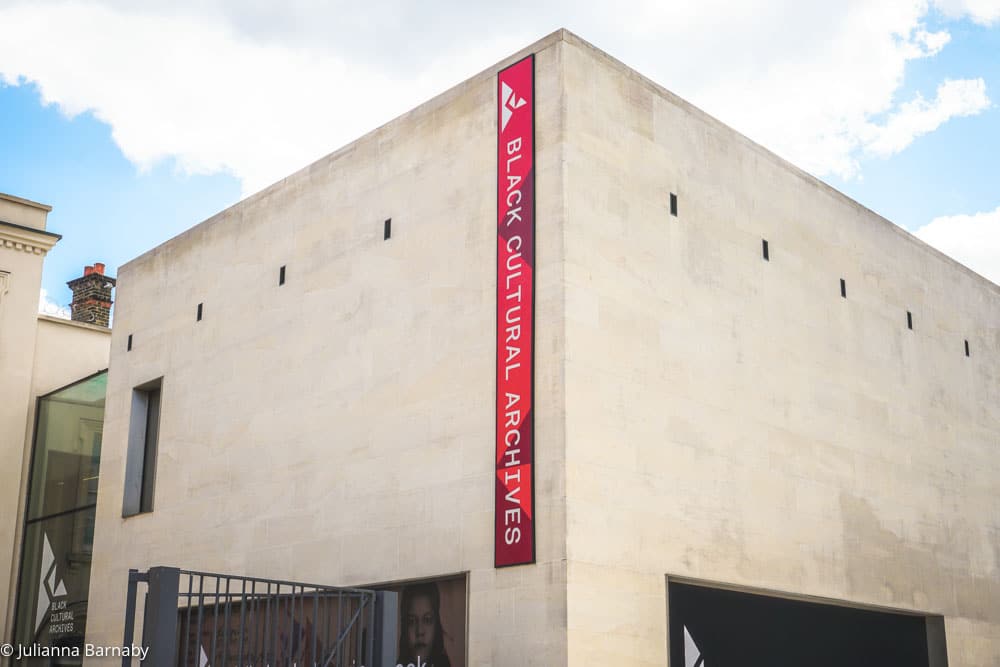 Brixton, like much of London, has been hugely shaped by its Afro-Caribbean community. When the Windrush generation arrived in London after the end of the war, they were shunned by many, refused places to board and work.
It was tough (listening to my grandmother talking about those times used to make my stomach twist), yet they persevered. The lives and contributions of those generations should not be forgotten.
The Black Cultural Archives is Britain's only national centre preserving and celebrating the culture and heritage of those of African and Caribbean descent.
Their amazing archives provide an authentic glimpse into the experiences of people from this community, particularly during the late 20th century.
You can walk through the lives of generations of Africans and Caribbeans who made the UK their home and the subsequent generations of Black British people. Photographs, letters and literature illustrate the struggles and successes of so many individuals.
Just a heads up that you have to book ahead to access the archives themselves, but there's an enlightening exhibition you can access without booking.
Find Your Next Great Read at Bookmongers
A good bookstore is more than a place where you can grab a new paperback to flick through.
Entering a good bookstore should be like entering the living room of a good friend. Perusing the collection should challenge, excite and interest you.
Then, a really good bookstore needs a loveable pooch to welcome customers through the door.
This means Bookmongers in Brixton is definitely a good bookstore by my reckoning.
Twenty years ago, Boston-born book-lover Patrick fell madly in love with London (fair enough) and decided to open up a cupboard-sized secondhand bookstore in Brixton.
It soon outgrew its home and moved into its iconic location on Coldharbour Lane.
One look at the shop and it's clear why a smaller space was never going to work. Books are piled up on every corner, tempting you to search through the stash to find some treasures.
You never know what you'll stumble on, as the shelves are packed with everything from queer history to small-space gardening.
You're sure to leave with a fascinating – and diverse – selection of reading material.
Shop from the Indie Stores in Brixton Village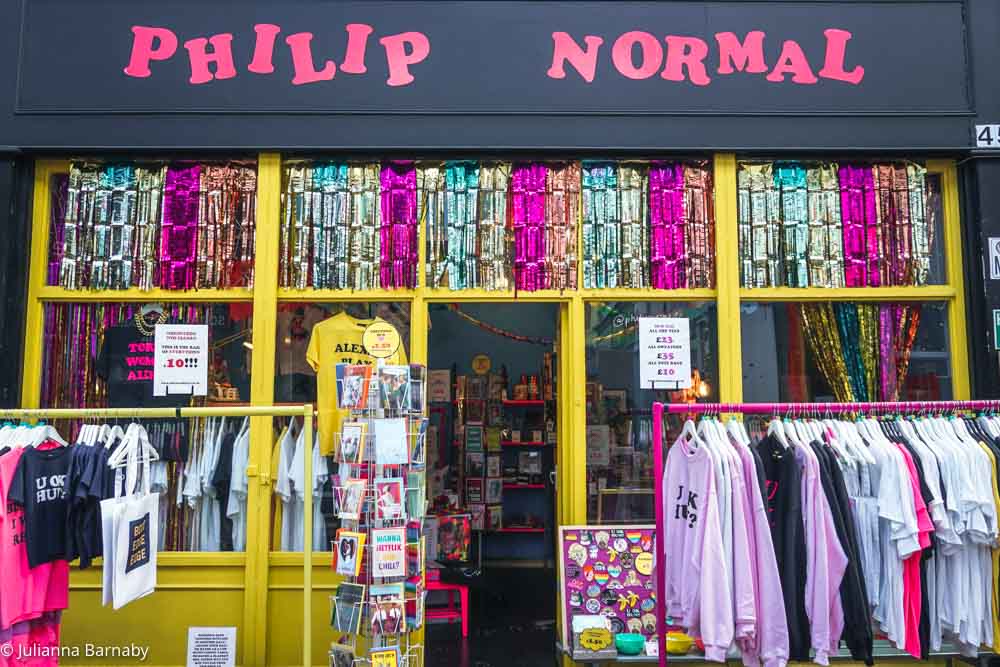 Brixton Village is kind of like a microcosm of what makes Brixton great.
Huge, fabulous street art pieces adorn the walls, while a mouthwatering selection of multicultural food stalls promise to leave your stomach bursting.
Then there are the many fabulous indie stores. Forget high street bores like H&M and Topshop and find yourself something unique (I've personally got my eye on one of the rainbow wigs from the wig store… why not?).
There's Full Moon Designs with its quirky and handmade jewellery made from colourful crystals.
Then there's Rachel and Malika's that sells amazing accessories and homewares that are inspired by every corner of the globe — a bit like the area itself.
Don't miss it as it's one of the best places to go in Brixton.
Also, if you're looking for something to do in Brixton at the weekend – be sure to check out the weekend markets, including the fabulous retro clothing market.
Feast Your Eyes on the Fresh Produce at Brixton Market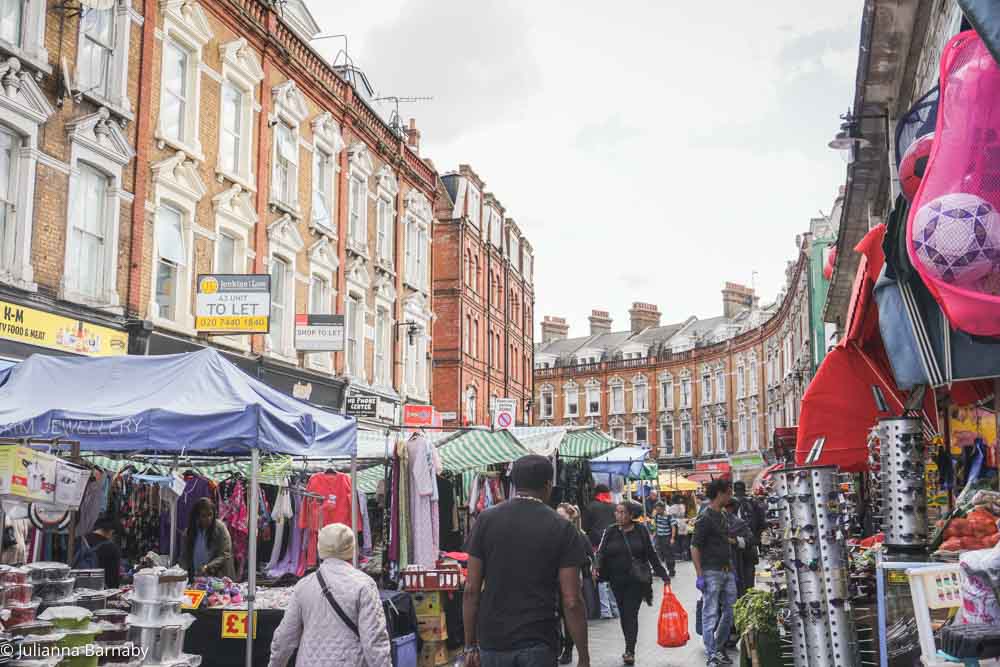 If the flavours and aromas of Brixton's aaaaamazing multicultural food has you ready to unleash your inner Masterchef, you're in luck.
The first step to impressing your friends and family with your cooking prowess is picking up some delicious and authentic ingredients.
You'll find plenty of amazing produce at Brixton Market. You'll find fresh, seasonal fruit and veggies at great prices.
Of course, you can't leave without stocking up on a few spices and sauces to recreate the deliciousness at home.
Soak up the Sun in Brockwell Park (and Pop into the Lido)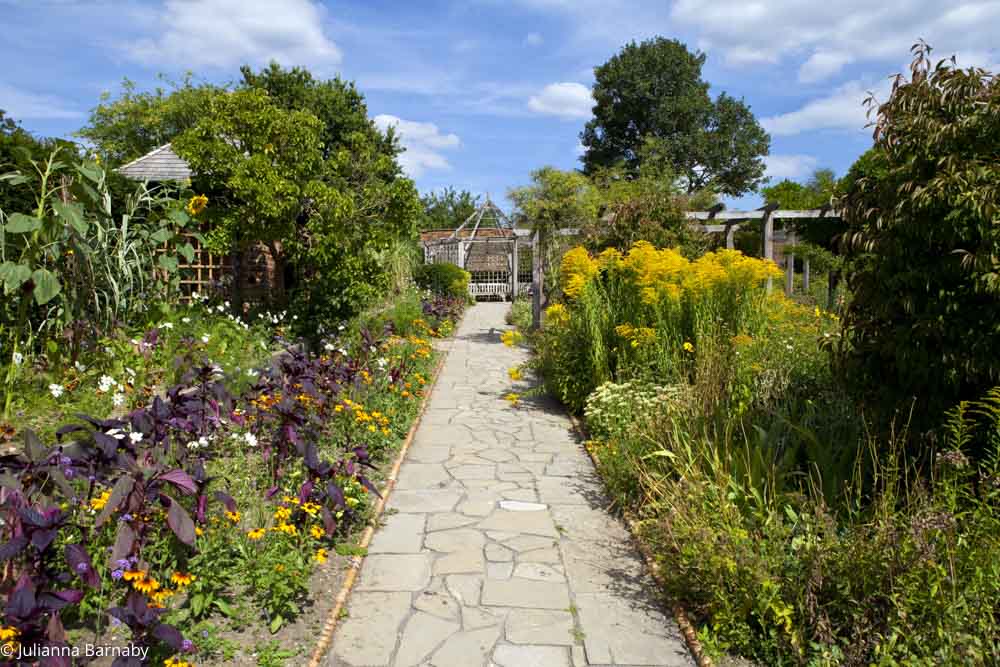 I love being amidst the hustle and bustle of the centre of Brixton, but even I've got to admit sometimes you crave a little peace and quiet.
Luckily, amongst the Brixton things to do is a visit to Brockwell Park, a sprawling 50 acres of green space.
There are wooded sections, floral beds and wide open expanses: in other words, everything you'd want from a London park. As a result, I've spent many an hour jogging, picnicking, reading and sun-worshipping in Brockwell.
During the warmer months, popping into the Lido for a quick swim is practically a rite of passage for every Londoner.
What's a Lido? It's basically a fancy word for a swimming pool, and the Brixton one sure is fancy. It was first constructed back in the 1930s to raise local spirits, and has been restored back to its former glory. Nothing like an open-air London swim in the summer.

Read More: London Parks You Have to Explore
Brunch at The Blues Kitchen
The Blues Kitchen. brings a welcome little bit of deep-south soul to the heart of Brixton.
While this bar/restaurant is famous for offering over 80 varieties of Bourbon (here's a hint: don't try them all), there's another big draw if you visit at the weekend.
Brunch.
The Blues Kitchen brunch runs every Saturday and Sunday, between 10am and 3.30pm. Delicious soul food and unlimited refills of your fave breakfast beverage (you can take your pick from prosecco, mimosas or perhaps Bloody Marys if you're trying to shake off last night's antics).
Sign me up.
If you can't make it during the day, I also recommend swinging by at night when there's a fab calendar of blues (of course), soul and jazz music nightly.
Try the Brilliant Craft Beers at Brixton Brewery
Credit: @
Brixton Brewery
Brixton wouldn't be an up-and-coming London borough without a craft brewery now, would it?
You certainly won't be disappointed by what's on offer from the succinctly named Brixton Brewery.
As one of the more established craft breweries in London, the team at Brixton Brewery really led the charge when it came to perfecting the art of the microbrew. It's certainly worked out for them, as their beers have received plenty of acclaim.
Nonetheless, they've kept that unassuming charm and personal touch. Beer is a passion, customers are friends, and Brixton is proudly home.
Like most Brixton-born offerings, the produce has been inspired by lands offshore but also retains a distinctly local flair.
They have a tap room that's open on Friday and Saturdays to drink in or take out.
There's a handful of permanent offerings as well as limited edition releases – I particularly love the bold and hoppy Atlantic A.P.A, but they're all good.
Visit Brixton Windmill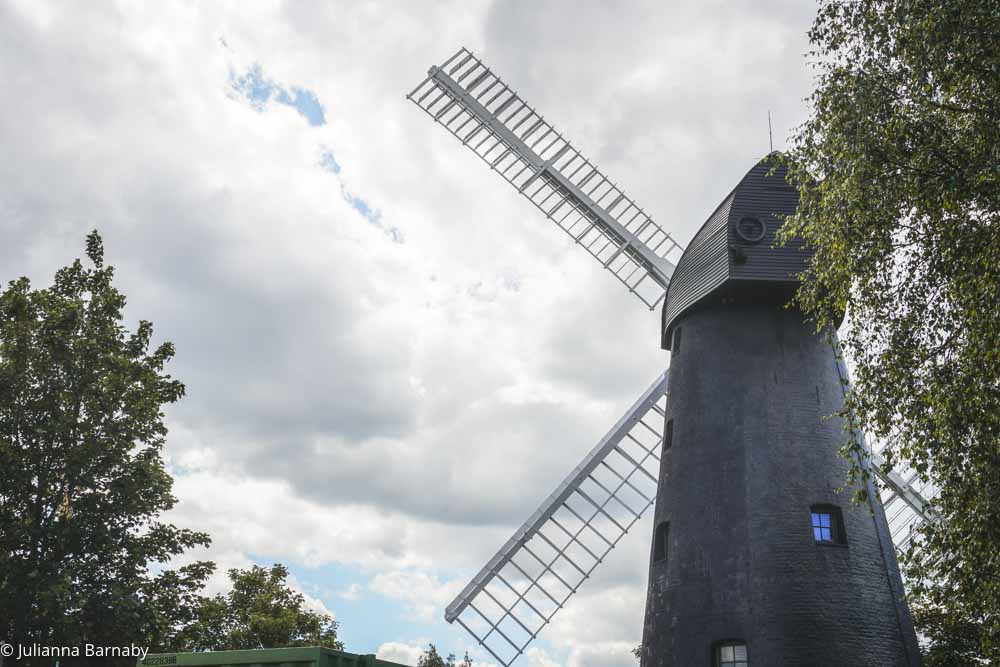 Street art, street food, live music… and a windmill?
Okay, so an old-school windmill surrounded by delicate flowers might not be exactly what you think of when you think of Brixton, England, but that's what makes it so worth a visit.
Just to the south of Brixton, you'll find the large 19th century windmill. While it may look a tad out of place today, it played a key role in the history of the area.
It was built in 1816 and leased to the Ashby family to mill flour. Milling flour was big business in Brixton at the time, and this wind-powered turbine was the height of cutting edge technology.
It remained in the hands of the same family all the way through to 1934, when the last miller in the Ashby family passed away.
For more than two decades the Brixton Windmill was forgotten about, before the decision was made to turn the surrounding area into a park. It eventually opened to the public in the late 60s.
It was renovated again in the noughties (and the area around it is being tarted up as we speak), but still remains quite the unappreciated attraction. True hidden gems are few and far between in London town, so I highly recommend a visit to this one.

Read More: Discovering London's Hidden Gems
Things to do in Brixton at Night
Still in Brixton when the sun goes down? Do I have some great choices for you.
Drinks and Dinner at Pop Brixton
I'll warn you – Pop Brixton is both a time and a money vortex. You know the kind of place where an afternoon becomes evening, evening becomes night and then lo and behold, it's 2am and you're dealing with Uber surge pricing.
Now I've given you the heads up, I'll go into more detail. Pop Brixton is hard to explain succinctly – it's a part social project / street food market / gathering of super cool people.
What used to be some rather scrubby and unused land has been transformed. Today, Pop Brixton boasts more than 55 independent traders from jewellery makers to a youth radio station.
Go for drinks and dinner. The food is great, the ambience is amazing and live music tops it all off.
Settle in and enjoy.

Explore Brixton's Booming Restaurant Scene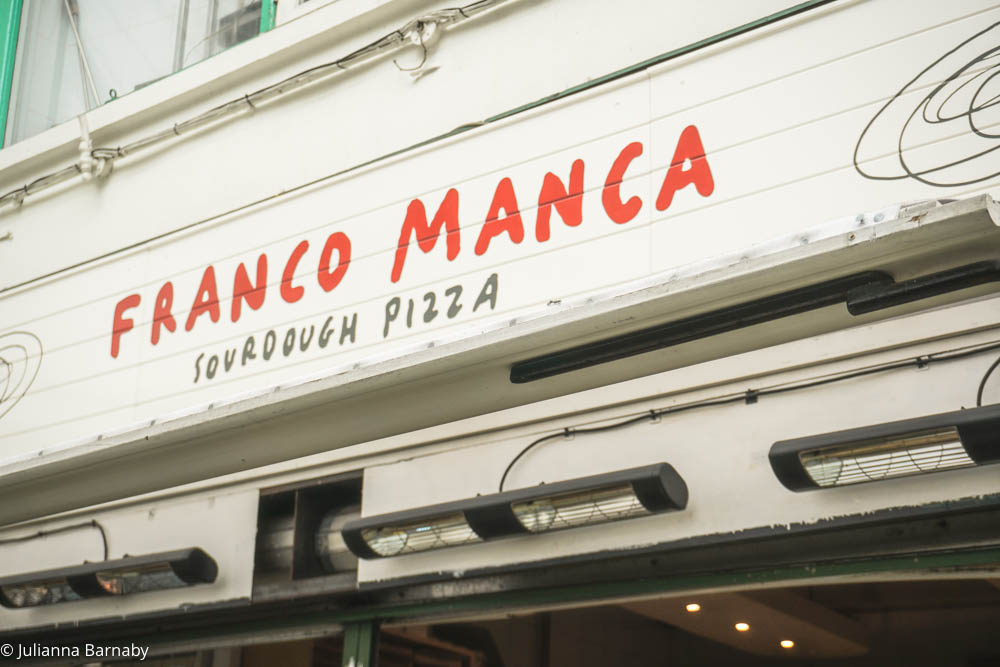 There's a lot to love about Brixton but it's utterly brilliant food scene is definitely up there for me.
The area's heritage as a cultural melting pot means some seriously, seriously good stuff to chow down on. Forget pub crawls; why not crawl through the brilliant restaurants on offer?
The diversity means there's something for everyone, and you could return many times without trying the same thing twice.
So, you know if I keep going back then the food is really good. And there are a few places that well and truly get my repeat business.
There's the scrumptious, sourdough-based pizzas at Franco Manca. Reheating or defrosting are cardinal sins here (as it should be), and it's all made fresh daily. Yum!
Then we have Fish, Wings + Tings, with it's ah-may-zing Caribbean delights. My mouth is watering just thinking about their codfish fritters and pepper prawns.
If you can still cram in any more deliciousness, there's laidback Salon in Brixton Market, with its ever-changing seasonal menu. Fancy, without the fuss – I like it.
Party at the Dogstar
Credit: @
Dogstar Brixton
Ah, the 90s. Not only did it give us icons like Britney Spears, Tupac and Kurt Cobain, but it also gave us the Dogstar.
Yep, back in 1995 this venue opened its doors to hoards of questionable fashion, questionable makeup and some really questionable dance moves (the 90s were kinda full on).
Likewise the big names rolled in: The Prodigy, Basement Jaxx and Massive Attack are just some of the iconic acts that have taken to the stage.
Fast forward 20 years, and the Dogstar is still going strong. The fashion has arguably improved, but the quality of the DJs remains the same. This legendary venue continues to attract the best up-and-coming and established artists.
There are three storeys to choose from, and while EDM is boss here, don't be surprised if things are shaken up with some hip hop, indie and pop as well.
Clearly, no Brixton guide would be complete without mentioning this bonafide icon.
Have a Rowdy Night at Hootananny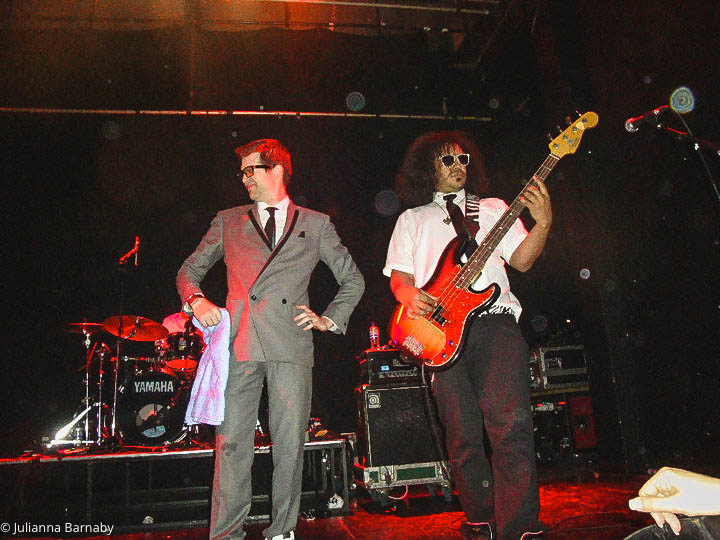 Yeah, yeah, drink responsibly and all – but sometimes we just want to get rowdy, and Brixton's Hootananny is the place to do it.
You know, those nights where you end up the dancefloor (or any other surface – tables are good too) in the wee hours of the morning? Hootananny was made for those nights.
It goes without saying that you need some amazing tunes to tempt you up onto the dancefloor. Believe me, Hootananny has got that sorted with a calendar of fantastic, multicultural bands and artists to get you moving.
Finally, you've got to love a venue that also offers amazing food. I particularly love the Caribbean food stalls on Friday and Saturday nights – there's really no better accompaniment to a fabulous night.
Catch a Film at the Ritzy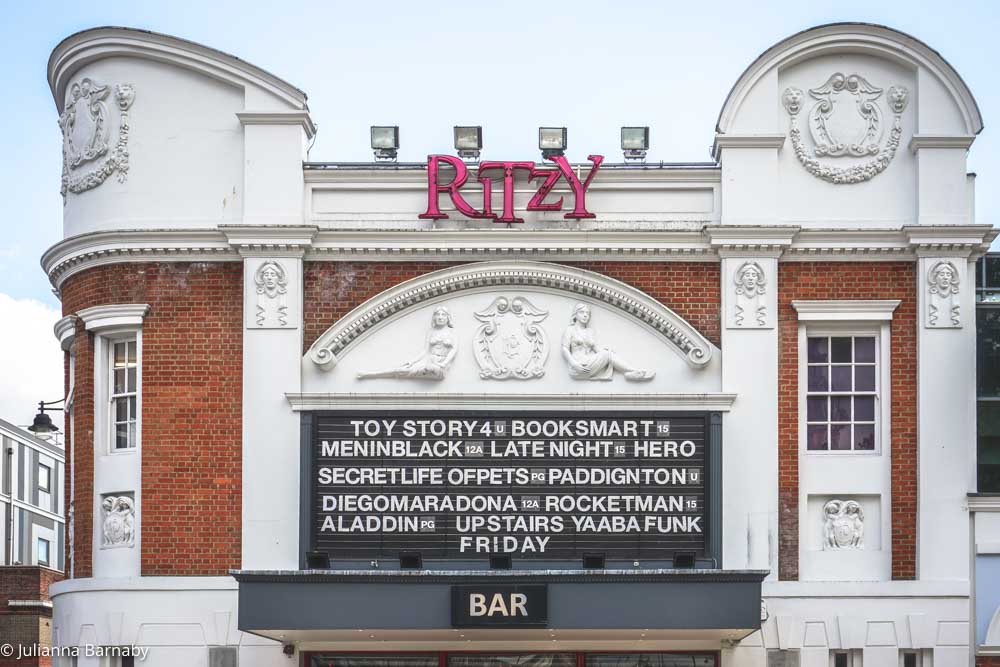 Long before Netflix had us all cozied up at home, a trip to the flicks was the only way to catch up on the latest pop culture releases.
As the cinema craze swept through Britain, the Ritzy was one of the first purpose-built theatres constructed way back in 1911.
It's pretty amazing to think that more than a century later, it's still attracting crowds with its latest releases. Take that, Netflix.
Back in '09 it was even restored to its original style, so you can really enjoy the old-school glamour.
As well as showing the usual blockbusters and Oscars contenders, upstairs at the Ritzy is also famous for its stand-up comedy shows.
If you're looking for stuff to do in Brixton, I highly recommend paying a visit.
Drink in a Proper Old School Boozer at the Effra Hall Tavern
You might have heard some Londoners lament the fact that old school boozers are being slowly gobbled up, replaced by trendy gastropubs with "deconstructed" avocado toast and beers named after obscure historical figures.
So, what exactly is a boozer? And why do we love them so much?
Honestly, it's kind of a "you'll know it you see it" thing – and you'll see it at the Effra Hall Tavern.
This is the kind of place you walk into and feel at home amongst the vaguely smoke-stained decor and bar that's seen better days.
Live music only adds to the charm, while the suntrap out back is lovely if you don't mind sitting side-by-side chainsmokers.
This is one of the best loved pubs in Brixton and South London – so grab a hand-pulled beer from the friendly bar staff, and enjoy the good vibes at this boozer.
Enjoy Some Live Music
Brixton is a hub of art and self-expression – so there are few better places to catch live music in London.
From cool little bars with brave souls lining up for an open mic, to large venues frequented by some famous faces, there's plenty on offer.
It wouldn't be Brixton unless things were diverse and interesting, and that can certainly be said for the music. Whether you like jazz, hip hop, indie, folk, or it all mashed together, you're sure to find it.
It's not always good, but it's always interesting.
Some personal favourites are Phonox, an ultra-cool nightclub that really showcases why London is considered one of the world's greatest nightlife destinations. It's free before 9pm, so settle in early if you're on a budget.
Then there's the O2 Academy Brixton, a legendary venue that attracts some big names from all over the world. Rock was where it all began, but it's broadened its repertoire of late.
Check out the website ahead of time and buy a ticket so you don't end up turned away at the door.

Brixton, London: Practical Tips
If you're short on time in London, it can be tempting to skip out on visiting areas like Brixton – I think that's a mistake. Areas like Brixton are where actual Londoners live and are great for giving you a true taste of the city beyond the big landmarks and sightseeing spots in the centre.
Don't book an Airbnb apartment / house unless you absolutely have to. It's been a big factor in driving up house prices in neighbourhoods like Brixton. If all the interesting people are priced out it's just going to end up as just another over-stylised husk clinging onto its history by a fingertip. Booking rooms in hosts' own houses (where they live) is a different matter and generally OK.
Some people will try and scare you off spending time in Brixton by saying it's unsafe. As I said, I used to live here and never had any reason to be remotely perturbed. Use your common sense as you would (or should) across all of London.
Brixton, London: Map
Click here for a Google Map of the places featured in this article.
Love this? Save and Share on Pinterest!
Looking for more things to do in London? Check these out!