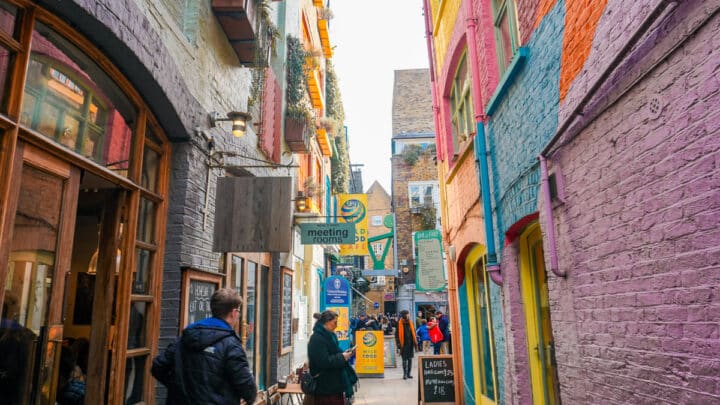 Neal's Yard is one of those gorgeous spots in London that you need to see. Walk through the narrow entrance to emerge into a world of colourful buildings, indie eateries and alternative remedies…
Neal's Yard is tucked away in a corner of Covent Garden – a not-so-secret gem full of brightly-coloured buildings and alternative shops standing in stark contrast to its surroundings.
Sometimes the centre of London can feel a bit, well, generic. The same shops, big brands, grey buildings… but nothing could be less true in Neal's Yard.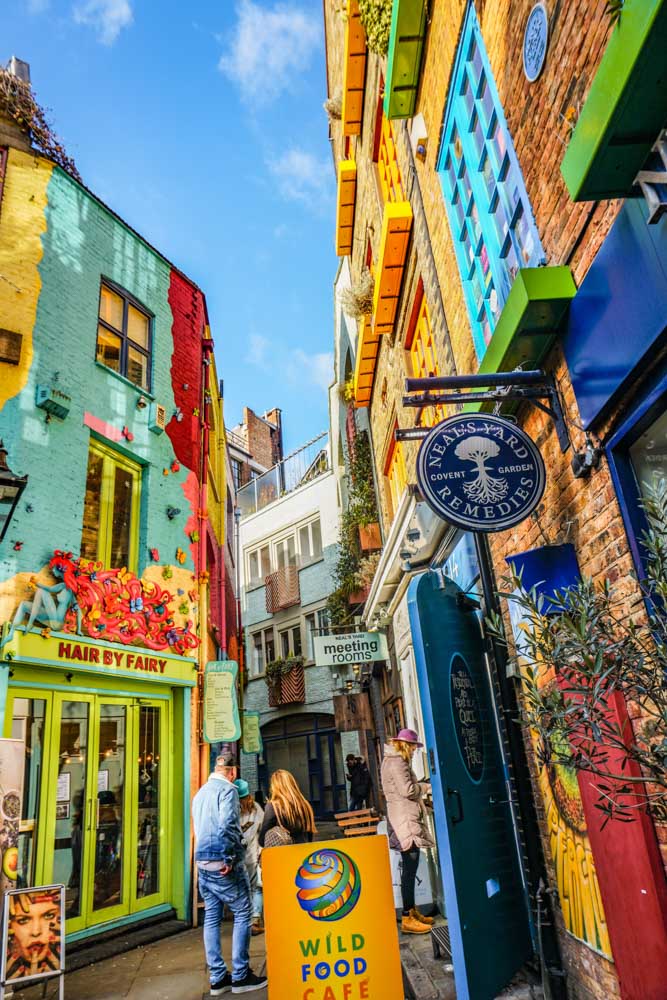 Even on a dull grey day (and let's face it, London has many of those) you can't help but be cheered by the sight of Neal's Yard's neon green, yellow, orange and blue-daubed buildings – there are even a few murals thrown in for good measure.
Walking through one of the two narrow passageways by which you access the yard for the first time, you're not entirely sure what to expect. Is it really as cool as they say? Surely the colours have been doctored for the 'Gram (when did we become so cynical)?
Nope. This is the real deal – as you will see for yourself once you emerge from the passage.
Wanna know more? This article delves into the top spots in Neal's Yard, as well as a short jaunt through its fascinating history. Let's go!
Must-Visit Spots
Neal's Yard Remedies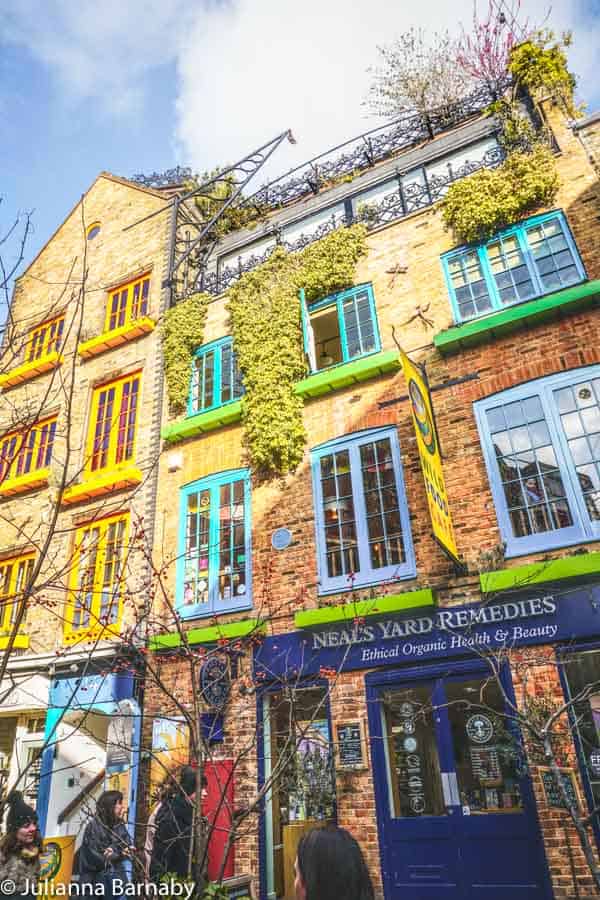 This is Neal's Yard's most famous name – an ethical beauty and skincare brand that first opened its doors here more than 40 years ago and has remained ever since.
Pick something up to bring home
You can choose one of their own products – easily identified by its famous blue glassware – or stock up on dried herbs to bring home.
Talking of packaging, sustainability has always been at the heart of Neal's Yard Remedies' mission statement, something illustrated by them recently marking their 10th anniversary of becoming the first carbon-neutral high street retailer in the world!
Want to go one step further? Book yourself in for a wellbeing treatment at the therapy centre next door. It might not be the most luxurious spa in Covent Garden, but it is a nice escape from the hustle and bustle of one of London's busiest tourist traps.
Jacob the Angel
Jacob the Angel is a gorgeous coffee shop serving up some of the best breakfasts in Covent Garden (and pretty tasty coffee too) – so we'd thoroughly recommend popping in for a bite to eat before you start the day, the granola with thick natural yoghurt and date molasses is simply awesome.
Their lunchtime sandwiches are pretty delicious, too. Forget the bog standard egg mayo – they serve much more tempting options like mushroom, satay and kimchi or cheese on cheese.
And best of all, the prices are ridiculously good value for central London. Lunch and a drink for less than a tenner? Don't mind if we do!
26 Grains
26 Grains is another brilliant spot for breakfast in Neal's Yard. Their breakfast menu doubles as an all-day menu and is deeply impressive.
You think you know porridge – until you go and try a few of 26 Grains' creations. Take their Banana, tahini, honey, cinnamon, sesame seed and cacao nibs topped dish, or the cherry & sumac jam, hazelnut, frangipane and whipped cream version.
Looking for something savoury? Try out the marinated courgettes with a bean and garlic puree, pine nuts, mint and rocket on stunning sourdough bread.
Is it too much to describe them as mind-blowing? Okay, we'll settle for stomach-satisfying instead!
St John's Bakery
The original St John's in Farringdon is one of my favourite restaurants (if you haven't come across Fergus Henderson's imaginative dishes, get yourself there pronto) – but their bakery in Neal's Yard is a totally different affair.
First up, their doughnuts are one of those must-try London dishes you simply have to get your hands on. Once you've licked the irresistible sugar off your fingers, try a few other treats in-store such as croissants, eccles cakes, and muffins, before picking up a rustic fresh loaf to take home.
Homeslice
Homeslice serves up some of the best pizza in London. Perhaps that's why it's popping up in so many locations across the city, as let's face it, Londoners bloody love a good pizza.
After launching a decade ago, Homeslice continues to wow customers with its simple, but gorgeous menu. Pizza, wine and/or beer (with some frizzante on tap if you're feeling fancy).
Chow down on a slice of their wood-fired bits of heaven or club together and get one of the impressive 20" whole pizzas to share with your mates (they'll even make it half-n-half to cater to differing tastes), or, if you want to invest for the next day, to take home for tomorrow's lunch!
The range of toppings is impressive, we love the chorizo, corn, and coriander. Have space for something else? Grab their indulgent rich Belgian choccy brownie, complete with white chocolate chunks.
Compagnie Des Vins Surnaturels
Parisian jaunt Compagnie Des Vins Surnaturels is one of our favourite spots in Neal's Yard, also making it onto our guide to the best wine bars in London.
With over 400 expertly selected wines to choose from, we don't suggest you sample each one in a single night. However, you will find something to suit your taste and budget. And the talented sommeliers are always on hand to help you decide where to start.
Not only that but with such a massive range on offer, no two visits are the same.
The charcuterie boards and small plates go down a treat too – cheesy lobster rolls and a delicate selection of meats and cheeses that pair perfectly with the wines.
Casanova & Daughters
Enjoy a foodie feast in Sicilian-inspired Casanova & Daughters' pretty outdoor terrace – this is a traditional Italian wine bar with a charming feel full of authentic Mediterranean hospitality.
A carefully curated selection of reds, whites, and champagnes accompany small antipasti dishes. Opt for the Sicilian platter, which includes olives, tuna bresaola, sun-dried tomatoes, and ciabatta for less than 20 quid, and you won't go wrong.
Alternatively, grab a load of the small plates to create an awesome Sicilian tapas. We love their homemade hummus, tapenade, anchovies, and burrata.
However, if you want something more substantial, their Main and Salad of the day will only set you back a tenner. Bargainous!
The Barbary
Drawing inspiration from the Barbary coast, The Barbary's restaurant menu is a culmination of Mediterranean, African, and Middle Eastern flavours and ingredients.
While the dishes are modern, The Barbary uses the simplistic method of fire to cook the food, with coals hand-lit each morning. Expect intense flavour combinations with black salmon dukkah and pata negra neck absolute fan favourites on the menu.
Of course, as with all decent restaurants these days, all diets are catered for, and if you're meat and fish-free, we can heartily recommend the Jaffa style Cauliflower. Want the perfect glass of wine to accompany your food? They'll have the perfect tipple to complement your grub and leave you completely satisfied.
Hair by Fairy
With its iconic facade and magical sign, Hair by Fairy is the top spot in Neal's Yard for a good old pamper session. And the inside is just as cool, with exposed brick and lavish art adorning the walls.
All the hair treatments are available, from simple shampoo and cuts, colouring, right through to perms, extensions and dreadlocks.
Yet, it's not just your hair that they'll pamper. Relax with a massage, get your nails or eyebrows done, or brave the wax before popping over to one of the other spots in Neal's Yard for a coffee – or a midday wine.
Walk In Backrub
One of Neal's Yards' best-hidden gems is Walk In Backrub. If you're feeling stress, aches and pains in your back, this awesome team of massage therapists will work those knots out of your shoulders and leave you feeling as good as new.
Best of all, there's no need to compromise your modesty as you remain fully clothed throughout the massage. Simply sit in the specialist Japanese-designed chair and let their therapists' magic hands do the rest!
So, if you feel like you could benefit from a rub down, you don't need to book. Simply rock up, walk in, and relax.
History of Neal's Yard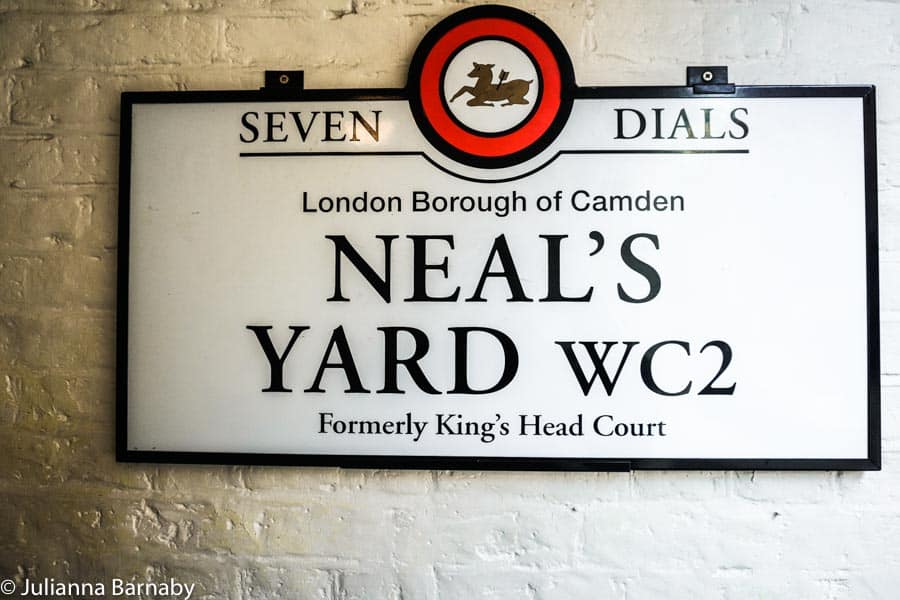 Visit today, and you find vegan cafes instead of chic coffee shops, handmade trinkets instead of designer furniture and, of course, the famous Neal's Yard Remedies.
All the businesses here emphasise the importance of environmentally-friendly and sustainable practices – which explains why it's not the usual jumble of familiar branded shops.
Yet in the not-too-distant past, Neals Yard was just another run down courtyard of central London buildings on the road to demolition.
From Derelict Building to Local Hub
It was saved by the founder of Neal's Yard, Nicholas Saunders – a figurehead of London's alternative scene who championed a different kind of London.
As an activist, Saunders wrote books teaching people how to enjoy London without lots of money – advocating for living in communities and emphasising spirituality. In other words, he sounds like a complete dude.
For just £7,000, he purchased premises in the yard previously used as the Covent Garden Fruit and Vegetable Market. An incredible price – in exchange for a derelict building infested with rats. Shudder.
Well, Saunders wanted to live there, but the council refused permission. So a whole food store was the next sensible option, clearly.
Technically, he was also told he couldn't open a whole foods store, although Saunders spoke to a solicitor who told him he could legally go ahead and try to gain local support. After which, the council would have no choice but to allow it. So, that's what happened.
Eco-Friendly Businesses
After three months of renovation, the shop opened in November 1976 and did a roaring trade.
It proved so successful that he expanded it to a chain of eco-friendly businesses trading under the Neal's Yard name: Neal's Yard Coffee House, Neal's Yard Bakery, and what we now know as Neal's Yard Remedies.
And voila – Neal's Yard was reborn. Not too bad an achievement for a man who rejected rampant capitalism in favour of a different way of life.
Map
Looking for More London Guides?