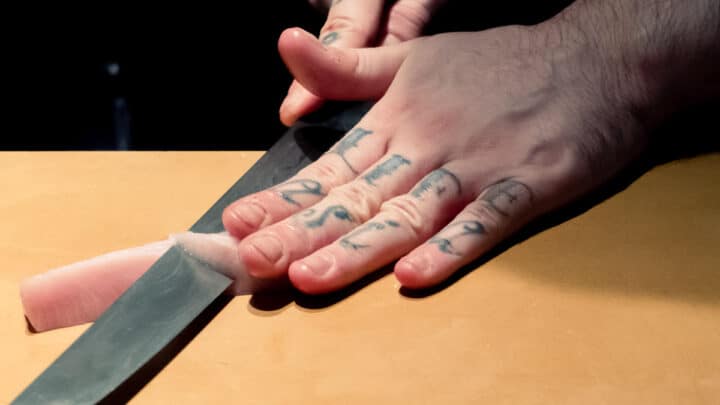 Discover the best restaurants in King's Cross. From contemporary British cool to chic omakase, these are the places to eat you shouldn't miss.
The days when King's Cross was a little grotty are long gone – and nowhere is that more evident than in the area's thriving dining scene.
From the contemporary eateries dotted around Granary Square to secret finds dotted around the area's maze of streets, these are the restaurants in King's Cross you need to be booking pronto.
Price Guide:
£ – Under £15 for a main
££ – Between £15 and £25 for a main
£££ – Over £25 for a main
Best Restaurants in King's Cross, London
These are the best restaurants near King's Cross Station you can restaurant hop to in no time.
Sushi on Jones
££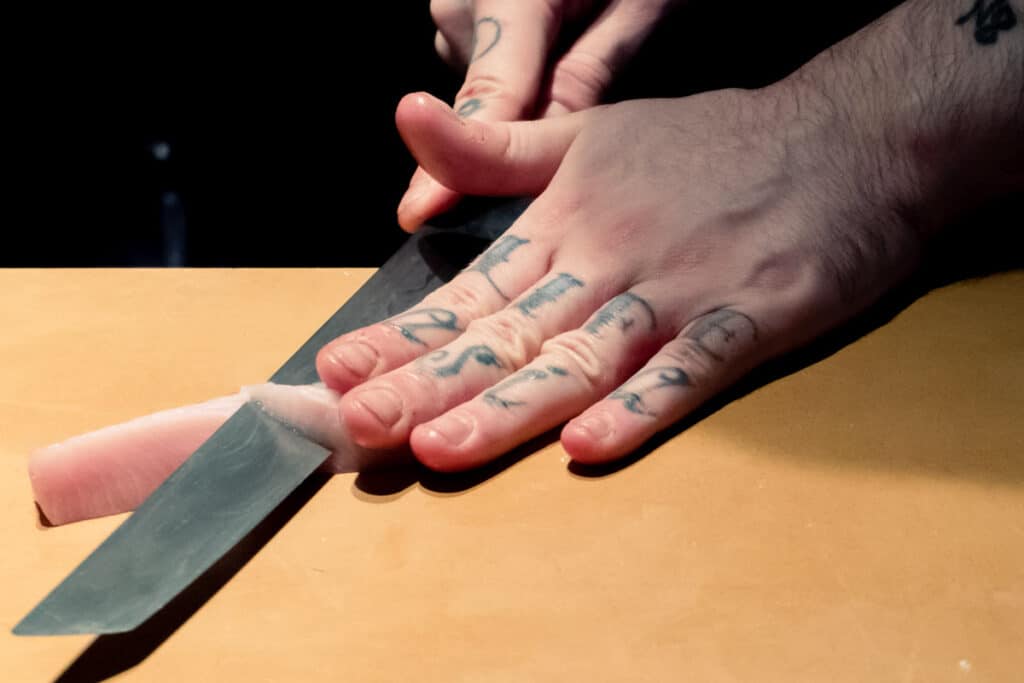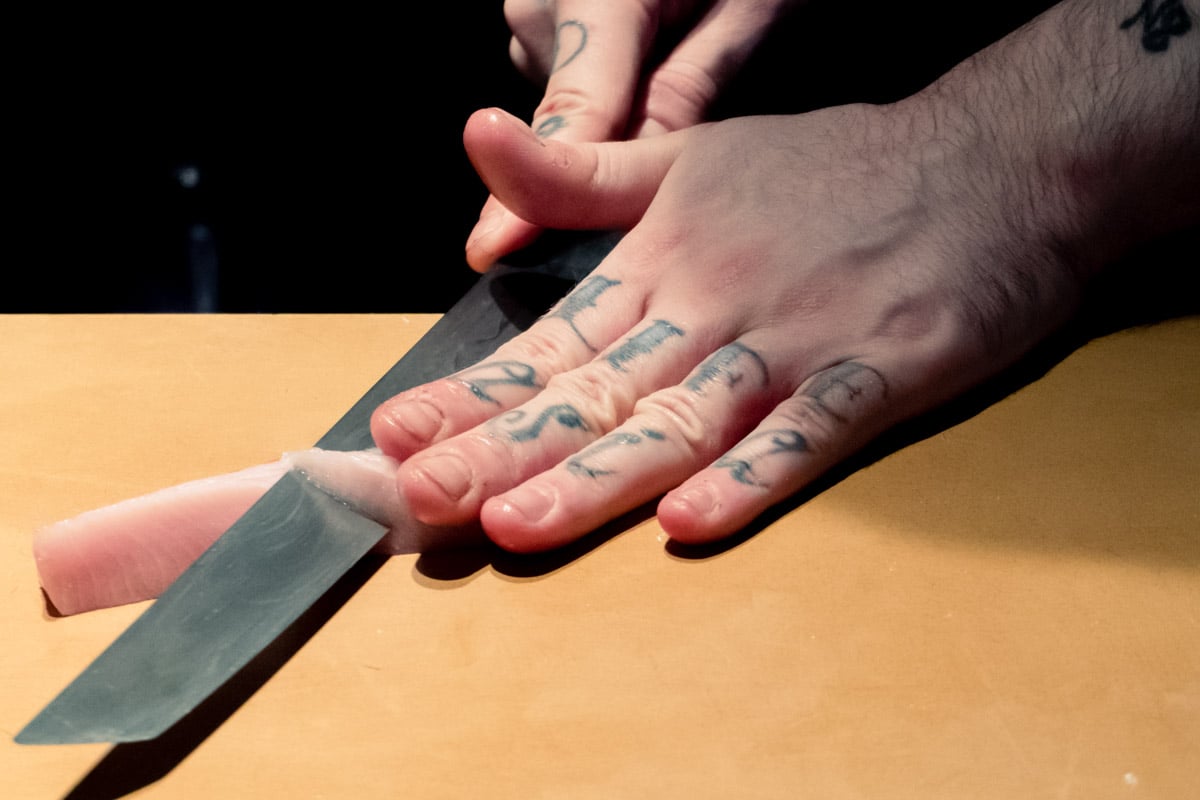 Sushi on Jones was one of our favourite discoveries of 2021 – and the love affair looks set to continue throughout this year and beyond.
Let the good times roll at this sushi restaurant in the Courtyard. Choose your sushi rolls from the a la carte menu or have a 45-minute omakase experience.
We recommend the omakase experience where the chef serves you a 12-piece tasting menu consisting of sea urchins, fresh fish, and incredibly flavourful A5 wagyu beef.
Mouth watering? Read the full review of our Sushi on Jones omakase experience.
The German Gymnasium
£££
If you're in the area and are looking for restaurants near King's Cross St Pancras, this German eatery is a great place to pop in. The German Gymnasium hosted the first national indoor Olympics events in 1866.
These days you don't have to be an Olympic athlete to enter this prestigious restaurant. Nein, all you need is a taste for expertly prepared German favourites and perhaps space for a pint.
Their menu consists of iconic dishes like currywurst, schnitzels, and goulash. They also have meatless options and warm and cold desserts.
Hicce
££
The idea for this modern European restaurant was born in 2000 in the French Alps. It was only in 2018 that it finally opened its doors, but it was worth the wait.
Hicce has a small menu, with each ingredient's composition carefully selected for an explosion of flavour in harmony. You can order vegetable, fish, or meat dishes from the a la carte menu or try their experience menu.
With the experience menu, you put your faith in the hands of the capable chef to give you the best flavours over the course of four meals.
Dishoom
£
Dishoom is a popular Indian restaurant in King's Cross and rightfully so.
Sporting a menu bursting with flavour, they serve recipes that have been lovingly refined throughout the decades.
While it's not a vegetarian restaurant, it does have an extensive vegan and gluten-free menu.
If you can't decide on what to order for an authentic Dishoom and Indian eating experience, try their small plate feasts for a healthy mix of dishes, or go all out with the Nalli Nihari – a punchy lamb on bone stew that is as spicy as it is delicious.
Ekachai
£
Ekachai is a Malay, Cantonese, and Thai restaurant in King's Cross. They serve popular street foods and hearty Asian dishes at affordable prices.
As a starter, try their small plates to experience tastes from all corners of Asia. They have Thai crackers, Chinese soup dumplings, and prawn and mango salads.
Then, move on to their more hearty meals with options like noodle soups, wok stir-fries, curries, and fried rice. They don't have desserts, but a mango lassi or Kaffe Thai Lon goes down just as sweet.
Parrillan
££
Parrillan is a Spanish-style grill restaurant in Coal Drops Yard where guests get to grill their own meals on the covered terrace.
Choose your ingredients of meats, seafood, or Mediterranean vegetables and light your own bespoke grill. If you're not much of a griller, they also have an a la carte menu with Spanish soups, stews, and snacks to eat instead.
Don't forget to order a drink from their Spanish wine list and gin and tonic menu.
Vinoteca King's Cross
££
Vinoteca King's Cross is a modern British eatery that pairs its meals with a long selection of vinos.
Their menu has a selection of meat, fish, and vegetarian dishes and a suggestion of wines to pair with them. These wine pairings are from all over the world, from New Zealand to Austria. If you're a big group, you can try their sharing plates and small snacks for a variety of foods and a good excuse for more wine.
Itadaki Zen
It may be difficult to ramen calm when you hear about this wonderful eatery. This is one of the rare Japanese and vegan restaurants in King's Cross and London. Instead of meat and fish, this restaurant relies heavily on tofu and beans for protein in its meals.
At Itadaki Zen, you can get vegan variations of dishes you'll find at most Japanese restaurants. These include miso soups, ramen, and gyoza. Try their matcha and vanilla gelato or their mochi ice cream for dessert.
Mildreds
£
Non-meat eaters will appreciate this 100% plant-based vegetarian restaurant in King's Cross. Even if you enjoy meat, Mildreds' laid-back setting and lively atmosphere will have you coming back.
Their all-day menu with a selection of flavour-packed big and small meals will keep you sated and ready to explore more of London. Expect hearty meals with foods like Bhatti ka (fake) chicken, kimchi fried rice, and chipotle cheez nachos. They also have a varied drinks menu with alcoholic and non-alcoholic drinks available.
The Lighterman
££
The Lighterman overlooks the Regent's Canal, which means this King's Cross restaurant's outdoor views are breathtaking. Watch the sunset on its terrace while you enjoy its modern British menu and drinks.
On weekends they have a Saturday brunch and Sunday roast. Book a table ahead of time to avoid disappointment as you don't want to miss their spit-roast chicken or beef wellington on a Sunday.
Note: The restaurant's kitchen is on break from 4 pm – 5 pm on weekends, so plan your bookings accordingly.
The Hansom
££
The Hansom is worth a shot if you're looking for a contemporary bar in the heart of King's Cross. To get you in the spirit, enjoy their all-day dining menu from 11 am until late afternoon or night.
They serve light to hearty meals for all dietary choices, including dairy-free meals. Enjoy your light meals and snacks with their stylish afternoon tea if you're feeling fancy. This bar works in collaboration with luxury brand LK Bennett. While it is a bit pricey, the overall experience is worth the extra pounds.
Dim Sum Duck
£
Dim Sum Duck is an authentic Chinese restaurant in King's Cross serving (you guessed it) dim sum and roasted duck. Their menu is quite varied, and they serve all kinds of traditional Chinese food, including noodles, wonton soups, and congee.
After your meal, give yourself a treat by ordering a Taiwanese bubble or fruit tea. This dessert slash warm drink will surely fill any gap you might still have in your stomach after these affordable and hearty meals.
Camino King's Cross
£
This Spanish restaurant at King's Cross' Regent Quarter has a modern wood design with a skylight in the middle of the restaurant. It is great for all meals, but with a skylight this big, we recommend this place for a romantic dinner under the stars.
Camino King's Cross serves a large and varied Spanish tapas and drinks menu. Choose between seafood, meat, and veggie tapas to pair with a Spanish cava or their twists on classic cocktails.
They also serve an impressive slow-roasted Segovian-style suckling pig that requires a 48-hour advance booking. It is pricier than their usual dishes, but this traditional Spanish dish melts in your mouth and can serve eight guests.
Coal Office Restaurant
££
Coal Office Restaurant is a King's Cross restaurant at Granary Square that serves Middle Eastern and broader Mediterranean cuisine. They serve every course of the day, from brunch to cocktails after dinner.
The restaurant is rustic yet modern, melding the old with the new. Israeli Chef Assaf Granit elevates traditional Middle Eastern flavours and aims to take you on a culinary journey through the Mediterranean.
Casa & Plaza Pastor
If you like Mexican restaurants and flavours, Casa & Plaza Pastor is a must-visit if you like Mexican restaurants and flavours. This Mexican restaurant in King's Cross celebrates its Mexican history and culture through its traditional dishes and recipes.
They welcome the whole family, including your pups, in their restaurant and on their terrace. It is a lively restaurant with colourful decor, flavourful foods, and live music and DJs on weekends. Order a single meal or share a big plate of ribs, carnitas, and tortillas.
Kimchee Restaurant & Bar
££
This Korean restaurant in King's Cross is near the light tunnel and a great way to end your trip through the instagrammable walkway.
Kimchee Restaurant & Bar serves you authentic Korean cuisine or allows you to grill your own meats at their KBBQ (Korean Barbeque) stations. It has a great atmosphere for social events or friendly catchups with shareable side dishes and a tapas menu.
Double Standard
££
This cocktail bar and terrace is part of The Standard Hotel in London. Happy hour is on Mondays from 4 – 10 pm, and they serve meals throughout the day. Double Standard's menu has many British favourites like Shepherd's pie, a good ol' steak, and sticky toffee pudding.
On Sundays, they have bottomless brunches with an unlimited supply of Prosecco and Bloody Marys for two hours. This boozy mid-day brekkie also serves topped pancakes, breakfast sandwiches, and fruit to fill you up.
Decimo
£££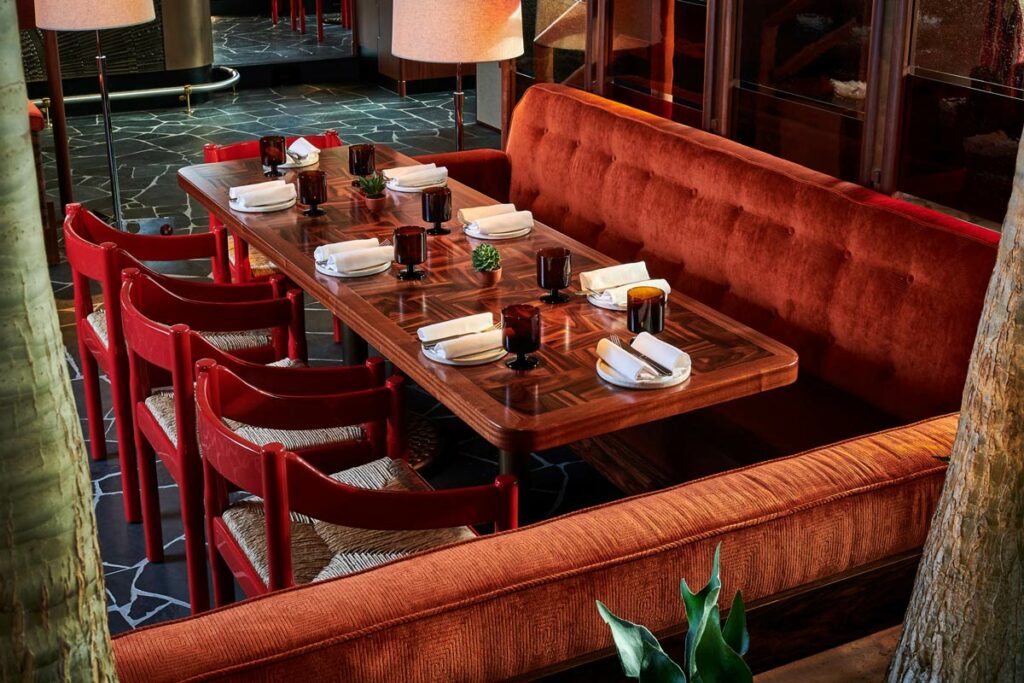 If you really want to push the boat out for dinner in King's Cross, you need to have Decimo on your radar. It's another spot to make its home at The Standard Hotel, except this place crowns the brutalist building's top floor.
Cocktail lounge vibes run throughout Decimo. It's pretty much the definition of sleek and the perfect setting for a sumptuous dinner. That food? Spanish, made with no small amount of flair or penchant for caviar/truffle toppings by Chef Peter Sanchez-Iglesias – a cook whose kitchens hold Michelin stars elsewhere around the world.
Decimo has a pretty decent shot at one in future Michelin Guides too. Watch this space.
Paolina Thai
££
Should you be on the lookout for something a little less up-market, head down King's Cross road and keep your eyes peeled for Paolina Thai. It's a pretty inconspicuous place. You could almost mistake it for an old shop or independent cafe. Step inside and you'll discover it's in fact a very good place to dine Thai.
You'll be greeted by some Thai aunties at the cook station and the waft of herbs and coconut curry from their woks.
You'll probably spot that the decor in the dining room hasn't changed since what we guess is the 70s. It all adds to the charm and anyway, what those Thai women cook up won't leave you any attention to worry about trivial things like interior design.
Restaurants and Places to Eat Near King's Cross, London
King's Cross has many great eateries, but sometimes you have to travel a few minutes outside the neighbourhood to find some of the best restaurants. These are our choices for the best restaurants near King's Cross.
Guanabana Restaurant
££
Guanabana Restaurant is one of the few 100% halal restaurants in King's Cross. Not only that, but it is a Latin Caribbean bistro serving dishes from South America and the tropical Caribbean.
Like any Caribbean restaurant, they serve a fantastic jerk chicken selection but also include Latin American ingredients, like tortillas, guacamole, and salsas. Stop by for the a la carte menu or their daily brunch for the Hangover Plate after a long night out.
Because it is a halal restaurant, they don't have alcohol on the menu, but you are welcome to BYOB at a fee. Mondays are corkage fee-free.
Franco Manca
£
There are many Italian restaurants in King's Cross, but this Italian restaurant near King's Cross is where you'll find seriously authentic Italian food. Everything here is Italian—from its recipes to its drinks.
Franco Manca is a pizzeria that makes fresh sourdough on-site and uses fresh and seasonal ingredients. They also have vegan, vegetarian, and gluten-free options you can enjoy with a lovely Italian wine.
Pizza Union
£
We can't overlook one of the cheapest options for a tasty dinner in King's Cross. Pizza Union is a safe bet wherever you are, but with such a diverse range of places to eat and some fairly swanky options kicking about, it never hurts to have this place in your back pocket.
Practical Tips for Exploring The Best King's Cross Restaurants
The King's Cross Underground station has an assortment of little coffee shops, bakeries, and eateries to buy food and snacks on the go if you don't have time to stop at any of these wonderful restaurants.
If you're visiting these restaurants, be mindful that most places will automatically add a 12.5% gratuity to your bill.
King's Cross Restaurants: Map