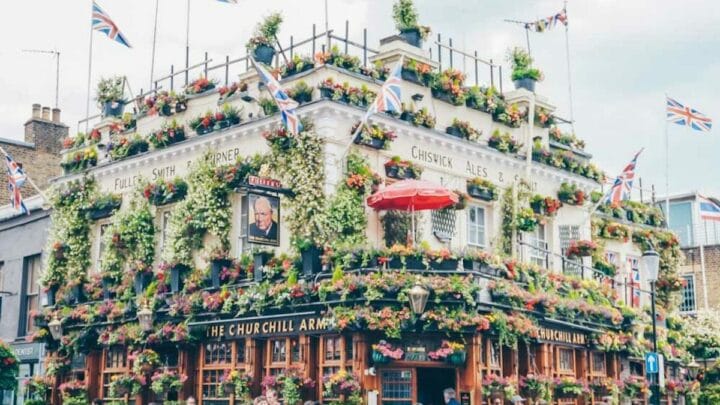 Peeking out from layers of foliage, The Churchill Arms is a testament to the fact that London really loves to show its bonkers side from time to time.
But why is this pub covered in flowers and dedicated to Winston Churchill? And more importantly, is it one of the best pubs in Kensington? All will be revealed…
History of The Churchill Arms Kensington
It's hard to believe that a pub this well-kept was first built way back in 1750 – but it's true, The Churchill Arms is one of London's prettiest historic pubs.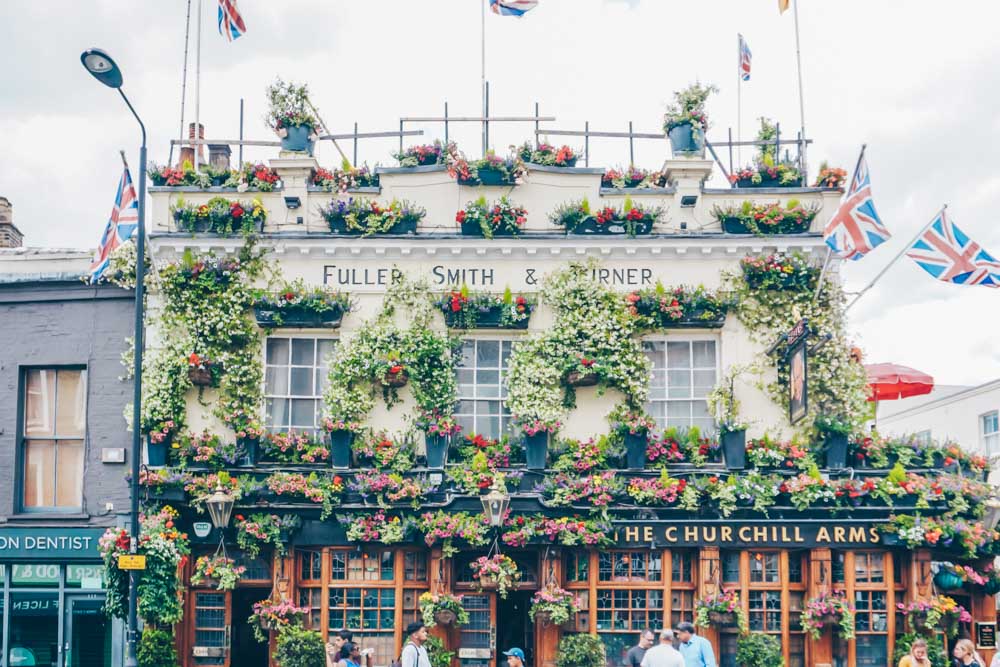 The outside is decorated with over 100 flower pots, 48 window boxes, and 42 hanging baskets – it's believed that the pub spends around £25,000 a year on decorating this eye-catching pub (and probably hundreds of hours preening and watering the flowers, we assume!).
In fact, if you needed any more reason to believe that this is the best flower pub London has to offer, The Churchill Arms' stunning floral displays have earned them a Chelsea Flower Show win. They're one of the only pubs to ever claim that prestigious title. Pretty impressive.
Inside, it's just as eccentric – nearly every available surface is cluttered with baskets, pictures, beer mats – there are even life-size cutouts of the Duke and Duchess of Cambridge suspended from the ceiling.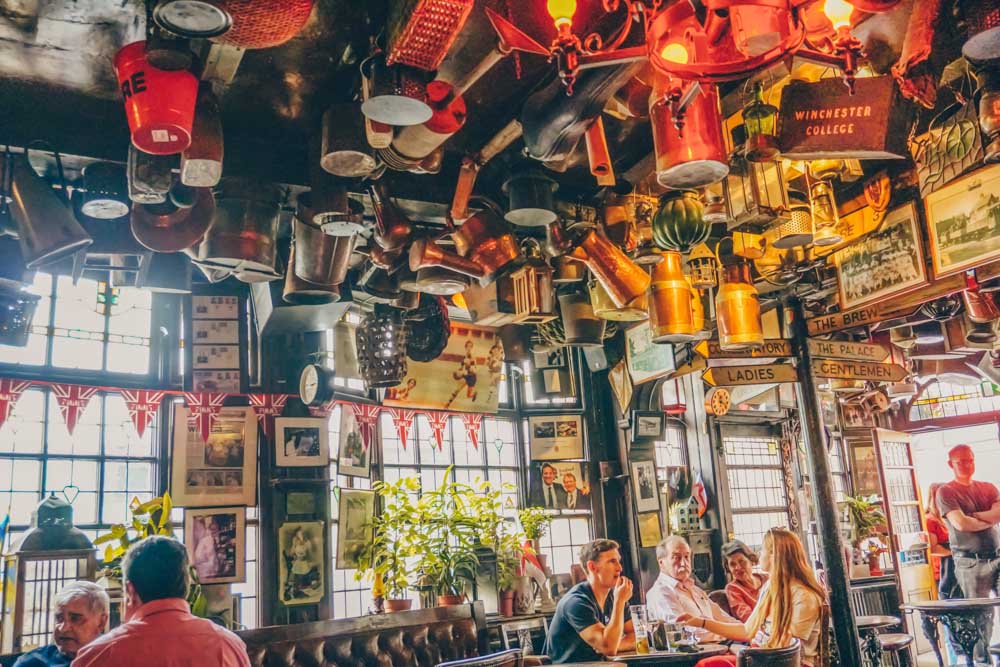 Not to mention a very, very extensive collection of Winston Churchill memorabilia.
Why? Well, to put it simply, during the Victorian times, Churchill's grandparents were frequent visitors to the pub, so it was renamed after the Prime Minister after World War II.
The Many Seasons of The Churchill Arms
What used to be a simple pub in Kensington has been transformed into a floral extravaganza that changes throughout the seasons.
You can barely see the pub underneath the fronds of greenery and bright blooms in the summer months – though signs suggest it would be a rather plain and unremarkable boozer.
In fact, we can remember the days when it was just adorned by a couple of hanging baskets, before it slowly evolved into the crazy and lovable spot it did today.
It's just as bedecked at Christmas – often branded at Britain's most festive pub… and we have to say, it's pretty magical.
Summery floral displays are swapped out for Christmas trees and strings of festive lights that lend it an aura of having just been plucked out of a fairytale. The seasonal display is composed of 95 trees and 21,000 lights, in case you were wondering (we would NOT like to be in charge of paying that 'leccy bill).
Popping in for a pint is a must-do if you're spending Christmas in London.
Dining at The Churchill Arms Kensington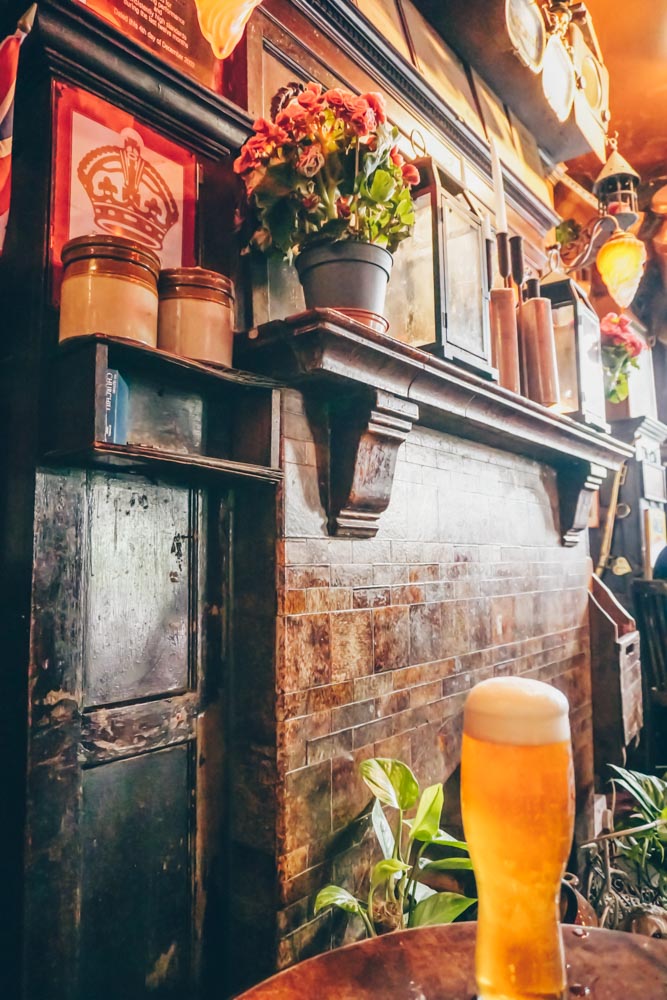 Not content on just being the most 'Grammable and quirkiest spot in Kensington, the Churchill Arms pub also just so happens to have been the first pub to serve Thai food in London too. More than just a pretty face, they'll have you know.
The rather incongruous Thai menu just so happens to be the real deal – spicy, fiery and reason enough to venture into this much-loved Kensington boozer.
Try the Khao Rad Na Pra Ga if you dare – heaped with fresh chillies and Thai basil, it's spicy in the way it's supposed to be and moreishly good with it.
The Roast Duck Curry – a coconut milk and chilli concoction served with Jasmine rice – is another stellar option from the menu. Though, whatever you order, you won't go too far wrong.
If you can bear to pass up on a pint (or whatever your pub-drink of choice may be), the Thai iced tea is a brilliantly-spiced potion of black tea, cardamom, and star anise. It's basically Christmas in a cup. We adore it. Pair with the apple pie, of course.
You can check out the full food menu here.
The Churchill Arms, Kensington – Practical Information and Map
Who owns The Churchill Arms Kensington?
The pub is owned by the Fuller's group – responsible for plenty of London's brilliant pubs.
How old is The Churchill Arms Kensington?
The pub is over two thousand years old – though it's only been adorned by Winston Churchill memorabilia for a fraction of that time.
Address: 119 Kensington Church St, Kensington, London W8 7LN
www.churchillarmskensington.co.uk
Looking for More Kensington Guides?