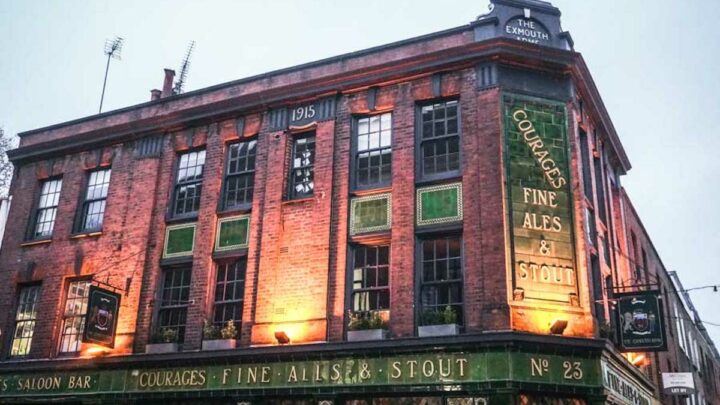 Looking for a cosy pub to sink a few pints in? Farringdon and Clerkenwell are brimming with history… and more than their fair share of great pubs. Here's your guide to the best pubs in Farringdon and Clerkenwell.
Sure, cocktail bars are nice – but sometimes you can't beat a really good pub. Luckily, the neighbouring London areas of Farringdon and Clerkenwell are blessed on the boozer front.
Settle in for a drink or two in one of these cool little pubs.
Best Pubs in Farringdon & Clerkenwell
The Eagle
The Eagle was the original gastropub in Farringdon, in fact, it was pretty much the original gastropub in London.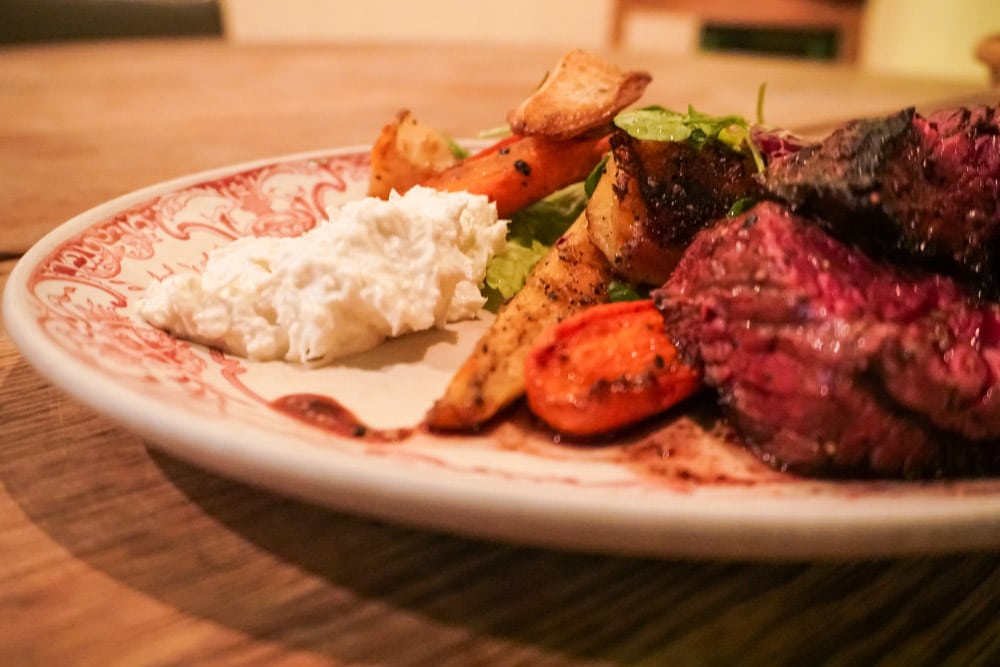 It's difficult to remember, but before The Eagle came along, pubs just used to dole out basic meals that were nothing to write home about. The Eagle opened in 1991 and changed everything.
Started by Michael Belben and David Eyre, two wannabe restaurateurs looking for a more affordable way to start a foodie business, the pub has grown from strength to strength.
We'll admit, it had been a few years since we had been back to The Eagle before our last visit and we were curious to see whether it had stood the test of time. It has.
The reasonably-priced daily changing menu is just as punchy, full of flavour and adventurous as it ever was. Turns out The Eagle is still showing London's gastropubs how it's done over 25 years later.
Away from the food, the pub offers a decent range of beers on tap and by the bottle – including their very own IPA. Draught beers are an eclectic mix scattered from Red Stripe to Erdinger and lots more in between.
Unsurprisingly, wine lovers are well catered to. The wine list was our favourite of all the Farringdon pubs – all the old favourites are on there – Malbec, Pinot Grigio – as well as a few rarer offerings like Monastrell and Verdejo.
Enjoy. We're sure you will.
Read More: The best bars in Farringdon and Clerkenwell
The Gunmakers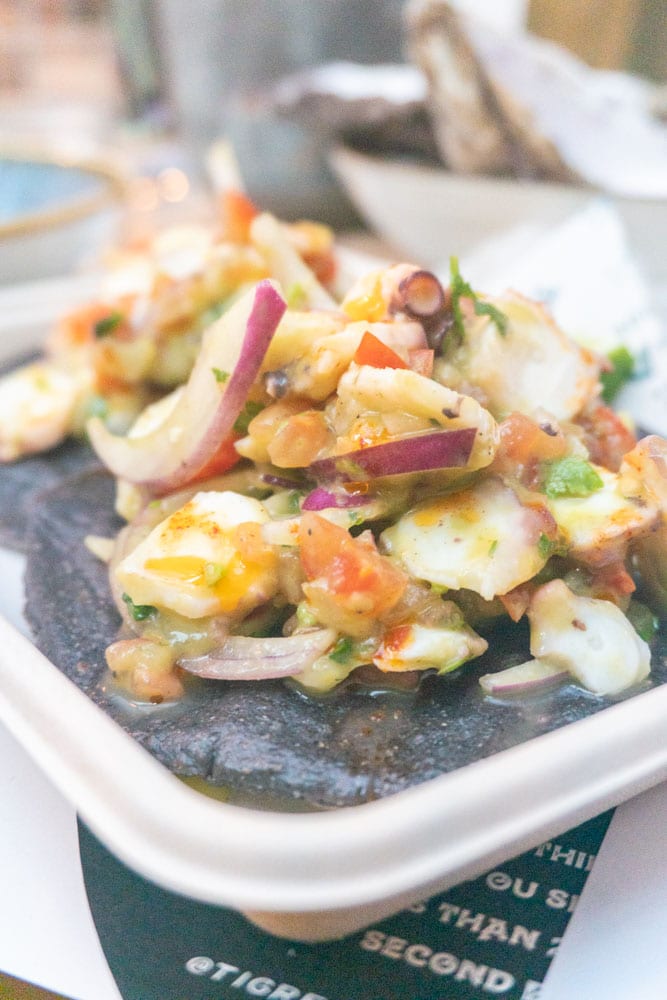 Fresh from a revamp that has seen it acquire a gorgeous new interior and – get this – a permanent residency from the hottest taco makers in town, Tigre Tacos, The Gunmakers in Clerkenwell is ready to become your new favourite boozer.
This is the kind of pub that the locals don't want you to know about – a chic bolthole from the demanding excesses of the city where you can lay hands on authentic Mexican food, perfectly-executed cocktails and, of course, traditional pub drinks.
Let's talk about Tigre Tacos for a second.
First, the tacos are just so good – as you'd expect when head chef Ramon Ramos brings his insider taco knowledge straight from his family restaurant / culinary institution in Guadalajara.
Second, that's not all there is to it either – with larger dishes such as whole grilled octopus, tortillas and a whole load of Mexican trimmings. Let us tell you one thing. One trip isn't going to be enough.
The Fox & Anchor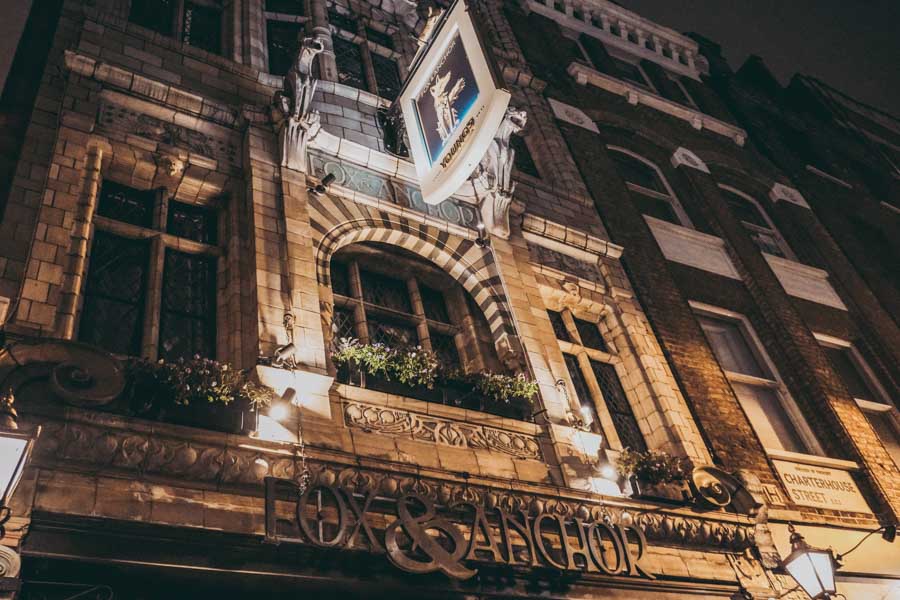 Another one of our favourite old boozers, The Fox & Anchor has been a pub since the 1890s. Turns out that with over a century's practice, they've got this whole public house thing down to a fine art.
This is one of London's prettiest old-school boozers, the Grade II listed building features an ornate facade complete with patterned brickwork, ceramic tiles and gargoyles.
Tucked away down Charterhouse Street, unlike many of the more transient and clinical feeling pubs near Farringdon station, The Fox & Anchor has a real neighbourhood feel.
Inside, the Art Nouveau interiors are just on the right side of cosy: eclectic paintings line the walls, patterned tin tiles on the ceiling – it's just the kind of place where you could hole up for a day with a bunch of friends, feeling like you were in someone's living room.
It's a Young's pub and the focus is on locally-sourced beers – there's their own-label ale and other cask beers from smaller breweries from London and the south.
What's more – the Fox & Anchor opens at 7am on weekdays, 8.30am at weekends (to serve the punters at Smithfield Meat Market around the corner).
Pretty much perfect for those days when a cheeky pint and a hearty breakfast are exactly what you need. Oh and there are hotel rooms upstairs if it all gets a bit too much.
Read Next: Historic London Pubs You Shouldn't Miss
The Jerusalem Tavern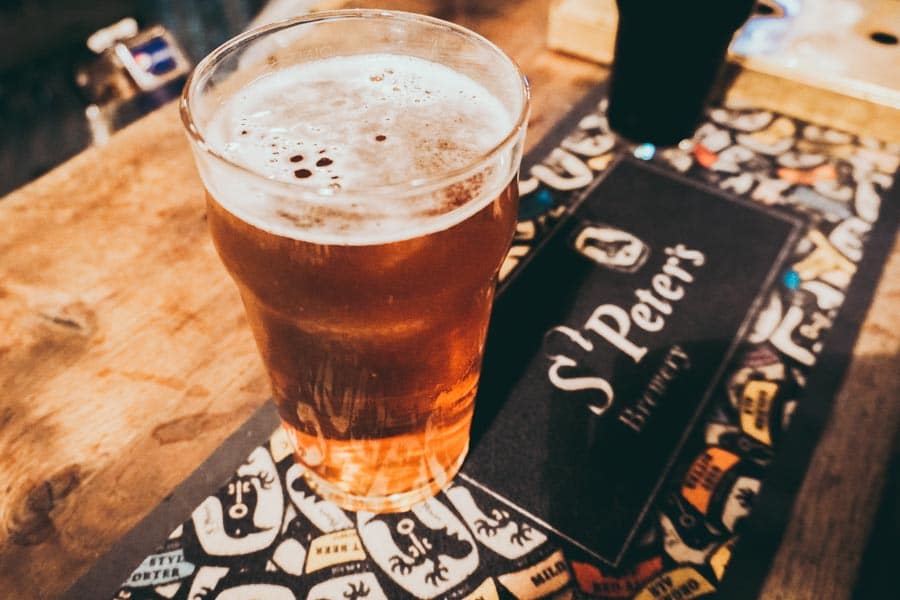 You'll have a much better chance of finding a needle in a haystack than finding a seat in the minuscule Holy Tavern – but it's one of the best pubs in Farringdon nonetheless.
Owned by St Peter's Brewery, the building of the Holy Tavern dates all the way back to the 1700s (though the pub itself has only been on the premises since the 1990s).
Inside, the pub is a rather charming blend of antiquities meets 21st century – with a no-frills, get what you came for vibe that is increasingly rare in today's gastropub world.
Green and brown walls, rugged wooden floors – you could almost be hoodwinked into thinking that the pub was as old as its building. If you're lucky enough to nab the seats by the fire, there's no finer place to be during London's chilly winters.
What did you come for? Mainly the beer. St Peter's is a brewery based in Suffolk – their wide range of real ales have won many awards over the years.
Though the brewing is traditional, the final products are not. Alongside the standard bitters and ales, you'll find a few unusual ones too – Citrus Beer, Plum Porter – there's even a gluten-free beer to round things off.
Ye Olde Mitre Tavern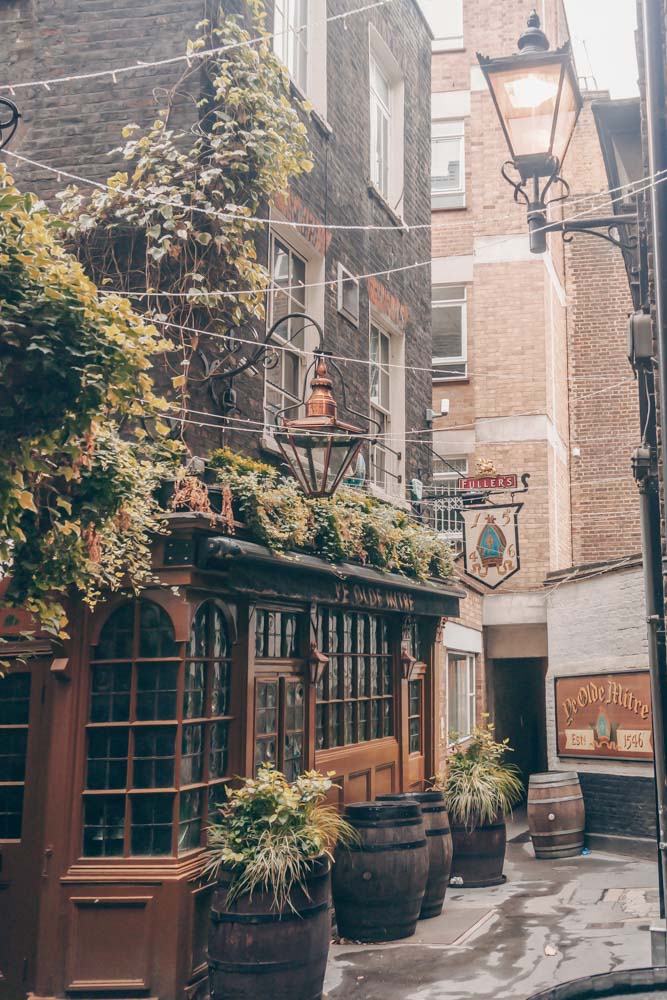 Billing yourself as the most difficult pub to find in London might not appear to be a great marketing strategy, but it doesn't seem to have done Ye Olde Mitre any harm.
After all, the pub is still going strong and it opened in 1546.
So many pubs in London attempt to create the ye olde pub vibe – but it's always easy to sort the authentic from the pretenders.
Ye Olde Mitre is the real deal – it was built on the land of the former Ely Palace, the palace of the Bishop of Ely, to serve the bishop's servants.
History marks every corner of the pub. There's still a cherry tree in a corner of the front room marking the spot where the Bishop's lands ended and Christopher Hatton's land began – the two hated each other and the tree was the dividing line between their respective parts of the garden.
Fast forward to the modern-day – the pub is owned by Fuller's. Three small rooms and a nicely tucked away beer garden are all it takes to create this a cosy drinking spot.
Take your pick from award-winning draught beers – there are always seven real ales on tap (a mix of Fuller's own and guest ales) and a proper scrumpy cider available. The wine's decent too.
The Slaughtered Lamb
The Slaughtered Lamb stands in stark contrast to many of the pubs featured on this list. In truth, it was touch and go, whether we included it or not, but it just about made the cut.
Let's start with the good stuff. There's a cool live-music venue downstairs that hosts a lot of folk and Americana gigs. The venue is intimate and well-reputed for high-quality acoustic gigs.
The bad? While this pub is perfectly pleasant during the day – airy windows, lots of light, nice food, decent beers etc etc, at night, well it feels more like a gig venue than a pub. Loud music, snogging teenagers, sticky tables and even stickier floors.
We can't say that Friday night in The Slaughtered Lamb was very much fun.
That said, it is nice enough in the daytime and if you're going for a gig, it's exactly what you'd look for. If you're going for a quiet nighttime pint though, you're better off going elsewhere.
The Exmouth Arms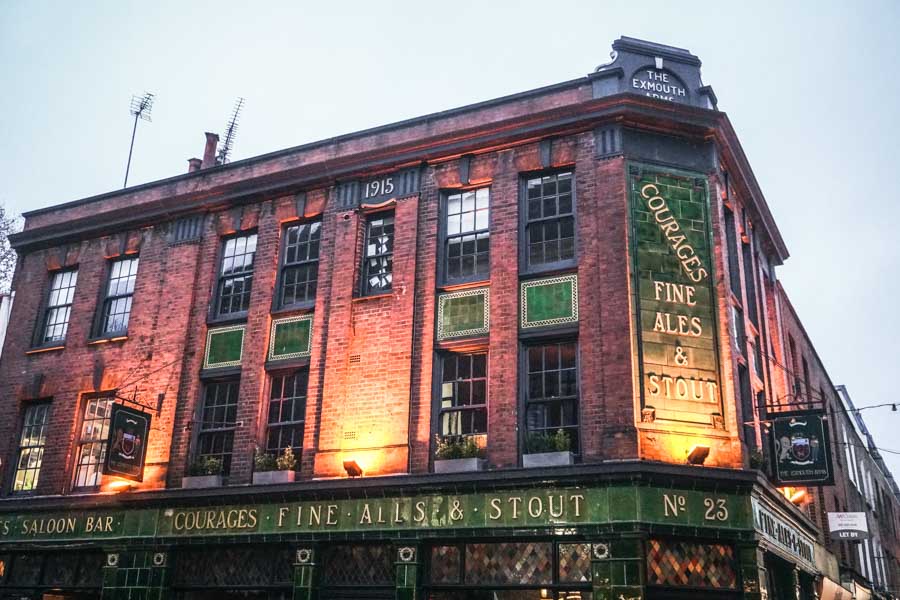 The Exmouth Arms is a traditional old school boozer on the corner of Exmouth Market. The pretty red brick facade promises fine ales and stout, and dates the building to 1915.
Inside, it's everything a pub should be – lots of seating, dark corners, low-level light and friendly staff.
There's a good range of craft beers on tap, nice wines and great food.
Pub grub can mean anything these days – at The Exmouth it's a fairly traditional line up (all perfectly executed) with a few touches of magic. Go hungry – portions are on the hearty and yummy side.
The Betsey Trotwood
There are plenty of old pubs in Farringdon – it's interesting to see how they've all developed over time. The Betsey Trotwood does the traditional British pub thing down to a T – but adds a serving of live entertainment to keep things exciting.
Comedy is the biggest draw (well, away from the booze that is). The Betsey Trotwood hosts several comedy evenings throughout the month, including the weekly Jester Jesters night each Monday.
Add live music to the roster and you have a cheery community pub in an area where that's rarer than you'd think.
Drinks-wise, Betsey's no slacker. You will find a good selection of cask ales, a wide-ish wine selection and some very good single malts behind the bar too. Food wise, the menu changes on a daily basis and isn't the most extensive. It is high-quality fayre though, with pub faves always available.
The Three Kings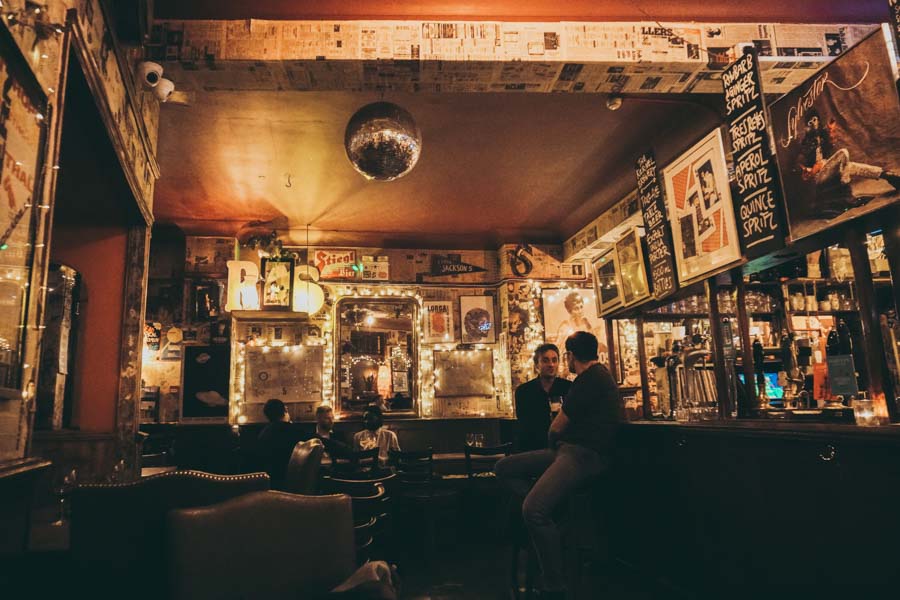 The Three Kings is one of the quirkiest pub spots in the area. The three kings referred to are Elvis (obviously), Henry VIII and… King Kong. A natural triumvirate of course.
Inside it all starts to make a bit more sense – well, kind of. There's music memorabilia everywhere, as well as oddities like a plaster rhino's head and fairy lights (though our last visit was early in the new year, so it may be that the lights weren't a permanent fixture).
The musical theme continues with an upstairs jukebox featuring some very niche choices and frequent live music nights.
All in all, a nice and friendly neighbourhood pub.
The Castle
The Castle bridges the gap between old-time gastropub and hipster spot for pints with its annual craft residency (right now it's Home Nations) and excellent pub grub menu.
The pub's gothic exterior is the perfect introduction to what you'll find inside: rich blue and red leather seating, dark oak wood panels, and an imposing (and well-stocked) bar as its centrepiece.
It's the perfect Farringdon pub to cosy up in on a Winter's evening with a full-bodied red, or perhaps even a G&T (yes, please).
As well as good drink selections and excellent pub grub, The Castle also holds regular events such as quizzes, live DJs and regular bands to entertain the locals.
The Green
The Green arrived in Clerkenwell to totally put the kibosh on the myth that British pubs are only for old men.
The pub's ultra-modern interior wouldn't look too out of place on an influencer's feed, with its wicker lighting and a smattering of plants fancying things up a little bit.
The drinks menu is just as impressive as the decor; cocktails, craft beer, and wine are all on offer. At the time of writing the kitchen is closed, but if its drinks you're after, you'll do well to find a better cutesy boozer than this.
Brewdog Clerkenwell
We rave about Brewdogs all the time here at London x London – it's a chain that has stemmed from way up north in Scotland and has slowly taken over plenty of the capital's boozy venues, yet it still retains an independent-pub feel.
Which, we think, is the best of both worlds.
Excellent craft beer (in fact, there are 18 taps and plenty more bottles in the fridge), innovative cocktails, and hearty grub are on offer. All in an ultra-cool pub setting. Not only that, there are regular offers, such as 2-4-1 vegan meals on Mondays, and events such as the popular Tuesday night quiz.
Yeah… if you're ever in doubt, sniff out your nearest Brewdog.
Old China Hand
One thing we love from old-school boozers is the repurposing of barrels as tables. And Old China Hand ticks this – any many other boxes of what we look for from decent pubs.
Before we delve too far in, they don't do food at this traditional pub, but they do actively encourage you to order in some pizza or other fast food to help you as you drink.
Inside you'll welcomed with properly stripped back wooden decor that, if their website is believed, has been designed to actively put off social media influencers. The range of drinks is superb, though, and with the pub independently owned rather than tied to a brewery, is suitably eclectic.
You can add a cool competitive edge to a night out at this typical London boozer (of course, there's a piano!) with a game of table tennis or darts, and, for a limited time, table football. Don't mind if we do!
Hat and Tun
Nestled in the heart of Farringdon, the Hat & Tun is a traditional London pub that offers an authentic and modern pub experience. Mixing live sport on big TVs with premium beers, real ales, and fine food, this is a great place to hang out after work, or on a leisurely afternoon.
You can play shuffleboard with your mates or colleagues, or turn a romantic date into something a little competitive.
All pints are £4 all day every day (offer only applies to beers, not pints of wine or spirits!) while their annual Superbowl party is one of the best this side of the Atlantic.
Of course, with all of that going on it'd be all-to-easy to overlook their cool food menu that's bursting with seasonal ingredients, taste, and that has something for everyone.
The Clerk and Well
We love a pun, and the Clerk and Well gastropub in Clerkenwell ticks the wordplay box for us. Good as that is, the actual pub-going experience is even better.
One of the more refined pubs in this guide where the focus is as much on the food as the drink, the team of chefs at this trendy boozer use the best local and seasonal ingredients to create pub favourites throughout the week, and gorgeous roasts on a Sunday with the fluffiest, loveliest Yorkshires.
They open at 8am and begin serving immediately to cater for those hungry souls at nearby Smithfields Market, with some awesome early morning brekkie and brunches available before the sumptuous main menu kicks in a little later in the day.
The Crown Tavern
The Crown Tavern is the perfect spot if you're looking for a genuine, wholesome pub experience. Its no-frills approach makes it a solid spot to enjoy a decent beer, beautiful wine, or lovely bit of pub grub.
Whether you sit outdoors or inside, you'll be welcomed like an old friend in this popular boozer with locals and those from local offices. Thankfully, it's managed to remain free of pretentiousness.
The drinks menu is extensive, with crafty cocktails, wholesome wines, fabulous fizz and brimming with beers. Yet, pleasingly, it has one of the best range of alcohol-free drinks around if you're not feeling the boozy vibe. That said, if you are on the wagon, check out their Pineapple Mezcalita cocktail, it's to die for!
Best Pubs in Clerkenwell & Farringdon: Map
Looking for More London Pub Guides?