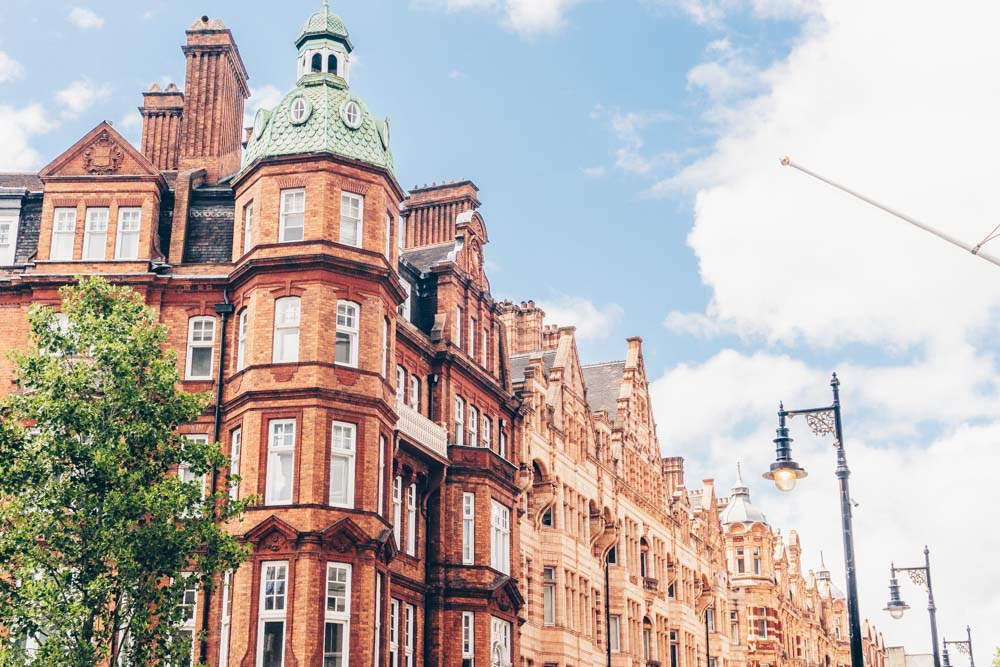 Mayfair, nestled in the heart of central London and renowned as being a playground for the rich and famous, is actually a neighbourhood with a lot to offer.
From its string of slick restaurants, upmarket cocktail bars, boutique stores, and multitude of historic landmarks, it is a side of London that everyone should experience.
Explore Mayfair with this insider's guide.
Undoubtedly the poshest district in London, and universally known for occupying the priciest and most prestigious spot on Monopoly boards, Mayfair is an upscale hub of swish restaurants serving Instagram-worthy gourmet cuisine, high-end designer boutiques, and iconic red brick mansions that are home to some of the most affluent individuals in the city.
Flourishing from a rural field at the turn of the 18th century into a desirable postcode for the upper classes of London, Mayfair has a rich and fascinating past. First, there was the annual 'May Fair' in which the district's name originates – a raucous festivity that was eventually banned on the grounds of being a public scandal.
Mayfair's gritty past of disorderly celebrations, debauchery, and red-light district status is a far cry away from the affluence and reputation it exudes today.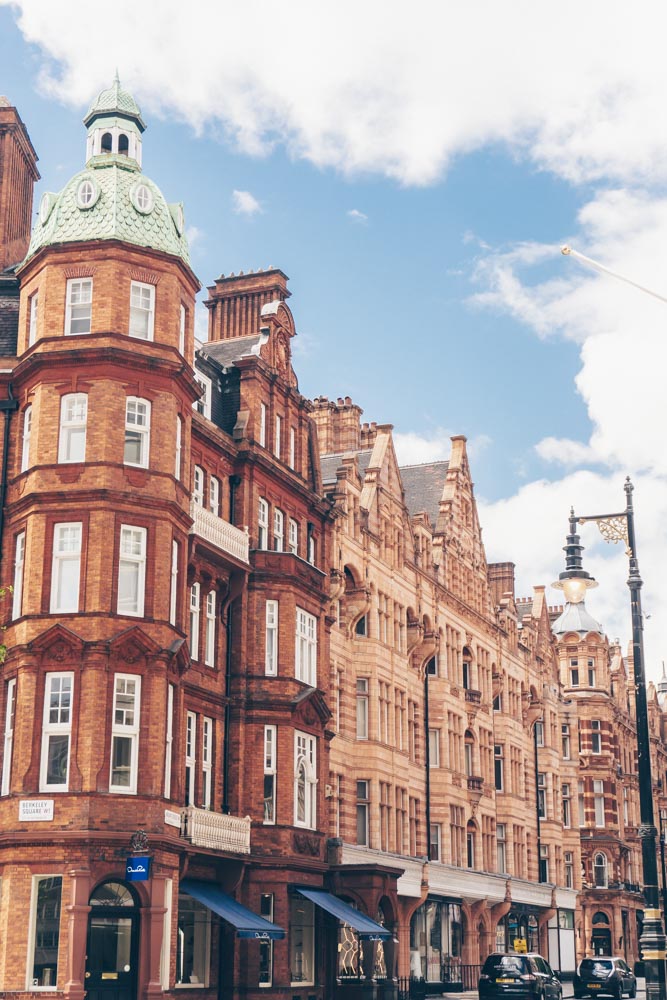 Whether you have cash to splash, or are resigned to people-watching and window shopping, Mayfair is a fabulous and unique part of London to explore, and there are a whole host of bars, cafes and restaurants to sample, historic shops to discover, galleries and museums to stroll around, and plenty more hidden treasures.

Top Picks for Things to do in Mayfair
What to do, where to drink and where to eat….
Things to do in Mayfair
Delving into the spots you shouldn't miss.
St James's Park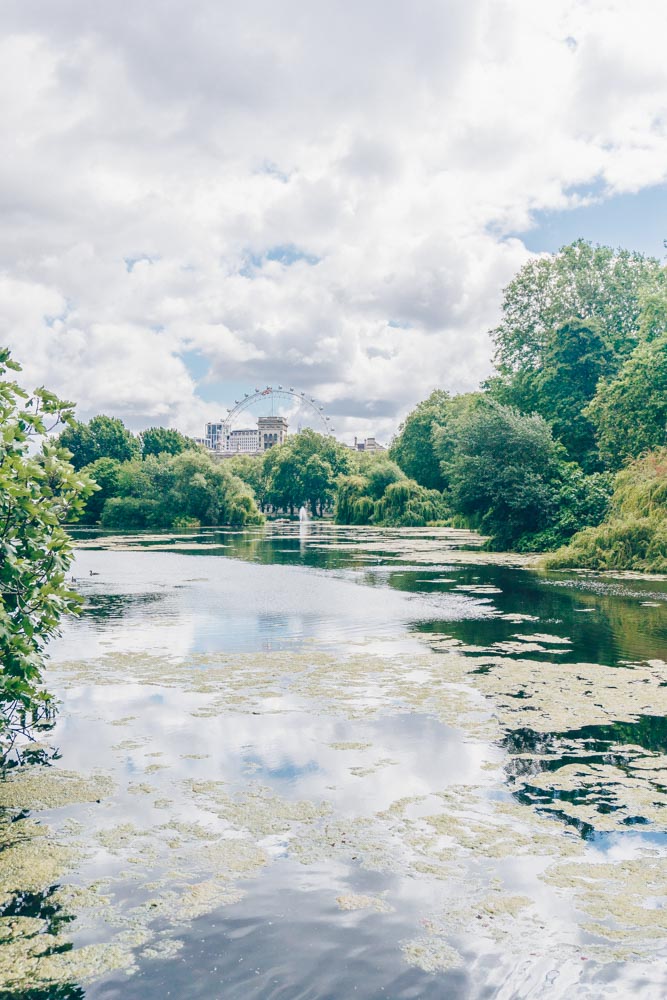 The prettiest of London's Royal Parks (no, there's no question as far as I'm concerned), St James's Park is nestled between Buckingham Palace and Westminster.
There are plenty of colourful borders providing a backdrop for a sunny picnic, and spectacular photo opportunities of Buckingham Palace, Horse Guards and The London Eye.
Keep an eye out for the pelicans – first introduced by the Russian ambassador in the 17th century, they've flourished in the park ever since.
K2 Telephone Boxes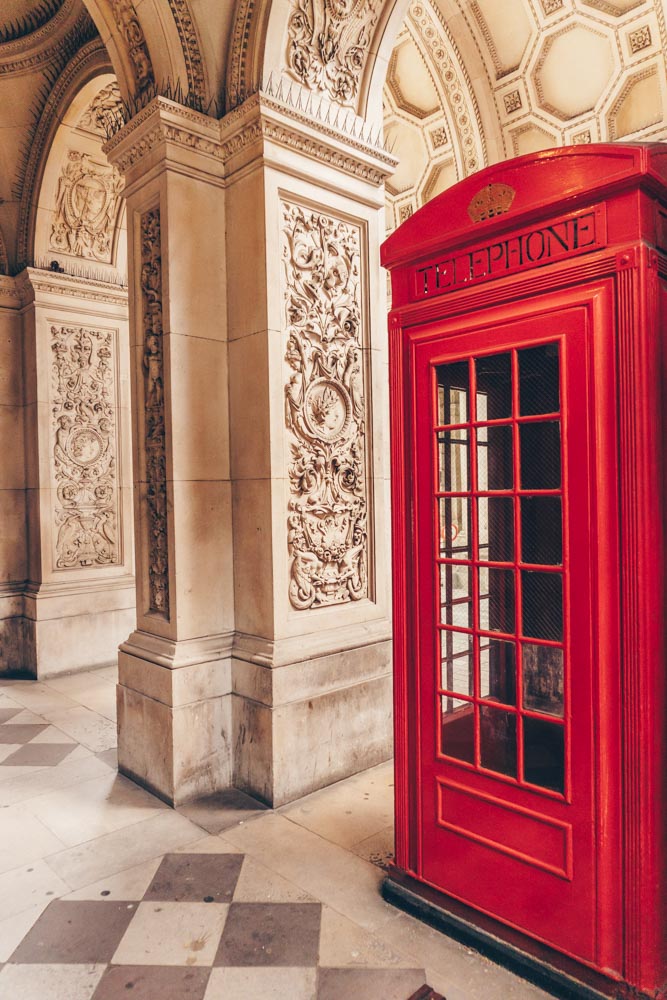 Few iconic designs shout London as much as the K2 Telephone Boxes.
There are surprisingly few of the bright red boxes dotted around the city today, but if you look inside the entrance to the Royal Academy you can see the originals that kicked the whole thing off.
These are Sir Giles Gilbert Scott's original prototypes – and the smallest listed buildings in London.
Afternoon Tea at Claridge's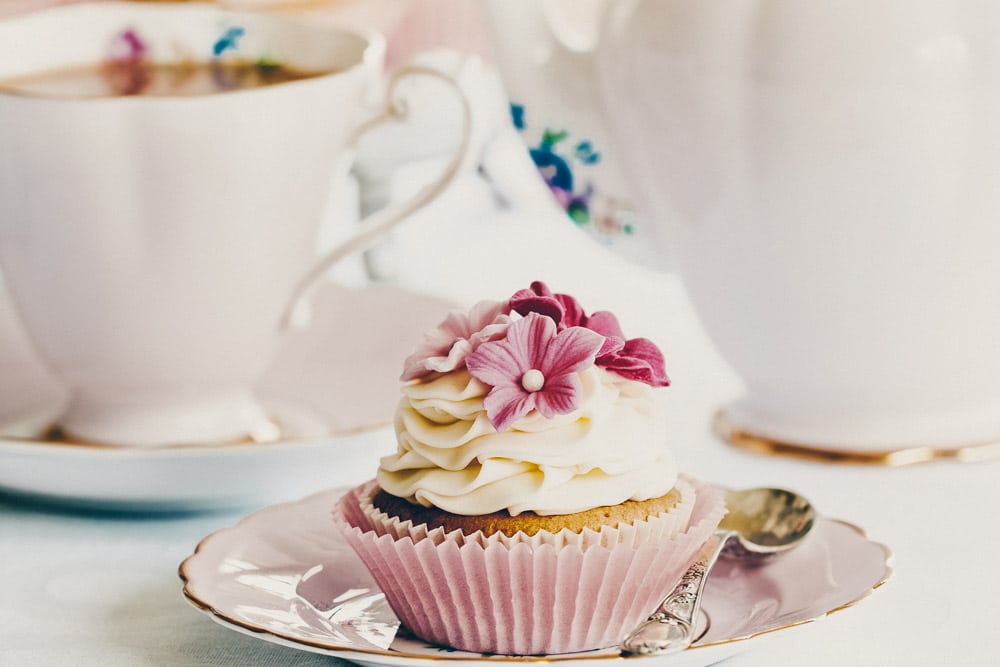 One of the most quintessentially British things to do in Mayfair is to stop for a spot of afternoon tea at the world-famous hotel, Claridge's.
The origins of the iconic afternoon tea are believed to date back to 1840, when Anna Russell, 7th Duchess of Bedford, needed something to curb her appetite between lunch and dinner. Serving freshly prepared sweet and savoury treats, afternoon tea at Claridge's is a must.
Royal Academy of Arts
A little outside the heart of Mayfair, in Piccadilly, lies the historic Royal Academy of Arts.
Having funded a series of incredible artists for a total of 250 years, the Academy offers an array of different artistic exhibitions, from its permanent collection that features some highly prestigious artists, to its famous annual Summer Exhibition that highlights upcoming contemporary talent.
If you are an art or history fanatic, a trip to the Royal Academy of Arts should be high on your list of things to do in Mayfair.
Pickering Place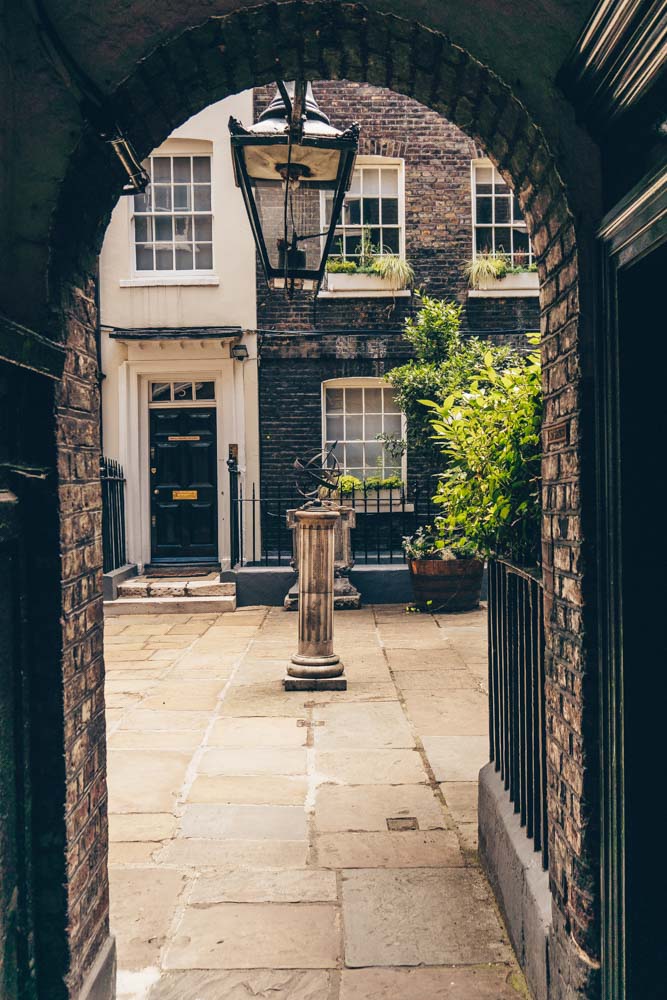 England's smallest square takes some finding. So much so that without knowing where it is, chances are you'll walk right past the narrow walkway that leads you to Pickering Place.
It may be small but this hidden square is one of Mayfair's quirkiest spots – the very place where the last duel in England was fought and the historical base for the Ambassador of Texas (before it became a part of the US).
St James's Palace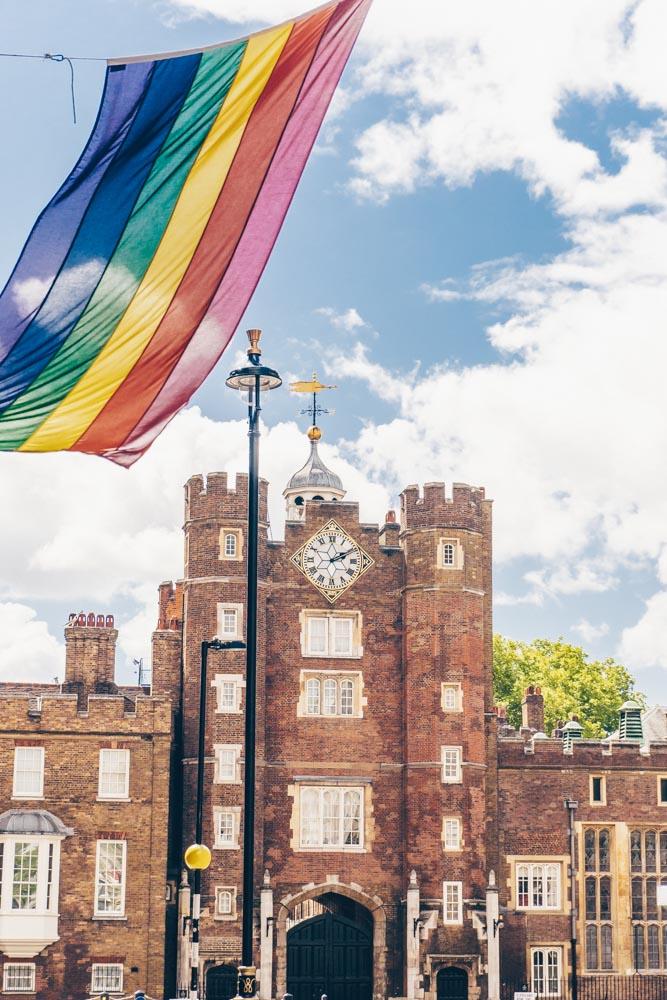 Chances are that when you think of a royal palace in this part of town, you'll think of Buckingham Palace… but there's another much older palace ensconced in Mayfair too: St James's Palace.
St James's was actually the royal residence in London for 300 years until Queen Victoria decamped the family to Buckingham down the road. You can't visit but the stately Tudor buildings are worth a look.
Down Street Station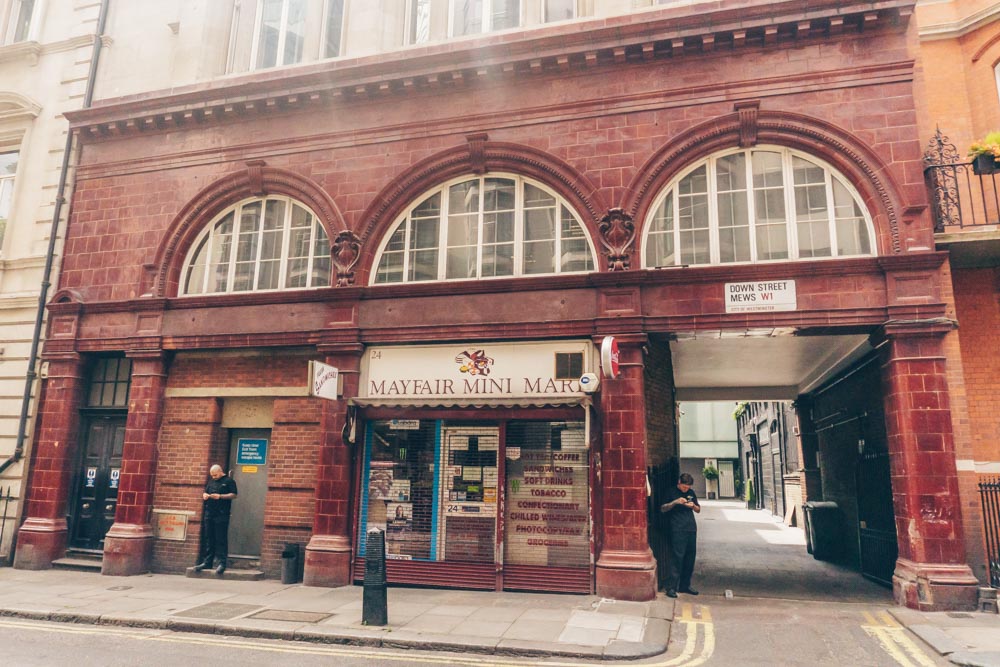 London is full of abandoned tube stations – but Down Street stands out. Hidden down a small street just off Hyde Park Corner, the station served as an important base in World War II and is the location where Winston Churchill took refuge during the height of The Blitz. You can visit with one of TfL's brilliant Hidden London tours.
Berkeley Square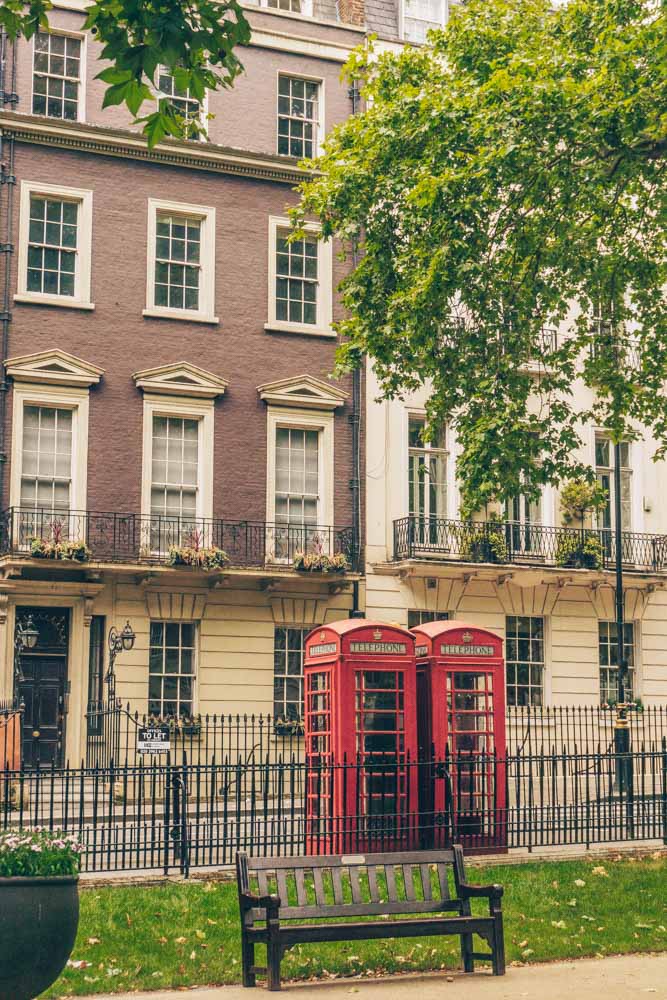 Originally designed in the mid-18th century by the renowned English architect, William Kent, Berkeley Square is a leafy public garden surrounded by elegant residential buildings.
A string of famous residents have called Berkeley Square home over the centuries, some of which include the notable writer, Horace Walpole, who lived at No. 11, and Winston Churchill, who lived at No.48 as a child.
Handel & Hendrix
Doubling up as the Handel & Hendrix Museum, which celebrates the works of the famous composer, George Frederic Handel, 25 Brook Street was also the home of Jimi Hendrix, who lived at the address from July 1968 and March 1969.
In the Handel House, you can expect to find four restored historic rooms that contain numerous artefacts and objects that belonged to the composer, whilst in Hendrix's flat, there is a permanent exhibition that documents Hendrix's position in the thriving artistic and musical world of London in the 1960s.
Christie's and Sotheby's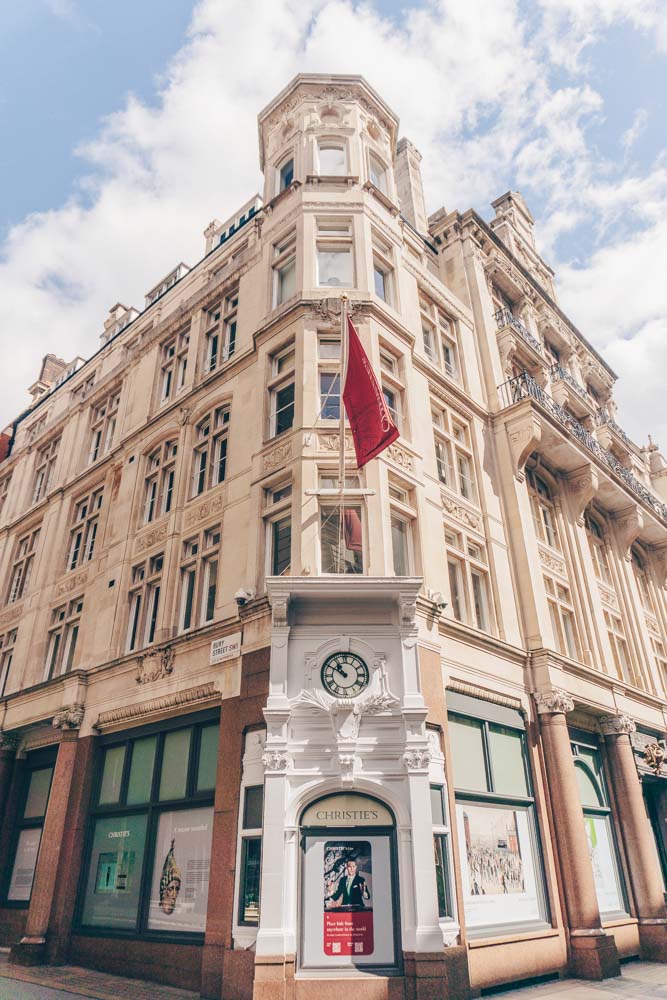 The global leaders of auctioneering and renowned for auctioning some of the most prestigious items and artefacts in the world, Christie's and Sotheby's are both situated in the heart of Mayfair.
Depending on when you visit, both auction houses open their doors to members of the public, where you can view a selection of items before the auction date.
If there are no upcoming exhibitions, it is still well-worth strolling past the buildings.
Queen Alexandra Memorial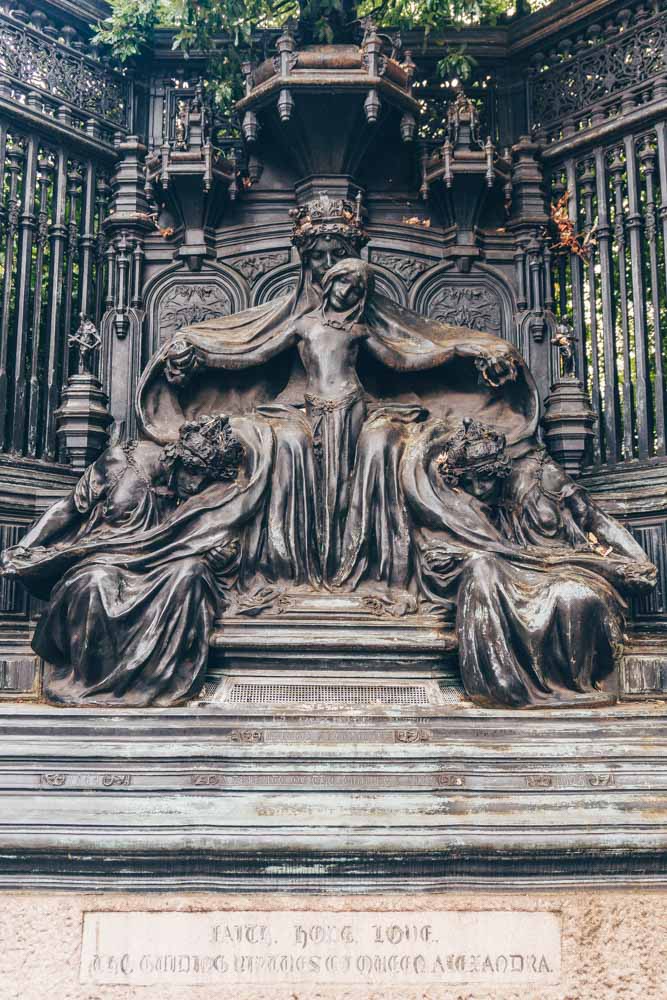 Hidden in plain sight down the side of St James's Palace, the Queen Alexandra Memorial is an elaborate memorial commemorating the much-loved wife of King Edward VII.
Sheathed in black enamel, it's a gorgeous art-nouveau work by Alfred Gilbert (who also designed the Eros Statue in Piccadilly Circus). Swing by on your way to St James's Park.
Marlborough Gallery
Founded in 1946 by Frank Lloyd and Harry Fischer, Marlborough Fine Art is situated on Old Bond Street, and started out initially exhibiting works by predominantly Impressionists, Post-Impressionists, French Modern masters, as well as an array of antiquarian books.
Over the last 74 years, the Marlborough Gallery has exhibited a plethora of ground-breaking works, and continues to push artistic boundaries; it is well-worth seeing if there are any exciting exhibitions on when you are visiting Mayfair.
Faraday's Laboratory and Museum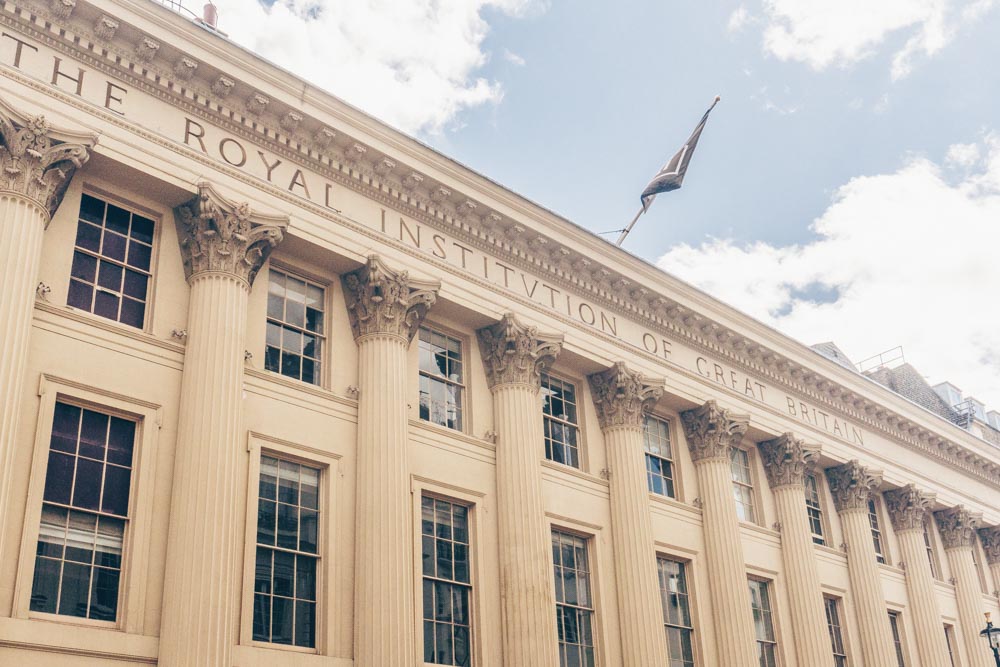 Part of the Royal Institution of Great Britain, the fascinating Faraday Laboratory and Museum is a brilliant spot for science enthusiasts; discover over 200 years of ground-breaking scientific research and invention, and explore Michael Faraday's actual laboratory.
It is completely free to visit, and is pretty fascinating; there is an enormous selection of historic and scientific items, from Faraday's magnetic spark apparatus, his magneto-optical apparatus, and even his voltammeter, which was revolutionary in changing how electricity is quantified.
The Small Galleries
Mayfair, being the monied place that it is, teems with small art galleries – some of which are London outposts of more established brands, others independent.
You can find them in the series of smaller roads that run around the block of Dover Street and Old/New Bond Street. The galleries are small but mighty. The work is often done by artists with fairly well-established names, though unless you're big into the art world the chances are you'll be discovering them for yourselves.
A lot of the gallery's doors will be closed. Just knock or ring the bell and people will be happy to let you in.
Eating & Drinking in Mayfair
My favourite places to eat and drink around Mayfair.
Mercato Mayfair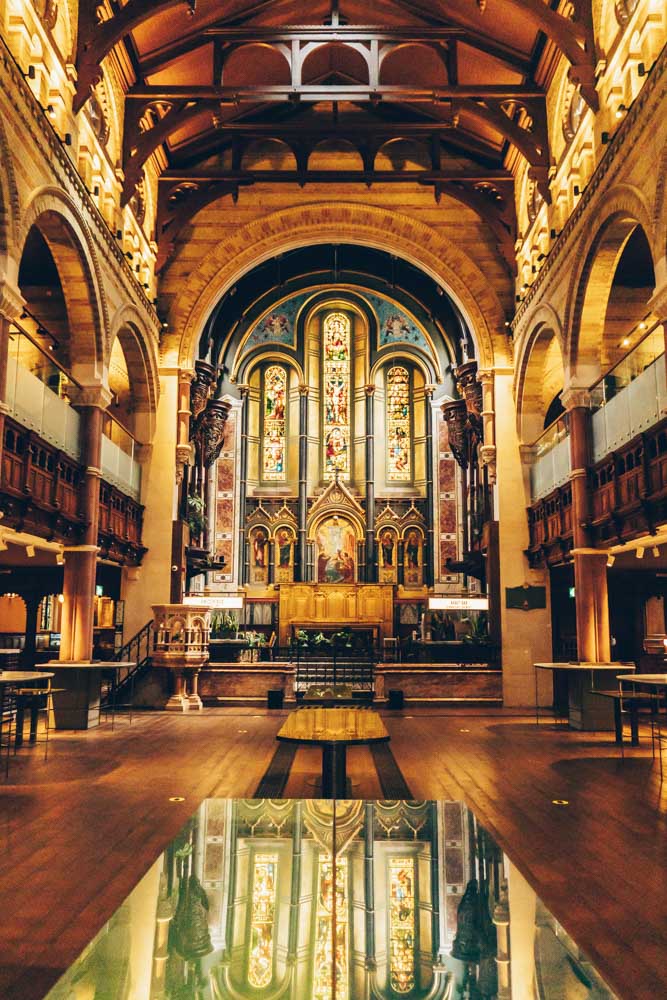 Street food might not be the first thing you think of when you think of Mayfair but Mercato Mayfair is setting out to change that.
The grown-up newer sibling of Elephant & Castle's Mercato Metropolitano brings the same delicious street food (the ice cream from Badiani's is a must) but in the classier elegant setting of a former church a short walk from Oxford Street.
DUKES
Regarded by the New York Times as having 'one of the world's best' Martinis, DUKES Bar in Mayfair serves up some of the most delightful (and strongest) Martini cocktails you will ever try.
In addition to the exquisite beverages, the setting is equally perfect; you can leisurely sip your cocktail in either the Drawing Room, or the Cognac and Cigar Garden, and feel as though you've jumped straight into a James Bond Movie.
Even better – it is believed that Sir Ian Fleming first coined the iconic catchphrase, 'shaken, not stirred' at DUKES.
Burger & Lobster
With several restaurants scattered across London, Burger & Lobster in Mayfair is a top eatery for those who, as the name suggests, enjoy a burger or a lobster. With a mix of irresistible seafood and juicy burgers, this restaurant is a fantastic spot, and is very reasonably priced for the quality and wonderful setting.
Hawksmoor Air Street
Committed to sourcing the highest-quality ingredients for each and every dish, Hawksmoor Air Street in Mayfair is a brilliant restaurant to sample gorgeous steaks and enjoy a cosy, intimate feel.
With its enormous floor to ceiling stained glass arches, sleek booths, atmospheric lighting, and most importantly, its unforgettable cuisine, Hawksmoor Air Street is one to look out for in Mayfair.
Sketch
Often said to be one of the most Instagrammable eateries in London, Sketch flawlessly blurs the boundaries between art and restaurant, and its bold, playful designs are completely magical and enticing.
Aside from the funky interiors, the food and drinks themselves are quirky and rather unusual, but totally delicious. Also make sure to take a trip to the toilet, as the loos are egg-shaped, and birdsong sound effects are blasted through the speakers.
Hide
Occupying three floors and offering spectacular views across Green Park, Hide London is a fabulous restaurant that is open for breakfast, lunch and dinner.
Even better, the menu is accompanied by an impressive wine list, curated by Hedonism Wines.
Each floor has a different theme; the top floor is light and airy, whilst Hide Below occupies the basement floor, where guests can enjoy a wonderful cocktail in an atmospheric setting.
Lusin
The first Armenian restaurant to open in Mayfair, ever, is Lusin. It's not cheap but if you've got the money it's definitely an interesting place to eat.
They serve up Armenian classics in an up-market setting – think house music playing in the background and beautifully presented dishes, plenty of rich young people – and do a good job of the cooking.
Dishes draw from a broader Middle Eastern cuisine but have distinctive Armenian tones: A kebab comes wood smoked and served with cherry sauce, a roasted aubergine turns Armenian cheese salad. Hummus and kibbeh are both present on the menu.
Da Corradi
Though there is a more sit-down type branch of Da Corradi turning out delicious pasta and Italian dishes right next door, you're coming to Da Corradi for the deli on the corner.
They do delicious sandwiches, light bites like arancini and sausage rolls they claim are the world's best. – yet to pass judgement here. Corradi does 'em mean, but there's a lot of sausage rolls out there that, in the name of good, thorough journalism, need trying before we confirm DaC's claim.
The aforementioned sandwiches can be made to order from the plates of Italian ingredients or picked from the board that's names riff off famous figures from Italian pop-culture: Il Padrino, The Soprano, The De Niro. They're all best enjoyed, weather permitting, in Green Park just a short stroll south.
Discover The Best Cafes in Mayfair
Discover The Best Bars in Mayfair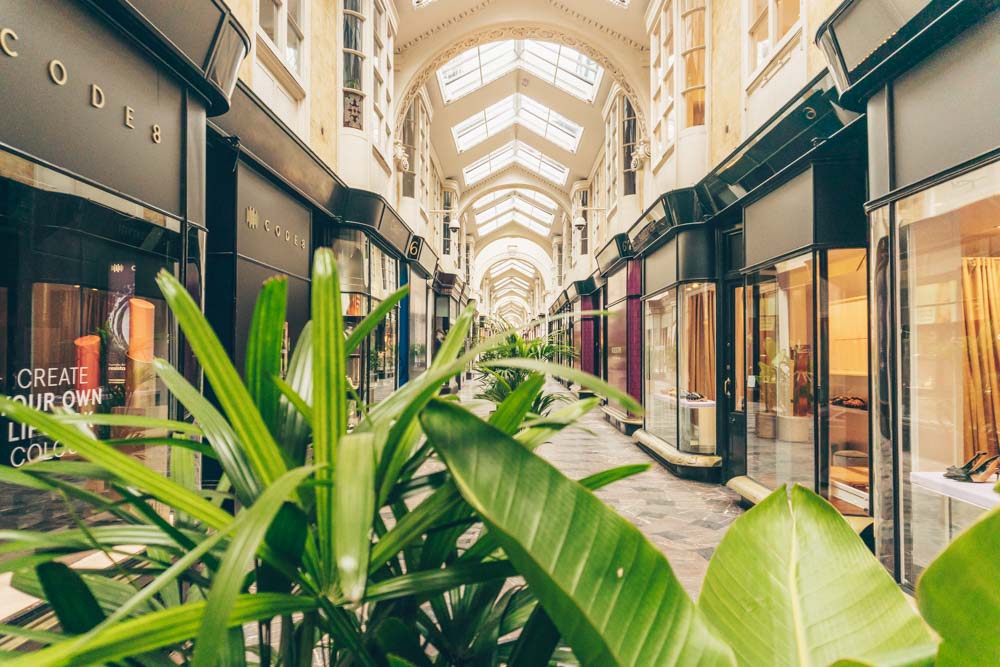 The Royal Arcade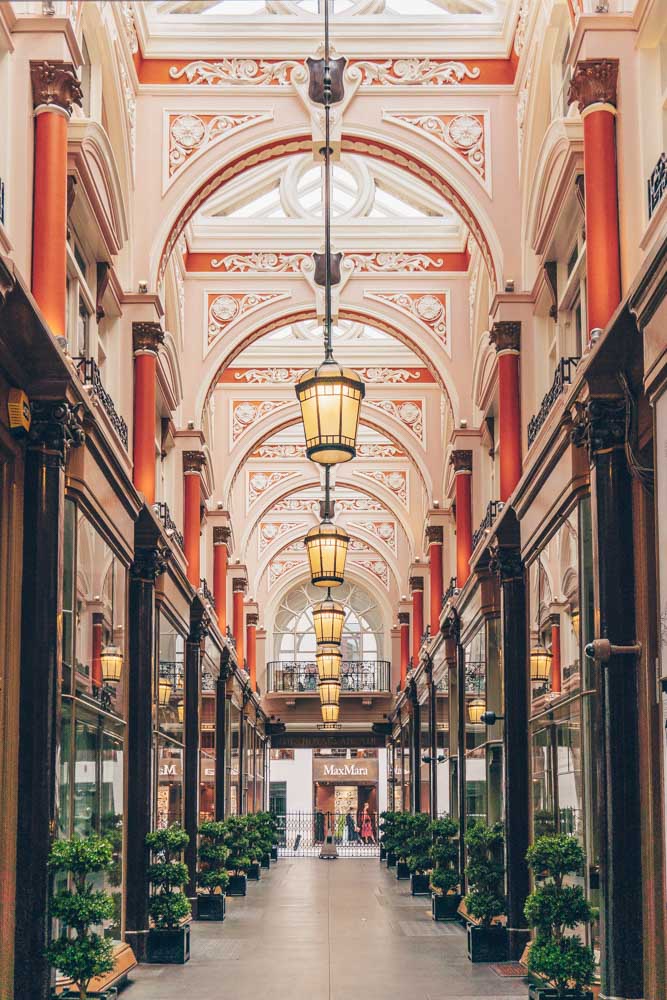 Whether you are looking to purchase some new treats, or simply stroll through and soak up the atmosphere, The Royal Arcade is an unmissable spot in Mayfair.
Constructed in 1879, and connecting the beautiful Old Bond Street with Albemarle Street, the elegant and historic Royal Arcade is the oldest shopping arcade in London.
Filled with exclusive fashion and jewellery shops, this exquisite arcade is richly designed with fabulous Victorian features, and it truly feels as though you have jumped back in time.
Savile Row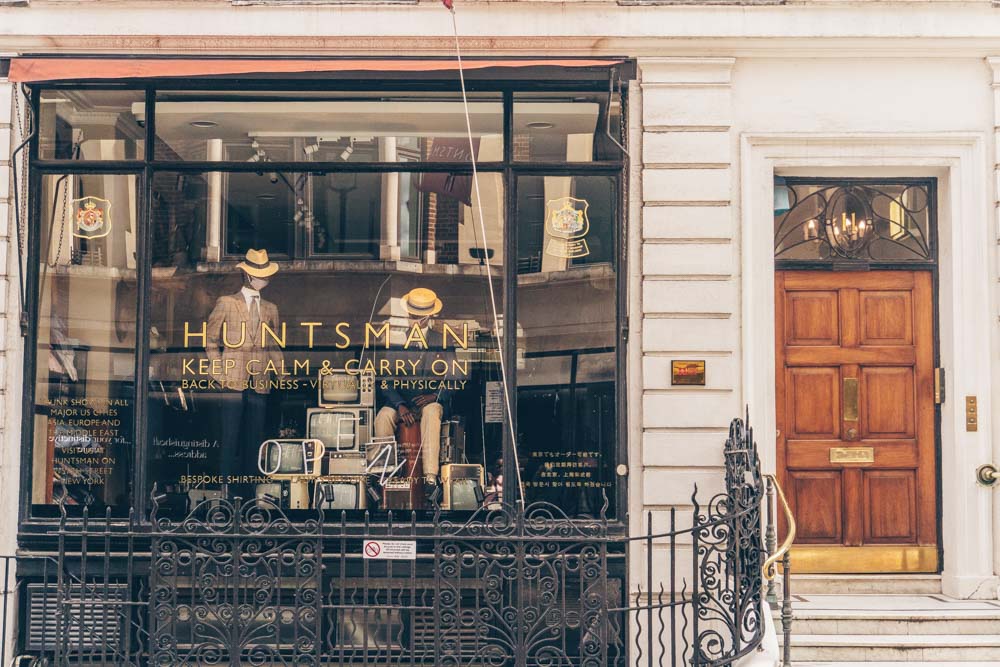 World-famous for being the home of men's tailoring, Savile Row is a street in Mayfair that is dedicated to producing bespoke, traditional suits.
The Row has a rich history spanning approximately 300 years, and until this day remains an icon for men's luxury attire.
A few of the best tailors to visit on Savile Row include Huntsman, Davies & Son, who have historically fashioned bespoke attire for Kings, Princes and Presidents. Another fantastic Savile Row tailor is Bernard Weatherill, which was founded in 1910, and holds a Royal Warrant for Queen Elizabeth.
Heywood Hill
The perfect spot for bibliophiles, the famous Heywood Hill bookshop is situated in the heart of Mayfair, and sells everything from antiquarian classics to new releases.
Housed across two floors of an elegant Georgian townhouse, Heywood Hill is a magical literary spot, and has attracted a plethora of famous writers and curious readers since it first opened in 1936.
Burlington Arcade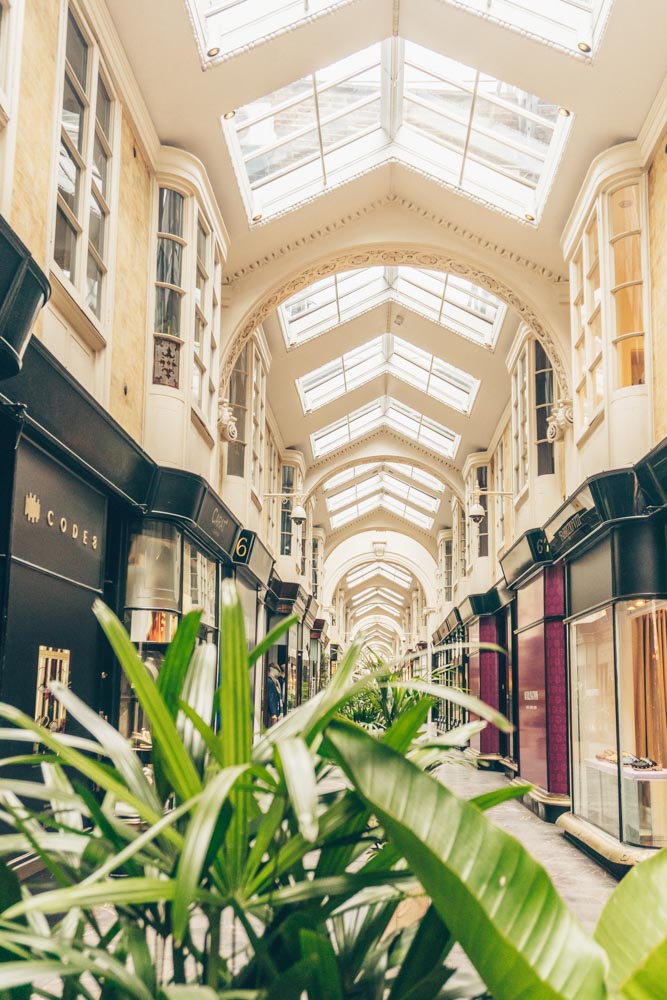 Established in 1819, Burlington Arcade has long been the go-to shopping spot for those on the hunt for luxury items, from hats, jewellery, gloves and watches. It is also the longest covered shopping arcade in Britain.
Grays Antique Market
For lovers of vintage gem and fineries, Grays Antique Market in Mayfair is a treasure trove of artefacts, spanning from 40 BC all the way up to the 20th century; spread across two levels, this market should be high on your list of things to do in Mayfair.
Map of Mayfair
Practical Tips for Exploring Mayfair, London
If you are visiting Mayfair for the first time, and are unfamiliar with the area, you may be inclined to try and find a station called 'Mayfair' on the tube map, however, no such thing exists. Instead, there are three stations that will get you the closest Mayfair, and they are as follows: Green Park, Bond Street, or Marble Arch.
Mayfair can be particularly busy at the weekends, so in order to see at its best, aim to visit in the week, where you won't have to shuffle through the streets and stand in line for the museums.
The restaurants in Mayfair are hugely popular, so to ensure that you get a table, it's a good idea to book in advance, rather than facing disappointment.
The Chesterfield
Plenty of Personality

If you are after a hostel bunk for £10 a night, move far, far away from Mayfair.

That's not to say that there aren't some mid-range options; one of which is The Chesterfield, a charming and elegant hotel in the heart of Mayfair, that provides traditionally designed guest rooms that offer a luxurious feel without breaking the bank.
The Dorchester
Five Star Grand Dame

One of the most iconic hotels in Mayfair, and London as a whole, is The Dorchester.

Standing proudly on the famous Park Lane and offering unbeatable 5* luxury, this hotel boasts a top Michelin-Starred restaurant, a spa, a magnificent terrace with views across Hyde Park, and some of the most chic and elegant rooms in the city.
Where to Stay in Mayfair
Read the full guide to the best hotels in Mayfair.
Discover More London Areas