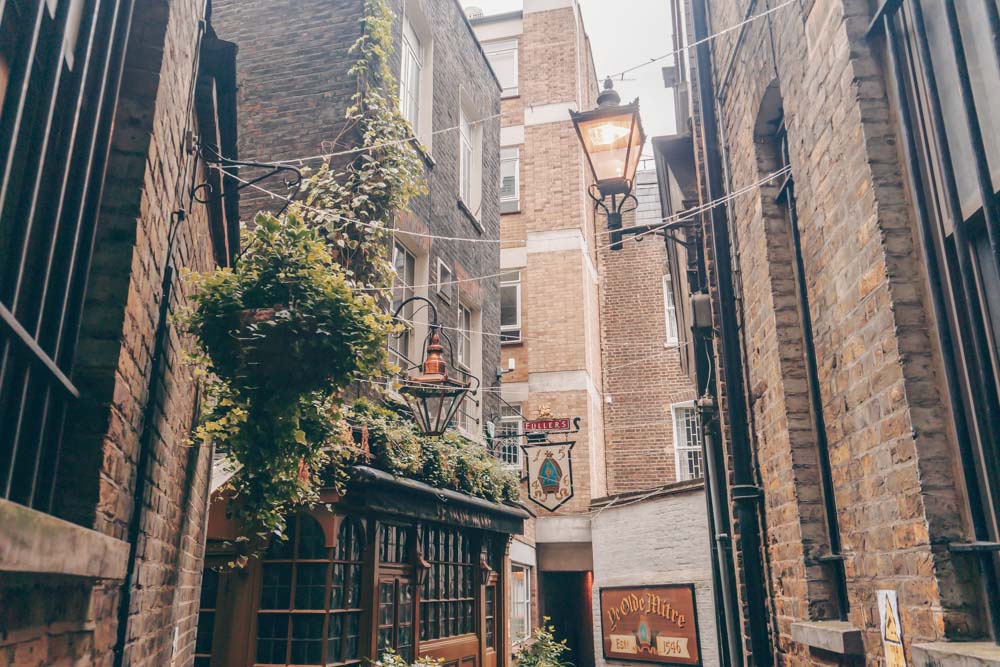 Ready to explore the best things to do in Holborn, London? We've got you covered with this guide to fascinating museums, ornate Victorian pubs, and the best places for shopping.
Situated just northwest of the City of London, Holborn was previously a Metropolitan borough of London for 65 years. This was until 1965, when Holborn was combined with other former boroughs and taken under the wing of Camden.
Holborn has its roots in a medieval settlement that evolved nearby a 'hole-bourne' – a stream in a hollow that led to the Thames. The river in question is the River Fleet, which remains one of the largest subterranean rivers in central London.
Holborn is also one of the most important areas when it comes to crime and punishment in the capital – the area is home to two of the four Inns of Court: Gray's Inn and Lincoln's Inn.
Way back in the 14th century, these Inn's were responsible for training and housing lawyers.
Interestingly enough, they're still in action today as voluntary law societies that budding lawyers can opt to join.
Ready to explore?
Top Picks for Things to do in Holborn
Things to do in Holborn
Delving into the spots you shouldn't miss.
Temple Church
With over 800 years of history within its walls, the Royal peculiar Temple Church was originally a Knights Templar institution, and still remains a powerful structure of Christianism in London today.
The church is round, which was a common design for Knights Templar churches – inside you'll be able to see some more architectural examples dating all the way back to the medieval era.
The church was heavily bombed during WWII, though it has since been rebuilt and restored to its former glory.
Royal Courts of Justice
Situated on the Strand, the Royal Courts of Justice are among the most powerful buildings in the capital.
The building itself is beautiful, a Victorian-Gothic affair first opened by Queen Victoria in 1882, though booking onto a tour (they're £14) is highly recommended to see the inside in its full glory.
If you would rather wander alone, you can enter for free. Although the court previously held murder and treason trials, today the court usually hosts cases related to business and personal matters.
Charles Dickens Museum
Fancy a nosy inside Charles Dickens' actual London home? Head to 48 Doughty Street, to the house in which Dickens lived between 1837 and 1839 with his wife Catherine and son.
The museum is set up just as if Charles Dickens was still living there – it's a relatively normal Victorian home with authentic furniture and decorations that really belonged to the author.
The museum allows you to step into the space where so many iconic novels – like Oliver Twist and David Copperfield – were conceived.
The Hunterian Museum
Warning: The Hunterian Museum is not for the faint-hearted. This macabre museum is filled with anatomical specimens and surgical equipment… so expect an eyeball or five.
The government first purchased Scottish surgeon John Hunter's collection in 1799, which formed the basis of the museum. Since then though, plenty of donations have come rolling on from the likes of Richard Owen and A E W Miles.
Note: The Hunterian Museum is currently closed for renovations until 2023, but it's worth grabbing a ticket once it reopens.
Things to do in Holborn: Eating and Drinking
Our favourite places to eat and drink in Holborn
Sir John Soane's Museum
Sir John Soane's Museum is one of Holborn's real oddities. A huge collection of the Bank of England architect's work are on display, allowing you to step into his former home and admire his eccentric collection of art and furniture.
The museum also hosts 'Lates' each month, where the doors are opened after dark and themed tours are illuminated by candlelight. Like many of London's brilliant museums, entry to Sir John Soane's weird and wonderful world is completely free.
Lincoln's Inn Fields
Separated by Lincoln's Inn opposite via an imposing gatehouse, Lincoln's Inn dwarfs every other public square in London. Aside from being a great place for people-watching (and admiring the architecture surrounding the park), it's a brilliant picnic spot.
During the 18th-century, it's believed that cricket and football games were hosted on the fields, although today a tennis and netball court sits at the centre of the grassy area instead.
The Old Curiosity Shop
Said to have inspired the infamous Dickens novel of the same name, The Old Curiosity Shop boasts 500 years of history. Previously known for selling books and nicknacks, today the shop sells shoes to curious visitors from far and wide.
Some people struggle to find this Holborn store as it's nestled down an unassuming backstreet. Although once you find it, you'll see it sticks out like a sore thumb – with Charles Dickens' name emblazoned across the front and historic sage shutters.
Bounce
Near Chancery Lane, Bounce is a 1950s-inspired pizza restaurant and bar, though the main draw are the neon ping pong tables and games boards that provide hours of endless entertainment.
Aside from table tennis, you can also play wonderball (which is basically interactive ping pong with added mini games), beer pong, and shuffleboard. Scoff pizza and cocktails before you unleash your competitive spirit with a game or two.
There are a few locations dotted across the capital, though the location in Holborn is the original (and the best).
All Star Lanes
You can go bowling pretty much anywhere in London, although the brilliant All Star Lanes is worth adding to your list of things to do in Holborn. 50's Americana decor and ambient lighting creates an ultra-cool atmosphere as you bowl.
The bar is also impressive – make sure to grab a post-bowl cocktail, chill out until late, and resist the temptation of ordering a portion of popcorn squid… or don't.
Happy Lamb Hot Pot
East Asian hot pot can be incredibly daunting; there are just so many things that can go wrong.
If you're unfamiliar, the concept is relatively simple: choose a soup base (half sweet, half spicy is the usual favourite), then order meat and vegetables to cook yourself in the bubbling broth.
The cuts of meat at Happy Lamb are delicious and include beef shoulder, rib eye, and short rib, among a whole host of others. The staff are also ridiculously friendly, always on hand to save nervous newbies from a disintegrated noodle sludge meal.
Rondo Bar in the Hoxton
Boasting a 6-page wine list, innovative signature cocktails, and craft beers aplenty, Rondo Bar in the Hoxton is the spot to round off a day exploring Holborn.
The interior is stylish, the wooden bar and modern artwork keeping in theme with the totally-instagrammable Hoxton hotels we all know and love.
The cocktails even tell you where they were created, so as you sip your Hoxbee (vodka, honey cordial, and soda), you'll know to thank Lyndon Hachey, the bar manager at the Hoxton in Amsterdam.
Cittie of Yorke
Well-worthy of its place in the National Inventory of Historic Pub Interiors, the Cittie of Yorke is a grade-II listed pub with features dating back to the 1400s. Today it's a gorgeous spot to relax with a pint after an afternoon of wandering through Holborn.
No stranger to a famous face, Welsh poet Dylan Thomas even wrote an ode to the pub during the period when it was known as Henneky's Long Bar. Though this wasn't discovered until Fred Jarvis, General Secretary of the National Union of Teachers at the time, found the poem in his parent's collection.
Princess Louise
Another Victorian pub in the Holborn area is the Princess Louise. It might not be quite as old as the Cittie of Yorke, but the interior still dates back to 1891 – the traditional checkerboard floor and red woodwork have been perfectly encapsulated.
Interestingly enough, the area around the bar is segregated into separate seating areas that can get pretty rammed. Head upstairs via the hidden stairway (to the right of the entrance) to appreciate the decor with less of a crowd.
Ye Olde Mitre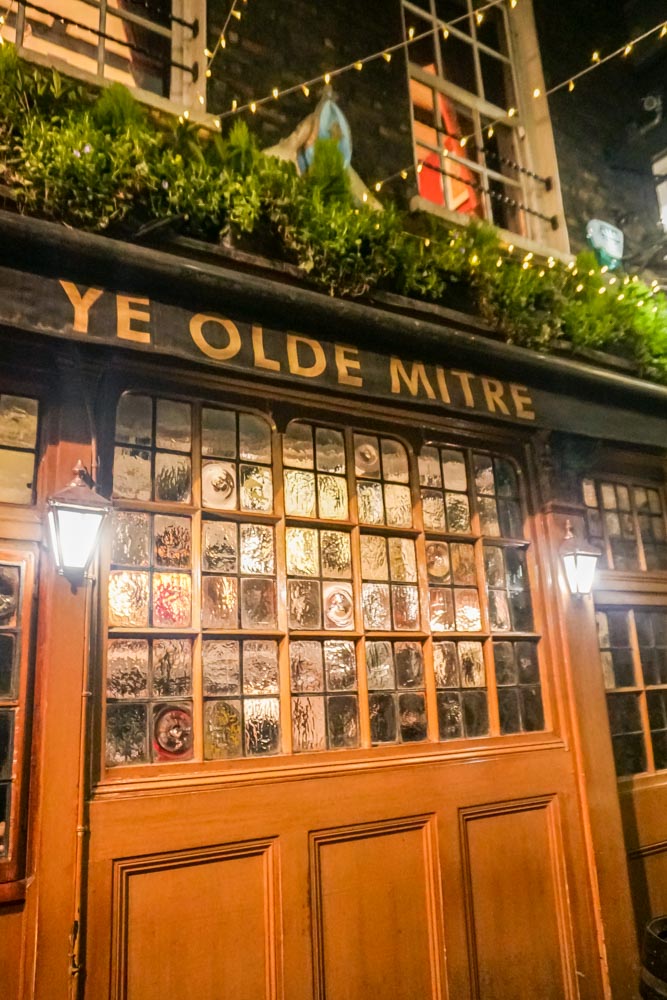 One of the most instantly recognisable of all historic boozers in London, Ye Olde Mitre was built on the land of the former Ely Palace and hides a few Royal secrets.
The main one being the cherry tree stump inside the pub that is widely believed to be the exact one Queen Elizabeth I danced around with her courtier (and rumoured lover) Sir Christopher Hatton.
Head there in the evening, when fairy lights illuminate the pretty courtyard and you can enjoy a drink under the glittering sky.
Discover The Best London Brunches
Discover The Best Beer Gardens in London
Top Shopping Spots in Holborn
Leather Lane Market
Not only is Leather Lane one of our favourite street food spots in the capital, but the market is also home to a number of stalls selling homeware, crafts, and fashion items.
The market has actually been running for 400 years, although it's undergone a few transformations throughout its time – it originally focused on selling leather goods, as the name suggests.
Map of Holborn
The Hoxton
Boutique hotel
A famously stylish hotel with locations across the capital.
Z Hotel
Modern hotel
A classy budget hotel with small but fully equipt rooms.
Read More London Guides
Love This? Save and Share on Pinterest!