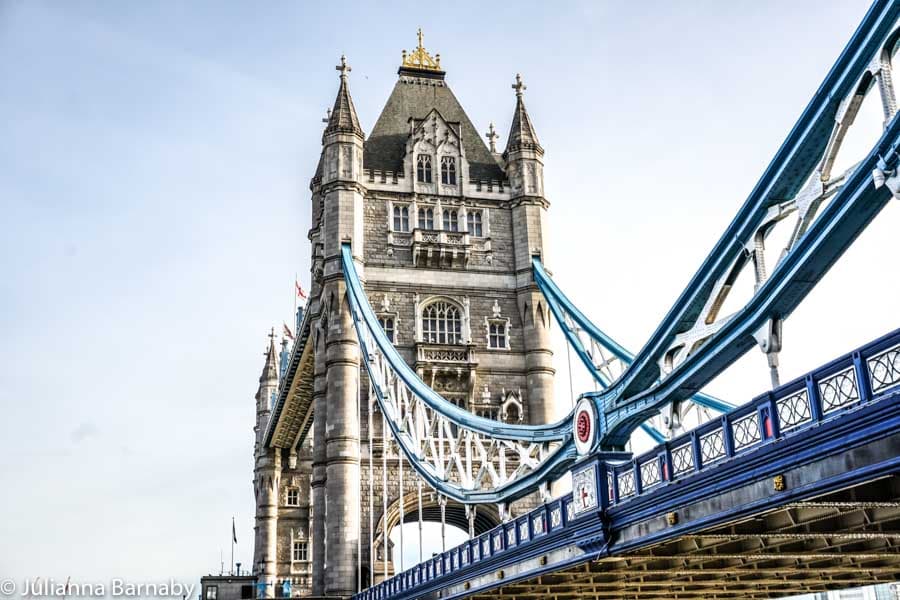 Sightseeing in London can be a daunting task – let's face it, in a city where there's something different to see around every corner, it can be hard to know where to start. If you're planning your visit, we've chosen the most iconic London tourist attractions for your trip.
London is a whirlwind of a city. Even now, after growing up in the city, it still has the capacity to take us by surprise – so we can only imagine what it's like to come to London as a tourist.
Where should you start? What should you skip? Are London's tourist attractions really worth it?
Not so familiar with London and want to know where to begin? You'll love this indispensable guide – all the London sightseeing hotspots that you shouldn't miss from your London itinerary.
Top London Attractions You Need to Visit
City Cruise Along the Thames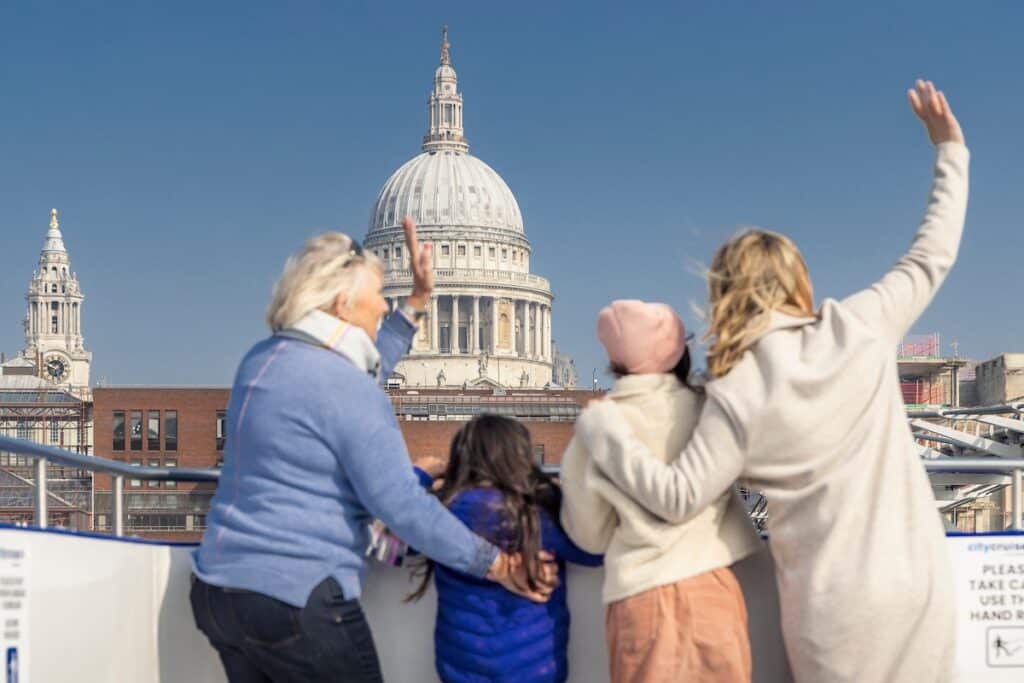 Before we get into specific London sights you shouldn't miss during a visit to the capital, we thought we'd mention a handy way you can spot a few of them…
London's several-thousand-year-long history has always revolved around its river, and so it makes sense that one of the best ways to take in the sights is from the water.
The good people at City Cruises run boat-based tours up and down the Thames, past London's most iconic landmarks, and some of its lesser-known ones too. The tour has a full commentary that will drop some serious knowledge bombs as you cruise along the Thames.
You can also keep the kids entertained with colouring sheets and pencils while the adults nerd out on London history, with a hot beverage and snack in hand from the boat's bar.
The London Eye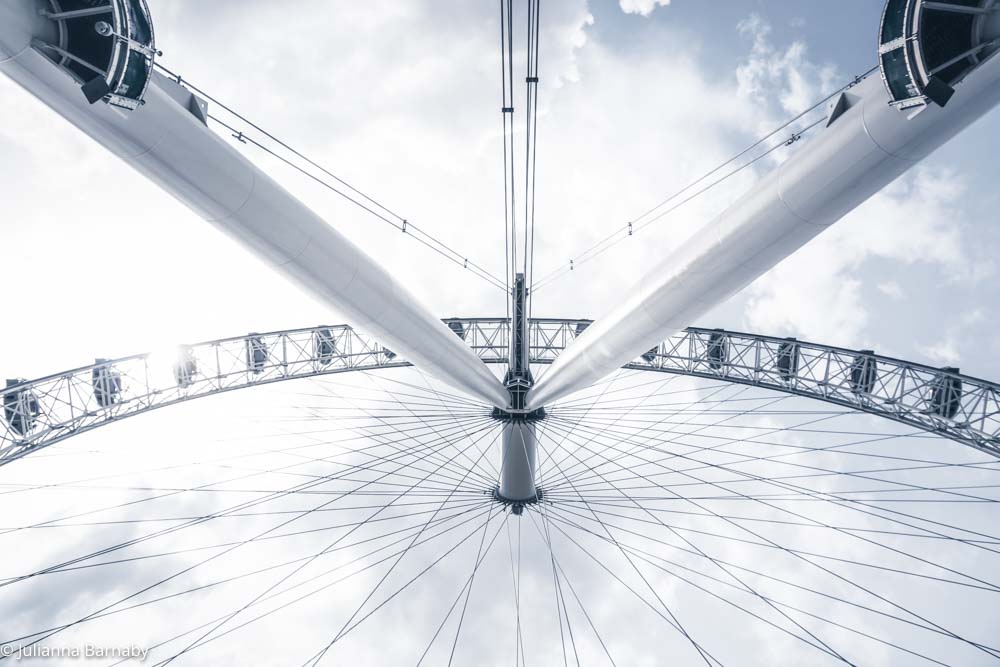 One of the best-loved and most iconic London attractions is the London Eye – it's amazing to take in the views of the city from the enclosed 'gondolas'.
You can book a regular ticket online, or you might like to splash out for a champagne experience or to skip the queue.
The Tower of London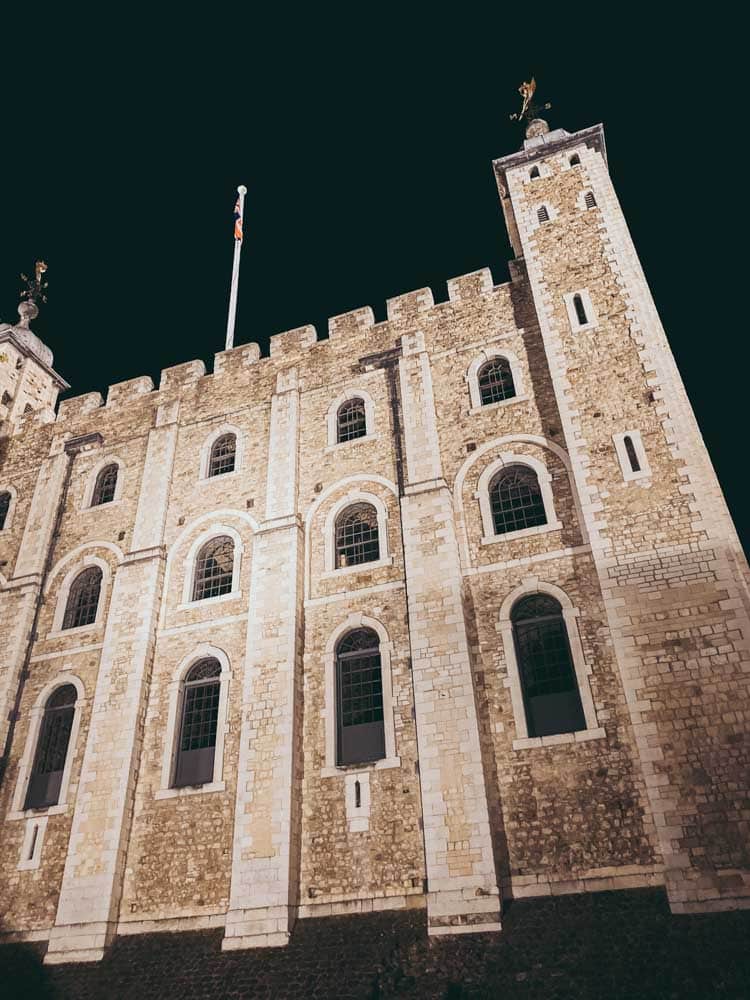 Tour the (in)famous Tower of London, and find out more about its 900-year history. It's had many uses over the years – as a palace, prison and even a zoo – but today it's famously the home of the Crown Jewels.
Prepare to be dazzled by the Royal Family's riches – we recommend booking ahead through Get Your Guide so that you can skip the line.
Read Next: 60 Cool Places to Visit in London – Iconic Landmarks + Hidden Gems
Tower Bridge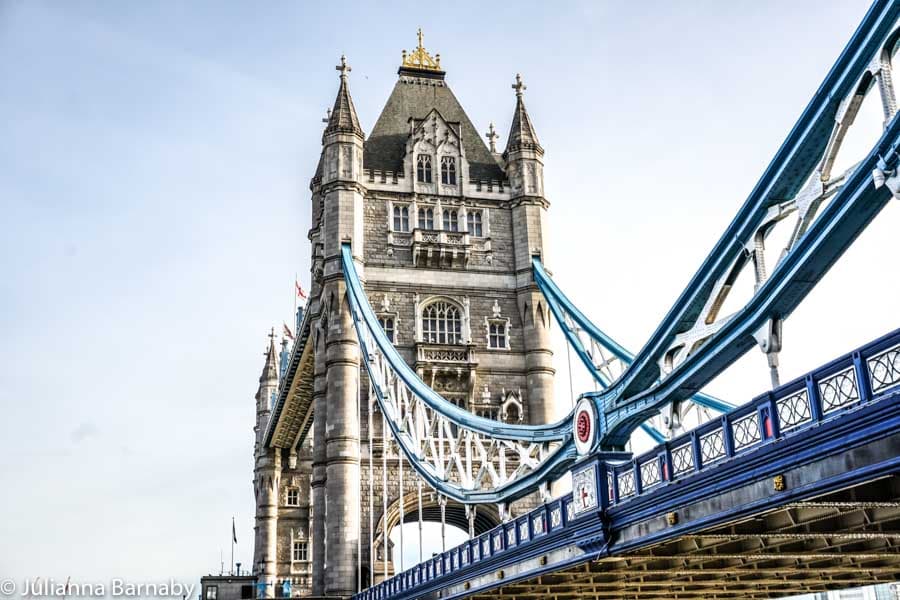 It's one of the most iconic London tourist attractions, and certainly unmissable during your visit to the capital.
This 19th century bridge across the Thames is an instantly recognisable symbol of London, so be sure to take a tour (you can book online) and get some great photos.
Want to know more? Read these curious facts and figures behind the bridge.
The Shard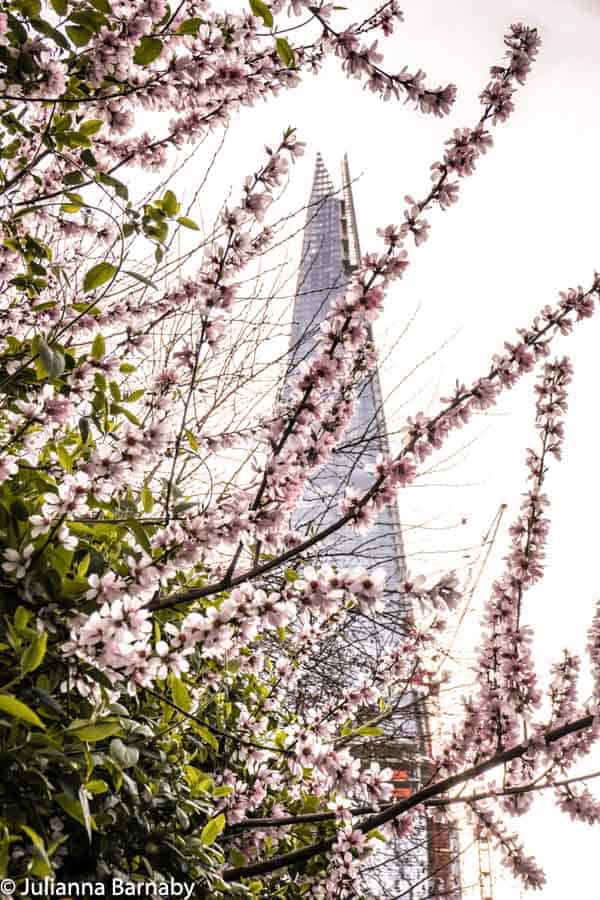 The United Kingdom's tallest building dominates the London skyline, and offers incredible views from its three-storey viewing platform, The View at the Shard.
We think the best way to see the views is while drinking cocktails in one of The Shard's charming bars.
Read Next: Using the London Pass – The Most Cost-Effective Way to See London's Biggest Sights
St Paul's Cathedral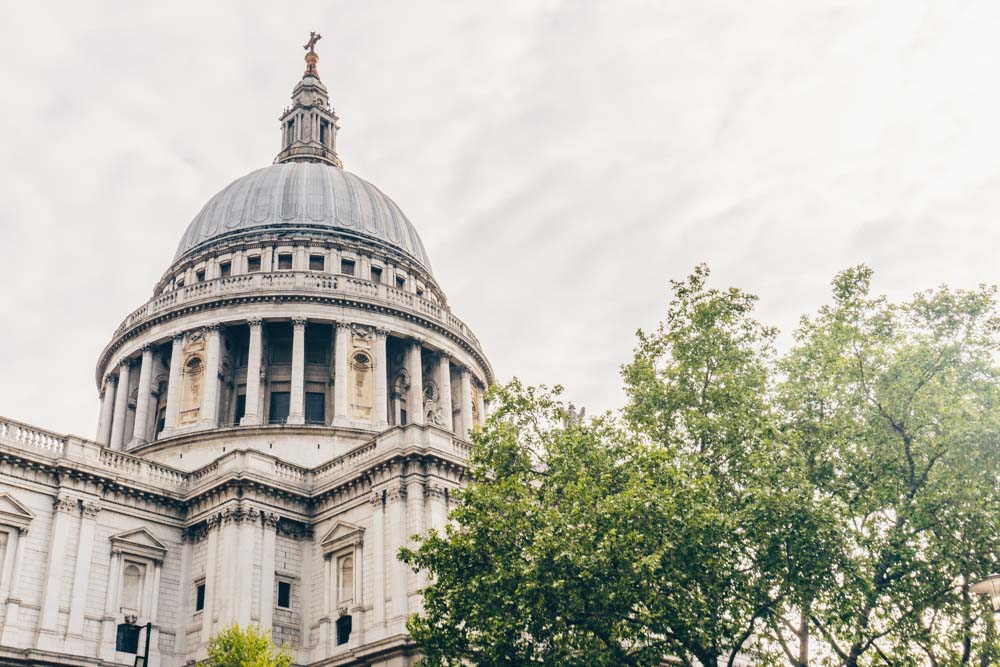 Sitting atop Ludgate Hill – the highest point in London – St Paul's Cathedral is a spectacular 13th century cathedral.
To tour the Cathedral you'll need to buy a ticket online or at the door – we recommend getting a fast track ticket. It is open from Monday to Saturday for tours, and on Sunday for worship.
Royal Observatory, Greenwich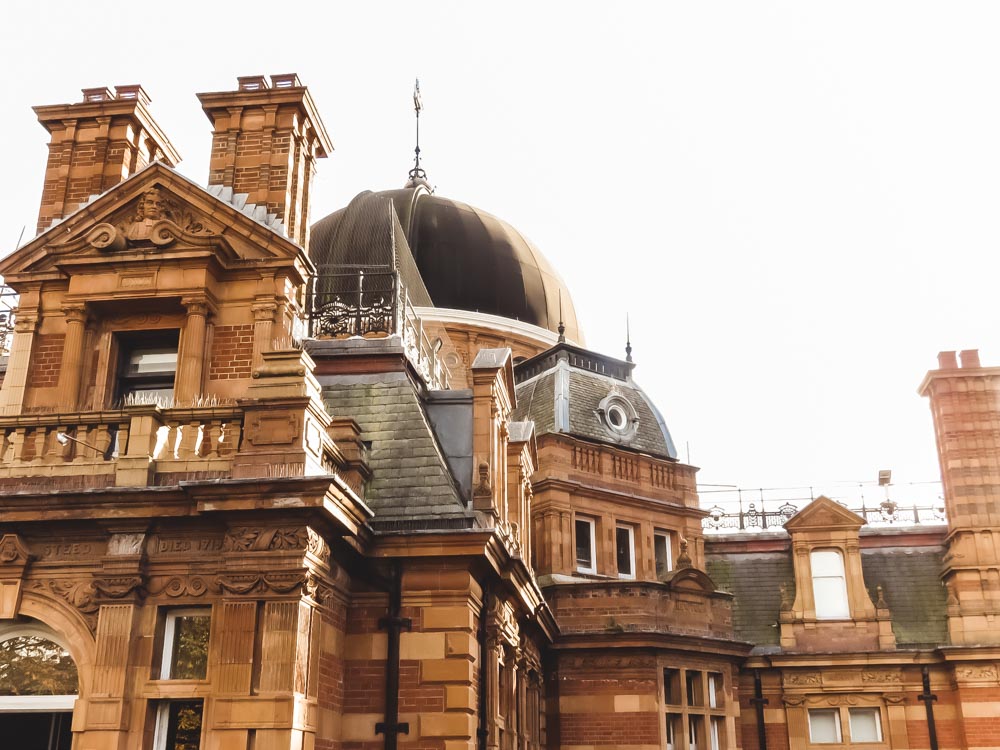 Greenwich's Royal Observatory is most famously the "Prime Meridian", where Greenwich Mean Time is measured, but the Royal Observatory is also home to some impressive exhibits.
Permanent features include a planetarium and gallery, while there are often great events and talks as well. You can book ahead online and enjoy a free audio tour with your ticket.
Psst… make sure you also check out The Painted Hall while you're in the area – it's one of the most underrated London attractions.
Hampton Court Palace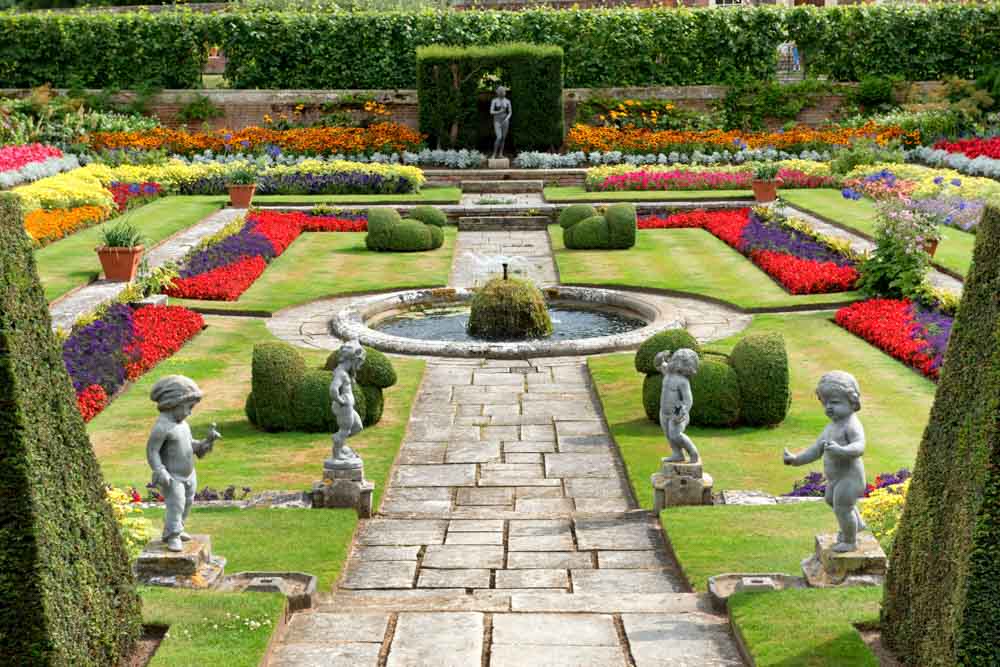 Just outside of central London lies Hampton Court Palace, an impressive royal residence that is one of two remaining that once belonged to Henry VIII.
To enter the palace and admire the opulence you'll need to buy tickets. It's cheapest to book them online, although they are available at the gate.
The Globe Theatre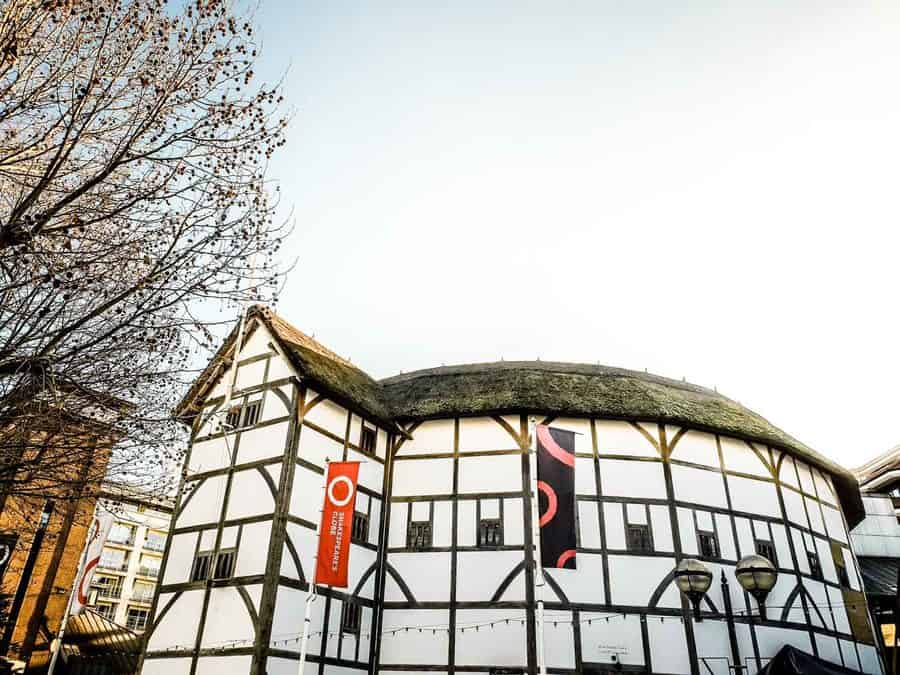 For a unique theatrical experience, check out the Globe Theatre on the south bank of the Thames.
Reconstructed to look like Shakespeare's famous theatre, it puts on many great shows and events. You can also tour the theatre and check out the museum exhibits.
Warner Bros Studio Tour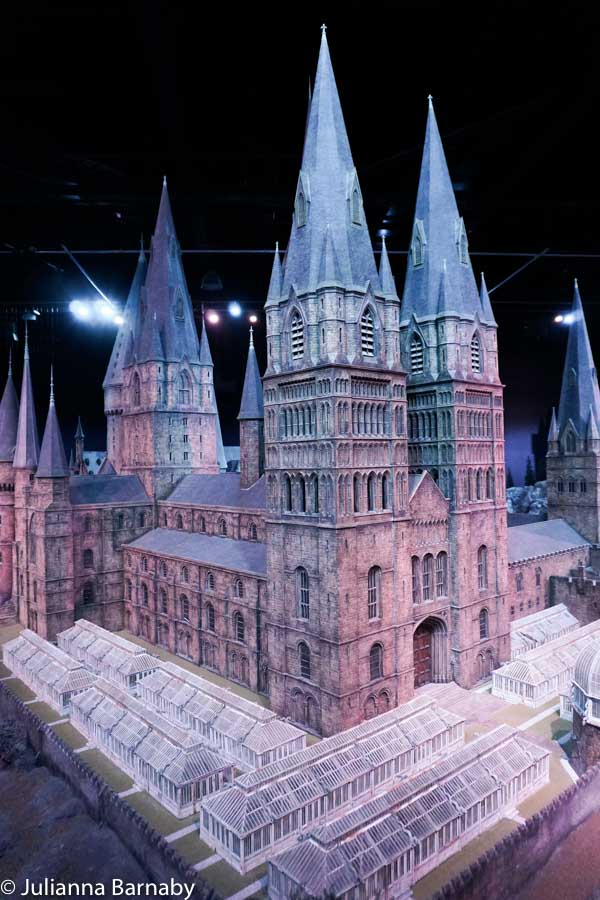 The young and the young-at-heart will have a spectacular time at Warner Bros Studio Tour, a stunning theme park based on your favourite movies like Harry Potter.
To experience the fun, you'll need to buy tickets ahead of time (warning: it's one of the most popular London attractions, so snap them up ASAP).
These can be bought online as either an entry ticket only, or with transfers and a tour.
Madame Tussauds
It's become a worldwide sensation, but the original – and the best – Madame Tussauds wax museum is located in London. You'll be able to spot all your fave celebs.
Tickets can be purchased online or at the door – it can be good value to combine a visit to Madame Tussauds with other nearby attractions.
Sea Life
Discover what's under the sea at Sea Life, a huge aquarium in London with colourful fish, jellyfish and even sharks. It's an interesting and informative experience.
Tickets can be booked ahead of time online.
ZSL London Zoo
London's huge metropolitan zoo has been delighting visitors since it opened in 1828, making it the world's oldest scientific zoo. You can spot an amazing variety of animals from all over the world.
Your best bet is to purchase your tickets ahead of time for the best price and stress-free entry.
Up at the O2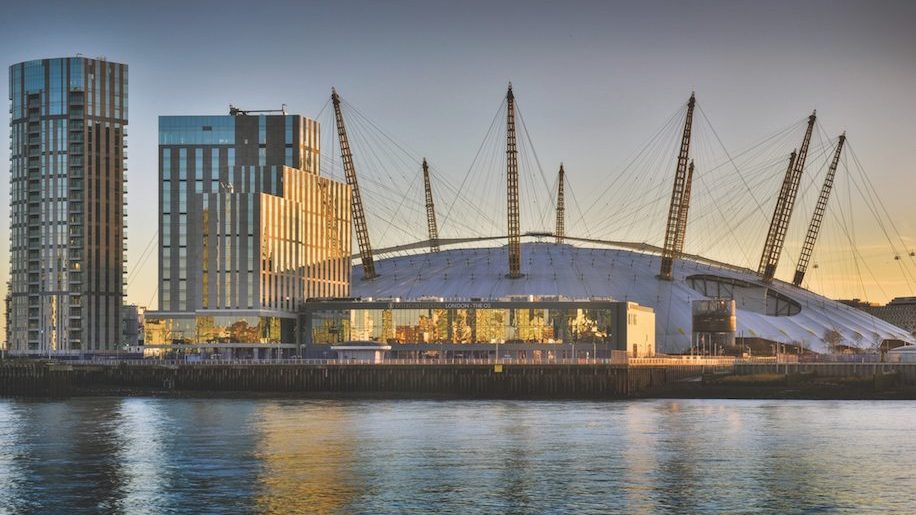 Feeling brave? Keen to take in some unique views from London's favourite concert venue? If so, strap yourself in for Up at the O2 – a guided climb across the roof of the building.
Although it's totally safe, it's sure to get your blood pumping – plus you'll get some fab views. Be sure to book your spot online ahead of time.
Arcelor Orbit Slide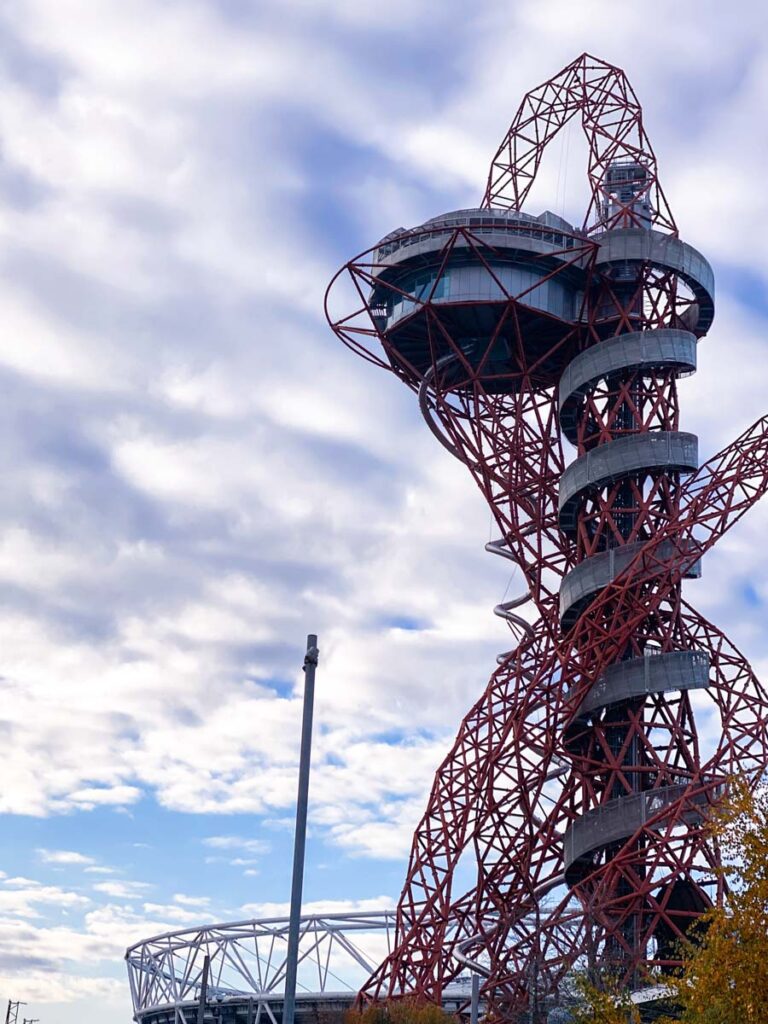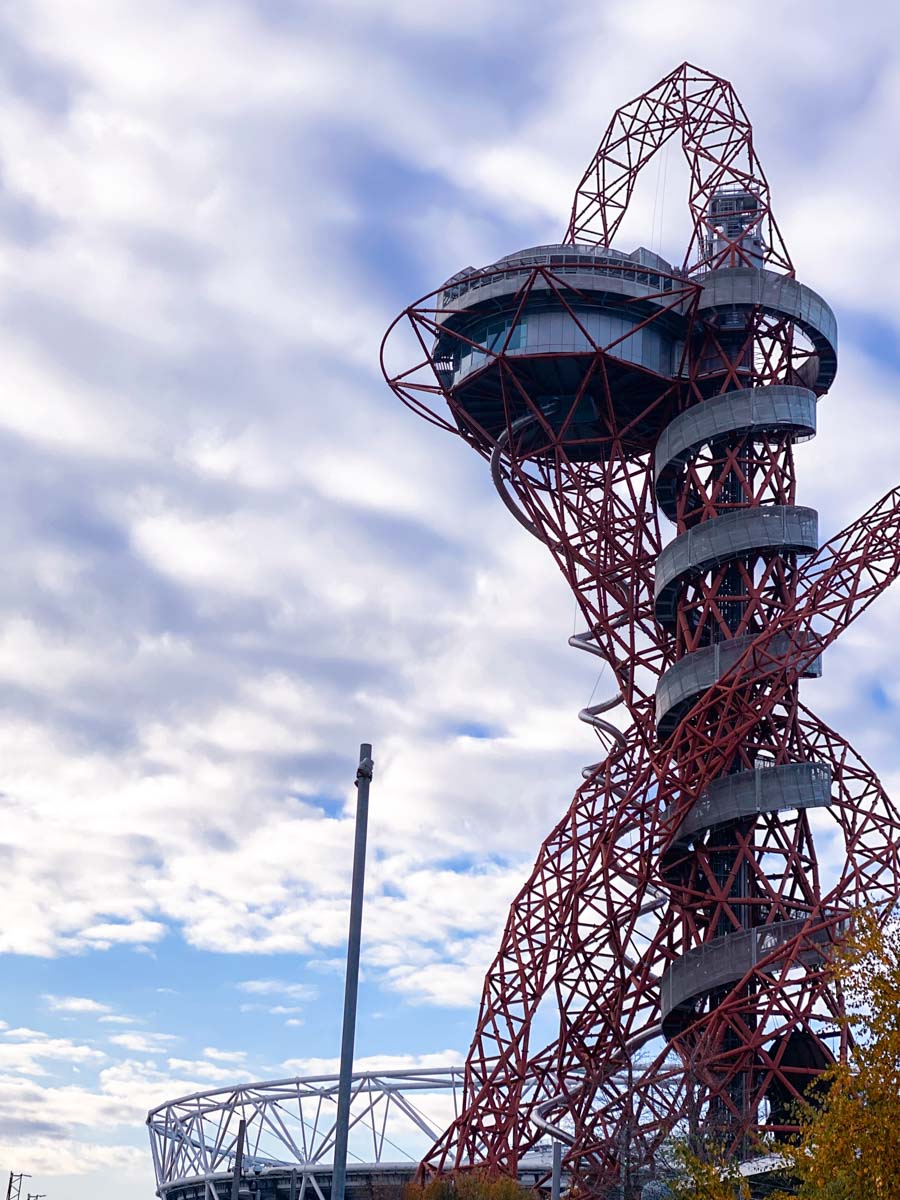 How does making your way down the world's longest and tallest slide sound? Pretty amazing, right?
If you agree, check out the Arcelor Orbit Slide. Originally built in celebration of the 2012 Olympics, but it's still around, delighting visitors.
The slide is great fun and the views of Queen Elizabeth Olympic Park are exceptional as well. Tickets can be purchased online ahead of time.
Afternoon Tea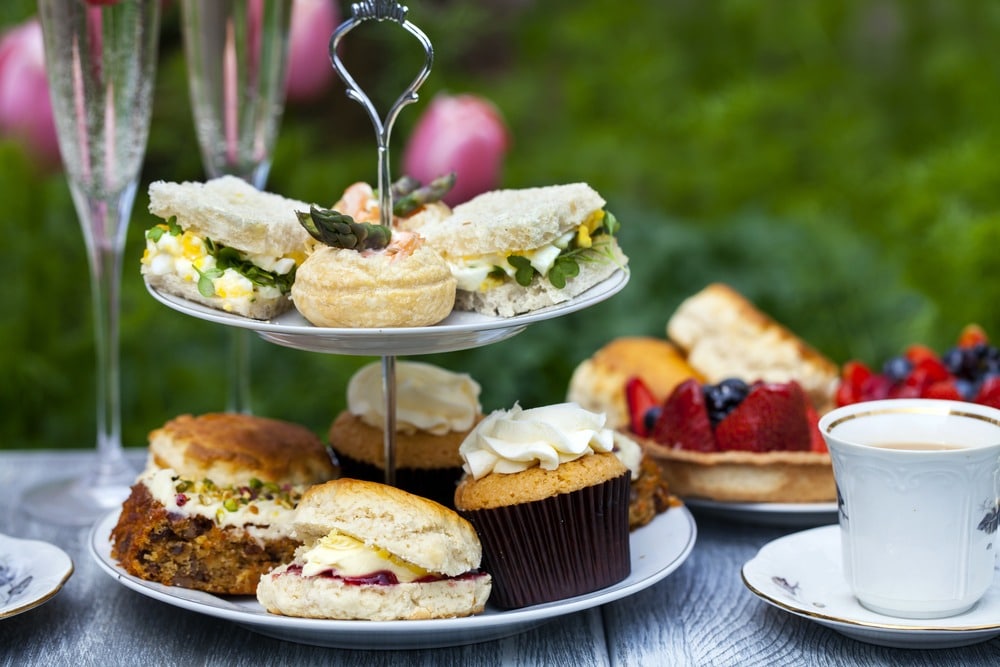 It doesn't get more British than indulging in a tasty afternoon tea, complete with sandwiches, scones, jam and cream.
Since it's such an institution, there are many great places in London to have one – from the Barbican Conservatory (selected Sundays only) to one of the Shard's eateries.
Advance bookings are suggested if you're visiting one of the more well-known places.
Kew Gardens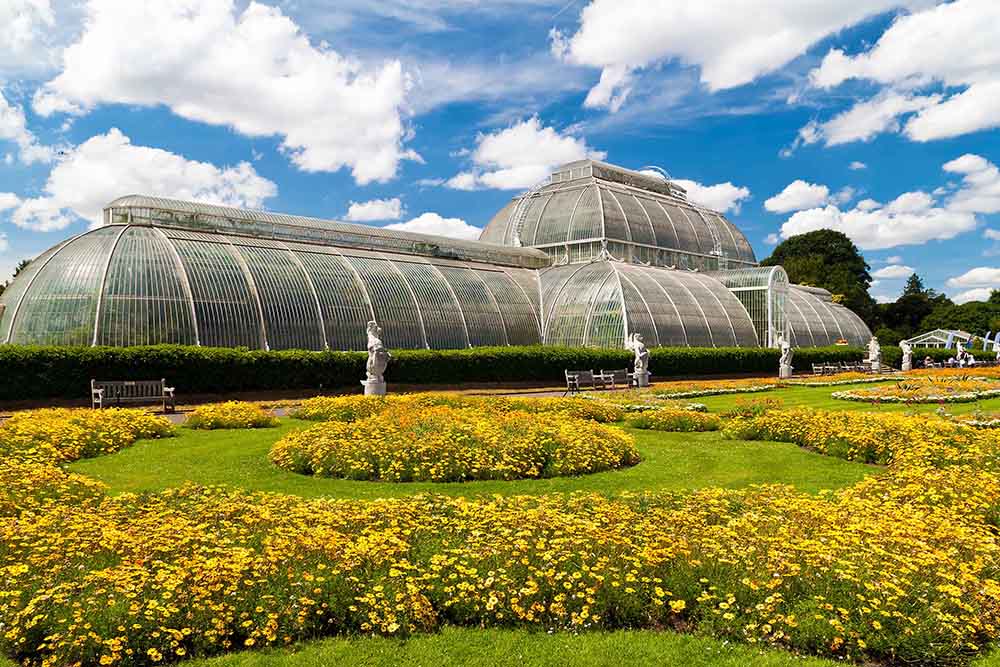 Take a break from the hustle and bustle of London and retreat to the beautiful and relaxing Kew Gardens. This green oasis in southwest London is believed to be the largest and most diverse botanical garden on earth.
You can book single visits online, or if you're a local, you might like to consider becoming a member for free entry year-round.
Churchill War Rooms
Learn more about former Prime Minister Winston Churchill and World War II in his underground London bunker. It's amazing to think that the Churchill War Rooms were the epicentre for Britain's response to the Second World War.
Book your tickets online for the best price and convenience – you might want to do so a couple of days in advance if you're visiting during peak season.
A popular tour combines a visit with nearby Westminster – perfect for history buffs.
HMS Belfast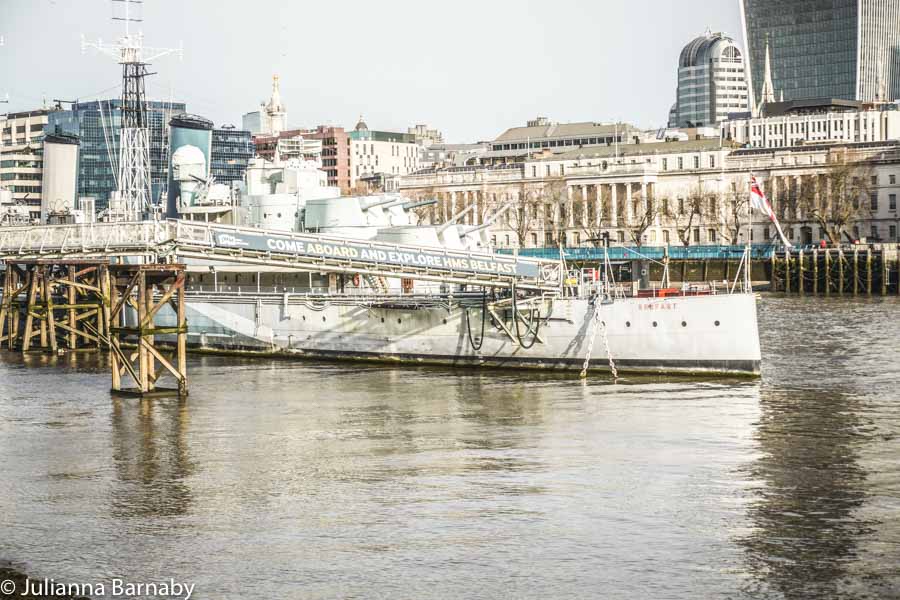 There's no better way to learn about Britain's naval history than actually being on board a retired naval vessel.
Even if you only have a casual interest in military history, the HMS Belfast is well worth a visit to find out about life on board and Britain's navy.
Tickets can be bought online – you might like to consider a tour to find out more about the ship and its history.
London Transport Museum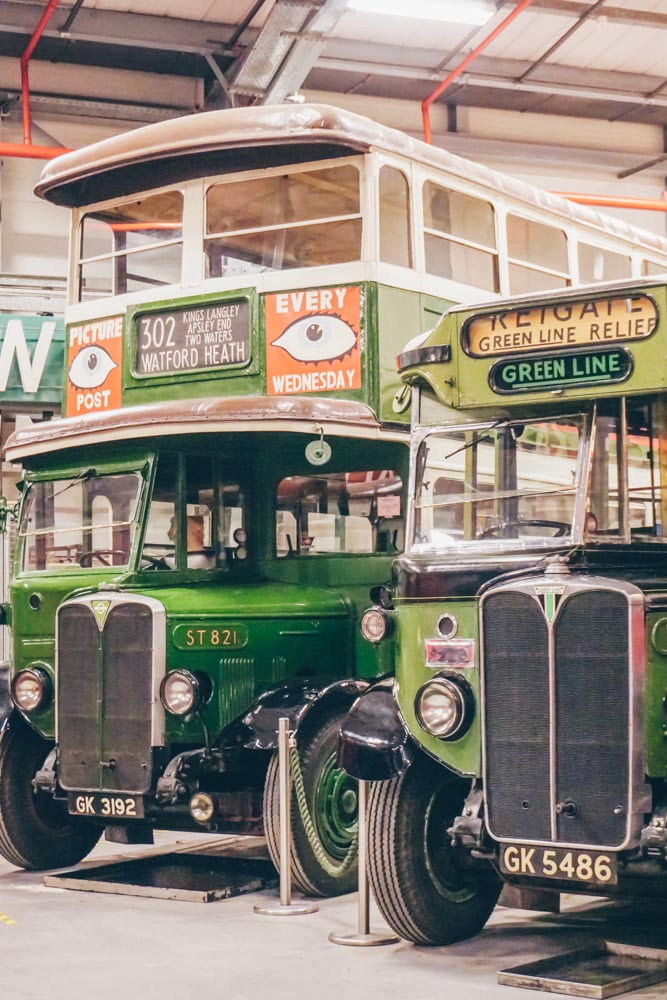 It might sound like an unusual choice for a museum, but the London Transport Museum is totally fascinating. It's got an interesting collection related to transport in the city, with a few hands-on exhibits that are great fun. If you have the opportunity, you should also book in for their After Dark series where you get to adventure around the museum after hours.
You can book your ticket in advance online.
London Dungeon
Learn about the dark underbelly of London at the London Dungeon – the city's spookiest attraction.
Part live performance, part museum and part theme park, it's a fun-filled way to learn about the darker side of London's history.
Buy your tickets in advance online.
Highgate Cemetery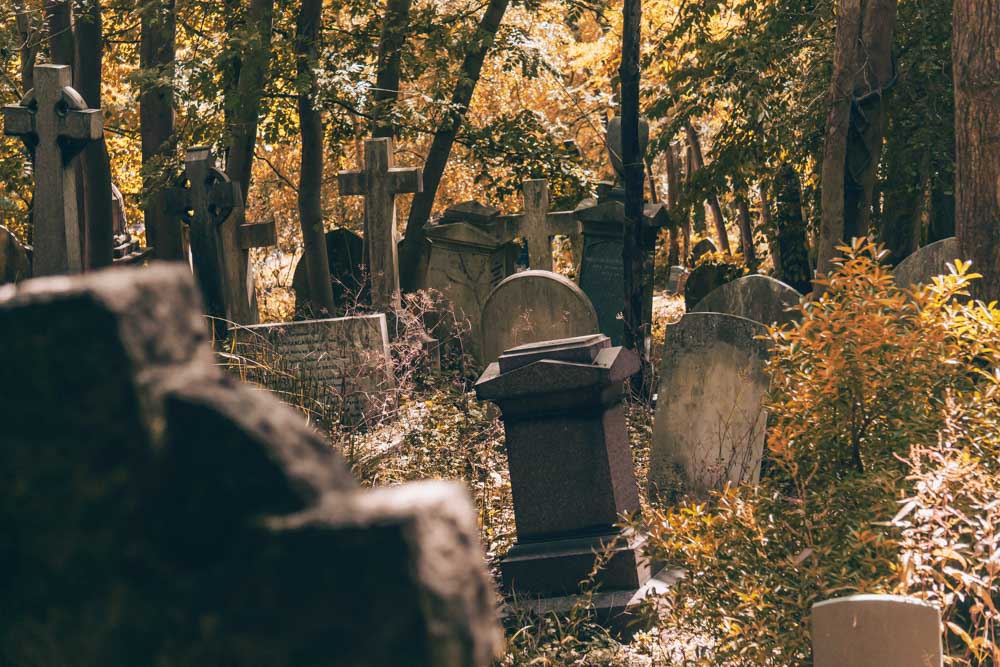 London's most famous cemetery in Highgate is the resting place for some 170,000 – most notably, Karl Marx, although there are many other famous figures. It's a peaceful and beautiful place.
The cemetery is privately owned and operated. Entrance to the East Cemetery (home of Karl Marx) is by guided tour only, but you can do a self-guided tour of the West Cemetery.
It's best to buy your tickets in advance.
Westminster Abbey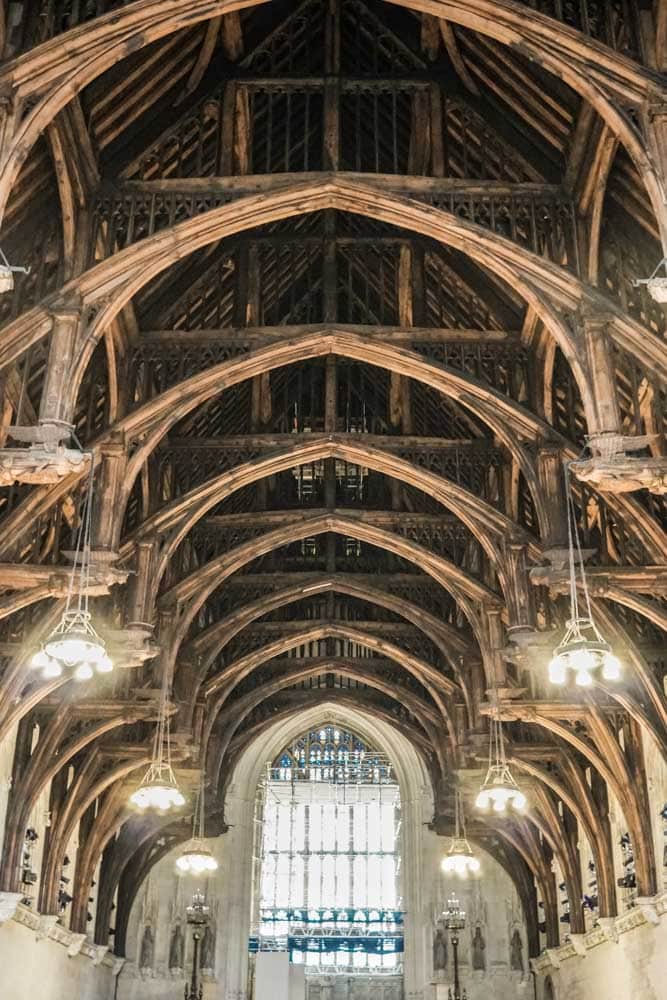 London's most famous and beautiful church is a definite must-see in the city. Rebuilt in the 13th century (but with a history that goes back even further), it is now on the UNESCO World Heritage List.
To visit as a tourist you'll need to buy a ticket either online or at the abbey, but you can enter free as a worshipper. Doing a tour is worthwhile to find out more about the history of the Abbey.
Sightseeing in London for Free
Trafalgar Square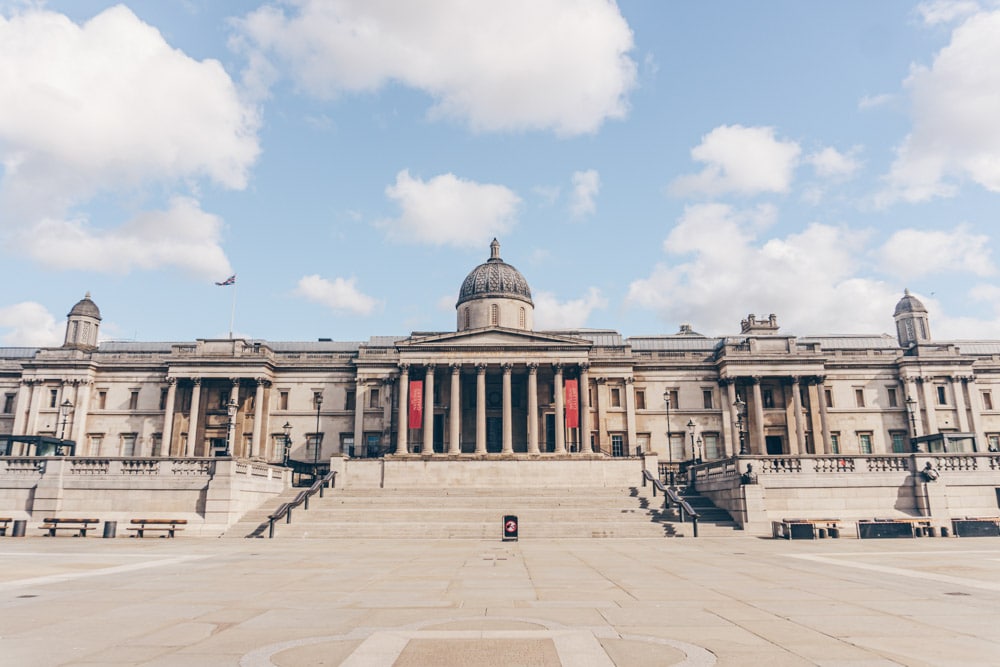 Named in the 1830s to commemorate the famous Battle of Trafalgar, Trafalgar Square is one of central London's most bustling squares.
Be sure to check out the statues (including the ever-changing fourth plinth) and the world's smallest police station.
Covent Garden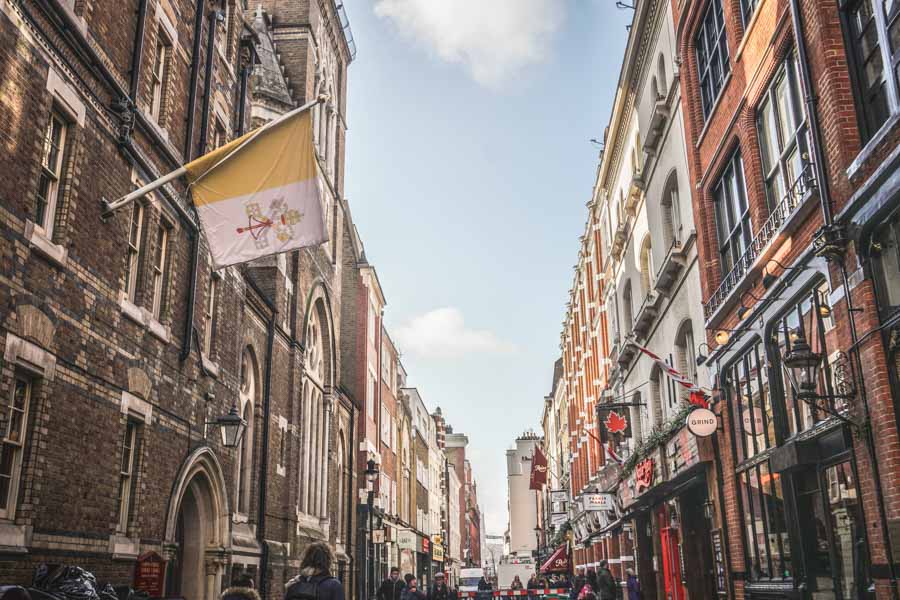 There aren't many London attractions loved as much as Covent Garden. It really does have something for everyone – think great restaurants, luxury boutiques and charming bars.
Then, of course, there are the many West End theatre companies. Definitely try to catch a show if you can!
Buckingham Palace + The Changing of the Guard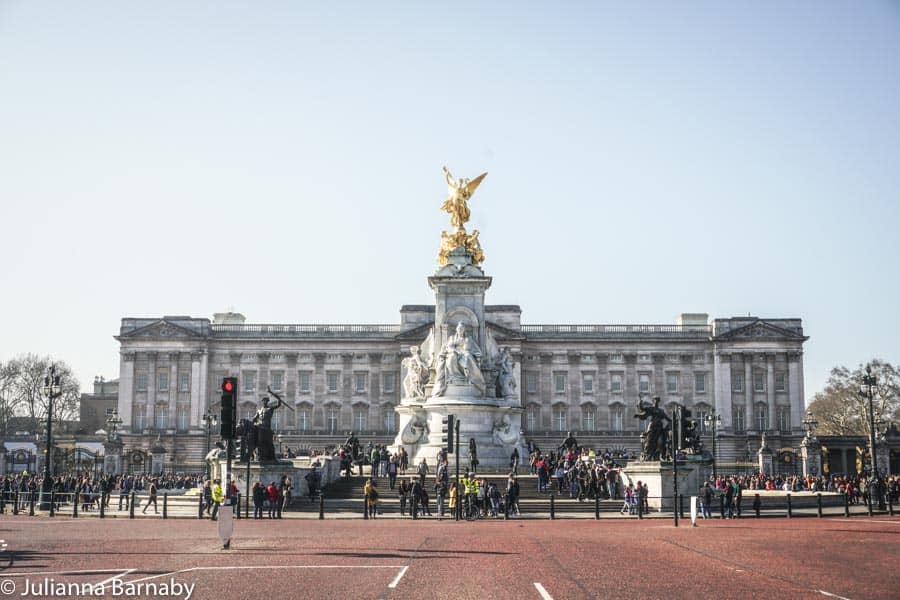 Pay a visit to Buckingham Palace, perhaps the world's most famous residence. If you're lucky, you might even spy a royal.
It's well worth coinciding your visit with the pomp of The Changing of the Guard ceremony. It starts at around 10.45am, but it's a good idea to arrive early to get the best spot.
Houses of Parliament and Big Ben
Tour the imposing Houses of Parliament, stopping in at where anarchist Guy Fawkes was tried for his attempts to blow up the parliament some 400 years ago.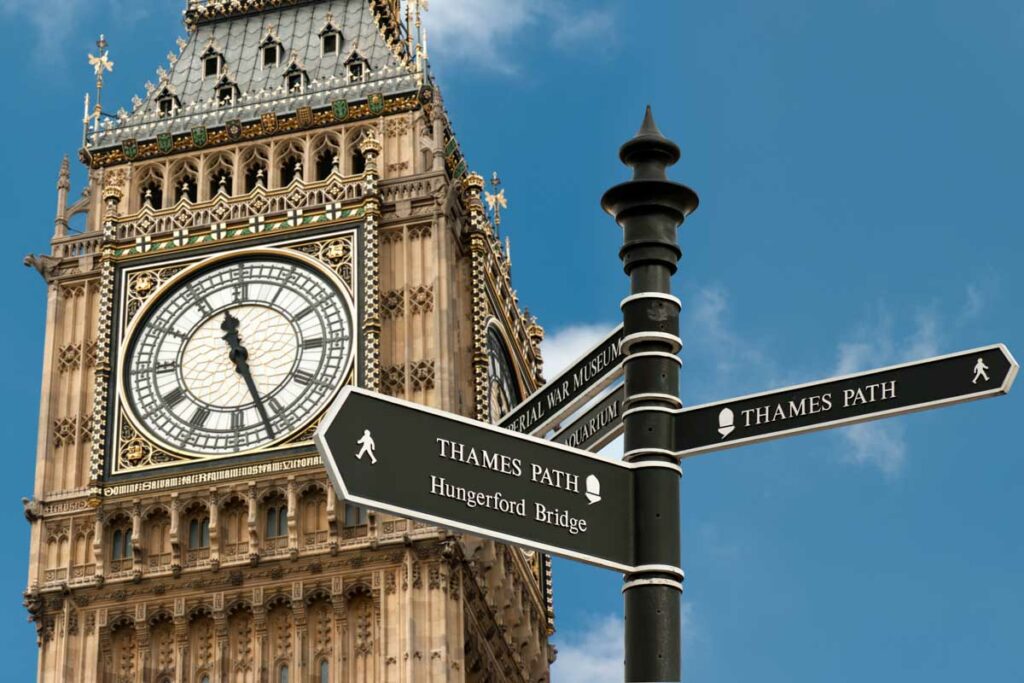 You'll find another of the most famous places in London attached to the Houses of Parliament… Big Ben – perhaps the world's most famous clock, and an essential stop on your London sightseeing tour!
Piccadilly Circus and Leicester Square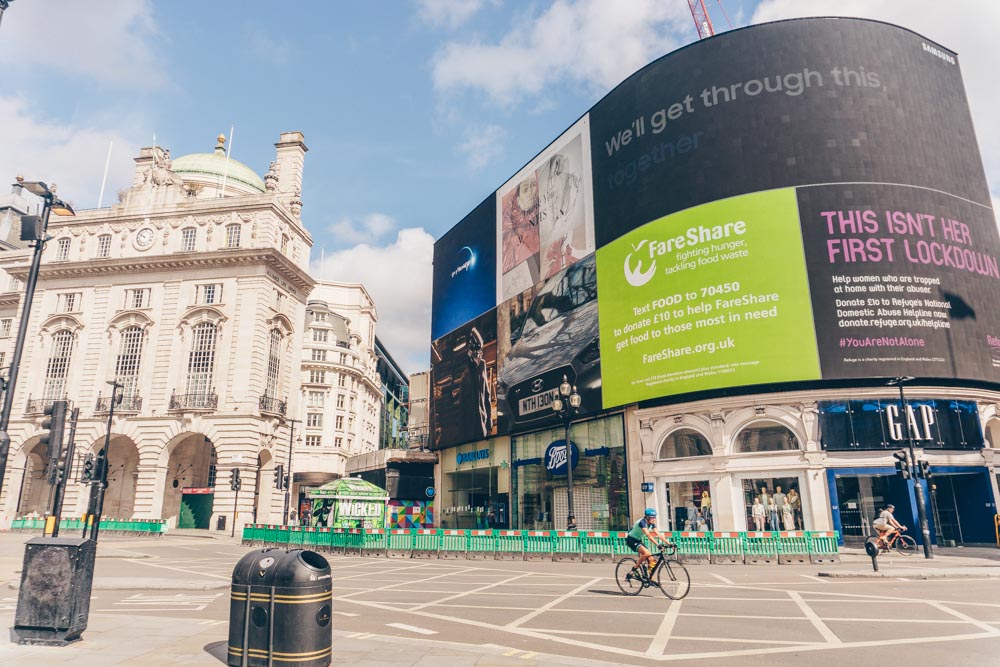 Explore one of London's best known areas, the crazy city hub of Piccadilly Circus and Leicester Square.
Here, you'll find many great restaurants and attractions – and you might even spot some A-Listers attending a movie premier at Leicester Square.
Museum Mile – Natural History Museum, Science Museum and Victoria & Albert Museum
Tick off three of London's tourist attractions on Kensington's world-famous museum mile.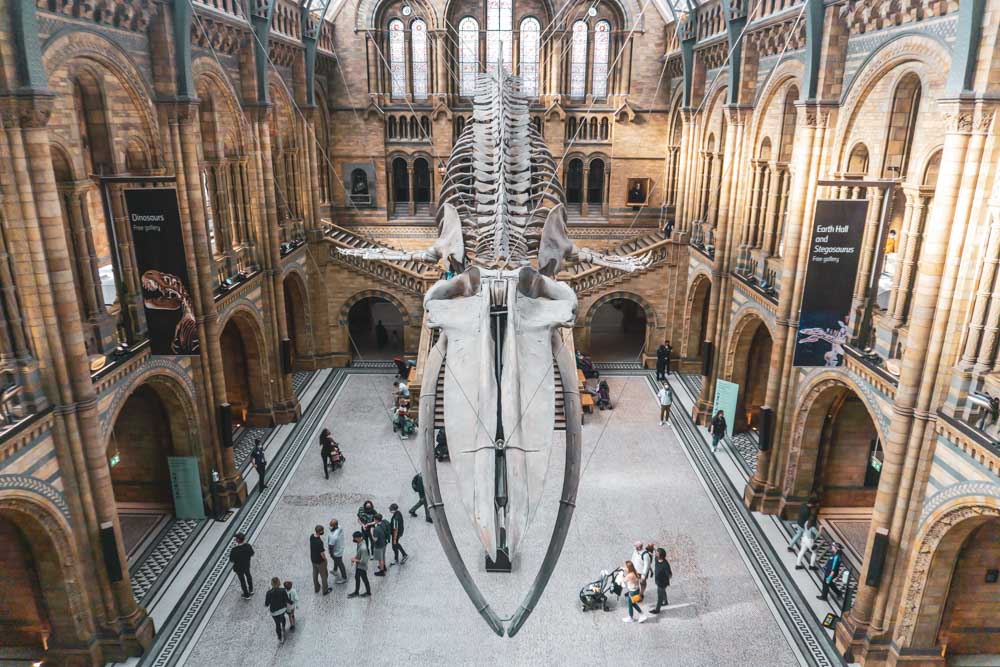 You'll certainly learn something at all of them, with the Natural History Museum and Science Museum focused on – you guessed it – science, while the Victoria & Albert Museum revolves around art and design.
Best of all, like many of London's museums – they're completely free! Perfect for free sightseeing in London.
Read Next: Cool Museums in London That You Can Visit for Free
National Gallery & National Portrait Gallery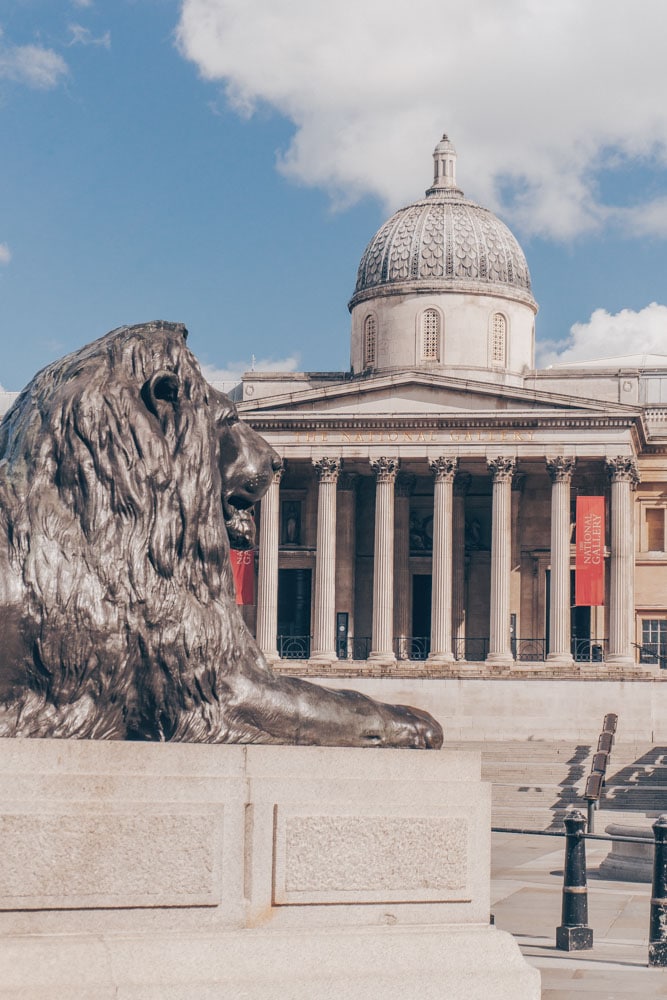 London has long been amongst the world's great cities, so it's fitting it has a number of the art world's greatest masterpieces on show. Several of these, such as Van Gogh's Sunflowers, are on show at the National Gallery.
Then, stop by to check out the famous faces at the National Portrait Gallery.
Sky Garden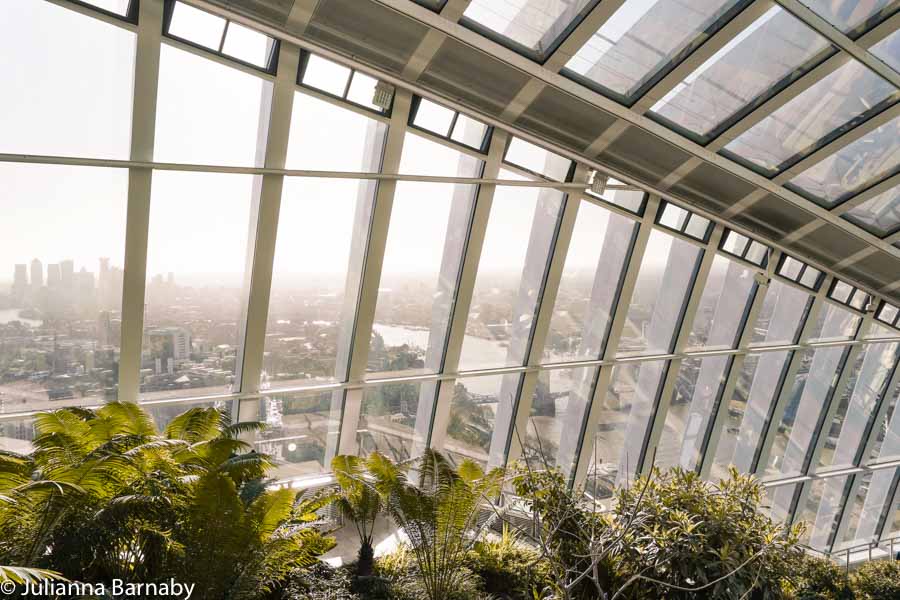 Sky Garden sits at the top of the Walkie Talkie building and is, IOHO, one of the best places to see London from above. What's more? It's completely FREE.
The gardens are located on the 31st to 34th floor, offering 360 views of London and its biggest landmarks.
Tate Modern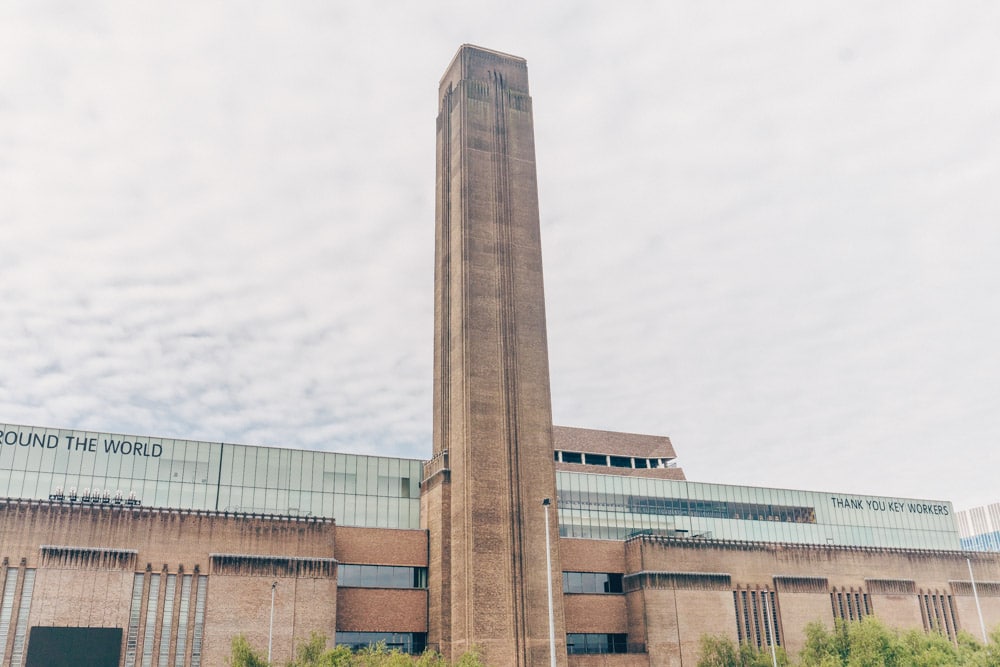 London's Tate Modern is a must for any art lover – it houses possibly the world's most impressive collection of modern art.
The collection is expansive, so it's a great idea to get a tour of the highlights. You can book tickets or guided tours at the Tate website.
The Southbank
The South Bank is a bustling riverside area filled with great restaurants, cafes and bars, as well as some of the city's best theatre venues.
It's free to walk around, but you might like to book a ticket to a show at either the Southbank Centre or the National Theatre.
British Museum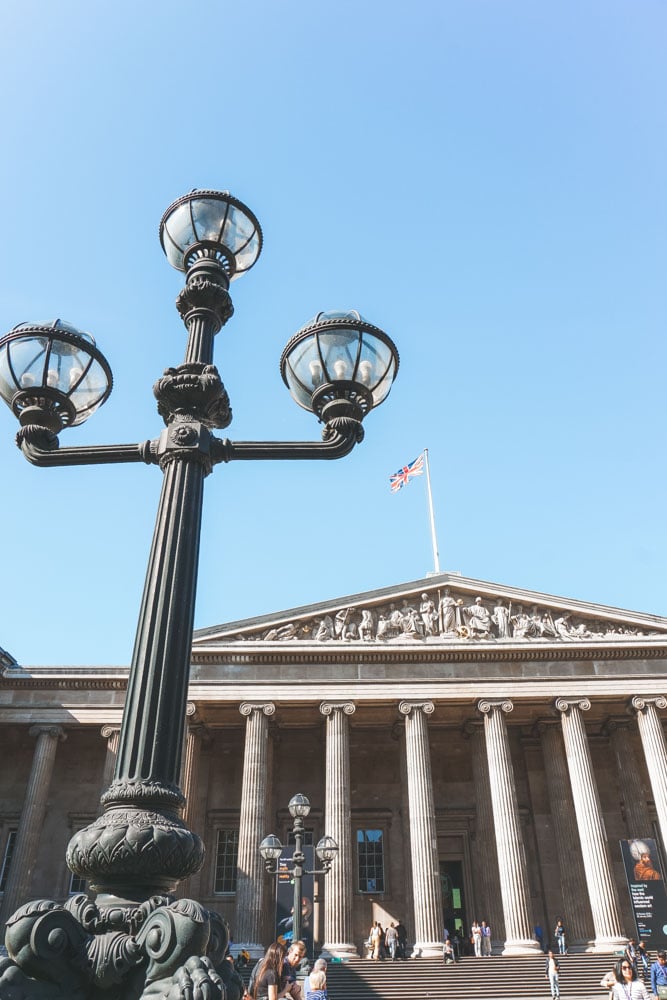 Museums don't come much more impressive than the expansive British Museum. Its dazzling collection hosts artefacts from the world's greatest civilisations such as the Ancient Egyptians and Ancient Greeks.
Entrance to the museum itself is free, but you may like to take a guided tour to help bring the huge collection to life.
Borough Market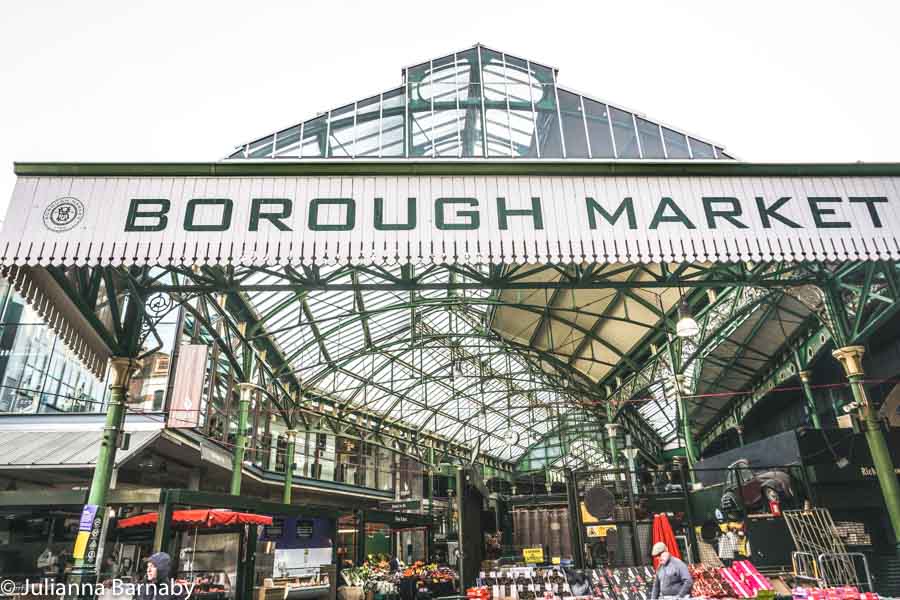 Borough Market, aka foodie heaven, is an absolute must and one of our favourite famous places in London. It's famed for being one of the best places to find street food in London – deservedly so.
Here you'll find a dazzling variety of fresh produce as well as smallgoods and other delicacies. It's free to visit, but you might like to take a foodie tour like this one so you don't miss any of the best bits.
The Barbican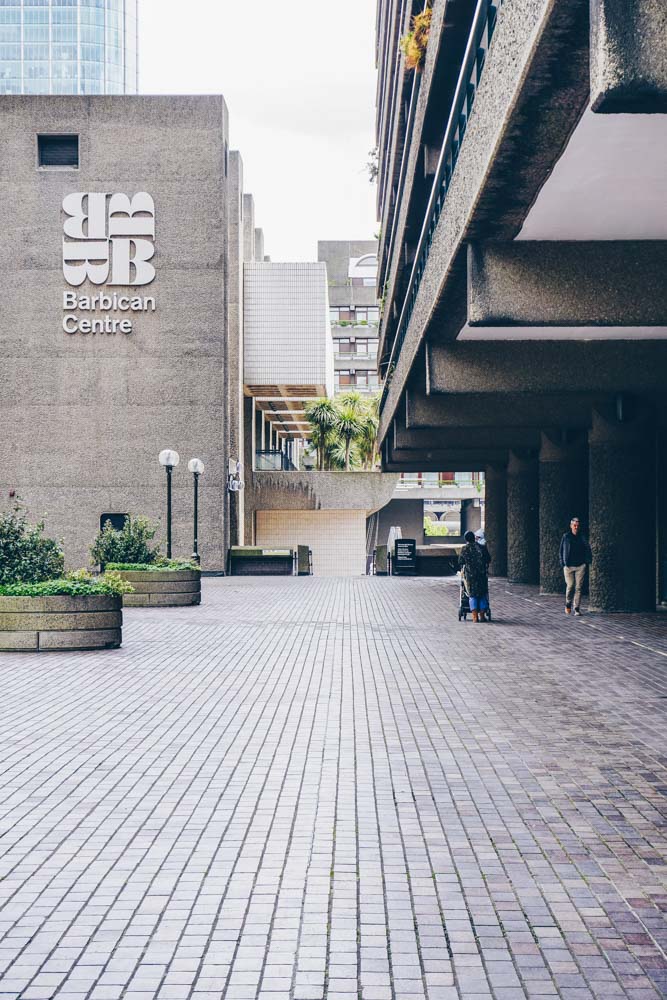 It may not be London's prettiest building (though personally, that's up for debate – we happen to think it looks awesome) but it's one of the largest and best arts and creative hubs in Europe.
Here, you'll find a selection of galleries, a theatre and a library. There's even a beautiful conservatory, although it's only open on selected Sundays.
Horse Guards Parade
Everyone knows about the Changing of the Guard at Buckingham Palace, but the Horse Guards Parade at Saint James' Park is also a historic and fascinating sight.
The horse guards are stationed most of the day, and there is the changeover parade at 11am every day except Sundays, when it is at 10am.
Hyde Park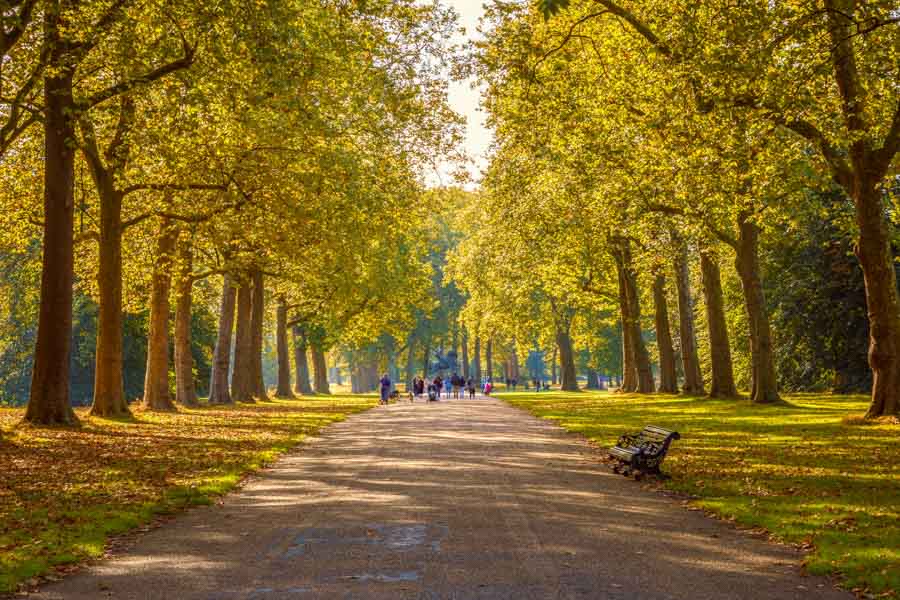 Sprawling Hyde Park offers both entertainment and relaxation, making it a definite must-see on any London sightseeing map. There's lots of beautiful green space, but it also plays host to some of the world's best concerts and live performances.
Entry to the park is free, but you'll have to cough up some pounds for most live events.
Somerset House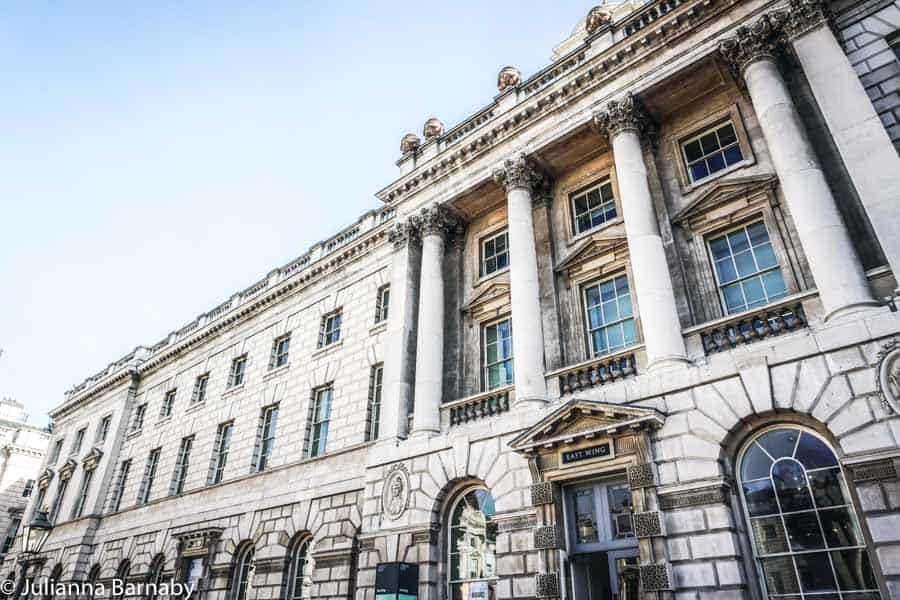 Somerset House is an incredibly beautiful Georgian building standing on the edge of the Thames. Originally built as an aristocratic private residence, it is today open to the public and features many exhibitions, events and restaurants.
It's generally free to enter but certain events and exhibitions may have a charge. Check online and purchase your tickets if needed.
St James's Park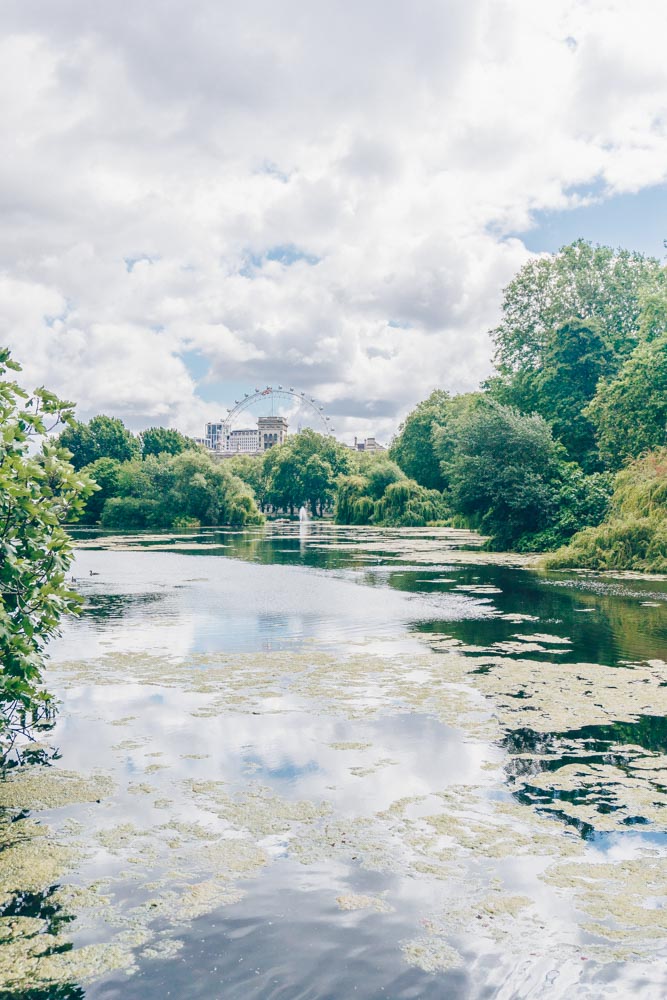 Another royal park that's often used in royal ceremonies (including the Trooping of the Colour), St James's Park is a gorgeous green oasis.
It's especially beautiful in spring, when there are many amazing blooms. There are even pelicans, whose ancestors were gifted to the monarchy centuries ago.
Entry to the park is free, however there are some paid events that do require tickets, including guided tours of the garden.
Sightseeing London: Tips For Making the Most of Your Trip
Sightseeing Passes
Sightseeing passes can be a great way to save money if you're planning to visit a number of London attractions.
London Explorer Pass
The London Explorer Pass is a London sightseeing pass that gives you access to 3, 4, 5 or 7 of London's most famous attractions.
We like this pass because you don't need to choose what attractions you want to see at the time of purchase.
You simply select how many "credits" you want to load it up with, and then use it as you wish. You have up to 30 days to use them.
The list of participating attractions is really good, and includes most big names like the Tower Bridge Exhibition, the London Eye, SEA Life and the London Dungeon. Depending on what attractions you choose, you can save up to 35% on the admission price.
Of course, how much you'll save depends a little on what attractions you choose. We'd advise using the pass for the most expensive London attractions, as that's where you're likely to see the most value.
Overall, this pass is a great option if you're not planning on seeing heaps of attractions. Those hoping to tick off lots of sites in London might find it a little too restrictive.
The London Pass
The London Pass is a fab pass that allows you free entry into over 80 great attractions, including the big names like the View from the Shard and the London Eye.
The added bonus of this card is that it also comes with transport credit and a hop-on-hop-off bus tour. So, it's definitely a very comprehensive pass that's ideal for those who want to see as much as possible in London.
You even get a guidebook, which is a great keepsake.
You can choose a duration between 1 and 10 days for the card, which runs consecutively from the first day you use it. It presents better value the longer you are planning on staying in London; for example, a 5 day pass is less than twice the price of a 1 day pass.
If you have a few days in London and you're hoping to squeeze a lot in, this is a great option. Note that you'll probably want to get up early to make the most of it.
Alternatively, the Go City Explorer Pass allows you to bundle London landmarks together in order to score some mega savings. You can choose between 2-7 choices and it saves you from buying several attraction tickets.
Transport
Getting around London can seem a little overwhelming at first if you're not used to it – but don't worry, you'll soon be navigating the Tube like a real Londoner.
The Tube is the most efficient way to get around to inner city locations. It's quick and reliable, and there's no chance of getting stuck in any nightmare-ish London traffic.
There are also public buses (yep, including red double deckers). They can be a little bit slower but are a good alternative and allow you to take in some views.
For reaching sights a little further outside central London, there is the overground train network.
If you're not using a sightseeing pass you can just tap in and out of public transport with any contactless card or through Apple Pay.
If you want to throw your budget to the wind, then there's also your traditional Black Cabs. They do tend to be quite expensive and prone to getting stuck in traffic, but it is a quintessentially London experience. Uber works, too.
London Sightseeing Tours: Tours on Foot
There are many great walking tours that will make sightseeing in London a breeze.
London: Top 30 Sights and Tower of London
Get ready to strap on your walking shoes as this tour covers a lot of ground in just one day. If you want a comprehensive walking tour around London, then this is a great option.
On this London: Top 30 Sights tour, you'll enjoy London icons like the Changing of the Guard at Buckingham Palace, the London Eye and the Globe Theatre.
Entrance to the Tower of London is also included in the price.
London Private Welcome Tour
Get acquainted with London by spotting the most famous attractions, and meeting a local Londoner.
As this London Private Welcome Tour is a private walking tour, your guide can help tailor the itinerary to your interests and timeframe.
London Sherlock Holmes Tour
Want to see a different side of London? If so, this Sherlock Holmes tour is great fun.
It takes in many of the sights and spots that inspired Sir Arthur Conan Doyle to create the world's most famous detective.
It will also go past many of the backdrops for Benedict Cumberbatch's modern portrayal in the BBC's Sherlock.
Definitely a fun way to enjoy a different take on London. Other popular themed tours include Harry Potter walking tours and Jack the Ripper tours.
London Impressionist Tour
If you're after something a little bit different, book an arty impressionist tour and explore the spots that inspired the likes of Monet and J.M.W. Turner.
Learn about those who played a key role in the movement, including about their life and the techniques that were so revolutionary at the time. This tour begins at the Thames Path and takes you towards Westminster and Charing Cross.
You'll end the tour with a visit to the National Gallery, where you can admire Impressionism in the flesh.
London Sightseeing: Bus Tours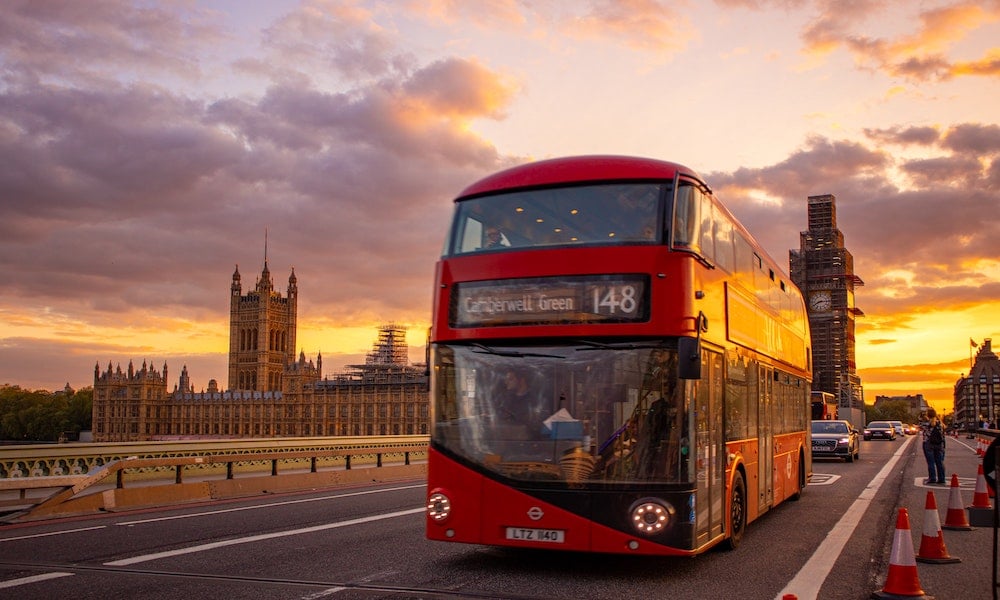 Another great option for exploring the city is taking a London sightseeing bus. There are a few available, depending on your interests.
The Original Hop-On, Hop-Off Bus Tour
You know the drill – hop aboard this brightly coloured bus for a fun-filled adventure dropping by London's most famous attractions.
Hit all the highlights at your own pace, spending as much or as little time as you want at each one.
With this Original Hop On Hop Off bus tour, you can pick from 24 or 72 hours, depending on how long you have in the capital.
London by Night 90 Minute Bus Tour
See a different side of London once the sun sets on this London by Night bus tour. Over an hour and a half, you'll travel around the city taking in the best after dark sights like Big Ben, the London Eye and Harrod's.
Your professional guide will give you some interesting tidbits about the history of the city, making this a fun and informative tour.
Public Bus
On a budget or not a fan of organised tours? No problems – the public bus is a great alternative. All you'll need is an idea of where you want to go and what you want to see, and you're good to go.
The best routes for sightseeing include:
No 11, which will take you past St Paul's Cathedral, Westminster Abbey and the Houses of Parliament. It starts at Liverpool Street and ends at Victoria Station.
No 9, which takes in sights including Trafalgar Square, the Royal Albert Hall and St James's Square. It travels from Kensington to Covent Garden.
RV1, which travels the picturesque route between Tower Bridge and London Bridge, taking in beautiful views along the way.
London Sightseeing: Boat Tours
Another brilliant way to spot all the London attractions is on a boat tour. Put your feet up and relax whilst the captain navigates the water, giving you an interesting commentary.
You've got plenty to choose from in the capital – from cruises along the Thames to spooky evening rides.
Walking
Another option for exploring London Town is simply to make up your own itinerary and head out for a walk.
There are so many hidden gems in the city, that simply getting lost down the maze of streets and alleys is a fine way to spend an afternoon.
What to Pack For a London Trip
When deciding what to pack for your London sightseeing trip, you'll want to think about the weather. Things in London can be a bit, er, unpredictable – so you'll want to bring a warm jacket and a brolly (that's an umbrella).
We recommend picking some comfy, flat shoes for those cobbled streets – although if you're brave enough to join the brave souls who tackle the city in heels, more power to you!
A camera, of course, is non-negotiable to capture all those views of those famous London tourist attractions.