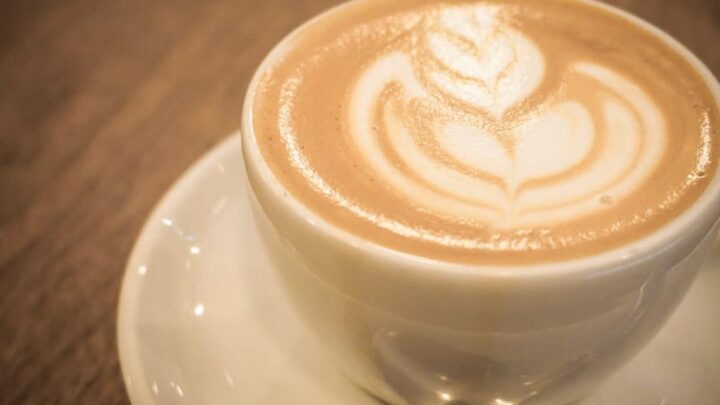 Is Soho where London's coffee revolution started? Soho's coffee shops have been leading the way for years when it comes to serving up delicious brews. Don't miss the best coffee shops in Soho for your next caffeine fix.
Soho boasts some of London's leading gastronomic spots – so it should come as no surprise that it also has some pretty fabulous cafes serving rather tasty coffee (read: some of the best coffee you can find in London full stop).
But for every brilliant Soho coffee house, there's a cafe waiting to serve you a cup of undrinkable brown water. It's all about knowing where to go and where to skip…
Looking for the best coffee shops in Soho? We've got you covered.
Best Cafes & Coffee Shops in Soho
Flat White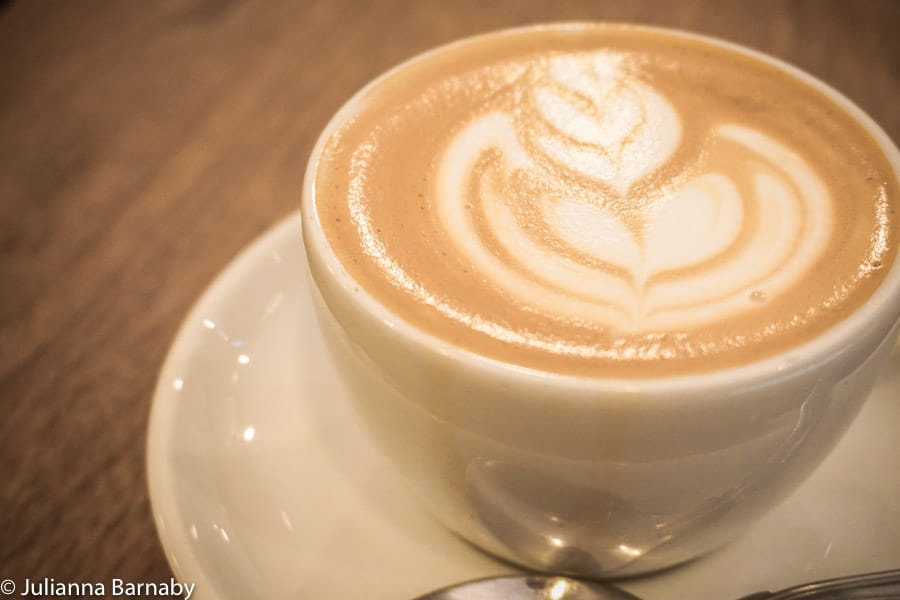 Australians and New Zealanders tend to be a pretty friendly bunch. Just don't ask them who invented the flat white because it may end in a diplomatic incident.
Both countries lay claim to the coffee drink, with New Zealand sure it originated on their shores back in 1984 while Aussies say it began in the Land Down Under in 1989.
The rather brilliant Soho cafe 'Flat White' wisely thanks both Australia and New Zealand for inspiring the ethos behind their fabulous coffee shop. Its unabashedly "Antipodean" inspired, from its namesake coffee to its avocado-centric breakfast menu that's on all day.
You've got to try the delicious 'Smashed Avo' – an Australian favourite that Londoners have warmly embraced (we recommend spicing it up with some feta and chilli for a morning wake up call).
In the decade since Flat White opened its doors, the coffee after which it's named has gone from an unusual import to a UK staple. However, this Berwick Street icon is the original – and one of the best.
As a result, it's become a bit of a hub for Aussie expats as well as local Londoners.
Algerian Coffee Stores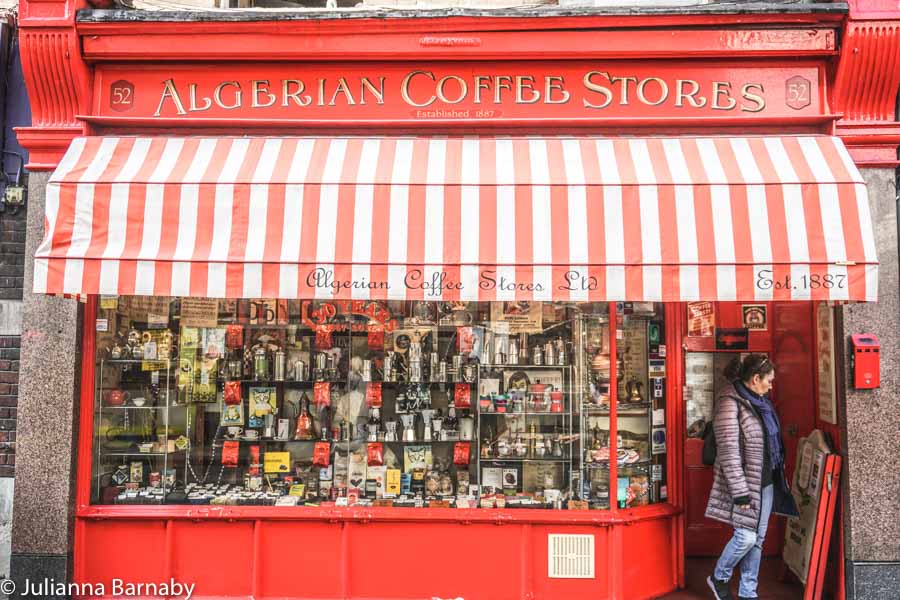 Many Soho coffee shops have come and gone, but for well over a century, charming Algerian Coffee Stores has been supplying Londoners with their caffeine fix.
Yep, when this iconic red Soho coffee house first opened its doors, Queen Victoria was in power. While Soho has changed in that time, this cafe has remained largely the same.
In fact, you may just do a double-take when you look at the prices. Surrounded by pricey cafes separating you from your pounds, Algerian Coffee Stores charges just £1 for espresso. Yes. £1. In London. In 2019. More remarkably, a latte will only set you back an extra 20p.
There are so many quirky little touches that make this a contender for the best coffee shop in Soho. We particularly love the over-enthusiastic sign: "No seating – No inflated prices – Just a caffeine shot !!!!"
Nothing says 'caffeine high' like four exclamation points.
The main emphasis is on selling coffee by the bean not by the mug, and there are more than eighty varieties sourced from all over the world. This is Britain, of course, so there's also an impressive 120 varieties of tea as well.
Read Next: The Soho Guide: What to Do + See
Bar Italia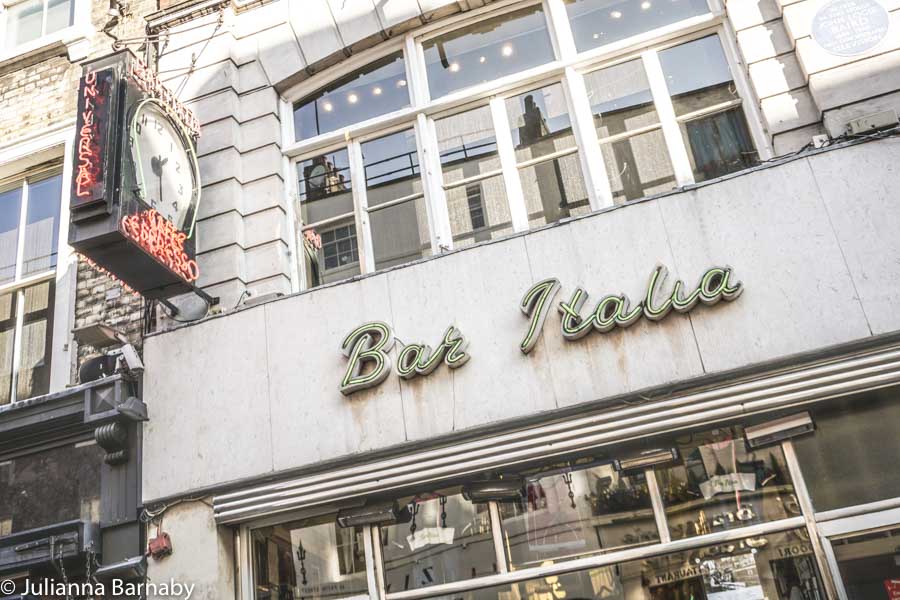 What started as a meeting point for Italian expats in the late 1940s has today grown into one of the borough's most beloved institutions – and certainly one of the best cafes in Soho, London.
Bar Italia opened in 1949 by the Polledri family. They poured their passion for their homeland, the Soho community and, of course, delicious coffee into their business; even hand laying the distinctive floor that's survived to this day.
What started as a hub for the large Italian community in the area, has grown to become a quintessential part of Soho. Everyone is welcome to enjoy a delicious coffee and add their invisible footprint on the famous flooring.
Since every coffee enthusiast (and bar hopper) knows it's a drink that can be enjoyed after midnight, Bar Italia is open late – until 5am, before reopening at 7am to do it all again. So, if you need a late-night espresso to perk you up before you get on the tube, Bar Italia is your go-to.
No matter how many cocktails you've enjoyed at Soho's brilliant bars, you can't miss Bar Italia. Just look for the line of colourful Italian flags.
It's particularly unmissable if Italy is featuring in an important football game – then you can expect the footpath to overflow with exuberant fans. It's great fun to get caught up the exuberance – you'll be singing Il Canto degli Italiani (the Italian anthem) in no time!
Rapha Cycle Club London
Cycling fever has long gripped the capital, as two wheels became the preferred way to get between the best cafes in Soho.
For a cycling-friendly coffee haunt, it doesn't get much better than the Rapha Cycle Club London. Part bike store and part cafe, it's made for cyclists by cyclists.
Although the coffee is delicious, the cafe serves more as a meeting point for cycling enthusiasts to share their passion for all things bike-related. You can admire the latest gear releases while you wait for your caffeine pick-me-up to brew.
The concept started in Soho in 2012 but soon spread all over the world. "Chapters" of the club can be found as far away as Melbourne and Osaka. Given how quickly this chain of coffee shops has spread, they must be doing something right!
To me, it's undeniably charming to be a part of something that brings people from all over the world together over a shared interest.
If you're not a cycling enthusiast, don't worry – you'll still be welcomed by the friendly staff, and might even leave with a new hobby.
Department of Coffee and Social Affairs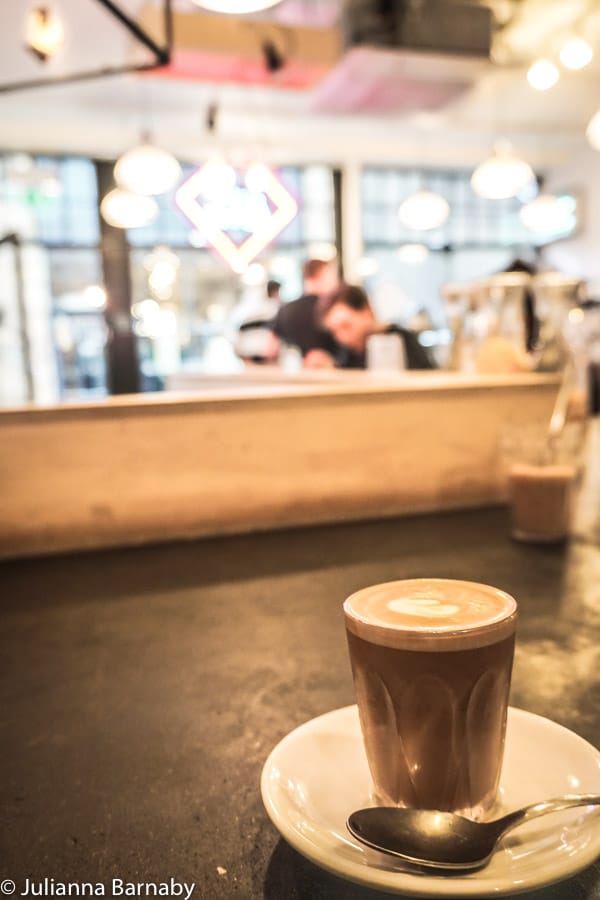 Although the Department of Coffee and Social Affairs has almost expanded to the point where it could be considered a "chain" (there are 5 and counting), there's no cookie-cutter approach here.
Each of their coffee shops is unique, drawing on inspiration from the nearby community. It's no wonder, then, that the Soho offering has its fair share of quirky charm.
It serves up some of the best coffee in Soho, with an emphasis on consistently brilliant quality. It even runs regular events so you can learn to brew your own cafe-quality coffee at home.
Classes help you to learn more about the subtleties of tasting coffee, so you'll be making amazing brews in no time.
No matter how good you get with your own machine, chances are you'll still want to drop by this friendly coffee shop.
As well as the delicious coffee, the Department of Coffee and Social Affairs also has a tempting menu of sweet treats including cakes and croissants. It's perfect for a little bit of indulgence with your afternoon cuppa!
Read Next: Finding the Best Coffee in Covent Garden
Triple Two Coffee
Tucked away on Wardour Street, Triple Two Coffee's adorable wood-panelled decor offers the perfect retreat away from the buzzy Soho streets.
Triple Two's house blend is stellar, combining light and medium roasted coffee beans from four continents – which is great for fussy coffee drinkers who want a blend to be just right. And if you're in any doubt on what to order, the friendly baristas are more than happy to give you the rundown.
While the coffee is the real winner here, the eclectic food menu is not to be sniffed at either – if in doubt, order focaccia or a toastie and you'll be in carb heaven.
Grind Soho
Since its birth in Shoreditch ten years ago, Grind has quickly become a cult classic in the capital – though the Soho location just so happens to be hiding a lovely cocktail bar underneath (and it's our favourite).
If you can't make it to Grind IRL, you can order their delicious – and sustainable – coffee straight to your door. Although, we recommend heading straight to one of their espresso bars for a hit of caffeine in a gorgeous pink location.
The iced coffee is excellent (if you can brave it in the typical British weather), as is their classic filter. Not too bitter, but with the perfect amount of bite.
Hideaway Coffee
As you might have guessed by its name, Hideaway Coffee can be a little bit tricky to find – though, you'll be rewarded endlessly for your troubles.
If you're in doubt, head down Smith's Court (just off Great Windmill Street) and follow the alley around until you find yourself in Farrier's Passage – from here it's a doddle to spot.
Seating is very limited, but the coffee is so good it's worth getting a takeaway cup (or bringing your own, we love helping the environment).
Opt for the espresso, even if you usually wouldn't, as the coffee is from Brazil and has a uniquely mild taste – delivering the perfect dose of energy without the headiness.
Söderberg
Swedish cafes are having a bit of a moment in London, though Söderberg's little corner of Hygge (alright, that word is Danish – we know) tops them all.
Ordering a cinnamon bun is, of course, non-negotiable – however, what's their coffee like? Answer: Outstanding.
Head there for a post-work Fika and indulge in a cup of their finest Scandi-style coffee.
Tintico
Go to Tintico for their coffee, but stay for the wonderful atmosphere.
All too often, cafes can lack personality, but that cannot be said for this vibrant Soho coffee shop. From the eclectic decor to the friendly staff, this feels like a community cafe but with an artisanal coffee twist.
Tintico cares about coffee. A LOT. They only source the finest single-origin coffee from around the world, so expect each cup to taste as refreshing as the last.
Practical Tips for Finding the Best Coffee in Soho
What Time do Coffee Shops Close in London?
Unlike our European counterparts, cafe culture is less of a thing in London. In fact, most coffee shops will close in the early evening, around 6pm or so.
Know your coffee types. While telling an espresso (short black) from a latte might be an easy task, the difference between lattes, cappuccinos and flat whites is more subtle. A very basic overview is that a cappuccino has a lot of milk froth, while a flat white should have none; the milk and espresso are totally mixed together. A latte sits somewhere in the middle, being mostly espresso and milk with just a little bit of froth on top.
Look out for fair trade coffee. Unfortunately, exploitation is rife in the coffee industry where farmers and workers are often ripped off and treated terribly. Money talks, so make sure to support businesses that support people all the way down the supply chain.
If you want to really taste the subtleties of different types of coffee, an espresso is going to be your best bet, as it is when coffee is at its rawest. That said, coffee is about enjoyment, so don't feel bad about ordering your fave, whatever it is.
Tipping is not really expected in most takeaway coffee shops, but it is always appreciated. You'll probably see a tip jar on the counter – do drop in a few coins to say thanks, if you can.
Bring your keep cup, if you have one. Pretty much any coffee shop worth its salt will be happy to fill your refillable mug instead of giving you a takeaway cup that's likely to end up in the landfill. Not only is it good for the environment, but they're usually sturdier, so perfect for bringing on-the-go as you explore the wider sights of Soho. If you're travelling light, you can even find silicone foldable cups that will easily fit into your bag.
Map of the Best Cafes in Soho, London
Looking for more London tips and guides? Check these out…