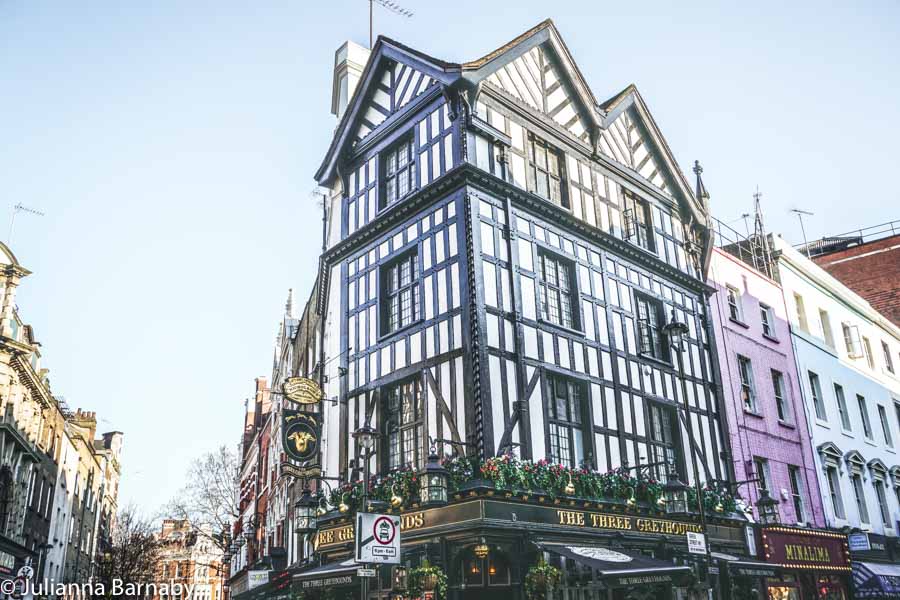 Soho is one of the most vibrant areas in London – known for its lively nightlife and stellar restaurants, there's plenty to keep you entertained both day and night. Looking for the best things to do in Soho? Look no further.
In the past few decades, Soho has transformed itself from a slightly seedy part of London to one of its coolest areas.
This relatively small area punches well above its weight when it comes to many things – whether that's stellar cocktail bars, traditional pubs or fabulous restaurants.
We've always been a huge fan of Soho and have watched with trepidation as each new wave of bars or restaurants bed in, replacing much-loved favourites. No fear, Soho is just as vibrant and exciting as it ever was.
In need of inspiration? Here are the things to do in Soho that you shouldn't miss.
Cool Things to do in Soho During the Day
Far from the busy streets and buzzy atmosphere that takes hold at night, daytime Soho is a much quieter affair.
Book shopping, photography galleries, quirky murals… the best things to do in Soho during the day aren't necessarily what you would expect.
Photographer's Gallery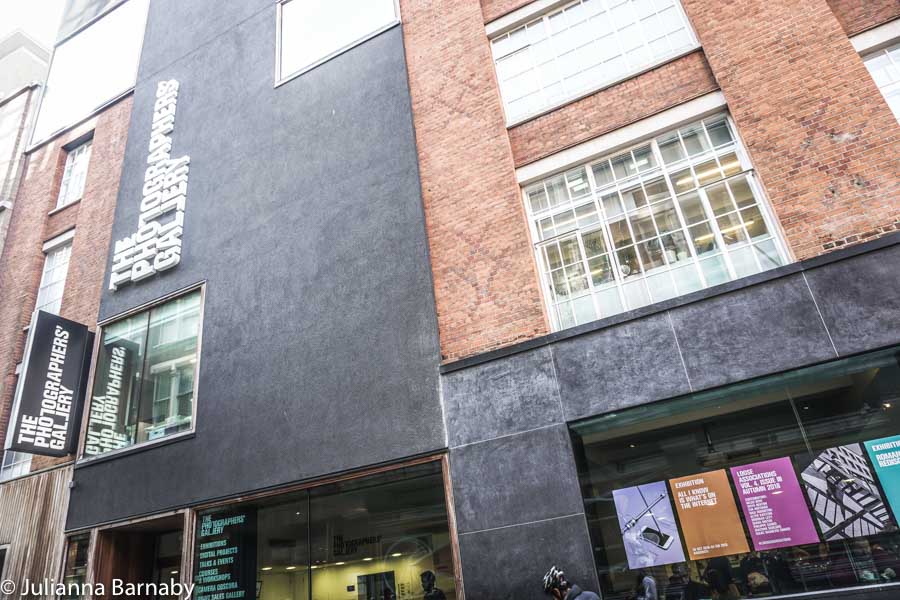 It's hard to believe that gallery-rich London didn't have a dedicated public venue for photography until the Photographer's Gallery opened its doors in 1971.
The gallery proudly worked to increase the profile of photography as an artform, featuring works from local and international photographers. Eventually, it outgrew its building and a huge renovation was undertaken in 2012.
Today, the Photographer's Gallery boasts six storeys devoted to championing photography and its ability to teach, move and entertain. As well as large gallery spaces, there's also a bookstore and a cafe.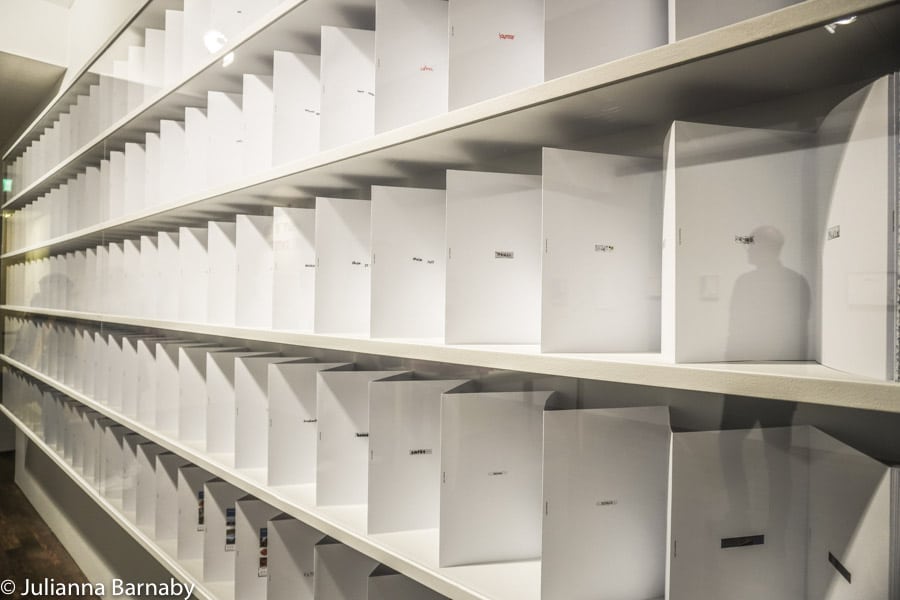 They also run frequent lectures and classes for photography pros and amateurs alike. One highlight of the annual calendar is the Deutsche Bӧrse Photography Foundation prize. It is one of the most prestigious prizes in Europe, and there's always an amazing display of entries.
PS, you'll get free entry on Fridays after 5pm.
Read Next: Things to do in London that are Totally Gratis (Free)
Go Harry Potter Mad in the House of Minalima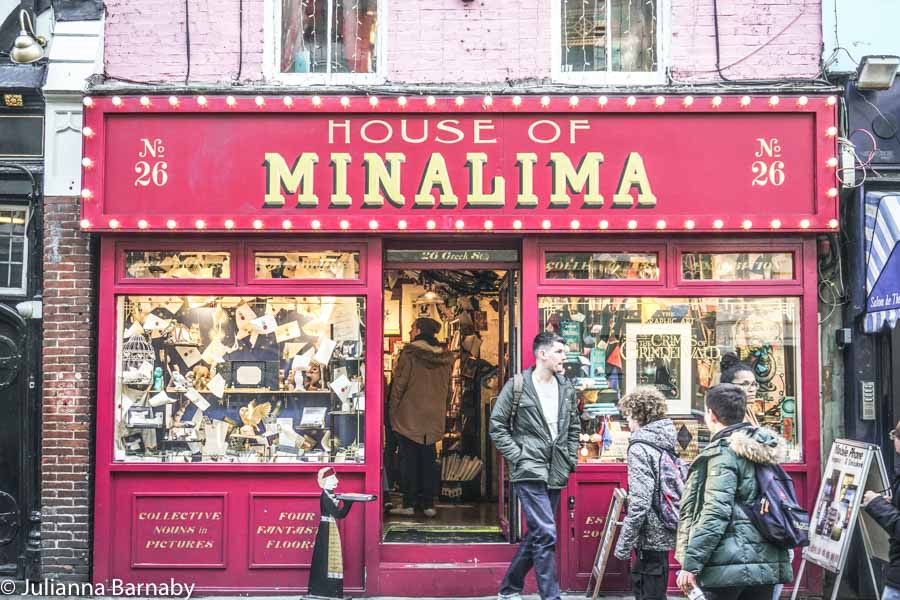 Who doesn't love the wizarding world of Harry Potter?
There are plenty of things on offer in London for the Harry Potter fan, but the House of Minalima should be at the top of your list of places to go in Soho.
Head through the cute pink entryway, and explore three floors of the amazing gallery/shop space. It's simply brimming with amazing graphic art by artists Miraphora Mina and Eduardo Lima (see what they did there!).
While there's all kind of art in the store and gallery, there is a heavy emphasis on Harry Potter and the Fantastic Beasts series – no surprise given the duo's important role in designing the films. There are even a few pieces borrowed from the Warner Bros Studios in Leavesden.
The House of Minamalina is open every day from 12pm – 7pm every day and is one of the best things to do in Soho during the day. The weekends do get really busy, so don't be surprised if you have to queue on Saturdays and Sundays (and sometimes in the week!).
Read More: Visiting The House of Minalima – Soho's Harry Potter Mecca
Notre Dame de France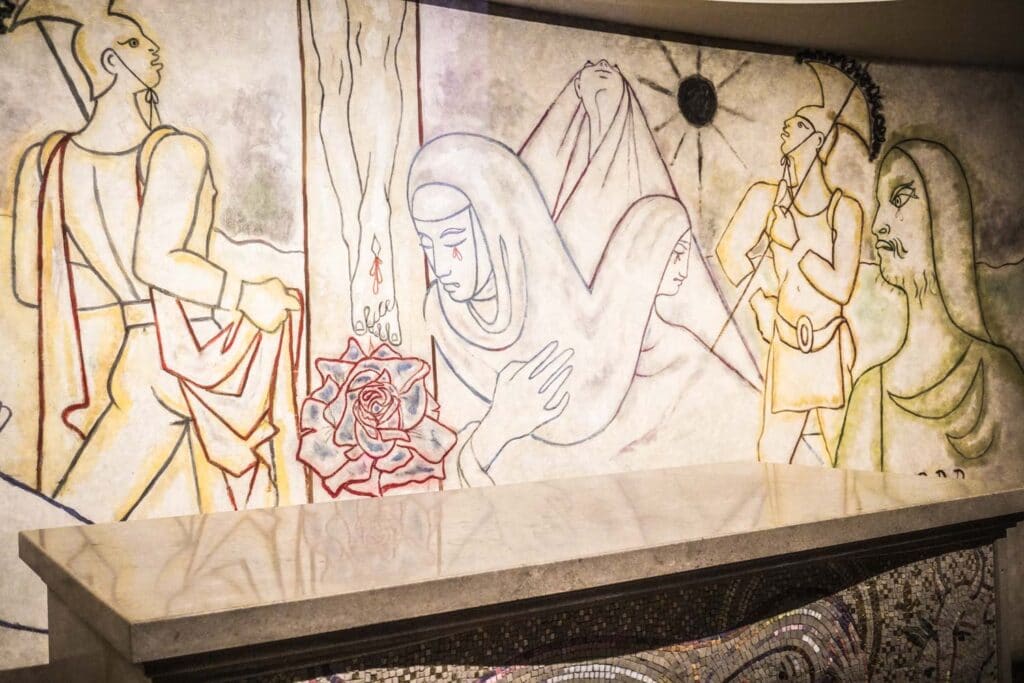 Yes, you read that correctly! Right in the middle of London's Soho district is a distinctly French landmark, the Notre Dame de France.
While it may have borrowed its name from Britain's neighbour across the Channel, the design is very different. In fact, the Notre Dame de France was consecrated in 1868 and, at the time, was the first cast-iron church in London.
But that's not why you should visit. Walk inside the church and you will find one of London's more unusual sights – a series of murals by French artist, writer and film director Jean Cocteau. The beautiful murals are the highlight of the church.
They depict three important scenes from the life of Christ – the Annunciation, the Crucifixion and the Assumption and – all painted in an uncharacteristically bold style. It's not at all what you would expect to find in a church in the middle of London.
Read More: Kooky London: Offbeat Places to Visit
Go Book Shopping in Foyles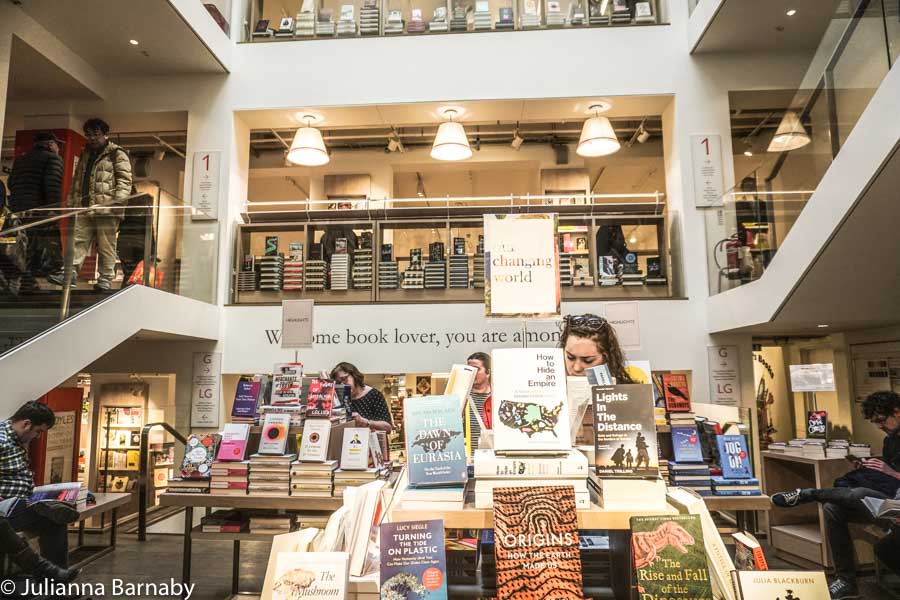 Book lovers – beware. Foyles is dangerous territory.
Not far from the Soho Theatre you'll find the flagship store of the bookseller Foyles. Enter through the iconic red doors and find yourself in a book lover's playground.
For well over 100 years, Foyles has been the bookstore of choice for everyone from humble Soho locals to literary giants.
Thought to be London's first purpose-built bookstore, the Charing Cross Road store has an astonishing 200,000 books spread out along four miles of shelves. It's impossible not to find something you'd love to read at this Soho icon. It even used to hold the Guinness World Record for being the world's biggest bookshop.
Still, books aren't the only things on offer. You'll also find a great cafe, a gallery space and an auditorium that holds various events throughout the year.
Look Out for the Seven Noses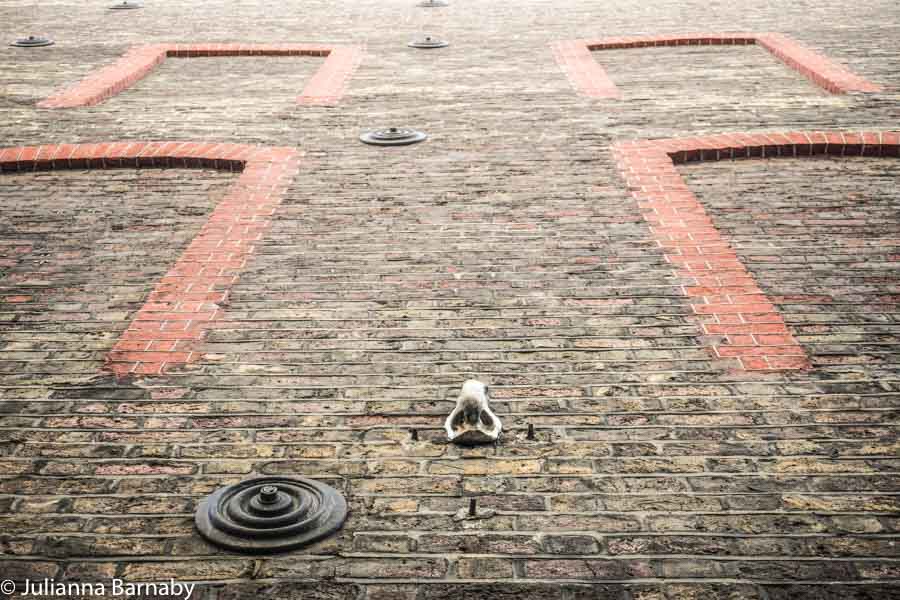 Hunting for noses?
Searching for Soho's seven noses is certainly one of the more unusual things to do in Soho during the day. There are seven of them stuck to the walls around the district – and it's your task to find them all!
The noses mysteriously appeared in the mid-1990s – there used to be many more of the honkers – but some were removed. As word of the mysterious noses spread, so did the theories for how they came to be.
It took more than a decade before artist Rick Buckley came forward and admitted he was behind the noses. He'd created moulds of his own nose and stuck them around Soho, to protest against the increasing number of security cameras being used in surveillance.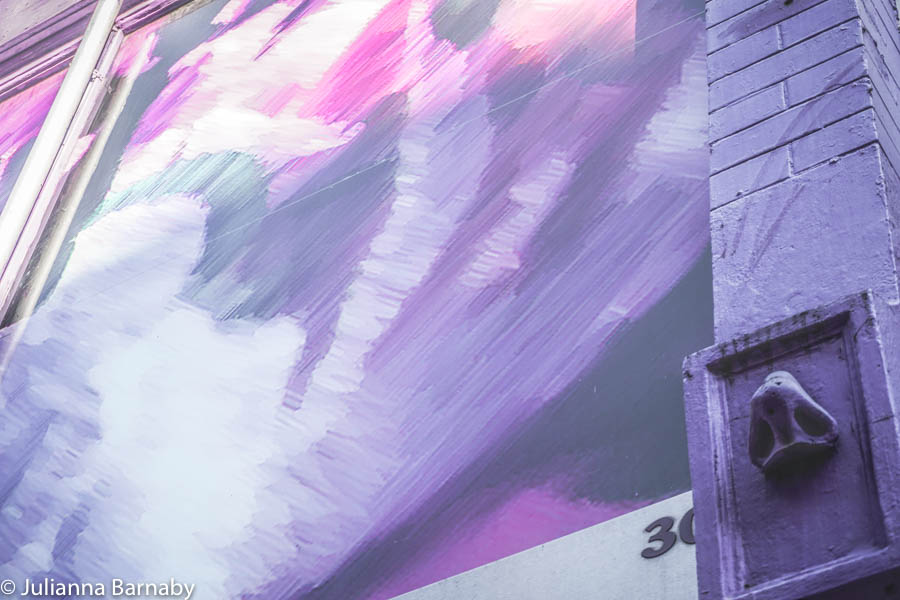 More than twenty years later, only seven of his noses remain, but they've well and truly become part of the Soho landscape.
Indulge in Ice Cream at Chin Chin Dessert Club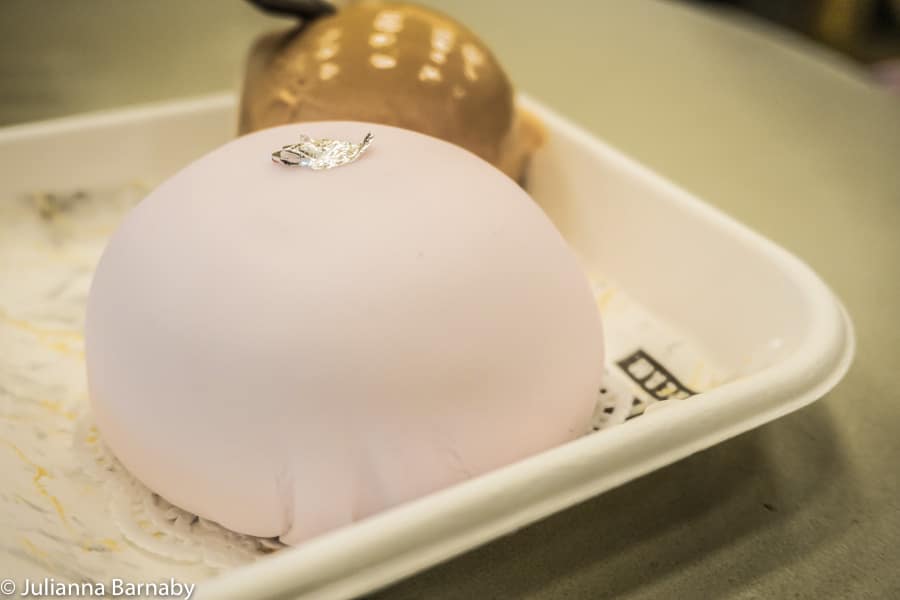 It's been said that Chin Chin Dessert Club serves the best ice cream in London, and it's a bit fancier than what you'd get from a humble ice cream truck!
Where else can you feast on dishes that are part dessert, part science experiment?
Chin Chin's ice cream is frozen using liquid nitrogen, which makes for a decadent yet smooth ice cream. What's more, their chefs (or mad scientists depending on how you look at it) come up with all kinds of wacky flavours. Coffee and olive oil ice cream doesn't sound like it should work, but once you've had it, you start to wonder where it's been all your life.
That's all before we get to the mouth-watering selection of toppings such as raspberry sauce and marshmallow fluff, or their delicious range of cookies and cakes (we tried the cheekily-named Titty Cake and it was divine).
Dim Sum and Tea in Yauatcha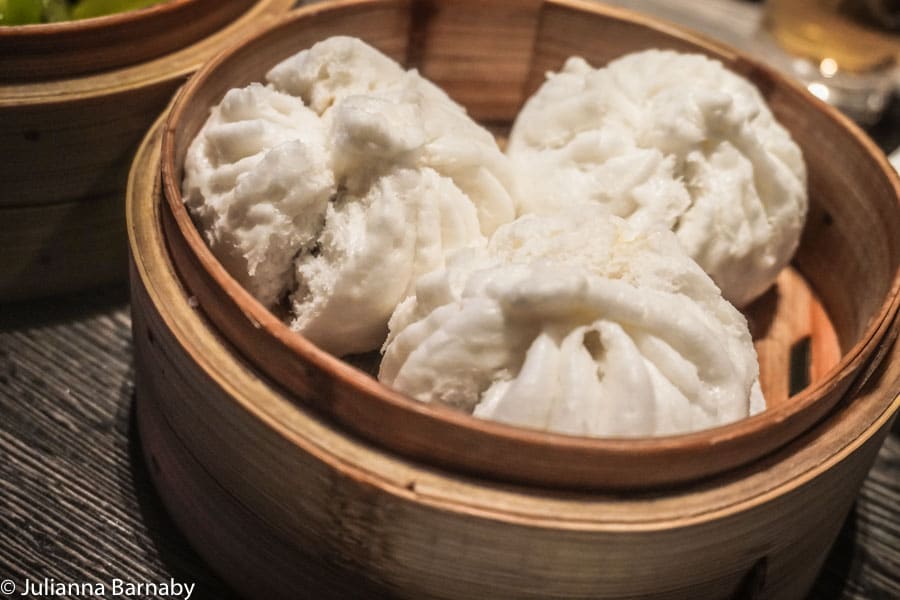 Yauatcha arrived with a bang in Soho in 2004 and has been filling diners' stomachs with its Michelin-starred food ever since.
Today, it continues to dazzle and delight with its innovative Cantonese dim sum menu, as well as its teas. In fact, Yauatcha offers a staggering 60 different types of tea.
For those of us not quite sure where to begin pairing dim sum and tea, Yauatcha has you covered. They have set menus where you can sample expertly matched temptations.
The menu changes regularly, but delicately wrapped dumplings and innovative twists on the classic spring roll are some regular favourites. You simply have to have the Char Siu Pork Steamed Bun, which has earned itself a firm place on our list of best bites in London.
While the food is scrumptious, the atmosphere is laid back and the prices pretty reasonable – what's not to love?
Spend Some Time on Soho Square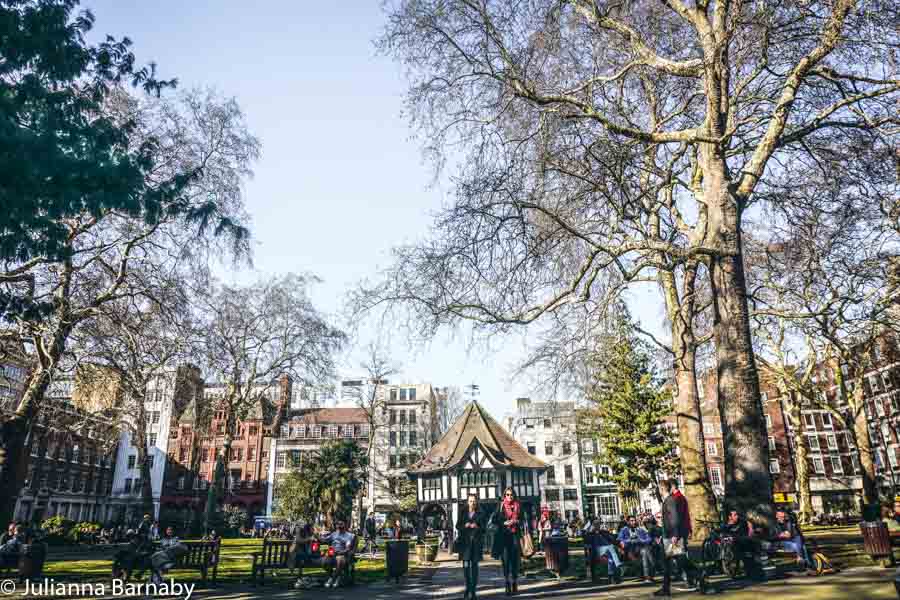 One of the things we love about London is no matter where you are, no matter how central, there's always a spot nearby for you to take five and relax.
Soho Square is a small oasis of relative calm in the middle of Soho. It's got a laidback and peaceful vibe – even though it's rarely ever empty. It's also the perfect place to grab a coffee and a pastry and soak up some of London's rare sunshine.
Soho Square is not only pretty but also historically significant. It dates back from the late 17th century, and there's a picturesque black-and-white Tudor house right in the middle of the square.
See the Spot Where William Blake Was Born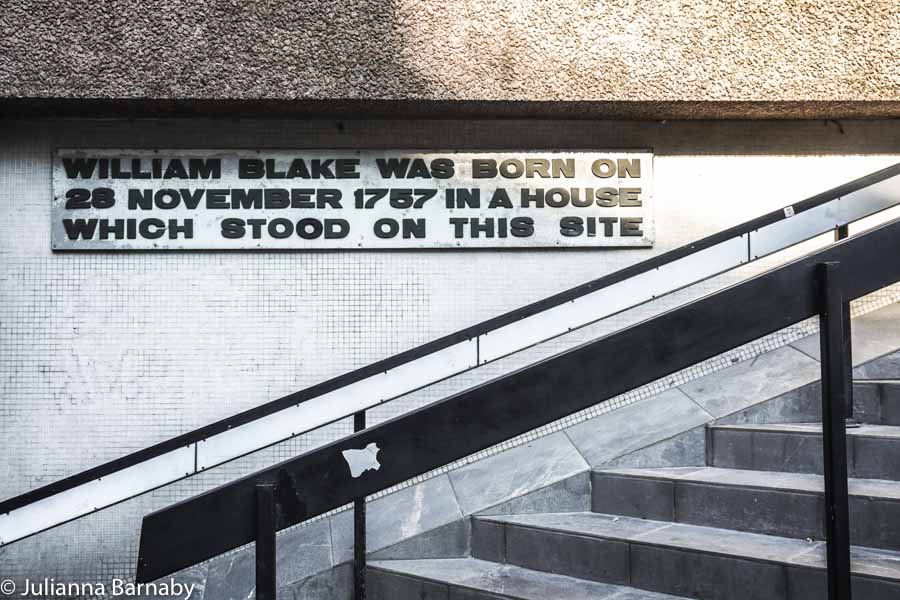 One of Soho's many claims to fame is that it was the birthplace of one of Britain's greatest poets, William Blake.
The celebrated writer was born on Broadwick Street (then called Broad Street) in 1757, and lived there until his marriage in 1782. In fact, the address was even the site of one of Blake's first (and most unsuccessful) exhibitions.
The original terraced home where Blake was born and raised no longer stands, however, the location is marked with a plaque. A few older homes nearby give you a bit of a feel for what it would have looked like back in the 18th century.
One big difference is that during William Blake's early years, Soho was right on the edge of London, with open fields nearby. It's hard to imagine it while standing in the concrete jungle of today.
Read Next: Three Cool London Walks
See Where Karl Marx Lived at 28 Dean Street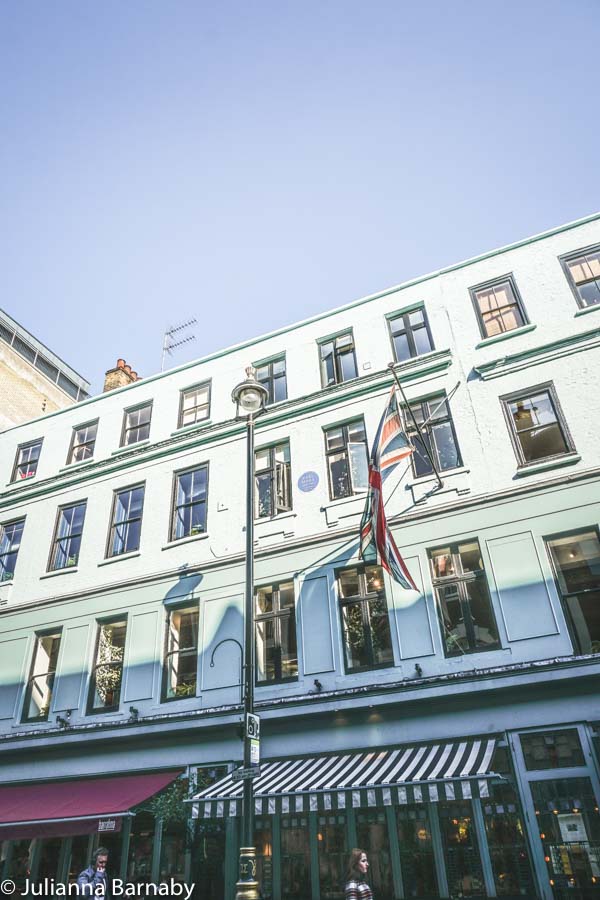 Another of history's most significant figures has a strong connection to Soho, Dean Street was the site of the modest home of Karl Marx after he immigrated to England in 1849.
Nearly destitute, Marx rented two upstairs rooms of a property at 28 Dean Street along with his wife and children. He himself described it as a 'hovel', while an acquaintance – rather more optimistically opined that 'spirited conversation makes up for the domestic defects.'
After five years on Dean Street, the Marx family moved thanks to a generous inheritance, and eventually, the building became the lavish Quo Vadis restaurant.
Karl Marx was not the only famous figure known to stroll Dean Street. Wolfgang Amadeus Mozart, Charles Dickens and Admiral Nelson are some other characters with strong ties to the bustling thoroughfare.
Pay Tribute to the Swinging Sixties on Carnaby Street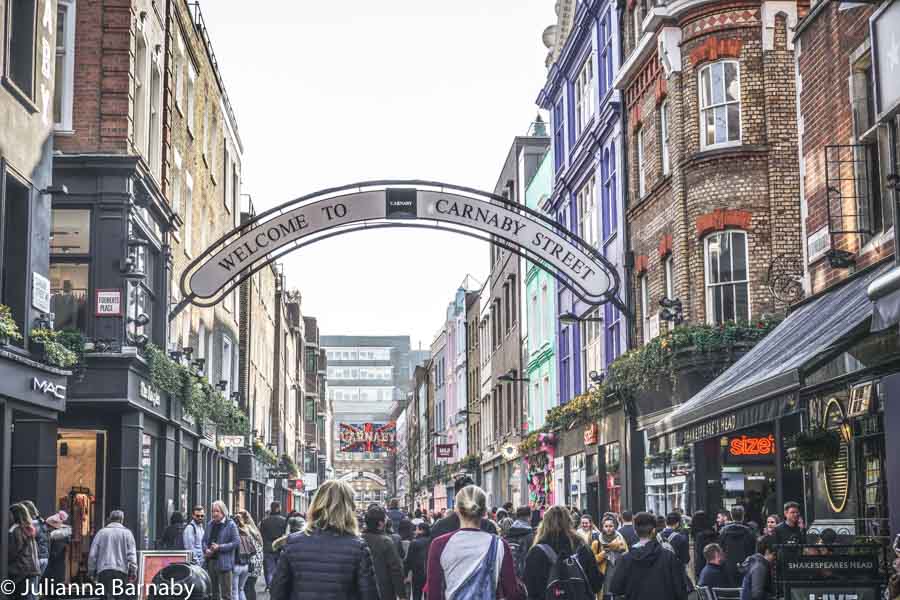 Soho has long been at the heart of London's style and culture, and there are few places that boast the street cred of Carnaby Street.
While the street has a long and varied history – it was used to house victims of the Plague in the 1600s – it is perhaps most synonymous with something far more upbeat, the Swinging Sixties.
In many ways, Carnaby Street was the epicentre of the 1960s, offering a vibrant and diverse cultural scene that often clashed, but was always interesting.
It was here that stars from Jimi Hendrix to the Rolling Stones and Elizabeth Taylor would shop, party, dine and watch the theatre. In fact, Beatle Paul McCartney met his wife Linda McCartney in one of the raucous nightclubs along the street.
It's a shadow of its former days as most of the indie spots have been taken over by big brands but there are still plenty of great shops and restaurants to choose from.
Vinyl Shopping in Soho's Cool Record Shops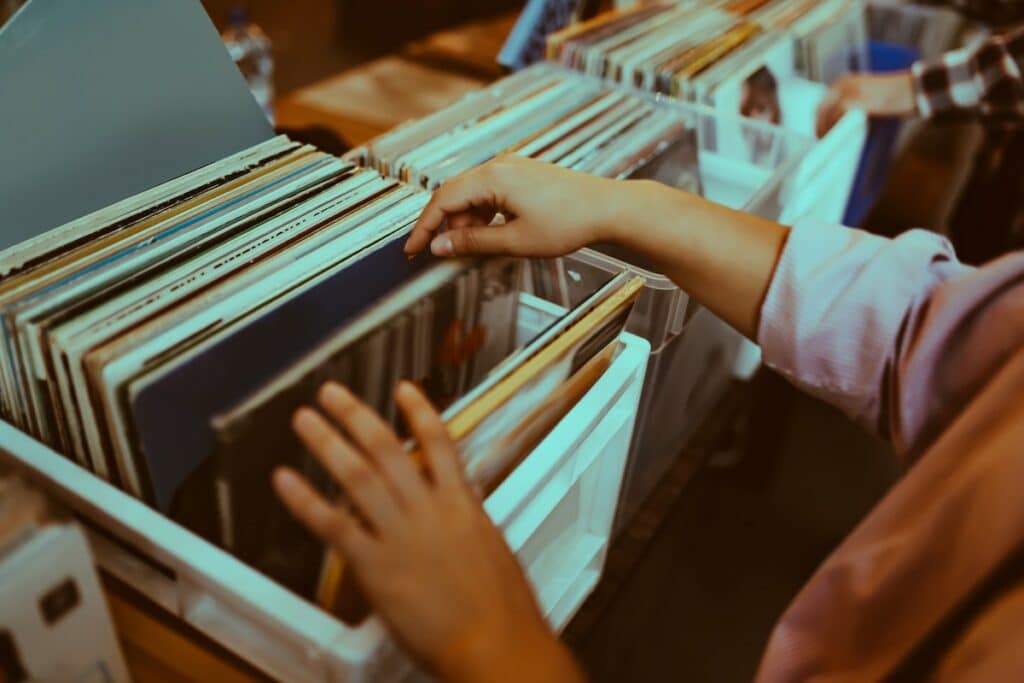 Music enthusiasts will often tell you that music sounds better on vinyl. It seems London agrees since the city has more than 50 record shops, many of which are in Soho.
Music-lovers wondering what to do in Soho should definitely make time to hunt out the area's cool record shops.
Whether you're looking for a latest release or perhaps just browsing for a rare vintage find, chances are you'll find it amongst the shelves. While there are plenty of record stores in Soho, we have a few favourites.
There's Sounds of the Universe, that started life as a humble market stall in Camden before it found its permanent address in Soho. There's some variety here, although soul and jazz is the genre of choice.
Then we have Phonica Records, with its focus on electronica and dance music and famous clientele, while Sister Ray is proudly eclectic, selling anything and everything (except classical).
Check out the Broad Street Pump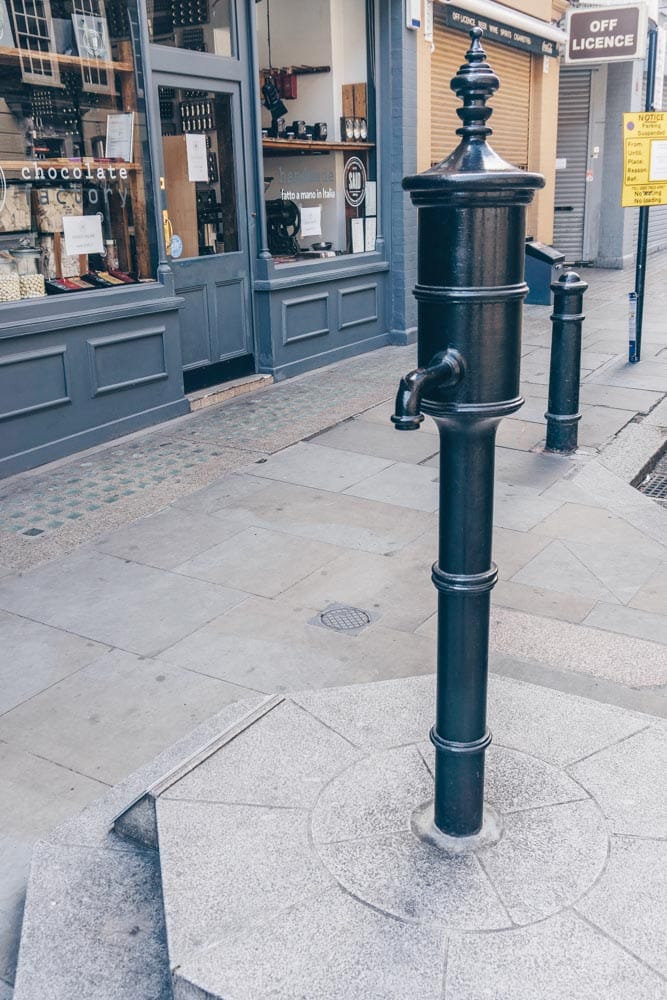 These days most people associate the name John Snow with Game of Thrones. It used to be that it was associated with a man instrumental in ending vicious cholera outbreaks and contributing more than a lot to modern germ theory.
It all has to do with a very special water pump in Soho, the Broad Street Pump. So the history goes, that in 1854 John Snow (not Lord Commander of the Night Watch) figured out that a cholera outbreak in Soho was linked to the pump on what is now Broadwick Street.
In doing so he realised that the disease was waterborne, not airborne as everyone previously thought. Few believed him, but the council did take the handle off the pump as a precaution, which turned out to end the epidemic.
This was a major step in figuring out what actually caused disease (hint: it's not "bad air"), so you can thank Snow that you live a disease-free life when you pass by.
In fact, you should probably nip into the next-door pub that bears his name and raise a glass in his honour…
Watch Football and Eat Pasta at Bar Italia
Soho is full of London dining institutions. One of the most accessible though, has to be Bar Italia. The spot has been running since 1946 and is a cornerstone of life in Soho.
The mood here shifts with the hour. They run a decent menu of reasonably priced pasta and pizza throughout the day and into the evening, the counter is stacked high with sweet treats should you want something to nibble alongside your coffee, and as the night falls you'll find the spot turning into the bar that gives it its name.
Part of the draw here are the TVs that show football (primarily Italian games) and bring in crowds of excited punters. The atmosphere is regularly buzzing. This does mean that getting a table can be difficult. Our tip is to loiter with an Aperol Spritz until something comes up.
Soho After Dark: Things to do in Soho at Night
Soho by day is charming, but by night it's a decadent delight. There's certainly no shortage of things to do in Soho at night.
Dig into the Area's Seedy Past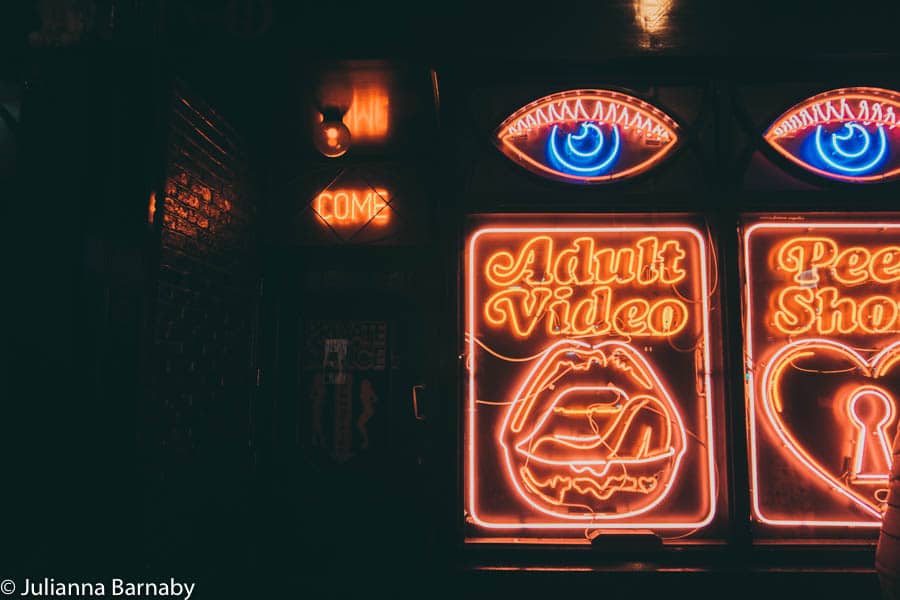 While today Soho is considered one of London's most desirable boroughs, and you could probably take your grandmother on a walk through it, it wasn't always this way.
In years gone by, seedy Soho was known to be very, very naughty — the kind of place parents warned their teenage children away from and where aristocrats clutched their pearls just thinking about what went on there.
Despite a brief heyday in the 17th century, Soho's popularity came crashing down in the mid-1800s thanks to several disease outbreaks and the gentry moved out. Slowly they were replaced by women of the night, peep shows, strip clubs and (worse!) struggling musicians, poets and artists.
For more than 200 years, Soho was home to London's gritty underbelly, with one well-known feature being a neon sign reading "World Centre of Erotic Entertainment". Although the sign and most of the industry has now left, Soho remains wickedly unashamed of its debaucherous past.
Read More: Exploring London After Dark
Explore Chinatown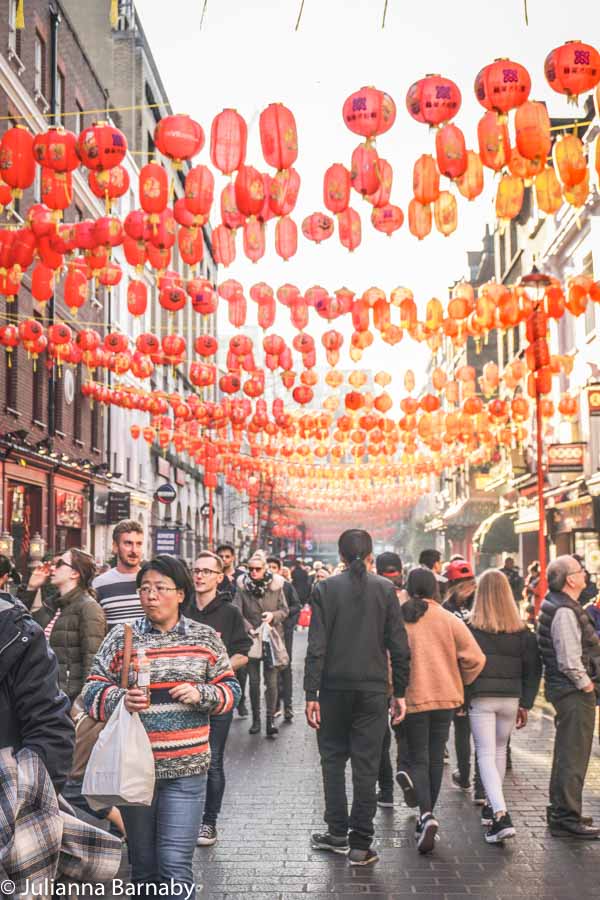 The origins of Soho's Chinatown can be traced back to the arrival of thousands of Chinese sailors in the late 19th century. As many started small businesses, they began to leave an indelible mark on Soho.
Over the years, Chinatown – as it came to be known – grew in size. Today, it's one of the area's unmissable sights – not least thanks to the striking red and gold decorations.
Chinatown's many, many restaurants offer the chance to grab a delicious (and affordable) meal in London.
As well as the brick and mortar shops, it's also worth keeping an eye out for temporary events which see additional stalls, shops and entertainment on offer.
Read More: London's Chinatown – Tips for Exploring The West End's Coolest Quarter
Catch Some Theatre on Shaftesbury Avenue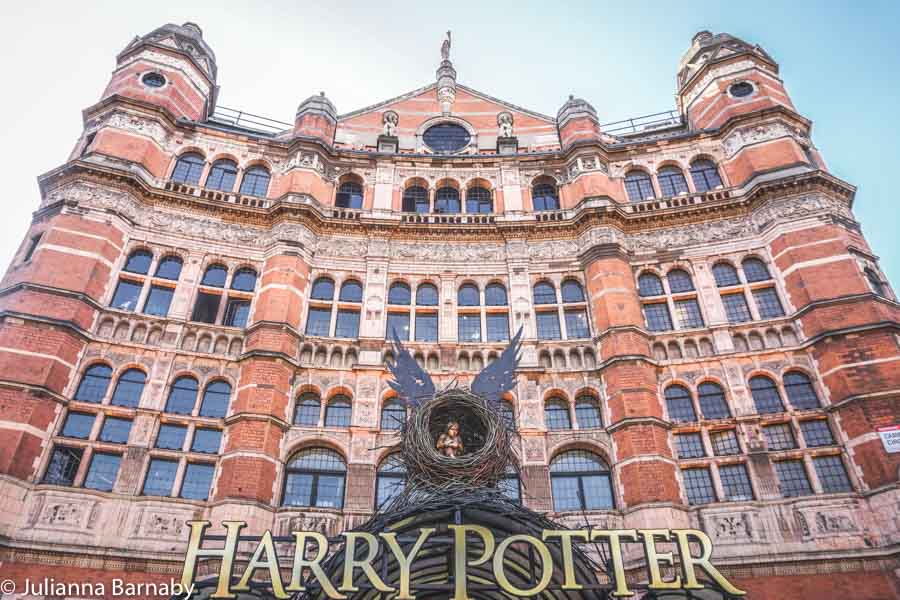 It's undeniable: going to the theatre is one of the most unmissable things to do in Soho. After all, the area has been associated with the theatre for centuries.
Shaftesbury Avenue is the heart of the West End and, IMHO, the world's best theatre destination (sorry, Broadway!).
You're spoilt for choice when it comes to choosing a show. Shaftesbury Avenue alone features so many iconic theatres including the glamorous Palace Theatre, iconic Apollo Theatre and Gielgud. Each offers slick theatre productions from the thought-provoking to the side-splitting.
Make sure to get your tickets early to popular shows, or roll the dice for some last minute discounts.
Read More: A Few Days in London – What to See and What to Skip
Celebrate London's LGBT Scene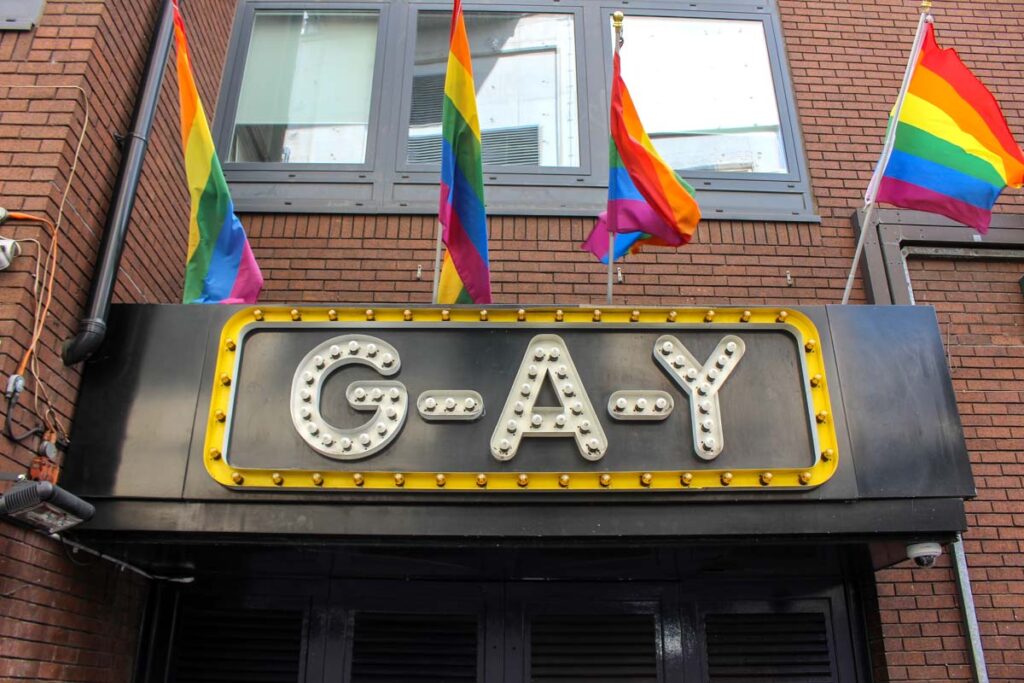 Soho is London's LGBT heartland, with Old Compton Street as its epicentre. Soho has boasted gay clubs and bars since at least the 19th century – although the civil rights movement in the 60s and 70s saw them become even more prominent.
Today, there are enough LGBT bars and venues to hit a new one every night for weeks. There's the frenetic classic G-A-Y, while She Soho is a chic and intimate lesbian bar with an impressive calendar of female DJ sets.
It's not all about the clubs and DJs, however. For a more relaxed and casual affair try Ku Bar Soho or the Duke of Wellington pub.
There's no bad time to celebrate London's LGBT scene in Soho, but the area is particularly rambunctious during the Pride in London Parade each July, when over a million revellers descend on Soho and make it its most fabulous self.
Enjoy Cocktails at a Speakeasy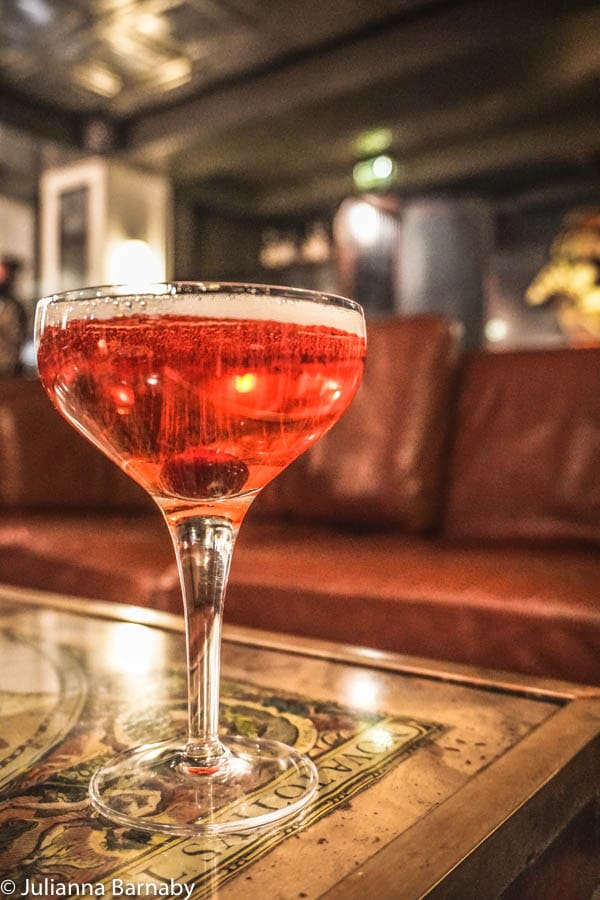 Soho + cocktails – they go together like… two things that go together very well.
Soho has so many cocktail bars that you're never going to find it difficult to procure a delicious drink. From underground speakeasies to rooftop bars – you really do have the run of town. Two of the best-known are Swift and The Blind Pig.
If you only have time to go to one, head to Disrepute. This member's bar-come-speakeasy serves up absolutely brilliant cocktails in a beautiful setting. Be warned, you should book ahead at the weekends.
Read More: The Best Bars in Soho
Dinner at Bob Bob Ricard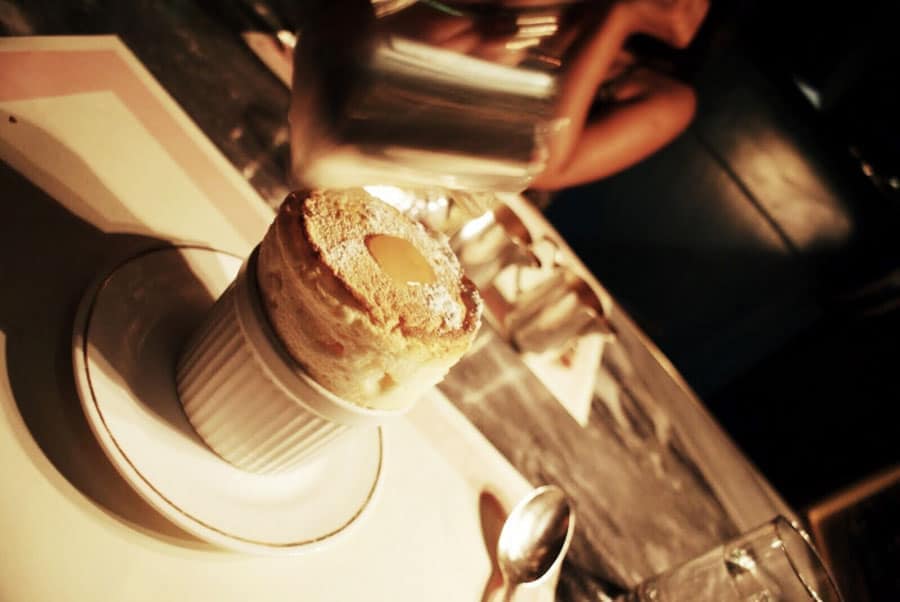 Bob Bob Ricard has a golden button that says, helpfully, 'press for champagne'. Need we say more about this Soho icon?
There is, however, much more to be said. The interior of the restaurant is best described as opulent and/or lavish, with plentiful gold leaf and vintage leather. The head chef here has notched up two Michelin stars at other restaurants, so as you can imagine, the Russian-inspired menu is delectable.
As you can probably guess, all this opulence (and champagne) doesn't come cheap. Still, where else does a -18℃ vodka shot count as a 'starter'?
So, if you're looking to throw caution to the wind and enjoy a meal fit for a Russian oligarch, it's the place to go. Just don't plan on driving home.
Read More: Press for Champagne: A Review of Bob Bob Ricard
Singalongs at Prince Charles Cinema
What could make seeing a musical at the Prince Charles Cinema even better? Singing along with other cinemagoers, of course. Fun things to do in Soho don't come much better than PCC's raucous singalong screenings.
OK, so it might technically be nearer Leicester Square but let's admit it – belting out your own rendition of "You're the One That I Want" makes Grease infinitely better, no matter how off key you are.
Whether you've got the voice of an angel or far from it, you're welcome at the Prince Charles Cinema's frequent Singalongs, where the entire audience enthusiastically bursts out in song while watching movies from old classics (like Grease) to new favourites (like the Greatest Showman).
There's even a vocal warmup session to have you sounding your best, and props are included to make your rendition even more authentic. Dressing up is strongly encouraged.
Soak Up the Jazz Vibes at Ronnie Scott's
Ronnie Scott's offers up jazz how it should be; in a dark and moody cocktail bar, with only dim lights and candles to help you make out the musicians crooning on stage.
Of course, there will be no trouble hearing them — the smooth sounds of jazz have echoed around this Soho icon for 60 years, and it's beloved by musicians and patrons alike.
The jazz greats who have taken to the stage need no introduction – think Ella Fitzgerald, and Miles Davis. This is a place to go to really enjoy amazing jazz in London.
In the interludes, the venue comes alive with people chattering over drinks and delicious meals.
Head to Horvarda for a Banging Greek Brunch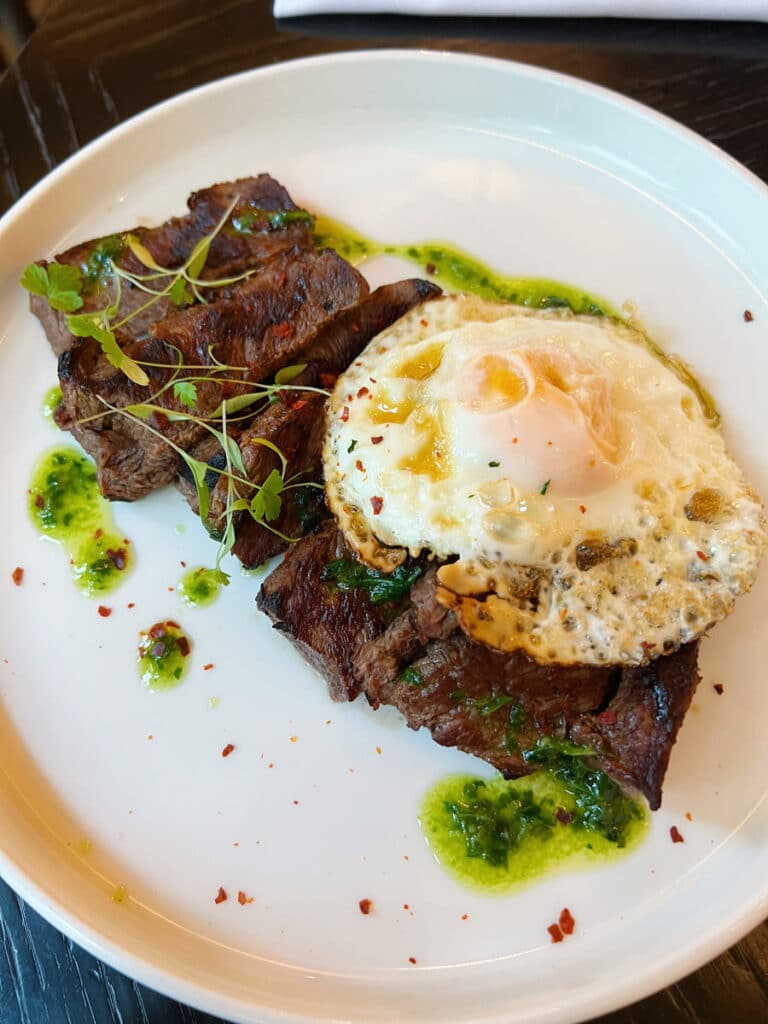 This sleek Soho eatery turns out Agean fare in a classy space. Think white parquet floor, tasteful tiling and plates of food that could feasibly belong on the cover of a magazine. No plate throwing here folks.
You'll find modern takes on Greek classics, presented in ways that's worthy of a city-centre price tag. Expect plenty of seafood, light salads and melt-in-your-mouth lamb and a menu that's geared more towards how things taste than how much they fill you up.
They've become pretty popular for their brunch menu, where you'll find food drifting more into the pan-European range, and a crowd of hip young socialites at their leisure, bellini in hand, obviously.
Eat, Drink and Be Merry at The French House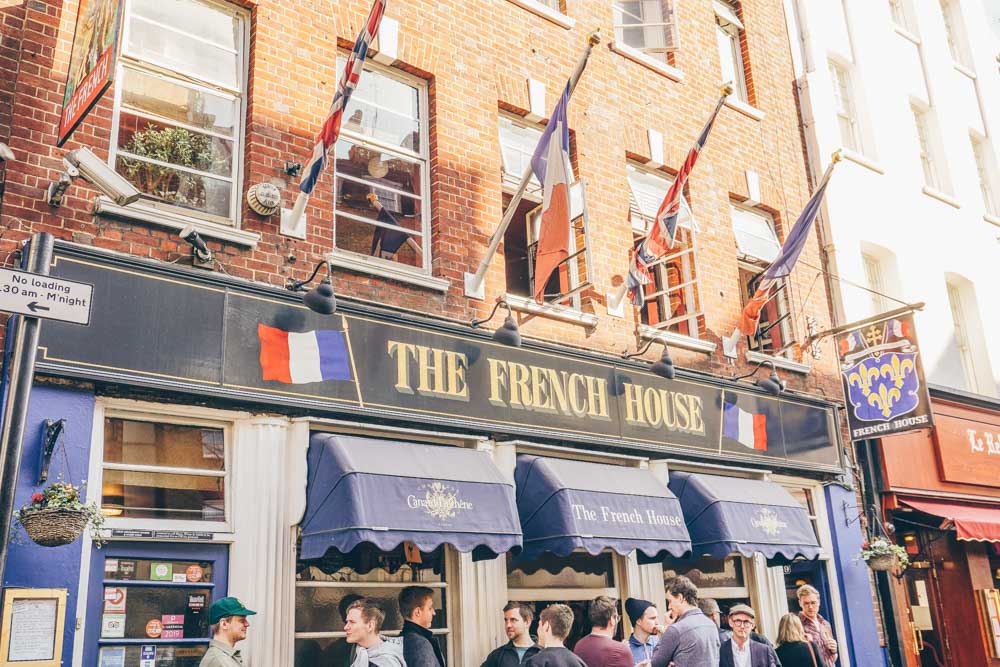 It's basically bad manners to go to Soho and not drop into The French House for a drink. This pub is probably one of London's most famous and has played watering hole to a list of notable figures that we're sure you'll agree is one of the most prestigious out there.
It kicks off with Lucien Freud, Francis Bacon and Damien Hirst, among others. Probably the crowning legend of this Soho boozer though, is Charles de Gaulle. The man actually wrote and delivered many of his resistance speeches in the upstairs restaurant.
Actually, it's the fact that he, and the rest of the Free French, in wartime London used to drink here that gives the pub its name. They also still only serve beer in half pints, as it's done on the continent. And specialise in Pastis, an anise seed-flavoured spirit that's mixed with water and sure to divide opinion.
A word should be said for that upstairs restaurant. It's one of the most popular in London, and a must-hit for any serious diner. The food is rustic French and British with a focus on nose-to-tail dining.
You're likely to find some odd bits and bobs on the menu but all of it is cooked spectacularly so don't be afraid. Because of the popularity it can be tough to get a table here though. You may need to book weeks, or even months, in advance.
Soho, London: Practical Tips
Themed walking tours are a great way to uncover the fascinating history of Soho. They're available on everything from LGBT+ history to gastronomical journeys. Start with this Soho walking tour.
Soho is best explored slowly; you don't want to miss any of the tucked-away gems that aren't in any guide books!
As Soho is so central (wedged between Covent Garden and Mayfair) it's tempting to overfill your itinerary – but even lifelong Soho residents are still stumbling across new delights. It's deserving of a full day at least.
Planning to stay in Soho? Bed down in Dean Street Townhouse – one of the area's chicest addresses or read our guide to the best places to stay in London.
Things to do in Soho, London: Map
Click here for a map of the Soho destinations featured.