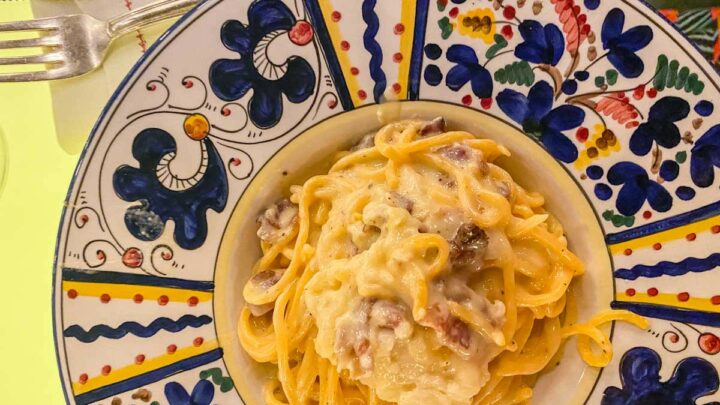 Searching for the best restaurants in Shoreditch? Get ready to discover the area's must-try restaurants.
It's no secret that Shoreditch is the epitome of East London cool. So much so that Shoreditch's restaurant scene has exploded to the point where it's firmly established as one of London's culinary hotspots.
From chic Peruvian eateries to high-end rooftop hangouts, these are the best restaurants in Shoreditch for every style and budget.
Best Restaurants in Shoreditch
Shoryu
££
There is no shortage of excellent restaurants in Shoreditch, but if you're looking for authentic Japanese ramen, Shoryu is the place to go.
The chefs at Shoryu showcase traditional Japanese cuisine, preparing their Tonkotsu ramen, gyoza, and fried chicken the same way they do in Tokyo.
Their ramen is spectacular, and it comes in a large portion that's perfect for sharing (or, if you're like us, just gobbling up yourself).
If you're feeling a little adventurous, try their octopus takoyaki. It's fresh, light, and served with a delicious sauce.
Gloria
££
Of all the places to eat in the area, Gloria is one of the most famous thanks to its OTT style and hearty Italian plates.
This premier Italian restaurant in Shoreditch strikes a beautiful balance between eclectic and elegant and offers restaurant-goers a warm, sophisticated spot to relax for lunch or dinner.
Try their massive bowl of carbonara served in an actual hollowed-out parmesan wheel (drool), homemade pizza, or authentic Italian desserts.
Apothecary
££
The first thing that strikes you when you enter Apothecary is just how cool the cavernous space looks. Dark wood, carved screens, curved tables – it looks every inch the Japanese Izakaya meets Shoreditch warehouse chic that it is.
It's a poor Shoreditch restaurant that relies on looks alone though, and luckily for all of us, Apothecary does not. The extensive Japanese-inspired small plates menu is executed to perfection.
The faint smell of charring from the robata grill is filled with promise – a promise they more than deliver on as dish after dish lands on our table – meltingly tender pork belly skewers, a small pile of grilled cauliflower sprinkled with black sesame – it is, in short, a delight.
Away from the grill, go to Apothecary for some of the best sushi and sashimi you can lay your hands on in the city.
The Yellowtail Sashimi is rich and fatty – gone in a few indulgent bites. By contrast, the Spicy Tuna Dragon rolls with their avocado and spicy mayo offer a more complex delight – an ever-changing kaleidoscope of flavour that leaves us with genuine sorrow once finished.
It's one of the area's coolest all-day dining spots. Nab a table if you can.
Lyles
££
Go to Lyles for the phenomenal service, excellent food, and vast wine list.
This Shoreditch gem has a lovely, laid back, chic atmosphere and an attentive staff who are happy to explain any aspect of the menu to you.
You can choose a la carte items or opt for a multi-course tasting menu. The latter may very well be the closest thing you can have to a culinary adventure in the area.
Vegetarians are made very welcome too, as they offer both vegetarian and vegan versions of their classic tasting menus.
Stand-out dishes include the sea bass, spelt biscuits, and chocolate and caramel brown butter cake.
Crispin
£££
Crispin has done that tricky thing of being a non-vegetarian restaurant that manages to be one of the best places for vegetarians to eat in Shoreditch.
How? The answer is simple: because every item on the menu including their veggie options, is thoughtfully cooked and artfully presented.
They source their high-quality ingredients from small producers and independent growers – and it shows.
Everything on the menu, whether it's the Maltagliati pasta with rainbow chard, hazelnut and Berkswell or the Norfolk quail with green beans, nasturtium and black garlic mayo, shines with a simplicity that comes from using the very best ingredients in the first place.
Dishoom
£
If you're searching for cool restaurants in Shoreditch, Dishoom has you covered.
Most Londoners are no stranger to Dishoom, which has restaurants dotted all over the city, but their Shoreditch restaurant is a particular hit.
This avant-garde Indian restaurant has a massive dining room, excellent staff, and kooky 1970s decor that perfectly sets the mood.
Try their masala prawn, tandoori dishes, and chocolate pudding. Their lamb raan is flavorful, slow-cooked, and pairs perfectly with generous pieces of bread.
Dishoom is a great place to get Indian food with a twist, perfectly blending familiar and unexpected flavours.
Burger & Beyond
£
Burger & Beyond is one of the most fun restaurants in Shoreditch, serving up classic favourites and delicious sides.
As you might expect from a place giving it all the big burger energy, their burgers are outstanding; made of premium beef and cooked to perfection.
The portions are also sizable – even a single patty burger comes on the large side, particularly when all their burgers come on brioche buns piled high with all the fixings.
Check out their chicken bites, mozzarella sticks, or fish tacos if burgers aren't your thing. Finish it all off with one of their fantastic milkshakes (the salted caramel is so good).
Smoking Goat
£
The Smoking Goat is a Thai restaurant in Shoreditch that gives you a little taste of Bangkok right in the heart of London. Try their Isan-inspired favourites like prik laab and northern Thai salad.
They also have more conventional items too, like BBQ chicken and smoked herby sausage. Definitely get some of their sticky rice to go along with your meal and sop up any sauce.
Andina
££
If you love Peruvian food, you won't find a better place to eat dinner in Shoreditch than Andina.
This authentic, classy restaurant offers flavours that you won't find anywhere else outside Lima.
Start your meal off with one of their pisco sours, and then move on to their octopus or beef heart skewers. The meat is tender, gently marinated and so. very.memorable.
We've been known to rave about their lamb terrine and suckling pig – but if you only take one tip it should be this…. Save room for the ube ice cream.
Blacklock
££
Blacklock is the place to get a great steak in Shoreditch. Fact.
Their ribeye steak with chop sauce has been known to make grown men weep with joy*.
A restaurant that isn't afraid to take the nose to tail movement quite literally, another standout dish on the menu is the pigs head starter.
Things become a little more understated at dessert – though that's not to say their white chocolate cheesecake isn't a star in itself.
Wash down your meal with a strawberry margarita or one of their signature espresso martinis.
*may or may not be true
Padella
£
Ask any local where to eat in Shoreditch, and there's a good chance they will recommend Padella.
This restaurant has been a local favourite since it opened its Shoreditch outpost (the original one's in London Bridge), serving up incredible pasta at reasonable prices.
Check out their pappardelle with homemade ragu, cacio e pepe and burrata.
If you're extra hungry, their ricotta ravioli is exceptional. Save room for their cherry and almond cake.
Rochelle Canteen
£££
Rochelle Canteen is a lovely little gem of a restaurant. The signage is small, so simply look for a blue door with "Rochelle School" written on it and ring the bell to be let in.
Rochelle Canteen's secret location is a big part of the fun, but the real stand-out reason people flock to this restaurant is the menu.
At Rochelle Canteen, you'll get simple food prepared with astonishingly fresh ingredients.
Their grilled peppers, peas, and mint is a truly lovely dish and well worth a trip alone.
Brat
£££
Brat is one of the finest restaurants near Shoreditch, and like many of the best restaurants in the area, you have to look hard to find it.
There are clues though – look out for a small plate on the door and a narrow hall that leads up to the restaurant itself.
Once you're inside, you're ushered into a handsome dining room where you can select from the contemporary British menu.
Think lobster, mutton chops and whole fish. Their lemon sole is particularly tasty, and their burnt cheesecake is decadent and toasty-flavoured.
This restaurant also has a wide selection of great wines from all over the world.
Angler
£££
During the spring and summer months, outdoor restaurants in Shoreditch are ideal places to grab a meal and check out the city. Angler is one of the best rooftop options.
It's right on the rooftop of the South Place Hotel, featuring local seafood, excellent produce, and a delicious selection of wines. On the weekend, Angler offers a nine-course tasting menu.
Notable menu items include their sea bass tartare, cod, and mushrooms.
Flat Iron
£
Curtain Road's Flat Iron restaurant is a great lunch or dinner spot that will not put a huge dent in your bank account. It's got a welcoming, classic interior and a very friendly wait staff.
Start your meal off with popcorn infused with beef dripping, and then move on to the main course. Their flat iron steak and chips are great, and they're made even better with a side of creamy bearnaise sauce.
If you have room, the salted caramel ice cream is the perfect ending to a decadent meal.
Butchies
£
Butchies has all of your favourite comfort foods at a very reasonable price. This kid and family-friendly establishment features well-executed takes on classic dishes like chicken fingers, burgers, and sandwiches.
Their chips and burgers are delicious, and their chicken sandwiches and tenders are packed with flavour and crispy. So if you love fried chicken, Butchies is the spot for you.
Their chicken is never greasy or heavy. Instead, it's just juicy, light, and addictively crunchy.
The Clove Club
£££
The Clove Club is a swanky restaurant where diners get the white-glove treatment and a menu of eclectic and delicious offerings.
The food has a British flair and style, but it also incorporates flavours from all around the world for surprising taste combinations.
Try their chilled courgette soup, royale duck ham, and smoked anchovy jelly. Their grilled trout and dry-aged pork are crowd-pleasers too.
You can order off the menu or get a multi-course tasting menu with a wine pairing if you want to go all out.
BiBo
££
Andalusian chef Dani García opened up BiBo in Shoreditch recently, and we quickly fell head over heels for this dreamy Spanish spot. Visit for the best tapas, paella, and rioja in the one of the best restaurants Shoreditch boasts.
The beautiful dining space combines contemporary and classic Andalucian style, which is reflected within the food menu, too. Top picks include the Dry Aged Txuleta Beef Burger, Chorizo Brioche, and the Whole Lobster Paella.
Daffodil Mulligan
£££
Irish cuisine might not be on everybody's radar… But it should definitely be on yours. Daffodil Mulligan is a cool spot by Richard Corrigan serving up an eclectic, modern menu.
The raw bar gets most of the attention – the oysters are dreamy – but the rest of the menu, featuring Pig's Cheek Skewers, Offal Waffle, and a Salt Chilli Fried Chicken, deserve plenty of praise, too.
Popolo
What happens when you mix Italian, Spanish, and Moorish cuisine? You get Jon Lawson's Popolo.
Top picks include n'duja cod, fresh borlotti beans, and monks beard, and the native lobster spaghetti alla chitarra. Wash down with a glass of low intervention wine and you're onto a winner.
Kenza
By the team behind Lebanese chain Comptoir Libanais, Kenza is a lively spot serving up delectable Lebanese dishes in a colourful setting.
Expect belly dancing and live music on the weekends, or head there in the week for a more chilled out lunch.
Huge sharing dishes make up the menu – order the likes of Tagine, Fattoush, and Falafel and enjoy with a group of friends. This is one of our favourite Shoreditch restaurants.
Other Places to Eat in Shoreditch
Fat Hippo
££
This burger joint is the first London venture of UK-wide burger chain Fat Hippo. It's a laid-back, ticks-a-few-boxes type place that could be a decent option if you're starving in the area, or dying of a horrific hangover.
Honestly, when it comes to burgers in London, you can find better. Fat Hippo's are a touch on the massive side and don't have enough pizazz to counteract the worry that the best adjective to describe them is: heartstopping.
What you should be taking note of, though, are the starters. Grab some wings, a portion of the loaded tater tots and some of the deep-fried cheese balls. They're all on point.
Drinks too. Fat Hippo does its own craft larger, and a selection of alcoholic slushies that really hit the spot. Just don't expect the burgers themselves to follow suit.
Boxpark Shoreditch
It might not have the high-end finish of some of the other spots in this guide, but Boxpark does have a great range of fast-fresh dining options.
From craft bars serving local and regional beers to Argentinian restaurants, Boxpark has it all.
Try Black Bear Burger for hand-cut steaks and huge burgers cooked to absolute perfection.
If you're looking for something a little on the healthier side, Acai Berry serves up superfood infused bowls and smoothies. In addition, Edu has some great tapas and fresh tacos served with delicious toppings.
Want to satisfy your sweet tooth? Soft Serve Society has some incredible artisan ice cream, soft waffles, and other dessert goodies. Small Batch Coffee is a great place to stop for a quick pick-me-up and grab a boutique-roasted cup of coffee.
In other words, you're hard pressed to go hungry here. It can get a bit crowded on the weekends, so pack your patience along with your appetite.
Keu Banh Mi Deli
£
Keu Banh Mi Deli is one of the trendiest Vietnamese eateries in Shoreditch, serving exceptional banh mi sandwiches with premium meats and vegetables. Try their Hoi-An Deluxe with roast pork, ham, pate, and head cheese.
All of their sandwiches are served on fresh baguettes and garnished with flavorful herbs and sauce. Although their sandwiches put Keu Banh Mi Deli on the map, their curries and rice dishes are also phenomenal.
Smokestak
££
Stylish yet rustic, Smokestak is one of the coolest places to dine in Shoreditch. And, if you couldn't tell by the name, this spot specialises in all things barbecue.
We're talking flavour-packed beef brisket, tender pork belly, and gochujang chicken wings. Perfect for a celebration, you can even preorder a whole beef brisket for the table – get the gang together for a bangin' meal in London's east end.
The Best Shoreditch Restaurants: Map
Where to Eat in Shoreditch: Read Next