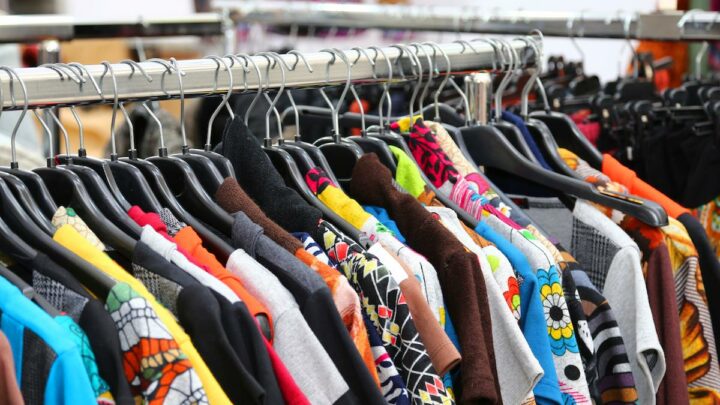 Looking for the best vintage shops in London? If you're searching for the best places to hunt out second-hand gems, the capital is the place to be.
In fact, there are so many vintage clothing stores that it's nearly impossible to work through them all.
Have no fear – we've compiled this guide to save you time. Whether you're shopping for the perfect dress or looking to sustainably keep up with the ever-recycled fashion trends, we've got you covered.
Pssst… Why not include some London charity shops in your shopping itinerary to expand your options?
Best Vintage Shops in London
Rokit
Camden
This Camden vintage shop, founded in the 80s, had its humble start as a clothing stall in the iconic Camden Market. They've since established branches in Brick Lane and Covent Garden, the latter being one of the biggest vintage shops in London.
The OG Rokit store in Camden is a two-story vintage treasure trove. It has served up quality finds to everyone, from British icons like Kate Moss and Amy Winehouse to the Vivienne Westwood punk fans.
Serotonin Vintage
Brick Lane
While exercise is a great way to get the happy hormones going, finding vintage Fendi at Zara prices will also do the trick. Few vintage designer shops in London can compete with the eclectic and reasonably-priced selection found at Serotonin Vintage – it's one of the best Brick Lane vintage shops.
Looking for a Rachel Green or Elle Woods-inspired look? This Brick Lane vintage shop has you covered. If you prefer shopping from the comfort of your bed, you can view their regularly updated collections online or on the Serotonin Vintage Instagram page.
Beyond Retro
Bethnal Green
Want to keep up with the trends without adding to your carbon footprint? Beyond Retro's trend-led stock set them apart from other vintage stores and make them one of the best vintage shops London boasts. That's right; it is, in fact, possible to sustainably keep up with the Jones'.
With six quirky retro shops in London (and another seven in Sweden), Beyond Retro is one of the best places to go vintage shopping in London.
The fashion world tends to recycle trends every few years, anyway. So whether the 80s power suit or the iconic Y2K low-rise bootlegs (we pray not) are back in style, you can expect to find it here.
House of Vintage
There may be an abundance of Shoreditch vintage shops, but this one is our favourite.
Initially based in Canada, House of Vintage is a semi-recent addition to the Shoreditch vintage shop scene. Their second UK store opened in 2018 in Hackney Central and their third one in Broadway Market.
They stock thoughtfully curated collections of vintage finds from the 1920s to the 80s. So pop by to find a good pair of vintage Levi's, classic cardigans, and graphic tees galore.
Hunky Dory
Shoreditch
If you walk a few blocks down from House of Vintage, you'll eventually come across this quirky vintage store.
Whether you're looking for a nostalgic vintage frock or a unique cardigan, Hunky Dory is one of the vintage stores London has that won't disappoint.
Instead of finding the most trendy pieces here, you'll find unique and timeless clothing of the highest quality.
Hornets
This men's vintage shop in London is the perfect spot for a timeless suit at a reasonable price. The Hornet's motto is, "Not fashion, style!" And their quality tweed jackets, accessories, and shoes are a testament to this adage.
Whether you're looking for a proper English gentleman's suit or a rare pair of cufflinks to gift a friend, you won't regret visiting. The staff are always happy to help and share stories about their unique items.
Finding the store may be a bit confusing, so check out our map at the end of this article.
Karen Vintage Boutique
If you're looking for a go-to spot for high-end vintage in London, you'll want to add this boutique to your vintage bucket list.
Karen Vintage Boutique has dresses of every fabric, style, and era on display in their glamorous showroom. You'll find everything from vintage wedding gowns to sexy slip dresses. The garments in this store are so spectacular that you'll wonder why entry is free.
Atika
Shoreditch
We can't discuss the best vintage clothes shops London boasts without mentioning Atika. They provide an unparalleled shopping experience in their spacious two-story warehouse.
This hip vintage shop in East London offers clothing, homeware, and books in a cool and quirky atmosphere. You'll also find art and apparel from indie designers and artists on sale.
The seamless layout, high-quality items, and relaxed atmosphere do, however, come at a price. So expect to pay slightly more here.
Reign
Soho
These "outfitters to the independent" aren't simply about profit. The Reign team is a dedicated group of fashion lovers and vintage specialists. They handpick and measure every garment against their impeccable standards before selling it.
They focus on providing quality over quantity, so you won't have to rummage through railings of average clothing to find one lucky piece. You'll find vintage Giorgio Armani, Versace, Moschino, and more at their Soho or online shop —- at accessible prices.
Wow Retro
Covent Garden
After fuelling up for your treasure hunt at one of the lovely Covent Garden coffee shops nearby, it's time to forage for your next retro gold piece.
Hoping to really jump back in time? You'll find all the vintage classics your heart desires at Wow Retro. Browse through mountains of football sweaters, sports vests, durable leather jackets — and leather trousers if you're brave.
Practical Tips for Shopping in London's Vintage Clothes Shops
Best Areas for Vintage Shopping in London
As vintage shopping has grown in popularity, the number of vintage shops, too, has increased. While there are countless stores across London, you'll find London's best vintage clothing shops around Covent Garden, Notting Hill, Spitalfields, and Shoreditch.
Tips for Picking the Best Garment
Most vintage stores have a no-return policy. So it's good to give each item a thorough inspection and try-on before purchasing it.
Check for wear and tear around key spots like collars, cuffs, and buttons. Also, be sure to check the collars and arm-pit areas for sweat stains.
You may feel tempted to buy whatever gem of an item you find (we've been there) but always reevaluate your selections before purchasing. The last thing anybody wants is to end up with an article that doesn't match anything in their wardrobe.
London Vintage Shops: Map