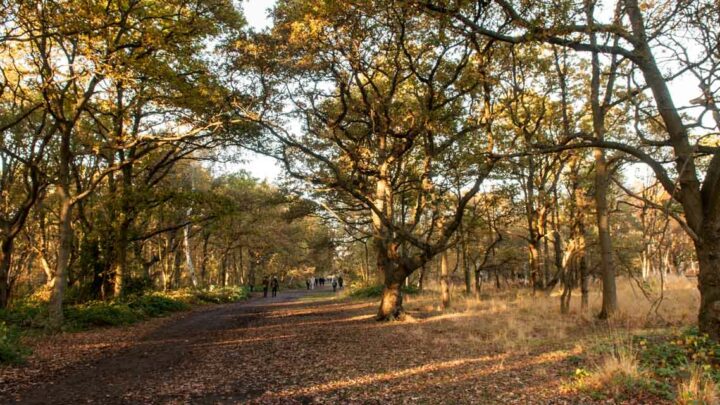 Ready to explore the best things to do in Wimbledon? Of course you are…
The soft whack of endless rallies, the aroma of strawberries and cream, and an atmosphere crackling with excitement — Wimbledon's Tennis Championship is an event like no other.
While it might be best known for the tournament Wimbledon actually offers so much more.
Hidden behind the vibrant curtains of this grand tennis affair lies a storybook-like British borough that is rich in history and exciting activities. From its majestic medieval roots to the best pubs, it's time to discover Wimbledon.
We're serving up some of the best sights and experiences in this picturesque residential area that will be sure to cause a racket (had enough of the tennis puns yet?).
Top Picks for Things to do in Wimbledon
Things to do in Wimbledon
Delving into the spots you shouldn't miss.

Visit the Lawn Tennis Museum
Known as the largest tennis museum in the world, this sporty wonderland is a must for any fans of the elegant game.
The Wimbledon Championships has a vast and interesting history and has a multitude of various installations to encounter. Spend countless hours searching for your favourite player's memorabilia scattered within the museum.
From the metallic brilliance of the trophies to the fascinating tennis clothing of the past, you'll be able to browse the top artefacts of tennis history.
Marvel at the Buddhapadipa Temple
With a delicate sense of tranquillity and pious devotion, the Buddhapadipa Temple in Wimbledon is the perfect escape from the hustle and bustle.
This Thai religious site was established in 1976 and was the first of its kind in the United Kingdom. This gold-trimmed temple includes an active monastery and has magnificent shrines and murals within its quarters that depict various Buddhist renderings.
Bespeckled along the temple, you'll find traditional gardens and sculptures to stroll through and enjoy the day in peaceful bliss.
Take a Trip to the Wimbledon Windmill
If you're looking to experience the captivating simplicity of historic structures and their interesting background, the Wimbledon Windmill will not disappoint.
Constructed in 1817, this structure originally housed Lord Baden-Powell, the founder of the Boy Scouts. Today, this impressive site is a windmill museum filled with milling and Scouting history exhibits and tours.
If you're feeling peckish, you can head to the Windmill Tearooms located on the Wimbledon Common to indulge in some delicious homemade produce and nibbly bits.
Stroll Through the Southside House
Wondering how the London elite lived? The Southside house, located on the southern part of Wimbledon Common, is a piece of polished preserved history. The red brick facade and stoic grandeur were first used as a farm in the Jacobean era.
While the beautifully adorned rooms are not open for guided tours, the Southside House hosts a wide variety of concerts and events for the public.
From classical music galas to writing workshops, this sublime space is an oasis for the arts.
Enjoy the Wimbledon Common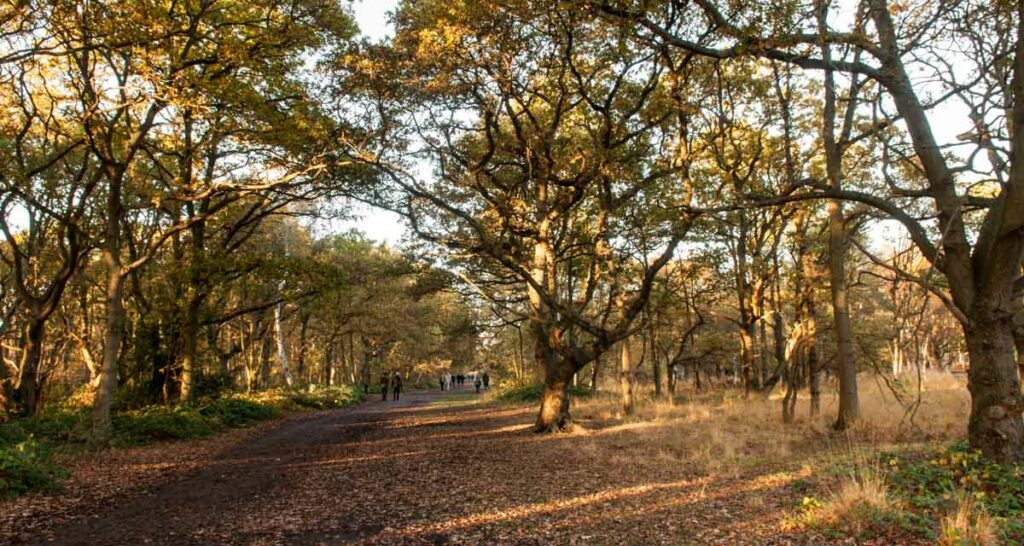 Divided into three subsections, namely the Wimbledon Common, Putney Lower Common, and Putney Heath, this slice of countryside heaven is the perfect place to unwind.
The biggest among the three is Wimbledon Common and provides one of the best walks in London to experience. Whether you prefer to trot along on a horse riding adventure or like to simply watch the bumbling bumblebees fly by, you're in for a treat.
If you're looking to immerse yourself in the fauna and flora of the area, the Windmill Nature Trail offers a variety of biodiverse splendours to get lost in.
Walk Through Cannizaro Park
Categorised as a Grade II listed park on the Register of Parks and Gardens of Special Historic Interest in England, this garden escape will have you enchanted.
A dreamscape for nature lovers, the park is a kaleidoscope of rare and awe-inspiring vegetation. The expansive tree selection is a joy to see in any season.
From the orange confetti of Maples in Autumn to the splendid shade of Oaks in Summer, Cannizzaro Park is the place to see the wonders of nature in all its glory.
This ever-green park is also the perfect location for a late-afternoon picnic to watch the world slowly float by.
Attend a Show at the New Wimbledon Theatre
The New Wimbledon Theatre is a cultural gem with an intricately illustrated ceiling that would certainly make Michelangelo beam with joy. Established in 1910, this Edwardian auditorium is one of the best places to go in Wimbledon.
From side-splitting comedies to show-stopping musicals, this theatre offers a wide range of sensational shows to experience. Get your long-stemmed roses ready, as these productions will be sure to inspire a standing ovation (or three).
Things to do in Wimbledon: Eating and Drinking
Our favourite places to eat and drink in Wimbledon

The Ivy Café
Located in the centre of Wimbledon Village, The Ivy Café offers a glamorous eating experience for every occasion.
Whether you're craving a sneaky fish and chips or a fluffy scone for afternoon tea, this top-tier restaurant has got you covered.
Serving French cuisine with a British touch, this eatery offers a symphony of flavours. Equipped with a delightful garden terrace, this restaurant provides the best weekend brunch spot that will be sure to spark some envy from your Instagram story.
The White Onion
A restaurant with many tasty layers, The White Onion is a little hole in the wall that serves modern French and European cuisine. Situated in Wimbledon Village, this restaurant's enticing aroma of sizzling steak and baked goods will lead you in the right direction.
With their extensive wine selection and a delicate crackling Crème Brûlée to die for, this local eatery will be the perfect place to toast the day away in style.
Hemingways
The ultimate place to down ample drinks in pursuit of inspiration, Hemingways is a cocktail bar situated in the Wimbledon Village. This bar is a popular choice among locals and travelling visitors alike and is always buzzing with a lively atmosphere.
The drinks menu's inspiration is the charming pleasures of an English garden, which will elevate your sundowners with a regal edge.
Sip on lip-smacking creations such as the Sparkling Orchid and the Tudor Rose and feel your day bloom into an unforgettable experience.
Discover the Best Pubs in Wimbledon
Things to do in Wimbledon: Top Shopping Spots
Centre Court Shopping Centre
The best place to burn calories featuring some of the most cut-throat activities known to man — shopping during sale season.
This centre has an abundance of shops and stalls to window shop or buy dry, which ranges from big brands to little community shops.
Elys
Twinkling along the Wimbledon skyline, the Elys building stands waiting for its shopaholic prey. This premier department store holds various well-known brands and services to shop to your heart's content.
We can all agree, this year has been a tough ride. So, why not indulge in some much-needed therapy — retail therapy that is.
Wimbledon Farmers Market
A space embellished with intoxicating aromas, local stalls, and a sense of sophisticated charm, this market is a tapestry of sweet and salty delights.
Walk along a labyrinth of stalls and engage with a range of diverse counters to explore.
From Charlie's Trout to Nana's Chutney, this market has a loving sense of strong community ties.
A Brief History of Wimbledon, London
Categorised by its two main areas, Wimbledon Village and the Wimbledon Town Centre, this suburban paradise has a tall tale of stories embedded within its folds. With roots dating back to the Iron Age, Wimbledon was first established as a medieval village.
Wimbledon's most identifiable characteristic is as the chosen location for the Wimbledon Championships. This epic event was established on 9 July 1877, making it the oldest and most recognisable grass tennis tournament globally.
Year after year, visitors flock to Wimbledon to catch a glimpse of the beautiful game. From the general public to high-ranking elites, Wimbledon brings individuals from all walks of life together.

Practical Tips for Exploring Wimbledon
If you're planning to visit in June and July, Wimbledon has a sea of tourists and visitors who flock to the area. Tennis anyone?
A mere 43-minute drive from London, there is an abundance of attractions and things to do near Wimbledon if you're doing a road trip.
Wimbledon hosts a variety of events to experience scattered across the year, such as the Wimbledon Bookfest. Be sure to look out for local flyers or do some research beforehand.
Peppered with a seemingly endless array of pubs and drinking spots, Wimbledon can be a tough area to navigate wearing beer goggles. Before embarking on a boozy adventure, have your hotel name and a few pounds handy.
Where to Stay in Wimbledon
Rose and Crown Hotel
If you're looking for accommodation close to the action, this darling inn is the place to be. This 17th-century hotel also has a pub right below, which brings the vibey atmosphere of a traditional British pastime straight to your doorstep.
Marple Cottage Guest House
Decked in an ivy-covered exterior and elegant furnishing, this centrally-located B & B is a cosy home away from home. With a full English breakfast ready at your beck and call, the Marple Cottage Guest House will have you starting your day with a full stomach and heart.
Dog and Fox
Much like the popular children's movie, The Fox and the Hound, this stylish hotel will provide oodles of feel-good vibes (without the tear-jerking moments we hope).
Located in the centre of Wimbledon, this quirky decorated spot is the perfect place to put your feet up after a long day of sightseeing. Make sure you book your night on a Sunday to enjoy a hearty roast that will have you stuffed with satisfaction.
Wimbledon Map