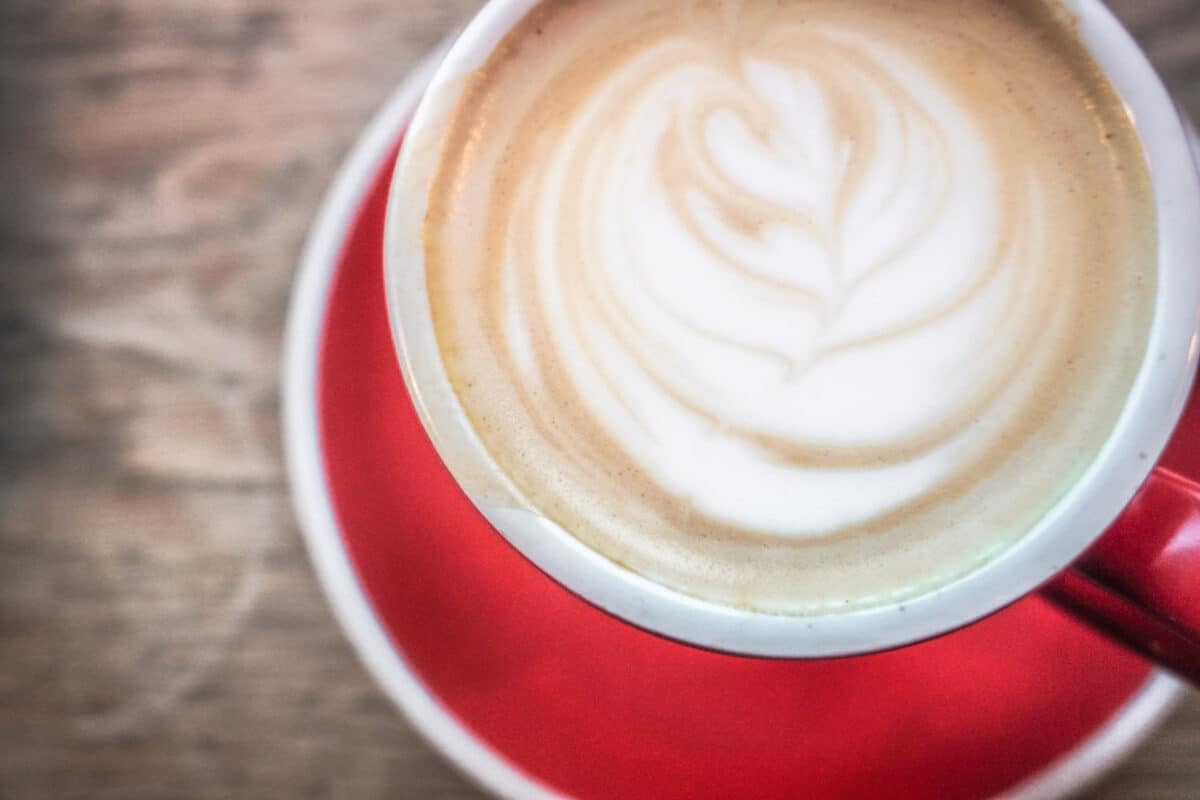 As the centre of all things hipster, it shouldn't come as a surprise that the Shoreditch café scene is popping. Looking for the best coffee shops in Shoreditch? Here's where to start.
Shoreditch – home to street art, cool things to do, underground bars and… coffee shops.
Check out these cool Shoreditch cafés for your daily fix.
Best Shoreditch Cafes
Shoreditch Grind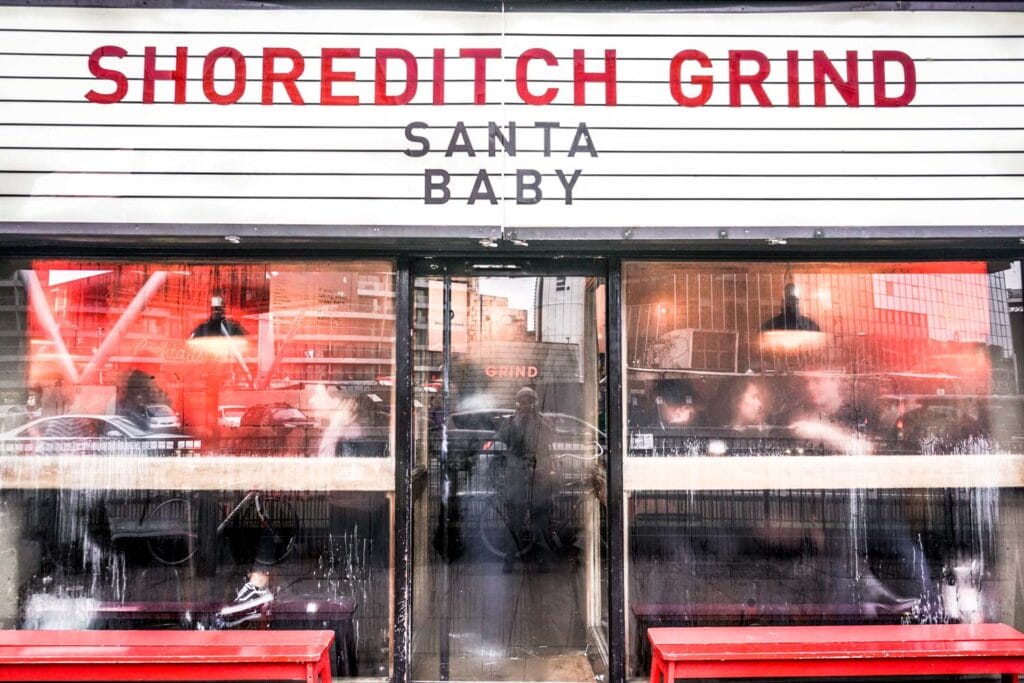 This is where it all started. These days it's difficult to escape the Grind chain in London – a new one seems to open each week – but Shoreditch Grind is the original.
You can see why it works: a coffee shop in Shoreditch that not only serves up a mean cup of coffee, but some pretty potent cocktails and a banging all-day menu to keep you full and happy.
Back to the coffee – they roast it themselves in Shoreditch. There's a house blend and the black blend (punchier, stronger and exactly what you need to segue you into a new day).
Shoreditch Grind's central location right next to Old Street Station means it can get a bit loud and hectic there. It's not one if you're looking for a quiet spot to spend a few hours but the buzzy atmosphere is just the ticket if you want a perky spot for your brew.
213 Old St, London EC1V 9NR
Read more: The Best Things to do in Shoreditch
Attendant
A little spot of Oz that's been plumped into the middle of Shoreditch, Attendant has a simple vision: to serve delicious, locally-sourced food alongside great coffee. It may sound easy, but it's rare to see it done this well.
Coffees are made from green coffee beans that are sourced from independent single estates and farms. Transported to Attendant, they're roasted at their in-house roastery to bring out the unique flavours of the beans before being ground and used to make your cup.
Perfectionists in every way, coffee is weighed and measures are carefully monitored. The result is undoubtedly some of the best coffee in Shoreditch.
74 Great Eastern St, London EC2A 3JL
Friends of Ours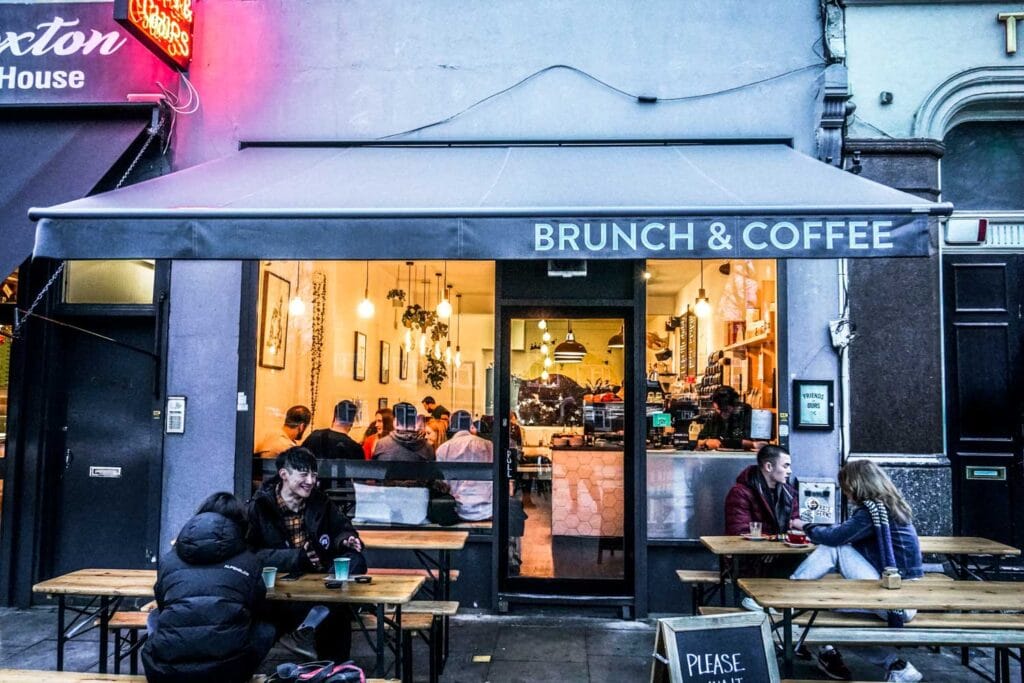 Another Australian-inspired cafe (in fairness, Ozzies do know how to make a great cup of coffee), Friends of Ours is a neighbourhood cafe that just so happens to also be one of the best coffee shops in Shoreditch.
Technically, the cafe is in Hoxton – but who's quibbling. With a seasonal food menu bursting with flavourful ingredients and two coffee roasts (the Dark Arts and an ever-changing guest roaster), there's lots to appeal.
Trying to avoid the coffee? Their golden and lavender lattes make for delicious (and ever-so-Instagrammable) alternatives.
61 Pitfield St, Hoxton, London N1 6BU
Origin Coffee
The folks at Origin Coffee really care about your morning brew… so much so that they dedicate a significant chunk of time to travelling around the world each year to find it.
Only sourcing direct from the producers, they pay each producer 50% over the fair trade prices for the beans.
It's a great start of a process that sees Origin bring the beans back to London, roasting them to perfection before serving them in your cup.
The Shoreditch cafe itself is all minimalist chic – sleek black, white and wood with splashes of colour here and there. It's not huge and sometimes you have to be quick if you want to catch a seat, but it is worth making the pilgrimage even if you end up having to take it away.
65 Charlotte Rd, London EC2A 3PE
Kahaila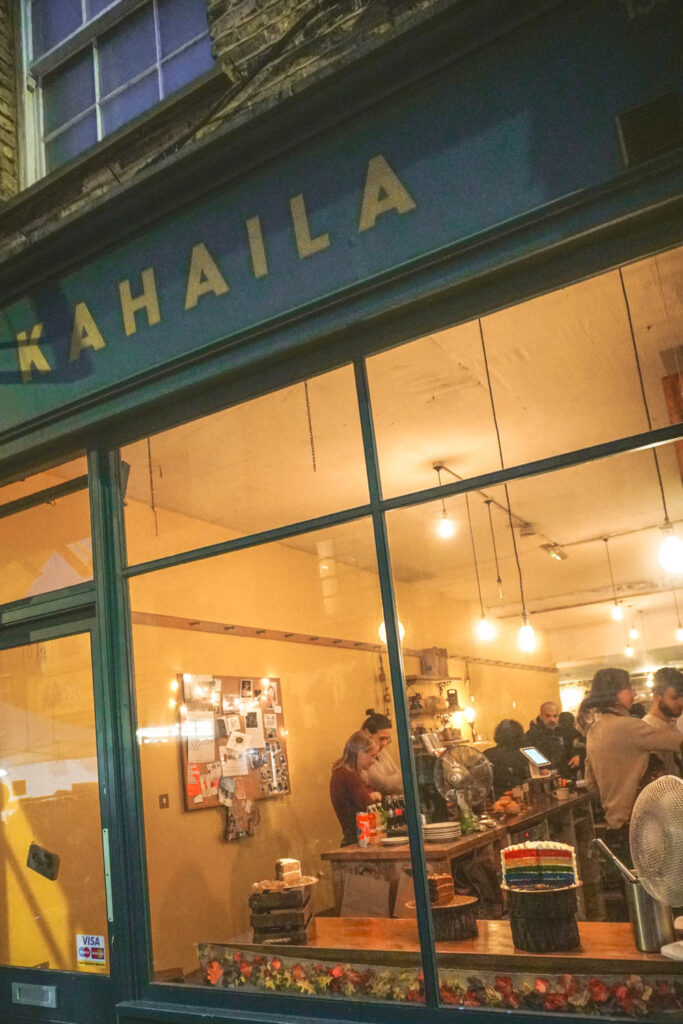 One of the cheaper coffee shops in Shoreditch, this community-focused cafe on Brick Lane is proof that London can still be excellent value – if you know where to look.
Kahaila is actually a charity – their aim is to provide a space where people can relax and connect – with a good cup of coffee and a nice slice of cake.
Everything is focused on supporting the local community. Produce is sourced locally, pieces from independent artists feature on the walls and they hold a range of events aimed at bringing people together.
As you'd expect, there's a relaxed and friendly vibe. Noone's going to chase you away if you decide to take your time with your coffee and cake.
Their red-velvet cupcakes are worth taking time over – they taste so good it seems a shame to wolf them down in one go.
135 Brick Ln, London E1 6SB
Fix 126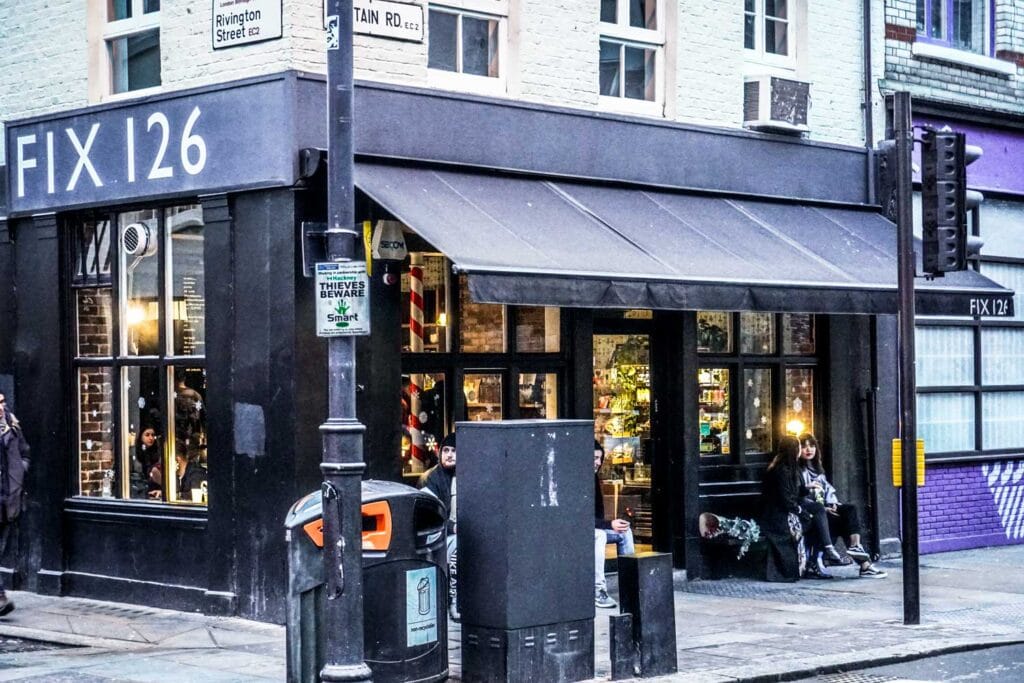 Curtain Road's Fix 126 is a longstanding veteran of the Shoreditch coffee scene. Founded in 2009, it's still the go-to place for locally-roasted blends and a relaxed atmosphere. House blends are roasted by specialists Climpson & Sons – there's even a decent decaf option if you're trying to cut down. Want to try something a little different? You can partake of their single-origin guest blends, which change on a weekly basis.
Seats lining the windows are perfect for those flying solo (and also provide plenty of light and comfort for those wanting to do some work). You'll be sharing tables, so it's not the place for a quiet tete a tete.
126 Curtain Rd, London EC2A 3PJ
Look Mum No Hands!
No doubt cycling fanatics will have heard of Look Mum No Hands! This cafe/bike repair shop is well-known on the London cyclist scene. Who doesn't want a great cup of coffee while they wait for their bike to be repaired?
There are four full-time mechanics on hand to fix your wheels – you're free to pop in to let them have a look at any problems.
LMNH also run a series of cycling-related courses and events – including handy ones on bike maintenance and meetups so you can meet other cycling enthusiasts.
Seating is comfy and plentiful – if you come with a laptop, you're relegated to the bar stools at the edges, irrespective of whether you're eating or not.
Honestly, we think that the food is a bit hit and miss anyway – but the coffee and the cake are on point.
49 Old St, London EC1V 9HX
Ozone Coffee Roasters
Ozone Coffee Roasters' cafe is the kind of place you could easily spend an entire afternoon perched with a book and a coffee or three. Think dim lighting, plenty of plants, and dark wood accents.
Their coffee is from sustainable growers and omni-roasted in house, which means it's absolutely perfect however you decide to have it. Resist (or don't!) purchasing a bag or two to get that barista coffee taste from the comfort of your own home.
11 Leonard St, London EC2A 4AQ
Alchemy Coffee
Fancy your coffee Walter White style? Alchemy Coffee's super fun conical flask coffees might seem like a little bit of a gimmick, but the coffee is extraordinary.
They work with small, ethical coffee growers so that they can skip the middleman; their beans are light roasted in order to bring out the best of all blends. All undertaken in an 85-year old machine in their gorgeously shabby-chic cafe.
Let's be real – the cafe closes at 3pm, which is rather annoying, but it's well worth hauling yourself out of the house in the morning for a cuppa Joe here.
Paul St, London EC2A
Paper and Cup
Brilliant coffee and a wonderful ethos? It could only be Paper and Cup.
The coffee shop trains those who have previously faced addiction, creating a world of new baristas and donating money to charities that aid the homeless and those in recovery.
Aside from that – the coffee is pretty darn good (and you'll struggle to find an espresso in London for less than £1.50), and you can also have a browse around their secondhand goods section whilst you sip.
18 Calvert Ave, London E2 7JP
Coffee Shop Shoreditch Practical Tips + Map
What Time are London Coffee Shops Busiest?
Coffee shops in the capital tend to get busy between 8am and 10am, when everyone's after a morning brew. Expect crowds to form again around lunchtime.
Looking for More Shoreditch Guides?