Looking for the best Greenwich restaurants? We've got you covered.
Greenwich is one of London's loveliest neighbourhoods, with its glorious history, grand buildings and huge park. Even better – Greenwich is also home to oodles of delicious food!
With such a mind-boggling array of eating spots, it's no wonder that you've found your way here in need of some help!
So here it is, just for you, our guide to unmissable Greenwich restaurants – the ones you need to visit right now.
Best Restaurants in Greenwich
Goddards at Greenwich
£
A Greenwich restaurant or a Greenwich icon?
All we know is that Goddards has been feeding the people of London piping hot pie and mash since 1890 and for that, we salute them.
Made fresh on the premises of this family-run establishment in Greenwich Market, with mouth-watering fillings that range from minced beef through to chicken and ham through to vegan and gluten-free, Goddards is obviously doing something right. Not sure if we can quite bring ourselves to get the side of jellied eels but, you know, each to their own…
Sticks n Sushi
££
Dishing up everyone's favourite Japanese fare, this is the perfect spot for lunch in Greenwich. It's also the place to get your fresh maki rolls and sushi and your freshly grilled yakitori sticks any time of day!
Served in a relaxed, vibrant space in Greenwich Market, we love Sticks n Sushi's Nordic-inspired airy, white interiors. There's a nod to Japanese tradition with large sharing tables, though if you don't fancy being social, you can choose a smaller table where you don't have to mingle.
Champagne + Fromage
££
Cheese. Champagne. What more can we say?
Only that with beaucoup de alfresco seating, a champagne list as long as your arm, and a selection of artisanal cheeses that range from mildly fragrant to deliciously stinky, Champagne + Fromage is a little piece of delicious France in Greenwich Market.
Just to add that extra 'je ne sais quoi', besides the champagne and cheese, there is a range of classic French fare to sink your teeth into, including cassoulets, confits and saucisses.
Rivington Grill
££-£££
Serving up classic neighbourhood eatery with a side of hearty meat and seafood dishes, the Rivington Grill is not only in the heart of Greenwich, but has a place in the hearts of local residents, especially on a Sunday when the roast is on the menu.
You'll find timeless British dishes that are lovingly prepared with responsible-sourced fresh ingredients from local suppliers.
The two-floor dining space is also home to a bar with stool seating – which you'll need to use while you choose one of the 120 gins that are on offer for that cheeky G&T.
There's also a lovely garden terrace from which to enjoy all the deliciousness.
Craft at O2
£££
Spread over three floors, Craft at the O2 is a 'New British' restaurant and as modern as they come.
Occupied by a cafe, a cocktail bar and a restaurant, floor to ceiling windows, contemporary glass and metal light fixtures, crushed velvet (yes, they will frown on you for rubbing your face on it, sorry) and popping colours fill a relaxed and sophisticated space.
This is food that has been really thought about; all the ingredients are British, sourced from farmers that chef-owner Stevie Parle is buddies with, treated lightly and with reverence, and prepared in a variety of (old but) modern ways like curing, smoking and fermenting.
Queen du Vietnam
££
A relative newbie to the dining scene, in its bright Greenwich restaurant, Queen du Vietnam brings a delicious bite (or slurp?) of Hanoi to the capital.
Since early 2019 it has been serving up crowd pleasers like steaming bowls of pho and those bites of joy that nobody can resist that are spring and summer rolls.
Everything on the menu is authentic and delicious, and there are a few dishes to try if you fancy something a bit more unknown, such as cha cá lã vong (grilled fish with rice vermicelli noodles). There are plenty of vegetarian and vegan options too!
Pho Street
£
Sticking with Vietnamese (because yum) Pho Street is the perfect spot for lunch in Greenwich, with its slurpable soups and tasty banh mi sarnies.
The simple yet delicious dishes are freshly prepared from old family recipes and the menu is packed with authentic eats, whether you fancy a bowl of pho, a bun salad or a stuffed bao bun. There's also excellent bubble tea to take away.
Located centrally close to the Cutty Sark with prices that offer great value, you can't really go wrong!
Peninsula
£££
The Peninsula is a North Greenwich restaurant with pedigree!

The O2's fine dining option, this award-winning dining room is a treasure hidden away in the InterContinental Hotel. Here, the food and wine is made to be savoured and luckily the views over the Thames to Canary Wharf allow just that…though the dishes are so exquisitely presented you might not want to dig in. Jokes, the food is too delicious for that!

The menu draws in flavours from across Europe and the wine list is a bucket list for any vino enthusiast. With it's chilled ambiance and fine views, this is the place for a special occasion, or a Friday night when you're feeling flush.
Zaibatsu
£

A delightful little Japanese fusion establishment, Zaibatsu is right on the edge of Greenwich by Maze Hill Station. While it may not look like much from the outside, what's inside this restaurant will make both your stomach and your wallet happy – it is well known for its tasty food and excellent value.

Dig in to fresh nigiri and sashimi – the sets offer great pleasure and great value – or go for one (some) of the cooked dishes, which include delights such as tempura, teriyaki and flavour-packed ramen.
Other Places to Eat in Greenwich
Heap's Sausages
£
This gem of a deli and farm shop may be tucked down a sleepy Greenwich backstreet, but its reputation is anything but quiet.
Inside Heap's Sausages you'll find a foodie haven, as there are not only high-quality British sausages to choose from, but all sorts of meats, cheeses, wines and vegetables too! Very little wonder that it's got a reputation as one of the best places to eat in Greenwich.
From barbeque boxes that will make you feel like grilling royalty to takeaway breakfast bacon rolls and scrumptious sausage and mash, Heap's has become Greenwich's go to place for a one-way ticket to gastronomic heaven.
Craft Cafe
££
The cool and casual Craft Cafe occupies the ground floor of Craft at the O2. With freshly baked goods, sourdough pizza and roasted coffee, lunch in Greenwich never smelled so good, and there are options to eat in – in or outdoors – or to grab your purchases to go.
While the menu is graced with brunch favourites, the daily batch of pastries will also fight for your attention, so go in prepared for a fight with yourself or, more simply, embrace the double breakfast.
Greenwich Market
£-££
The food stalls at Greenwich Market are what the weekends were made for. Actually, you'll find some of them there all week, so whenever you're in the area, it's worth swinging by to see what's cooking.
From fresh cannoli and cookies to Ethopian vegetarian, vegan pizza and Andean empanadas, to name just a few, this market is a feast for the senses that is ready to grab you and not let go until you've eaten ev-ry-thing.
The Gipsy Moth
££
Located right next to the Cutty Sark, this delight of a Greenwich pub is a mainstay and a quirky, laidback place to enjoy a bev and a bite to eat.
What's to love? The fine selection of beers on tap plus a fabulous range of worldly wines and spirits, The Gipsy Moth serves up all the pub favourites done well, including an excellent roast on Sundays.
On sunnier days, the outdoor space has a retractable roof, so you can enjoy your food and catch some rays at the same time – this is the sort of multitasking we like!
The Guildford Arms
££
Boasting a chilled but vibrant outside space away from Greenwich's busy centre, the three-storey Georgian tavern that is The Guildford Arms is a delightful spot for bevs, food and a catch up with friends.
The kitchen here is centred around a charcoal grill, so it's safe to say that there are some tastily cooked meats and veggies on the menu. Then there's the yummy range of mezze boards and 'feasting menus' which are meant to be shared, but you might want to keep them to yourself.
The drinks options will keep even the snobbiest of drink snobs at bay with its great range of craft beers, wines and spirits.
Pavilion Cafe
£
A distinctive octagonal building in the middle of the gorgeous Greenwich Park, the Pavilion Cafe is exactly what you want after the long(-ish) slog up the hill to the Royal Observatory, which it sits next door to.
There is indoor seating and a large garden – also with seating, so you can rest assured that whether you're there for a coffee and cake refuelling stop, or want to take your time with a sourdough pizza and glass of wine, it can be devoured with magnificent views.
The food menu spans pastries and sandwiches to hearty hot plates, and there's a traditional afternoon tea option if you're feeling fancy.
Red Cow Carvery
£
A Greenwich Market weekend favourite, the Red Cow Carvery is a glorious celebration of the humble Great British roast. The slivers of meat are cut from a block sizzling away in its own juices, the potatoes crispifying (yes, yes, not a word, but correct in this context) under a blanket of delicious herbs, the Yorkshire puddings plump and golden calling out to be eaten. Then there's the beef and melted cheddar sandwich… Mmm yes, our mouths are watering too.
Practical Tips and Map for Exploring The Best Greenwich Restaurants
Greenwich Market has existed since 1737. For most of that time it has been a food market, but today it has 46 food stalls and about 77 arts and craft stalls plus a few more. There are some food stalls whatever day of the week you visit, so it's always worth popping in for something tasty!
Greenwich has a lot of things to do – the Cutty Sark, the Royal Observatory, the park, museums and so on, so it is often full of tourists. With this in mind, choose the time you visit wisely to avoid the crowds, or head away from the main areas to find somewhere a bit quieter to enjoy your meal.
You can reach Greenwich by boat, by tube, by bus, or by train. By boat is the most fitting way (Greenwich has lots of maritime history) and you'll dock right by the Cutty Sark. The Jubilee Line goes to North Greenwich (by the O2) which is a bit of a walk, but the Docklands Light Railway stops at both the Cutty Sark and Greenwich stations. You can take an overground train to both Greenwich station and Maze Hill too.
Looking for More London Food Guides?
Check these out…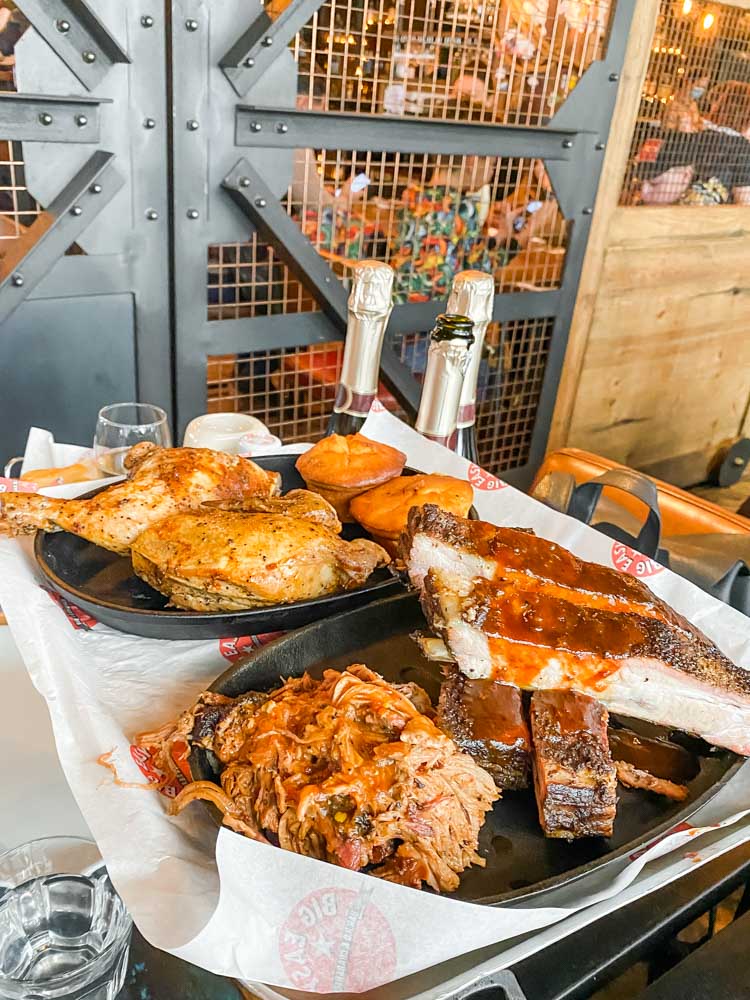 Brilliant Brunches
in
London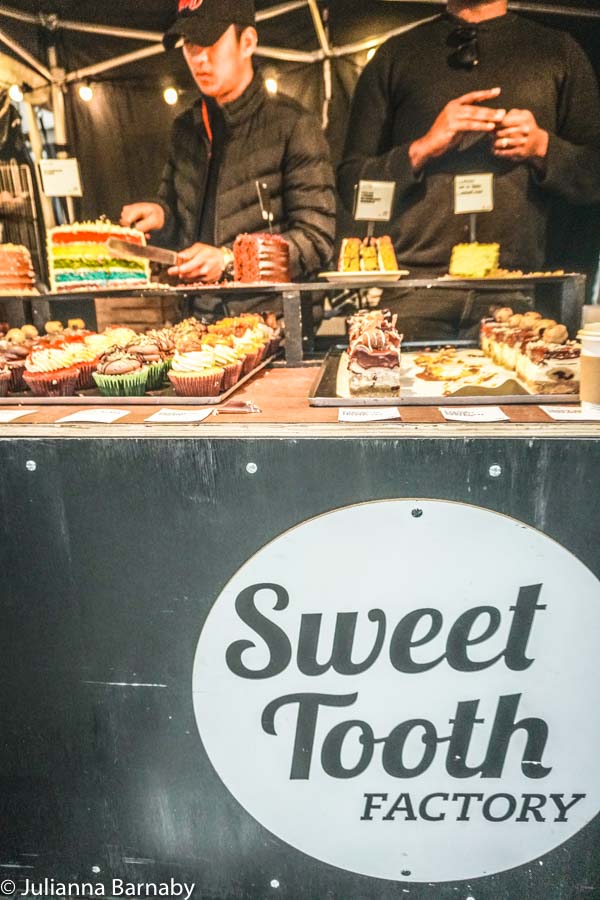 Best Street
Food
in
London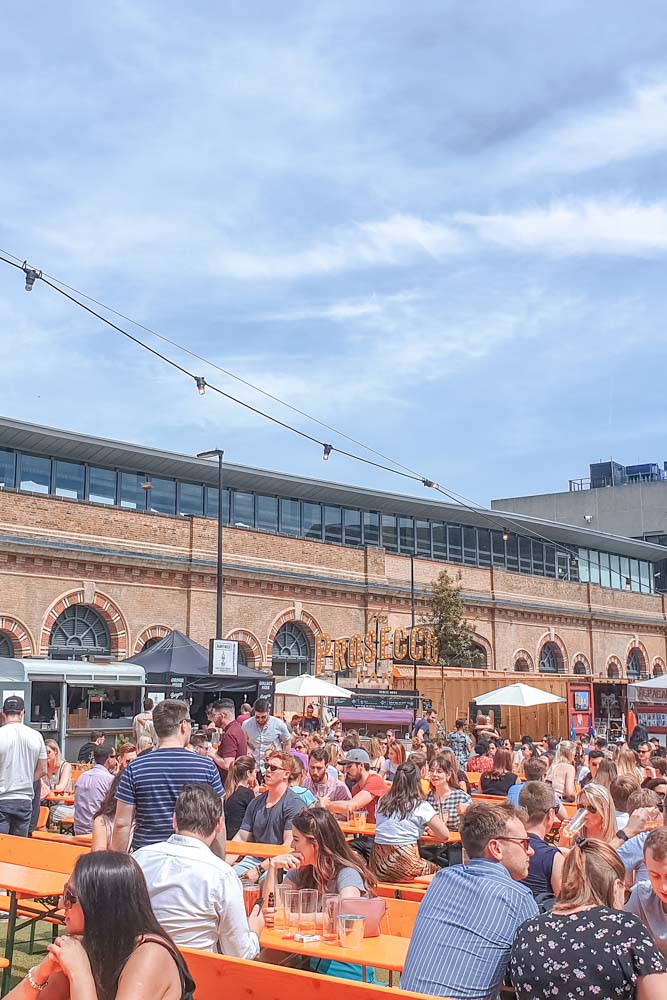 Outdoor
Dining
Spots in
London