A peaceful stretch of water in central London? You might think that it sounds impossible but it really does exist. Regent's Canal is hidden away in Paddington and runs all the way to Limehouse Basin.
Stroll along the nine-mile length of the canal and you will see your fair share of landmarks – Regent's Park, King's Cross, Camden Lock – but aside from some short stretches it's rarely overwhelmingly busy.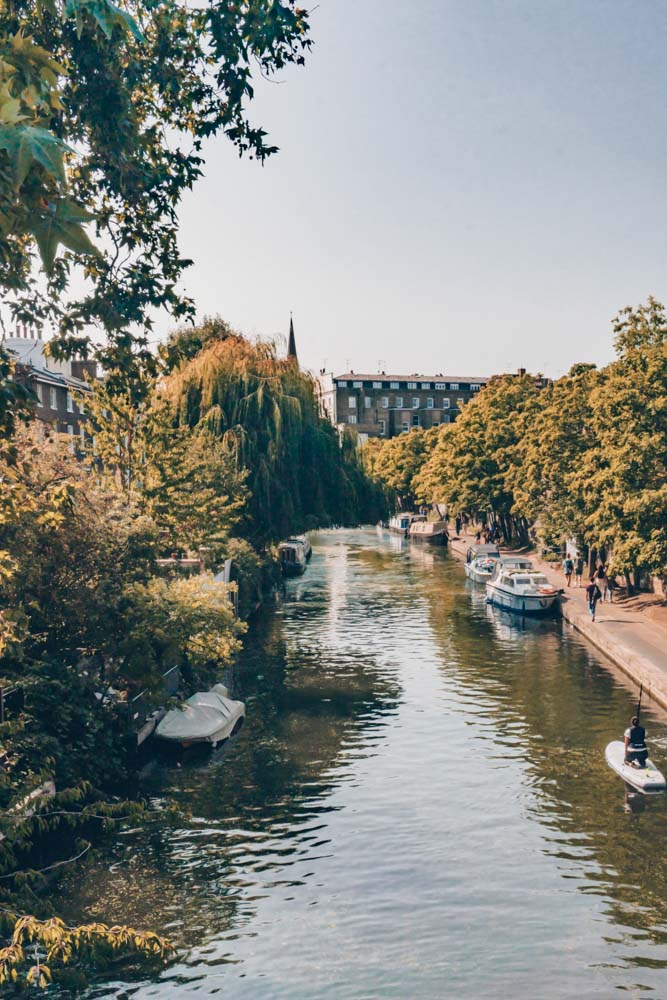 Littered with cute cafes, restaurants – there's even a floating independent bookshop, Word on the Water in the King's Cross section, you could stretch the walk along the canal over two days, taking time to stop off at the myriad of diversions along the way.
The canal is a part of England's extensive canal network and links the Paddington arm of the Grand Union Canal with the Thames.
At one time, these canals formed the backbone of the country's transportation industry and were used to carry bulk shipments of timber, coal and food into and out of the city.
Regent's Canal was completed in 1820, but canals were soon overtaken by railways as the most viable way to transport goods. Still, long distance traffic continued on the canal into the 1960s.
Ready to discover this gorgeous stretch of water? These are the spots you shouldn't miss.
Things to do on Regent's Canal
Regent's Park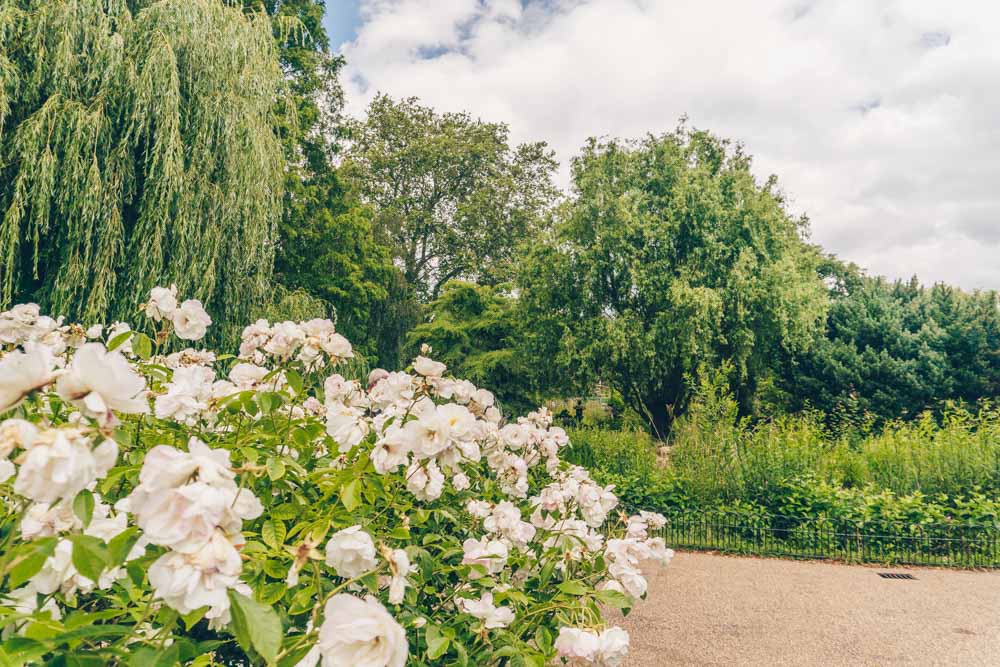 Whilst London has a number of gorgeous parks scattered throughout the city, Regent's Park is undoubtedly one of the prettiest. Named after Prince Regent, who later became known as King George IV, this is one of 8 royal parks that the capital boasts.
It's impossible to feel bored in this park as there is so much to do, including discovering the 12,000 roses in Queen Mary's Gardens, hiring a rowing boat and taking to the water, or even visiting London Zoo.
Also in close proximity to Primrose Hill, this area is simply beautiful on a summer's day.
London Zoo
For those exploring Regent's Canal with children, a trip to London Zoo is highly recommended. Where else can you feed penguins and walk amongst giraffes in central London?
Whether you fancy being a keeper for a day, or are just happy to observe the animals in the zoo, this is one of the best zoos in the UK and allows you to get up-close-and-personal with some of the world's rarest and most famous creatures.
You can even rent a room to sleep in whilst surrounded by Lemurs! Located in Regent's Park, the park is in between Camden and Little Venice.
Camden Lock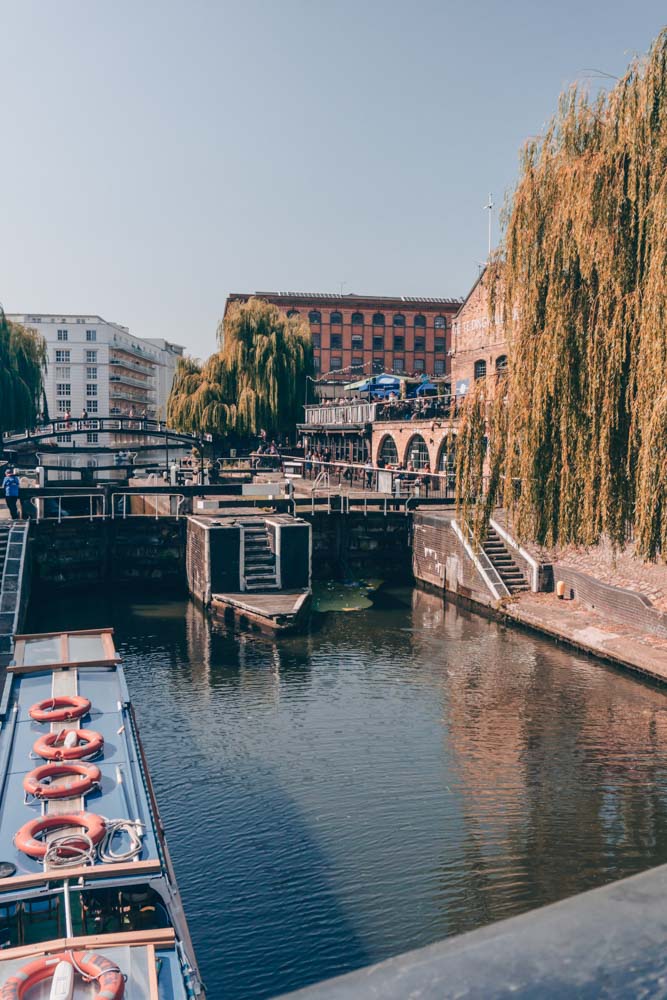 Camden Lock is an iconic market area in Camden which started in 1974 as a place for independent businesses to sell arts and antiques. The market is filled with eccentric and one-of-a-kind stalls, selling anything from handmade crafts to jewellery and an abundance of delicious street food.
Though the market has changed plenty over the years, it has stayed true to its roots and remains one of the best places in London to pick up a unique gift or souvenir.
Take a Boat Trip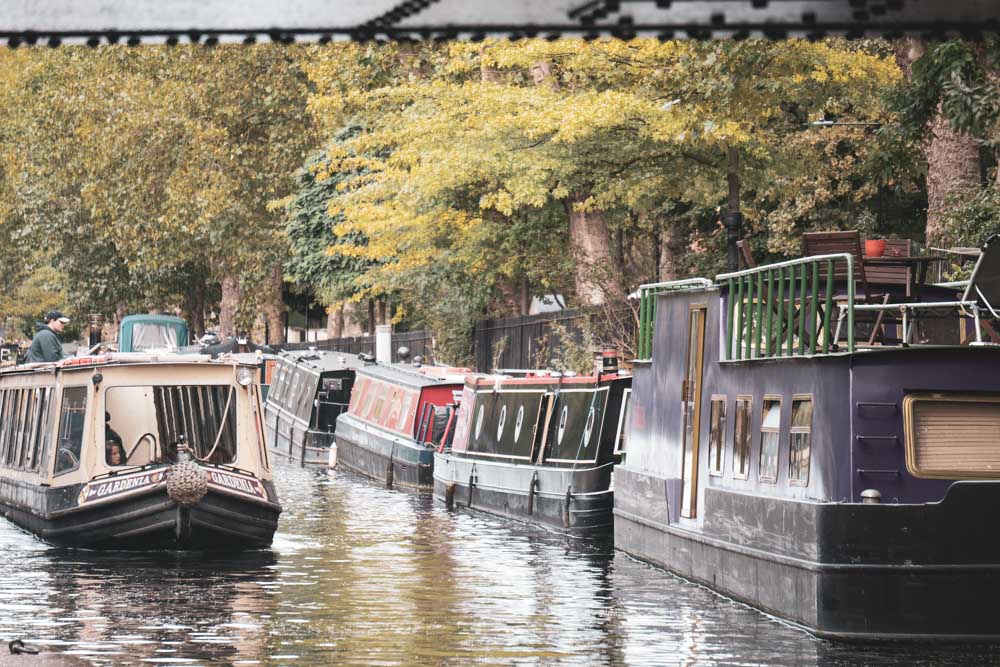 Now, if walking doesn't, ahem, float your boat, then a boat trip along Regent's Canal is a perfect way to spend an hour.
Board a waterbus and travel along the canal in a traditional narrowboat, all whilst enthusiastic guides explain the history of the area.
From Camden Market to Little Venice, this picturesque journey takes you celebrity-spotting in Maida Vale, as well as to the top graffiti spots and past London Zoo along the way.
Word on the Water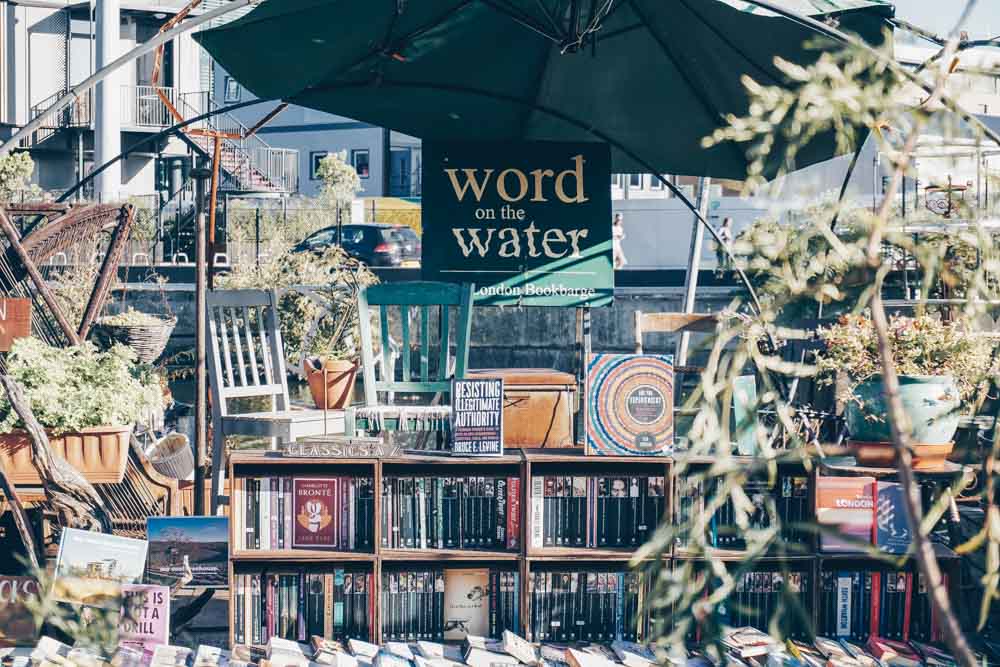 Book lovers just have to stop at Word on the Water, a barge filled with books available to purchase.
Whether you want a much-loved classic, a modern novel, or would rather pick up a pre-loved book, this mobile bookstore has an abundance of titles available.
It's hard to miss this boat, you can spot the wooden shelves adorned with books from a mile off.
The inside is deceptively large, allowing you to take your time perusing the books available. There's even a leather armchair if you want to take a quirky Instagram photo.
Coal Drops Yard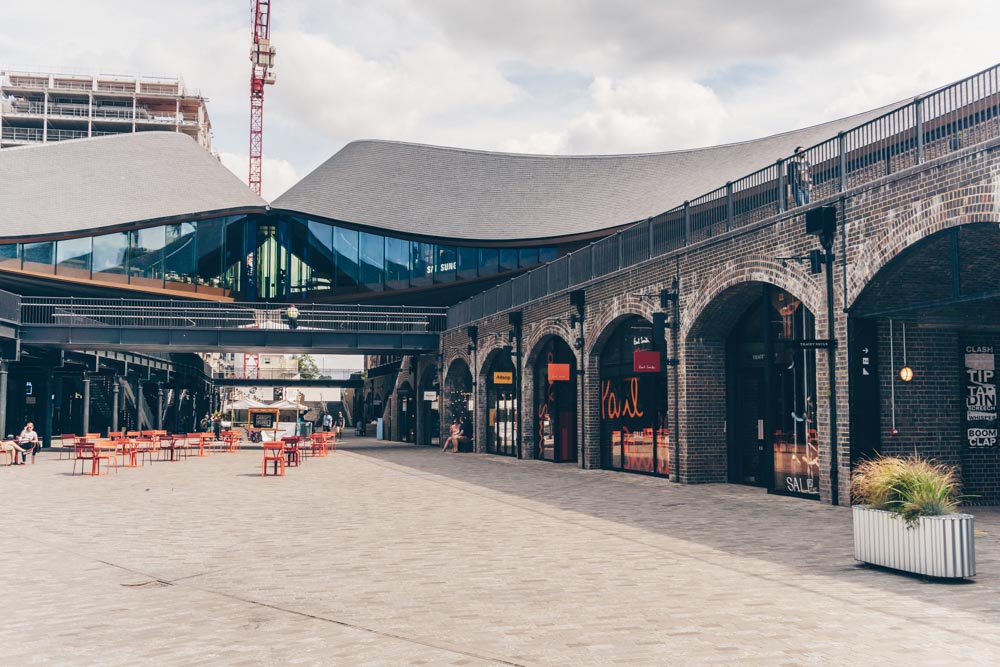 Located just a five-minute walk away from King's Cross Station, Coal Drops Yard is an uber-cool shopping destination filled with independent boutiques, restaurants, and fun bars.
Opened in 2018, the centre is a large warehouse housing brands from small to widely loved – from Alain Ducaisse's Chocolate shop to House of Cans, there's something for everyone.
Dine at Feng Shang Princess
You will not believe your eyes as you pass the striking floating Pagoda containing the Feng Shang Princess restaurant. Not only is this possibly the coolest experience on Regent's Canal, but the food is divine and the atmosphere is even better.
With an incredible dim sum selection featuring classics like xiao long bao and har gow alongside more artisan creations like the lobster bao, all complimented by the extensive wine menu.
The twinkling views of the water in the evening, makes this the perfect date night location. If you're feeling uber lovey, you can combine it with a romantic walk along the canal.
London Canal Museum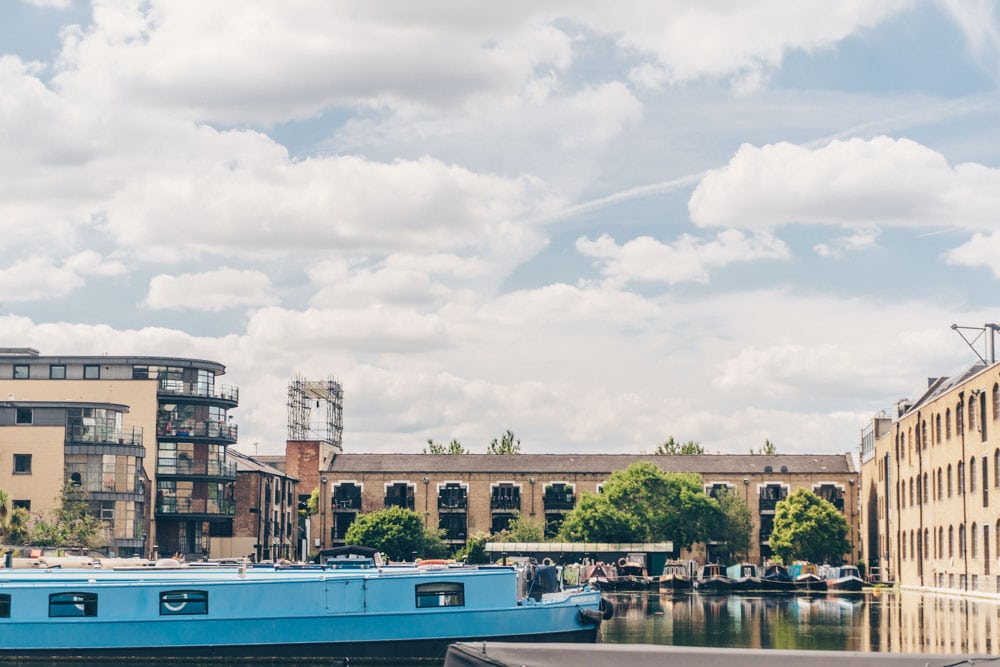 As you wander along Regent's Canal, you have to visit the nearby London Canal Museum. At the museum, you can view the inside of a traditional narrowboat cabin and learn all about the history of the canalways, as well as the life of the workers who used to work on London's canals in Victorian times. You'll also find out about the ice cream trade that used to rely heavily on the canal system to transport ice through the city.
Costing just £5 to visit, this is a fun and unique way to spend an afternoon. Or, if you can't visit in person, the museum holds plenty of free online talks to educate you about the canals of London.
Victoria Park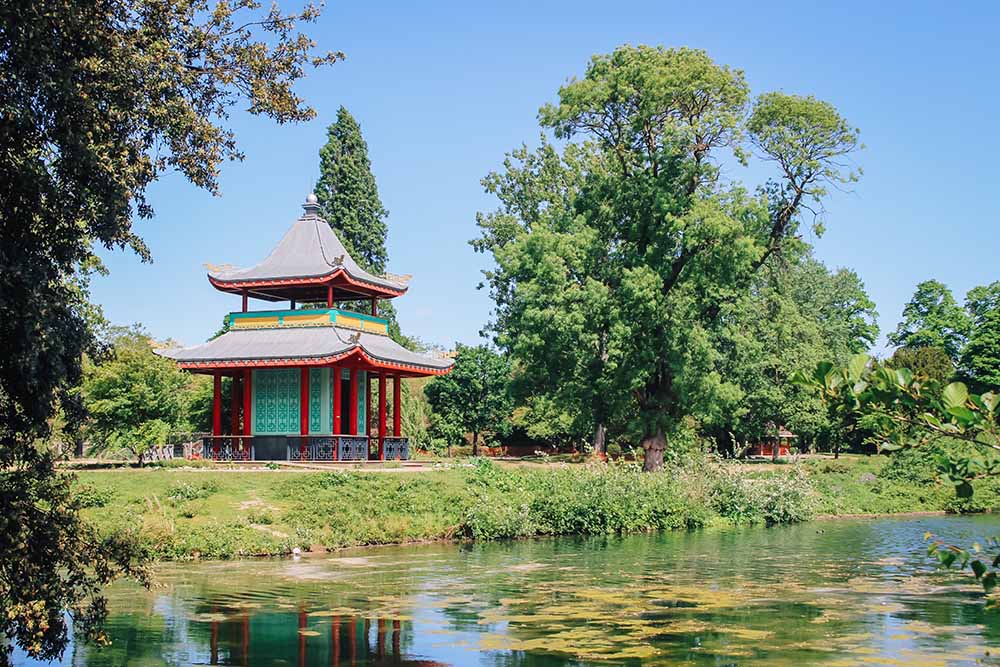 As one of London's biggest, but underrated parks – seriously, the Japanese garden is incredibly beautiful – an hour or two of discovering the hidden gems in Victoria Park is a must. Whether you want to reconnect with nature or take a picnic break halfway through your walk along the canal, this is a stunning park that transports you far away from the hustle and bustle of London.
Go boating on a lake, take the kids to one of the children's playgrounds, or enjoy a leisurely stroll around the perimeter. Whatever you decide to do, you'll appreciate the natural beauty that can be found here.
Victoria Miro Gallery
Featuring the artwork of iconic artists including Yayoi Kusama and Jules De Balincourt, the Victoria Miro Gallery is a gorgeous art gallery showcasing work from some of Europe, USA, and Asia's most celebrated upcoming artists.
With exciting rotating exhibitions and a perfectly curated art collection, this is a gallery that those who love contemporary art will really enjoy and a great way to spend a couple of hours should it start to rain during your walk along Regent's Canal.
Rent a Kayak
If you're feeling brave, a fun way to explore Regent's Canal is on a Kayak. Renting a boat may seem scary, but there's plenty of help on hand, and most kayaks are suitable for even beginners.
There's no better way to discover London's sights by sitting low on the water, and paddling yourself down the canal.
Cool Restaurants Along Regent's Canal
Narrowboat
With an incredible range of ales and classic British food – think burgers, fish and chips, and a decadent cheese fondue platter, The Narrowboat Pub is the perfect escape from the buzz of central London.
The pub's interior consists of hip leather and wooden details, and the outside terrace overlooks the canal. Narrowboat offers dreamy views of the boats passing along the waterway below. You can even grab a takeaway pint and enjoy whilst you wander along the canal, pure bliss on a warm day.
The Duke of Cambridge
If sustainability without compromising on taste appeals to you, The Duke of Cambridge claims to be Britain's first organic pub and serves up classic dishes with a responsible twist.
Their menu is small but carefully curated, with mains including vegan cottage pie and pollock, brown shrimps and butter, as well as a delightful assortment of cheese and other small plates.
The inside is cosy and everything you would expect from an ultra-cool gastropub, with stripped wood complimenting white brickwork and open shelving.
Round off your meal with their apple and blueberry crumble for dessert – quintessentially British and completely delicious.
Taru
Hidden a couple of roads behind Regent's Canal, you can find Taru serving tantalizing Japanese fusion cuisine. With incredible prices for London, sushi starts at just £3.50 and their generous servings of ramen cost less than a tenner.
Their chicken katsu poke bowl is phenomenal and offers the popular dish in a way you've never seen before, and their custard dorayaki and mochi desserts are a divine way to finish off your meal.
Regent's Canal Walk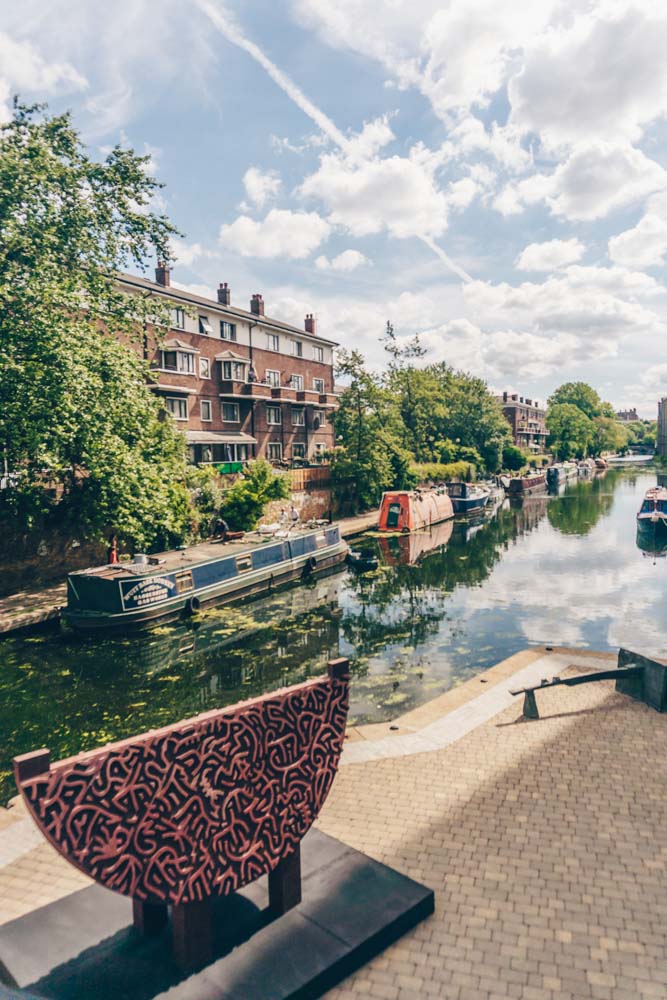 Whilst exploring Regent's Canal on a boat is fun, the best way to discover all the sights is on foot. For the full experience, start in the Little Venice area and meander along until you reach the Limehouse Basin. This walk is around 9 miles long, so, bring a beer or two, and be prepared to spend an afternoon wandering along the waterway.
Heading west from the Little Venice area, you'll reach Regent's Park. Here you can spend some time appreciating the gorgeous scenery or stop off at the zoo before continuing your walk further along the canal. On the corner of the park you can spot the Feng Shang Princess floating on the water.
After Little Venice, you will pass near the Primrose Hill area. This is a perfect place to grab a coffee in one of the quaint cafes nearby or take to the famous hill to watch the sunset. This area is one of the best places to spot celebrities, so keep your eyes peeled.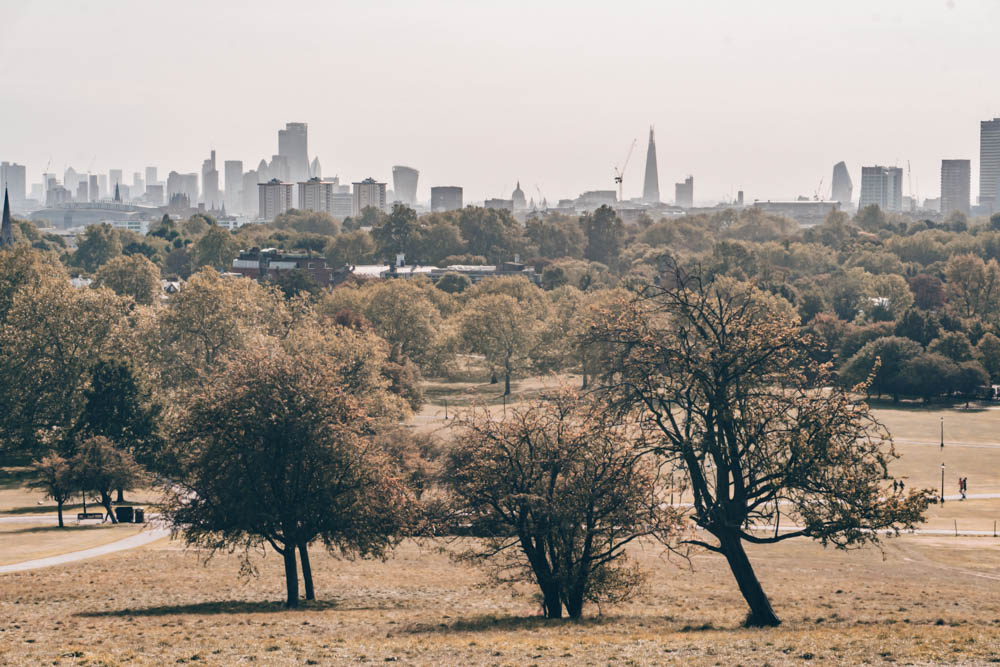 Along the way, you'll pass through Camden: this is the area for great eats and exploring the iconic market. Camden in itself can take a few hours to explore, so if you plan to stop here then make sure you give yourself enough time to complete the rest of the walk.
As you continue eastwards from Camden, further along the canal you will walk alongside St Pancras Lock; this lock was built in 1819, and is in a pretty location near to King's Cross. Here you can stop off at Coal Drops Yard for some retail therapy.
Continue on from King's Cross and wander through Victoria Park before you reach Limehouse Basin to finish your journey. Limehouse is a former dockland area, so there's not as much to see here, but it's the perfect end location to make the most out of your Regent's Canal walk.
Map of Regent's Canal
Looking for More London Guides?
Check these out…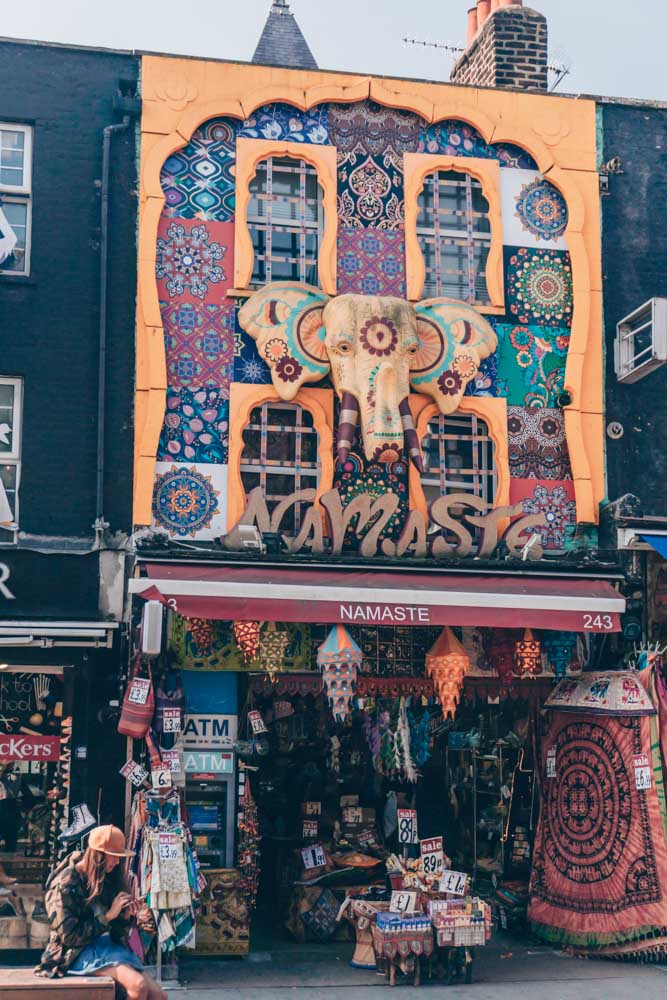 Cool
Things to do in Camden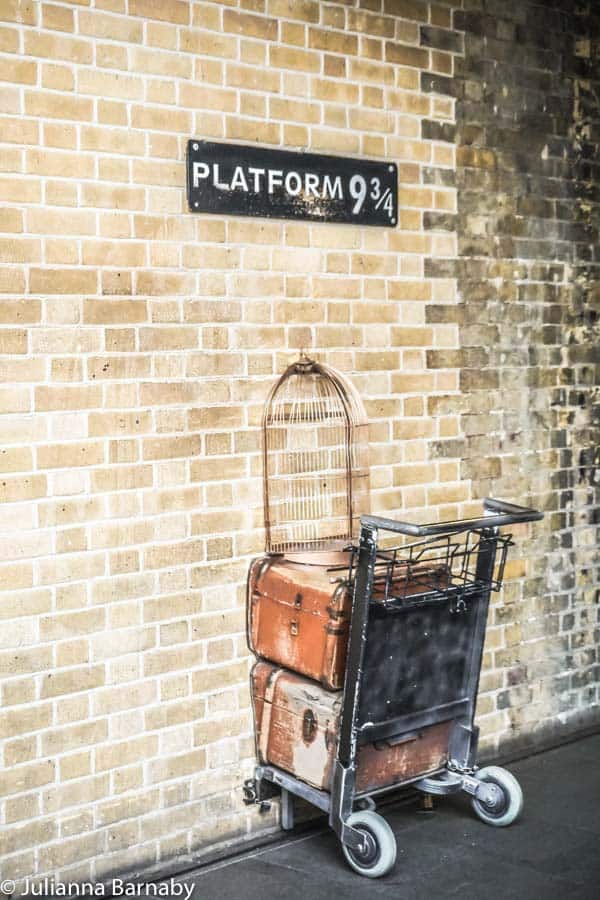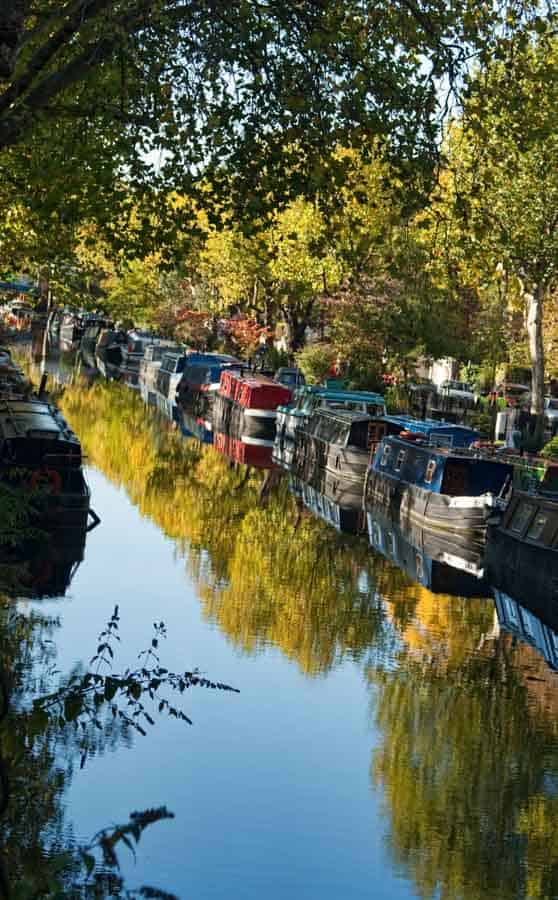 Brilliant Things
to do in
Little Venice