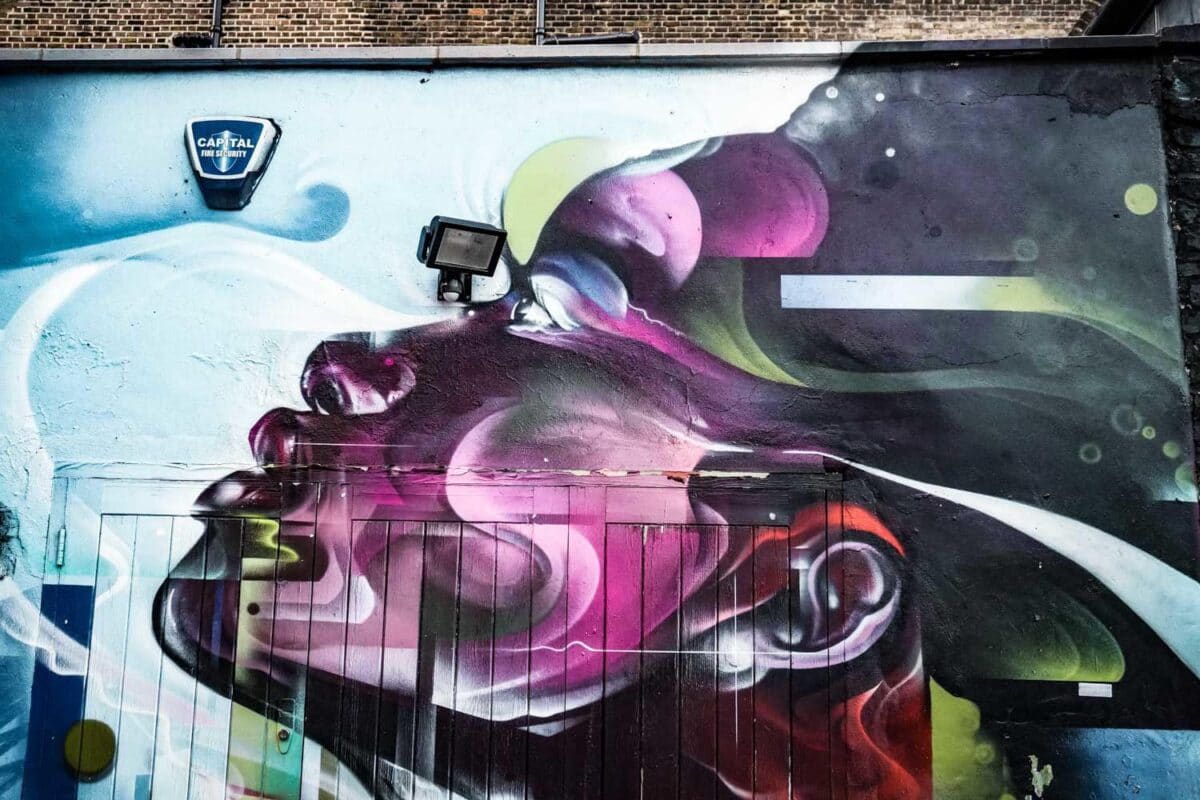 Hipster cool meets London chic – Shoreditch is one of the city's most vibrant destinations. Planning to explore? Don't miss these cool things to do in Shoreditch to help you discover the best of the area.
Shoreditch.
As a born and bred Londoner, I've been known to be a bit dismissive of Shoreditch in the past. At some point, the artists moved out for more obscure parts of East London, the ad agencies moved in and I started to call it Hipsterville, or some other name that was not meant to be at all complimentary.
I may have given it a wide berth for several years, only to be dragged in kicking and screaming for birthdays, dinners and other social gatherings I had no control over.
Guess what?
I was wrong.
Well, kind of.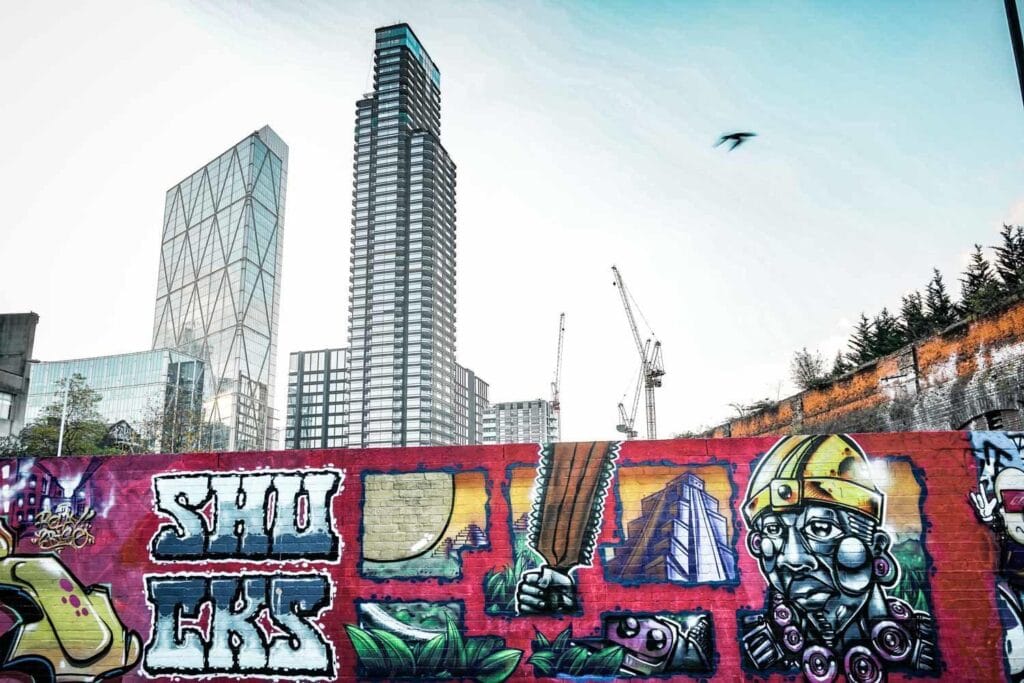 Sure, Shoreditch is chock-a-block full of hipsters but it just so happens to also be full of great cocktail bars, awesome street art, cool markets, traditional pubs, delicious street food, party-hard clubs, live music hotspots… the list goes on but I'm out of breath.
Anyway, who am I to judge a hipster? I really love dungarees, good coffee and edgy glasses so…
Diving into Shoreditch is best described as a full on sensory assault – one that will leave you dizzy and just the tiniest bit in love. Planning a visit and in need of a Shoreditch guide? Here are the 20 things to do in Shoreditch you shouldn't miss.
The Best Things to do in Shoreditch
Strike a (Yoga) Pose at Mission
This child of a lockdown need to bring together communities has morphed into something massive and pretty marvellous. Mission is the largest yoga centre in Europe. 14,000 square footage includes five yoga studios, treatment rooms, saunas and even a restaurant.
The founders of the space are yoga students and instructors and have picked teachers that they know and trust and come ranked as some of the best in the country.
When you've stretched it out with them, a meal at the aforementioned restaurant, Maene, is an excellent idea. Which, as you'd expect – maybe even demand – from a place like this, uses local British produce on menus of healthy food that boast vegan and veggie options galore.
Check out Shoreditch's Thriving Street Art Scene
Shoreditch and street art go hand in hand. Shoreditch is hands down the best place in London to see street art and is always setting the pace on the international street art scene.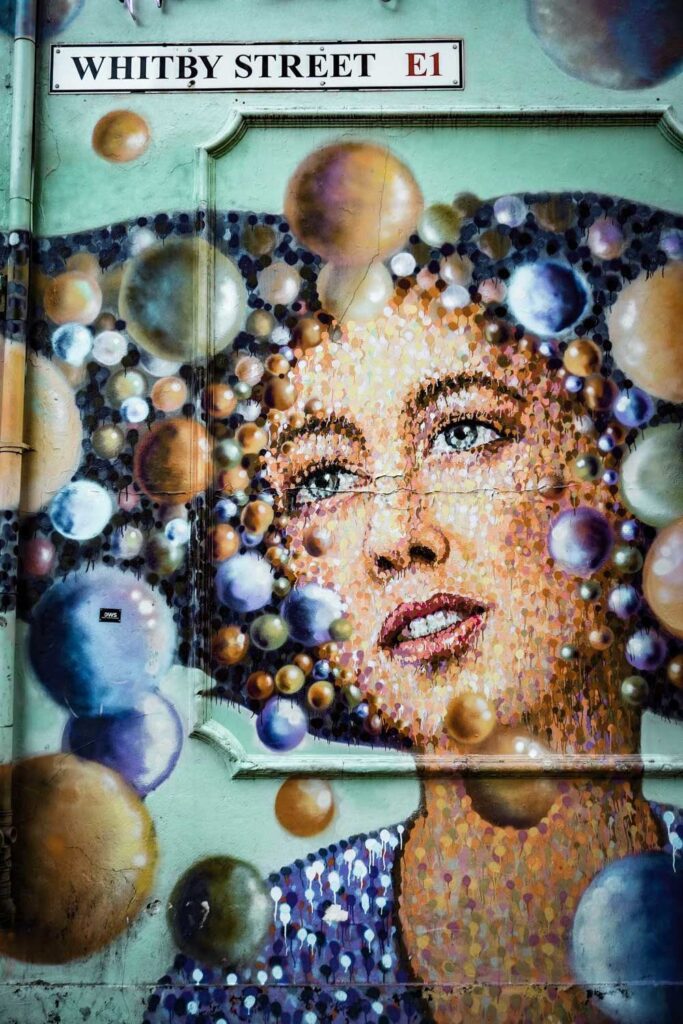 There are few things that I like more than spending a few hours mooching around Shoreditch to see new pieces that have gone up, lament old favourites that have disappeared and find ever more spots brimming with murals.
That's why I wrote this Shoreditch street art guide, complete with a tour + map – a self-guided street art tour is one of the few free things to do in Shoreditch – check it out.
Around every corner, down every alleyway, looming over car parks, on railway hoardings, underneath the arches of Shoreditch High Street Station, even on some of the wheelie bins – talented artists have turned the area into a canvas filled with colour and bold statements.
A walk around Shoreditch's street art is like a tour of the who's who of the international street art hall of fame: everyone, from Banksy to Mr Cenz, Ben Eine, Dale Grimshaw, Zabou and Phlegm Art has painted or has a piece somewhere in Shoreditch.
Hint: if you want to see Shoreditch's street art without the crowds or incessant selfies, your best bet is to get up and set off early in the morning.
Sip some Very Drinkable Cocktails in Shoreditch's Best Bars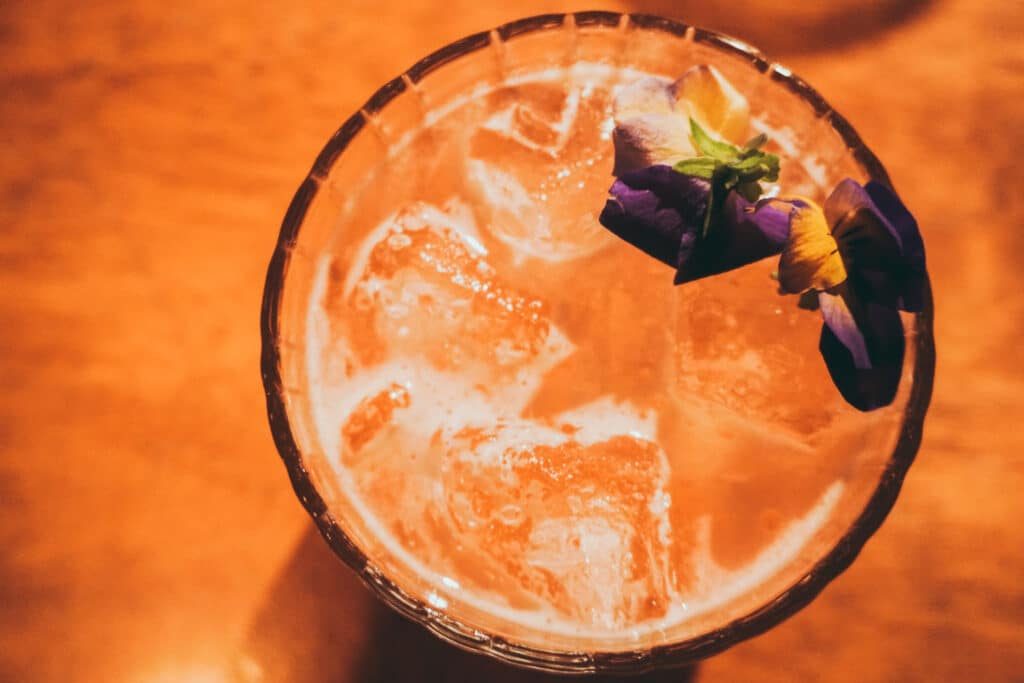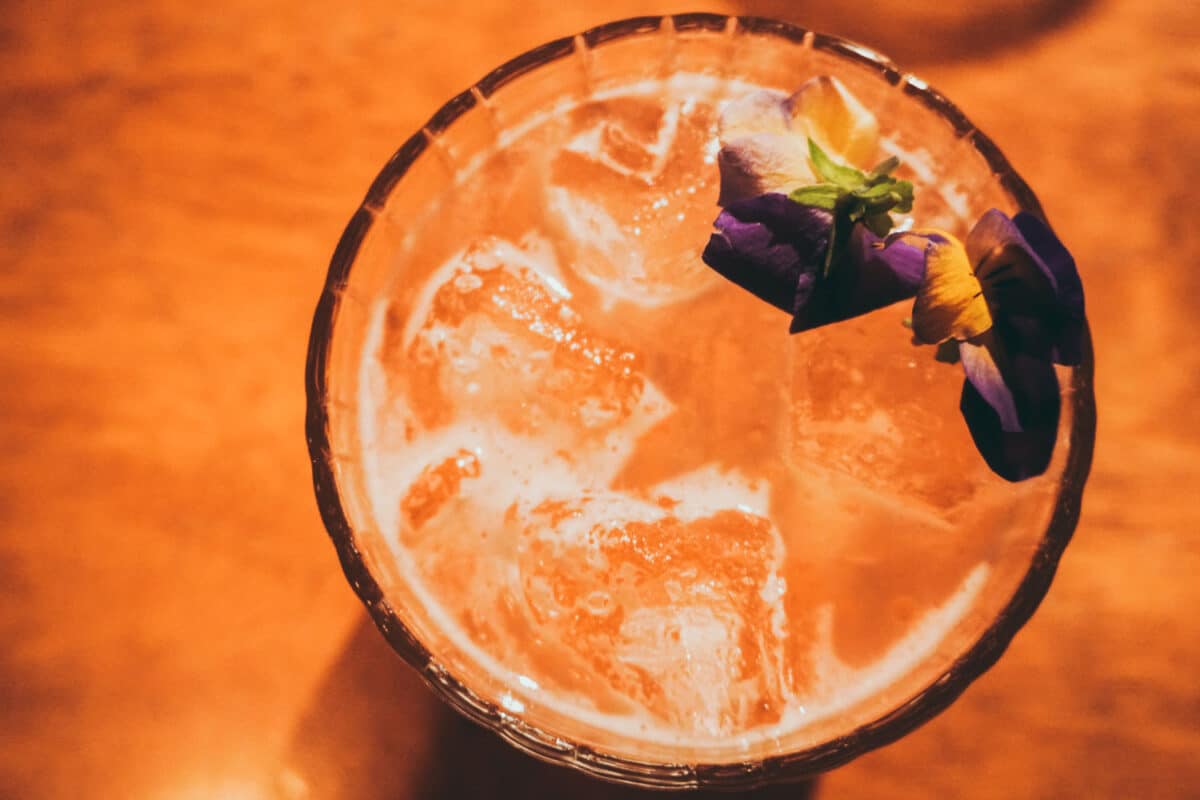 I've literally spent weeks making my way between Shoreditch's numerous cocktail bars in a bid to choose the very best (it is, indeed, a tough life).
You know, the bars that are going to pique your curiosity, get your tastebuds going and aren't going to serve you a load of water and ice in a bid to convince you that it's worth £10 of your hard earned cash.
Turns out that's a bloody tough task – there seem to be more skilled mixologists and cool cocktail bars in Shoreditch than I thought possible. From laid-back speakeasies such as Happiness Forgets and Ever After on Hoxton Square, The Cocktail Trading Co and Found to exuberant affairs like Callooh Callay, you're never going to be short of a cocktail bar or two.
Looking for fun things to do in Shoreditch at night? I suggest girding your liver and working your way through this list of the best bars in Shoreditch
Munch on Street Food Eats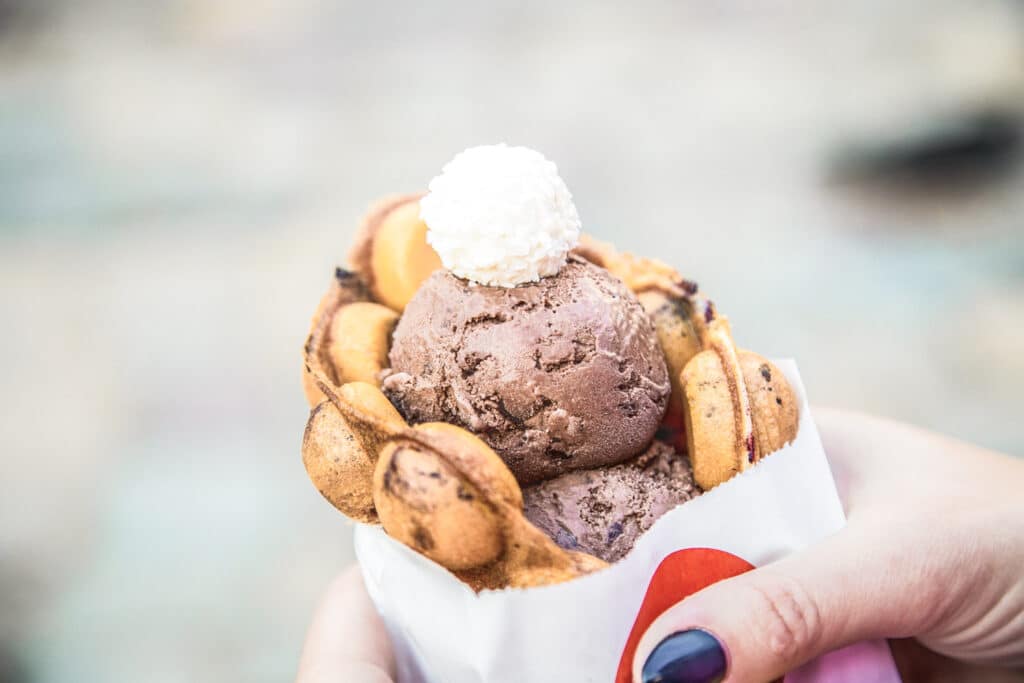 You're never going to go hungry in Shoreditch. Not only is the area home to some banging restaurants, but some lip-smackingly good street food vendors.
Much as I sometimes bitch and moan about things that have changed in London over the years (don't even get me started on house prices) if there's one thing that I FULLY APPRECIATE it's the bloom and blossom of so many indie street food stalls. People who are passionate about making really good food (turns out I am also really passionate about eating it – win win).
So where should you go?
Dinerama is an obvious place to start – with over 15 restaurants and bars ranging from hot n fresh out the kitchen pizzas to steamy and pillowy buns (of the food variety), it's difficult to resist.
Boxpark's another good bet, with several traders tucked in the nooks and crannies of it's now-famous shipping container construction.
If you happen to be in Shoreditch on a Saturday, Urban Food Fest's weekly market is a near orgasmic collection of small traders plying food from all over the globe. Unfortunately they're taking a break until spring, but don't worry – there are plenty of street food stalls and markets in Shoreditch every weekend. You won't starve.

Shop at one of Shoreditch's Cool Markets
Does Spitalfields Market count as Shoreditch?*
*throws firework into article and runs away
Shoreditch's boundaries are hotly contested. Where does Shoreditch end and Hoxton start?
Is Spitalfields a separate area of its own? Not in my book it isn't, which is why I'd put Spitalfields at the top of the list of cool places to shop in Shoreditch.
Old Spitalfields market is rammed with vintage finds, handmade items and generally lots of things you decide that you absolutely need in your life the moment you set eyes on them.
Shopping on Brick Lane is one of those things to do in Shoreditch on a Sunday that is practically a rite of passage. Again, it's a combination of vintage clothes, small items from indie makers and a few bits of bric-a-brac thrown in for good measure – all to the soundtrack of the talented musicians who pitch up for a spot of busking. Perfect.
I can't keep track of what officially happens on what day at the Old Truman Brewery, but there always, always seems to be some kind of market there at the weekend – whether it's contemporary interior showcases, vintage fashion or yummy food. Best bet is to poke your head in and find out what's on on the day.
Read Next: 35 Scrummy Food Markets in London You Need to Visit
Treat Yourself to a Delicious Meal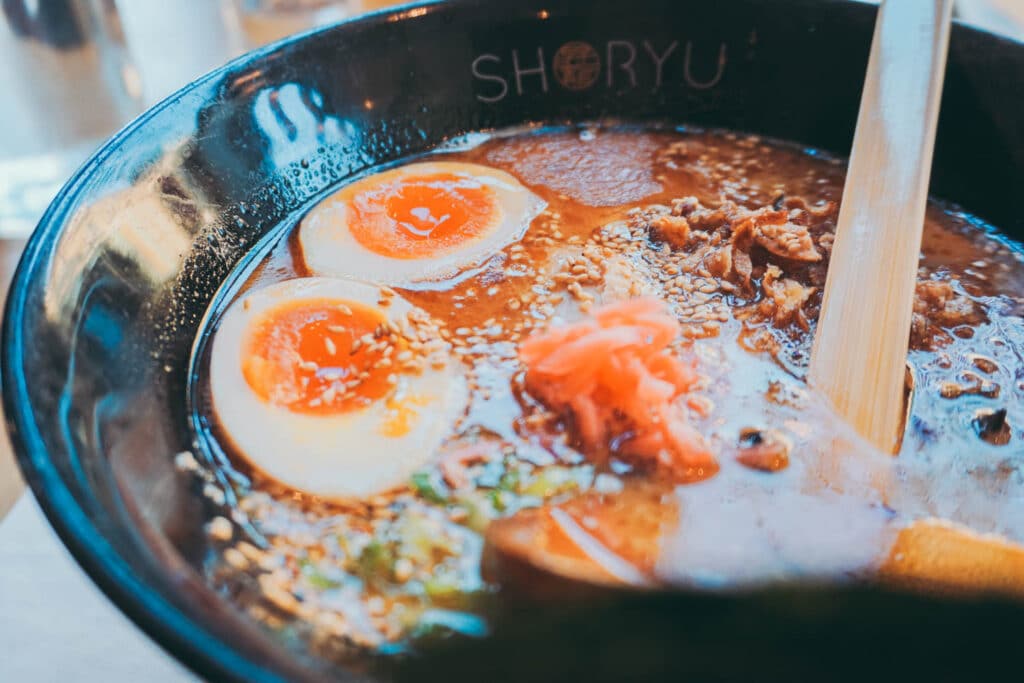 I told you earlier that you're never going to go hungry in Shoreditch and I firmly stand by that statement. Anyone who can't find something to their tastes in Shoreditch either a) doesn't eat food or b) is lying.
If you're looking for high-end eats (ooh, fancy), The Clove Club and Lyles are strong contenders, as is steakhouse The Jones Project.
In all honesty, I am fully obsessed with the incredible ramen and buns from Shoryu right now. Likelihood is that if you've noticed this place, it's because it is PACKED every lunchtime and dinnertime.
I suggest that you find some way of weaseling your way in, by hook or by crook because their ramen is insane. I've gotten a bit hot under the collar just thinking about it.
Away from fancy eats and ridiculously good ramen, other spots I'd recommend include Cay Tre and Song Que on the so-called "Vietnamese Mile" (Kingsland Road) – one of the best spots for Vietnamese food in London. It just so happens that both are BYOB too so…
Listen to Live Music at Village Underground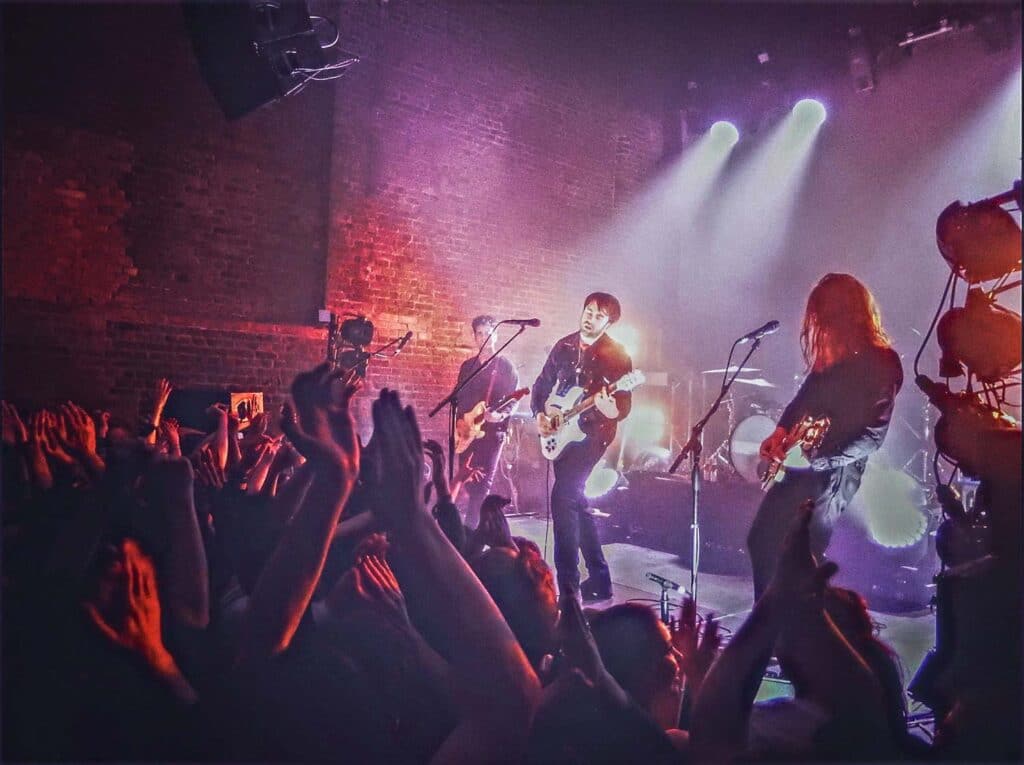 Is there anything more Shoreditch than a cultural venue housed in a renovated coal house, complete with renovated tube carriages perched atop? Village Underground has been holding the beacon of creativity, and creating the calendar of fun things to do in Shoreditch at night for over a decade and still shows no signs of slowing down.
There's something going on at Village Underground pretty much every night of the week. The music lineup is eclectic and diverse – check ahead for listings.
Party all Night at one of Shoreditch's Uber-Cool Clubs
I won't lie. The days of me partying all night are becoming less and less frequent. Not completely gone, just not appearing with the same ferocity and pace you'd have encountered a decade ago.
I'm not quite entering an age of decrepitude yet though and if anything can lure me out of my London clubland retirement it's a night out in Shoreditch.
XOYO and Cargo are the two biggest and widely renowned as being two very cool places in Shoreditch – both are generally a safe bet if you want to go all out and stumble out at some point the next day with a cloudy head, sore feet and some great memories.
Looking for more? Check out The Magic Roundabout, The Book Club, The Queen of Hoxton and Trapeze, all of which do their fair share keeping Shoreditch raucous and rambunctious at night.
Read More: The Best Shoreditch Pubs for Cosy Drinks
Play Drag Bingo With Ginger
For a night of bingo with the Queen herself (nope, not that Queen), head to the Looking Glass Cocktail Club.
Ginger is always ready to party, and as she's the host of bingo night you better be ready for plenty of dancing, team games, and brilliant prizes.
Prepare for a few hours of outrageous campness – and lots of glitter.
Fill Your Boots at Bike Shed Motorcycle Club
Whether you're a petrol head or not, Bike Shed Motor Club is a great place to hang out and dine (and you can even get your hair cut here, if you fancy).
This is one of the most fun places to eat in Shoreditch, hidden under 4 railway arches and looking like something out of a hipster's wildest dreams – as you would expect, the menu is filled with heavy burgers, sandwiches, and delicious meat dishes. But surprisingly, their cocktails are pretty great too.
Head to Lady Dinah's Cat Emporium
Lady Dinah's Cat Emporium goes way beyond your average cat cafe. This is a cat cafe for only the most regal of rescue kitties.
Not only is the inside themed like Alice in Wonderland, but you also get to hang out with cats and scoff cakes? Sign me up.
As the UK's longest running cat cafe, Lady Dinah's has become something of a local legend – you can even pick up a souvenir, but try to resist stealing one of the fabulous felines.
Dive Head First into Ballie Ballerson
It should be illegal to head to Shoreditch for a night out without a pit stop at Ballie Ballerson. Where else can you lose your inhibitions and release your inner child in a ball pit, all whilst having a few bevs?
Prices start at just £5 a session, so if you've got the flexibility to go in the week you're getting a great deal. Or pay £15 on Saturday evenings, which, for the amount of laughs you're guaranteed, is a pretty good price.
Oh, and the inside is an Instagram dream, so make sure to snap a few pics before it gets too crazy in there.
Enjoy A Tokyo-Inspired Evening at Hijingo
Escape London and head to Hijingo, a bingo experience inspired by the Japanese capital.
And if there's one thing Japan does well, it's food – so, of course the menu at Hijingo is divine.
Hoisin duck croquettes, truffle spring rolls, and pork belly skewers are all on the menu, alongside a tantalizing cocktail selection.
Neon lights and a night of fun await, just remember to bring your dabber!
Immerse Yourself in Blooms at the Columbia Road Flower Market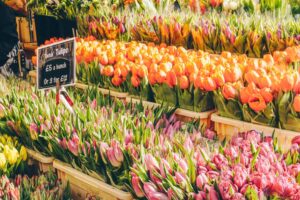 A million miles away from the party all night vibe of the last entry, Columbia Road Flower Market is the best place in Shoreditch to soothe your Sunday morning soul. An East London stalwart, it's been going for decades.
I've been going to Columbia Road on and off since I was 15 and it's been an absolute joy to see the revival of what was starting to look like a failing market. These days you can barely move for punters hunting out something floral and beautiful to bring home with them.
After you've battled and bartered your way to the perfect pot plant to bring home with you, plop yourself down in a nearby coffee shop for a leisurely brew and brunch. It's the true Shoreditch way.
PS – Visiting Shoreditch at Christmas? Columbia Road just so happens to host one of London's best Christmas Markets. Check out the full guide
Play Table Football at Bar Kick
Unleash your competitive side at Bar Kick – London's best-known table football bar and home of the London Table Football Championship nonetheless.
Things can get heated – if that happens, take five with a pint and shake on it – keep it friendly and fun.
Eat and Drink in Shoreditch's Weird and Wonderful Hangouts
Shoreditch isn't the hub of all things hipster for nothing. While some of the eateries dotted around the area can feel a little "look at me", there's no denying that there are some truly weird and wonderful places too.
Baillie Ballerson is the joint for revelling in your inner child and tumbling head first into a ball pit. Want to hire your own private log cabin? Head to the miniscule Caboose. Or just have a good old fashioned Texas-style hoedown at the Blues Kitchen.
Have a Curry on Brick Lane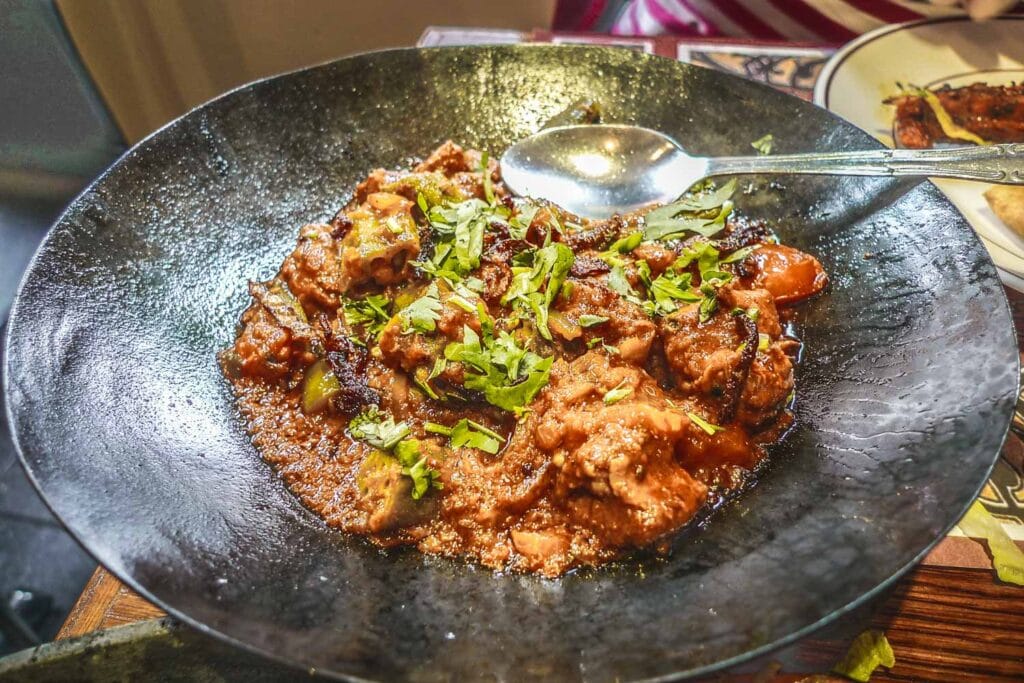 Now, these days a curry on Brick Lane is a bit controversial. Sure, there are a tonne of curry houses lining the street. Are they still the best in London? Probably not.
That doesn't change the fact that having a curry on Brick Lane is one of the top things to do in Shoreditch. The curries are still great quality and the steep competition means that prices are reasonable and you can even negotiate yourself a little deal if you pitch it right.
Over the years, I've tried most of the curry houses on Brick Lane – there's not that much between them though there are a few standout superstars. Aladin's the biggest and reliably good, Bricklane Brasserie and Cinnamon are a notch above the others.
Perk Yourself Up with a Brew from one of Shoreditch's Discerning Coffee Shops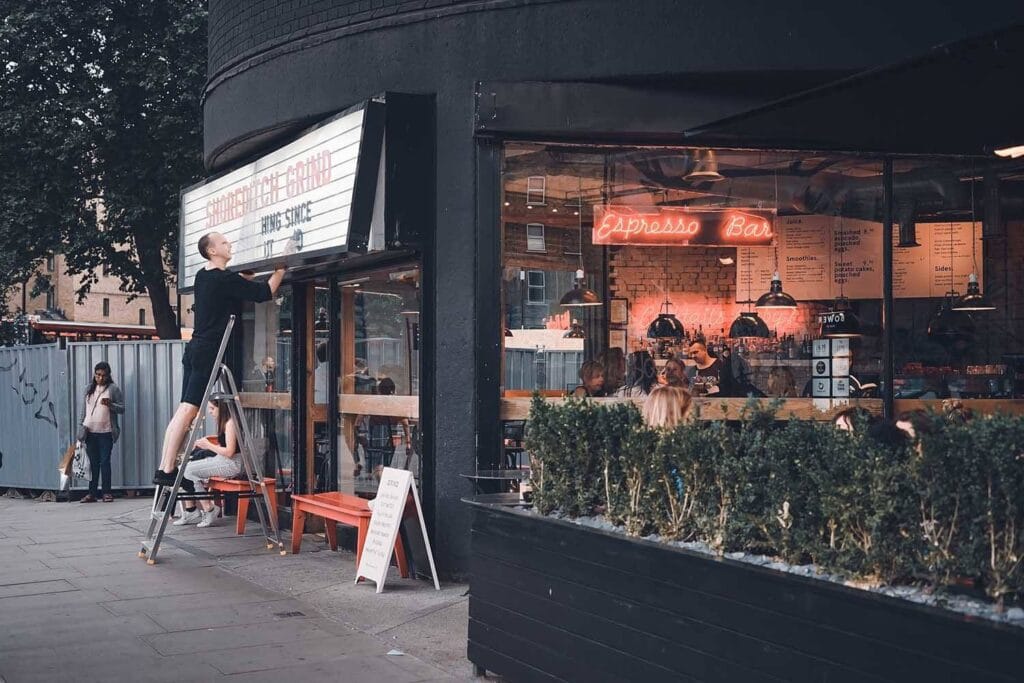 I'm so thankful that a few people woke up one day and decided to bring the gift of good coffee to the masses.
If all that partying, flower shopping and street food eating has left you in need of a caffeine pick me up, there are plenty of coffee shops you can visit in Shoreditch that are willing to oblige.
Barber & Parlour, Shoreditch Grind, Climpson & Sons and Nude Espresso are good places to start.
Indulge in a Bargain Eat at Beigel Bake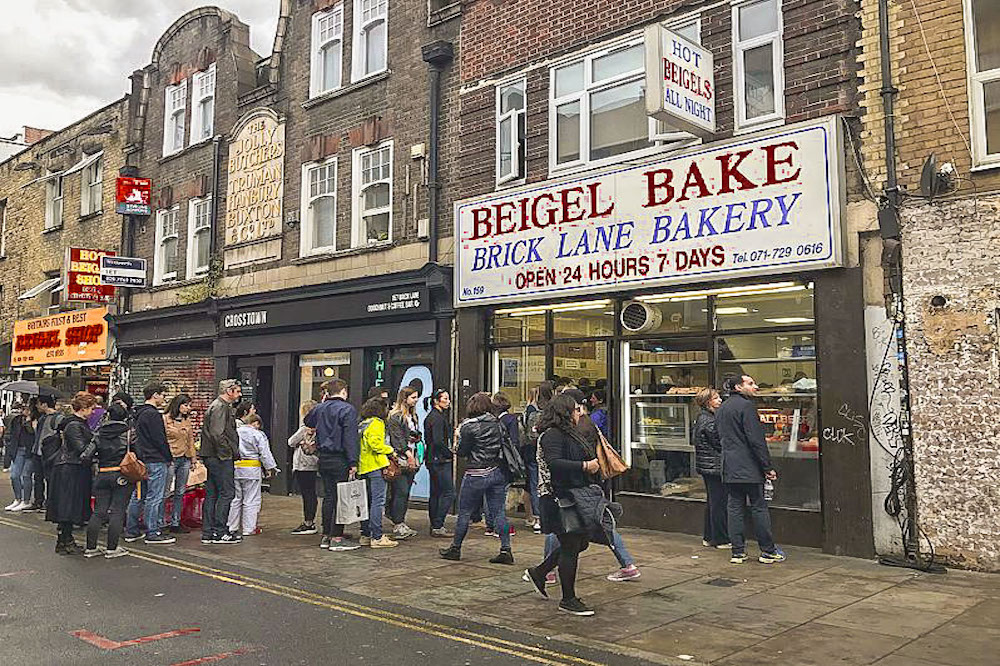 Picking up a beigel and a schmear in the wee hours of the morning is one of those things that are so very Shoreditch that there's no way I could leave it out of this Shoreditch guide.
I'm betting the staff at Beigel Bake could write a best-selling book of all the things they've seen over years of opening 24/7 on Brick Lane.
But still, they keep schtum, instead choosing to do what they've always done – crack out near heavenly beigel bites accompanied by epic portions of salt beef, smoked salmon, cream cheese or almost any other topping imaginable.
The line is always long, but you'd be surprised at how quickly it moves. The real kicker comes when it's time to pay – a salt beef bagel that leaves you fit to pop for under £5? We'll have two thanks.
Enlighten Yourself at the Museum of the Home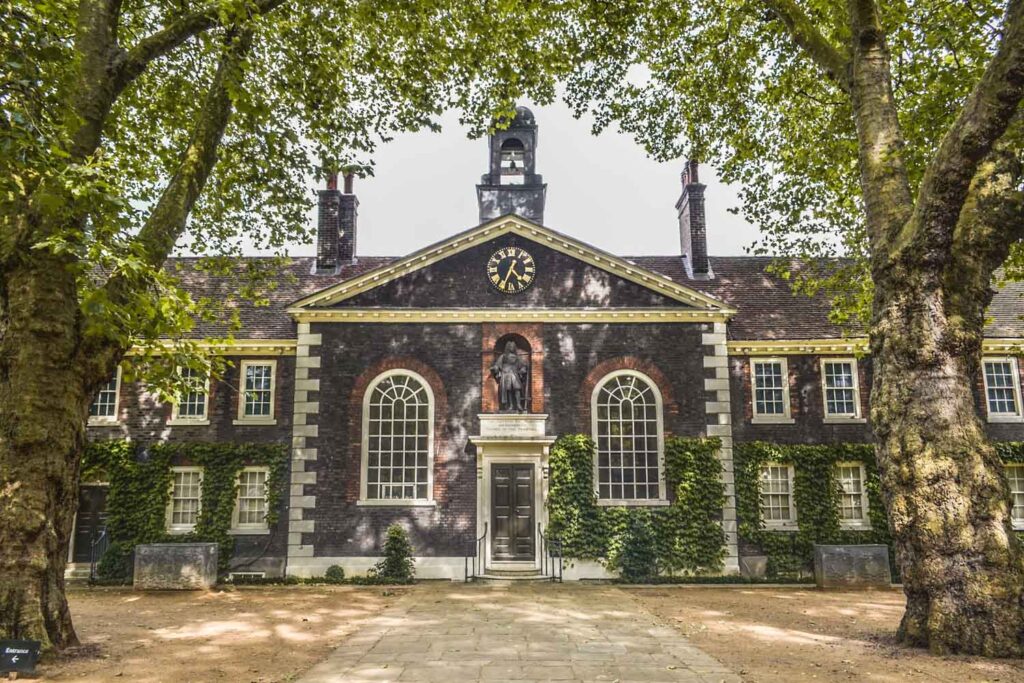 To hear me talk, you'd think that Shoreditch was all about parties, cocktails and stuffing your face. Well here's something different to shake it up.
The Museum of the Home (previously known as The Geffrye Museum) is one of London's most interesting museums – exploring the concept of the home from 1600 to the present day.
There's no better time to visit the museum, as they've recently reopened after lots of renovations – make sure you pay a visit to their newly-planted gardens for a pretty glimpse into the past.
Spend the Afternoon at an Art Gallery
Much as I love Shoreditch's street art scene, it would be remiss of me not to note that the area is packed with actual art galleries too.
The art scene in Shoreditch is largely dominated by small independent galleries and spaces – spending an afternoon visiting a few makes for a multifarious and engaging experience.
The somewhat under-the-radar Institute of International Visual Arts (INIVA) looks at the social and political impact of globalisation through a range of visual arts. Alternatively, Kate Macgarry's gallery, Calvert 22 and Studio 1.1. provide a lot of food (well, art) for thought too.
What to do in Shoreditch – Further Inspiration
Looking for more inspiration? Check these out…
Cool Things to do in Shoreditch, London Map
Looking for More Shoreditch Guides?