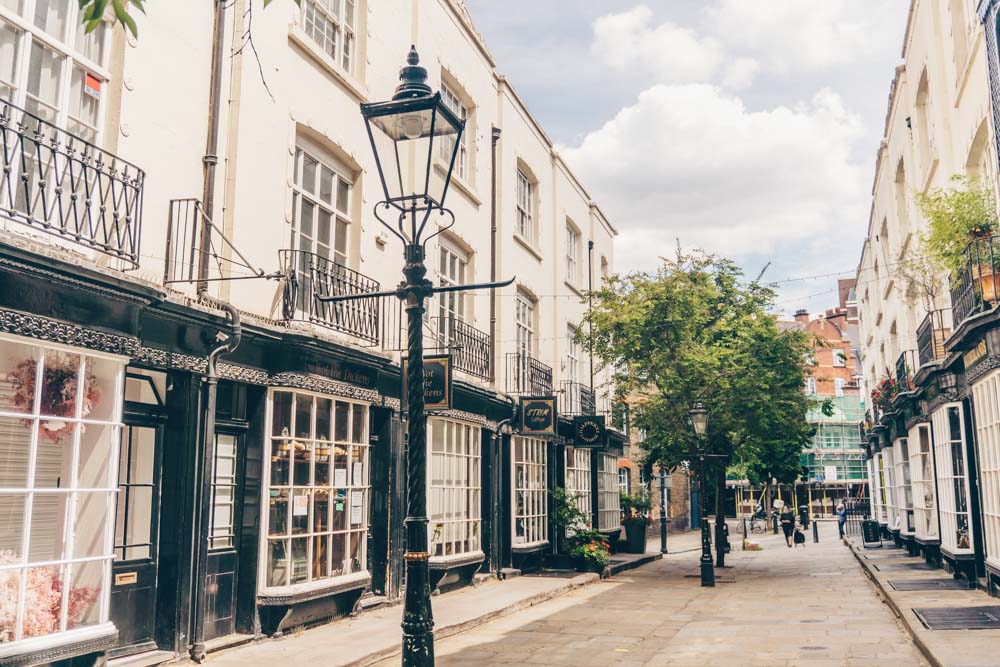 Ready to discover the best things to do in Bloomsbury, London's top area for museums and culture? This Bloomsbury area guide is for you.
Easily the most impressive area of London: leafy squares, Georgian buildings, and an abundance of museums await you in Bloomsbury.
The rich history of Bloomsbury stretches out before you when you take a look at the gorgeous collection of Victorian, Edwardian, and Georgian buildings that line the streets.
The first mention of Bloomsbury's existence was in the Doomsday Book in 1086, where it was known for vineyards and forest, although it wasn't given its Bloomsbury name until 1201, when William De Blemond bought the land.
Although it may have been popular with peasants at the very beginning (a mad contradiction to now), Bloomsbury was no stranger to royalty.
In fact, Henry VIII gifted the Manor of Bloomsbury to Thomas Wriothesley in 1547, and it was ruled by the Earls of Southampton for centuries after. In 1665, Bloomsbury Square (or, as it was originally known, Southampton Square) became the first garden square of it's type.
Today, Bloomsbury is famous for its museums and galleries, with the British Museum an important part of the square. Although, it wasn't until 1997 that the British Library opened, cementing Bloomsbury as the top area for cultural activities in London.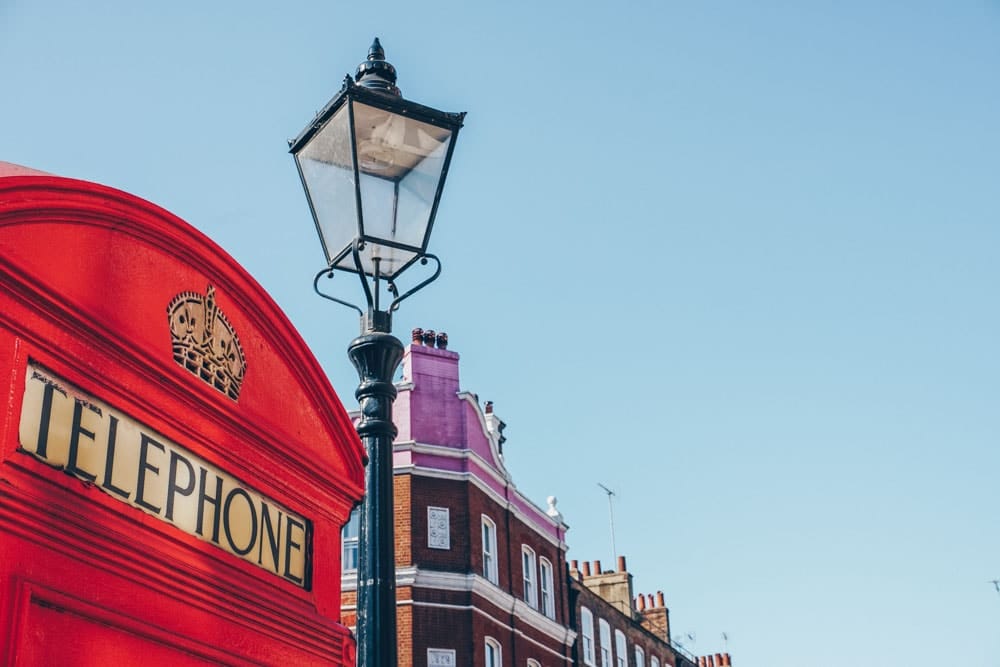 Top Picks for Things to do in Bloomsbury
Things to do in Bloomsbury
Delving into the spots you shouldn't miss.
Woburn Walk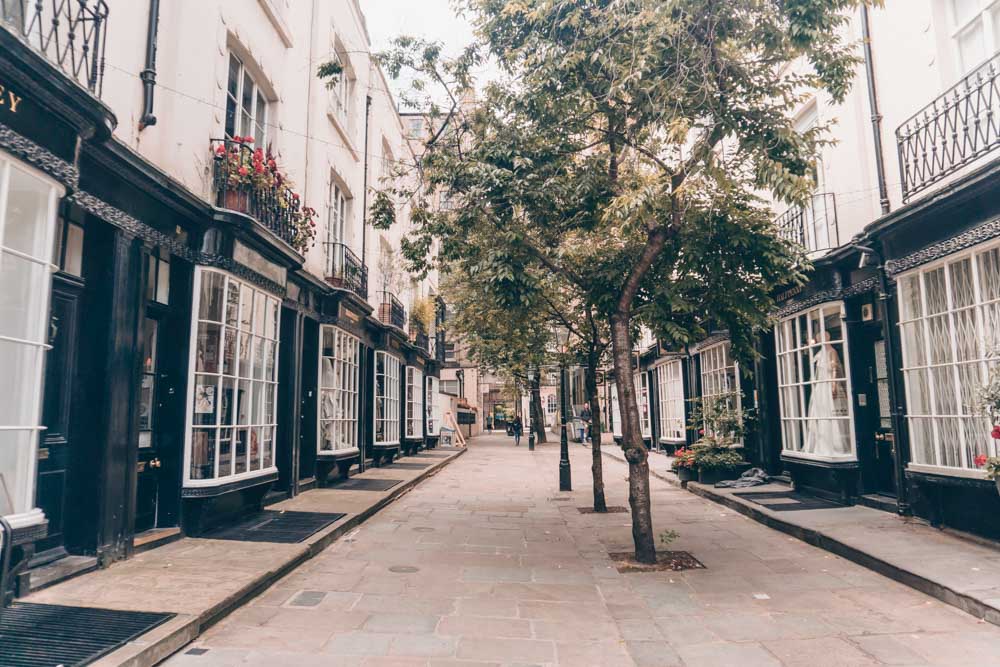 Spend a morning wandering along Woburn Walk, a pretty Georgian shopping street designed by Thomas Cubitt in 1822.
This was the first-ever pedestrian shopping street in the capital and luckily for us, many of the stucco-fronted buildings are Grade II listed, which means that the facades are preserved beautifully.
The best part? Woburn Walk couldn't be easier to get to – the central location and two tube stations nearby (you've got Euston Square or Russell Square) make it a breeze.
The Brunswick Centre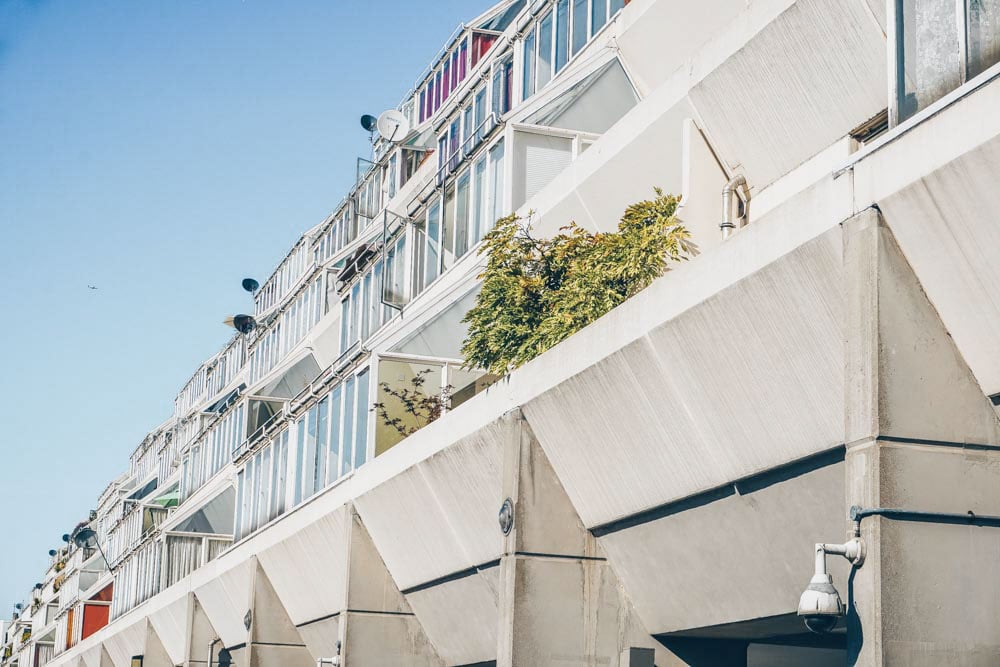 Just around the corner from Woburn Walk, you'll find The Brunswick Centre.
It's no secret that I love Brutalist architecture, and this striking Bloomsbury building is no exception.
Designed by Patrick Hodgkinson, The Brunswick Centre is part residential, part shopping centre, and it's a great place to check out one of London's most prominent Brutalist buildings whilst also getting your shopping fix.
Petrie Museum of Egyptian Archaeology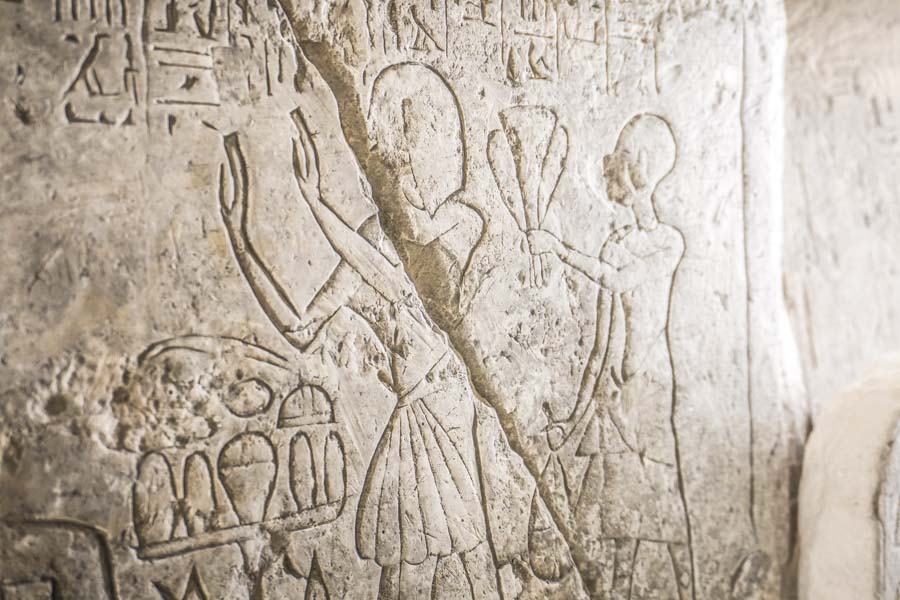 As one of the quirkier things to do in Bloomsbury, the Petrie Museum of Egyptian Archeology is a hidden gem in the capital.
Named after UCL's first professor of Egyptology and top excavator, Flinders Petrie, this is a museum dedicated to Egyptian and Sudanese archaeology and a must-visit for anyone looking to learn more about this part of history. Did I mention it's free?
British Museum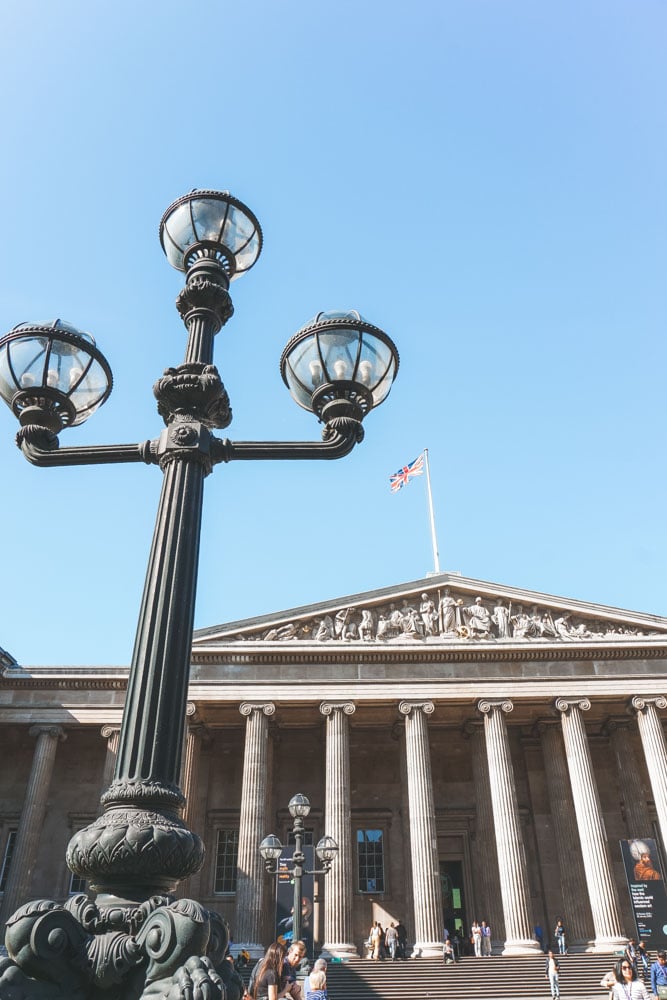 No Bloomsbury area guide would be complete without mentioning The British Museum. Most of London's museums are actually free, but this is arguably one of the best in the capital.
The museum houses a wide variety of objects that have been collected over the years, including part of the Rosetta Stone, ancient Chinese artefacts, and plenty of tales from Africa. I recommend taking the best part of a day to explore the works properly.
Foundling Museum
Another museum you have to visit while you're in Bloomsbury is The Foundling Museum.
Whilst it is slightly eerie, this museum tells the story of the Foundling hospital, originally a home for children who had been abandoned by their parents.
There's plenty to make your way through here, with exhibitions, contemporary art, collection displays and a vast historic archive on display throughout the museum, all set in a stunning 18th-century building.
Grant Museum of Zoology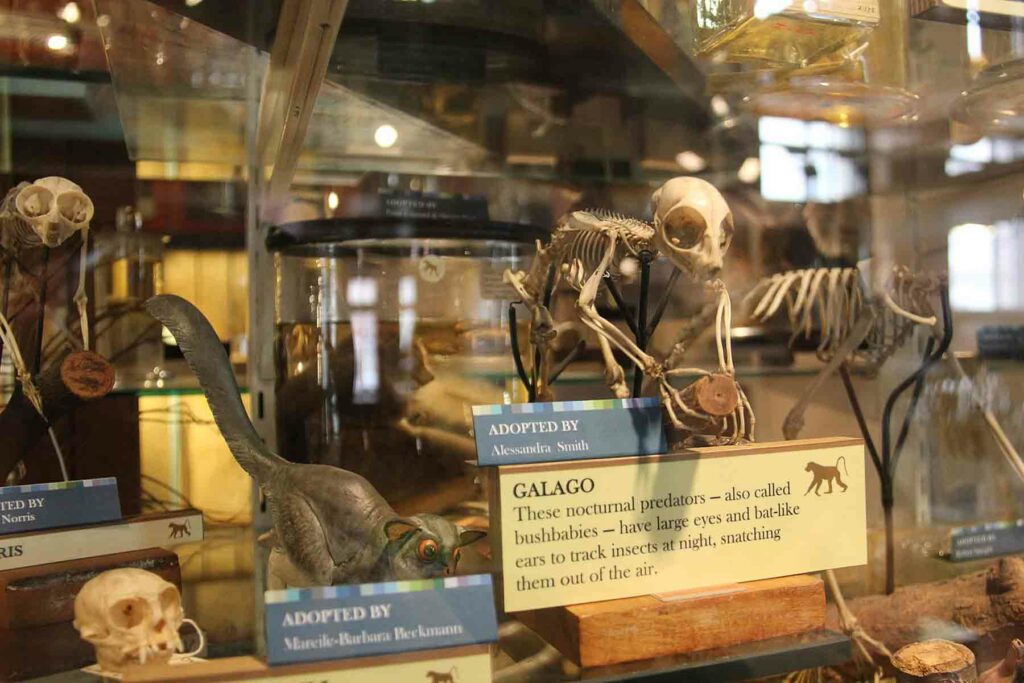 The last museum to make this guide is the Grant Museum of Zoology, established by Robert Edmond Grant in 1827 as a part of UCL.
It first opened to the public in 1996, and boasts an impressive 68,000 specimens on display here, including the world's rarest skeleton, the quagga, and dodo bones. Definitely worth checking out if you can stomach being in a room surrounded by thousands of bones staring back at you.
Blue Plaque Hunting
Okay, hear me out. Wandering around looking for blue plaques may not appeal to everyone, but it's one of the really fun (and free!) things to do in Bloomsbury.
Plenty of well-known names have been lucky enough to call Bloomsbury home over the last few hundred years, including Virginia Woolf and Charles Darwin. It's really exciting to meander through the area spotting the plagues that adorn the houses.
Japanese Roof Garden
Want to see something really unusual? Head to the Japanese roof garden on top of SOAS, University of London.
The garden is dedicated to forgiveness, which I think you'll agree is pretty cute, and it's a great spot to sit, reflect, and take five away from the busy city.
Bloomsbury Farmers Market
In my opinion, taking a stroll through Bloomsbury Farmers Market is one of the funnest things to do in Bloomsbury.
You can usually find this little market open on Thursdays between 9am-2pm, with an abundance of fresh food on sale and picnic spots nearby – although it's not always there, there's a cracking Italian stall called Seriously Italian that's worth a visit.
Whilst the market is currently closed, they're planning for a grand comeback in September.
Russell Square Gardens
Whilst you're not short for a choice of beautiful parks in London, Russell Square Gardens is my favourite green space in Bloomsbury.
With an impressive central water feature and even a cafe in the garden, this is the perfect spot to relax with your friends if the weather picks up (but, let's face it, it is London).
Skoob Books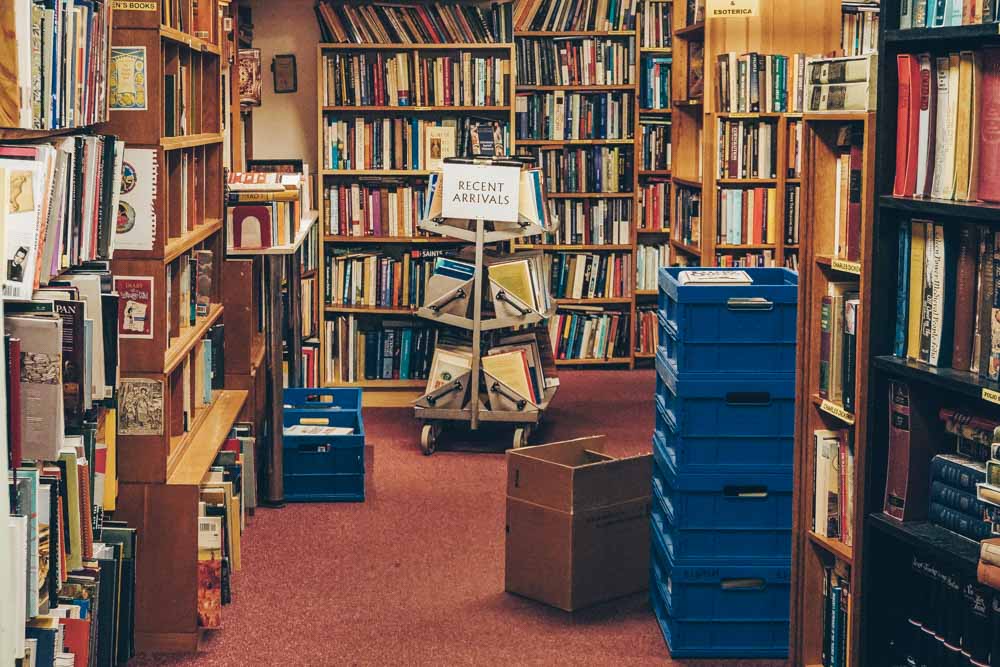 If you're an avid bookworm like me, the thought of going to Skoob and discovering London's largest collection of secondhand books will make your heart skip a beat.
Situated at the back of The Brunswick Centre, you can find anything from much-loved classics to undiscovered gems – just make sure you allow some time to get lost in here.
Senate House
London is no stranger to an iconic building, and Senate House is an art deco dream housing one of the largest university libraries in the UK.
To actually get inside, you'll need to register as a member (don't panic, it's free) but it's worth paying a visit for the exterior alone. Looking somewhat like a mini empire state building, you'll be able to get a great photo of the Senate House.
The British Library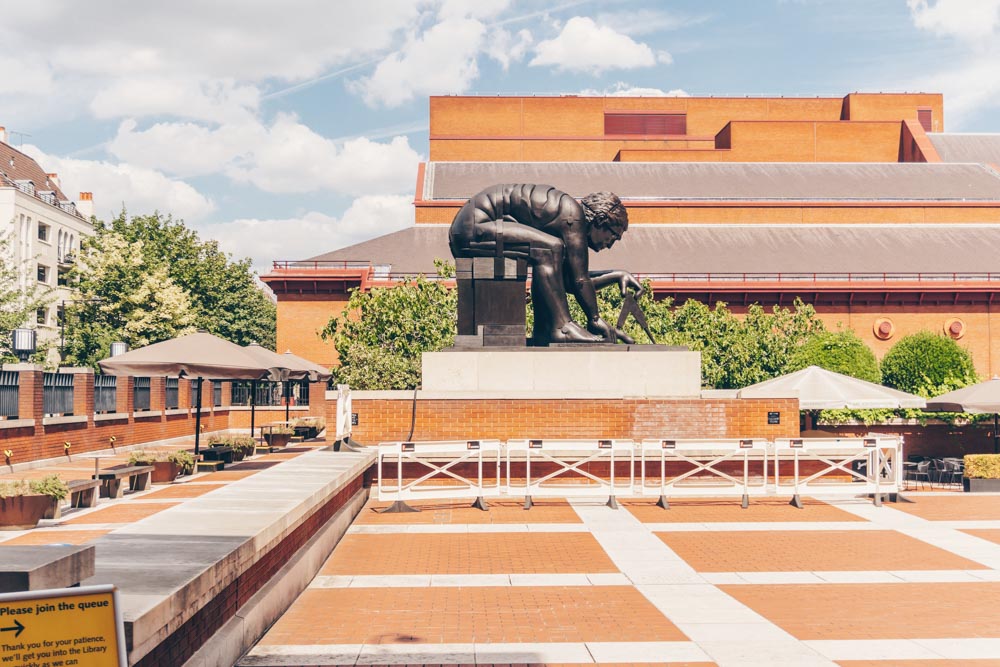 Arguably the most famous library in London is The British Library, and for good reason: it's the largest library in the UK and contains one of the biggest collections of books in the world.
Even if you're not a big reader, it's well worth booking a spot to visit one of the impressive reading rooms here, and keep your eyes peeled on their website as they often have exciting exhibitions open to the public.
Brunswick Square Gardens
The creation of Brunswick Square Gardens dates back to 1970 when the Foundling hospital decided to expand their property and surround their property with green space.
Named after Queen Caroline of Brunswick, who was the wife of King George IV, today the gardens are a calming patch of grass in the capital, and the perfect place for a picnic.
Things to do in Bloomsbury: Eating and Drinking
My favourite places to eat and drink in Bloomsbury
Bloomsbury Street Kitchen
Serving up Mediterranean-Japanese fusion, Bloomsbury Street Kitchen is one of the best places to eat in Bloomsbury.
Not only does the inside of the restaurant look like a charming European terrace, but with spicy chicken gyros and sake-flamed king prawn on the menu, it really feels like you're taking an around the world trip as you dine.
The Coral Room
Quaff cocktails in art deco paradise at The Coral Room in Bloomsbury. The interior is a vision of red and gold, with floral chairs and a 1930's inspired bar as the centrepiece of the room.
The drinks are all classically British – including a gin-based Heathcliffe and a Mayday spritz. Feeling peckish? The small plates at The Coral Room are also excellent, pairing perfectly with their tantalizing cocktails.
Dalloway Terrace
Dalloway Terrace is hands down the prettiest place to eat in Bloomsbury. Where else can you eat in a picture-perfect Orangerie, with lemon trees climbing the walls?
If you manage to tear yourself away from taking an instagram picture or five, you'll find the carefully curated menu is filled with dishes like blackened miso cod, spicy massaman curry, and pork belly, alongside delicate cocktails to wash it all down with.
The prices here are pretty steep, but it's one of those spots where the quality of the food lives up to the incredible aesthetic – a nice treat once in a while.
Antalya
For something a little different, Antalya serves up classic Turkish cuisine in an extravagant restaurant setting.
Whilst the interior is somewhat garish, the menu is brilliantly traditional and offers kebabs, koftas, and moussakas, alongside some lesser-known dishes.
The Japanese Canteen
While there are plenty of swanky joints in Bloomsbury, sometimes simple really is better. The Japanese Canteen steps up to the plate – this is a no-fuss dining spot with some of the tastiest Asian cuisine in the area.
The menu is on the smaller side, but everything is cooked to perfection. Get the pork dan dan noodles, you won't be disappointed.
Fitz's
Fitz's is a stylish bar on Russell Square, and boy, do they know a thing or two about alcohol.
With potentially the most extensive drinks menu in London (don't quote me, but check it out!), this is a great place to drink your way through an evening with friends.
Top tip: If you can, try to grab a spot in the mirrorball room for the ultimate experience surrounded by pure opulence.
GAIL's Bakery
If it's a quick snack you're after, head to GAIL's Bakery in Bloomsbury. Although they're a chain, they've got plenty of great pastries and snacks on offer (think of a bougier Greggs).
If you're there in the morning, do yourself a favour and get one of their cinnamon buns – they're absolutely divine.
Top Shopping Spots in Bloomsbury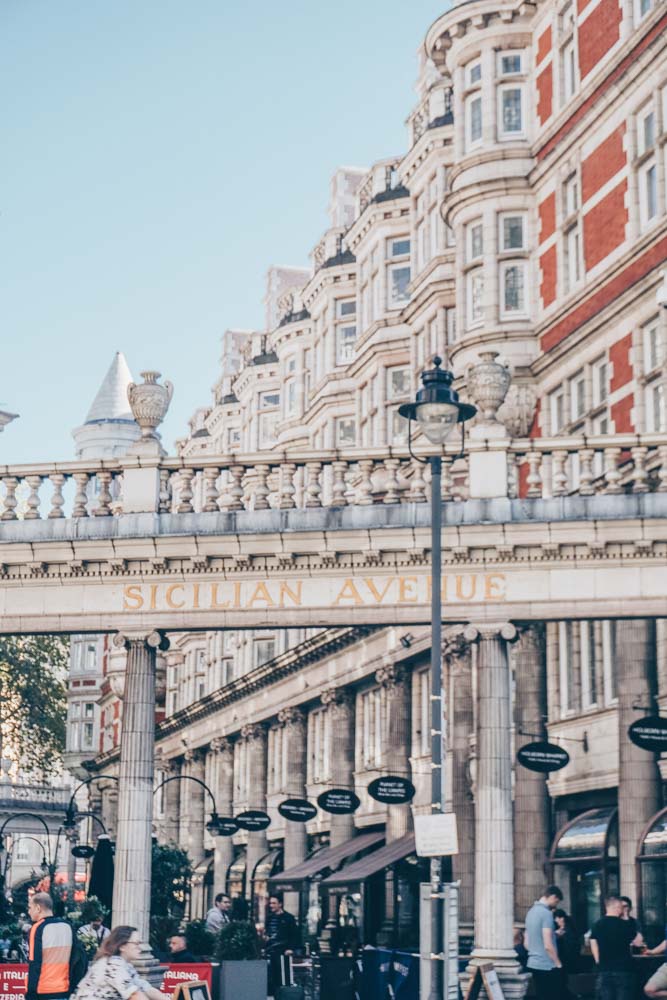 Sicilian Avenue
There's no better way to spend a Saturday morning than with a leisurely stroll down Sicilian Avenue in Bloomsbury. London is home to many gorgeous shopping spots, but this is one of my favourites.
RJ Worley is responsible for Sicilian Avenue, built between 1906-1910, and today it's filled with independent shops and cafes, all housed in stunning Italian marble – and it's a great place to grab some authentic Italian food in Bloomsbury.
Map of Bloomsbury
Montague on The Gardens
Boutique hotel
A pretty hotel situated in leafy gardens.
The Standard
Modern hotel
A futuristic hotel in the former Camden town hall annexe.
Read More London Guides
Love This? Save and Share on Pinterest!