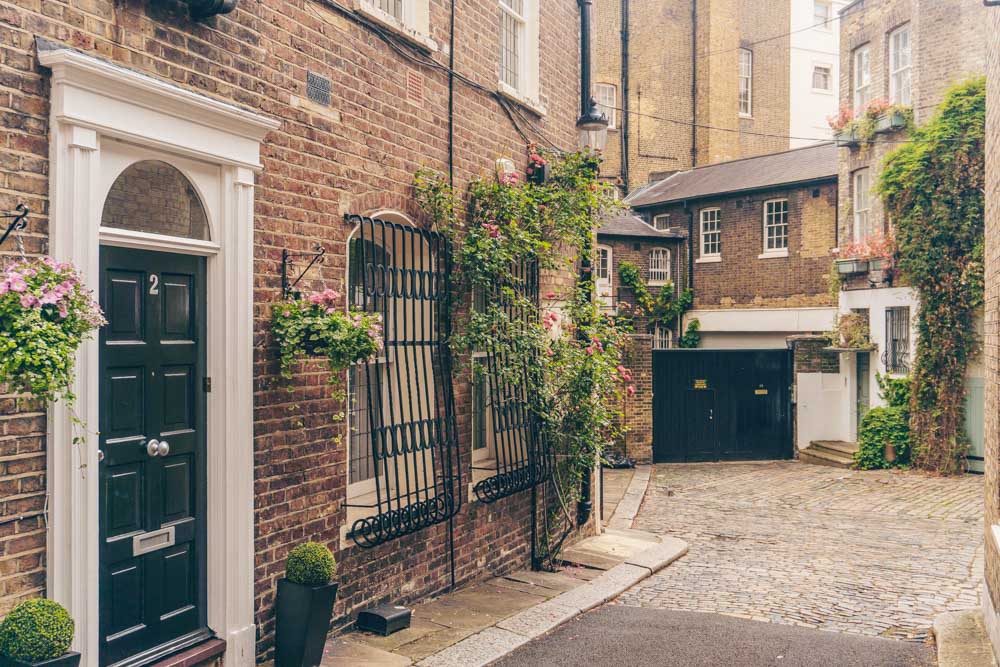 A haven for the city's well-heeled residents, Belgravia is brimming with luxury shops, cafes and age old residences that feel like a London of days gone by.
Boutique shops, fine dining establishments and trendy art galleries come together to make this one of the most exclusive areas of London.
Belgravia. I'm never sure whether I love it or if all that prettiness and elegance leaves me a little cold.
If there's one thing you can't deny – this is one of London's most attractive neighbourhoods.
The elegant streets of Belgravia are lined with terraced townhouses, some of which are over a century old, manicured garden squares and international embassies.
You could easily spend a day walking around the immaculate residential streets and high-end shopping lanes.
Don't forget your camera either, because it also has some of the most attractive shop fronts and mouth-watering bakeries that have products that are more like works of art than pastries.
Ready to discover Belgravia for yourself? Don't miss this guide to the best things to do in Belgravia including top shopping, dining and drinking spots.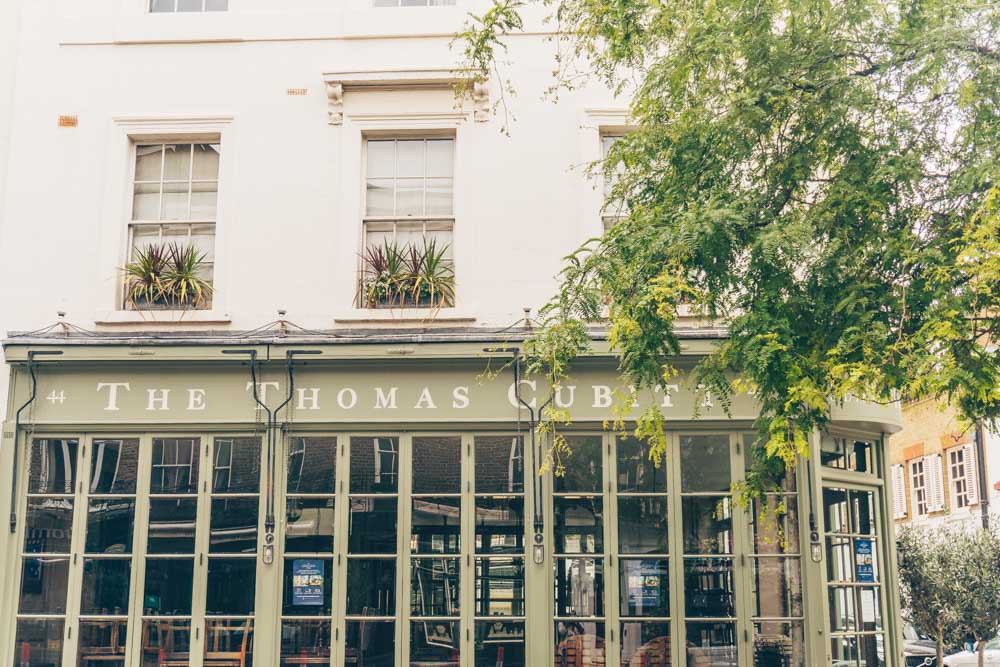 Your guide to Belgravia's best boozers. As one of London's historic areas, it shouldn't surprise…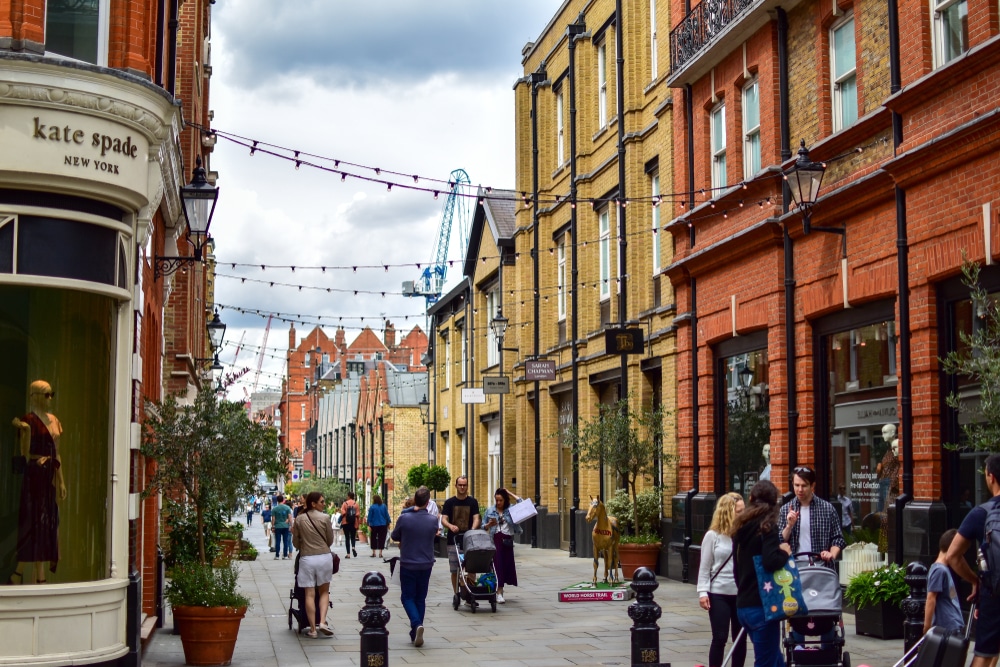 Sloane Square, a small landscaped square in the heart of London, sits nestled within the…
History of Belgravia
Peek into the past.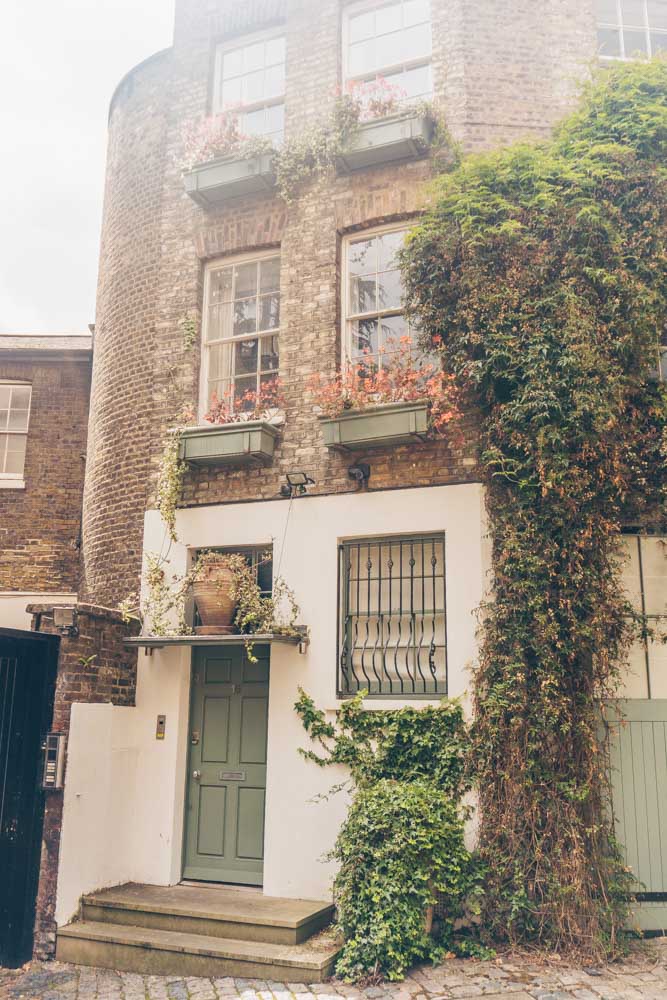 Belgravia started from more modest beginnings in the 17th century as a desolate pasture known as the Five Fields. It was notoriously dangerous as a place where thieves and highway men dominated, and the common people avoided.
The Grosvenor family inherited the huge swathe of land thanks to a marriage between Sir Thomas Grosvenor and Mary Davies. However, it wasn't until King George IV decided to make Buckingham House his permanent palace that the Grosvenor's turned their attention to developing Belgravia in the early 1800s.
A housing boom after the Napoleonic Wars helped, and a vision for the area as a high-class neighbourhood took shape.
The family commissioned architect and builder Thomas Cubitt to build exclusive townhouses on the land and to this day, his designs are considered the most fashionable and highly sought-after properties in London.
Embassies and diplomatic offices began to congregate in the area, as did foreign businessmen and politicians and its continued this status as an upscale area to live in ever since. Since the mid-1800s it's been home to poets, scientists, actors, entrepreneurs, socialites and business magnates.

Things to do in Belgravia
Delving into Belgravia's unmissable spots.
Cadogan Hall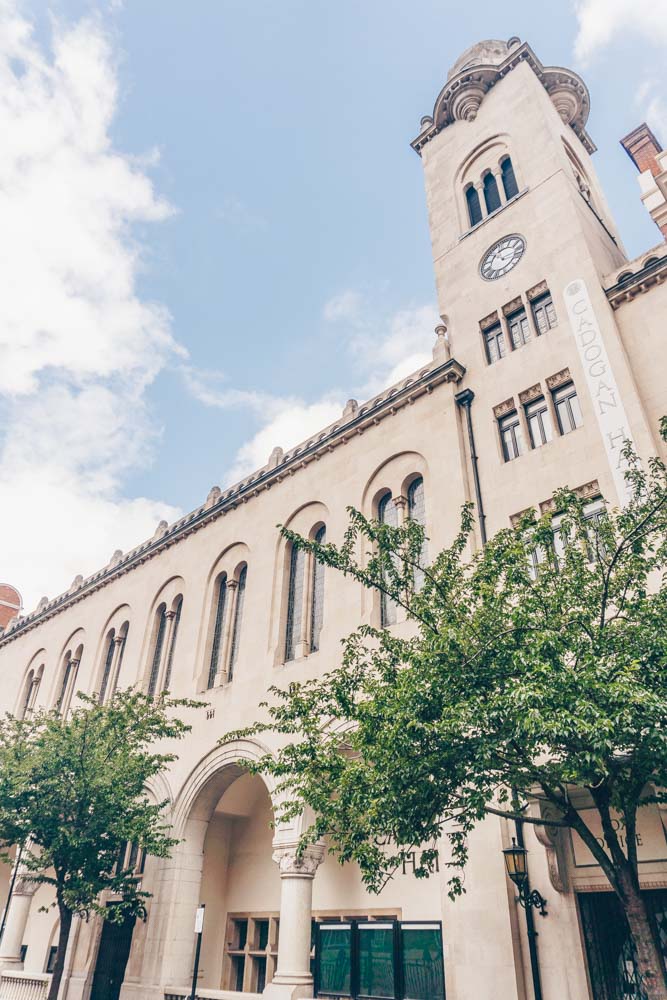 5 Sloane Terrace, Belgravia
Cadogan Hall is a concert venue with a 950-seat capacity.
It's a beautiful and intimate setting to attend a live music performance and they have regular shows from the Royal Philharmonic Orchestra, the first London orchestra to have a permanent home, to ballet, rock and jazz. It's just two minutes walk from Sloane Square tube station.
The Royal Court Theatre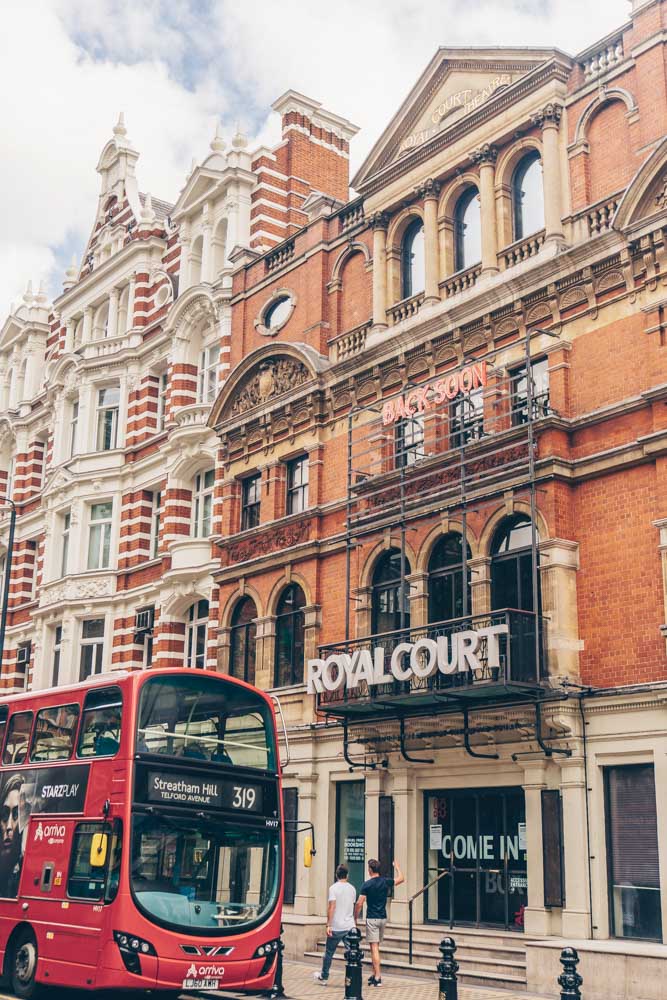 Sloane Square, Belgravia
The Royal Court Theatre is a non-commercial venue that is dedicated to showcasing new work by undiscovered or established writers from the UK and abroad. It's been described as one of the most important theatres in Europe for supporting some of the best wordsmiths going around.
Belgrave Square Garden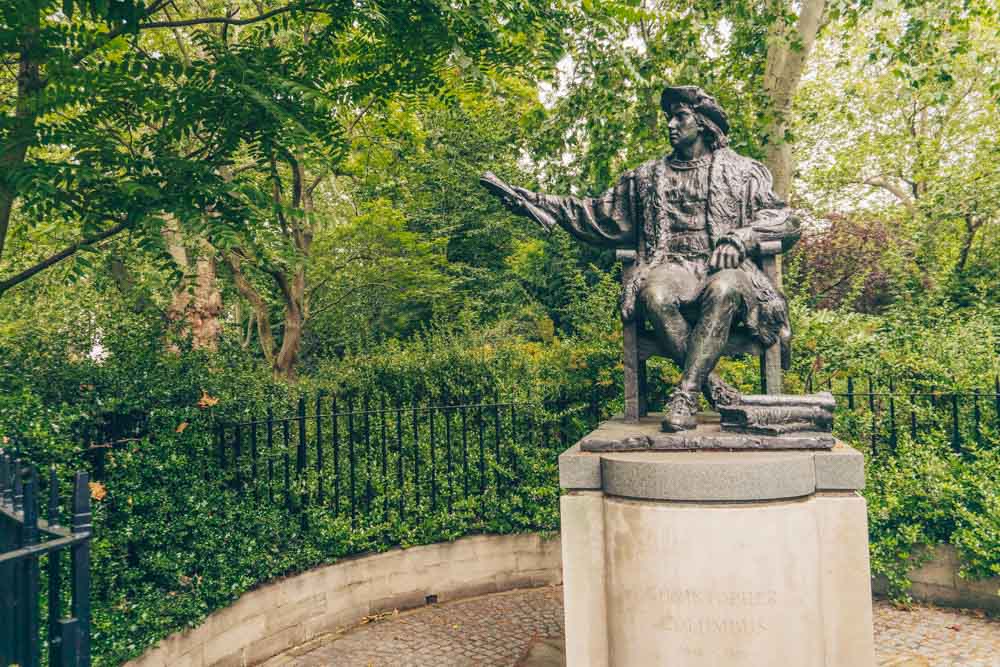 This slice of green surrounded by gorgeous townhouses is the heart of Belgravia. The two hectares of gardens were designed by George Basevi and Thomas Cubitt in 1826 and it contains statues of famous individuals, pergolas and a tennis court.
The only (significant) down-side is that it's not a public garden and you have to have a key, . Still, you can satisfy yourself by taking a peek as you stroll on by.
Ministry of Nomads Gallery
10 Little Chester St, Belgravia
This boutique gem of an art gallery was established over 10 years ago and hand picks some of the newest and most exciting work from artists around the world.
It describes itself as a 'new sustainable art system' by encouraging innovative art through new mediums in its artists award program.
However, stepping in the gallery for a browse is sure to spark some inspiration with its variety of paintings, sculptures, sketches and more.

Eating & Drinking in Belgravia
My favourite places to eat and drink in Belgravia.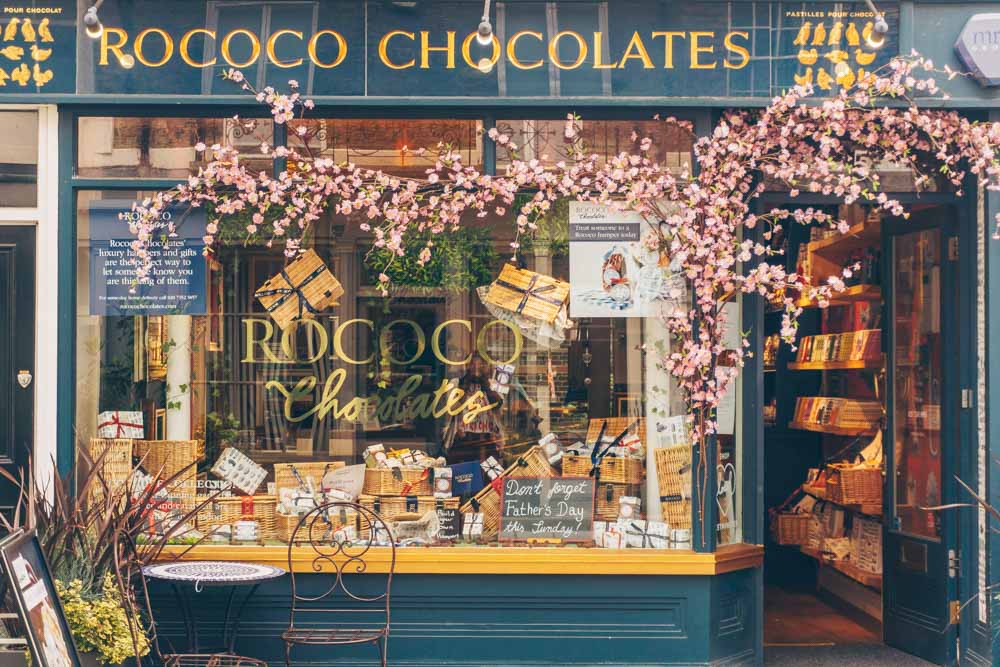 Peggy Porschen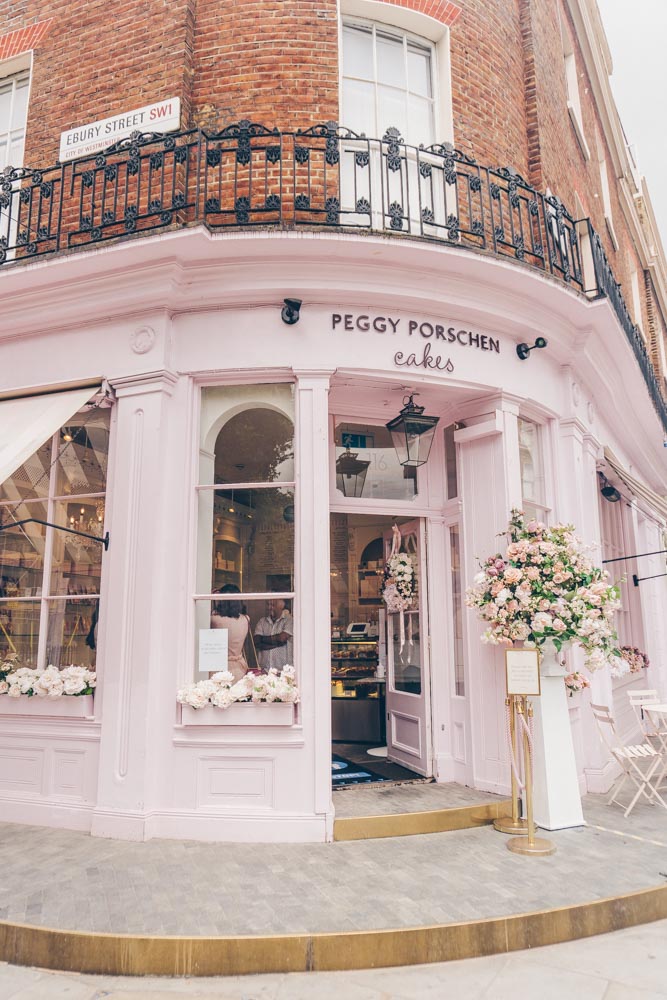 116 Ebury Street, Belgravia
Get your camera ready, because this café and bakery was made for Instagram. The exterior is completely painted in baby pink with flowers reaching across the entrance.
Once inside, you'll find fluffy cupcakes and extravagant cakes. I have to be honest – the quality of the cakes can be hit and miss (the words dry and overpriced have been bandied about) but it's up to you.
Their café is also open for breakfast and lunch.
Dominque Ansel Bakery
17-21 Elizabeth Street, Belgravia
No guide to Belgravia can get away without mentioning this bakery. This world-renowned New York City bakery opened in London in 2016 and attracts crowds of people dying to try the famous cronut, a half croissant and half donut.
They also have sandwiches, cookies and frozen s'mores, but it's really the cronut people come for. It's a bit on the pricey side, but it is Belgravia after all.
The Thomas Cubitt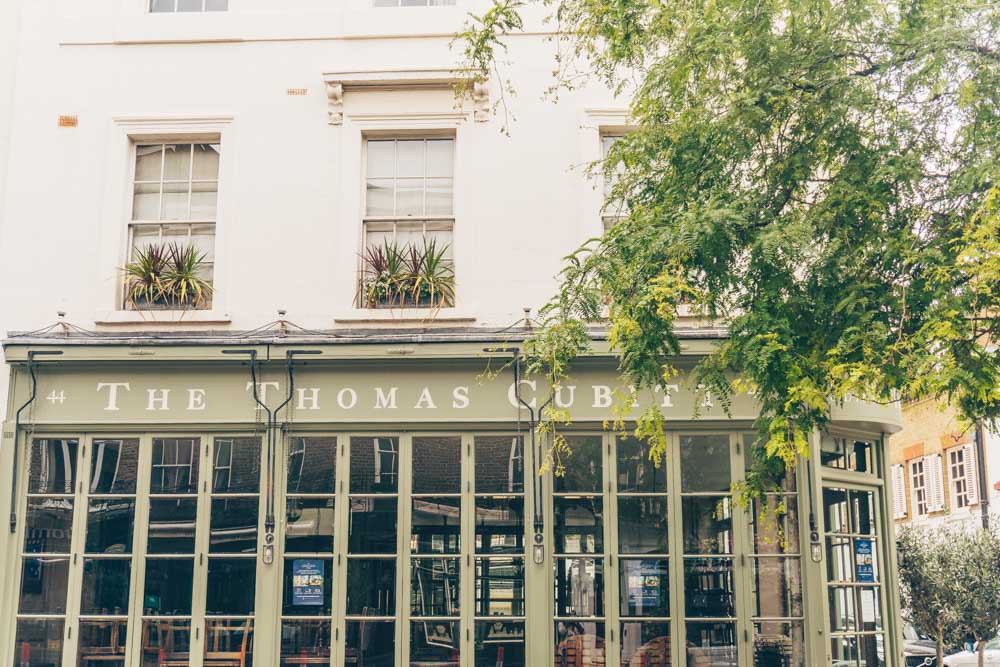 44 Elizabeth Street, Belgravia
Named after one of London's most famous architects, this gastropub has become one of Belgravia's favourite dining destinations. It strikes a perfect balance between modern and traditional with oak floors and an elegant dining room with outdoor seating for those warmer sunny days.
Rococo Chocolate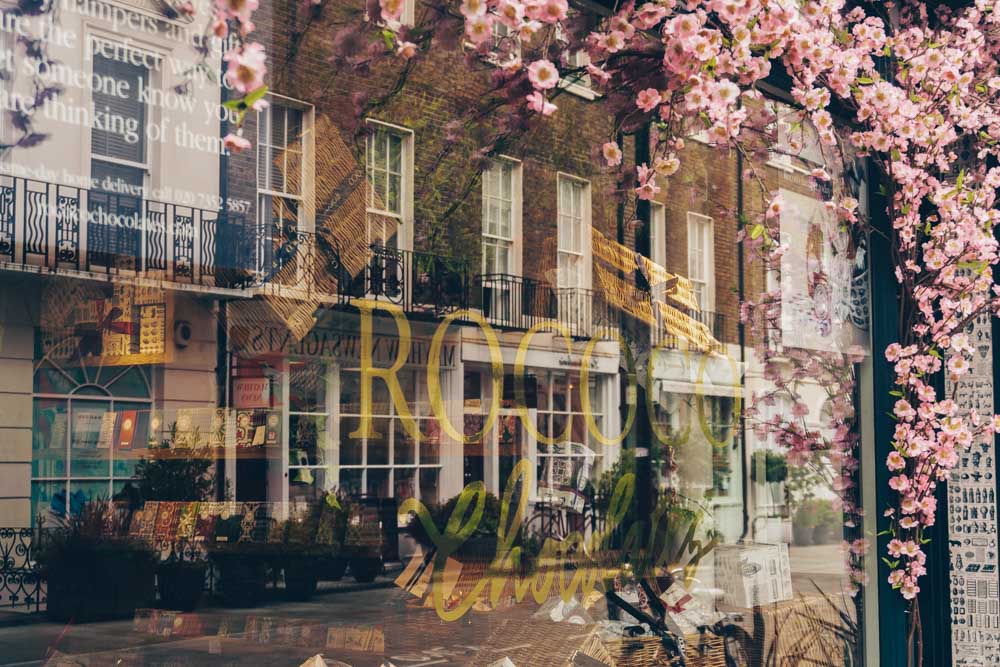 5 Motcomb St, Belgravia
This chocolatier and café have offered some of the finest custom-crafted treats since the early 1980s. For any sweet tooth, this is your dream place. Step in for their chocolate making workshops or take a seat in their secret garden courtyard for one of the best hot chocolates you've likely ever had.
The Blue Bar
The Berkeley, Wilton Pl, Belgravia
Certainly, one of the more exclusive and well-known bars in Belgravia, you'll often find celebrity faces at The Blue Bar with its elaborate cocktail menu. It's extremely striking in its blue and art deco interior, although like the rest of the neighbourhood, it's undoubtedly pricey.
The Gloucester Pub
187 Sloane St, Belgravia
For something more down-to-earth, you can't beat this pub licensed in 1835. It's the only pub on fashionable Sloane Street and is a traditional and typical London pub offering good cask ales and beers from around the world. You can also get everyday pub meals from fish and chips to pork belly.
The Star Tavern
What makes a great pub? Well it's obviously got to have some great beers, and probably some great food. It should also have a good bit of history. The Star Tavern has all three, and the history by the bucketload.
This is the spot where one of history's greatest heists was plotted – The Great Train Robbery to be precise. That's where an 18-man gang made off with what would amount to about £40 million in today's money and fled to Mexico to escape the law.
The Star Tavern today is a much more friendly place though. No master criminals here, just a good bunch of locals enjoying the cask ales for which the pub has won several awards.
The Thomas Cubitt
Belgravia is posh, and when there it's wise to follow the way of the locals. In doing so your quest for a good lunch will likely end you up at The Thomas Cubitt, an eccentric Belgravia watering hole with a touch of exclusivity about it.
They do an excellent menu of food in the extra-swanky upstairs dining room and the more traditional downstairs pub, and great beers to boot – but don't have too many, this is quite a respectable institution.
The place gets its name from the man who designed most of Belgravia – not a bad way to be immortalised.
Olivio
If posh pubs and traditional English food aren't your thing, how about some top-notch Italian? Olivio does some excellent Italian.
The food is just the sort of unfussy, rustic fare you'd want when eating dishes from the boot-shaped nation. Sardinia is the region they draw their inspiration from, so expect some excellent seafood dishes.
You can pretty much take a random stab at the menu here and not be disappointed with what they bring out for you. Whatever you pick, it's best enjoyed with something from their wine collection.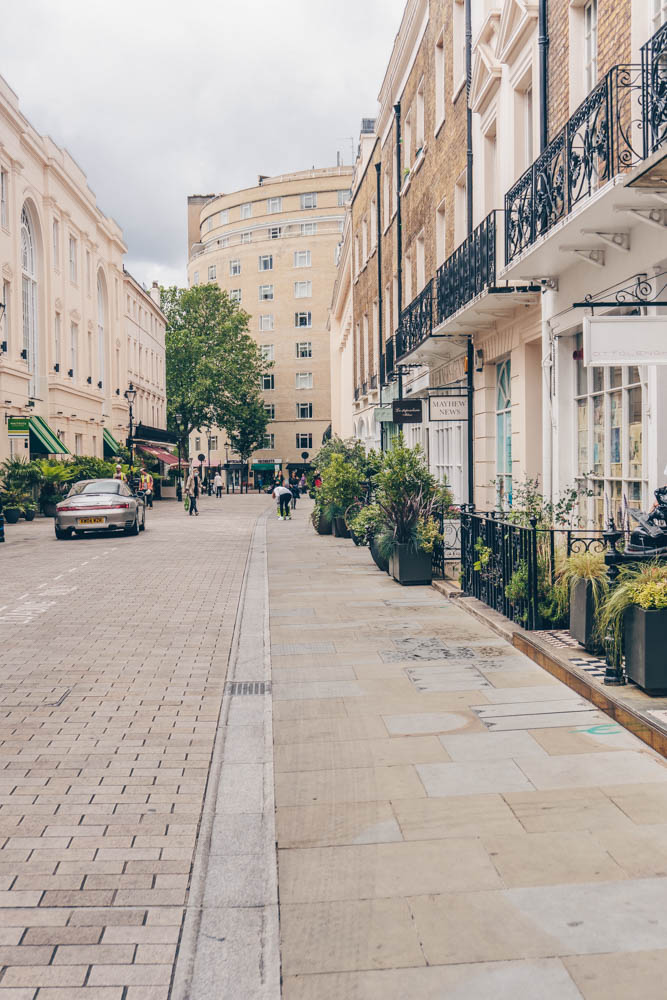 Harvey Nichols
109-125 Knightsbridge, Belgravia
A true London shopping institution, Harvey Nichols has been trading for well over a century and Belgravia is home to its flagship store.
This huge department store is over eight floors of fashion, beauty and home collections. If all that shopping has you exhausted, then there's also a place to stop and have a stylish meal, because why wouldn't there be?
The Fifth Floor Bar and Café has an incredible roof terrace along with tasty snacks and drinks.
Motcomb Street
This skinny, paved street seems sort of like a hidden treasure when you first find it, but it's also known as one of the best places in Belgravia to find elegant boutique stores and restaurants.
The picturesque shop fronts are home to luxury fashion retailers like Christian Louboutin and art studios like Osborne Gallery.
You'll also find some of the best food stores and dining options here too like Rococo Chocolate and The Fine Cheese Co.
Elizabeth Street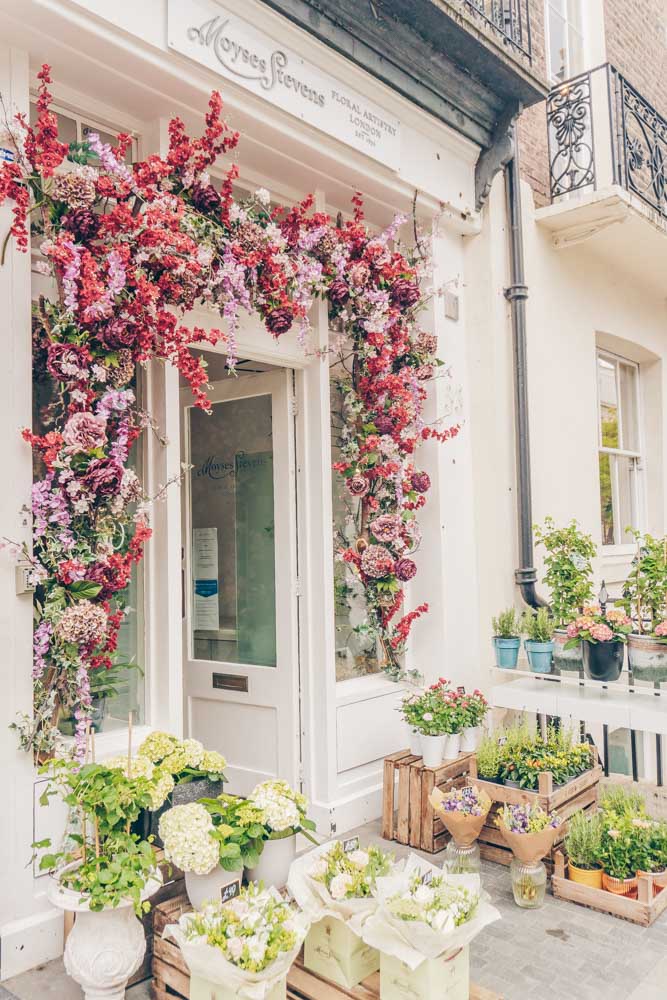 If you want to find Belgravia's most sophisticated and visually stunning shops, then head to Elizabeth Street.
Here you'll find some of London's finest boutiques and artisan producers and there's certainly no doubt of its exclusive vibe. From the specialist perfume shop, Les Senteurs, to ultra-fashionable jewellery at Vickisarge, there's plenty to splash your cash on.
Even if you're just window shopping though, this street is totally instagrammable.
With shops like Jo Loves perfume store completely adorned with pink and red roses and of course, the famous Peggy Porschen bakery on the corner, in its baby pink exterior, you'll want to stop and take a photo with every step.
Pimlico Road Farmers' Market
Orange Square, Pimlico Road, Belgravia
This weekly farmers' market on a Saturday morning takes over the pleasant Orange Square from 9am until 2pm.
There are around 25 vendors every week selling everything from organic fruit and vegetables to fresh juices to smoked fish to homemade bread.
Remarkably, everything is grown, cooked or fished within a 100 mile radius.
Christmas Markets
Pimlico Road & Elizabeth Street
Belgravia is home to two of the best Christmas markets in London.
In December, Pimlico Road and Elizabeth Street are packed full of street food and market stalls as well as festivities like carols and Father Christmas visits.
The shop fronts also live up to their stunning picturesque designs and decorate their shops and windows with Christmas themed displays and lights.

Map of Belgravia
Practical Tips for Exploring Tooting, London
Tooting can be reached from a number of different stations. Tooting station itself, Tooting Broadway, and Tooting Bec. Check your route before heading down to make sure you find the most convenient route.
There are plenty of hidden-gem Indian restaurants in this part of London. Get adventurous and try to find one yourself (you can hardly go wrong) or head to Vijayakrishna for some authentic Kerelan curry.