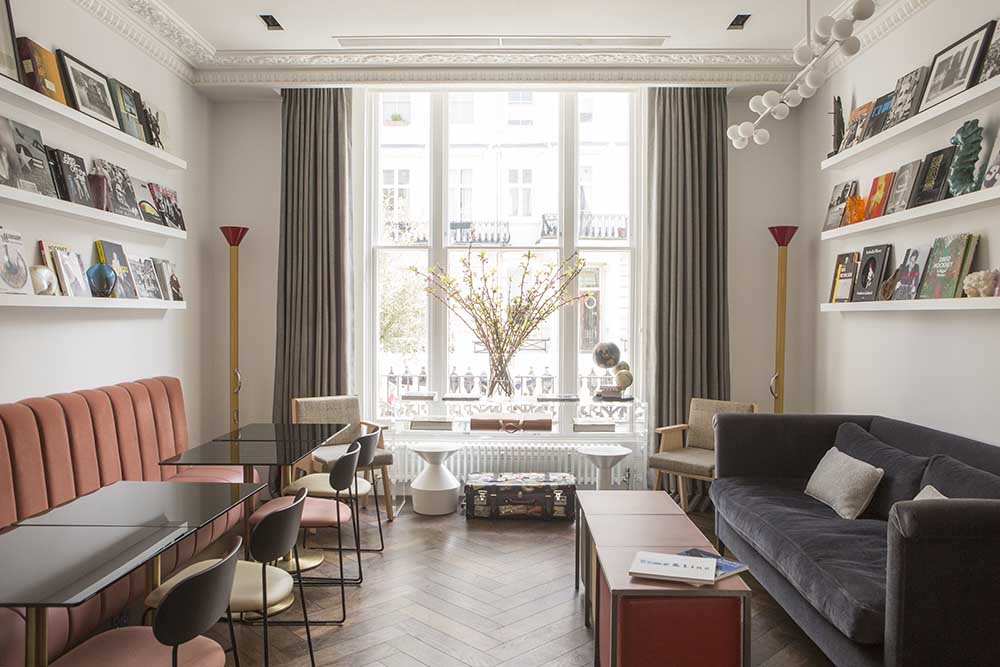 Want to know where to stay in Notting Hill? Don't miss this guide to the best hotels in Notting Hill – gorgeous hotels that make the perfect base for your London trip.
Notting Hill is the perfect alternative to staying in Central London. It's beautiful, well-connected and has some of the best restaurants and bars in West London. Looking for the perfect place to stay? Bed down in one of these fabulous hotels in Notting Hill, London.
PS: Looking for more London tips? Check out my London Guidebook – everything you need to know to plan your trip.
Best Hotels in Notting Hill
The Laslett (Luxury)
If you've come to the neighbourhood looking for elegant charm, then you'll find it in spades at The Laslett, a beautiful boutique hotel in Notting Hill.

Set inside five Grade II listed terraced townhouses, each of the Laslett's 51 rooms are stylish and modern.

As you'd expect from a hotel with an art shop in the lobby, they are perfectly styled. No cookie cutter, monochrome decor here.

As well as the art, the Laslett's rooms also include hand-selected books, which is a fabulous touch. If you start but don't finish an in-room page-turner, they can also be picked up in the lobby's shop.

The hotel is also home to a fabulous coffee shop and bar, the Henderson.

I'm not normally that into hotel bars – but in this case, I'm going to have to make an exception. It's pretty fabulous.

Charm, style and luxury all come together to make this one of the best hotels in Notting Hill.

Pros: Beautiful interior and exterior, excellent location in the heart of Notting Hill

Cons: Although stylish, the rooms are on the cosy side (the largest suite being just 34 square metres).

The Portobello Hotel (Luxury)
You'll feel like Julia Roberts herself staying at luxury boutique hotel, The Portobello. Set within two historic mansions and with just 21 rooms, it's the hotel of choice for many a famous face.

Legend even has it that Kate Moss and Johnny Depp bathed in champagne in Room 16 – although I'm not sure the hotel staff would take kindly to a re-creation.

Inspired by the bohemian spirit of Notting Hill, each of the bedrooms is individually styled and decorated.

The name of each room gives a hint at its size – from 'box' (that's British for very small) to 'splendid' (I suspect you can figure that one out).

Whichever you choose, you're sure to enjoy the character of this 5 star hotel in Notting Hill, London.

It's certainly a place that tempts you to enjoy the good life, whether that be breakfast in bed or perhaps a fine champagne from a crystal glass.

So, if you want to live like a movie star in Notting Hill, I highly recommend this hotel.

Pros: The hotel has great atmosphere and character, with plenty of personality. It's also in a great location.
Cons: There's no onsite restaurant, although room service does light bites
Portobello House: (Mid Range)
Portobello House is a cosy boutique hotel in Notting Hill- a great base for exploring Notting Hill itself and the rest of London. What's more, it also offers excellent value.

The rooms are cosy but comfortable and modern. Egyptian linens add a touch of luxury and make sure you have a great night's sleep before waking up to see the sights.

The location of Portobello House is particularly enviable, especially if you're planning on popping into the Portobello Market (a non-negotiable, if you ask me). It's just a few minutes walk away.

Portobello House prides itself on being a friendly base for exploring Notting Hill, and the staff are always ready to help.
There's also an onsite restaurant for lazy evenings or lunches, although I recommend heading out to explore the nearby options instead. There's just so many great options to try.

Pros: Offers great value for money and an excellent location within an easy walk of Notting Hill's main attractions
Cons: Some of the rooms are up a number of flights of stairs, which may be an issue for guests with mobility issues

The Distillery: (Luxury)
The Distillery is a hotel devoted to gin. Need I say more?
Just in case, here's some more information about this fabulous new hotel in Notting Hill.

The hotel is one of the offerings from the four-storey playground for gin drinkers. Elsewhere in the building, you'll also find a gin distillery, two bars and the 'Ginstitute', where you can craft your own bottle of mother's ruin.

If you're a lover of London's drink of choice, it doesn't get much better than this.

That said, the Distillery is an excellent hotel in its own right. Even without the gin, it's a modern, stylish hotel that is well located for Notting Hill's best attractions.

Overall, the decor is contemporary and neutral, but there are a few quirky extra touches – like welcome cocktails and record players – that offer something a bit different.

If you're looking for where to stay in Notting Hill, London and not afraid to try something a bit different then I highly recommend The Distillery.

Pros: Gin. Lots and lots of gin.
Cons: As the building is home to two bars and there's a nightclub nearby, it can be noisy and may not be ideal if you're a light sleeper.

Blue Bells Hotel: (Mid Range)
If you are looking for an affordable Notting Hill Gate hotel, then Blue Bells Hotel presents excellent value for money.
As well as leaving more pounds in your pocket for activities, it's also located inside a beautiful facade. This adds a lot to the overall charm.

The rooms are basic but comfortable, with good-quality mattresses to ensure a good sleep to rest up for sightseeing.
There's also a tasty breakfast available in the morning, with lots of healthy options and bottomless coffee.

This hotel is of the no-frills variety, but the main drawcard here is the excellent location. Great value and a great location means sacrificing some in-room luxuries – but it's clean, friendly and steps away from the best Notting Hill has to offer.

Pros: Affordably priced in an excellent location, they also offer free baggage storage
Cons: Rooms are basic and a little dated. There are numerous flights of stairs and no lift.

The Abbey Court Notting Hill: (Mid Range)
If you prefer your hotel near Notting Hill to have a bit of quirk about it, then let me recommend The Abbey Court Notting Hill.

Taking a look at the "traditional" (think: your grandma's house, if she lived in a Notting Hill mansion) decor of this hotel, it's no surprise it was once a private residence.

Today, it's been transformed into a boutique hotel with 22 rooms. That said, the building certainly hasn't forgotten it was once a home – and it has a kind of warm, quirky charm about it.

It might not be to everyone's taste, but if you steer away from cookie cutter hotels and love things a bit quirky, then this could be right up your alley.

The location is also excellent, located just 200 metres away from Notting Hill Tube stop, and also near to links to Heathrow Airport.

The rooms are cosy but clean and comfortable, and there's an excellent breakfast spread available every morning. Tea and coffee facilities in-room mean you can sip a cuppa while looking out the window at Notting Hill.

A solid choice for a mid-range hotel in Notting Hill.

Pros: The hotel is in an excellent location and the building is charming
Cons: Dated decor, and there are no lifts or air conditioning.

Where to Stay in Notting Hill: Frequently Asked Questions
Why Should I stay in Notting Hill?
Because it's totally charming and incredibly photogenic.
No, really. If you've scrolled through Instagram and fallen in love with the sight of rows of pretty-as-pie terraced houses, pastel tea shops and gorgeous boutiques, then you'll love Notting Hill.
I mean, they even named a movie after it. Plus, it's very central and easy to get out to explore the rest of London.
What Else is There to do in the Area?
Apart from admiring all the gorgeous buildings (especially in the Mews) and sipping tea in pastel tea houses, there's plenty to do in Notting Hill.
Portobello Market is a world-famous antiques market that attracts more than 1,000 stallholders. It's a treasure trove full of amazing things – and a fair amount of junk, too. Sifting through to find the buried gems is great fun.
Even if you're not staying there, you might like to pop in to The Distillery and try crafting your own gin at the Ginstitute.
If you're a culture vulture or have any interest in design, the Museum of Brands is a must. You can learn all about packaging and design, or just get a nostalgia hit looking at products you haven't thought about in years.

Looking for more Notting Hill inspiration? Check out our guide to The Best Things to do in Notting Hill.
How Easy is it to get from Notting Hill to Central London?
Very easy. One of the main reasons that people choose to stay in hotels in Notting Hill, area is how easy it is to get to other parts of the city.
Notting Hill Gate tube station is well connected with the rest of London, being on the Central, and Circle and District lines. This means getting to the attractions in Central London is a breeze.
Practical Tips to Consider Before Booking Your Notting Hill Accommodation
A number of the mid-range hotels near Notting Hill, London have lots of flights of stairs and no lift. You may be able to request a ground floor room if this is an issue, but it's best to check the availability before booking.
Every year in late August, Notting Hill plays host to the amazing Notting Hill Carnival. It's one of London's most colourful and best loved events, and a great time to visit the area. It does, however, mean that many of the hotels in Notting Hill area book up months in advance. Book early if your stay in Notting Hill coincides with Carnival.
If your plan is to explore Notting Hill thoroughly, you really can't go wrong in terms of location. However, if you're planning to make Notting Hill your base and spend a lot of time exploring the rest of London, then I recommend staying close to the tube stop for convenience.
Notting Hill Hotel Guide: Map
Click here for a map of the hotels in the Notting hill area featured in this guide.
Looking for More London Hotel Guides?
Check these out…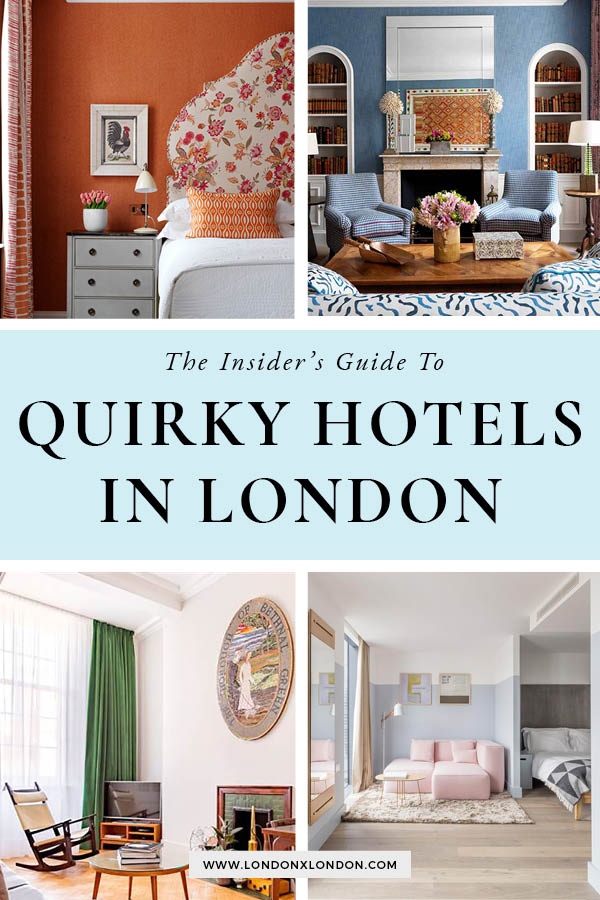 Quirky Hotels in London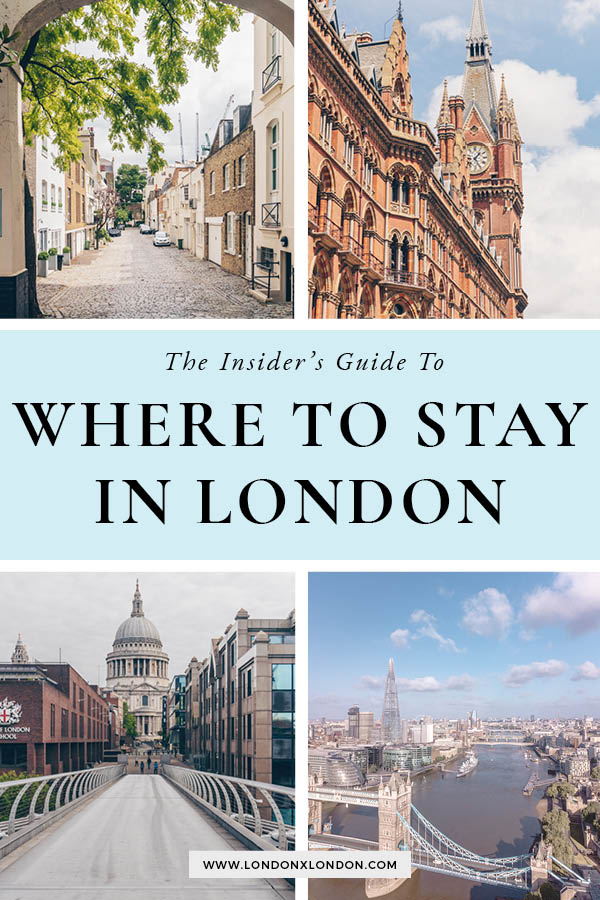 Where to Stay in London