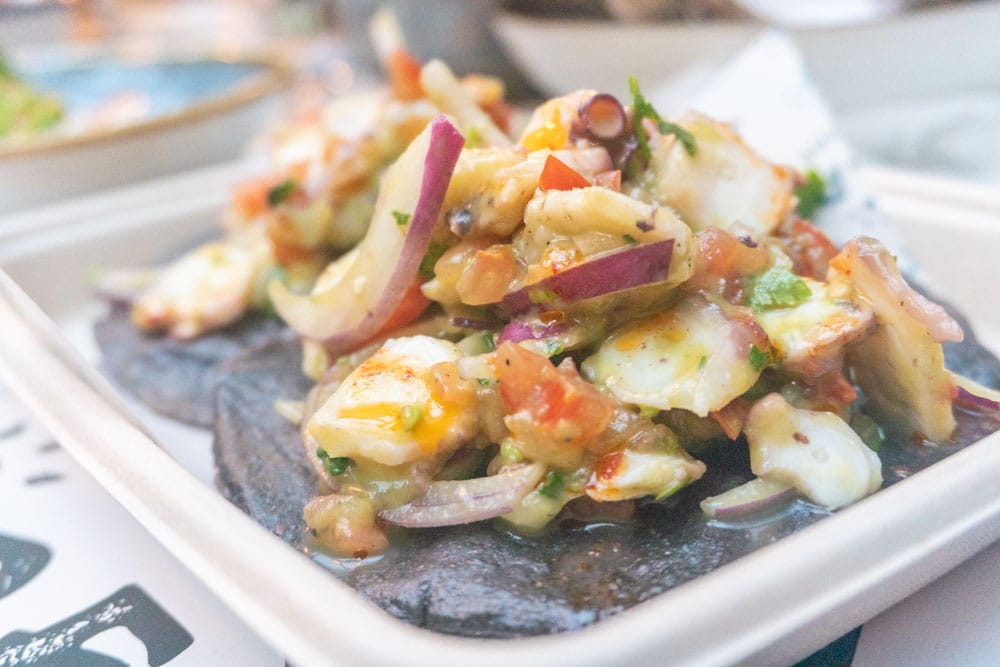 Looking for the best restaurants in Clerkenwell and Farringdon? We're here to help you discover all the greatest restaurants, bistros, and fine dining establishments in this popular foodie area.
The borders between the districts of Farringdon and Clerkenwell are not clearly defined, but one thing is undisputed – these areas have some of the best eateries around London.
You can find a great restaurant on almost every corner. There is something for every palate, from Italian and Mexican cuisine to hearty British food.
Whether you want to book a private room for an elegant dinner or just drop in at a casual pub for lunch, Farringdon and Clerkenwell have got you covered.
Read on to discover the best upscale and informal restaurants in the area, as well as some great food markets to explore.
Best Restaurants in Farringdon & Clerkenwell
Quality Chop House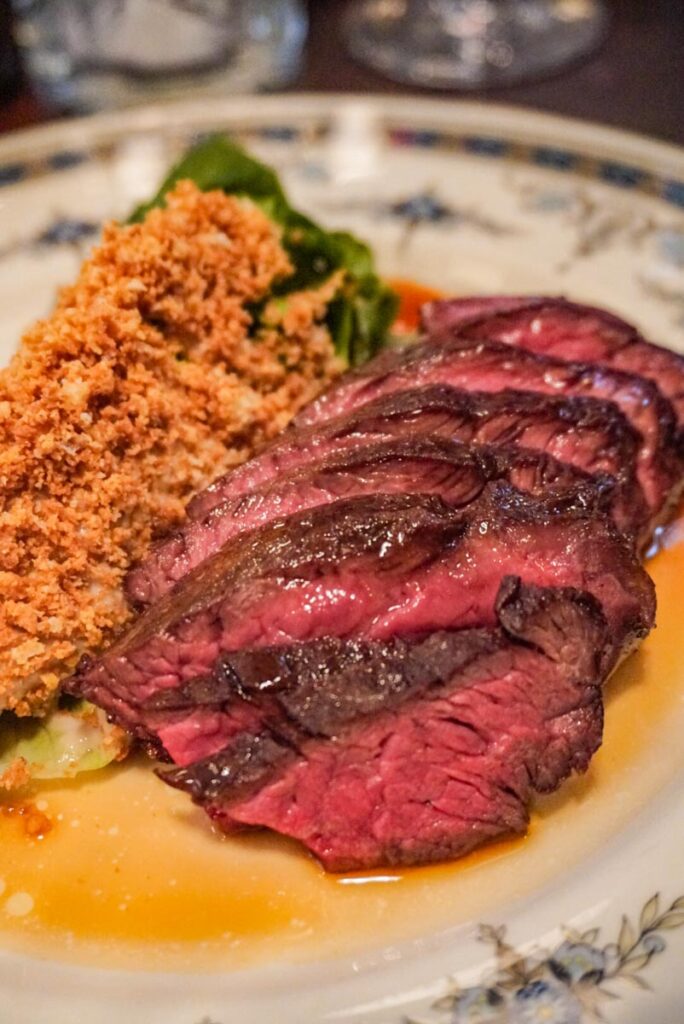 The Quality Chop House is a stylish revamped 19-century restaurant near Farringdon. With a focus on meat and wine, here you can find high-quality and hearty food.
The restaurant has a seasonally-focused à la carte menu that they rewrite every day, based on the best available produce. On Sundays, you can enjoy their set lunch menu, including a delicious selection of Sunday roasts.
Reservations are required and there are also private rooms available for small group bookings. After lunch, why not pop in at their butcher's and wine shop next door for some take-home delicacies?
Address: 88-94 Farringdon Rd, London EC1R 3EA
St. John
The St. John restaurant in Farringdon was established in 1994 in a former smokehouse. The retro front of the building remained almost the same, whereas the interior is now decorated in a clean white minimalist style.
The spacious dining room is situated in the former packing room, while a bar with skylights was installed in the former chimney. This vintage-looking restaurant is open for lunch and supper. The menus are updated daily and offer true fine dining dishes.
Address: 26 St John St, Barbican, London EC1M 4AY
Luca
This upscale restaurant in the heart of Farringdon serves only the best and freshest ingredients. Luca offers fine Italian-style dining in the relaxing atmosphere of a vintage decorated restaurant.
Their menus consist of seasonal produce sourced from around Italy and the British Isles. Here you can order exquisite Italian pasta dishes or dig into fresh seafood and a variety of meats.
You'll need to make a reservation to dine in this elegant restaurant. For a private group event, you can also book the tastefully decorated Garden Room or Pasta Room. Groups larger than ten can enjoy an intimate meal on the Terrace, surrounded by foliage and bathed in sunlight.
Address: 88 St John St, London EC1M 4EH
Moro
Moro is a London classic. One of the Exmouth Market restaurants found on the popular street in Clerkenwell, go to taste authentic dishes from countries like Spain, Turkey and Morocco.
The menu is adjusted according to every season's produce. Nevertheless, all of these creative dishes will deliver a blend of exotic aromas and homemade goodness.
You can enjoy the tantalizing smells of bread baking and meat sizzling on the grill while you relax at your table. Right next door, you can also try delicious tapas at the sister mezze bar called Morito.
Address: 34-36 Exmouth Market, London EC1R 4QE
The Eagle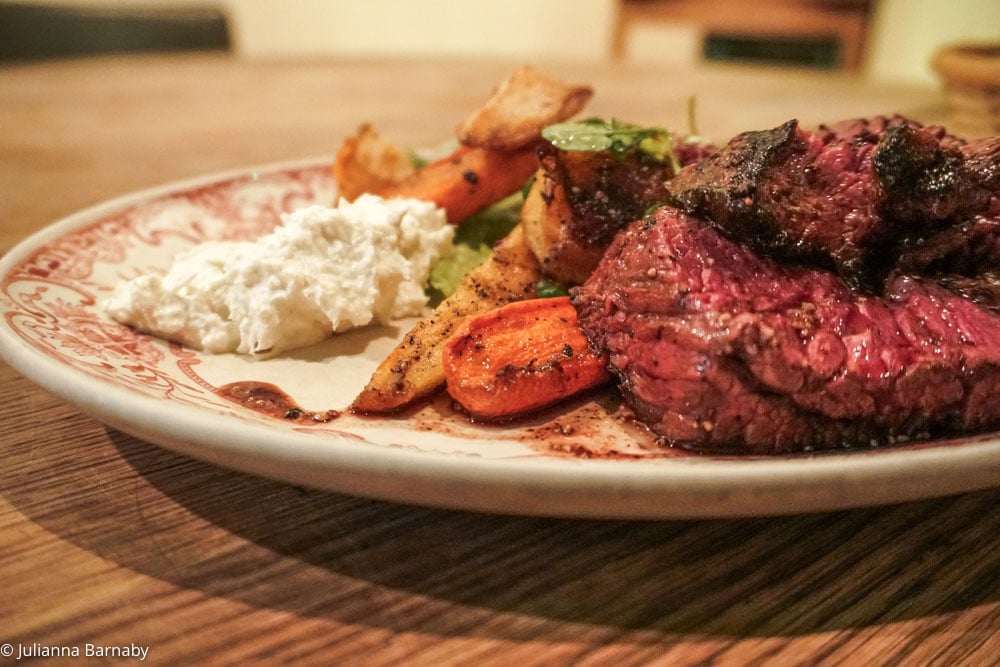 If you're looking for quality food at a down-to-earth restaurant in Farringdon, The Eagle is the place for you. This gastropub has solid food and great people – no fancy extras are needed.
It's the OG London gastropub. Grab a wooden barstool and order from the menu scribbled on blackboards above the bar. The grill chefs serve excellent Mediterranean food, as well as The Eagle's famous steak sandwich.
Groups between 4 and 10 can book a larger table. Otherwise, just wander in and make yourself at home in this great Clerkenwell pub.
Address: 159 Farringdon Rd, London EC1R 3AL
Smiths of Smithfield
Situated in an impressive four-storey building, SMITHS is probably the biggest of the Farringdon restaurants. The bar and dining rooms are decorated in a modern style, and the terrace provides views of St Paul's Cathedral.
The first floor holds the bar, where you can enjoy a bite to eat during the day and join some of the city's best parties at night. On the second floor, you'll find a spacious restaurant where you can enjoy a wide selection of prime meat cuts.
The third-floor rooftop area is the ideal place to linger over a bottomless brunch or some cocktails while you admire the views of London.
Address: 67-77 Charterhouse St, London EC1M 6HJ
Tigre Tacos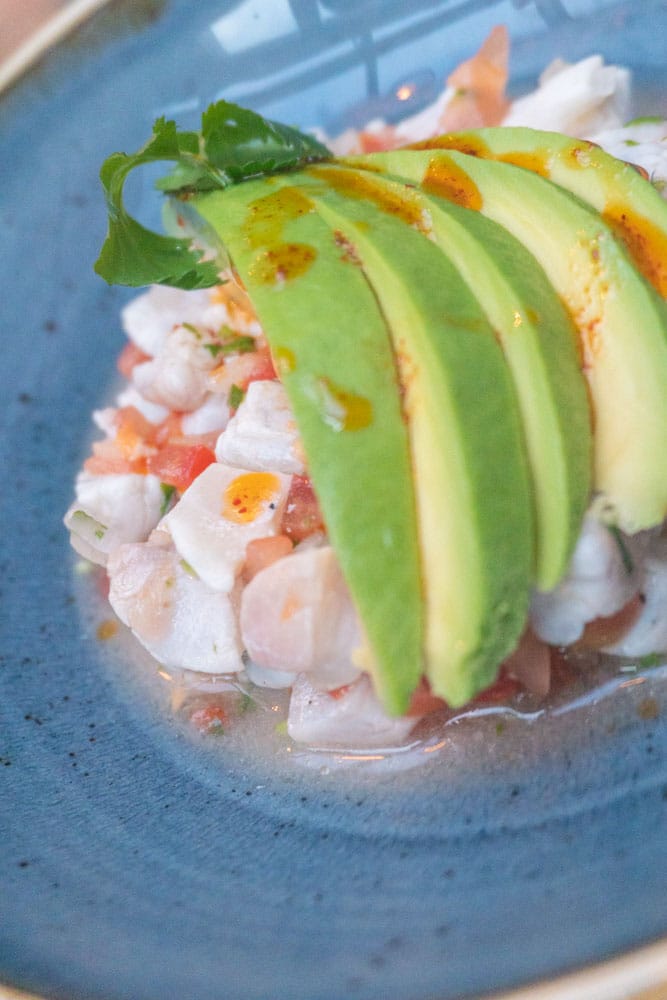 This delightful street-food specialist started out as a food truck on London Bridge. Now Tigre Tacos has joined up with The Gunmakers in Clerkenwell to bring customers a fantastic bar and pub experience.
Tigre Tacos serves a delicious range of vegetarian and seafood tacos. Their dishes are not too expensive and are the ideal size for sharing. Order a refreshing cocktail from The Gunmakers' bar to go with your Mexican-style meal.
Address: 13 Eyre St Hill, London EC1R 5ET
Ibérica
For a classic Spanish dining experience, Ibérica is one of the best places to eat in Farringdon. The airy dining room with its white-painted brick walls and vintage furnishings is set in a remodelled building from 1874.
Here you can dig into a variety of tapas, enjoy quintessential Spanish dishes like paella, and taste the iconic jamón ibérico.
The restaurant's 15-metre long bar is the perfect place to hang out after work and enjoy some tapas and cocktails. Or, for a more intimate dinner, move into the stylish main dining room.
Address: 89 Turnmill St, London EC1M 5QU
Taqueria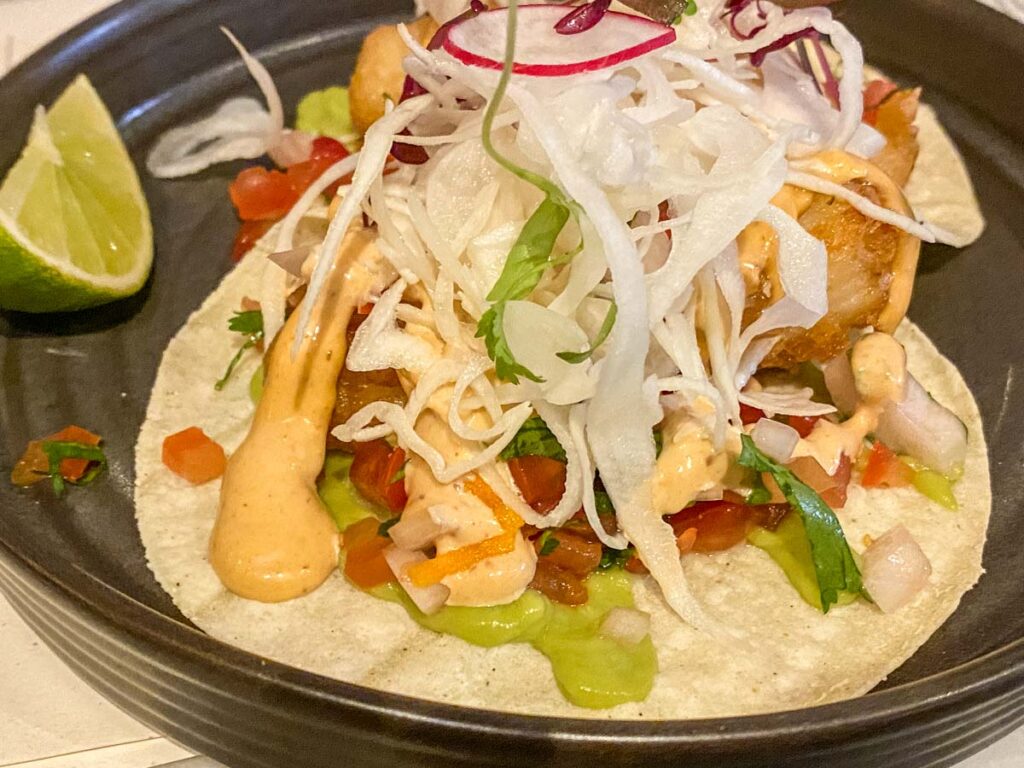 This is another one of the great taco restaurants in Clerkenwell. Taqueria operates in a spacious industrial-style restaurant, serving a variety of Mexican foods.
Their soft corn tortillas are made in-house and you can order them with a variety of modern and traditional fillings. The menu also includes quesadillas, tostadas and lunch plates.
Taqueria offers some top-notch drinks to go along with your meal, like their popular hand-shaken margaritas. Take-aways from their delicious food menu are available Monday to Friday.
Address: 8-10 Exmouth Market, London EC1R 4QA
Apulia
This Farringdon restaurant, named after the Apulia region in Italy (known as Puglia in Italian), serves authentic food from the southern region of Italy.
Get cosy in a booth while you browse their food menu and decide on the perfect bottle of wine. Their menu includes a variety of pasta and risottos and a wide selection of traditional handcrafted Italian pizzas.
Address: 50 Long Ln, London EC1A 9EJ
Bleeding Heart
The Bleeding Heart is a French-style dining chain with an easy-going vibe. Both the Bistro and Tavern are long-established and serve excellent quality food.
Enjoy traditional French dishes in the Bistro while surrounded by 19th-century French posters. This restaurant also has a large terrace where patrons can relax in the summer months with a glass of Rosé and a scrumptious lobster dish.
The Tavern is a gastropub that offers a wide variety of wines by the glass, fresh croissants, and hearty meals.
Address: 1 Bleeding Heart Yard, London EC1N 8SJ
Santoré
Santoré is another one of the top-tier Clerkenwell restaurants that make up the Exmouth Market. This Italian restaurant serves wood-fired pizza and traditional Italian dishes.
While the restaurant itself is simple and cosy, the food is more on the elaborate side. Every dish you order arrives beautifully presented with exceptional attention to detail.
The set-lunch menu includes popular pasta dishes like bolognese and lasagne. You can also choose from a medley of pizzas, meat, and seafood dishes on the main menu. Santoré has a wide range of wines to go with your meal, as well as some classic cocktails.
Address: 59, 61 Exmouth Market, London EC1R 4QL
Bouchon Racine
Bouchon Racine is the upstairs dining room of the Three Compasses pub. The pub has been operating for 300 years giving it a history that goes hand in hand with the neighbourhood's lengthy past.
The restaurant is inspired by the bistros of France and run by two bigwigs of the food world, Dave Strauss and Henry Harris. The food is a masterclass in traditional French cooking served in a traditional setting.
Expect white tablecloths, menus scrawled in chalk on blackboards and waiters that know said menus like they were members of their own family, talking them through with not a small amount of charm.
Address: Upstairs, 66 Cowcross St, London EC1M 6BP
Sessions Arts Club
Sessions Arts Club has a cult following among foodies in London, almost to a fault. Booking lists are basically always full and that makes getting a table difficult at the best of times. If you do manage to grab a seat here you will not regret it.
The food is some of the best around. Creative small plates that put flavour at the forefront of the cooking is the go here. The execution comes across as simple and unfussy, basically free of the pretentions that you'll find at some of London's fancier restaurants.
The rest of Sessions' appeal comes from the decor. A charmingly dilapidated dining room is dotted with plants and tasteful art, and inflected with a touch of history: the space used to be the judge's dining room of a courthouse.
Address: 24 Clerkenwell Grn, London EC1R 0NA
Where to Eat in Farringdon & Clerkenwell – Other Top Spots
Leather Lane Market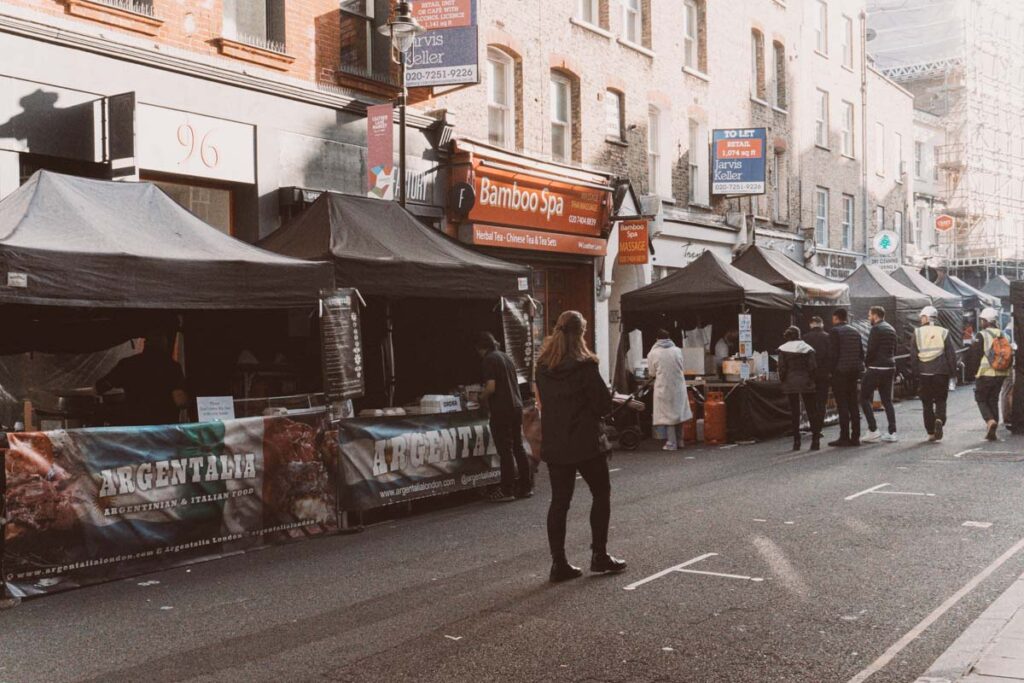 At this vibrant outdoor street market also happens to be one of the best places to eat in Clerkenwell. Among all the clothes, flowers, and bric-a-brac – you can find some of London's most delicious street food.
Leather Lane Market is open on weekdays and is a popular lunchtime haunt for office workers. You can buy everything from British and barbeque to Indonesian and Jamaican food.
The market has been around for hundreds of years and is constantly evolving to include new food and drink trends. Today there are fancy coffee shops mixed in among the street food and fresh produce stalls.
Address: Leather Ln, London EC1N 7TJ
The Exmouth Arms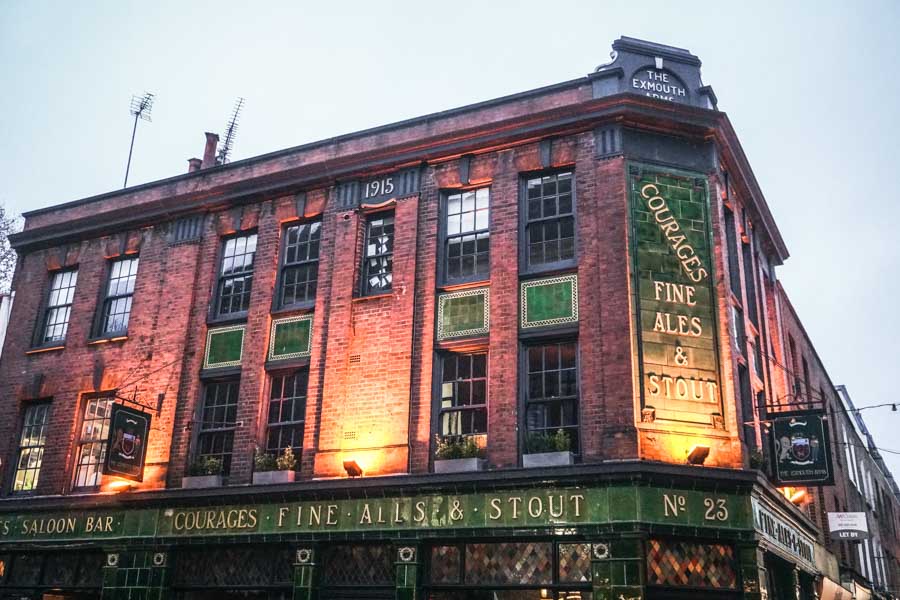 The Exmouth Arms is a Victorian pub with a distinctive brick and green-tiled exterior. It forms part of the Exmouth Market in Clerkenwell.
The menu consists of simple but fresh pub foods. The focus here is on the drinks, and you can enjoy a large selection of beers, as well as some wines.
Relax at a table outside or head into the building with its iconic stained-glass windows to hang out at the bar.
Address: 23 Exmouth Market, London EC1R 4QL
The Easton
This down-to-earth gastropub is another great restaurant in Clerkenwell to visit. The Easton has a friendly vibe and serves a wide range of food and drinks.
Their drinks menu focuses mostly on cocktails and also has a wide selection of gins. The food menu is very diverse – you can choose from tacos, burgers, pizzas, and wraps, to name just a few.
Their Sunday dinner menu offers warm comfort food – try some roast beef with crispy potatoes and a Yorkshire pudding. A bottomless brunch is also available for two hours every morning.
Address: 22 Easton St, London WC1X 0DS
Clerkenwell & Farringdon Restaurants: Practical Tips
Clerkenwell and Farringdon is one of the hottest dining districts in London and as such you may have to wait a while to get a table. Bookings may, on occasion, need to be made a month or more in advance (especially for prime time seats).
That said, you will almost certainly need to book a table. The chances of scoring a walk in are low – though nothing is impossible.
Clerkenwell & Farringdon Restaurant Map
Looking for More Farringdon & Clerkenwell Guides?