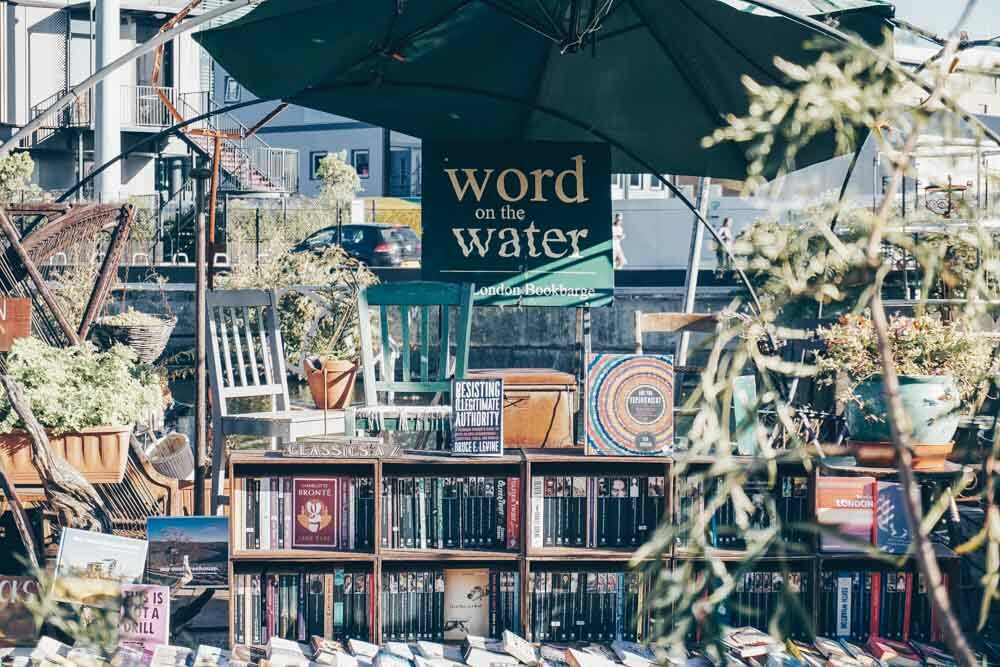 It sounds too perfect to be true – a floating barge bobbing on a mooring in the King's Cross section of Regent's Canal that doubles up as the city's most idiosyncratic bookshop.
Little surprise that the book barge Word on the Water is beloved by pretty much everyone who comes across it.
Not only is the bookshop deceptively large on the inside, but the boat is able to fit a surprising amount of books on it's wooden shelves. If you're after a specific book, you should definitely be able to find it nestled somewhere in here.
But, don't just take my word for it. Board the mobile bookstore and see for yourself.
Why Visit Word on the Water?
It's no secret that London is full of quirky things to do – hey, I've even written a handy book on the capital's unusual places – but this London book barge is a little gem that you shouldn't miss.
To Support Local Business
It's true that there are plenty of big-name bookshops dotted throughout London, but Word on the Water offers something a little bit different.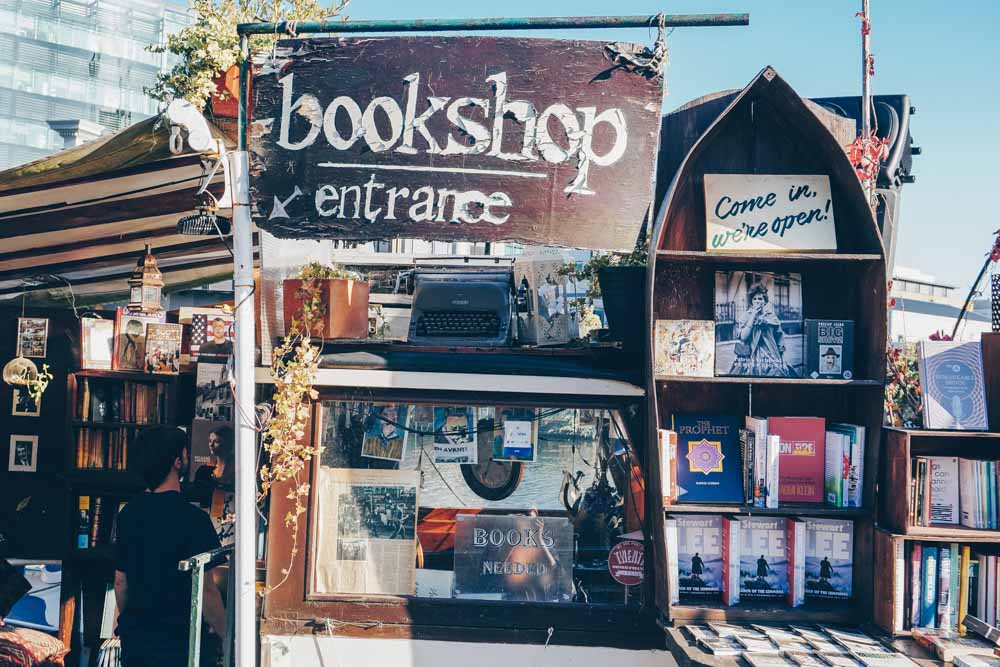 Not only does it have most of the books that you would find in a chain store, but because it's so small, it has a charming homely touch. It kind of feels like you're rooting through a bookshelf in your granddad's study – complete with a cosy leather chair in the corner.
And supporting local businesses is never a bad thing, in my opinion.
You Could Find a New Favourite
Word on the Water stocks a range of books, from brand new additions to older novels. This means that each time you go, you're likely to find something different on the shelves.
Word on the Water also invites you to order a pre-loved book box – for just £40, you get between 8-10 books sent directly to your door, and you can even specify your genre preference so you're guaranteed to love your gift.
The Location is Pretty Great
While you could easily spend the best part of a couple of hours getting lost in the books on this floating library, you're also near a few great spots so you can make a day of it.
Stylish shopping venue Coal Drops Yard is just around the corner from Word on the Water – here you'll find plenty of independent shops and cafes to make your way around after you've fully explored the book barge.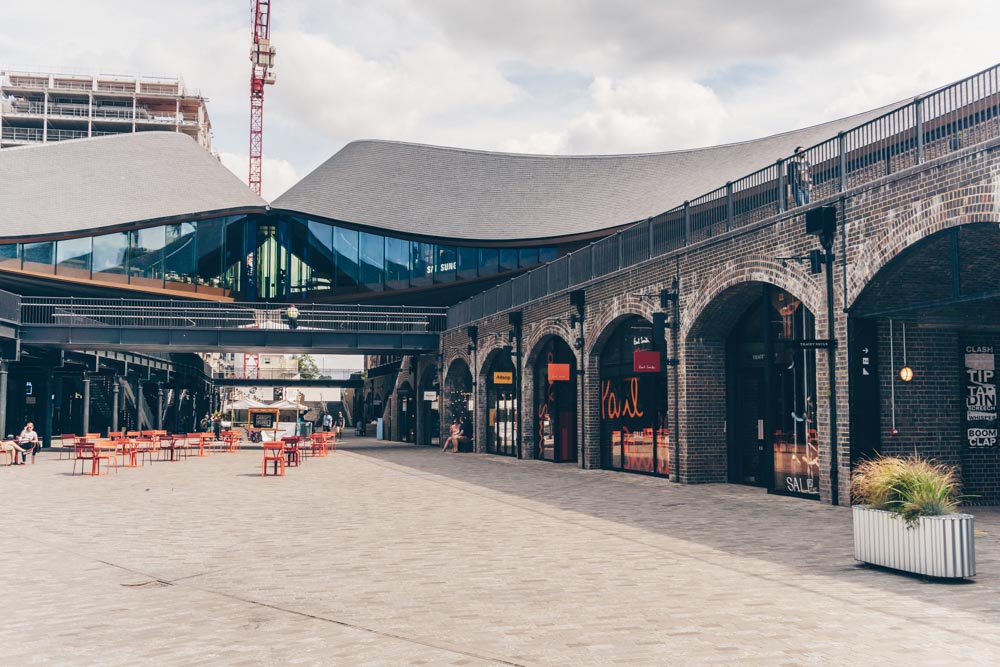 If you're feeling peckish, head to Canopy Market and marvel at the food stalls. Rice Guys is a particular favourite of mine, their smoky barbecue pork bowl is divine.
History of Word on the Water
Transformed from a 1920s Dutch barge, the bookshop was created by Paddy Screech, Jonathan Privett and Stephane Chaudat, bringing joy to Londoners for over a decade.
Screech and Privett were working together selling books and, as long-time canal people, thought that a barge-based bookshop might *just* work.
Sound as the idea was, the money to fund it proved more problematic. It was only when Chaudat, who was selling the Dutch barge liked the concept so much that he agreed to give them the barge for the project in exchange for becoming a partner, that Word on the Water was born.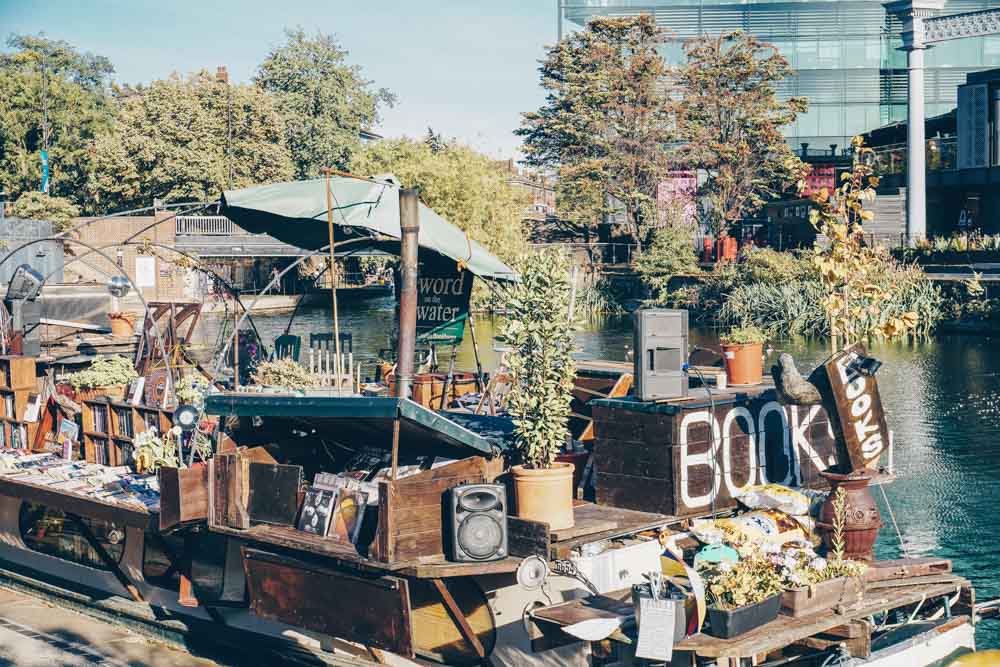 Sadly, the barge actually nearly sank a few years ago when a volunteer opened the wrong valve onboard, causing the interior to fill with water and all the books to be thrown out.
But, luckily the floating library is back up and running now. And it's fully stocked with books waiting for you to delve into.
Where You'll Find the Book Barge Now
It's moved a couple of times – regulations meant that the barge had to move every couple of weeks until the Canal Trust gave them a permanent mooring in a central spot moments away from Granary Square.
On a sunny day, it's a halcyon place, with seats on the towpath for visitors to read their new purchases – often to the backdrop of performances by jazz bands or soloists atop the roof of the barge.
Even in the winter, the barge's woodburning stove creates a cosy atmosphere that never ceases to lure you inside.
Practical Tips and Map for Visiting Word on the Water Book Barge
Before you go, it's worth checking to see whether they have a specific book in their catalogue. Or, do what I do and visit with an open mind, and end up needing to remortgage your home because you've bought a hundred books.
If you're after a particular book, drop them a message through this link and Paddy will get back to you as soon as possible. Not able to get to the barge? No worries – if you're a UK resident, they can arrange delivery straight to your door.
Regent's Canal Towpath, Kings Cross, London N1C 4LW
Discover More Spots Near Word on the Water
Check these out…