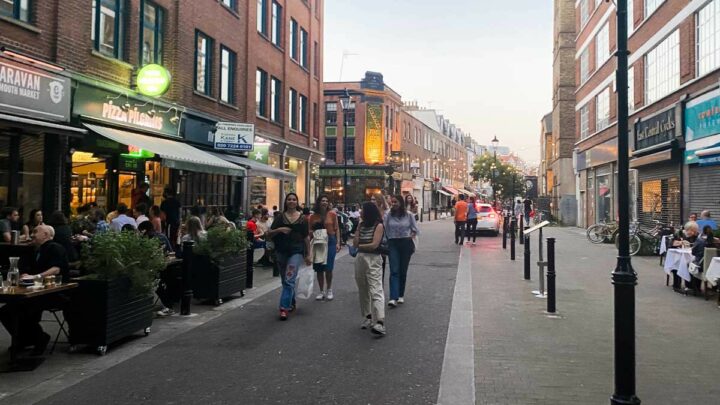 Tucked away in Central London, Clerkenwell's uber-cool Exmouth Market is a bustling spot filled with brilliant restaurants, bars, and cool shops.
The street has been graced by plenty of wonderful businesses since it opened way back in the 1800s. Though, in recent years, it's become a little bit of a hipster's paradise – with craft beer pubs, independent gift shops, and excellent restaurants reigning supreme.
Ready to explore Exmouth Market? These are the spots you shouldn't miss.
Best Restaurants in Exmouth Market
Moro
If you're looking for flavours galore, make a beeline for Moro; where Spanish and North African cuisine collide (in the best way possible).
Top picks on the innovative menu include a mouthwateringly-tender wood-roasted pork belly with grilled butternut, broccoli salad, and almond sauce, and the charcoal-grilled lamb, slow-cooked chard, fresh coriander, white beans, and garum – which pairs oh-so-nicely with a glass of Elias Mora.
Taqueria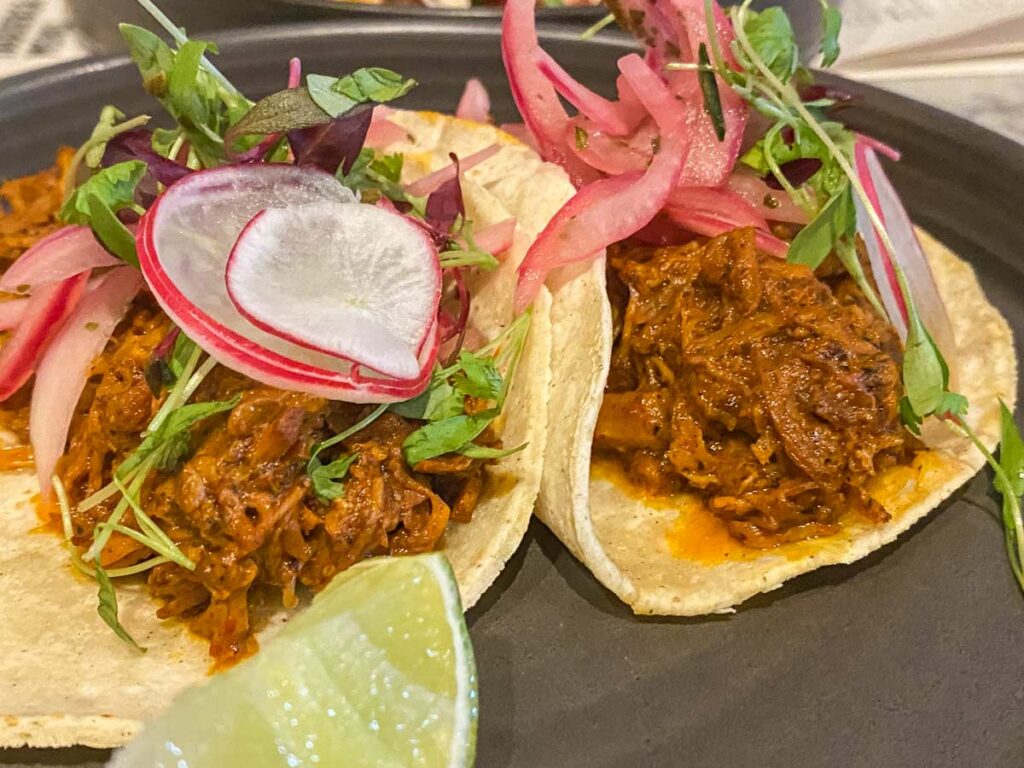 A recent addition to Exmouth Market's brilliant roster of restaurants, and stretched out over a corner plot, are the Mexican delights on offer at Taqueria.
Brighten up a rainy London day with the likes of tacos, quesadillas, and nachos in their light and airy spot. And frankly, if you're not ordering a margarita (or two), you're doing it wrong.
Caravan
Looking for the best place to dine in Exmouth Market? Allow us to introduce you to Caravan – this sophisticated dining spot blends relaxed cafe vibes with a gorgeous restaurant interior.
Do yourself a huge favour and head there for an Exmouth Market brunch before exploring the rest of the street.
The menu is vast, filled with an array of elevated classics. We particularly love the bacon bubble and squeak fritters, though the fluffy vanilla pancakes are equally as tempting.
Morito
With a rotating daily menu featuring fresh ingredients, Morito is the sister restaurant of Moro and serves up a cracking selection of tapas for you to nibble on.
The menu is split into categories for ease, ranging from veggies to meat and fish, as well as a few toothsome pastries for dessert. Order one of the accompanying cocktails – we love the al fresco spritz – and pretend you're somewhere deep in the Med.
Panzo
It's a tragic fact that sourdough pizza can be a little hit and miss, with some joints missing the mark and instead serving up a soapy, soggy lump covered in oily cheese.
Well, not at Panzo – their dough is double-cooked to perfection. Toppings range from a traditional Margherita to goats cheese and spinach, and even a tempting Vegan BBQ offering.
The Street Easy
From boozy brunches to chilled out dinner dates, the vibes at The Street Easy are immaculate.
This is another recently opened Exmouth Market restaurant that has left quite the impression; establishing itself as a firm favourite among locals almost instantly.
Small plates, chicken wings, buns, and burgers are the name of the game here, while positivity drives everything they pop on the menu. We have to say that we left feeling pretty positive after chowing down on their loaded fries. Delish.
Best Shops in Exmouth Market
Space
It's hard to miss Space – the beautiful pastel exterior draws you in alone.
This is an eclectic shop selling everything from hand-thrown vases and candles, to books filled with positive affirmations and dainty jewellery.
It's an Oliver Bonas-esque independent gift shop that makes for the perfect place to peruse things you didn't know you wanted (or needed, for that matter).
Marby & Elm
Marby & Elm is the home of bespoke letterpress stationary and gifts, specialising in everything from personalised notebooks to wedding invites and unique postcards.
This cheeky shop also boasts plenty of tongue-in-cheek gift cards – some so rude that you won't believe your eyes. You'll also be able to browse hand-crafted jewellery and candles.
Botanique Workshop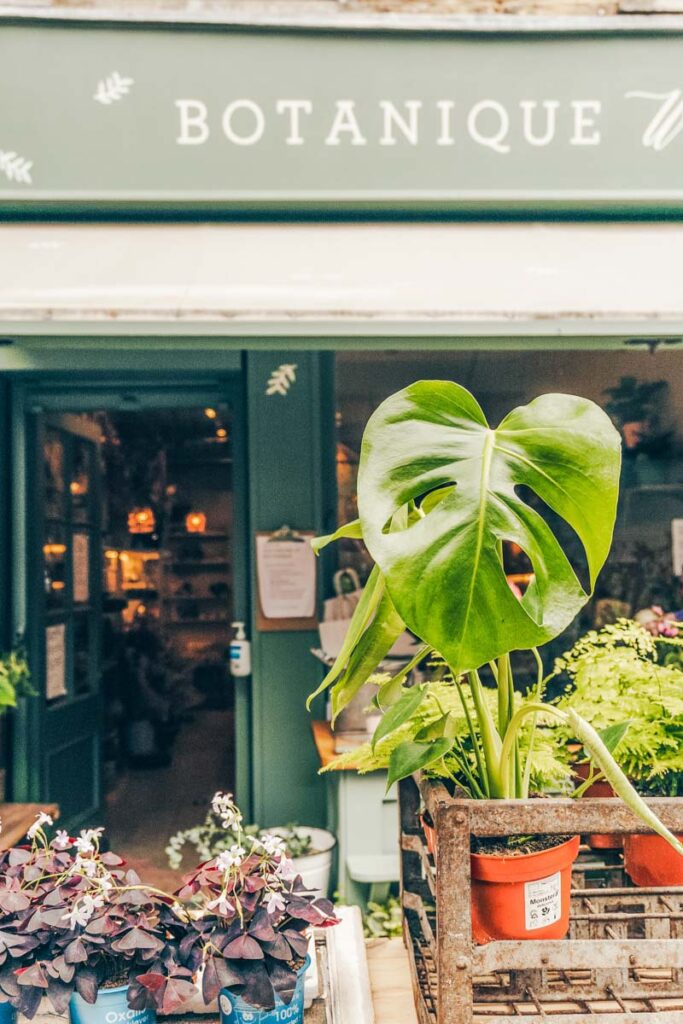 London's not short of dreamy florists and plant shops, though Botanique Workshop is one of the most criminally underrated.
From colourful fresh bunches to bouquets of dried flowers to love forever, Botanique have got all floral bases covered.
The florists also host workshops and private parties for anyone looking to learn more about flower-arranging (they make an extra-thoughtful gift!). Though, feel free to pick a standard bunch straight from the shelf and it'll still be heads and tails – or petals and leaves – above those from the supermarket.
Bars + Pubs in Exmouth Market
The Exmouth Arms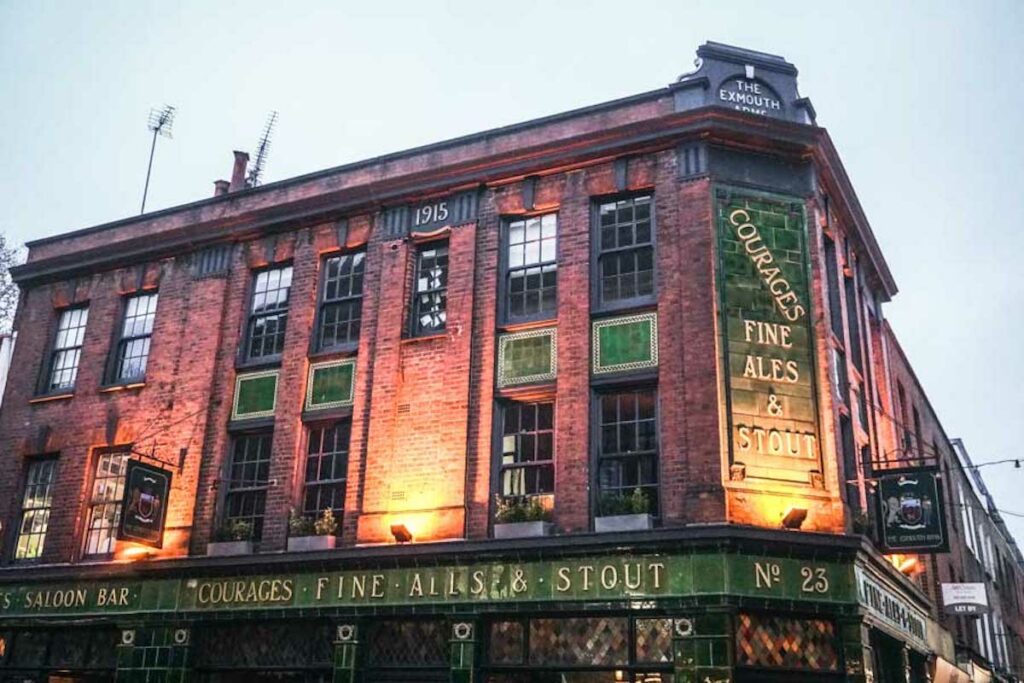 Clerkenwell is home to plenty of brilliant boozers, though none are as cool as The Exmouth Arms. Situated on the corner of the market, the pub and its gorgeous red brick fronting dates back to 1915.
The drinks and grub on offer bring a touch of modernity to the otherwise traditional pub, with craft beers and sliders taking centre stage. Portions are rather hefty, so go hungry and fill 'yer boots.
Craft House
In need of a chilled-out night filled with craft beer and pizza? You'll want to head straight to the ultra-cool Craft House.
Our pizza of choice is the Norcina: fennel sausage, wild mushrooms, and truffle cream – scoffed heartily inbetween sips of Beavertown's Gamma Ray pale ale.
The cocktail menu is also a delight, filled with a mix of classic drinks and some more unique in-house creations. The Basil Smash (a zingy concoction of gin, st Germain, basil, sugar, lemon) goes down all too easily.
Coin Laundry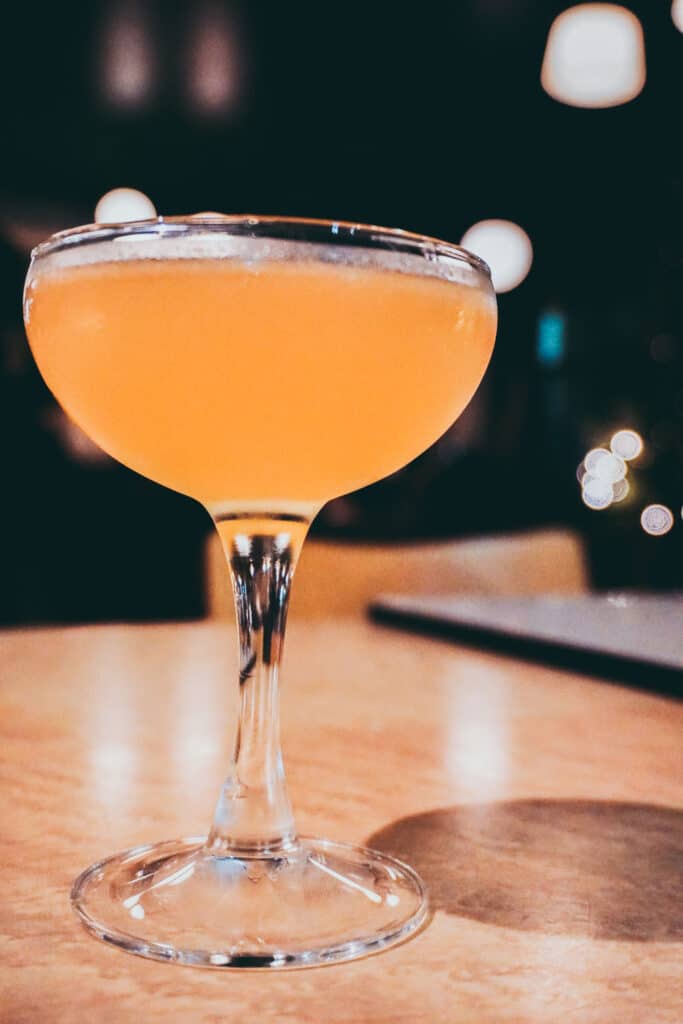 Another cool spot in Exmouth Market is Coin Laundry's understated cocktail joint. Described as a "laid-back neighbourhood social", you'll feel right at home here.
This is the perfect Exmouth Market bar to sip natural wine (or whatever your poison may be), sink into one of the fluffy sofas, and chat until the early hours with friends.
The History of Exmouth Market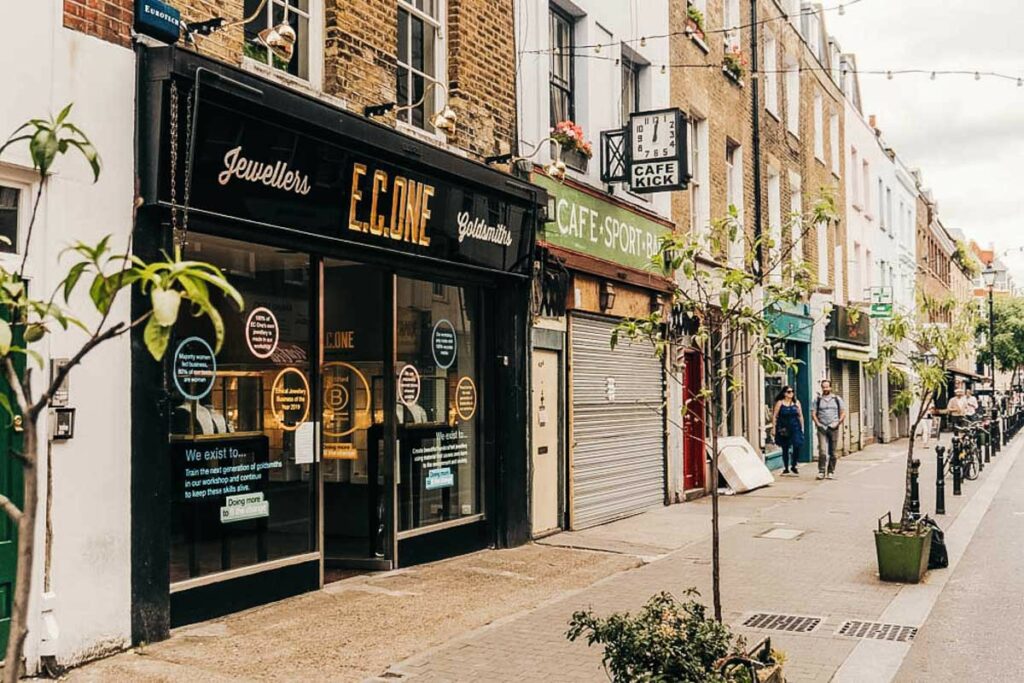 The Early Days
While 19th-century Clerkenwell had a less than favourable reputation, the area has experienced plenty of rejuvenation in the last couple of hundred years – and the transformation of Exmouth Market has played a huge role in shaking things up.
The market has been around in one form or another since the Victorian era, though by the time it reached the 1970s, Exmouth Market was dwindling – and then by 1984, only 6 pitches out of the 100 available were occupied.
Bringing Exmouth Market Back to Life
It was a sad, sad state of affairs and the council soon decided it was time to take action. They started squirrelling away behind the scenes throughout the 90s – a regeneration project was fully underway, streets were repaved, and new lighting was installed to perk things up a little bit.
Once the area was given a facelift, the council managed to eventually bring the street market back full time in 2006. Et Voila! The Exmouth Market we know and love today was born.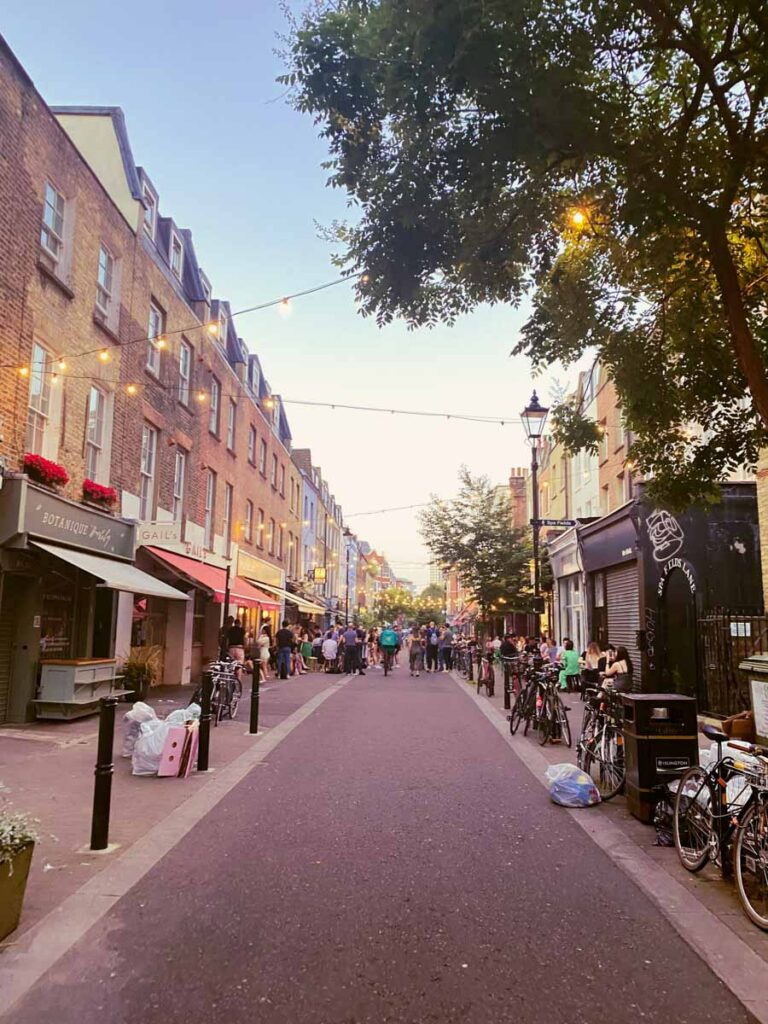 What's in a Name?
But how did Exmouth Market get its name, we hear you ask? Let us dispel any myths…
It's all thanks to Viscount Exmouth, aka Edward Pellew, who was born in the 1700s and joined the Royal Navy at the ripe old age of… 13.
Known for his bravery throughout the American War of Independence, he was promoted to captain at 19 before he was captured in the Battle of Saratoga. After he was released from prison, he rejoined the Navy and continued battling for his country.
With plenty of victories under his belt, he soon became highly regarded by the Royals and was eventually dubbed Lord Exmouth.
Following this, a new street was named after him in 1816 – which would later become Exmouth Market, one of the best markets in London.
Exmouth Market Map
Exmouth Market: While You're in the Area…