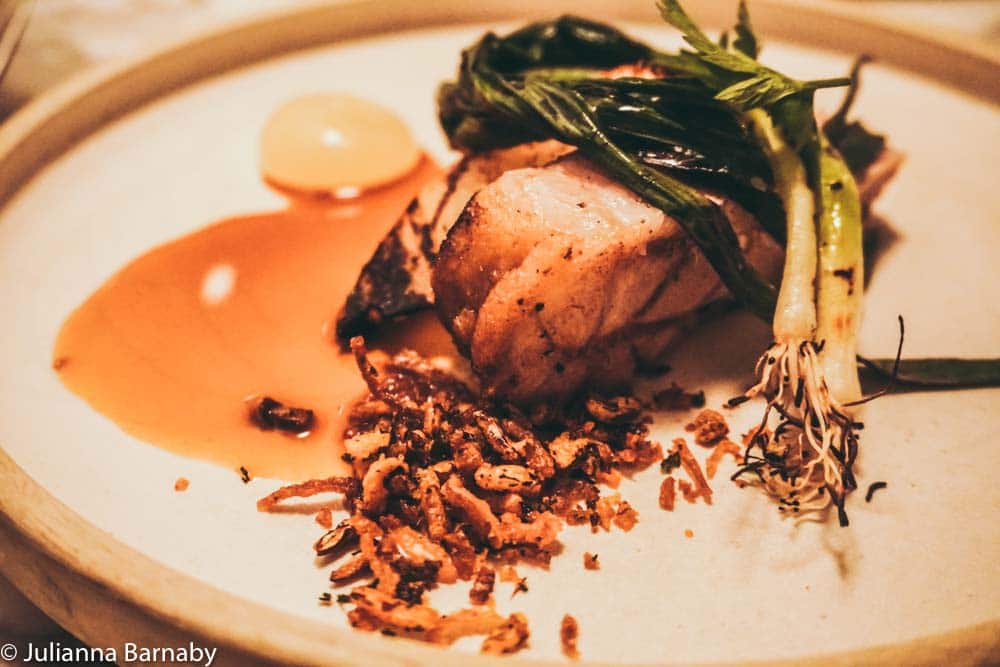 Covent Garden is packed with brilliant places to eat. Not sure where to start? Don't miss this insider's guide to the best restaurants in Covent Garden.
With the piazza to explore and the abundance of theatres in the area, anyone visiting the area is likely to find themselves looking for places to eat in Covent Garden at some point on their trip. These are the spots that should be at the top of your list.
Best Restaurants in Covent Garden
£££ High-End – Mains £25+
££ Mid-Priced – Mains £15-25
£ Great Value – Mains under £15 or pre-theatre for under £25 for 3 courses
High-End
Frog by Adam Handling
The minimalist plating at this Covent Garden restaurant by Adam Handling feels a little 2014, but everything else about the place is oh-so-millennial, from velvet furniture in dark blue to brass accents everywhere, the whole place is very Instagrammable.
Food at Frog is seasonal and fresh, and the open kitchen is an awful lot of fun to watch if you're sat close enough.
A coquettish menu lists only ingredients, such as lamb, asparagus and wild garlic, or pigeon, beetroot and pink peppercorn.
It's all very cool, and luckily also very delicious. This is the place to eat in Covent Garden when you really want to show off, splash the cash, and feel like you've got a taste of the high life!
Clos Maggiore
Clos Maggiore offers a calm, wholesome, contemporary slice of France in the heart of bustling Covent Garden.
Ingredients are all sourced from small UK farms, minimising food miles and ensuring the freshest possible produce goes into dishes like roasted globe artichoke, zucchini, pesto & artichoke jus, and native lobster, fennel, tarragon, orange & lobster sauce.
Food is simple and modern, though clearly very much inspired by French cuisine, and the decor is half Paris bistro, half daydream, with a ceiling dripping white blooms.
In fact, it's so dreamy that Clos Maggiore regularly tops lists of the most romantic restaurants in London. Definitely one for a big date.
Frenchie
Frenchie is one of the coolest places to eat in Covent Garden. The bar is marble, the floor tiled, and the overall aesthetic has strong hints of an industrial warehouse.
And the name? Well, Frenchie is head chef Greg Marchand's nickname, courtesy of none other than Jamie Oliver. Luckily, the food is great too. Modern fare with a French heart, using local British produce.
Sample mains include steamed cornish brill with a kaffir lime beurre blanc, and Sussex pork, lentil ragu and salt baked parsnips.
Frenchie is intimate and feels like a real find, so it's a great spot to bring a date you want to impress.
Pivot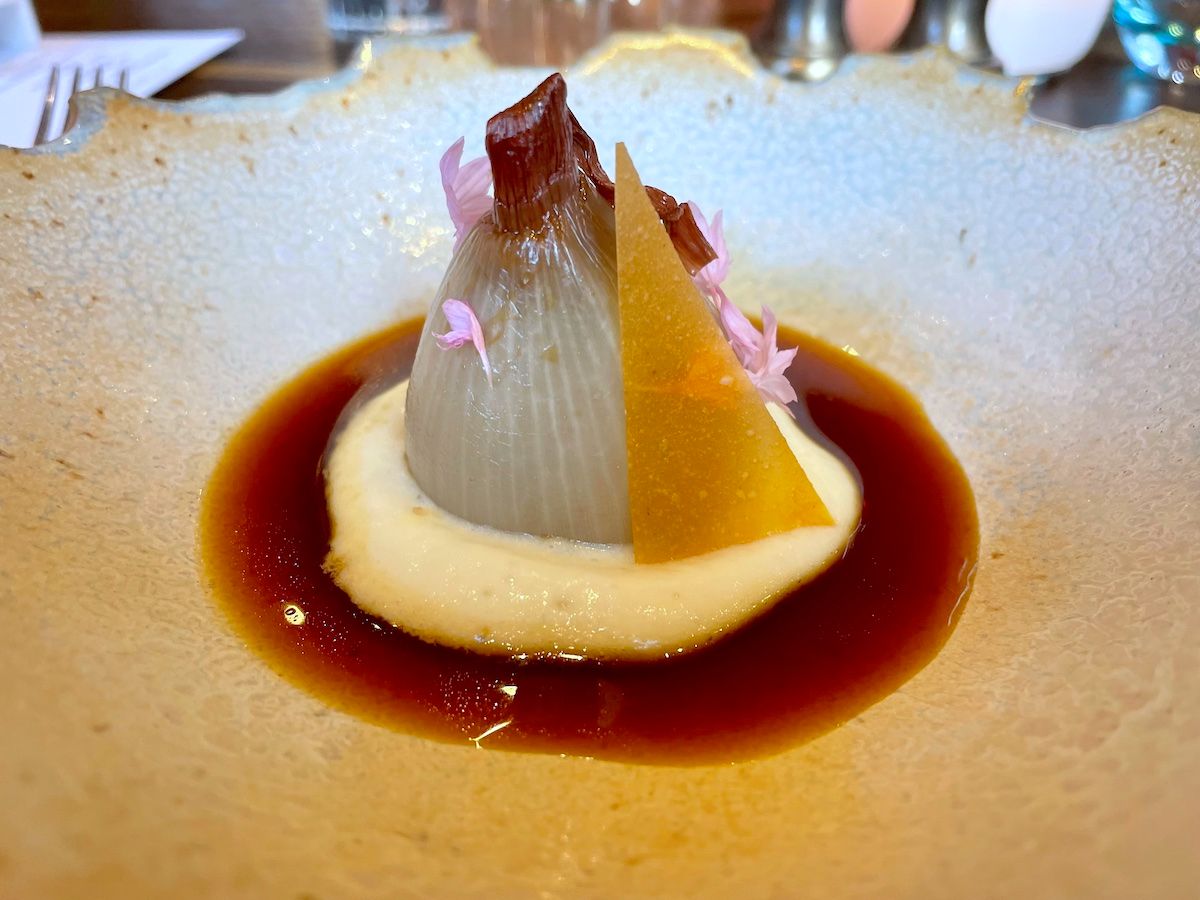 Pivot by Mark Greenaway might be the (relatively) new kid on the block, but this quintessential British joint packs a punch. Head inside the terracotta-toned restaurant and you'll fall head over heels for their innovative plates.
The menu is seasonal, rotating or *ahem* pivoting every month or so, but when we visited we were treated to a delicious haggis and onion Roscoff, duck breast with an asparagus and mushroom tart, and a dreamy deconstructed Eton mess for pud. And we're still thinking about it weeks later.
Read More: Our Review of Pivot
The Ivy
We couldn't write a list of the best Covent Garden restaurants without including The Ivy. It's not allowed. We would be banned from ever reviewing a restaurant or bar again, professionally shamed.
Refurbished in 2017, The Ivy still feels a little like an oversized country pub. And yet it's also still the best place in London to do some celebrity spotting!
The food, of course, is excellent, despite the kitchen having to keep up with a massive menu that includes both Asian dishes and British and French restaurant classics.
Many first-time visitors go for The Ivy Shepherd's Pie, which is the stuff of legends, but more adventurous dishes such as the dukkah spiced rump of lamb are also great.
Sushisamba
The second London location of this international restaurant is, quite frankly, breathtaking.
Sushisamba Covent Garden is housed in the Opera Terrace at the top of the piazza and makes use of the glass roof and abundant windows by including what is essentially a swath of indoor jungle around the bar.
Other than that, the decor is reasonably muted, but the beautiful black and white tile floors do a lot of heavy lifting, style-wise.
Kaspar's at the Savoy
If you're looking for places to eat seafood in Covent Garden, Kaspar's should be your first thought.
It's just a little way from the Piazza, but the exclusivity of the Savoy, and the proximity of the Thames, cuts through all the stress of Central London hustle and bustle.
Named after the carved black cat kept in the dining room, Kaspar's serves fresh, seasonal seafood, including classics like Dover sole with brown butter and capers, or wildly decadent seafood platters.
Petersham Nurseries Covent Garden
Petersham Nurseries isn't just a restaurant, it's a lifestyle destination. What does that mean exactly? Well, there's a delicatessen, a florist, a fantastic wine merchant, two bars and two restaurants at Petersham Nurseries Covent Garden.
As you would expect from the team behind the original Petersham Nurseries in Richmond, everything they sell is flawless, as is service.
The Petersham restaurant itself sticks to the same slow food philosophy of Good, Clean and Fair as has always been adhered to at the Richmond location. Everything is fresh and seasonal, with Italian flavours and a huge amount of thought poured into the food.
The tasting menu is 85 quid, and both vegan and gluten free tasting menus are available, as well as daily a la carte offerings for lunch and dinner.
Standouts for me include the Cacio e Pepe bottoni with broad beans and mint, which is a delicious twist on a simple classic, and Monkfish glazed with vinegar, hazelnuts and artichokes.
Rules
The oldest restaurant in London, Rules is still going strong over 200 years after its opening in 1798. As a piece of London history, the place can't be beaten.
The decor has been updated, though it's not exactly modern. More 1980s does 1880s, which has its own kind of charm.
The food, too, treads a line between tradition and modernity, with starters like pea and mint soup and potted shrimp sitting beside roast hispi cabbage with a hazelnut crumb. You can even get a steak and kidney pudding. Old school!
If you want classic, British food in Covent Garden then Rules is the real deal.
The NoMad Restaurant
In the building of the old Bow Street magistrates office, practically opposite the Royal Opera House you'll find a spot that has much to offer. That's the NoMad Hotel. And more specifically for this article, The NoMad Restaurant.
First off we have to mention that the space itself is one of the major straws here. A glass topped atrium pours natural light down onto the dining room from two floors up. Plants hang from the columned balconies above you and in the evening so do dimly lit lamps. It's really pretty magical.
The food is similarly impressive. Chef Michael Yates crafts traditional dishes into works of modernity, taking advantage of fresh ingredients and a few luxury touches to create a meal that puts this place up there with the best restaurants in Covent Garden.
Mid-Priced
Cora Pearl
The perfect place to eat in Covent Garden pre-theatre or on a quiet date night, Cora Pearl serves elevated British comfort food in the snug and luxurious confines of green velvet booths and gold fixtures and fittings.
When Cora Pearl say comfort food, they aren't messin' around.
You can get a ham and cheese toastie, a burger, or fish stew and croutons, but equally, there's an artichoke, ricotta and endive salad and mackerel pate, fennel and crackers.
If you need to please a variety of people when eating out in Covent Garden, then Cora Pearl is a safe bet that somehow manages never to be boring.
The Barbary
Located in the iconic Neal's Yard, The Barbary takes both its name and culinary inspiration from the Barbary Coast. This coast runs from the Atlantic to the Mediterranean, and so do the flavours at this Covent Garden restaurant.
Essentially, The Barbary serves Middle Eastern and Mediterranean food, using traditional cooking methods and modern techniques alike.
You'll find bagels, labneh and beetroot borani on their menu, along with salmon and dukkha and pata negra neck. And for pudding? It's got to be baklawa, of course!
Barrafina
Barrafina Drury Lane is the latest branch of the upmarket Spanish tapas bar, which already has three locations in the capital.
Like its brothers and sisters, Covent Garden's Barrafina is a tiny space with a perfect finish. Hop on a stool by the marble-topped bar and you could almost be in Madrid, if you ignore the rain outside.
Food is fancied up tapas, like octopus with saffron foam, gamba roja and Spanish caviar on perfect squares of brioche, or a prawn and piquillo tortilla.
Perfect stuff to nibble on indulgently while you have a couple of drinks, possibly before a trip to the theatre.
Buns & Buns
A celebration of all things bread, Buns & Buns serves bao, pizza, focaccia and hummus, and even lobster rolls.
The concept is basically: bread is delicious. And who can argue with that?
Set in the Covent Garden piazza, Buns & Buns is a really nice restaurant to sit in and watch the world go by, despite their sometimes boisterous advertising and social media presence.
Bao buns in particular are affordable and thoughtfully put together, whether you get fried chicken, lettuce and mayo or the rather more upmarket truffle and wild mushroom.
If we're totally honest, we think Buns & Buns could take things down a notch, but their food is good and they're a fantastic place to grab a quick, reasonably affordable bite in Covent Garden.
Oystermen Seafood Bar & Kitchen
The place to be if you want oysters, this Covent Garden seafood restaurant focuses on British seafood and in particular aims to showcase Carlingford Bay oysters, which Oystermen owners Matt Lovell and Rob Hampton think are the best in the world.
If oysters aren't your bag, you can opt for mains that bring alive other types of seafood, like a prawn and wild garlic risotto, pan-fried Newlyn hake with cauliflower puree and bravas sauce, or, if you really want to push the boat out (boat… oysters… oh never mind) a seafood platter featuring, amongst other jewels, a whole Dorset crab.
Da Henrietta
The Henrietta Bistro at the Hotel Henrietta is now Da Henrietta, which offers 'an experimental journey down the Italian coast' courtesy of Italian Supper Club founders Silvio Pezzana and Toto Dell'Aringa.
This isn't your basic pizza, pasta and tricolore salad.
The menu is bursting with seasonal vegetables, and includes farmhouse favourites like lamb with salsa verde and a rotating fish of the day. It's a mixture of hearty personal favourites for the two chefs, like chickpea fritters farinata, and the best kind of experimentation using fresh ingredients and modern ideas.
The 10 Cases
The 10 cases is a buzzy French bistro with a focus on wine and small plates.
So far, so predictable, but the 10 Cases simply does something classic really well.
The name comes from the fact that this Covent Garden restaurant likes to keep things exclusive – only ever buying ten cases of a particular wine so that when it's gone, it's gone, and guests can never fall into a pattern of ordering predictable old favourites!
The ten tables inside are pretty intimate, but there's also a lovely terrace for outdoor dining where you can enjoy great wine along with cheese and charcuterie, and small plates ranging from asparagus and burrata to steak tartare.
If you want to impress a date with your excellent wine choices, The 10 Cases is a good shout.
RedFarm
RedFarm has been a staple on the competitive Chinese food scene in NYC for a while now, and a couple of years ago opened a restaurant just off Covent Garden piazza so London can get in on the fun too.
The dumplings are what most people come for, including Pac Man shrimp dumplings and three colour veg dumplings, but RedFarm's brunch offerings are also impressive.
Like c'mon, we've all had BBQ beef for breakfast on a Sunday, but usually cold and eaten out of the fridge. It's much, much more enjoyable at one of the best Chinese restaurants in Covent Garden, plus brunch comes with fizzy wine!
Margot
Margot is a timeless, classic Italian restaurant in Covent Garden. Pasta classics like linguine with clams and tagliatelle primavera are joined on the menu by lighter, more modern dishes such as grilled tuna steak with asparagus, chilli and ginger.
The restaurant itself is elegant, and you are unlikely to find better service anywhere. All in all, this is another of those restaurants that will please most people, with a healthy balance of comforting Italian favourites and lighter, regionally inspired bites, and a pre-theatre menu that will set you back less than 30 quid.
Joe Allen
This brasserie-style American restaurant has been serving hungry tourists and theatre actors alike since 1977. Lunch and dinner dishes include steaks, hotdogs and a chilli sin carne for the veggies, but brunch is where Joe Allen really comes into its own.
Eggs royale are a favourite for many on a foggy weekend morning, but chicken and waffles are probably a close second. To contextualise how mighty these brunch dishes are, blueberry pancakes are classed as a starter at Joe Allen!
Din Tai Fung
Right in the heart of the action – you can literally see this place when you're watching the street entertainers at work – you'll find Din Tai Fung. If you're not familiar with this restaurant, you ought to acquaint yourself.
They hail from Taiwan where their flagship restaurant has a Michelin star for some seriously good dumplings. Those dumplings are xiao long bao, a type of Shanghainese soup dumpling that comes served in basket dim sum steamers.
We're not lying when we say that Din Tai Fung's xiao long bao are renowned worldwide for being some of the best of the bunch. Make sure you go for some of the truffle flavoured ones, oh and pork and crab.
Other than that, pick your way through a few of the other dishes for some fillers – you really can't go wrong.
Lowlander
Lowlander have a good thing going on. They're a Belgian style cafe straight in the style of the continent and mix some rather excellent food with a great selection of Belgian beer.
That food, as does much of Belgium's cooking, shares many similarities with French and Dutch cuisines. You'll find mussels and fritte on the menu next to bratwurst hotdogs and a good range of sandwiches and mains – those mains getting even more broad with their inclusion of European cooking.
The style of the place is really nice. They've done a great job at pulling off the continental cafe vibes to the point that sticking around to sink a few bottles of that Belgian beer seems like something you might just have to do.
Great Value
Cinnamon Bazaar
Warm and welcoming, with a hint of both the Raj and British Indian restaurants of the 80s in its decor, Cinnamon Bazaar is one of the best Indian restaurants in Covent Garden.
And it's great value too, with all you can eat chaat and chai for 15 pounds per head, and a set three course lunch, including a kokum crusted sea bream fillet and masala mash, and a dessert of carrot and ginger toffee pudding for an amazing 18 quid.
If you're wondering where to eat Indian food in Covent Garden, look no further.
Chez Antoinette
This Covent Garden cafe has made a name for itself since its opening in 2014. Run with passion by Aurellia, Chez Antoinette brings French farmhouse chic to London.
The decor is all exposed brick, whitewash and antique furniture, and the food matches it perfectly. Sit down at lunchtime to enjoy open-faced sandwiches of three cheese and pear, duck confit, or fresh goat cheese, thyme and olive oil, or visit in the late afternoon for a Lyon style afternoon tea with patisserie and a selection of teas.
Balthazar London
Balthazar is NYC does Paris, now in London. Confused? Yeah, it's a bit odd. Sort of like an American restaurant with a Moulin Rouge theme. It's fun though!
The food is mostly French classics. Moules Marinière and Frites, duck liver parfait, and crème brûlée are all options on the excellent value set menu (two courses for 18.95, three for 21.95), and the brunch menu also has a lot to offer. The buttermilk pancakes are where the French theme really begins to give way to Americana.
Cafe Murano
The Covent Garden location of Angela Hartnett's Italian eatery features a marble dining bar and plush leather banquettes, but it doesn't feel stuffy, formal or intimidating. Rather, much like the chef herself, this Covent Garden restaurant is welcoming.
Cafe Murano is also really affordable, with a pre-theatre menu offering two courses for 19 quid and three for 22. That's an amazing deal when you can assemble a three course meal of beetroot, pear, walnut and ricotta salad, followed by cod, red pepper pesto, broccoli and smoked almond, then a chocolate semifreddo.
Places to Eat in Covent Garden: More Top Picks
Black Penny Cafe
Black Penny Cafe achieves that rare balance; it's a great cafe with greasy spoon style options, but it also offers a smattering of sophistication.
Perfect for soaking up whatever happened last night, Black Penny offer a whole range of breakfast options, from The Hunter, which is a full English, to Ozdemir Pashir, a combo of halloumi, fried eggs, butter bean hummus, sumac, a tomato salad and a hunk of sourdough toast.
If you're looking for breakfast in Covent Garden, get yourself to the Black Penny Cafe.
Kebab Queen
With its £75 tasting menu and £55 drinks literally the only things on the menu, it's hard to know exactly how to classify Kebab Queen. That's great value for a six-course tasting menu, but a tasting menu is in itself a high-end experience, but then… it's kebabs.
But not the kebabs we all know and …well …not love exactly?
Kebab Queen aims to push the concept of the kebab as far as it will go. So, expect unusual ingredients, a bit of deconstruction, and an awful lot of fun from this supper-club style dining experience.
26 Grains
If you're looking for places to eat in Covent Garden during the day, then get yourself to 26 Grains in Neal's Yard.
Famous mostly for their porridges and granolas – and why wouldn't they be, when they offer them topped with kumquat, rhubarb and orange blossom, alphonso mango and ginger puree, and black tahini amongst other equally interesting offerings – 26 Grains also serves toasties, sandwiches, a lovely wild garlic tart, and various excellent baked goods.
It's the perfect place to recharge with lunch and a coffee before taking on more of Covent Garden.
Seven Dials Market
Just around the corner from the main square of Covent Garden you'll find Seven Dials Market. It's recognizable by its Warholesque banana logo and the scores of people feasting at the sets of tables outside.
Inside you'll have options for days – and therefore the perfect way to satisfy everyone when none of your friends can decide what to eat.
Our favourite options here have to be the Truffle Burger on the bottom floor and Pick n Cheese – the latter functioning something like a conveyor belt sushi spot but with lumps of cheese instead of cuts of fish.
Special mention to the Chai Guys who do a very yummy cup of chai latte should you be in the area and fancy something to warm you up.
Best Restaurants in Covent Garden: Practical Tips and Info
Because there are a lot of theatres and an opera house in and around covent garden, many restaurants offer great deals on early dinners as a pre-theatre menu. Look out for these.
The main areas of Covent Garden include the Opera Quarter, St Martin's Courtyard, Seven Dials, Neal's Yard and Floral Street. If you are directed to any of these places, don't worry, they're still in Covent Garden.
Covent Garden Piazza is a covered market area that has been in use since the 1600s. If you're looking for fun or for food, you should take a look inside. There are shops, stalls, and a lot of restaurants hidden away in there.
Covent Garden Restaurants: Map
Looking for More London Restaurant Guides?