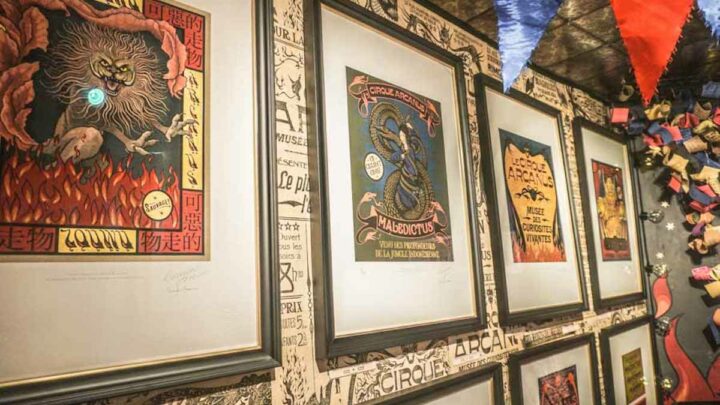 The House of Minalima is a must-visit for any Harry Potter fan in London. Part-shop, part-exhibition, all wonderful – it's an adventure into the graphic world of JK Rowling's famous universe.
Any Harry Potter fans in the house? Who are we kidding – we all know you're only reading this page because you are low-level obsessed with JK Rowling's magical character. Perhaps you've cemented your love with back-to-back viewings of the brilliant films every Christmas… or is that just us?
Either way, there are plenty of quirky things to do in London, though The House of Minalima in Soho is easily one of the best.
London is packed with Harry Potter sites – from cool filming locations to spots inspired by the book, but a store dedicated to the graphic world of Harry Potter and Fantastic Beasts? Sign us up!
Here's what you need to know before you go.
What is the House of Minalima?
The House of Minalima is the brainchild (lovechild?) of Miraphora Mina and Eduardo Lima – two artists who were basically responsible for bringing the world of Harry Potter to life for the much-loved series of films.
The two met on the set of Harry Potter and the Chamber of Secrets and the rest, as they say, is history.
Together they worked on all of the graphic props on the film series, and then again on the recent Fantastic Beasts films.
Not only that, but the pair are also responsible for most of the graphic elements in the wicked theming at The Wizarding World of Harry Potter in Orlando, as well as for illustrating the MinaLima Classics book collection by Harper Collins.
In other words, the duo has been pretty successful over the years.
Read Next: Planning Your Trip to the Making of Harry Potter in London
You know those wanted posters of Sirius Black, Bellatrix Lestrange et al? That's their work.
The copies of The Quibbler handed out by Looney (ahem Luna) Lovegood? That too. The Marauder's Map. You guessed it. The iconic newspaper The Daily Prophet? I'm sure you get the picture.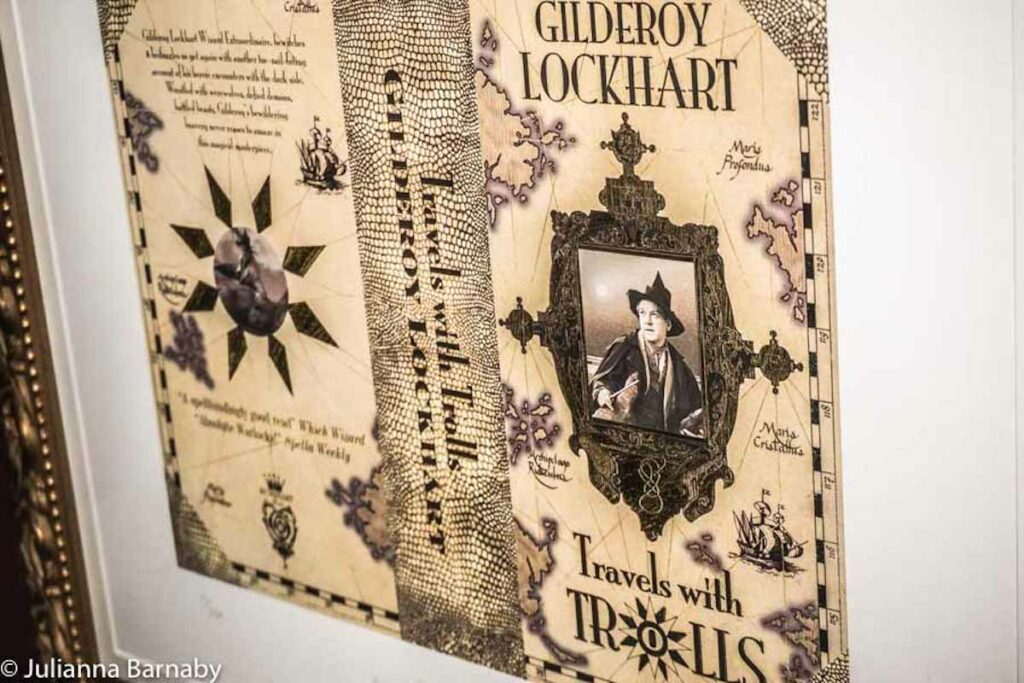 After moving into a new, bigger location on Wardour Street last year, The House of Minalima is back and better than ever with more space for visitors to explore and gawk at the impressive collection.
Without a doubt, this is the best Harry Potter shop London has to offer.
The Soho location acts as a "flagship HQ" for the designer duo, and houses the gallery, theatrical shop, and, excitingly, their design studio all in one space. In fact, this townhouse is no stranger to talented folk – it was previously the workshop of violin-maker Monsieur Georges Chanot III.
The downstairs gallery may lack natural daylight, but that's exactly what Mina and Lima intended. Dim lighting creates an immersive experience that allows visitors to get totally swept up in the mystery and marvel at the graphics on display.
When it comes to magical paraphernalia and souvenirs, the vast collection is spread out over four floors.
One floor explores the graphic world of the Fantastic Beasts films (stop thinking about Eddie Redmayne, stop thinking about Eddie Redmayne… no use, we're completely thinking about Eddie Redmayne).
From notebooks illustrated with mystical creatures to quirky posters and mugs, fans of the series will totally lose their minds. We know we did when we first paid a visit.
Other rooms are dedicated to the world of our favourite boy wizard (Harry Potter, obvs) and the ground floor is pretty much the most magical shop in Soho.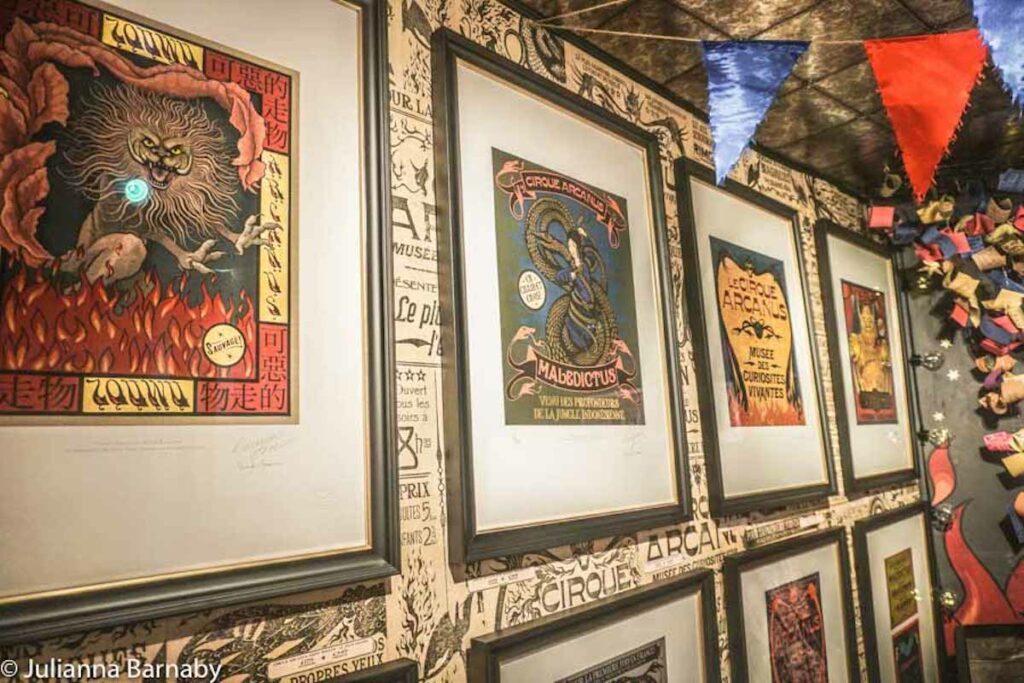 Keep your eyes open while you're inside and you will even see a few film props on loan from Warner Bros studios dotted between the different floors.
What started as a pop-up bringing Harry Potter to Soho has turned into one of the area's not-so-secret treasures – a mecca for Harry Potter fans big and small who go to see the cool work on display and buy their own little bit of the film to bring home with them.
Why Go?
Did we mention there are multiple floors of Harry Potter and Fantastic Beasts design pieces that you can not only look at but also buy and bring home? We don't understand what else we need to say to convince you to visit.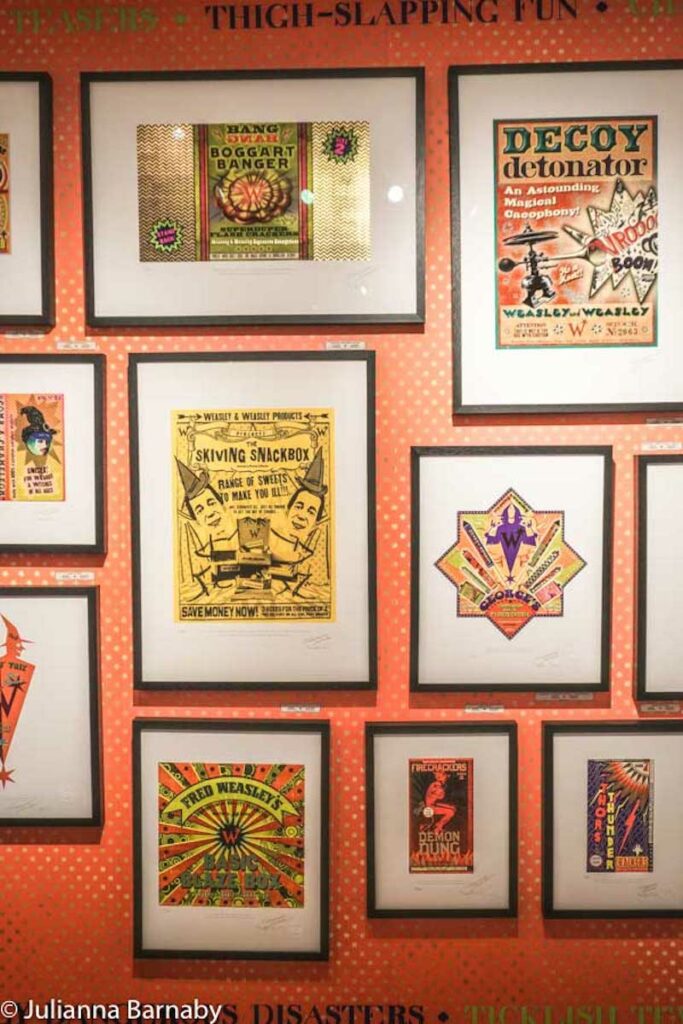 Prices are on the higher side – but they are iconic pieces after all. There are even limited edition posters and gifts if you really want to push the boat out.

Looking for more Harry Potter inspiration: Read our Harry Potter's Oxford Guide
Practical Tips for Visiting the House of Minalima in Soho
Address: 157 Wardour St, London W1F 8WQ
Opening Hours: 11-6pm daily. Last entry is at 5:30pm.
Obviously, you'll want to avoid busy times like weekends and evenings if possible. Don't stress too much though, it's not the end of the world if those are the only times you can go as the new location allows 10 people to visit the shop at each time (rather than 2 in the previous spot).
Looking for more Harry Potter London highlights? Check out this cool guided tour.
House of Minalima London: Map
Looking for More London Harry Potter Guides?