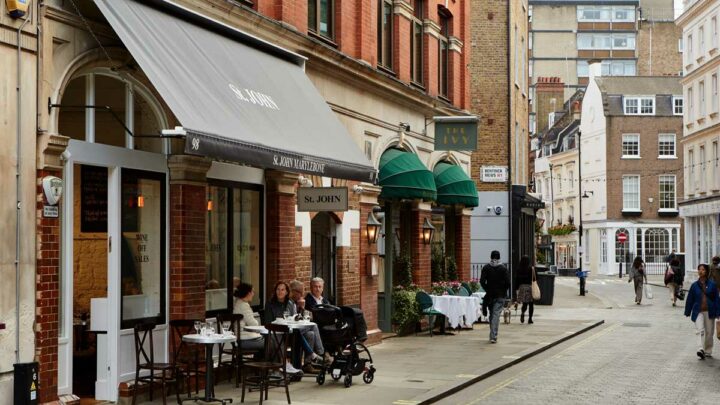 You don't need to get on a plane to experience the best of the rest. These are the best global restaurants in London.
Travel. Sometimes there's nothing better than hitting the road.
Living in the big city, we often find ourselves day dreaming of escaping to some quiet tract of land in Spain, sun-kissed and living off tapas before moving on to drink cocktails from coconuts on the golden beaches of Sri Lanka.
But then snap, you're back in the room. Reality hurts eh? Not to worry, we're here to tell you that London restaurants are just the place for a round-the-world-tour.
London is a multicultural city to rival the best of them – nearly 40% of people that live here were born outside the UK. Experts put the number of languages spoken here alone at around 300.
That's a lot of immigrants, and when you have so many cultures in one big stewpot you get a lot of excellent cooking. With that in mind, we put our heads together and created a round-the-world tour of London's dining scene.
Bon voyage!
Eating Around the World in London
Armenia – Lusin
Mayfair's first Armenian restaurant, Lusin, takes the traditional food of the country and tarts it up with classic high-end flair. The food still feels very rooted in the tradition though – even if it is served to ambient house music and signature cocktails.
Argentina – La Patagonia
La Patagonia serves up traditional Argentine food. That consists of hunks of steak cooked over a grill or coated in breadcrumbs Milanesa style with a choice of sauces so good they make choosing difficult.
If word of that hasn't reached your ears already you may know of La Patagonia for its enormous white and blue Argentine-flag facade.
Belgium – Lowlander Grand Cafe
Aldwych
Laidback and unpretentious, styled off the cafes of Brussels, and serving a great spread of food hailing from the broader Low Country region. At Lowlander you'll be dining out on moules frite, hearty stews and, of course, washing it down with the best Belgian beer.
Brazil – Fogo de Chão
Fogo de Chao is nothing if not a meat lover's paradise. Here you'll be subject to a menu of wildly delicious steaks cooked on skewers, as steaks, on the bone – pretty much however you like it – they even do one wrapped in bacon. Need we say more?
Read More: Discover the Best Brazilian Restaurants in London
Canada – West 4th
West 4th brings the food of west Canada to London in a classy, tasteful establishment with an eye for plate presentation that means dishes are highly likely to end up on your instagram.
What'll you be eating? An eclectic range of things that reflect the multiculturalism of West 4th's home nation.
Cuba – Escudo de Cuba
It's all about the atmosphere at Escudo de Cuba, you'll see what we mean as soon as you get through the door. The decor is distinctly Cubano and so is the music.
What they put on the table is similarly true to the nation's roots. Most importantly, their mojitos are very legit.
China – Hunan
London is spoilt for choice when it comes to great Chinese food but some of the most exciting comes from Hunan.
The Bloomsbury restaurant has done away with menus in place of offering tailored dining experiences based on Chinese cooking and flavours you get to pick at the start of your meal. It's quite the experience.
Read More: The Best Chinese Restaurants in London
Ethiopia – Lalibela
Tufnell Park
A delightful entry into the equally wonderful world of Ethiopian cuisine, Lalibela has an extensive, cross-region menu of all the best the country has to offer. Our choice is their version of tibs, a hybrid somewhere between stir fry and stew.
France – Casse-Croûte
There are too many great French restaurants in London to pick one and not feel bad about leaving out the others, but our vote here goes to Casse-Croûte.
While it may not be the most fancy, having a meal at Casse-Croûte is basically like signing up to be transported to Provence for a few hours, and that's pretty dreamy.
Read More: Best French Restaurants in London
Greece – Lemonia
Lemonia opened in 1979 and has gone on to become something of a local institution, so much so that its reputation has drawn in stars like Kate Moss and Harry Styles.
They haven't let it go to their head though. Prices remain very reasonable and the cooking straightforward, traditional Greek.
Read more: Oompah! 10 Greek Restaurants in London You Need to Visit
Germany – German Gymnasium
German Gymnasium is on this guide as much for the stunning ceiling of the old German gym that the restaurant gets its name from, as for the menu of hearty German classics that are as delicious as they are filling.
Don't miss sampling something from their well-put-together list of wines.
Read more: Say Hallo to the 8 Best German Restaurants in London
India – Gunpowder
Multiple locations
Though you've got more Indian restaurants in London than you could possibly eat at, you're going to Gunpowder for the fact that it's nudging its head against the boundaries of what Indian food can be, but still keeping its feet very much on traditional ground. And for that soft shell crab.
Read more: London's Best Indian Restaurants
Indonesia – Bali Bali
Delicious satay skewers, hearty curries, zingy salads – it's hard not to get excited by a menu of Indonesian food. At Bali Bali they are passionate about the cuisine and like to keep it close to its roots.
As they claim, eating here is as close as you can get to Indonesia without the bother of getting on an aeroplane.
Israel – Bala Baya
Chef Eran Tibi brings the flavours of Israel to London and serves them up in a playful, environment that's always full of life. Bala Baya has gone on to be a bit of a London institution. When you taste the food you'll know why.
Italy – Padella
Multiple locations
Serving up some of the best pasta in town doesn't exclude you from some tough competition in London, but the fact that Padella can do it so cheap you won't ever have to think twice about ordering that extra glass of wine means you can't go wrong with a meal here.
Jamaica – Fish, Wings & Tings
A cornerstone of the Brixton Village food and drink world, if you're after a good bit of Jamaican food, head to Fish, Wings & Tings.
Their reputation for great-quality portions of everything from curry goat to jerk chicken is something nearing local legend. The fact they source all their ingredients locally is just a bonus.
Japan – Aqua Kyoto
Apart from serving up excellent, highly inspired Japanese cooking and doing it in an incredibly classy venue, you can't beat Aqua Kyoto for its rooftop views of central London. It's perfect for an al fresco summertime dinner.
Read More: 19 Brilliant Japanese Restaurants in London For Sushi, Rice And All Things Nice
Korea – Jin Go Gae
New Malden
Korean BBQ is what you should be going for at Jin Go Gae. They follow traditional methods of preparation for the meats and the coals so you'll be getting pretty close to what you'd be eating if you were tucking into Korean food over in Seoul.
Read more: The Best Korean Restaurants in London
Lebanon – Al Waha
As easily recognisable as Al Waha is with its corner location and lavender exterior, it's the food that'll be the thing you remember most: an excellent selection of hot and cold mezze and meats coming off the grill. So delicious, you'll be ready to declare your love to the chef.
Mexico – Mestizo
With nearly a decade of experience under their belts, the folks at Mestizo know what they're doing. The menu is full of options for people with allergies or that other pesky type of diner: vegetarians.
The food? Elevated Mexican dishes to be accompanied by some tequila or mezcal from their special menu.
Read more: Brilliant Mexican Restaurants in London
Malaysia – Normah's
Queensway
Normah grew up in Malaysia cooking for a very large and hungry family. When she moved over to the UK, she realised her cooking was so full of soul that she could open a restaurant.
That became Normah's, home of the beef rendang in London and a place you can fill yourself without having to take out a small loan.
Read More: The Best Malaysian Restaurants in London for Wholesome Eats
Morocco – Souk Medina
For tagines, tea of stewed mint leaves and all the other delights the Moroccan cookbook has to offer, you'll have to go to Souk Medina. The atmospheric restaurant boasts romantic candlelit settings and tip-top service – and of course some excellent food.
Read More: The Best Moroccan Restaurants in London
Nigeria – Akoko
London's nod to Nigerian cuisine comes in the form of Akoko where the broader food of West Africa is served in elevated style worthy of the fancy streets of its Fitzrovia home. Don't pass up on the barbecued pineapple if they've got it on the menu when you're there.
Poland – Mamuska!
Born out of the love between a Canadian guy and a Polish girl, Mamuska! is the result of one man's quest to learn about the food of his girlfriend's country. That food is Polish – hearty, unpretentious and best washed down by a Tyskie or two.
Read more: Eat Up at These Brilliant Polish Restaurants in London
Pakistan – Tayyabs
Whitechapel
You're in and you're out, the service is no-nonsense, but between sitting down and hastily paying your bill you're treated to some of the best curry in London, and at a price point you can't argue with.
Special mention must also be made for Tayyabs grill – no trip here would be complete without something hot off it.
Peru – Chicama
Chicama sets a high bar for the standard of Peruvian food in the capital and is therefore a must hit on your world tour of London's restaurants.
The menu is mostly seafood, taking its cues from Peru's bountiful coastal regions. All of this should be washed down with some of Chicama's excellent cocktails.
Read more: Go Ceviche Crazy at These Peruvian Restaurants in London
The Philippines – Kasa and Kin
Beef kare kare is a must at this cornerstone London Filipino restaurant. Like everything else at Kasa and Kin, it's a sumptuous feast that could do just as well at a Filipino family table as it does here in the context of Kasa and Kin's family vibes.
Read More: The Best Filipino Restaurants in London for Adobo, Kare Kare and More
Russia – Bob Bob Ricard
Bob Bob Ricard takes the finest elements of French, British and Russian cuisines and plates them up in one of the most iconic of London venues.
You'll be knocking back caviar, feasting on pies and no doubt hammering the famous 'Press for Champagne' button until the cellars are dry.
Spain – Barrafina
Soho, and other locations
A tapas institution so strong that its Soho location been awarded, and held on to, a star in the Michelin guide.
You may have trouble getting a table at Barrafina due to the walk-in only system, but once you're sitting down, picking your way through this excellent Spanish food, we can assure you there's no looking back.
Sweden – Aquavit
St James
The best of Nordic cuisine is on display at the very refined St James' restaurant, Aquavit. Expect to be eating off sharing boards as you work your way through a menu that peaks with cured salmon, open face sandwiches and meatballs, all given expert treatment by their team of very talented chefs.
Sri Lanka – Paradise
If you like your restaurants with a bit of edge, you'll love Paradise. This place pushes the boundaries of Sri Lankan food with small plates of elevated Sri Lankan classics and does it all in the confines of a small, stylish restaurant with an abundance of exposed concrete and a distinct lack of lighting.
Read More: Mouth-Wateringly Good Sri Lankan Restaurants in London
Turkey – Mangal 2
Dalston doesn't lack for good mangals, but since the chefs at Mangal 2 revamped the menu to experiment with the best that Turkish cuisine can be there's only been one king on the block.
Order from the grill and indulge in the meze. You can't go wrong.
Read More: Best Turkish Restaurants in London: 9 Drool-worthy Spots
Thailand – Mantanah
South Norwood
On the hunt for traditional, homely Thai cooking? You can't do better than Mantanah. You'll see what we mean as soon as you hit the restaurant and become inundated with the fragrant smells of the Mantanah's cooking.
Don't miss out on the steamed sea bass if you're eating as a group – it's as good a centrepiece dish as you're likely to find on your round-the-world trip.
Read More: London's Best Thai Restaurants
The U.S.A – The Blues Kitchen
Multiple Locations
Turning out mouth-watering Texan BBQ and other American classics – read burgers and hot dogs – The Blues Kitchen is a staple of the American dining experience in London. Combine it with the fact their restaurants all sport bars capable of turning out a range of cocktails and you're on for a winner.
Read More: High-Stackin' American Restaurants in London
The United Kingdom – St JOHN
Multiple Locations
You can't talk about British cooking without bringing up the infamous St. JOHN. Fergus Henderson, the man behind the cooking, revolutionised the way the whole game is played with his nose-to-tail philosophy and is still going strong.
You'll be eating parts of animals you'd never dreamed of before you saw the menu, but there's no doubt you're in safe hands here.
Read More: 14 Fabulous British Restaurants in London
Uganda – Jambo Zamsareh
Seven Sisters
The food of Uganda is best sampled at Jambo Zamsareh, a north London institution with a heart.
Apart from serving up huge plates of stewed meats and veg, they also do their bit for the community. Jambo is also a registered charity, offering training in a range of skills to ethnic communities in London.
Vietnam – Mien Tay
Multiple locations
Mien Tay serves up the cooking of south-west Vietnam, a fish-and-vegetable-rich style that holds fragrance and fresh ingredients at the core of its principles. The food here is distinctly homely, the atmosphere welcoming and the BYOB policy means you won't be splashing out on an alcohol bill.
Read More: The Best Vietnamese Restaurants London
Eating Around the World in London: Practical Tips
Many of these places are pretty well known. Which means booking in advance is crucial.
Spice lover? Try a Japanese, Korean or Indian restaurant. If you would rather skip the spice, you won't go wrong at a British or French spot.
Eating Around the World in London: Map