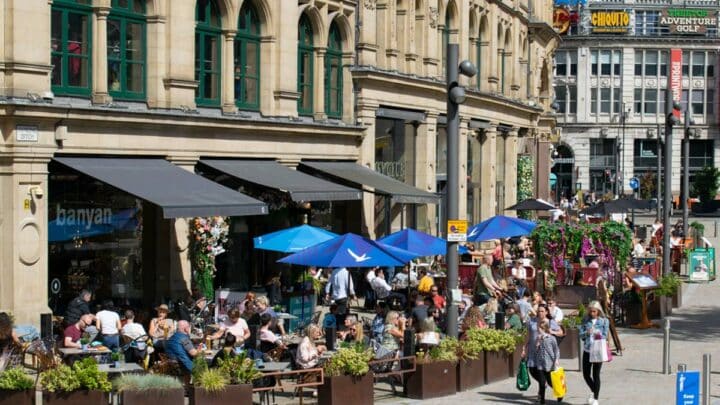 Discover the best British restaurants in London with this handy guide. Get ready to explore 13 excellent eateries serving up the best of British.
Words by John Rogers
We know British food is the punchline of many jokes, but we happen to think it's pretty delicious, actually.
The capital is well known for its incredible selection of worldwide cuisines – however, British cuisine can be just as tasty if you know where to go.
Whether you're after traditional Fish & Chips or the East End's pie 'n' mash, an excellent ol' hearty home-cooked roast dinner or something a little fancier, we've got you covered with our guide to the best British restaurants in London.
So pull up a chair, peruse the menu and see what London has to offer fans of British cuisine.
British Restaurants in London
St. John
£££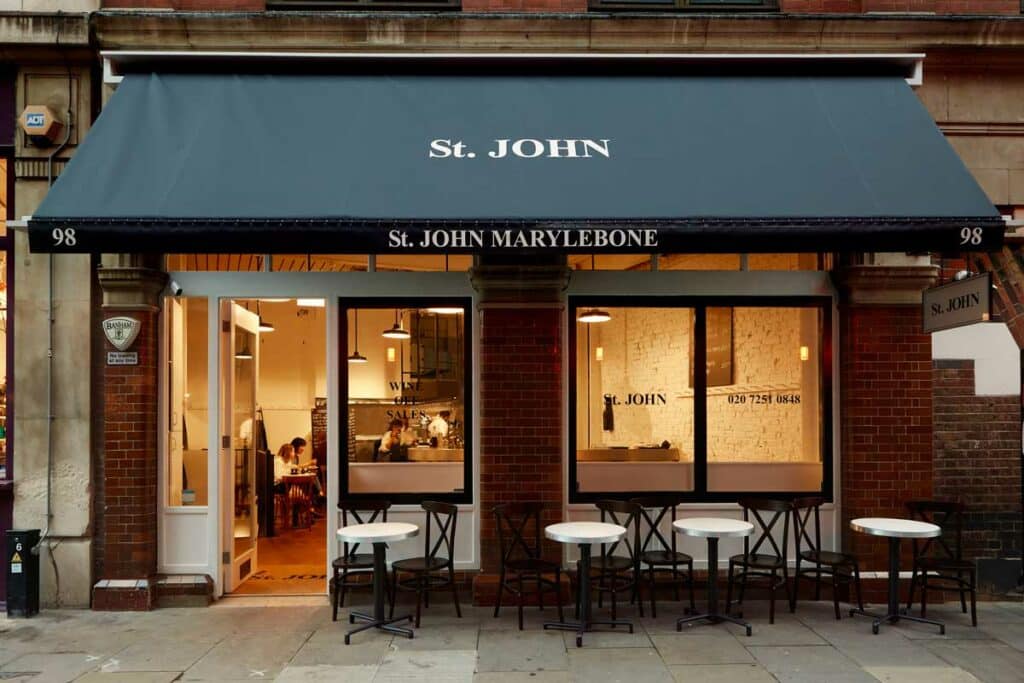 St. John is mostly known in the restaurant world as the restaurant that kicked off the nose-to-tail movement but they also pretty much put British cooking on the map. No, there's no fish as chips. It's virtuoso cooking that takes the parts of animals that never make it to the butcher's counter and turns it into Michelin star dishes.
Not that St. John seem to care about their gilded status. The restaurant is decidedly unpretentious. Paper table cloths and sometimes-scruffy-looking staff are the go here, but the food is sublime. If you're looking for iconic British, look no further.
Roast
££
Located above Borough Market near London Bridge, Roast makes excellent use of the locally grown and sourced produce from the food market to create some of the best British-influenced dishes in the city.
As the name suggests, this is the perfect spot for a decadent roast dinner, prime steak or seafood, and surprisingly decent range of vegetarian and vegan offerings, Roast provides diners with the chance to sit back, relax and enjoy top-class grub while the hurly-burly of the market unfolds downstairs.
And, if you've got space to fill after the beautiful starters and mains, the range of English and Welsh cheeses and hot and cold desserts will surely sate even the most enormous appetites.
London Shell Co. Aboard The Grand Duchess
££
Given that the UK is an island surrounded by seawater, it's no surprise that seafood accounts for some of Britain's finest dishes. And nowhere is that more apparent than the self-styled "Abshelloutely Crabulous" London Shell Company on the Grand Union Canal in Paddington.
Situated aboard a static boat on the canal, their fish is sourced mainly from Kernowsashimi & Wild Harbour, a network of Cornish fishermen. The a la carte menu provides a mouth-watering range of dishes and a stunning fish platter with its own recommended Sake to accompany.
Add a comprehensive list of cocktails, wine and craft beers that all contribute to a London culinary highlight in a beautiful, refined and highly relaxed setting.
Hawksmoor Seven Dials
£££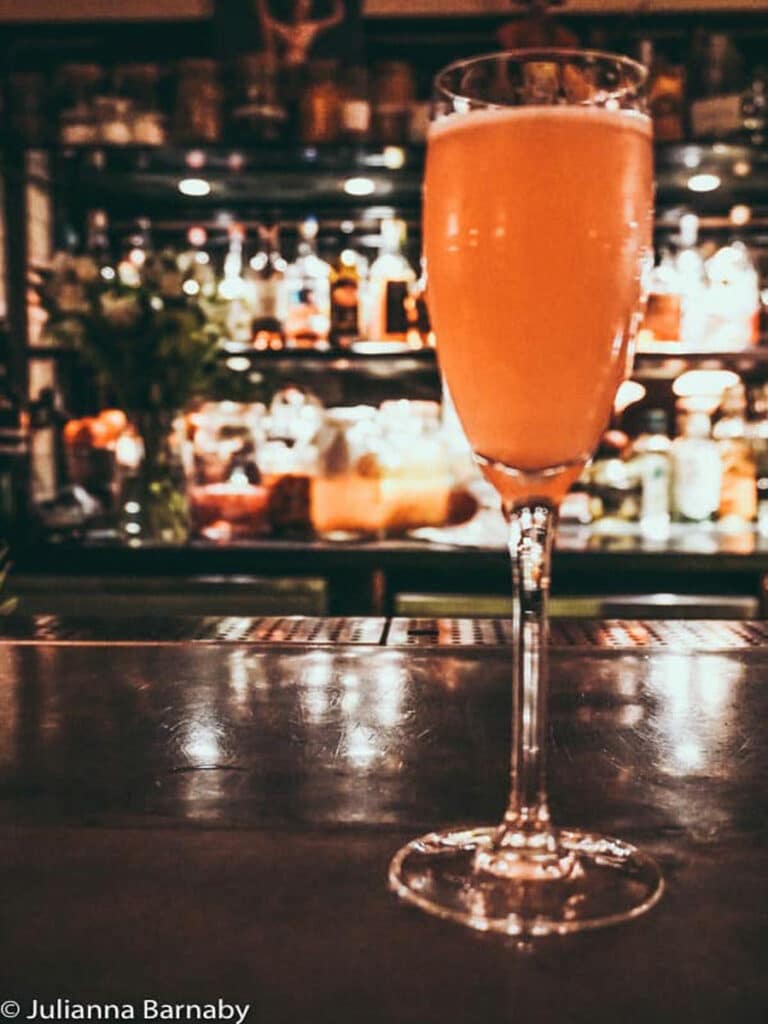 The Hawksmoor Seven Dials restaurant has taken up residence in the old Watney-Combe brewery building. The building's current use harks back to its origins, serving prime cuts of steak cooked however you like.
In 1807, the Brewery's first owner, Alderman Combe, hosted a slap-up steak supper for the finest guests London could provide. Those present included the Prince of Wales and Duke of York, with a newspaper reporting that "…the Duchess of York was lavish in her praise,". The supper would continue every year.
Fast forward 200 years and steak is once again the show's star, with cuts including Chateaubriand, Porterhouse, Rib-eye and Fillet, among others.
Meanwhile, if you're craving something other than prime beef cuts, you won't go short of options. The chicken, monkfish, seabream and veggie options will not disappoint.
The Golden Chippy
£
Think British food and Fish & Chips won't be far from your mind. Anyone wanting a traditional Fish & Chip experience in London would be well advised to head to Greenwich and try out The Golden Chippy.
Enter, and it looks like your run-of-the-mill high-street chip shop. However, a closer look reveals one of London's best-kept culinary secrets. While all your deep-fried favourites adorn the menu, you can appreciate the fresh ingredients sourced from trusted local suppliers if you choose to eat in.
Boasting a secret recipe, diners can choose from lightly battered or grilled fish, which all come served with chips and a lovely Mediterranean-style salad. Other options include chicken, burgers, pies and vegan options. This genuine hidden gem is well worth your time.
Lyle's
£££
Set in the heart of East London's cultural capital, Shoreditch, Lyle's is a fine-dining Michelin-Star restaurant that inhabits a repurposed former Lipton tea-owned building.
This modern British restaurant provides a tasty selection of bites on their lunchtime menu, and a set evening menu that changes from night to night. Making the most of seasonal British produce, Lyle's also regularly hosts guest chefs worldwide to add a sprinkling of flair to their outstanding food.
The restaurant is fully air-conditioned, meaning the ambience is as calm as the food and the helpful and knowledgeable service team. Perhaps not an experience to enjoy every night, but one to make time for (and cash for) as a one-off.
Double J's
Euston
£
Double J's is a British caf/bistro with undeniable elements of a typical London 'greasy spoon' – yet coupled with the refinement of a European-style lounge. It's the perfect spot for anyone looking for a wholesome breakfast or lunch.
The breakfast menu is an enticing mix of all-day cooked options, egg-based brunch dishes, pancakes, omelettes and porridge. Meanwhile, rolls and sandwiches can be bought for less than a fiver for lunchtime, along with a host of mouth-watering hot meals.
These include toasted tortilla wraps with Mediterranean-influenced fillings, burgers, jacket potatoes and a range of healthy salads. Whatever your breakfast or lunchtime cravings, you'll find terrific value and exquisite flavours here.
Smiths of Smithfields
Farringdon
££
Set over four floors within a stone's throw from London's famous Smithfield Market, Smiths of Smithfield boasts multiple dining areas, each with bookable tables, offering traditional British food at very affordable prices.
Smiths Bar on the ground floor offers everything from breakfast to dinner and drinks. Though the volume rises as evening approaches and local offices file out for after-work drinks.
Head upstairs and you'll find a more relaxed area that serves drinks while doubling as a sweet co-working space overlooking the market.
The 2nd floor houses Smiths Restaurant, which showcases the market's seasonal produce – the highlight being the 28 and 50-day-aged steaks.
And on the top floor is Smith Rooftop Bar, a champagne and cocktail bar that serves one of London's best brunches. Is it any wonder that Smiths of Smithfields is one of the best traditional British restaurants London has to offer?
Makars London
££
Makars has been a staple of Edinburgh's culinary world for several years before moving south of the border to bring their Scottish-infused take on the humble mashed potato to the hungry tummies of London.
Nine versions of mashed potato ranging from spicy chilli mash to Scottish black pudding mash is on offer as a side to an excellent range of tasty-looking meat and plant-based mains.
Of course, gravy and sauce come with almost all of the mains giving diners a hearty hot dinner guaranteed to satisfy both appetite and budget. A genuinely stunning Caledonian treat in the heart of London town.
Artist Residence
££
A fun and vibrant bar, cafe and kitchen in the charming South London neighbourhood of Pimlico, Artist Residence is the perfect location for cocktails, a morning coffee while working remotely, or some of the best lazy brunches anywhere in London.
Just five minutes from Victoria Station, the kitchen buzzes with activity all day. Diners can choose from the bright and airy cafe, comfy lounge area or outdoor seating while enjoying a range of meat, fish and vegan dishes for lunch and dinner.
As you'd expect from a trendy London establishment, all dietary requirements are catered for with the gluten-free Chalk Stream trout with pickled cucumber and herb yoghurt highly recommended.
A versatile artistic space with a welcoming, relaxed vibe, Artist Residence is the perfect hideaway in the heart of London.
The Foyer at Claridges
£££
For those looking to top off their visit to London with a touch of elegance and high-class food, the Foyer and Reading Room at Claridge's is the perfect place for breakfast, lunch or dinner.
The room's centrepiece is the enormous Chihuly sculpture which hangs from the ceiling like a grand chandelier, while the room glitters with art deco mirrors.
We think their afternoon tea, served daily between 2:45 pm and 5:30 pm, offers a taste of quintessential Englishness in surroundings that could provide a glimpse or two of a famous face.
Continuing a tradition begun in the mid 19th Century by Anna Russell, 7th Duchess of Bedford, Claridge's creative twist on afternoon tea sets the standard in the city.
Goddards at Greenwich
£
Goddards at Greenwich offers a genuine taste of East London with a simple but compelling Pie, Mash and Liquor menu.
Established in 1890, Goddards was initially opened down the road in Deptford before they opened a shop in Greenwich in 1952. The current premises date back to the early 21st Century, yet offer the same simple yet filling range of pies and scoops of creamy mashed potato topped with seductive liquor gravy as they did during Queen Victoria's reign.
This family-owned business uses the freshest and finest local ingredients for its pie fillings and crusts, providing customers with the best pie-and-mash experience across London.
Lord Nelson
£
Lord Nelson is a South London boozer, just a few minutes' walk from Southwark station and the South Bank. And it's a must-visit for any burger connoisseur.
With a range of burgers to make even the driest of mouths water, we caution against going too big. One of their tender, juicy, homemade patties fills a good-sized plate, oozing over the side of the bun before being topped by a vast array of toppings.
Not only that, there are a dozen veggie or vegan burger options to choose from, making this the must-visit haunt for anyone after a burger-based treat in London. All burgers come with chips and coleslaw as standard, so there's none of that pesky having to pay extra for sides.
Wiltons
Haymarket
£££
Wiltons restaurant in the heart of London's Haymarket theatre district, within a few minutes' walk of Covent Garden, Soho and Leicester Square, is a "Bastion of Britishness" that remains faithful to its origins as a shellfish-mongers with one of the best oyster bars in London.
Add in some of the best fine dining classics, including tender, juicy game dishes and a stunning seafood range, and Wiltons offers diners one of London's premier dining experiences.
With a clientele boasting several members of English nobility and foreign dignitaries across centuries, Wiltons is an exclusive dining experience for those with hefty wallets. But it's worth every penny.
Practical Tips for Exploring the Best British Restaurants in London
Some places have tables available for walk-ins, and some don't. Always check the restaurant's website before setting off, and give them a call if in doubt.
Make sure the restaurant is aware of any dietary requirements you might have. Most allergens are noted on menus, but it's better to be safe rather than sorry.
Check to see whether your bill includes a service charge. If not, please tip your service staff if you're able to. Around 10 to 12.5% is customary in London.
British Restaurants in London: Map
British Restaurants in London: Read Next