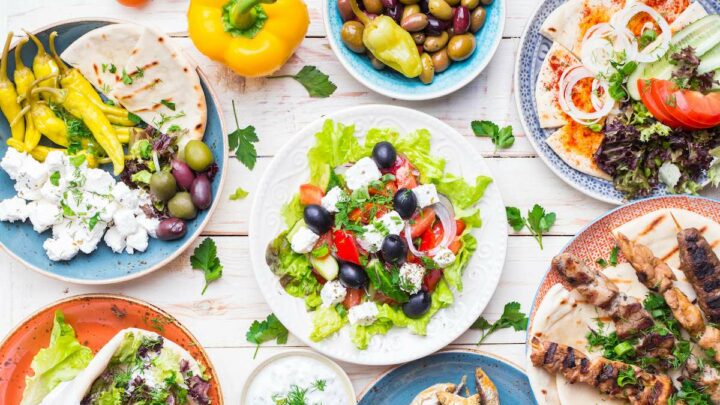 Discover the best Greek food in London with this handy guide. These are the top spots to chow down on Greek dishes across the capital.
When it comes to food, London is a city where you're spoilt for choice. Whether you're looking for a quick bite or an authentic meal, there's no shortage of choices in this diverse and exciting capital.
The best Greek restaurants in London offer the finest dishes from the country's rich culinary heritage. From traditional tavernas to modern cafes and everything in between, there is a wide selection of places that will suit your tastes and budget.
Ready to explore?
The Best Greek Restaurants In London
Andy's Greek Taverna
There's simply nowhere better in London for Greek cuisine than at Andy's Greek Taverna. It was established in 1967 and has perfected its menu and customer service over the course of 50 years.
Andy's Greek Taverna offers a range of foods that you'll have trouble choosing between. Think Corfu-style prawns, fried calamari, and delicious lamb kleftiko. Not to mention, they have a range of vegetarian options, so you can bring your veggie friends along, too.
Our mouths are watering just thinking about the feta and spinach filo pastry pie, vegetarian moussaka, and stuffed peppers. Do not skip on this tavern – after all, it's the best Greek restaurant London boasts.
The Athenian
White City
The Athenian is a Greek chain restaurant located in White City, London. It's renowned for its wonderful atmosphere, quality service, and of course, delicious dishes.
The Athenian specialises in Greek street food. You can choose between three sizes of souvlaki wrap – little, regular, or super. You can also choose between various meats, including chicken and pork (with halloumi as the option for all the veggies out there!)
The Athenian also offers delicious light-bite starters, including tomato croquettes with their very own Athenian dip, and desserts like Ion chocolate which tantalises the taste buds.
The Athenian is located in White City, London, but you can also find smaller cafe versions in Canary Wharf and Victoria. You'll also be able to find a stall version of this fantastic restaurant located in Tooting Market.
Halepi
Bayswater
Halepi is a family-run business cosily nestled in Bayswater, London. It has a very eclectic menu, you can choose between eating some skewered meats and kebabs, or trying some octopus salad or red mullet from their delicious fish grill.
Though, we totally recommend the stuffed vine leaves with minced lamb and rice. Delish.
No matter what food you choose to go for, you can wine and dine in style while traditional Greek music plays all around you. You do not want to miss out on one of the best Greek restaurants in London.
Lemonia
Lemonia is considered to be a local landmark with excellent food, and a wonderful atmosphere, and can boast many famous visitors (if the names Harry Styles and Kate Moss mean anything to you).
Lemonia first opened in 1979, and has since developed its menu into not only one of the most delicious examples of Greek cuisine around but also one that has excellent prices. At Lemonia, you can find a three-course meal from a set lunch menu for £16.50 on Mondays and Fridays.
So, if you want to eat some delicious Greek cuisine on a budget, then this is the perfect place to go. Whatever you do, order the calamari on the side.
The Real Greek
Various Locations
The Real Greek is a restaurant situated in various locations, and there are currently twelve restaurants in London. The Real Greek pride themselves on their commitment to serving authentic, Greek cuisine.
Many of the classic, traditional Greek foods can be found here. Think vine leaves, salt cod with lemon mayo, and souvlaki wraps. All of which are more-ish yet filling.
However, The Real Greek also love to expand their tastes, so you will be able to find other items on their menu like jackfruit stifado (perfect for veggies and vegans).
Retsina
Belsize Park
For the best Greek restaurant north London boasts, head to Retsina. This is a family-run Greek restaurant that has won many awards. We think that their Moussaka alone is award-worthy – layers of potatoes, veggies, and mincemeat topped with a creamy sauce.
Retsina has been serving the customers of North London for almost thirty years with its high-quality, fresh ingredients. But their food is not the only thing they can pride themselves on. Restina is home to a rather extensive, quality wine list.
So, if you feel like wining and dining in style, then this elegant Greek restaurant is the one for you.
Ampéli
Charlotte Street, Goodge Street
Ampéli is an excellent Greek restaurant that first opened in 2020, and quickly rose to the top of everyone's Greek restaurant list.
Ampéli has an excellent wine list that champions wine exclusive to Greece. Not only can you try their delectable white and red wines, but you can also try their orange wines and dessert wines, too.
With its exquisite Greek food, such as braised lamb shanks and salt cod croquettes, Ampéli can compete with the very best Greek restaurant in London.
Opso
In Ancient Greek, "opso" means "delicacy" and this fabulous Greek restaurant central London boasts provides just that.
Opso is perfect for those who are looking for a quick bite to eat. This Greek restaurant specialises in light bites and small plates, with dishes you will not be able to find anywhere else.
Why not try their feta kataifi? Or, if you would rather have a larger meal, order their Giouvarlakia dumplings or eel carbonara. All are as innovative as they are delicious.
And if that wasn't enough, Opso also specialises in brunch. So, get off the train at Baker Street and get down to Opso the next time you're in the city.
Great Greek Grill House
This is an informal, casual Greek restaurant where the passion for food can be felt in every brick in the wall. Great Greek Grill House obtains all of their fresh produce from local suppliers, while all of their other products, feta cheese, pita bread, olive oil, etc, come straight from Greece.
Whatever you order here, you won't regret it! Choose between the gyros, kebabs, or delicious spanakopita, just don't forget to tie it all together with a cold bottle of Mythos.
Not only does this restaurant provide wonderful eats, but they also provide fun music nights complete with dancing.
Hungry Donkey
Spitalfields
Last but not least is the wonderful Hungry Donkey. This Greek restaurant is heavily inspired by Athenian street food.
Their menu is organically sourced and filled with many dips and pitas. Every meal is fresh, simple, and quick to make, but does not compromise on taste, making it one of the best Greek Restaurants around.
Our top picks? You won't be disappointed with the pork pita wrap and the oven-roasted peppers with veggies and rice.
Practical Tips For Visiting London's Greek Restaurants
Greek food is rather meat-heavy, so make sure you check out the menu and find a restaurant your vegetarian and vegan friends can eat at, too.
Feel free to have a bigger lunch than dinner when you eat at Greek restaurants. After all, that's what people from Greece do! The biggest meal in Greece is their lunch meal, which is known as Mesimeriano.
Discover More Brilliant London Restaurants