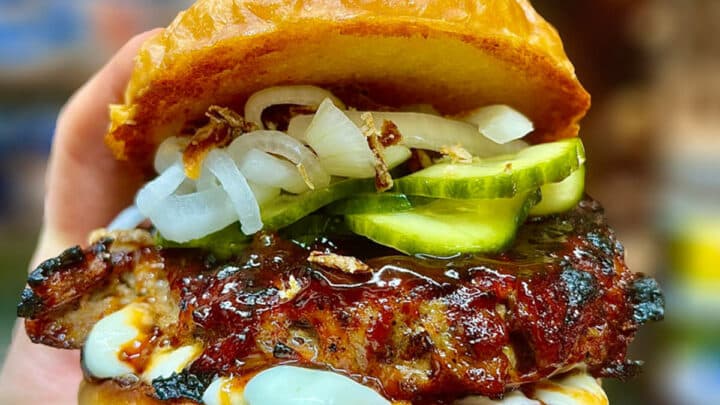 Wondering where to find the best Kosher food in London? These are the 10 top spots in the capital.
From delightful delis with mouth-watering sandwiches to the richest, spiciest kebabs and hummus you can imagine, there are plenty of culinary hotspots for quality kosher cuisine across London.
Kosher food in London covers a huge spectrum of cuisine, from New York-inspired brunches to European, Mediterranean, Middle Eastern and Far Eastern dishes.
There's truly something on this list for everyone, regardless of culinary taste or tradition – but these restaurants have one thing in common: They pride themselves on their kosher offerings.
Ready to tuck in?
Best Kosher Restaurants in London
Reubens
££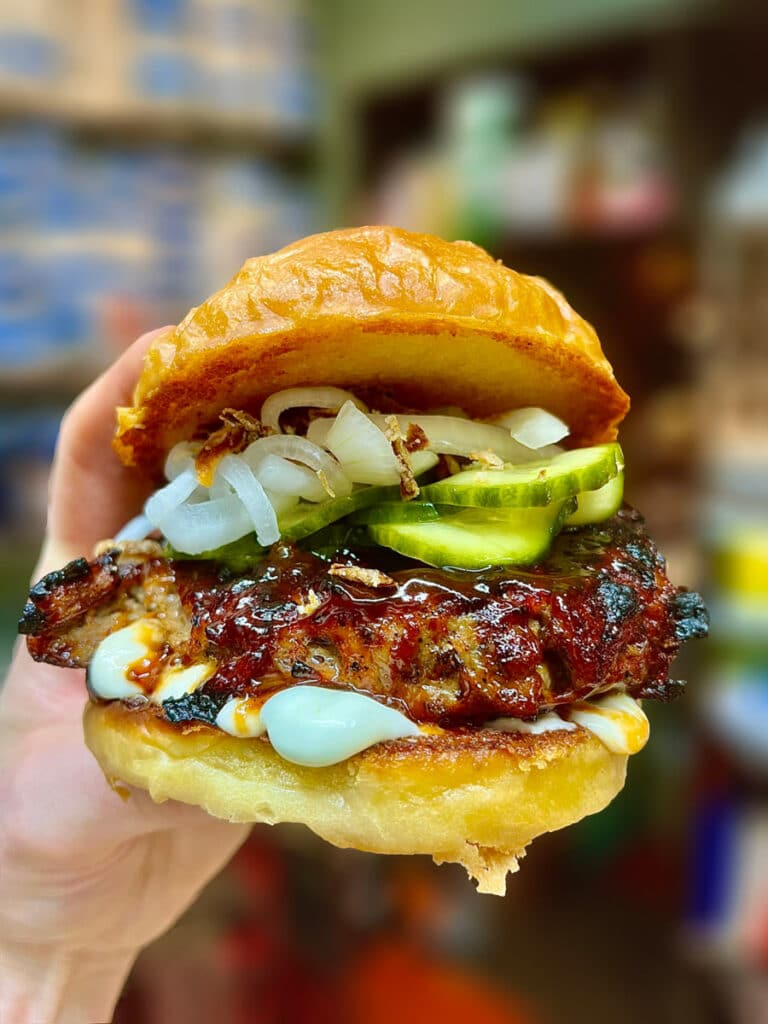 Reubens is no doubt one of the most popular kosher restaurants in central London. And one of the longest-running in the entire UK, for that matter.
Situated on Baker Street, Reubens offer a delicious deli-restaurant menu of the Reubens burger, latkes, schnitzel, sandwiches, soup, steak, and Israeli and Mediterranean-inspired salads.
It's definitely one of the most-reviewed kosher restaurants in the capital and has built an excellent reputation among the many restaurants of the West End.
This restaurant has a grab-and-go deli for food on the go, or you can head out back to its warm and inviting sit-down restaurant for table service. Better yet, prices are reasonable considering the restaurant's West End setting.
Soyo
Golders Green and Edgware
££
For kosher food, London's north London districts are undoubtedly the place to be. Soyo is one of our top picks and has two London venues in Golders Green and Edgware.
The kosher menu is super-fresh and healthy, bursting with tasty dishes like quiche, savoury crepes, pasta, sandwiches and salads, including the popular create-your-own salad option.
With a colourful menu that has plenty of appeal, reasonable prices and relaxed, laid-back interiors, Soyo has established a mighty reputation among fans of Middle Eastern and Mediterranean cuisine.
Hummus Bar
Golders Green
££
The aptly named Hummus Bar in Golders Green features a stellar Israeli/New York-inspired kosher menu with hummus (obviously), grilled sandwiches, burgers and main courses like schnitzel and kofta.
The signature dishes are spectacular, though, including the luscious double-decker burger, Jaffa burger and hummus salt beef. We're drooling at the thought.
The venue itself is a chilled out spot on Golders Green road, which features plenty of kosher bars, restaurants, supermarkets, butchers, and delis.
Hummus fans, you know where to go. This bar literally has your name on it.
Delicatessen
££
Delicatessen is modern Middle Eastern cuisine with fresh kosher ingredients. The cool venue features neo-industrial decor and the menu is intriguing, with Mediterranean, Lebanese and Syrian dishes like tabbouleh and fattoush chicken.
Dishes are rich, spicy, healthy, and aromatic – and they look superb, with excellent presentation and service.
Prices are a little above average, reflecting the snazzy Hampstead Heath district this great restaurant is embedded in. The atmosphere is super-friendly too – it's not surprising that Delicatessen has built up an impressive array of enviable reviews.
Pita
Golders Green
££
Another kosher restaurant in Golders Green, Pita is primarily Middle Eastern themed with an open kitchen and laid-back interior.
Guess what's on the menu? Tons of pitas, like falafel pita, shawarma pita, Jerusalem steak pita, Jaffa pita. You name it, they've stuck it on pita (or laffa – a bread similar to pita).
The compact menu also delivers hummus and falafel in abundance, all cooked with fresh spices and aromatic ingredients. This place smells amazing, and the food tastes just as good. Pita is Middle Eastern street food, completely perfected.
Pizaza
Golders Green, Edgware and Hendon
££
Kosher pizza? You bet – and Pizaza is really putting the pzazz into pizza.
There are three Pizazas in London, with branches in Golders Green, Edgware and Hendon. The menu is straightforward, as you might expect from a pizzeria, with tons of pizza options for anyone, from seafood fanatics to veggies and meat lovers.
You can opt for different crusts or calzones, and there's a wicked selection of milkshakes to boot. Milkshakes and pizza = a winning combo.
Tish
Hampstead
£££
Situated near Belsize Park, Tish focuses on contemporary European kosher food with delicious dishes like rosti, fish, chicken and beef, with a fresh brunch menu.
The venue is chic and modern with bold fabrics and impressive features, and there's a beautiful al fresco seating area to enjoy when the sun is shining.
Tish hosts special events like Purim, which includes a feast menu and live magician, and authentic kosher Shabbat meals from Friday dinner to Saturday lunch.
Zest
West Hampstead
One of the great things about dining out in London is that there are so many restaurants trying to push the limits of global cuisine in new and interesting directions. That's certainly the case at Zest where Sephardic food gets a modern treatment from its kitchen of expert chefs.
You'll find a mix of small and large plates with their roots very much in the kosher cooking of the Sephardic diaspora, served in a setting that's fit for a dinner to impress.
The Sephardic Jews were forced out of Spain in the late 1400s but their cooking maintains many of the ingredients and techniques that you'll recognize from Spanish restaurants you've eaten at.
That blend of Spanish and Middle Eastern cuisines is where the magic happens, and it's not one to be missed.
Met Su Yan
Edgware
££
This unique pan-Asian kosher restaurant specialises in authentic Far Eastern dishes. Met Su Yan's atmosphere is super-friendly, and the menu is extensively stacked with rice, noodle, beef, lamb, chicken, beef, fish and soup.
Better yet – there's an extensive selection of kosher wines on offer too.
Met Su Yan is a little more high-end than your average oriental restaurant, and its kosher Asian dishes have been warmly welcomed by locals in Edgware and Golders Green.
Bagels Bar Coffee House
Brent Cross
If you're looking to eat kosher and not spend your entire month's fun budget in one fell swoop, Bagels Bar Coffee House should be on your radar.
They serve, as you can guess from their name, bagels, though the menu extends way further than just that. You can find a full salad bar for anyone after a healthy option as well as a full menu of grilled kosher meats.
But back to those bagels. At only £5.75 you really can't go wrong with any of them. You'll have a choice of filling with the option for extras if you should so choose, and platters if you're eating as a group. Throw in an extra two quid to make a bagel meal with crisps and a cake and you're on for a stellar lunch.
Novellino
Golders Green
££
Among London's finest kosher restaurants is Novellino, with an original Italian-infused menu. This restaurant is almost directly in front of Hummus Bar in Golders Green.
It's a large restaurant with a vast menu that features everything from classic meat dishes to pizza and pasta, as well as a pleasing quantity of veggie/vegan options. The breakfast and lunch menus are also really popular.
Dishes are lovingly crafted in their kitchen and evoke authentic, homely vibes that satisfy anyone, regardless of culinary tastes and traditions.
Situated on Golders Green Road alongside many other highly-regarded kosher food outlets, Novellino has a wonderful ambience, top service and a menu to match.
If you're looking to tuck into kosher meat, London's Golders Green restaurants are the place to be – and Novellino is one of many superb restaurants down this strip.
Practical Tips for Exploring the Best Kosher Restaurants in London
What is Kosher? It's actually a Jewish dietary framework (similar to Islam's concept of Halal) for food prep and consumption. There are plenty of rules to follow, but these restaurants have got it covered.
Looking for the best kosher restaurants? London's Edgware, Hampstead and Golders Green areas offer by far the most choices, with European, Middle Eastern, Mediterranean, Italian and Asian-inspired cuisine.
The best kosher restaurants in London also offer some of the finest hummus, kebabs and schnitzels, which are all specialities across the Med and Middle East.
The Best Kosher Restaurants: Map
Kosher Restaurants in London: Read Next