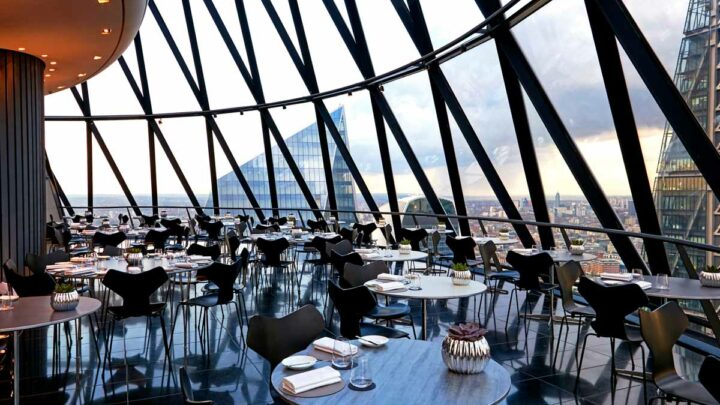 It's time to discover London's most beautiful restaurants.
Even the most Insta-averse of you will have noticed that there is no shortage of drop dead gorgeous places to eat in London.
Our fair city is adorned with a bounty of aesthetic restaurants that look every bit as good as the food they serve tastes.
What are you waiting for? Snag a table at one of the prettiest restaurants in London – beautiful spots for a fancy AF meal.
26 Pretty (& Fancy) Restaurants in London
SUSHISAMBA
City of London
£££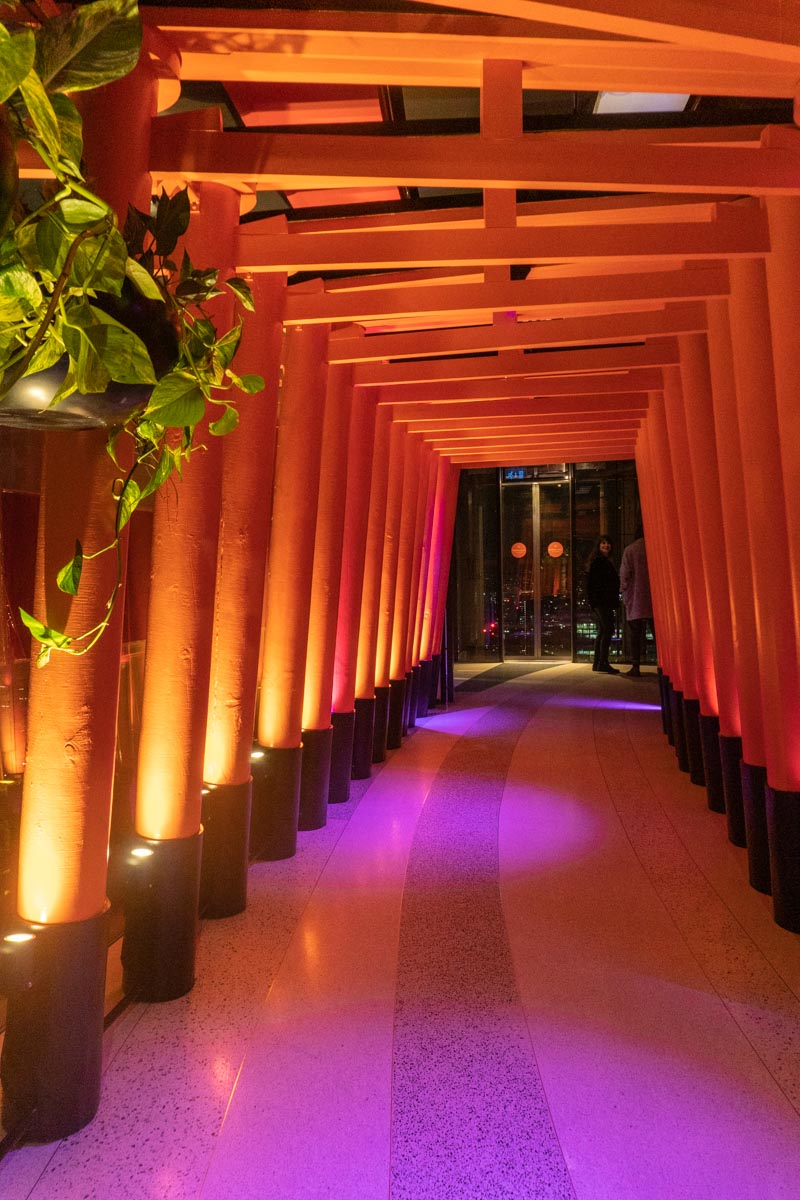 Interiors don't come much more Instagrammable than the stylish setting of SUSHISAMBA's original outpost in the City of London. This is a restaurant that takes the concept of dining as an experience seriously – an experience that starts when you whizz your way up the glass-fronted lift and only gets better from there.
It's impossible not to be lured in by the views – from your perch on the 38th floor, the sight of the city spread out in a glittering sea is striking enough to draw your attention away from the loveably OTT interior, if only for a moment.
With such a stunning setting, it would be easy enough for SUSHISAMBA to rest on its laurels when it comes to the food. Luckily for all of us, they do no such thing, serving up a vibrant menu that takes its influences from Japanese, Peruvian and Brazilian cuisines. Two words of advice: go hungry.
Ave Mario
Covent Garden
££
Have no doubt: Ave Mario is one of the most visually arresting restaurants in all of London. One of several restaurants run by Big Mamma group (who also own Gloria, featured below), it brings the exuberance of Italian cuisine straight to London's hungry diners.
The interior is a stylish cross between modern and bohemian, with a huge bar, blood-red banquets and some very OTT lighting – it was designed to wow.
Graced with the unparalleled culinary talents of Chef Andrea Zambrano, Ave Mario is a foodie's paradise (especially if said foodie also appreciates exceptional cocktails).
Madera
££
Madera at Treehouse is one of the prettiest London eateries that you will ever see. This quirky restaurant features a spellbinding interior adorned with beautiful hanging plants and greenery that will make you feel like you walked out of the city and into the garden Eden itself.
That's all before you get outside too. Tucked away a short walk from Oxford Circus, it's little surprise that Madera comes with one of London's most incredible views.
The diverse menu covers a range of dishes, including several vegan menu options such as the Madera vegan breakfast basket. Our recommendation is the tequila tofu – it's fantastic!
Sketch
Mayfair
£££
Sketch is part restaurant, part Art with a capital A. It's no understatement to say that Sketch is more than a place to eat – it's also a place to enjoy some of the most creative and beautifully artistic interiors in the city of London.
As far as the food goes, the presentation is extraordinary, and the flavours are sublime. There's a reason it's bagged one of those elusive Michelin stars. Make a reservation as it's very popular!
Beach Blanket Babylon
Notting Hill
££
Established in 1990, Beach Blanket Babylon quickly made a name for itself as one of the best-looking restaurants in London. Housed in a Rococo-style Georgian Mansion, it's one of the places to see and be seen in the city.
For those of you looking for the perfect place to have an alfresco lunch or a romantic dinner, this is it.
The Beach Blanket Babylon is elegance itself, and the food is spectacular. The only things more spectacular than the food and graceful style are the expertly crafted cocktails.
NoMad Restaurant
Covent Garden
£££
Thirsting for somewhere totally over the top to eat in? Then you'll want to check out NoMad Restaurant – the cool eatery in the stunning NoMad Hotel.
Yes, hotel. We don't normally plug hotel restaurants but when they look like this, we'll make an exception. The atrium – awash with hanging leaves and all kinds of greenery – is one of the coolest backdrops you could ask for your dinner.
The food is excellent too – Executive Chef Ashley Abodeely has chosen to focus on locally-sourced and high quality ingredients and the results are some of Covent Garden's best eats.
Sessions Arts Club
Clerkenwell
£££
Sometimes London's fancy restaurants get a little over-the-top. This country is the home of the British eccentric though, so who can blame them? It's just that sometimes you need a little class.
When that time occurs, Sessions Arts Club should be very high on your list. The setting is the old judges' dining room at Sessions house in Clerkenwell. The Beautiful Grade II listed building exudes charm with its high arches and peeling paint.
What comes out of the kitchen – helmed by Florence Knight of Polpetto fame – is a storm of ingredient-forward and at times surprisingly simple cooking that never fails to impress.
Jacuzzi
Kensington
££
Big Mama group have already got their name in this guide with Ave Mario but we'd be wrong not to include their latest opening, Jacuzzi.
If you're looking for a restaurant with character, this place has it in abundance. It's been described as a 'four-floor pleasure palace' and comes replete with classic rococo elements, its own tree and what must have been a rule to not fit a light unless it's a chandelier.
It's not all style though. The cooking has some real substance. Their pastas dishes won't disappoint and who can say no to lobster risotto with cuttlefish ragu?
YOPO
Fitzrovia
££
The restaurant of The Mandrake Hotel has always been a pretty decadent place to dine, but when YOPO got a makeover it also became one of the most flashy.
Dark walls that gleam with a sort of gun-metal chic and fixtures that melt off the walls are only upstaged by the restaurant's centrepiece: A giant stuffed ostrich with a python for a neck, native American headgear and burlesque fans for wings.
The only thing that can take your attention away from that? Delicious small plates of South-American-inspired cuisine and a menu of excellent cocktails to go with it.
Bob Bob Ricard
Soho
£££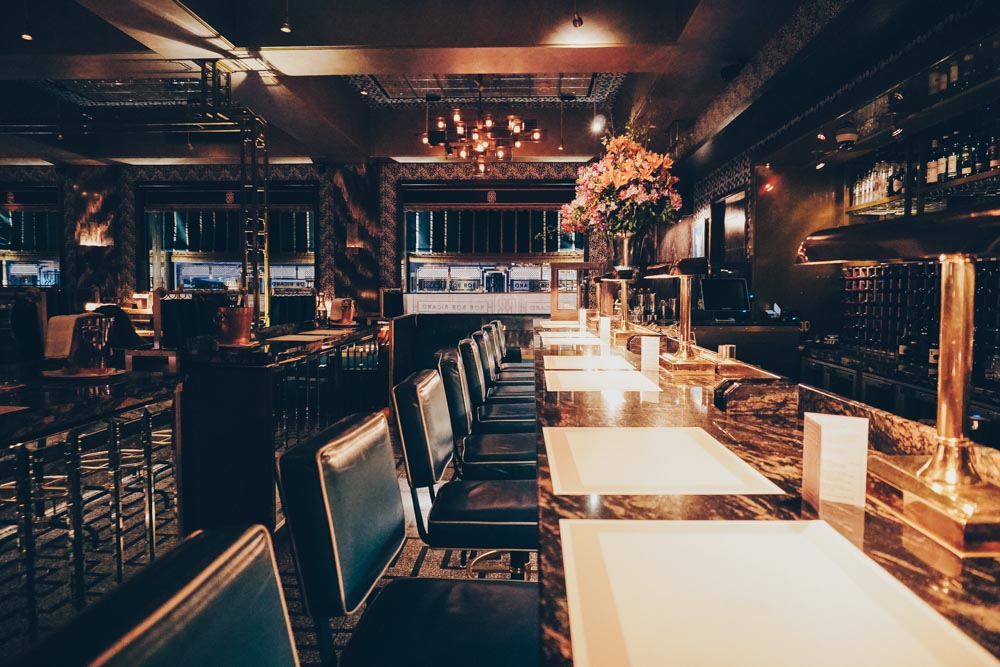 When it comes to signature dishes, Bob Bob Ricard stands out as one of the best places to dine in London.
The menu takes its inspiration from French and Russian dishes, something that the chefs here do beautifully.
Although many Londoners come for the Beef Wellington, the Steak Tartare Imperial with Siberian Sturgeon Caviar is nothing less than exquisite. If you want a drink, try the Russian Standard Platinum Vodka – it's smooth, velvety, and positively delightful.
Kaia
The City
£££
Looking for fancy restaurants in London, UK? Then you're going to want to try Kaia! The interior is gorgeous and expertly styled, and the food is to die for.
The Kaia Aromatic Duck and Yuzu Scallops, for example, are among the finest and most flavourful dishes in London.
The cocktails are extraordinary – Kaia is arguably one of the best places in London to sit down and enjoy a Remy Martin cocktail. While the cognac and rum cocktails are amazing, the tequila lovers among you will fall in love with their Gran Centenario Reposado.
Searcys at The Gherkin
The City
£££
Searcys at The Gherkin is modern, it's fresh, it's classy, clean, and arguably one of the most aesthetically beautiful restaurants in London.
With a gorgeous interior and exceptional service, you'll love Searcys smoked salmon, horseradish cream, shaved fennel, and apple.
Still hungry? Try their seasonal gnocchi, textures of cauliflower, vegan Parmesan, truffle oil.
If you have always wanted to check out the interior of one of the most iconic buildings on the London skyline, your best bet is to enjoy a fine meal in the very heart of it at Searcys.
Clos Maggiore
Covent Garden
£££
When it comes to class, Clos Maggiore takes the cake. Nestled in Covent Garden, it's a restaurant creating food that is as enjoyable to look at as it is to consume.
The Cornish Sea Bass, Chorizo, Beurre Blanc & Bell Pepper, for example, is cooked to perfection (mais, oui oui).
Looking for a sumptuous dish that will tickle your taste buds? Then you'll want to order the Acquerello Risotto, White Asparagus, Wild Garlic & Parmesan Cheese.
Petersham Nurseries
Richmond
£££
Petersham Nurseries delivers a fine-dining experience…but with the feeling of eating in the extensive glasshouse at a family home. Unlike some of the other fancy restaurants in London featured in this guide, every diner at Petersham Nurseries is made to feel welcome and at ease (and by the time they leave, they feel very full too)!
Go for one of London's prettiest dining spots, stay for the stellar Italian food.
14 Hills
The City
£££
14 Hills has a marvellous interior with tasteful decor and breathtaking greenery.
When you've been battling your way through the pea soup of London all day, there's nothing like stopping at 14 Hills on 120 Fenchurch Street for a cheeky lunch or dinner against a beautiful backdrop.
The duck liver ballotine, grilled peach, toasted brioche, peach & Fernet purée is simply sublime, however, if you're a seafood lover, you'll want the lobster. Trust us.
Amazonico
Mayfair
£££
Founded in 2010 by famous restaurateurs Sandro Silva and Marta Seco, Amazonico offers an unforgettable dining experience.
The gorgeous greenery and decor inspired by the depths of the Amazon jungle were designed by highly revered artist, artist Lázaro Rosa-Violan.
The food is inspired by the unique cultural contributions of Asian and Mediterranean communities in Latin America. The result? Some of the best food in the city!
The Exmoor Cornish Baeri and Empanadas with Wagyu Beef will have your palette dazzled for days. Seafood lovers simply must try the Chupe de Langosta, a half-native lobster, bisque with edamame beans.
Chuku's
Tottenham
£
This Nigerian tapas restaurant is one of the most fashionable establishments to grace our city in the past few years. Chuku's specialises in serving up fine Nigerian dishes that are designed to be shared.
It's social, it's stylish, and it's the place to go if you're looking for a one-of-a-kind dining experience in London.
Want to try something truly tasty? Then you'll want to order the Cassava & Ata DinDin, a spicy dish of cassava fried with sweet red peppers and onion.
Not a fan of spicy food? Then try the caramel kuli kuli chicken – it's delicious! For dessert, you can't go wrong with the plantain waffle.
Annabel's
Mayfair
£££
When you want British cuisine at its finest in the plushest of settings, you want Annabel's. This place has the look and feel of a luxurious garden. Surrounded by beautiful plants, you get the feeling that you're dining somewhere exotic and very expensive, which we guess is the point.
There's an elegant vibe here, and it's teeming with life and energy. The bar section, commonly referred to as The Club, has a refined style that evokes the grandeur of Victorian times.
Annabel's features a talented team of some of London's most accomplished chefs, sommeliers, and mixologists. Enjoy a glass of wine or two over Arancini, Pistilli di Zafferano, Piselli e Aglio Nero – you'll be glad you did!
One Twenty One Two Restaurant
Westminster
££
Next up, we have One Twenty One Two Restaurant, the prime destination for Londoners and looking for an opulent dining experience.
Situated in the Royal Horseguards Hotel with a dazzling view of the Thames, you'll have a hard time finding a better place to eat when in London.
Long ago, the building used to house the Chief of the M16 (we won't blame you if you start running around and pretending that you're a spy).
As for the food, you will find the finest British dishes with a European twist that puts this place on the list of the prettiest and best restaurants in London.
Skylon Bar And Restaurant
South Bank
££
The cavernous environs of Royal Festival Hall on the Southbank aren't necessarily noted for their beautiful interiors – apart from when it comes to Skylon.
If you're looking for a restaurant on the banks of the Thames with floor to ceiling windows and a rather dramatic central bar – look no further. Hailed as one of the most beautiful restaurants on the South Bank, this is one dining spot that never disappoints.
The food is rich, decadent, and just as irresistible as the prized vintage wines that they serve here.
Megan's
£
Don't let the unassuming name fool you. Megan's Battersea Power Station outpost is a gorgeous waterfront all day dining restaurant with serious style.
Taking their culinary inspiration from the world's sunnier spots, this is the place for a lazy brunch or dinner with your mates as you feast on hearty (and tasty) dishes. As you'd expect, the breakfast options are on point and include plenty of veggie and vegan options too.
The Soak
Victoria
££
The Soak is so gorgeous you might find yourself being more interested in taking pictures to post on Instagram than eating.
You'd be a fool if you did, because the food is very good and the cocktails are even better.
Take, for example, the British Ploughman's Platter. This luxurious dish includes cured ham, Somerset brie, peppered beef, plate, mature cheddar, pork pie, piccalilli and red onion chutney, mixed leaves, brown seeded bread, and Maldon salted butter.
Kol
Marylebone
££
Kol is a cool little unique restaurant in London. Why? The chef here takes British ingredients and uses them to produce some of the best Mexican food in the city.
The warm colour tones here at Kol resemble the stucco commonly seen throughout Mexico and Latin America.
One of the finest dishes to sample? Nicatole corn and yellow pepper custard, with British caviar, fits the bill.
A final tip, don't leave without trying the Mextapique, a decadent dish of pumpkin cooked in a corn husk, with smoked pumpkin, cashew, and roasted succulents.
Berenjak
Soho
£
Berenjak's Soho spot made the list for good reason: the interior is perfection itself, and the food is just as fantastic.
This establishment sports a beautiful interior inspired by Persian culture. The dishes are also Persian, which, if you're unfamiliar with it, is all kinds of wonderful.
Not sure where to start? Go for the Ghormeh Sabzi – a hearty lamb stew with kidney beans liberally flavoured with fragrant herbs.
Gloria
Shoreditch
££
Another one from the Big Mamma Group (who own Ave Mario, the first entry in this guide) Gloria is wildly popular due to its beautiful interior and excellent food, to the point where it's one of the best-known restaurants in Shoreditch.
The interior is essentially a kitsch interpretation of a traditional trattoria. Kitsch is cool – Gloria said so.
It's not all about the fancy and gorgeous interior either. The food does not disappoint. Opt for the carbonara served in a whole wheel of pecorino cheese. Drool.
That's reason enough to go isn't it?
Bentley's Oyster Bar & Grill
Mayfair
£££
Oyster bars are all the rage in London these days. There's a strong tradition of oyster bars in the city that Bentley's Oyster Bar & Grill is proud to carry on.
Although the name contains the word bar and grill, this isn't an ordinary eatery, as it's a high-end champagne and oyster bar operated by insanely popular Chef Richard Corrigan.
If you've never experienced the pleasures of a champagne and oyster bar, it's time to do so.
Juno Rooms
The City
££
Despite being one of London's most visually arresting restaurants and a location in the middle of the City of London, Juno Rooms doesn't charge spectacularly high prices. With a breathtaking interior and amazing dishes, it pulls off that rare combination where your stomach, eyes and wallets can all walk away delighted with your dinner.
Love music? Head over on a Thursday night when the DJ is playing and sample some of their signature cocktails over a luxurious meal.
Practical Tips for Booking Beautiful Restaurants in London
When booking a beautiful restaurant in London, there are a few tips to keep in mind to ensure a pleasant experience.
First of all, it's always best to call as far ahead as possible.
The farther ahead you call and book your table, the less trouble you'll have securing a table of your choice without contending with a long wait period.
Another tip is to always be as polite. Yelling at someone over the phone isn't going to help you reserve a table any faster. It really won't.
Fancy Restaurants in London: Map
Looking for More London Restaurant Guides