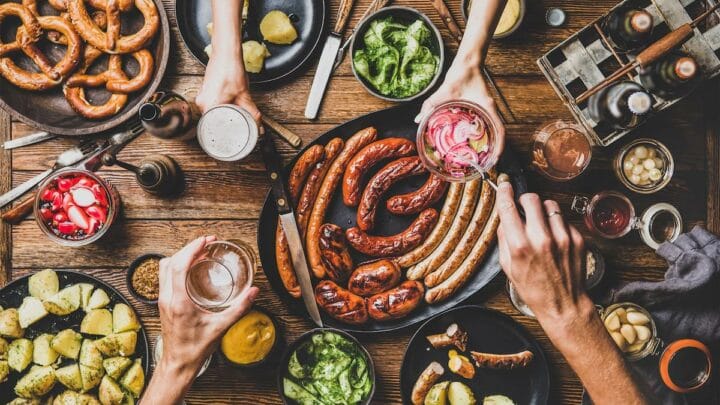 Craving an ice-cold stein with authentic currywurst? Well, you don't have to book a plane ticket to Germany just yet – you can enjoy their fantastic food right here at the best German restaurants in London.
Whilst German culture and beer go hand in hand, these London German restaurants offer far more than just brilliant beer gardens. Seriously hearty dishes and indulgent treats await you.
Find out which eateries have the best Bavarian food London has to offer with this helpful guide.
We'll say 'prost' to that!
Best German Restaurants in London
German Gymnasium
£££
King's Cross
When London's German community first chipped in to build this gymnasium in King's Cross in 1865, they wanted to go about sharing their culture with the British capital. And we are so glad they did.
German Gymnasium is a lively hub that does just that. Experience German tradition at its restaurant, bars, and terrace through its food, weekend brunches, and innovative drinks no matter what time of the day you stop by.
Grand Cafe and Terrace on the first floor are the places for breakfast through lunch, but especially for their weekend brunches – the potato rosti is particularly delish. Here, you can order just about any alcoholic drink you can think of from their worldwide drink list.
The Meister Bar is also open for a drink and entertainment around midday and stays open until late. Whether you want a Jagermeister or a beer stein larger than your head, this is the place to head.
Bierschenke
££
Smack dab in the middle of the big city is where you'll find this Bavarian bar. It's a great place to pause between tourist-heavy pitstops as it's right between Brick Lane Market and Barbican Conservatory.
And your Bavarian experience doesn't get more authentic than Bierschenke. The restaurant boasts real maple wood furniture from Munich, hefty sausages from Germany, and signature Bavarian beers brewed exclusively for this franchise.
When it comes to food, you can expect everything from schnitzels to different kinds of wurst in an atmosphere coated in German Gemütlichkeit (which basically means it's cosy AF). They also offer a sizable vegan and vegetarian menu upon request, and indulgent desserts, of course.
Munich Cricket Club
££
Tower Hill, Victoria, Canary Wharf
If you're missing Oktoberfest in London, don't worry. You can have it every day at Munich Cricket Club.
If you're worried you won't get an authentic experience at this club, think again. The menu is so authentic, it's almost entirely in German (don't worry, there's added English below).
Expect fantastic sharing dishes and bar snacks for your beer hall party, or order a meal full of Bavarian meats.
The Victoria branch has a live Oompah Band to liven up your spirits on Thursdays and Saturdays. On weekends, it's bottomless brunch time with live entertainment, games, and glass boots full of beer.
Stein's Richmond
££-£££
Richmond
A bite at one of the top Richmond restaurants along the river is something you must experience at least once in the city.
Stein's Richmond is an outside dining joint ideal for soaking up the sun and enjoying the glittering riverside with a pint in hand. Whether you order a light meal or a hearty main, Stein's import all their food and drinks directly from Germany.
Beer and wines are only served with food, but that shouldn't be a problem as they have a long list of items. Something is sure to catch your eye and alert your tastebuds. And, if you're anything like us, it'll be the currywurst (sausage in a curried ketchup sauce).
Schnitzel Forever
£
Stoke Newington
Variety is nice, but why go elsewhere if you already know what you want? If you like thoroughly spiced, breaded, and deep-fried meats drenched in lemon and aromatic butter, you might like Schnitzel Forever.
Instead of serving multiple German dishes on its menu, this speciality restaurant honed in on its strengths. But that doesn't mean you won't get variety.
Schnitzel Forever takes inspiration from worldwide and serves dishes like Napolitana, Katsu, and Aegean-inspired schnitzels. Pair this with their long list of sauces, relishes, and chutneys, and you've got a forever favourite.
German Doner Kebab & Grill
£
Various Locations
Not had enough heavy German food yet? This German restaurant has over 90 restaurants worldwide, and it's not hard to see why – their authentic German doner kebabs are a winner.
While doners and kebabs are their specialities, German Doner Kebab & Grill's menu is extensive but still keeps the focus on the main ingredients.
Their menu options are never dull and include exciting fusion dishes like doner quesadillas, Dorito doner nachos, and even a veggie kebab. Pair these with their choice of four sauces, toppings, and interesting sides to mix it up each time.
Katzenjammers
££
Shopping at Borough Market and in the mood for a pretzel? Katzenjammers is just a short walk away, and it's ready to welcome you with open arms.
This two-storey German eatery is a lively and sociable affair that loves to keep the happy vibes going. As they describe it, downstairs is for dancing while upstairs is for drinking, which rings true.
Join from Thursdays to Saturdays to catch a live Oompah, brass, or hosen band performance on the downstairs stage. Here is also where you'll find the German delights like the sausage bar and desserts.
Upstairs is where you'll find the most popular beers in Germany – it's also where you can order main courses like meats, macaroni, or 100% vegan replacements.
If you weren't in a cheery mood before entering this restaurant, you'll definitely be in one when you exit. We think that it's the best German restaurant London boasts.
Octoberfest Pub
£
Fulham
With over 60 beers and a long list of Bavarian favourites, you don't need to wait for October to have your own Oktoberfest.
Octoberfest Pub in Fulham captures the essence of this annual event almost every night. It's not just about the beer and the food, it is also about the experience. This pub has live music, games, and is a costume party to boot.
Opt for the Kasëspätzle if you're feeling super hungry – this onion-filled German equivalent of a carbonara is sure to soak up all the alcohol in that stein.
Tip: Come dressed in your best traditional German wear to win 'Best Bavarian Costume' of the night for a prize.
Find a German Restaurant in London: Map
Discover More London Food Guides