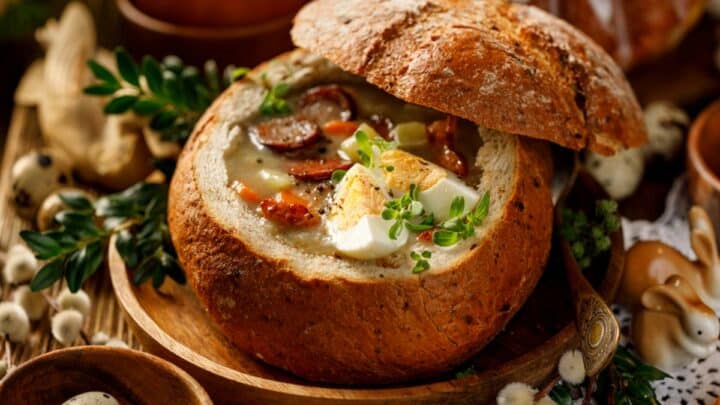 Craving a hearty bowl of stew? Or, how about a dumpling or five? These are the best Polish restaurants in London where you can find just that.
Words by John Rogers
Serving London's Polish ex-pat community for decades, some of the best culinary experiences in town are provided by underrated Polish restaurants. The cuisine is made up of comfort dishes and carbs galore, so it's no wonder that it's taking off in the capital.
Here are our 11 favourite places that bring a taste of the Northern Carpathian mountains and flat endless plains of Eastern Europe to our doorstep in Europe's most vibrant, multi-cultural city.
Best Polish Restaurants in London
Folk House Zakopane
Turnpike Lane
££
Looking for somewhere that's completely authentic? Folk House Zakopane is a beautiful, welcoming Polish restaurant nestled in the North London suburb of Turnpike Lane. The cosy and inviting dining room is ideal for sampling excellent traditional Polish hospitality and enjoying a social meal.
The menu contains a whole host of traditional Polish food that is particularly excellent for newbies to Polish cuisine.
The hearty goulash is an excellent jumping-off point, while the oscypek, a smoked cheese made from salted sheep milk, is an unexpected joy. We also couldn't keep our hands (or mouths) off the cabbage leaf-wrapped escalope steak dipped into piping hot oil. You probably won't be able to, either!
Mamuska!
££
Located a stone's throw from the vibrant South Bank, and moments from Waterloo, Mamuska is London's biggest – and best – Polish restaurant.
A vibrant, cavernous space situated among railway arches, the excellent location makes Mamuska the perfect spot for a post-work catch-up with friends or a date night sampling something a little different.
Among the menu's highlights is the classic pierogi, bringing authentic Polish dumplings with their fluffy dough and succulent, savoury filling to trendy South London. We love their awesome salad bar; the endless selection of pickles, olives, sauerkraut, and toppings will add a fantastic tangy zing to your plate!
Miod Malina
Acton
£££
Not every restaurant has the honour of being named in the Michelin guide, but Miod Malina near North Acton station has been bestowed that honour and is more than worthy of such an accolade.
This is Polish cuisine presented with a fine dining flourish, and although more expensive than some restaurants, the exquisite flavours and presentation make the premium well worth shelling out for. Value for money is absolutely adhered to here!
Housed inside Stadnicki Palace, owned by Polish royalty in World War II, their goulash in a bread bowl is unlike anything we've tried before. Their stroganoff and dumplings are enough to transport you to Napoleonic-era Warsaw.
Lowiczanka Restaurant
Ravenscourt Park
£
The Lowiczanka Restaurant is housed on the first floor of the Polish Centre in Ravenscourt Park, West London. It makes a beautiful culinary accompaniment to an evening of authentic Polish culture filled with theatre, cinema, music, or dancing, the food here is immense.
We urge you to make the pork escalope your go-to here if you're a meat eater, as the pork is always impeccably cooked. Grab some traditional sides and smooth, creamy mash, and you'll find yourself in Polish food heaven.
Trust us. You won't find a better plate of food for the same price anywhere in town.
Daquise
South Kensington
££
Step into Daquise, and you'll be forgiven for thinking you've stumbled into someone's dining room or pantry on Lodz's outskirts. This is the original Polish restaurant in London, and still one of the best after more than 60 years in business.
Daquise is a firm favourite among London's Polish ex-pat community for the authentic taste of home, which comes with a modicum of a French or Italian flair added. The honey and mustard-soaked pork tenderloins are beyond dreamy, as is the herbal vodka.
This famous eatery has served the likes of Christine Keeler and her Soviet spy over the years. Meanwhile, the exiled President Raczynksi made Daquise his unofficial HQ during World War II. Quite the clientele to be rubbing shoulders with!
Mikrus
Streatham
££
Polish chefs nail more than one thing, but if one had to highlight a single thing that always hits the spot, it's pork. And Streatham's Mikrus is absolutely no different; their kotlet schabowy (breaded pork chops) provide that perfect combination of crispy outside and succulent, tender inside.
We also highly recommend their bigos (stew) and chicken liver dishes to sate any hungry tummies as you enjoy your meal accompanied by a live DJ and one of the most buzzing atmospheres in South East London.
Ognisko
£££
Anyone wanting to experience Polish cuisine at its opulent best should make Ognisko a must-visit. This luxurious restaurant in the heart of Kensington uses white table service to provide a richness only matched by the food.
We devoured the sour cucumber soup rather quicker than the surroundings permitted before treating ourselves to the incredible marinated herring served with onions and potatoes.
You can enjoy the food with one of their vast range of wines, or if you want to "go native," their smooth vodka shots make an excellent pairing.
Autograf
Tottenham
££
Autograf is an authentic Polish kitchen and bar that serves simple, rustic, homemade Polish favourites at prices that provide excellent value for money, considering the portion sizes.
A home-from-home for Tottenham's Polish community, we couldn't get enough of their sweet potato pancakes and the fried sausage with onion and pepper starter for a fragrant, flavoursome kick-off.
If you somehow have space for a dessert after the substantial main course, treat yourself to the strawberry-filled sweet dumplings. Go on. You won't regret it!
White Goose Bistro
Stratford
££
The White Goose, owned by Polish celebrity chef Magda Gessler is a charming bistro a stone's through from the chaos of Stratford's temple to all things retail, Westfield.
A calming oasis with some of the best Polish food in London, we plumped for the traditional home-cooked options, including the sour rye soup and potato pancakes which somehow achieve the impossible feat of tasting even better than it looks.
The port schnitzel, unsurprisingly, is another treat on a menu that is bursting with Slavic delights.
Pause Coffee
Seven Sisters
£
Ignore the generic coffee shop facade and the bustling intersection upon which Pause Coffee is located, for within lies one of London's hidden culinary gems in the form of a thriving Polish kitchen that serves a massive range of traditional homemade delights at greasy spoon prices.
The buttery chicken liver, fried with onions and apple, is an alluring and filling lunchtime option. At the same time, the pierogi contains improbably wafer-thin dough and great fresh, sumptuous fillings that keep the mouth watering long after they've been devoured. A taste experience not to be missed!
Sowa
Ealing
££
Of the many Polish communities around London, one of the longest-established has been in Ealing. They are very well served by Sowa Restaurant, set in the heart of this charming West London community.
Their pierogi are handmade freshly at the counter, made to order, while their a la carte menu is beautifully presented and uses the finest produce. Their traditional beetroot soup makes the perfect starter for a rich main.
We went for the beef roulade stuffed with bacon and pickled cucumber, served with potato dumplings, glazed beetroots, and pickled cucumber salad. Only one word does the food justice. Delightful!
Practical Tips for Exploring the Best Polish Restaurants in London
Polish food is one of the fastest-growing cuisines in London for popularity, so we advise contacting the restaurant in advance to book your table.
And while the temptation to try the native vodka might be overwhelming, we urge you to exercise caution. Polish vodka is a different beast to Smirnoff, so make sure you've lined your stomach well first, and remember, moderation is key!
Best Polish Restaurant London: Map
Polish Restaurants in London: Read Next