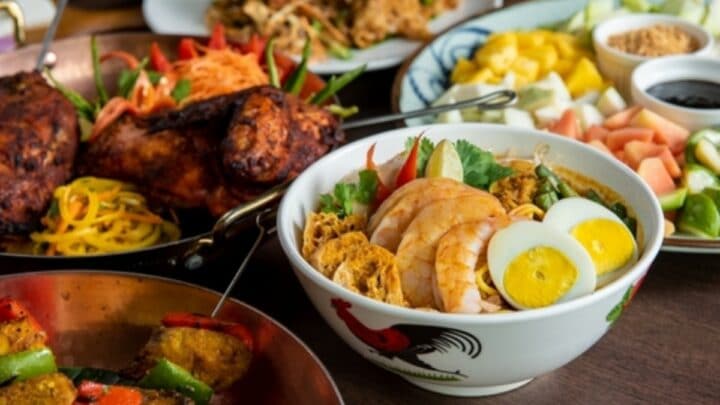 Looking for some really tasty and authentic Malaysian food in London? Of course you are – these are the best Malaysian restaurants in London to try out now.
Whether your favourite is a steaming hot bowl of brothy Laksa, sizzling stir-fried noodles or the famous Nasi Goreng, London has plenty of amazing Malaysian restaurants to eat at.
And, if you've never ventured into the realm of Malaysian cooking, you're in for a treat.
Chopsticks at the ready, steady, go.
Best Malaysian Restaurants in London
Laksamania
Tottenham Court Road
££
Chow down with some traditional Malaysian cuisine at Laksamania. If you've never had Laksa, you must try it here, the chef hails from Malaysia and cooks the best Laksa in London.
Laksamania is a laid back casual Malaysian restaurant and the aromatic smells from its open kitchen fill the space, giving you a preview of what's to come before you order.
Order the traditional Malaysian favourite, Penang Assam Laksa, or the chefs Laksamania Fried Chicken– it's one-of-a-kind and slurpingly good.
Tukdin
Paddington
££
Family-run Malaysian restaurant, Tukdin brings authentic aromas from the East to London. Tukdin's flavoursome dishes are made for sharing with friends in its intimate restaurant set around large banquet style tables.
Try the Satay Goreng to start followed by the Rendang Daging, mouthwatering slow cooked beef in coconut milk and doused with spicy malaysian spices and herbs for a real flavour kick.
On warmer days Tukdin's shop front opens up for alfresco-style dining, something enjoyed daily in Malaysia. We're not being dramatic when we say that this is the best Malaysian restaurant London boasts.
Mamak Don
££
Fuss-free eatery Mamak Don is closeby to Camden Station and serves authentic Malaysian street food.
It's one of the best Malaysian restaurants in London for its traditional decor that is so close to Malaysia's restaurant style you'll believe you're there. Walk through wooden archways with Malaysian street art captured on the walls and tuck into some tasty Malaysian food.
From the menu order Chicken Masak Lemak, Malaysian Kung Pao Beef or Prawn Sambal, all cooked by Mamak Don's Malaysian chef.
Laxsa Soho
££
Dine inside or outside at the intimate Laxsa Soho. Located in the heart of the West End, its Chef hails from Kebun Teh, Johur and sizzles up traditional Pan-Fare Asain Nasi Lemak, Nasi Goreng, Mee Goreng and Hainanese Chicken.
Laxsa serves up the most authentic Malaysian food in Soho as well as being a Malaysian drinking hole, mixing up Pandan Leaf Collins and Hibiscus Sour cocktails.
Melur London
Edgware
££
Melur is the best Malaysian restaurant in London to taste diverse and inventive Malaysian cuisine with a sizzling mix of traditional recipes and international techniques. Sustainably focused Melur's produce uses local ingredients but retains the same authentic taste and all meat is halal.
There's plenty of beef, fish, chicken and lamb dishes to choose from on Melur's menu as well as fresh juices to help you cool off from all those fiery spices.
Normah's
Queensway
££
Located in Queensway Market, Normah's home-cooked Malaysian food will have you reaching for seconds before you've finished your first plate of food.
The chef highlights seasonal ingredients in handcrafted dishes on the menu, and you must try the Asam Pedas Seabass or the Nasi Lemak Beef Rendang, they're too good to miss.
From the drinks menu try the Malaysian Teh Tarik, otherwise known as Milk Tea–if you've ever been to Asia you will know this is a cult classic and should be enjoyed with meals.
Makan Cafe
£
Makan Cafe is a no-frills Malaysian street-food cafe that is moreish– you'll want to order the whole menu, you have been warned. Inside, the decor is minimal, but the food is nothing short of flavourful goodness, so don't judge a book by its cover.
Located near Portobello Road, Makan Cafe is a family-run restaurant serving Nasi Lemak, stir frys, Mee goreng and Char Kway Teow dishes. Serving the best Malaysian food in London for breakfast lunch and dinner, Makan Cafe is sure to hit the spot.
Snack on Crab Claws followed by Mee Hoon Goreng Chicken for a real authentic taste of Malaysian cuisine.
Roti King
Euston
£
Tucked away in an unassuming basement is the popular Roti King– and it sure is the king of Malaysian food in London.
We'll never tire of raving about signature dishes such as Roti Cani with Kari and the Seafood Kari Laksa in a rich coconut broth, perfect for a rainy day. If you fancy something sweet, try the Pisang, sweet roti with warm banana melting inside– sounds yummy.
Malaysian food is usually served with hot or cold tea so you should order the Malaysian Pull Tea or, if you have a sweet tooth like us, savour the Iced lemon tea– sugary goodness? Yes please.
Satay House Malaysian Restaurant
££
Satay House is located in a quiet area in Paddington, it is intimate, cosy and serves authentic traditional Malaysian food.
For the satay fans you must try the chargrilled chicken or lamb skewers drizzled in satay sauce or the Satay Seyur for the veggie option. There's every kind of Nasi Goreng on the menu you could wish for, and a hot and spicy Malaysian classic Ayam Berlada if you can take the heat.
Cool that spicy mouth down with chocolate flavoured malt, a Malay favourite, or try an Asian beer like Tiger or Singha.
Rasa Sayang
Soho
£
If you're looking for a Malaysian restaurant in Chinatown, then head over to Rasa Sayang. It's a no-fuss eatery cooking up spicy halal wok fried dishes– and boy are they spicy.
The Crispy Sambal Fish and Char Kway Teow is seriously something to write home about.
The Singapore Crab is also not to be missed, it's the right amount of crunchy and tender, and served with aromatic black pepper sauce or sweet chilli.
If you're in the mood for cocktails, like we always are, taste the Singapore Sling or the Lychee Cooler to fizzle out those spices from your food. After all, this is one of the best Malaysian restaurants London boasts – its meals pack a punch.
Practical Tips for Finding Brilliant Malaysian Food in London
If you're only going to try a few Malaysian dishes in your lifetime then let them be Nasi Lemak, Laksa and Mee Goreng– they're all bursting with flavour
Malaysian food uses lots of spices, but it's not always spicy, just packed with lots and lots of great flavour.
This cuisine is also made up of noodle, rice or soup dishes and you can usually pick different meats or fish for each.
Best Malaysian Restaurants in London: Map
Malaysian Restaurants London: Discover More Asian Food in London