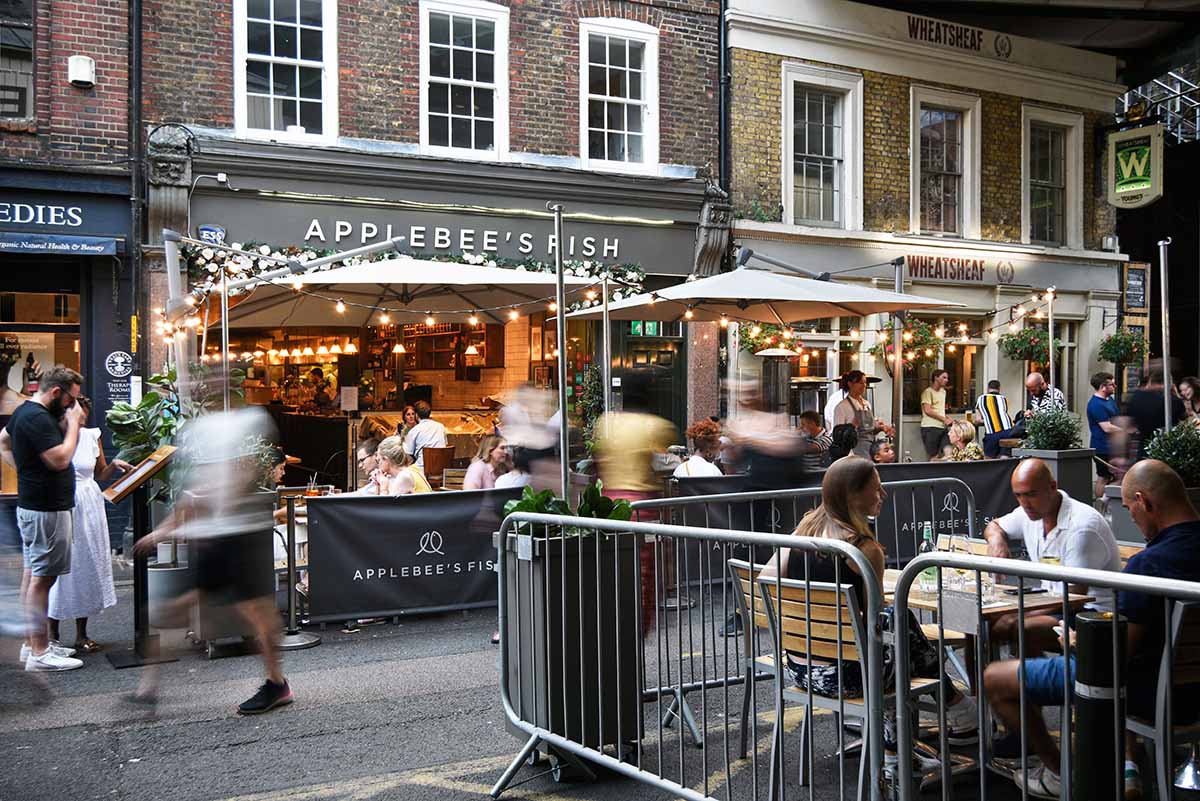 Looking for the top spots for outdoor dining in London? These are the restaurants not to miss.
The last couple of years have seen Londoners embrace al fresco dining hard – and it looks like restaurants with outdoor seating aren't going anywhere anytime soon.
Where once we would have scoffed at the idea of piling on several layers and chilling outside in the colder months, the unmentionable has put things in a rather different light.
No need to despair though – there are tonnes of places for outdoor dining in London – brilliant ones at that.
Looking for the best spots to eat al fresco in our fair city? Look no further.
Price Guide
£ – Mains £10 and under
££ – Mains £10-20
£££ – Mains £20+
Best Restaurants for Outdoor Dining in London
Outdoor Dining in Central London
Applebee's Fish
££
How do you fancy feasting on some of London's best fish and seafood dishes on a heated terrace surrounded by gorgeous festoon lights (with extra blankets on hand too)?
If the answer is a lot (and let's face it, it's guaranteed to be), head to Borough Market hotspot Applebee's. The seafood platter is legendary and is particularly suited to being washed down with a bottle of bubbly… just so you know.
Bentley's Oyster Bar & Grill
Mayfair
£££
Sometimes you need to indulge in an exquisite meal in a grand dame London restaurant – these are moments that Richard Corrigan's Bentley's Oyster Bar & Grill was made for.
The al fresco dining space is both heated and covered – ready for you to swan in and nab a spot on even the most inclement day.
To have anything other than the seafood at Bentley's – expertly prepared and paired with a crisp white – is to do it an injustice.
Bleeding Heart Bistro
Farringdon
££
Is the Bleeding Heart one of the city's worst-kept secrets? Perhaps so. This French restaurant has been a reliable favourite for excellent French food (and drink) for decades.
There are actually two separate venues here (well three, but one's currently closed) – The Tavern and The Bistro – the tucked away courtyard is mostly used for the latter. Go for excellent French classics in a classic London setting.
Caravan Exmouth Market
Clerkenwell
££
Caravan ticks all the boxes for punters looking for a laid-back meal that's big on flavour but without the fuss.
This all-day dining champion is just as good for a hearty breakfast as it is for lunches, snacks and dinners – with house-roasted coffee and delicious cocktails to round it off.
You can only book the outdoors table by email.
Chiltern Firehouse
££
Chiltern Firehouse is one of the hottest tables in town, so you should count yourself quadruply lucky if you snag one of the hard-to-get tables in their beautiful courtyard.
Kick things off with oysters from the roving oyster cart, before settling into the (surprisingly reasonable) menu of grills, salads and European specials.
Coppa Club
Tower Bridge
££
London's biggest (and most Insta-famous) riverside outdoor terrace gets an impressive winter makeover every year – complete with festoon lights, plants galore and, of course, those igloos.
We'll be honest, we've never been blown away by the food at Coppa Club's Tower Bridge outpost but hype aside – it is one of the prettiest spots for outdoor dining in London all year round. The views are swoonworthy.
Dalloway Terrace
£££
You'd have to have been living in a cave not to have spotted the fussy floral terrace at Dalloway Terrace at some point this last year.
The seasonally-changing decor in this Bloomsbury restaurant may draw in the Instagram crowd but its boujee menu – which extends from breakfast pancakes to fancy afternoon teas and equally exclusive dinners – also steps up to the plate.
Fallow Restaurant
Mayfair
££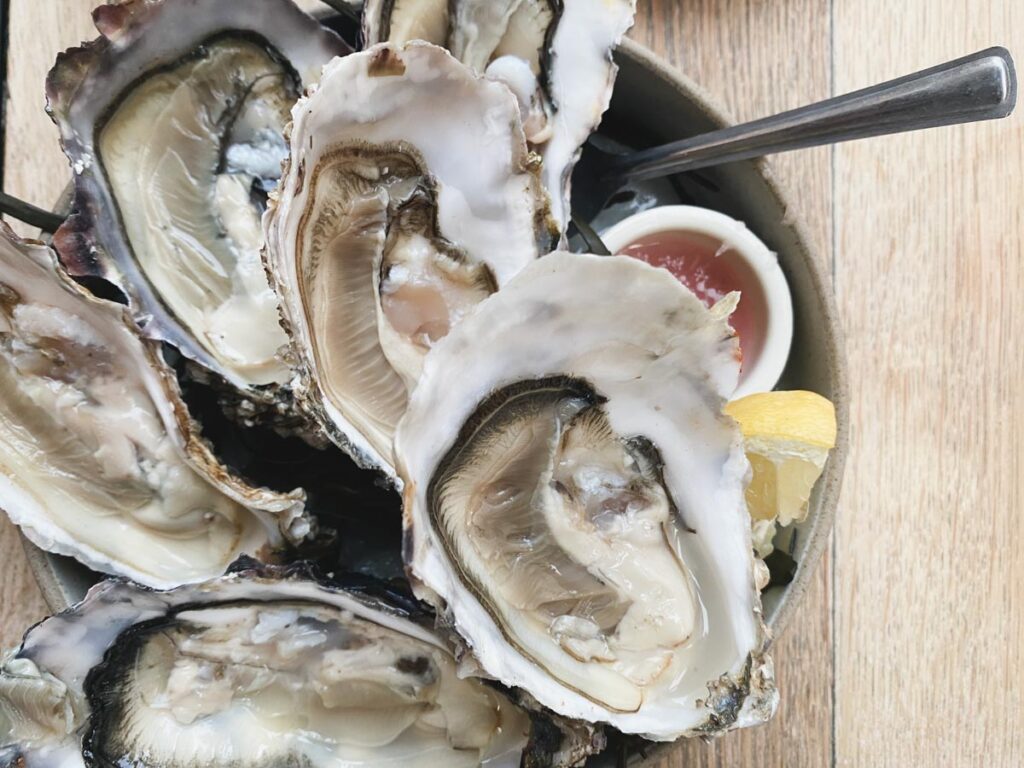 Mayfair newcomer Fallow Restaurant has had a tough time of it – it was only open for two weeks before the national lockdown forced it to close for several months. Now that it's open again, there's plenty to catch your attention.
Two of the owners, Will Murray and Jack Croft met whilst working in the kitchens at Heston Blumenthal's Dinner, while the third founded local favourite Mews of Mayfair.
The emphasis is on sustainable ingredients done well with menu highlights including a dairy cow ribeye steak and a umami-packed plant burger.
You can check out our full review of Fallow here – spoiler alert – it's a good 'un – or our guide to the best steakhouses in London.
Green Room
Southbank
££
If ever there was a time where Southbank Pizzeria Green Room's spacious outdoor terrace really came into its element, it's now.
Tucked just behind the National Theatre, the central location is only paralleled by their pizzas – made in house with heritage grains and sustainably sourced ingredients.
Nine Lives Alley
London Bridge
£
The folks at cocktail bar Nine Lives are all about the tropicalifornication – so it should come as no surprise that they're on a mission to brighten up outdoor dining in London by bringing a little taste of Mexico to the covered and heated Nine Lives Alley.
Tacos, tostadas and some of the best cocktails in town? What's not to like?
The Coach
Clerkenwell
££
The hearty contemporary French fare at The Coach always deserves to be celebrated – even more so when you tuck into the confines of their pretty plant-filled garden.
While outdoor dining in London can often feel like an afterthought, no such accusation can be levied at The Coach, whose outdoor space is an absolute delight.
The Restaurant at Ham Yard Hotel
£££
Those looking for outdoor drinks will do well to nab a spot on the upstairs (covered) roof terrace but if you want to eat, head to the restaurant courtyard of quirky Soho boutique hotel Ham Yard instead.
The seasonal British menu may change regularly, but is always underpinned by the promise of high-quality ingredients used to create delectable eats. There are plenty of cosy blankets to keep you warm.
Outdoor Dining in East London
Allegra
Stratford
£££
Patrick Powell's fantastic restaurant in Stratford is proof that quality outdoor dining in London is by no means confined to the city centre.
Created by the same team behind the Chiltern Firehouse and St Pancras Renaissance, Allegra is fast becoming a Stratford favourite.
The recently-opened covered and heated terrace features a hyper-local menu made using produce from their own organic farm, with plenty of warming dishes and hot drinks to keep you toasty as the months turn cooler.
Angler
The City
£££
Just because we're heading outside for our social eats, doesn't mean that we have to let standards slip. Chic Michelin-starred Angler celebrates the best of British produce with a seafood menu that, quite frankly, is a delight.
It's spenny – but the dishes, which include stars like wild turbot with scallop stuffed courgette, Dorset crab and Bouillabaisse sauce are worth it.
Bright
London Fields
££
So you can't reserve the outdoor seating at London Fields neighbourhood eatery Bright. That's the bad news. The good is if you do manage to snag a table at this local favourite, you're in for one helluva meal.
The emphasis here is very on simple dishes done exceedingly well: think spaghetti with bottarga and lemon and monkfish tail, beurre blanc and fennel pollen – do try not to drool.
Crate Brewery
Hackney Wick
£
Yeah, we included Crate in our lineup of bars with outdoor seating but guess what – the food here's so good it deserves a spot in this guide too.
Feast on their stone-baked pizzas (washed down with some Crate beer naturally) in the outdoor terrace at one of East London's coolest spots. The pretty views of the River Lea don't exactly hurt either.
Homeslice
Shoreditch
£
London pop-up-turned-success-story Homeslice has several outposts dotted across the city but it's the garden at the Shoreditch spot that's best-suited to an al fresco meal.
The pizza's so good it's built a loyal following of Londoners who swear it's the best outside of Italy: in no small thanks to the creative toppings like the four cheese – which takes the standard and transforms it with Neal's Yard cheeses, a jalapeno salsa and a rye crumb.
Lardo
Hackney
££
Until recently eating outside at Hackney salumeria and pizzeria Lardo meant bunkering down under layers of jumpers and coats and braving the (covered elements). That's all gotten a bit easier thanks to the recent addition of heaters to help keep you toasty.
Food-wise, it's all about seasonal Italian dishes that will elevate your tastebuds to a higher state of consciousness – expect lots of pizzas and some handmade pasta.
Outdoor Dining in South London
Four Hundred Rabbits
Herne Hill
£
Brockwell Park's delightful Lido Cafe has been revamped as Four Hundred Rabbits – an excellent spot celebrating fermentation in the forms of pizza and beer.
It's popular and deservedly so because the pizza truly is a thing of beauty, particularly when wolfed down on one of the al fresco seats overlooking the South London lido.
The Tenner Tuesdays – where you can nab a pizza and beer for a tenner are a must.
Llewelyn's
Herne Hill
££
Herne Hill-ites must thank their lucky stars to have a fabulous restaurant like Llewelyn's in their midst – if not, they should.
We'll level with you, there are only a couple of outdoor tables here but they are absolutely worth booking ahead to snag.
Let's face it, serving a menu of seasonal British delicacies in a former Victorian dining room with chefs from the Anchor & Hope, St John and Rochelle Canteen was always going to be a win.
Paladar
Elephant & Castle
££
South London treasure Paladar enchants diners with its Latin American tapas-style menu – which you can tuck into in their homely courtyard.
Once there, you're free to indulge in the zingy dishes – with stars like grilled octopus with tempura breadfruit and tuna tartare bringing some much needed sunshine to your plate.
Peckham Bazaar
££
There aren't huge numbers of restaurants serving food from the Balkans in London and, if Peckham Bazaar is anything to go by, that's a real shame.
Smoke-infused dishes speed out of the kitchen, fresh and hot off the charcoal grill before being promptly devoured by punters ever-hungry for more.
The location – on a mostly-residential road in Peckham – makes for a pleasant terrace dining experience.
The Canton Arms
Stockwell
££
Stockwell Gastropub The Canton Arms may look like a rather old-fashioned pub – but the food that comes out of its kitchen is anything but old-fashioned. Brilliant, delicious and accomplished are better-suited descriptors.
The front garden is a place of beauty (umm, perhaps not literally, it does face onto a relatively busy road) with lots of outdoor seating, heating and lighting – the holy triumvirate for outdoor dining in London during the colder months.
The Garden Café
Lambeth
£
How does dining outside in one of London's prettiest botanical gardens sound? Head to The Garden Café in Lambeth to find out.
Alright, we'll give you a clue… it's magical.
Head Chef George Lyle (who used to work at THE Padella) has created a smal​​l but wonderful selection of quintessentially British dishes using locally-sourced ingredients. Think poached sea trout, chard, and watercress mayonnaise, or a slow roasted lamb shoulder with minted peas. You can also just pop in for afternoon tea or a glass of fizz, but with a menu this delicious, it would be rude not to stay for dinner.
Outdoor Dining in North London
Bellanger
££
Much as we adore Soho eatery Brasserie Zedel, its cavernous underground dining room gets rather packed – just one reason to celebrate the spacious outdoor seating at sister restaurant Bellanger on Islington Green.
Unsurprisingly, this all-day brasserie from the team behind The Wolseley and Zedel hits all the right notes: a keenly-priced menu of French classics, prix fixes and a weekend brunch among them.
German Gymnasium
££
Pairing the cuisine of a country with much colder weather than ours and a heated terrace feels like a particularly good idea right now, and the folks at King's Cross favourite German Gymnasium know it.
The menu is the definition of hearty – with a rib-sticking selection of schnitzels, sausages and knodel (potato dumplings) that would go a long way to keeping you warm on their own.

Frederick's
Islington
££
Locals adore Islington classic Frederick's – and really, it's not hard to see why.
The menu of classic European dishes is exceptional, the service impeccable and now – a garden marquee where you can dine with friends and family (of six) without being exposed to the elements.
Hoppers
King's Cross
££
We know, we know, another entry from the Granary Square area but really, it does have the biggest concentration of restaurants with outdoor seating in north London – and brilliant ones at that.
Sri Lankan restaurant Hoppers wins out – with a gorgeous (and more importantly, fully-covered) large terrace with views of Regent's Canal.
The Lighterman
King's Cross
££
With views of Granary Square and Regent's Canal, the three terraces at The Lighterman are coming into their own this winter. They've even got parasols and heaters to sweeten the deal.
If that doesn't warm you up, the contemporary Gastropub's seasonal menu will – with dishes like Norfolk lamb shoulder and baby turnip hot pot and baked celeriac pomegranate salad, chanterelles, caper and raisin dressing stealing the show.
Hicce
King's Cross
££
Hicce is one of the new kids on the block when it comes to restaurants in London with outdoor seating.
As the brainchild of the Great British Menu winner Pip Lacey, the restaurant serves up tantalizing seasonal British fare guaranteed to make you smile – like chicken thighs with summer truffles and cod cheeks with cider broccoli. And if that doesn't, then a glass of the Kuka espresso martini (on tap!) will.
The terrace is also a winner – situated in the vibrant Coal Drops Yard, one of the coolest shopping areas in north London. It's less floral and more industrial, but has an ultra-modern vibe that still manages to feel homely.
Ekte
££
Nordic dining and outdoor seating don't often go hand in hand, though Ekte's deliciously light smorgasbords are designed to be enjoyed outside in the sun. The terrace space is beautiful, adorned with plants and flowers.
The bottomless brunch option is a real winner – 'cos nothing goes better with open-faced sandwiches than bubbles, right?
Outdoor Dining in West London
Bluebird Chelsea
Chelsea
£££
Chelsea classic Bluebird's spacious outdoor terrace is a winner in all seasons. In the summer months it's the perfect spot to sip on rose with a light lunch and a healthy dose of people-watching.
Things get even cosier in the winter with heaters and blankets aplenty and a high-end Modern European menu.
Sam's Riverside
Hammersmith
££
It's not been long that diners have been able to eat at Sam's Riverside's newly-opened seafood terrace – but if there ever was a time it's welcome, it's now.
The terrace – which comes with heaters and pretty views of the Thames – seats 32. Go for British classics with a heavy seafood focus.
The Ivy Chelsea Garden
££
Many of The Ivy's (ever-increasing) outposts have outdoor dining areas but the one in Chelsea really sparkles.
The green terrace, complete with trailing ivy, fragrant herbs, plump cushions and those all-important heaters, is a pretty magical take on outdoor dining in London – particularly at night when the fire pits come out.
The Prince
West Brompton
£
The flower-draped enclaves of The Prince's beautiful garden have proven understandably popular this year. Not only is it pretty much perfect for your socially-distanced non household catch ups, but its buzzy vibe and spot-on food keeps punters returning again and again.
That food provided by Filth & Co, Utterly Waffle and Jack's Sprat comes on a sizeable menu varied enough to keep even the pickiest diners happy.
Ayllu
££
When it comes to restaurants in London with outdoor seating, Ayllu's pretty (albeit small) terrace is a gorgeous spot where you can experience the flavour-sensation that is Japanese-Peruvian food.
It's an unusual combination of cuisine, but it works so well. Zingy ceviche, meaty baos, and seafood tacos all feature on the menu here – and fear not, vegans, there's a few options for you too.
The food is hearty but without being too heavy, which means you can scoff more (the real winner).
Mazi
£££
Greek fine dining done well is what to expect at Mazi in Notting Hill.
The dreamy Mediterranean courtyard is the perfect place to relax for a weekend lunch, whilst slowly making your way through a bottle of wine.
The menu is designed to be shared with the entire table, so bring all your friends and order as much as you can – though, the black truffle chicken is non-negotiable.
Practical Tips and Map for Restaurants with Outdoor Seating in London
Look, we know it's a bore and we kind of keep repeating ourselves here but you should book ahead to avoid disappointment. Trying to find a restaurant with outdoor seating in London that still has availability a couple of hours before dinner on a Saturday is the kind of Herculean task you should spare yourself if at all possible.
We've tried to flag up the heating / cover sitch at the different restaurants because when it's December it's blowing up a storm, there's a big old difference between dining outside underneath a cosy heater and canopy and not. Check ahead and dress appropriately.
PS: Looking for more inspiration and ideas? Check out the Unusual London Book.
Love this? Save and Share on Pinterest!