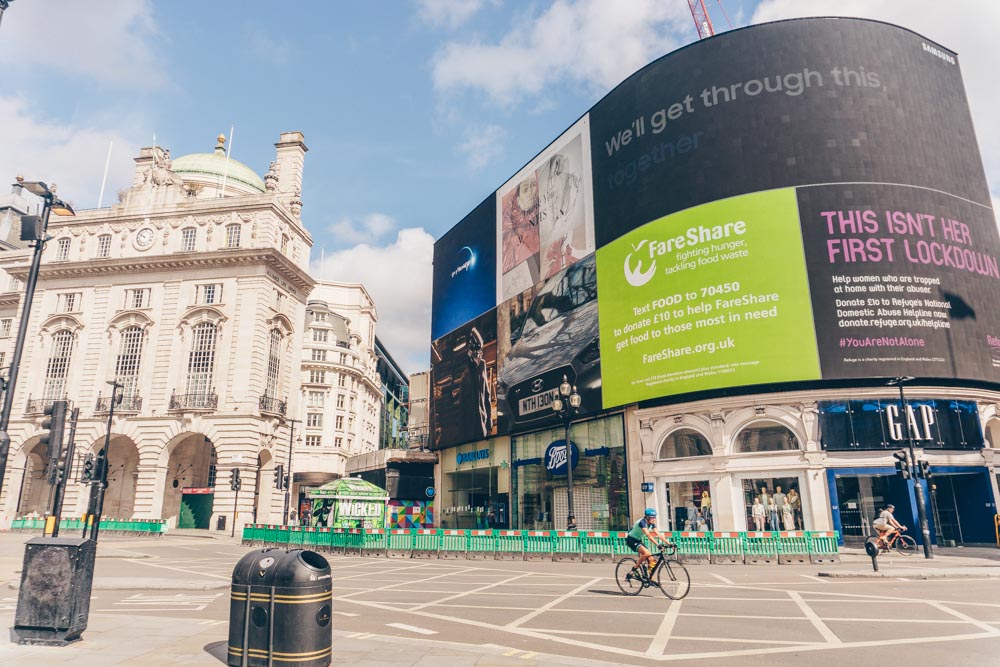 Piccadilly Circus is the junction of London's dynamic West End. Discover the bars, restaurants, clubs, theatres, and venues which make this one of the capital's most iconic destinations.
Words by Sam Jean
From the world-renowned theatres of Shaftesbury Avenue to the high-end shopping of Regent Street and the many hidden gems nestled in between, Piccadilly Circus is one of London's headline destinations.
Whether you're here to catch a hit musical, indulge in some retail therapy, dance the night away or simply soak up the atmosphere, Piccadilly Circus ticks all the boxes… And then some.
Join the crowds and discover why this legendary spot continues to be one of London's most beloved areas.
The History of Piccadilly Circus
What's in a Name?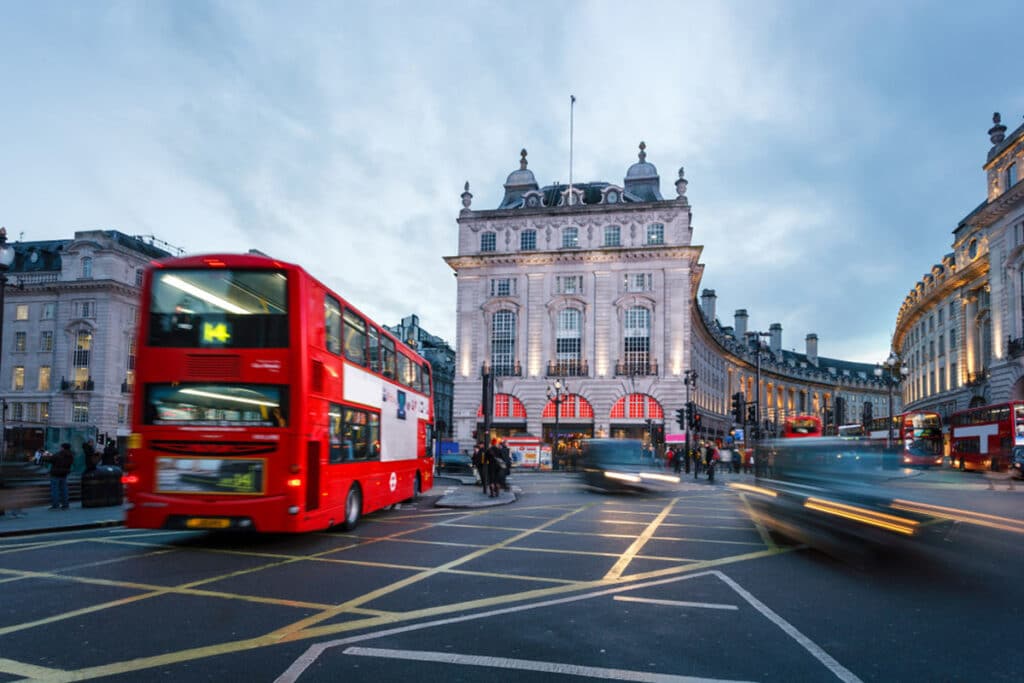 Piccadilly Circus bears one of London's many rather ornate place names that has newcomers scratching their heads.
The name "Piccadilly" originates from a 17th-century tailor, Robert Baker, who lived in the area. He was known for selling a popular type of frilly collar called a "piccadill" (you'll have seen them in old paintings and history textbooks).
The "circus" part of the name is easier to explain – it's derived from the Latin for "circle".
The Area's Development
The area was originally farmland but gradually developed into a residential area for the upper class during the 18th century.
This was until the 19th century, when the area around Piccadilly Circus began to transform into a popular shopping and entertainment district. Much of the junction was constructed in 1819 to connect Regent Street and Piccadilly.
Piccadilly Circus, as we know it today, was born.
Neon Lights and Billboards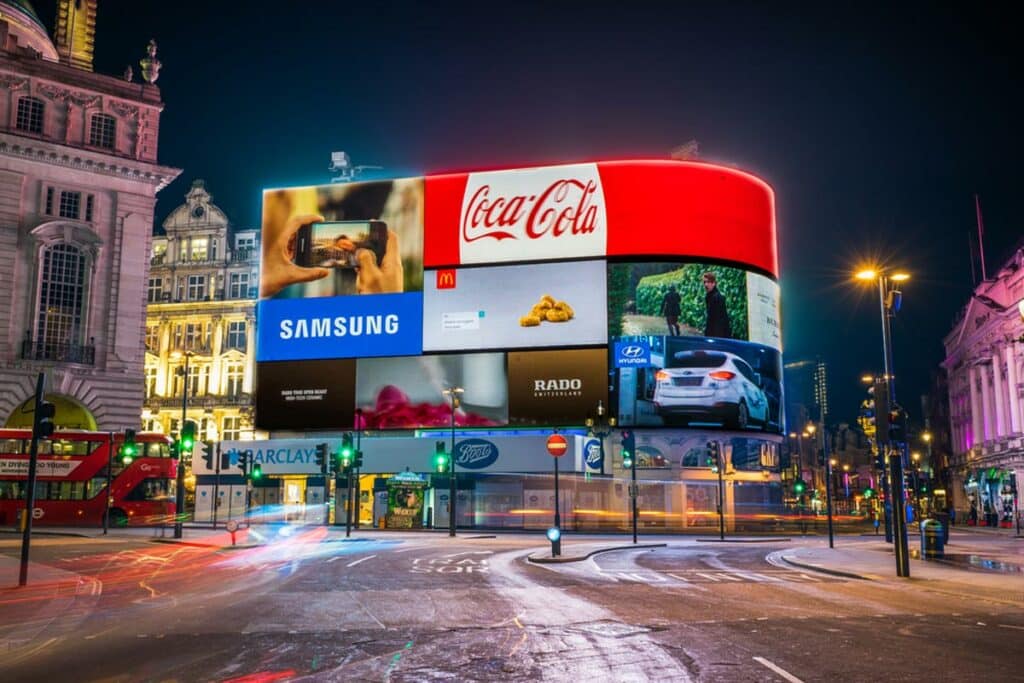 Piccadilly Circus, AKA London's Times Square, features iconic neon lights and billboards that symbolise the city's dynamism and cosmopolitan spirit.
The first electric advertisements appeared in the 1890s and were among the first in Europe.
As technology advanced, billboards became more sophisticated and transformed into what they are today. By the early 1900s, iconic neon lights and billboards illuminated the night sky and saw people flocking from all over the country (and eventually, the world) to see them.
World War II and Rebuilding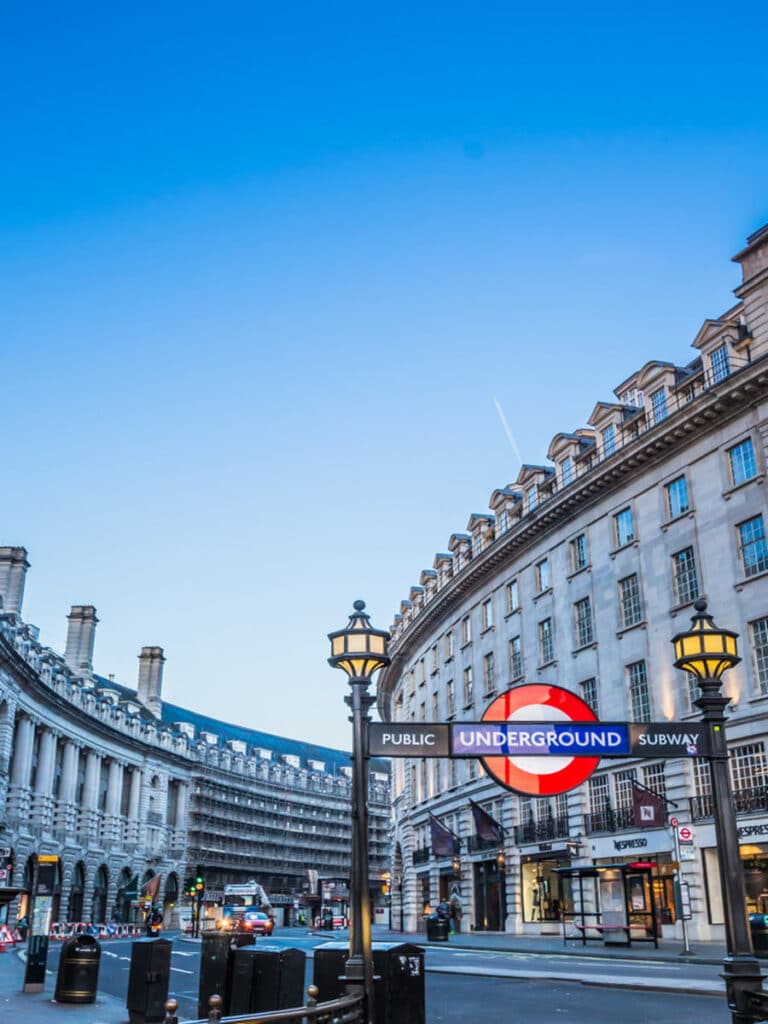 During World War II, Piccadilly Circus was largely destroyed in the Blitz. After the war, the area was rebuilt and regenerated to remain faithful to the social hub it was before the war.
Piccadilly Circus Today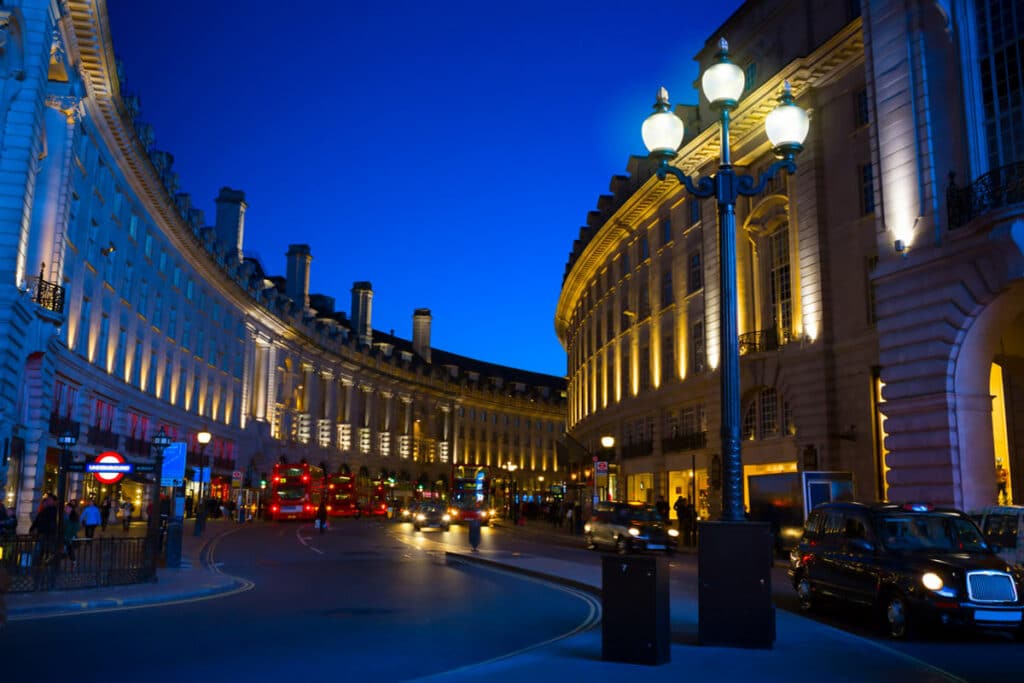 Today, Piccadilly Circus lies at the border of some of London's most famous areas, such as Mayfair, Soho, Carnaby, St. James and Covent Garden.
Leicester Square and Trafalgar Square are just around the corner, while Buckingham Palace, Regent's Park and Hyde Park are just minutes away.
We could go on, but there's simply too much to say about this wonderful part of London.
Best Piccadilly Circus Restaurants
Park Row
£££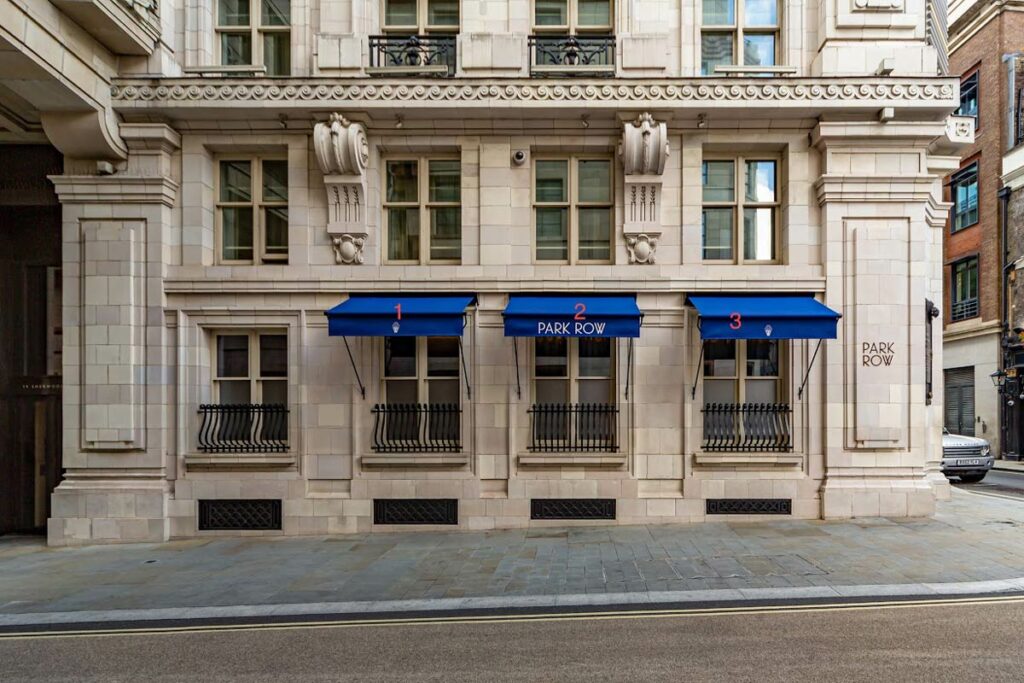 Park Row is a restaurant complex that will make you feel like you've stepped out of London and into Gotham City. With a luxe art-deco interior and stunning menu, it's one of our favourite places to dine in London.
If you're a comic fan, you'll love the many easter eggs and nods to DC franchises and lore. Park Row's menu is fresh and modern, with some snazzy dishes like lobster and venison, their signature Gotham City's Saviour (a ribeye steak) and some intriguing starters like Rabbit From a Hat (we'll leave you guessing).
Prices aren't too exorbitant, but booking in advance is an absolute requirement.
Fancy something extra special? Park Row has a trick up its sleeve in the form of the Monarch Theatre. This is not your typical theatre – it's a total gastronomic experience.
The 20-seat venue is surrounded by 360-degree project-mapped walls and drives a narrative through visuals, sound and sublime dishes cooked by Chef Karl O'Dell (formerly of Michelin-starred Texture).
The menu is a bit radical, and we don't want to give too much away – but this is a must for adventurous culinary explorers.
Brasserie Zedel
££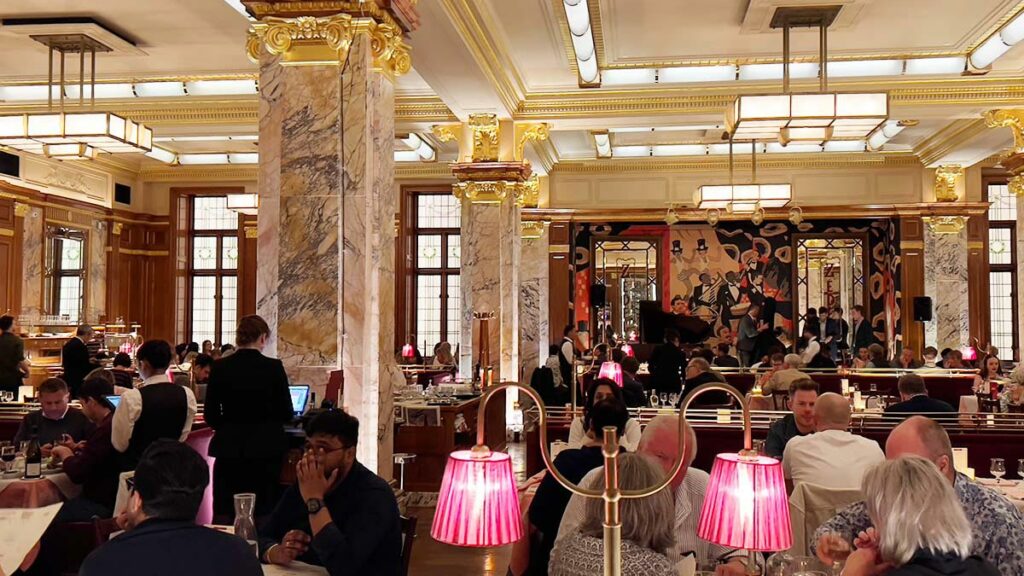 From London to Paris and Paris to London, Brasserie Zedel is a traditional French brasserie located in a historic building on Sherwood Street, just a short walk from Piccadilly Circus.
The restaurant serves classic French dishes such as escargots, Choucroute and authentic French soups. As you might expect from French cuisine, the menu is pretty meat-heavy, but there is a smattering of veggie dishes too.
Places to eat in Piccadilly Circus naturally lean on the expensive side, but prices here are pretty reasonable.
The atmosphere here is casual and lively, with regular live music, theatre, comedy and more at a venue located inside the brasserie called The Crazy Coqs.
American Bar at Brasserie Zedel
££
Sticking with Brasserie Zedel – the American Bar inside Brasserie Zedel switches up the Parisian decor to pre-prohibition era American art deco, inspired by the golden age of Hollywood.
The cocktails here are incredible, with modern classics infused with American-inspired inventions, a great spot for pre or/and post-dinner drinks. Incorporating an American bar into a French brasserie is a slightly unexpected play, but it really paid off.
Madhu's at The Dilly
££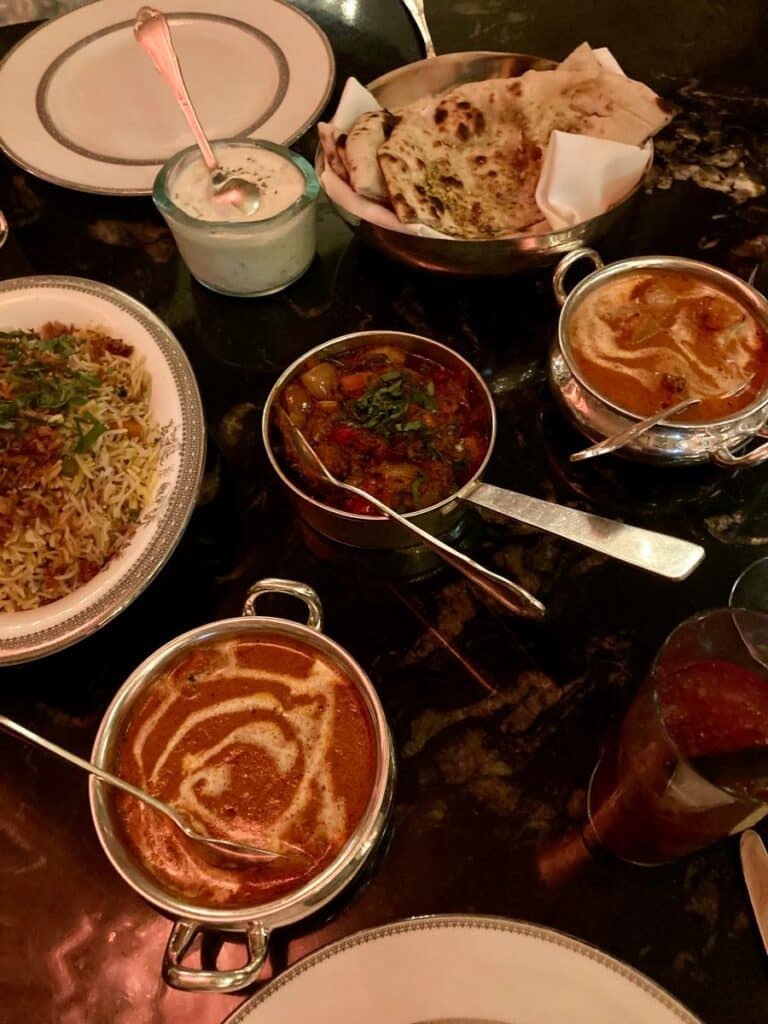 Madhu's is a sophisticated Indian restaurant located in the Dilly Hotel near Piccadilly Circus station.
Madhu's quickly built a reputation for its high-end Indian cuisine, with dishes that blend traditional flavours with modern cooking techniques. The menu is extensive with meat, fish and poultry dishes with a greater-than-average selection of veggie dishes.
With an upbeat atmosphere and music in the evenings, Madhu's is inarguably one of the best places to eat in Piccadilly Circus for fans of Indian and Punjabi cuisine.
Things to do in Piccadilly Circus
Eros Statue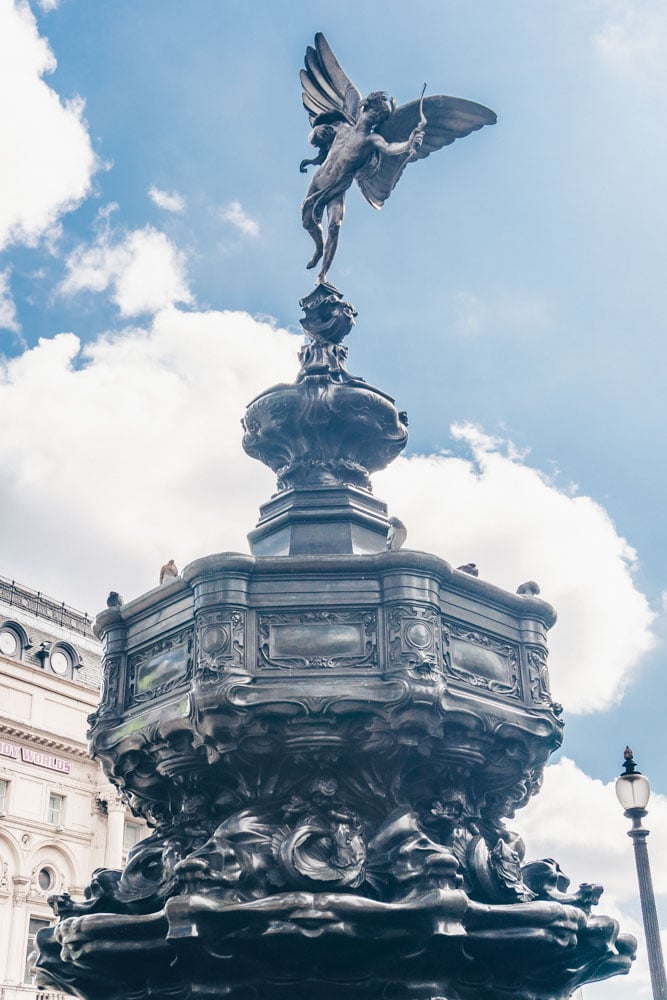 You'll find the Shaftesbury Memorial Foundation on Shaftesbury Avenue, topped by a statue of a cupid-esque Greek god popularly known as Eros. The figure is generally not viewed as Eros now, but Eros' sibling Anteros, the god of selfless love, rather than erotic love.
However, the true identity of the statue remains contested. At the time of its unveiling, the statue was certainly viewed as Eros, but this was met with controversy among Victorian moralists who didn't wish for an erotic icon to decorate such a high-end part of London.
In reply, the sculptor, Alfred Gilbert, claimed the inspiration for the statue was indeed Anteros, the god of selfless love – a more morally righteous figure at the time. At one point, Gilbert even claimed the statue was 'the angel of Christian charity', but he probably had trouble convincing people of that…
Today, there's still some confusion about whether the figure is Anteros or Eros. Either way, it's one of London's most famous statues and is well worth checking out.
Go to the Theatre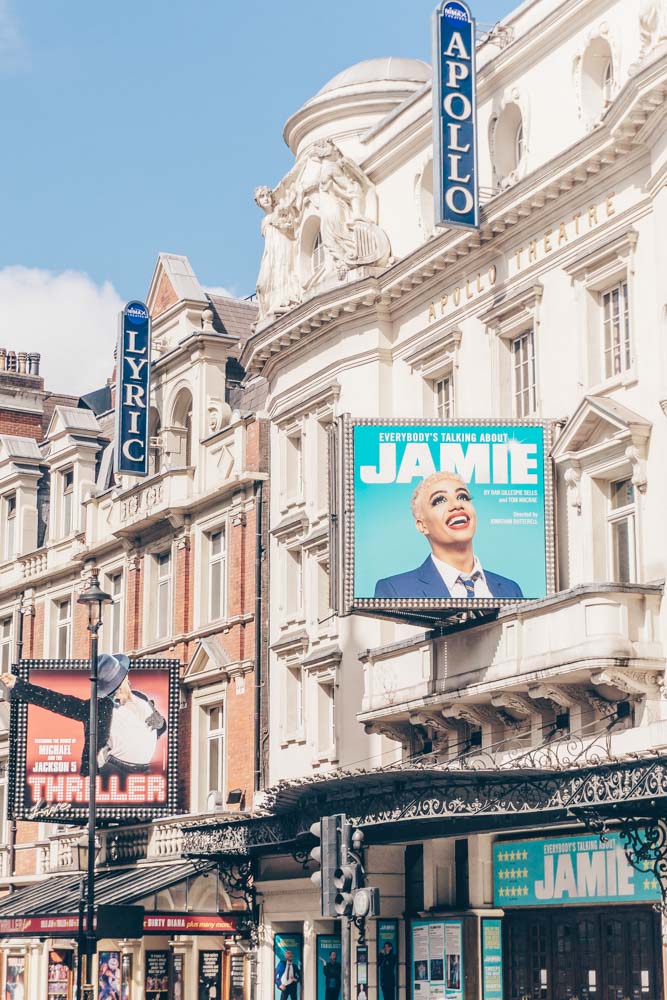 Shaftesbury Avenue and its neighbouring streets are home to so many iconic theatres, such as the Apollo Theatre, Sondheim Theatre, Piccadilly Theatre, Prince Edward Theatre, Criterion Theatre and Palace Theatre, to name but a few.
Theatre lovers already know that London is the place to be. Still, there's so much on offer besides Broadway musicals, including stand-up comedy, cabaret, ballet, opera, circus and numerous stage shows, so don't write it off if musicals aren't your thing.
Read Next: London Theatre Shows to Watch This Year
Embrace the Night Life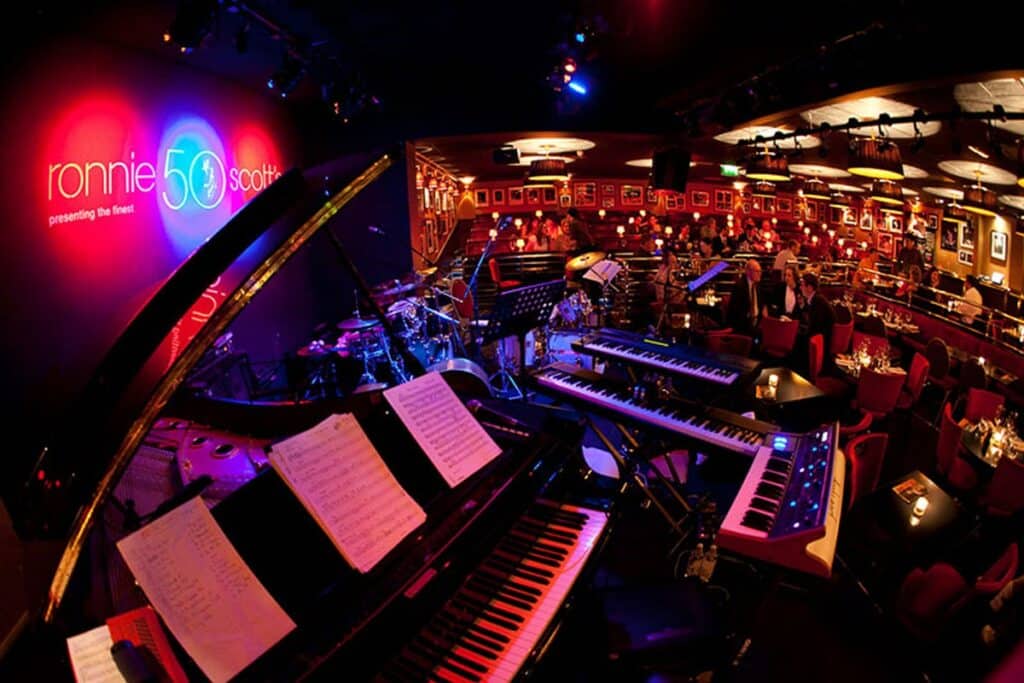 Positioned at the epicentre of the West End's club scene, Piccadilly Circus at night is one of London's most diverse and eclectic districts.
Head west towards Mayfair and rub shoulders with celebs at clubs like Luxx or Lio London, or head into Carnaby and Soho to enjoy the vibrancy of The Box, The Windmill and Freedom Bar, to name a handful of the area's many famous venues.
There are simply too many other awesome bars near Piccadilly Circus to name them all.
One of the best ways to enjoy it is by joining one of the area's many pub crawls, such as the On The Rocks Pub Crawl and Banana Pub Crawl.
If you're looking for a touch of sophisticated live music rather than clubbing, head to Soho's legendary Ronnie Scott's Jazz Bar or the world-famous Ain't Nothin' But The Blues Bar.
Piccadilly Circus: Map
Piccadilly Circus Guide: Read Next