Looking for the best American restaurants in London? These are the places serving up huge portions and hearty meals.
American food gets quite the terrible rep – and rightly so. Go to the wrong place and you'll find yourself faced with a plate of grease with no redeeming factors. However, pick a stellar American joint and you'll find yourself chowing down on a calorific plate of bliss.
There's nothing better than a fat, juicy burger, right? American food is probably best known for huge burgers crammed with meats, gherkins and of course American cheese. But let's not forget gooey mac n cheese, fried chicken and buffalo wings– we love them all equally.
Hungry? Grab a supersized meal at one of these brilliant American restaurants in London.
Stellar American Restaurants in London
Big Easy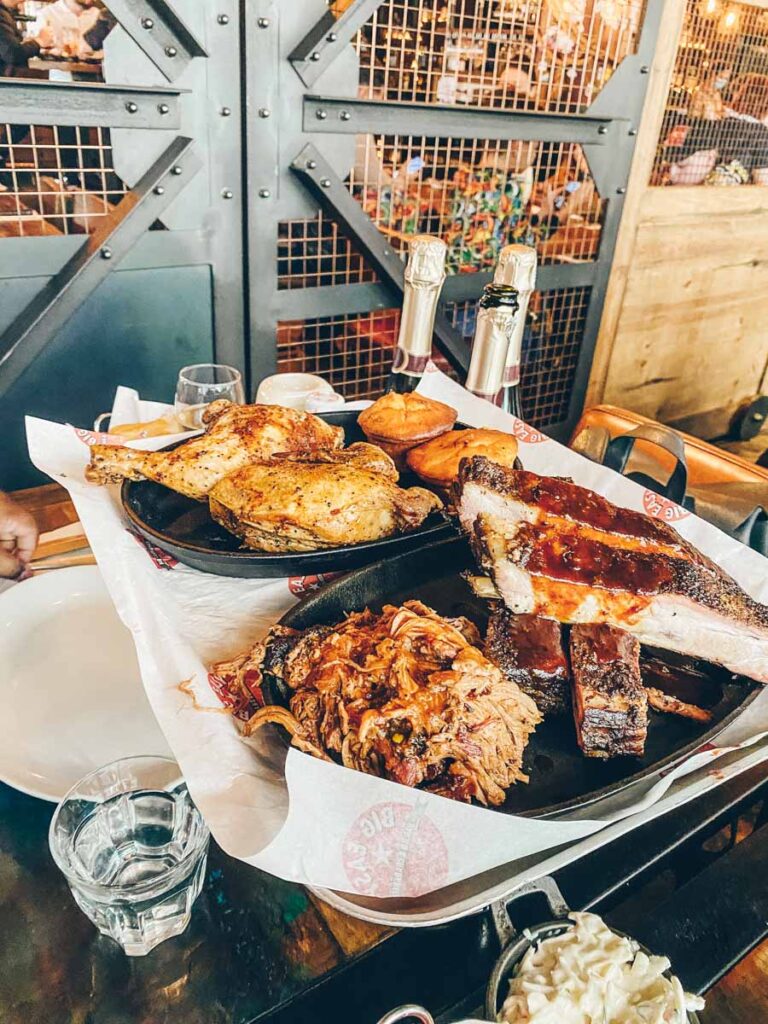 Is there a better smell than prime cut meats sizzling on the BBQ? Nope. Big Easy's Real Bar.B.Q is a meaty dream come true, quite literally.
Choose from rare breed British Beef and USDA Prime cuts cooked the American old school way, with wood and time. The Texas Smoked Brisket is all kinds of tender and the Carolina Pulled Pork is dripping with sauce and flavour.
There's daily deals including Lobster & Prosecco Meal Deal (Tesco could never) and Unlimited Hog Roast– it's the best American BBQ restaurant in London.
Dirty Bones
Multiple Locations
It's safe to say that New York joint Dirty Bones knows a thing or two about American comfort food and cocktails– a winning combination.
Dirty Bones' Chicken & Waffles is a NYC classic, it's deliciously crispy and served with a shot of sweet maple syrup.
Small plates are usually for sharing, but we don't think you'll be sharing the fried Mac & Cheese balls with sweet chilli sauce or the seriously hot Buffalo Wings with creamy blue cheese dipping sauce. Drool.
Big Moe's Diner
Multiple Locations
Experience an authentic American diner at Big Moe's – and no, there's not a Simpson in sight. You'll be greeted at the door and served home-grilled burgers, golden hand-cut fries and thick milkshakes in signature, over-the-top American style.
Chequered floors, red leather booths and a duke box make Big Moe's one of the very best American diners in London. The menu is packed with American classics – the Buffalo Chicken Burger, Mac N Cheese and Coca Cola Soda Float all sound far too tempting.
The Blues Kitchen
In the mood for blues and smoking hot Texan BBQ food? The Blue's Kitchen is the coolest American themed restaurant in London.
In fact, The Blues Kitchen is more than just a restaurant and its large walk around bar mixes up excellent cocktails and is the perfect place to hangout with food or just drinks.
Tuck into your Brisket Dip and Bacon Gravy Sandwich with a side of Cajun Popcorn Squid and dive into the Deep South with live Blues Music. You should also try the St. Louis Pork Ribs or the Big Boss Burger with stringy American Cheese, Onion rings and South Carolina Sauce.
Dip & Flip
How do you like your sandwich? Dip & Flip says drenched in gravy– and so will you when you try these messy meaty sandwiches.
The Dip Sandwich comes as a freshly-baked sub, choose from slow roasted lamb or beef topside with horseradish– served with thick, juicy, meaty gravy ready to dip. Prefer your sandwich topped with gravy? Order The Dip & Flip Burger, topped with your choice of gravy-dipped roast meat.
The fries with cheese, gravy, bacon and green ghilli are mouthwatering side orders, along with a Chocolate Cherry Pie Shake to seal the deal. Wear your comfiest trousers – jeans are a terrible idea.
Bleecker
Multiple Locations
Bleecker's burgers are the juiciest, oozing with American cheese sauce and all pattys are 45-day aged grass fed beef.
The burgers in this American soul food restaurant in London were modelled on burgers from a New York City diner. You can choose from cheeseburgers, bacon burgers and blue burgers– or, go for double burgers if you have room.
Homemade ice cream shakes at Bleeckers are the perfect accompaniment to your burger, from coffee, oreo and double chocolate, they're all brrr-illiant flavours. Sorry.
Hard Rock Cafe
Piccadilly Circus, Mayfair
Known for its collection of rock n roll memorabilia and legendary steak burgers, Hard Rock Cafe is the best American chain restaurant in London.
The best burgers on the menu are The Double Decker Double Cheeseburger topped with American Cheese and Signature Steak Sauce on the side and The Surf and Turf Burger with Bangkok Spicy Shrimp.
It's not all about the burgers though, Smokehouse BBQ Combo and Twisted Mac, Chicken and Cheese are worthy contenders when it comes to ordering at Hard Rock Cafe. Order a (ridiculously overpriced) cocktail to go alongside and lean in fully to the gimmick.
Absurd Bird
Spitalfields, Soho
Mad about chicken? Get yourself to Absurd Bird– the chicken is cluckin good. Fried Chicken, Waffles and tunes is what Absurd Bird is all about, there's chicken in buns, on waffles or just plain ol' chicken on the menu.
The Big Rooster Burger, Fried Chicken Cheesy Waffles and Hickory Smoked BBQ Wings will serve all your fried chicken needs, they're finger licking good. Go bottomless with Absurd Bird's Bottomless Wings and Fries offer– it's sure to have your wings in flap.
Fatboyz Diner
Forest Gate
1950's-style American restaurant, Fatboyz Diner is exactly as the name suggests– and is another spot where loose-fitting attire is very much required.
The all American diner in the heart of East London has an impressive burger and hotdog menu. We're eyeing up the Philly Cheesesteak Hot Dog.
Dirty Chips and The Champ Burger topped with bacon mayo washed down with Reese's Peanut Butter Milkshake sounds like the perfect American meal, right? If you're feeling like a fat boy, squeeze in a Nutty Nutella Waffle for the road.
Joe Allen Restaurant
Covent Garden
Looking for an American restaurant in Covent Garden serving food from breakfast until late? Joe Allen Restaurant is a New York style brassiere, located just a stone's throw from some of London's best theatres.
The menu is a bit more upmarket from your average American diner and Joe's slow-braised Smoked Baby Back Ribs and Big Apple Hot Dog are cooked to American perfection.
The brunch menu has eggs, toasties, and Joe's specials, all washed down with cocktails, something fizzy or the juice bar with detox juices for something lighter.
Waffle Jack's American Diner
Wimbledon
American-themed restaurant Waffle Jack's American Diner brings all the best American comfort food classics to London. Sweet and savoury waffles are on the menu, choose from nutella to melted choc on the sweet side or chicken strips, bacon or eggs for a classic American lunch.
Feeling extra hungry? The NYC Breakfast is packed with eggs, bacon, hash browns, waffles and more. We want to know, how big is this plate?
No American menu is complete with burgers and hotdogs, Waffle Jack's have covered all the bases with chilli cheese and caramelised onion options.
The Diner
Spitalfields
The Diner at Spitalfields market has a tempting all day breakfast menu with Buttermilk Pancakes, Breakfast Burritos and the Lumberjack Breakfast.
Diner Wings can be ordered with seriously hot sauce or BBQ blue cheese dip if you're always in the mood for cheese like we are.
The Diner's shakes are not to be missed, oreo, snickers and coke float are on the menu for your sweet tooth cravings. The hard shakes are perfect if you can't choose between a shake and booze, try the Colonel Parker with whiskey or Creamy Nut with Baileys.
Christopher's
Covent Garden
Christopher's is the best American steak restaurant in London for USDA prime cuts and martini cocktails.The USDA prime cuts are cooked to your preference and are served with your choice of Bearnaise, Chimichurri, Peppercorn or Blue Cheese sauce.
Not in the mood for steak? The Wagyu Burger with caramelised onions or Buttermilk Fried Chicken Sandwich also sound tasty.
Christopher's also serves as a martini bar so make sure you order a classic, signature or decadent martini with your meal, there's plenty to choose from.
Practical Tips for Dining at London's American Restaurants
If you're looking for an American breakfast, you must try the NYC breakfast, pancakes or breakfast burrito. We adore the options from Waffle Jack's.
If you've only got time to visit one spot, make it Big Easy. Portions are extremely generous and we've never had a bad meal there.
American Restaurants in London: Map