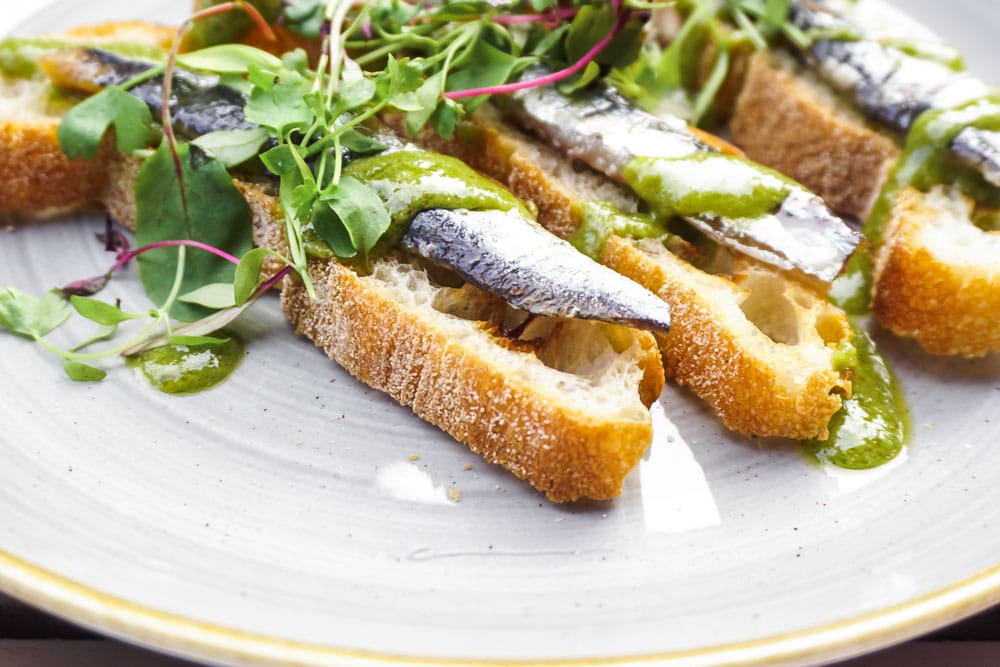 Looking for the best tapas restaurants in London? Get ready for a fiesta at one of these brilliant Spanish spots.
We just so happen to think that Spanish cuisine is some of the best in the world. After all, who doesn't want to pair the ultra-carby patatas bravas with meaty croquetas, padron peppers, fried squid, and lashings of red wine?
If you're a lover of food and spending quality time with friends and family, look no further than the best tapas London boasts – these sharing plates bring people together like never before.
Ready to discover your new favourite Spanish spot in London? Vamos!
Best Tapas Restaurants in London
Tapas Brindisa Soho
Soho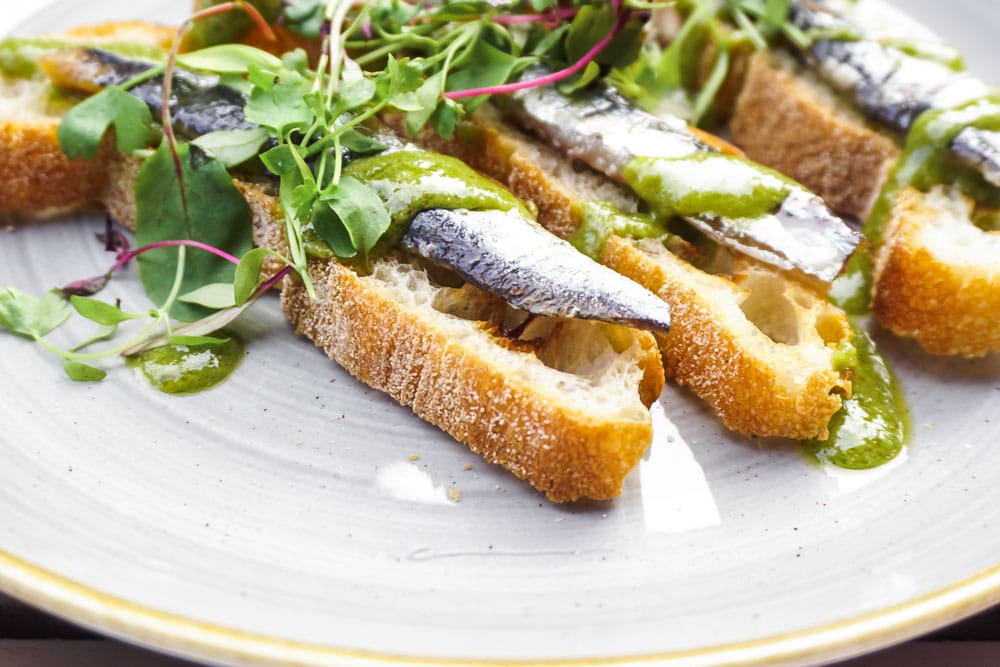 Serving up some of the best tapas central London offers, this foodie hotspot is one of our favourites and is located on Broadwick Street. It's a cosy restaurant in Soho that offers a rotating menu made using carefully-sourced ingredients.
The ever-changing menu at Tapas Brindisa Soho helps ensure you're always getting something new – though we can't deny that we order the Iberian ham croquettes every. single. time.
From seasonal cheeses and charred padron peppers to marinated anchovies and the hot tapa of the day, the ever-evolving menu is a must-try. They also have an incredible list of beers, cocktails and artisan wine to choose from to pair perfectly with their food.
José Tapas Bar
If you're a lover of Spanish wine and sherries (let's be honest, would you still be reading this if you weren't?), this tapas bar in London is where you want to be.
On the corner of Bermondsey Street, José Tapas Bar has fifty Spanish wines and sherries that pair impeccably well with the rest of the menu.
With so many drink options, you would think that their food might not be able to keep up — you'd be very wrong. They have a mouth-watering menu which changes daily, giving you a different flavour-packed tapas experience every time you go.
Lobos Meat and Tapas
This tapas restaurant by London Bridge is a meat lover's paradise. Nicknamed "the cave", it has two lovely locations in Borough and Soho – though this one is our favourite. They both have an easygoing atmosphere, perfect for a night out with a few friends.
Lobos Meat and Tapas is a beautiful modern space to enjoy lovely cuts of meat and other small plates of incredible food.
As amazing as their meat choices are, there's also plenty of delicious veggies and seafood on offer – like their grilled octopus and prawns in garlic.
Ibérica
Multiple Locations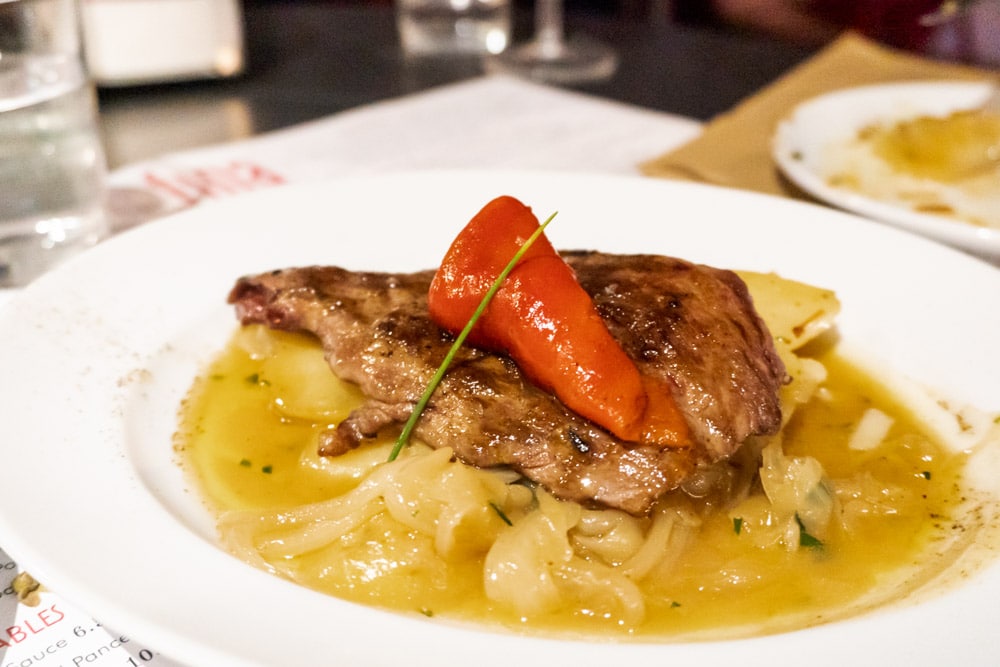 The Ibérica group has four restaurants based in London; these are in Marylebone, Victoria, and two other tapas restaurants in East London.
Ibérica provides some of the best tapas in London, as the menu possesses flavours from across Spain with a secondary focus on Asturian cuisine.
This focus has to do with Michelin-starred Chef Nacho Manzano, who is the chef-director at Ibérica, and his Asturian roots. Chef Nacho Manzano and business partner Marcos Fernandez Pardo teamed up to give Londoners authentic Spanish food, wine, and culture.
Must-try dishes include the grilled tiger prawns, the ultra-crispy patatas bravas, and fluffy tortilla.
Galicia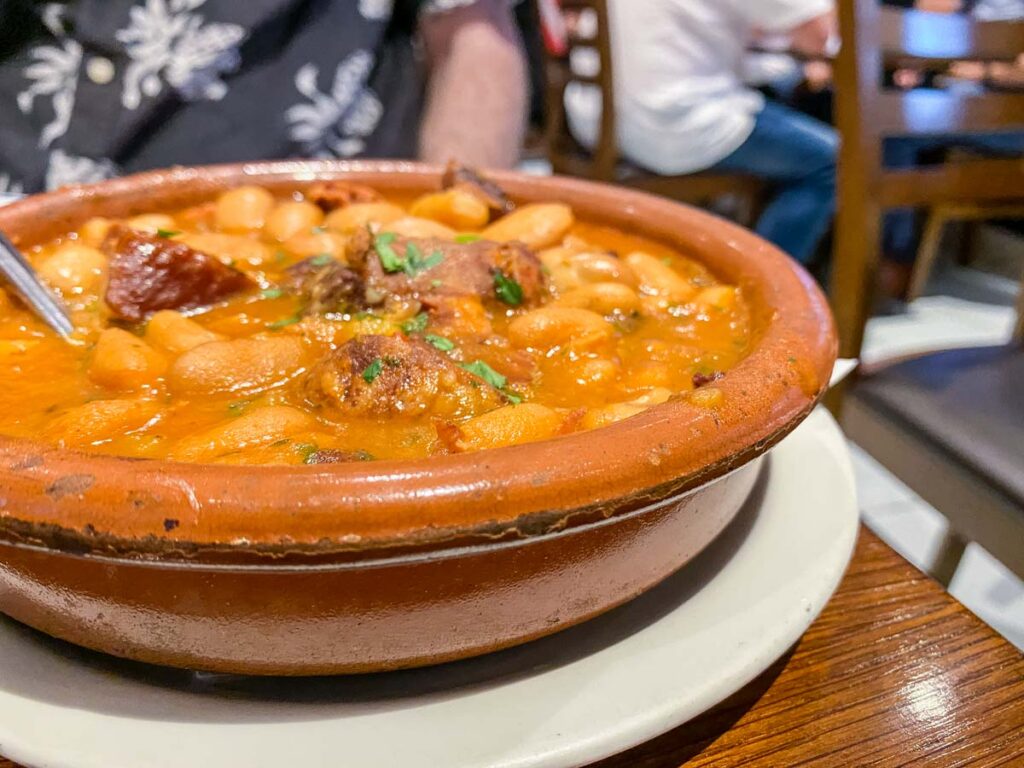 Originally opened in 1996, Galicia offers reasonable prices and a colourful array of different dishes.
This tapas restaurant in South London is a great choice for a more laid-back experience. It pairs rustic decor with shiny blue and white tiles that make it feel welcoming.
The menu changes often, though they serve some of the best padron peppers in town.
The long marble counter has bar seats next to it to enjoy your drinks while indulging in their long list of tapas. Galicia is a great spot to bring your family or friends and enjoy the tastes of Spain.
The Little Taperia
Tooting
If you're on the hunt for great tapas in South London, then look no further than The Little Taperia in Tooting. This cute little restaurant offers flavour-packed Spanish food, and locals rave about the bar's knock-out Negroni.
Although it is relatively small, you won't have to wait long for a table with seating at the bar and the kitchen. A crowd favourite is the morcilla Scotch egg with a beautiful soft-yolked quail's egg.
From stuffed baby squid to chorizo simmered in wine, it's the perfect place to try Spanish tapas in London.
Morito
Clerkenwell
Taking influence from Spain, North Africa and the Eastern Mediterranean, Morito offers a wide range of tapas fusion dishes in East London.
This lovely restaurant on Hackney Road has a beautiful marble-topped bar and an inviting open kitchen so you can watch the masters at work.
The sunlight flows through the large windows giving off a relaxed and airy atmosphere. Morito has a diverse food selection and offers a delicious vegan menu every Monday – it's a truly great place to snack with your friends while catching up over a fine selection of wine.
Barrafina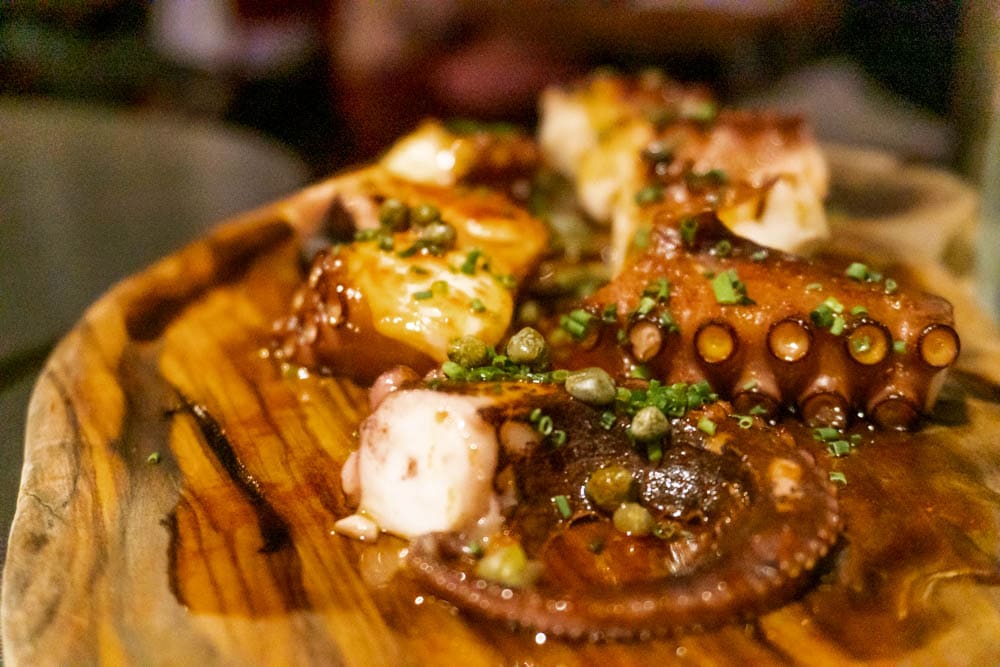 Barrafina serves authentic Spanish tapas in central London at Coal Drops Yard with a modern twist. They have three other locations, with the original site on Dean Street in Soho, though this is our favourite.
Standout plates include the artichokes, chicken thigh and romesco, and cured monkfish. We think that Barrafina's tapas plates might just be the best in London – though, you'll have to visit and see for yourself.
Salt Yard
Fitzrovia
Located on Goodge Street in the West End, Salt Yard should feature very highly on your list of the best tapas bars London offers. It is a must-try with their deep-fried courgette flowers stuffed with goat's cheese and honey drizzled over being our favourite dish.
An incredible tapas restaurant in central London, the Salt Yard serves a combination of Spanish and Italian tapas, bringing the best of both cuisines. It is a beautiful location to sip on a glass of cold sherry and spoil yourself with their incredible food.
Boqueria
Nine Elms
Taking inspiration from the Mercat de la Boqueria, a food market in Barcelona, Boqueria is a beautifully designed location and one of the most amazing Spanish tapas restaurants London boasts.
They serve authentic Spanish cuisine, like traditional tortilla española with aioli and croquettes stuffed with Iberian ham and chicken.
Boqueria's incredible food is not the only highlight of the restaurant. Spanish designer Erico Navazo designed the interior with a wonderful blend of traditional Spanish elements and contemporary design – the hanging grape harvest baskets on the ceiling and modern lighting are perfect examples of the design combination.
El Pirata of Mayfair
El Pirata has been serving the best Spanish tapas in London for over 25 years. Located in Mayfair, the small but bustling restaurant has seen the likes of Johnny Depp and Brian May walk through its doors, and for a good reason.
El Pirata serves a wide range of Spanish food and wine with friendly staff always ready to help you pick the perfect plate.
Their "Introductions to Tapas", a sharing menu of eleven different dishes for £58, is a great idea for date night. Serving fantastic food at accessible prices, El Pirata is a fun and filling way to spend time with your friends and family.
Copita
Soho
Embracing the vibrant culture of Spain's tapas bars, Copita is a lively restaurant to eat and drink with an upbeat and friendly atmosphere. They serve only the best ingredients in season and have a menu with specials changing weekly.
This constant rotation of food gives you the chance to try something new every time you go. Their king prawns with chilli and garlic butter are a must-try if you're a fan of seafood, as well as their extensive list of wine and sherry.
Donostia
Inspired by the Basque region in northern Spain, Donostia serves tapas and pintxo dishes. The incredible chefs plate every meal beautifully for you to admire. Using only ingredients of high quality and in season, every dish is worth trying.
As soon as the food arrives, you can see the amount of passion that has gone into the cooking. Although rather small with seats available for only forty guests, there is also a private dining room you can book for those special occasions.
Practical Tips for Visiting London's Tapas Restaurants
Spanish tapas are designed to be shared and enjoyed with your friends and family – it's a way to eat and socialise at the same time. Make sure you order a few different plates of food to share them around.
Take your time, and don't order all your tapas at once. Instead, order a few to start while enjoying your drinks. Order more as the evening goes on and more wine is had.
Tapas Restaurant London: Map
Tapas in London: Discover More London Food Guides