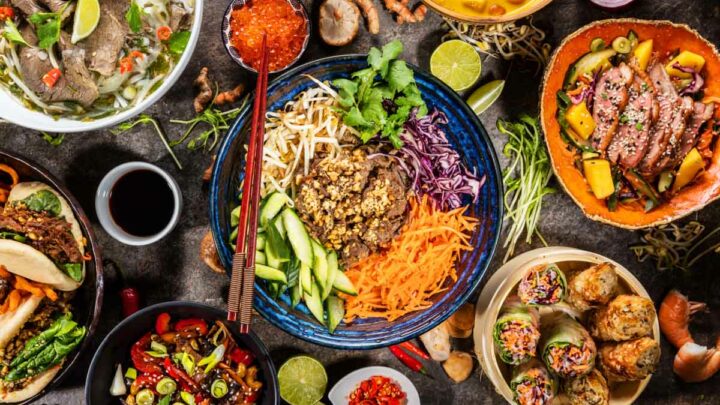 Searching for the best Vietnamese food in London? The good news is you've got a lot of choice.
London is bursting with brilliant Vietnamese restaurants serving authentic eats from the north and south of the country, but that wasn't always the case.
Just a few decades ago, London didn't have much in the way of Vietnamese food, never mind authentic Vietnamese restaurants of the calibre you find today.
One day, as if by magic, a host of restaurateurs decided to introduce the city to the fresh flavours and herb-laden dishes of this sliver of a country, and London has never looked back.
So load up on delicious pho, banh mi, spring rolls and more at these fantastic eateries in the city.
Best Vietnamese Restaurants in London
Cây Tre
With two branches, the Shoreditch original and a newer outpost in Soho, Cây Tre has a long-standing reputation as one of the best Vietnamese restaurants in London.
It's a reputation that's well-deserved: even as Cây Tre has mushroomed in popularity, it's never moved away from the extensive menu that's packed with authentic eats that made it so well-known in the first place.
The menu features all the Vietnamese standards – executed to perfection, of course. The Summer Rolls are so fresh they practically sing with flavour – but there are also a host of less well-known dishes – like the Clay Pot Mekong Catfish, which arrives at the table simmering in a savoury broth.
The Soho restaurant is all about the minimalist chic, but the Shoreditch/Hoxton original still retains a friendly family-run restaurant feel that's increasingly difficult to find in the city.
Sông Quê
The Kingsland Road houses a glut of London's Vietnamese restaurants – including our old favourite Sông Quê.
It's hard to miss the bright green storefront on the corner of Falkirk and Kingsland Road. This is no hush-hush London secret – the inside of the restaurant is almost always packed with patrons.
It also retains its street-kitchen roots by offering a variety of dishes at affordable prices. There are over 150 dishes on the menu – even more impressive when you consider that everything that comes out of Song Que's kitchen is on point.
The Bo Nuong La Tot pairs deliciously charred slices of beef with betel leaf and is, quite frankly, more delicious than it has any business to be. That's before we even talk about the pho – the pungent broth steamy and ever-so-good, laden with handfuls of shredded coriander, spring onions and more herbs and vegetables on the side.
Vegetarians will delight in the wide range of veggie-friendly dishes to choose from.
Mien Tay
Mien Tay has its gaze firmly fixed on the region of South West Vietnam from which its founders hail. This is not the place to discover the very different flavours of Northern Vietnam, but rather a place to delve deep into a particular subset of Vietnamese cuisine, washed down with whatever tipple you've chosen to BYO.
The Vietnamese seafood hotpot brings all the culinary drama to your table – a sizzling amalgam of fresh seafood and vegetables in a spicy and sour soup.
There are now four Mien Tay's scattered across the city – the Hoxton original, Battersea in the South, Fulham in the West and Wood Green to the North.
All four locations are managed by different members of the same family. No matter which site you choose, you can enjoy a variety of traditional dishes from the Mien Tay region of Vietnam.
Saigon Saigon
Unlike on Kingsland Road, you won't find Vietnamese restaurants on every corner of West London. In fact, Saigon Saigon is one of the few options for Vietnamese cuisine in the region.
Luckily for West Londoners, Saigon Saigon is a worthy choice. The menu relies heavily on fresh herbs and crunchy vegetables. As a result, you'll find a variety of contrasting flavours and textures in dishes such as the spicy caramel stewed prawns in a clay pot and seafood with okra and green peppers in a spicy satay sauce.
The menu also changes seasonally, marking Saigon Saigon as a unique Vietnamese culinary experience that's never the same two visits in a row.
The location is also stylish, with modern furniture, dark flooring, and bamboo wall partitions.
Banh Banh
Banh Banh is one of several Vietnamese restaurants that started as a street food outfit before setting up a permanent location. Now it has two – in Peckham and Brixton. Both have made a name for themselves for serving some of the best Vietnamese food in South London.
Stepping inside this fast-casual restaurant, you can't help but notice the modest interior furnished with neutral colours and plywood-clad walls. It's friendly, low-key, and stylish – a cool contrast to some of London's more traditional Vietnamese restaurants.
Try the Banh Khot Pancakes – the house special of turmeric and coconut pancakes filled with prawns, topped with spring onions and the rather magical-sounding prawn dust. Alternatively, head down to Banh Banh for their Meat Free Mondays when veggie and vegan options reign supreme.
Café East
Don't turn your nose up at Café East's handy location on the edge of Surrey Quay's Shopping Centre – this popular restaurant means business and offers a wide selection of excellent-value Vietnamese dishes.
The bustling restaurant started as a street food vendor on Evelyn Street before opening its doors in Surrey Quays in 2008. Since then, it's gone from strength to strength – no doubt thanks to dishes such as their very moreish crispy chicken with salad, pickles and a sweet and spicy fish sauce.
You don't need to be familiar with Vietnamese food to find a suitable dish, as photos represent all items on the menu. Choose from close to 30 menu items, including Vietnamese cuisine staples, fried spring rolls, and grilled pork.
Café East also offers some of the best pho in London. Choose from pho with beef, chicken, or prawns.
Viet Food
Located near the entrance to Chinatown, Viet Food is another trendy choice for Vietnamese food in London.
The hip establishment has an interior inspired by industrial-chic fashions and almost always has dance music pumping from speakers on the walls (but not too loud, mind).
The menu is heavily inspired by Vietnamese street food, but the head chef, Jeff Tan, puts an original spin on all the dishes. We recommend trying the sticky beef with stir-fried French beans. De-freaking-licious.
Tay Do Restaurant
Another stalwart on Kingsland Road, Tay Do has two locations across the street from each other. You can visit the café or the dine-in restaurant.
Both locations offer generous portions, giving you more value for your money. Students and those on a tight budget should enjoy the large bowls of soup and filling meat dishes.
House of Ho
Unlike some of our other family-run recommendations, celebrity chef Ian Pengelley heads up the team at the excellent House of Ho.
Pengelley was previously the executive chef at Gilgamesh and has appeared on several nationally broadcast TV programs, including Good Food Live, Saturday Kitchen, and Celebrity Master Chef.
Ian joined the House of Ho when it moved from Soho (where the talented Bobby Chin had previously run it), helping to establish it as a modern Vietnamese restaurant in a colonial setting in the heart of Fitzrovia.
It's also a top choice for group outings, as it offers a little more seating compared to some of the smaller cafes listed above.
Green Papaya
During our search for the best Vietnamese restaurant in London, we almost overlooked the Green Papaya. You'll be glad we didn't.
It's a family-run restaurant with a long history in Hackney. The main location is on Mare Street and offers a laid-back atmosphere with friendly staff and warm food.
The Green Papaya is primarily a Vietnamese restaurant, but many of the dishes include Xian Chinese influences, resulting in an eclectic menu. You're unlikely to find the same grilled spicy lamb at other establishments.
Sen Viet
King's Cross
Sen Viet is noticeable because it's the only place on the quiet road it sits on that will have a queue turning into a small crowd come dinner time. The food is much sought after for good reason too.
Everything the kitchen makes is authentic and true to the kind of cooking you'd be eating if you actually were in Vietnam. Their pho is excellent but you ought to try a few other dishes from the menu to share – you really can't go wrong.
They also do a pretty decent lunch deal where you can get a banh mi, spring roll (they're sizable) and a drink for £12.
Bánh Mì Hôi-An
Hackney
If it's banh mi you're after, there's a great spot in Hackney that you should check out. Bánh Mì Hội-An specialises in the iconic Vietnamese sandwich, making them fresh with a choice of fillings. You want to go for something of the pork variety – either the char siu or the pork belly.
The bread is made fresh every morning, funnily enough at a Turkish bakery around the corner that has the capacity to deal with the baguette demand at Banh Mi Hoi An. That baguette comes more than generously stuffed and the whole shabang won't break the bank.
You really can't go wrong.
Phat Phuc
Chelsea
One of our favourite Vietnamese restaurants in London, and perhaps one of our favourite places to eat full stop, is Phat Phuc. This spot is tucked into a sunken courtyard in Chelsea, and in spite of having a fancy postcode delivers on flavour and value.
You'll order from the booth in the noodle bar and grab a seat under the gazebo awaiting your food. The laksas are mouth-wateringly good but it's the whole vibe of the place that makes Phat Phuc special.
Catch this place for a meal on a sunny day and you really can't get any better.
Vietnamese Food in London: Practical Tips to Help You Explore
London is home to over 15,000 Vietnamese-born individuals. So it's only natural that the area would offer a variety of places to enjoy authentic Vietnamese cuisine. Still, not all of London's Vietnamese restaurants are created equal – this guide will help you steer clear of the path to disappointment.
Book ahead if you can. It's always best to avoid the disappointment of not getting a table at the place you wanted.
Vietnamese Restaurants in London: Map