Gingerline's Grand Expedition is here, an immersive dining experience in a secret London location. Here's why you need to go.
What's that quote about London? "If a man is tired of London, he's tired of life".
Well, once in a while, you come across something so wonderfully bizarre, eclectic and enjoyable that it really makes you believe that Samuel Johnson, the sage man behind those words, really knew what he was talking about.
I popped down to Gingerline's spectacular Grand Expedition last week for a peek at London's coolest immersive dining experience.
Verdict = incredible.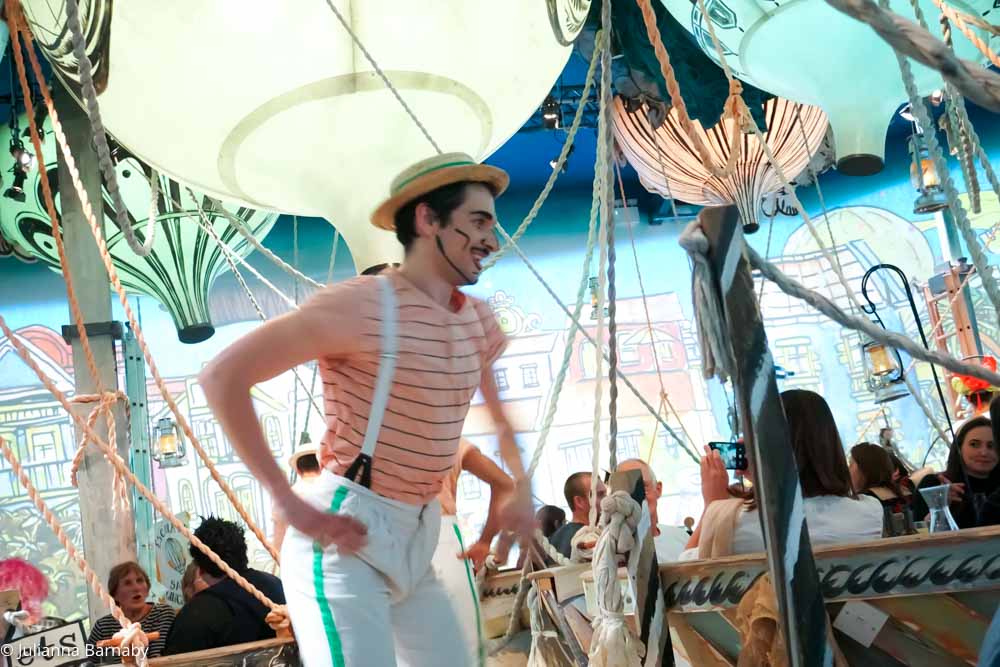 This is not for your bog-standard person who just wants to pop out for a cheeky Nandos and eat their dinner in peace. This is a full on sensory experience – creating a narrative with sights, sounds, smells – with the very food that you eat. It's unconventional in the extreme and one evening that you're unlikely to forget.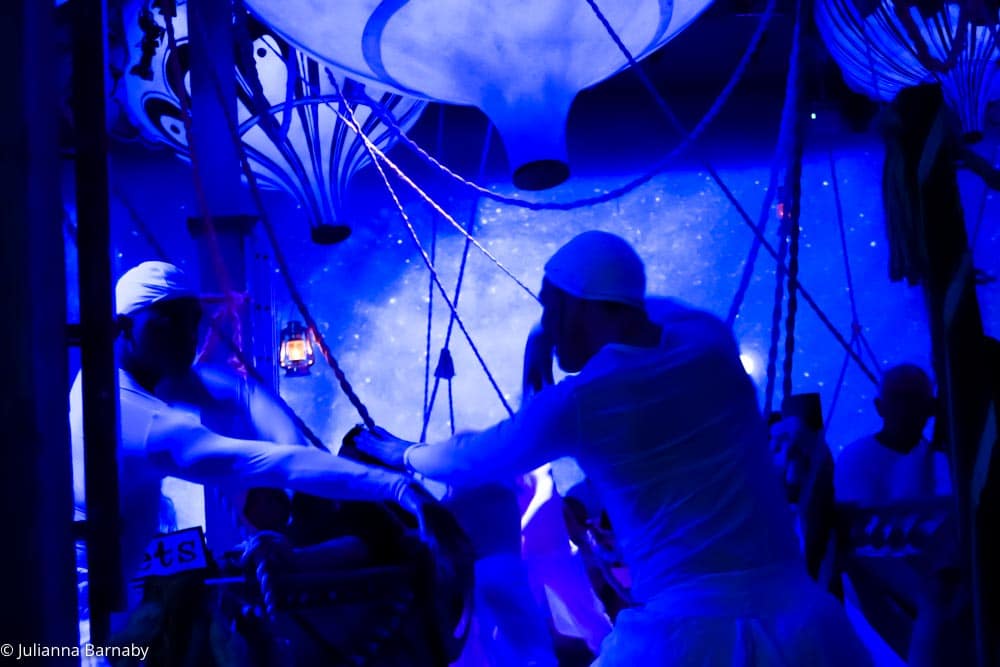 Read Next: Quirky and Unusual Things to do in London
What Makes The Grand Expedition so Special?
First of all there was the buildup. It is "Off the record, on the QT, and very hush-hush," to steal the words of Danny Devito in L.A Confidential.
That means that you're not sent the address until the day of the experience (they do give you a clue that it is somewhere on the northern reaches of the Victoria line though). Text on phone, I made my way to the secret location, unsure of what to expect.
I can't tell you too much. I wouldn't even if I could – the secrecy is, without a doubt, a big part of the fun – and a rarity in these days when you can pretty much live your life third-hand through social media.
I will give you a sneak peek though…
Three hours of a multimedia adventure transporting you away from London and into a magical world with acting, design, dance and just the teeniest bit of interaction from the diners themselves (you have been warned. PS. wear something you can move in). It's like stepping into one of your childhood storybooks, but with a lot more laughter and alcohol.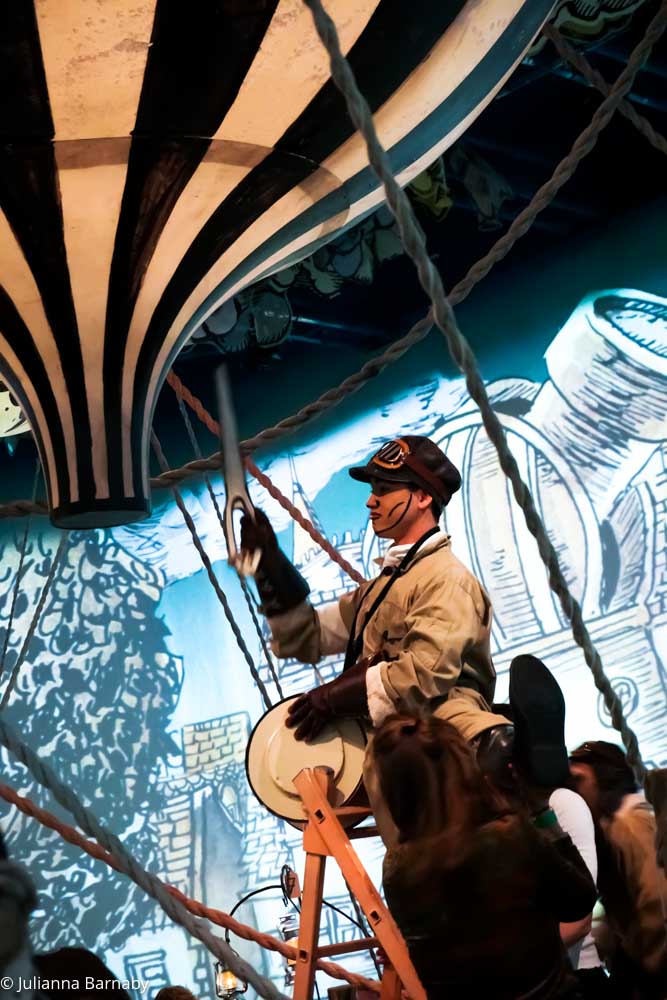 The five (five!) course meal was a real eye-opener. Again, I don't want to go too heavy on the detail here but it was a gastronomic feast – picking dishes from around the world and adding extra flair.
Whoever dreamed up the menu certainly knows their way around the flavour palate – daring to be adventurous and pulling off a meal of the kind of quality you will struggle to find elsewhere.
What's more, each course came out with perfect timing – almost like clockwork and in stark contrast to the deliberate madness of the show.
So… Have Gingerline Pulled it Off?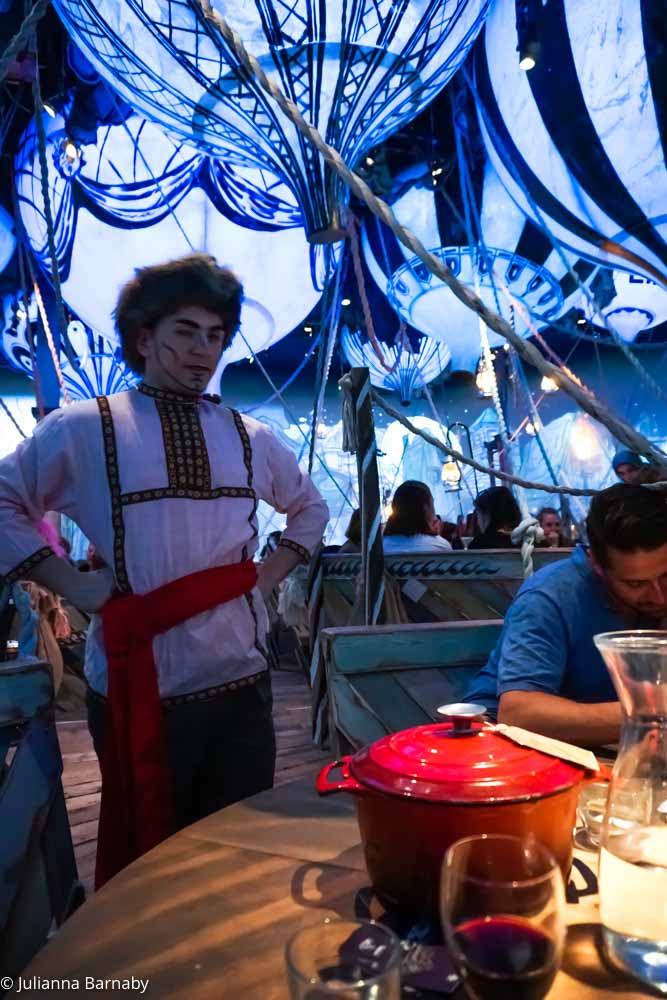 Yes! The evening may have all of the elements of a dream but my full stomach and snaps told me that it had been all too real. And for that, I am heartily glad.
Gingerline's Grand Expedition: Practical Information
How Did Gingerline Come About?
Gingerline is the brainchild of two adventure-loving gourmands, Suzannah Montfort and Kerry Adamson who decided to create a sensational and offbeat immersive London supper club eight years ago. The rest is history. Together, Gingerline has put on some of London's most talked-about dining experiences including the very cool Chambers of Flavour.
Booking and More Information About Gingerline's Grand Expedition
For tickets, go to www.thegrandexpedition.co.uk/tickets
Prices range from £60 – £75 for general seating, £55-75 for group seating and £60 for matinee seating. Includes five courses and a welcome drink.