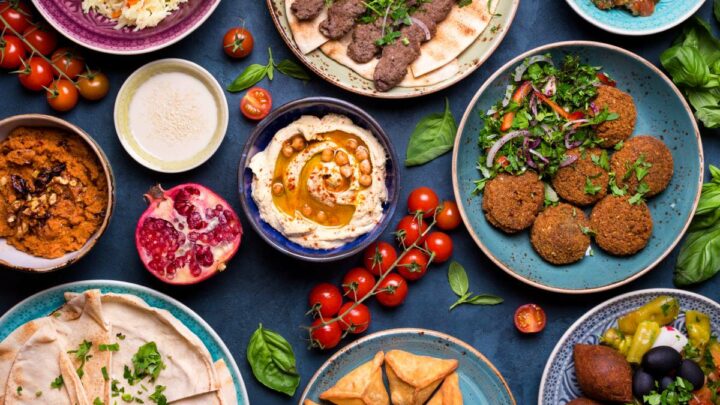 Looking for the best Turkish restaurants in London? Forget Istanbul, London is filled with plenty of fabulous Turkish spots serving up mouthwatering dishes.
While there are many cool and quirky restaurants in London for you to try, these eateries boast some of the best Turkish food in London.
The country's nickname is the 'land of four seasons' – and, fortunately, this refers to its weather and not the abundance of spices and recipes that have been perfected over thousands of years.
So, if your Turkish cuisine knowledge limits you to baklava and kebabs, it might be time to branch out to the nine best Turkish London restaurants.
Best Turkish Restaurants in London
The Counter
Notting Hill
The Counter is probably our favourite of London's many Turkish restaurants – and we say that with a lot of love in our hearts for the others in this guide. It's not as traditional as the others either.
The chefs push the boundaries of what Turkish food can offer, adding chocolate to babaganoush (incredible), putting that live-fire grill to seriously good use and just generally turning out food that will impress.
The same can be said for the drinks. The Counter has a fantastic menu of cocktails, the signature drinks of which use Turkish ingredients to create something very creative, but also somehow comfortingly familiar.
Read More: Dining At: The Counter – The Full Review
E Mono
Kentish Town
E Mono is a Kentish Town local with a cult following from all over London. We're not ashamed to admit we've missioned across the city late at night on more than one occasion just to get our fix of what they've got on offer.
That's a good selection of kebabs, shawarma and meze. The place itself isn't fancy. Just a few chairs in a long, thin room and your standard kebab shop counter, but what they serve really shines.
They have a rivalry with another London restaurant that pinched their name, one that's been used on this spot for 150 years. It's a bit like Highlander: There can be only one. We can safely say these guys are the kings.
Zahter
Soho
Looking for Turkish restaurants in central London? There aren't many better than Zahter. This Carnaby Street joint does some seriously good cooking, much of it done over hot coals and in a pizza oven.
The result is some of the finest flatbread in the city, and some excellent grilled dishes. While you might be tempted to order a kebab (you wouldn't be wrong), you should also consider eating the fish they do – whole catches of the day grilled to perfection and drizzled with a house-made chimichurri sauce.
The baklava is also to die for.
Read More: Dining At: Zahter, Soho's Top Turkish Kitchen
Atesh
Atesh is one of the best restaurants on Croydon's High Street, fusing traditional recipes with a modern touch – and doing so exceptionally well.
It has a contemporary design filled with exposed brick, black metal and sophisticated chandeliers complimented by dim lighting.
Atmosphere aside, the food is equally excellent. This Turkish restaurant in south London offers a varied menu of traditional dishes with modern plating.
While all of their dishes are amazing, we recommend that you opt for their mezze platters to share with the table for various dishes – of which, the chicken shish always go down well.
Gökyüzü
Waltham Forest
Gokyuzu is a Turkish restaurant in north London that's open seven days a week until late.
It's a family restaurant that serves traditional food from their own grandmother's kitchen – so expect fresh and chargrilled dishes like slow-cooked meats and vegetable mezze platters.
A traditional Kahvalti or Turkish breakfast is an integral part of the day… and that's why Gökyüzü serves it every day with homemade wood-fired bread from 8 am to 4 pm. Pair this with Turkish tea or coffee, and you're ready to face the day ahead.
We think that it might just be the best Turkish restaurant north London boasts.
Mangal 2
Dalston
Among all of the brown and grey buildings in the Dalston area in East London, you'll find the royal blue doors of Mangal 2. This burst of colour is a welcomed introduction to the burst of flavours you'll get from this family-owned restaurant.
This restaurant offers a Turkish menu but modernises it and tweaks it to fit a western palate. This means you'll find dishes like Italian bottarga and Turkish kofte on the menu, alongside some of Turkey's more obscure cooking.
This is an excellent restaurant for anyone less adventurous who's looking to dip their toes into Mediterranean cuisine – the rib of retired dairy cow being a delicious case in point – We will say though, portions are tiny and prices high. Approach with caution.
Black Axe Mangal
Islington
After the pandemic lockdowns, this hip restaurant reopened with a new tongue-in-cheek name. It is also known as F.K.A.B.A.M (Formerly Known As Black Axe Mangal).
Whichever name you know this spot by, we can all agree that Black Axe Mangal is one of the best Turkish restaurants in north London in terms of atmosphere and food.
Expect loud rock music blasting from the speakers and quirky twists on Turkish flavours, like the delicious squid ink flatbread. Though, if the flame grilled pork collar makes its way onto the menu, you better order it.
Note: Their menu changes every Saturday, so keep an eye on their Instagram page for updates.
Kibele
Westminster
Turkey has a large population of Muslim residents, which means there are a few halal Turkish restaurants in London.
If you're in the Westminster area, stop by Kibele for a bite (or two) to eat. They offer traditional lunch and dinners with an inclusive vegan, vegetarian, and gluten-free menu. We particularly love the spicy chicken skewers, served with rice and salad.
This is one of the best Turkish restaurants in central London and also has a lounge on the lower ground floor. Here, you'll be able to dine with a backdrop of Turkish dancers, musicians, singers, and DJs.
Kervan Sofrasi Restaurant
Multiple Locations in North London
Looking for the best Turkish breakfast London has to offer? You'll find this small Turkish restaurant chain in Wood Green, South Gate, Church Street, and Edmonton – and each of Kervan Sofrasi's locations is decorated with industrial-themed walls and dotted with plants.
The restaurant is one of the few places to order a truly authentic Turkish breakfast in London. They offer a set menu and complimentary tea, bagels (acma), and Turkish menemen for tables of two or more.
If you arrive after breakfast, don't worry about it. To satisfy your hunger, they still have a long list of meals like soups, stews, seafood, wraps, and grilled meats.
Yeni
While it's nice to eat at a quaint, family-owned place, sometimes you want to go all out and splash at a high-end bistro. If that is the case, dust off your jewels and book a table at Yeni — the best Michelin-star Turkish restaurant London boasts.
Despite the top quality food, the restaurant has a laid-back feel spanning two floors. It is an independent Turkish restaurant in Soho with an ever-changing menu, so you'll always have a reason to come back.
Though, the manti beef dumplings and duck breast sharing platters are reason enough.
The chef cooks meals over an open fire and uses fresh local ingredients to create award-winning dishes – we adore the spiced lamb, served with Turkish borozan mushrooms.
Ev Restaurant
Southwark
Ev Restaurant has the feel of a luxury Turkish restaurant in London while still at a manageable price – not to mention that they offer a 10% discount for theatregoers.
This Turkish restaurant near London Bridge serves a fusion of Turkish and Mediterranean dishes and is perfect for your next date night. The lamb kofte with bulgur wheat and salad, and the grilled salmon with veggies are two of our top recommendations.
While their main dishes are primarily meat, their mezzes, soups, and sides are mostly vegetarian – and some of the best Turkish food London has.
Antepliler
Green Lanes
There's a stretch of London known as the Green Lanes that's home to some of the best Turkish restaurants in London – and heaps of them all in one place. Arguably the best of that bunch (if it's not Gökyüzü) is Antepliler.
The place takes up a sizable chunk of the block with a restaurant one one side and a cafe on the other. You'll want to make the most of what both have to offer. Pretty much anything coming off the restaurant's grill is excellent, and once you're done make sure you order the baklava.
Perhaps even swing by the cafe section to pick some up for home.
Practical Tips for Visiting the Top Turkish Restaurants in London
Before you eat, your waiter might say "Afiyet olsun" (pronounced Ahh-fee-et Ol-son). Consider this the Turkish version of "Bon appetit." Simply thank them before digging in.
While there aren't many sit-down Turkish restaurants in West London, there are many kebab shops. There are many Turkish restaurants near Covent Garden and other areas of central London.
The best area for Turkish food is the Green Lanes. It's basically got it all, and many of them are excellent. Antepliler and Gökyüzü are just two of them. It's worth branching out and being adventurous up there, you might stumble upon something amazing.
Keep in mind that some restaurants will add a 10-12.5% service charge to their bills.
Turkish Restaurant London: Map
Discover More Brilliant Dining Spots in London