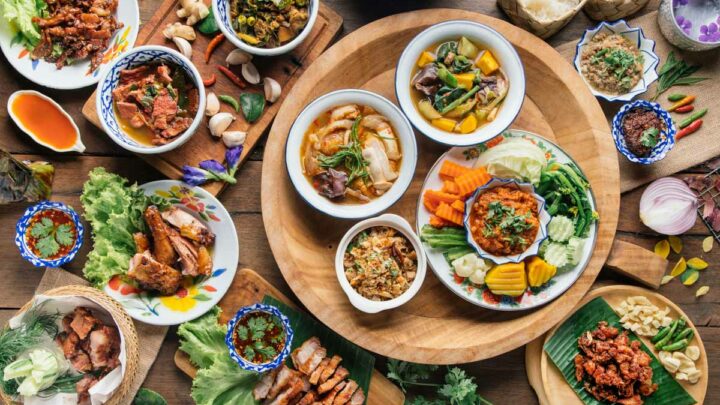 When it comes to Thai restaurants, London has a lot to offer.
While the city's Thai food scene hasn't always gotten as much recognition as it's deserved, Londoners have woken up to the fact that there are some banging places to feast on the punchy flavours of Thai food. Add to that a new wave of contemporary Thai restaurants and you'll start to see what the fuss is about.
Looking for the best Thai restaurants in London? Here are the eateries you shouldn't miss.
Price guide:
£ – Under £15 for a meal
££ – Between £15-£25 for a meal
£££ – Over £25 for a meal
Best Thai Restaurants in London
Mantanah
South Norwood
£- ££
If you're looking for local-style Thai food, then Mantanah is the place to go. This small, intimate restaurant in South Norwood prides itself in cooking delicious, traditional dishes packed with flavour.
While South London has done its very best to keep Mantanah a secret – the word is slowly getting out (slowly being the operative word – it's been there for yonks).
Like all authentic Thai restaurants, Mantanah doesn't just serve Thai food: the menu is subdivided by region to accurately reflect the wide differences in cuisine across the country.
Some of their signature dishes include Ped Ma Kharm (sweet & sour roasted duck with spring onion, shallots and dry chillies) and Phad Woon Sen (stir-fried glass noodles with pork or chicken, vegetables, sesame seeds and eggs).
And on those cold wintery nights when you aren't in the mood to brave the cold, Mantanah deliver within a 3-mile distance. What more could you ask for?
Smoking Goat
Shoreditch
££
Smoking Goat is a popular choice amongst the city's Thai food enthusiasts (of which there are many). Creating authentic Thai meals with a little twist and the freshest ingredients, it's easy to see why people come back for more.
The dark exposed brick walls, and overall relaxed atmosphere and good music, make this trendy eatery a popular spot to head out for an evening with friends.
While customers give mixed reviews about the service, the overall consensus is that this Thai restaurant in east London is an excellent spot for exploring the flavours of Thai cuisine – just don't expect it to be that quick.
Som Saa
Spitalfields
£££
For food that ignites fireworks on your tastebuds, look no further than Som Saa. Forging the tricky path from a pop up to a popular restaurant, nab a spot and settle down for an unforgettable culinary treat.
The chefs behind the venture – Mark Dobbie and Andy Oliver – trained at the much-mourned now departed Nahm with David Thompson and clearly picked up a thing or two about making stellar Thai food while they were in his kitchen.
Forget about flavourless Thai green curries touted in so many local takeaways, this is the place to go for in-your-face flavour (accompanied, we might add by a take no prisoners helping of chilli). Go for some of the best Thai food in the city.
Busaba Eathai
Soho and several other locations
£- ££
Busaba Eathai started serving its delectable Thai dishes back in 1999. It's still one of our favourite eateries and continues to attract queues of hungry customers.
Guided by its ethos of "Sookjai," this Thai restaurant in Soho, London, prides itself on delivering only the most authentic experiences. You certainly won't feel like you're in the heart of London once you find yourself seated at the table, surrounded by Oriental decor and have a steaming bowl of curry in front of you.
If Soho isn't a hop-skip-and-a-jump away, don't worry! This successful enterprise boasts around ten restaurants throughout central London.
Mango Tree
Belgravia
££
For the ultimate Thai fine dining London experience, look no further than Mango Tree located in Belgravia.
This swanky Thai restaurant in west London puts an innovative spin on traditional Thai recipes. Tuck into aromatic dishes such as sea bass paired with pineapple, onion and a sweet, sour and ever so slightly spicy sauce.
They must be doing something right – Mango Tree has been serving London for over twenty years. Oh, and did we mention that Mango Tree is one of the few halal Thai restaurants in London?
Rosa's Thai Cafe
Multiple locations
£
Since its official opening in 2008, Rosa's Thai Cafe has only gone from strength to strength. What started as a street food stall in London's East End has grown into a franchise.
You can enjoy Rosa's mouthwatering Thai dishes across its several locations. So whether you're looking for Thai restaurants in southwest London or even north London, you'll find a Rosa's eatery waiting for you.
Each restaurant possesses its own unique character and serves the tastiest Thai food. The meals here are all created by shareholder and chef, Saiphin. Her inspiration comes from traditional family recipes as well as cuisines from destinations she's visited.
This, coupled with her passion for food, easily translates into contemporary, succulent Thai dishes that will leave you hungry for more.
Honey marinated pork skewers, cashew stir-fry and red pineapple curry are just a few of the meals to tuck into.
Rosa's has its own range of Thai-inspired products, like chilli oil and satay sauce. So you can easily take a souvenir home and try to recreate your favourite meal yourself.
Champor Champor
London Bridge
££-£££
With a name that translates into 'mix and match', this Thai restaurant in London Bridge certainly has a name to match the cultures – Thai and Malaysian – that inspire its menu.
The cultural fusion doesn't end in the kitchen either. The interior features eclectic decor, and a funky selection of international music, making for a unique vibe.
One of the interesting items to sample at Champor Champor includes pan-fried red snapper with a sambal sauce and squid-ink linguine. If coming to a Thai restaurant is already enough of a push outside your culinary comfort zone, then signature dishes like the beef sirloin steak are sure to satisfy those tastebuds.
Kiln
Soho
££
Utilising fresh produce and traditional cooking methods – on the grid over piping hot coals – this Thai restaurant in central London creates some of the most incredible, rustic dishes.
The best part is that the kitchen is entirely open so that you can watch all the heated action from your seat. This, accompanied by vibey music, creates a sociable, cosy atmosphere.
Kiln remains a favourite for Thai food and is always bustling with hungry patrons, so book a table in advance. However, you can only make reservations for groups.
Farang
Highbury
££
This Thai restaurant in north London offers patrons another mind-boggling infusion of culture, although the cultural mix hasn't found its way to the kitchen (yet).
At Farang, you'll get to dine on sumptuous Thai meals whilst taking in the Italian-style dining area. That's right; this Thai restaurant is housed inside a trattoria.
One of the innovative Thai dishes to try out here is the seabass paired with a coconut and chilli jam or the smoked vegetables accompanied by kohlrabi and crispy onion. However, one of the best things to do at Farang is the tasting session.
While this will set you back a hefty £65 per person, you'll get to sample 8 different courses – now that's the way to try Thai food.
Practical Tips for Eating in London's Thai Restaurants
The Thai food scene has become a sought after one in London in recent years. Now, if you're looking to experience authentic, international cuisines, you should make sure you know your stuff.
Thai food is generally only eaten using chopsticks, and in some cases, a spoon and fork. If you're eating with the latter, be sure to hold the spoon in your left hand.
The type of food you get in Thailand depends on the region you find yourself in. Neighbouring countries such as Laos, Burma and China influence Northern Thai food. It contains different vegetables and herbs compared to foods found in the South.
Southern Thailand is known for its spicy, flavourful food. Bordering Malaysia and Java, this region isn't lacking in the chilli department.
Some of the top Thai dishes to try include:
Pad Thai (Stir-fried noodles)
Tom Yum Goong (Hot & Sour Shrimp Soup)
Kaeng Lueang (Yellow Curry)
Gaeng Daeng (Red Curry)
Gaeng Keow Wan Gai (Green Curry)
Khao Soi (Thai Coconut Curry Noodle Soup)
Khao Pad (Thai Fried Rice)
Pad Kra Pao Moo (Stir-Fried Thai Basil & Pork)
Laab (Spicy Salad)
Khao Niao Mamuang (Sticky Mango Rice)
Thai Restaurants in London: Map
Looking for More London Food Guides?