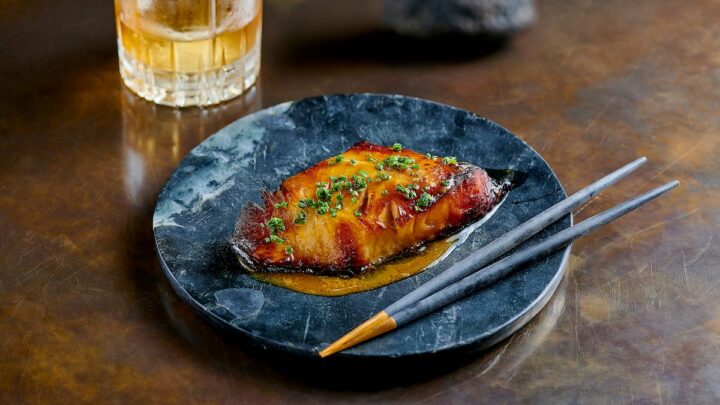 Hunting for the very best Peruvian restaurant in London? Don't fret – this guide will walk you through very best spots to dine out Peruvian-style.
Peru's cuisine is a melange of flavours – in no small part due to its heritage. Throughout the centuries, Spanish, Italian, and Japanese immigrants came to the country's shores, started making their national dishes with indigenous ingredients and changing Peru's culinary scene in the process.
From toothsome ceviche dishes to deliciously tender meat, it's little wonder that London's love for Peruvian food runs deep.
Ready to discover the very best spots for Peruvian food in London? Let's dig in.
Best Peruvian Restaurants in London
Chicama
One of central London's best Peruvian restaurants, Chicamama was an instant hit with the city's diners. This chic and cosy joint specialises in seafood dishes inspired by the coastal cuisine of Peru – and we are huge fans.
Find a spot on Chicama's plant-filled outside terrace to enjoy a fresh fish cooked on the grill. Alternatively, tuck into a seafood platter with friends along with some iconic Peruvian cocktails – at £95, it's a pricey option, but you'll get the likes of grilled prawns, octopus, squid, scallops, and sea bass to share (or not share, depending on how you're feeling).
The restaurant is open for lunch, dinner, and drinks, or you can pop in for a tasty brunch over the weekend.
Pachamama
The Pachamama Bar & Kitchen boasts two delightful eateries: Pachamama Marylebone and Pachamama East.
The first focuses on a modern Peruvian dining experience. You can try various plates made for sharing, along with top-tier drinks at the Pisco bar.
The Peruvian restaurant in Shoreditch opts for a more serene atmosphere and explores the fusion between Chinese and Peruvian cuisine, with dishes like miso-glazed seabass and Sichuan fried chicken in an atacama sauce.
Insider's tip: people have been known to rave about the weekend brunch waffles – which comes topped with decadent Peruvian chocolate and a quinoa ice cream.
Sushisamba
Covent Garden & City of London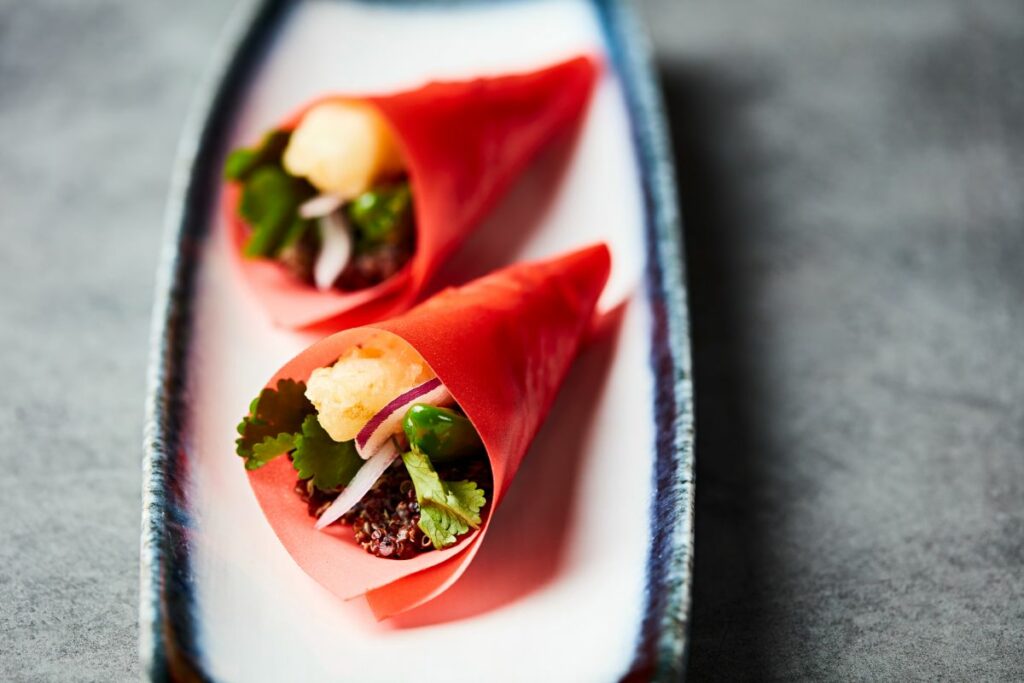 Possibly the best fusion restaurant you'll find in the city, the vibrant Sushisamba blends cuisine from Japan, Brazil and Peru for a unique dining experience.
You can visit their exquisitely decorated Peruvian restaurants in the City of London or in Covent Garden. Their menu ranges as wide as the cultures they draw from, and you can feast on flavoursome beef, seafood, and veggie dishes.
We've frequented their restaurants more times than we can count – which means that we've eaten a fair amount of the menu. Our top picks include the Lobster taquito and the tender wagyu gyoza.
Pssst… You'll also be supporting a greater cause, as Sushisamba partners with Cool Earth to help save the rainforests. We love.
Ceviche
Fill your Peruvian cuisine cravings at the Ceviche restaurant in London, open seven days a week for lunch and dinner and bursting with some of the best Peruvian food London has to offer.
As their name promises, the ceviche here is delicious – it's certainly the top ceviche restaurant London boasts. Try the classic offering, filled with sea bass, avocado, amarillo chilli tiger's milk, limo chilli, sweet potato, and red onion. There is also an excellent selection of street food and vegetarian dishes to try.
This is not only a great place to taste Peruvian food, but also a restaurant overflowing with the spirit of Peru—from the decor and the soundtrack to the energy of the servers. Bring your friends and find a spot inside, at the bar, or outside to enjoy the restaurant's upbeat vibe.
Andina
Spitalfields
Sister restaurant to Ceviche, Andina had to close its doors during the pandemic. However, the new Peruvian restaurant in London is back and better than ever, brightening the lives of residents in Spitalfields. And those who make the trek across London to visit (i.e us).
Enjoy delectable dishes made for sharing in their bright and airy space. Or, head to the downstairs bar for some late-night snacks and a wide array of Pisco sours.
Their menu options are similar to those of Ceviche, with plenty of dishes swimming in tiger's milk. They also cater for vegetarian, vegan, and gluten-conscious diners.
Lima
Fitzrovia & Covent Garden
Lima offers you a top-class Peruvian London experience, with two stunning locations to choose from.
The restaurant in Fitzrovia boasts numerous awards, including a Michelin star, for its colourful menu. The chefs combine iconic Peruvian ingredients with fresh British produce to create a modern tasting experience – take the heritage tomato ceviche, for example.
Lima Floral in Covent Garden offers an equally tasty menu, and hosts the lively The Lost Alpaca bar. Pop in here for excellent drinks and Peruvian snacks. Expect foot-tapping Latin American music played live every Tuesday, Thursday, and Sunday.
COYA
If you're looking for a totally immersive encounter, then this Peruvian restaurant in the capital is the place to be. From the Inca-inspired decor on the walls to the Latin beats of live music, COYA creates a South American experience for all the senses.
Their chefs experiment with traditional Peruvian dishes to bring you an innovative menu—delicious, although a bit on the pricey side. We think that the wagyu brisket with truffle and rocket is the star of the show here, though their variety of ceviches are equally impressive.
Also, don't miss out on grabbing a drink at their fully-stocked Pisco bar.
Monmouth Kitchen
Covent Garden
For an elegant dining experience, make a reservation at this Peruvian restaurant in London's Covent Garden area. The Monmouth Kitchen creates Peruvian and Italian small dishes to enjoy in a serene, contemporary setting.
Dine al fresco on the lovely outdoor terrace, or celebrate a special occasion seated around a stylish marble table inside.
Their fine wines and signature cocktails complement the food perfectly. They also offer a specialised vegan menu with more delicious dishes to try—how does an avocado and corn salad with blackberry dressing sound? Pretty darn delicious, we think.
Tierra Peru
It doesn't get more authentic than Tierra Peru, a restaurant run by two brothers who grew up in central Peru. They've been sharing their culinary delights with Londoners for over ten years—at rather affordable prices too.
Taste your way through their spicy ceviche starters and traditional Peruvian main meals all the way to dessert. If you want something different from the usual Pisco, why not try a fruity Inca Kola—it's a popular soda that originated in Peru.
Chotto Matte
Soho & Marylebone
Chotto Matte is an innovative Japanese-Peruvian restaurant in Soho and Marylebone. This culinary combination, known as Nikkei cuisine, is fast becoming a sensation in Europe.
Here you can taste the very best of this vibrant and artistically presented cuisine. Pair it with delicious new cocktails, like a Nikkei Negroni, crafted by expert mixologists.
Food-wise, opt for the lychee ceviche (tiger milk, chive oil, sweet potato, Peruvian corn, coriander) and the braised beef from the robata grill, and you won't be disappointed.
Practical Tips for Visiting London's Peruvian Restaurants
Peruvians love their chillies, so look carefully at a dish's ingredients if you're not a fan of spicy foods. Don't fret—there will be plenty of other menu options for you to try.
Eat like a real Peruvian and add rice to your dishes—even the ones that already have plenty of starches.
A traditional Peruvian meal always includes starters (piqueos) and dessert, so be sure to bring your appetite when you visit a restaurant.
Peruvian Restaurant London: Map
Peruvian Restaurants in London: Discover More Foodie Guides