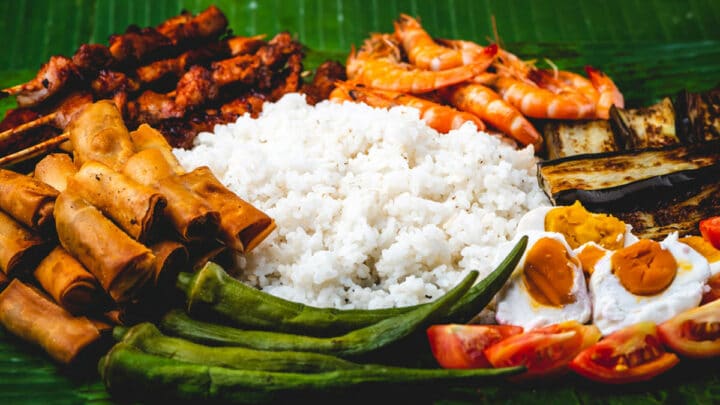 Discover the best Filipino restaurants in London with this handy guide. Here are 10 incredible spots to get your adobo fix.
Words by John Rogers
London is blessed with an abundance of global cuisine, and steamrolling its way to the very forefront in recent years are the delights of the Philippines.
Filipino food is perfect for anyone looking for food packed with flavour but without the punch of too much spice. Instead, it fuses influences from China, Thailand, and Spain to produce some of the most mouth-watering dishes you'll ever try.
Ready to discover the best Filipino restaurants in London…
Best Filipino Restaurants in London
Bongbongs Manila Kanteen
£
Bong Bongs Manila Kanteen is part of the vast Seven Dials food court in the heart of Covent Garden.
It was set up by BBQ Dreamz after the company won £350,000 on BBC2's My Million Pound Menu (a TV show here in the UK). They soon scrapped the name in favour of its current one – Bongbong being the name of ex-president Imelda Marcos' son – for a much greater hint about the outstanding Filipino-infused street food they serve.
From rice boxes for less than £15 to pancakes filled with either 24hr Sous Vide Crispy Pork or vegan-friendly Sizzling Sisig Mushrooms, the only thing to match the taste sensation is the satisfaction your tummy will feel after tucking into the vast portions on offer.
For what it's worth, the Longanisa Sausage rice box is our dinner of choice, topped off with a Calamansi Tom Collins cocktail on the side.
Kasa and Kin
££
Kasa and Kin unashamedly focus on the three F's – Family, Fiesta, and Food – with their family-run Soho restaurant.
In addition to their incredible restaurant and bar, which provides some of the most authentic Filipino flavours found anywhere in the heart of town, we love their genuine Filipino bakery and imaginative im'bento boxes to take away.
We don't mind admitting the Beef Kare Kare seduced us – a sumptuous, melt-in-your-mouth slow-braised beef cooked in peanut sauce accompanied by annatto and sauteed shrimp paste, roast bone marrow, aubergine, green beans, and pak choi. Drool!
For vegans, the Vegetable Adobo – an intoxicating combination of butternut squash, carrots, okra, baby aubergine, pak choi, Padron peppers, chilli, spring onions, and green beans all cooked in soy sauce, garlic and cane vinegar looked, smelt and tasted incredible.
Romulo
££
Romulo Cafe & Restaurant, situated on Kensington High Street, is a cosyeatery in the heart of this West London.
Visually striking with its signature lime green contrasting beautifully with the stripped-back mahogany and white decor, Romulo has stuck to its guns and remained firmly family-owned, despite several approaches from interested franchisers.
Consequently, the quality of their food remains undiluted, and we're mighty pleased by that!
The Dingley-Dell truffled pork belly adobo, slow-cooked in the traditional mix of soy, garlic, and cane vinegar, also comes with a scent of black truffle. The result? Luxurious elegance on a plate.
Bintang
£
Bintang Restaurant is hidden in the heart of Camden Town and is well worth hunting out. One of the area's best-kept culinary secrets for more than three decades, the prices at this gorgeous restaurant will have you coming back again and again and again.
The stunning small sliders pack the tasty punch of a succulent main, while the actual main meals bring the sights, sounds, and flavour of the best Filipino food to this vibrant North London suburb.
The Chef's specials are worth investigating here with the Beef Sisig, a sizzling plate of brined beef brisket, chicken chicharrones served with onion, chilli, lime, and an egg, among the best dishes we've experienced anywhere. Add a side of Fried Potato Salad with Quesong Puti, and you can thank us later.
Room for more? Head to Mamasons Dirty Ice Cream around the corner and grab some Bilog – ice cream-filled toasted Pandesal. You will not go home disappointed.
Rapsa @ 100 Hoxton
£££
Rapsa @ 100 Hoxton is where head chef Francis Puyat displays his culinary knowledge to produce food, often fish, using liquid fire from citrus or vinegar, a method known as kinilaw.
Kinilaw is applied to poke bowls, served with rice, daikon, avocado, and a generous drizzling of sriracha mayo, and is all the tastier for it. We also have a not-so-secret love of their Lumpia Spring rolls, which include atchara papaya pickle wrapped around pork. Yum!
The real treat at this East London dream restaurant is their Boodle Fight evenings, which take place on the last Sunday of each month between 5 and 8 pm.
Choose from the Meat boodle, the Meat & Fish Boodle, or the Vegan Boodle Fight, each priced between £20 and £30 per person.
Each boodle is a massive platter of different dishes for you to share. It's the perfect way to end any weekend with a chilled social catch-up with friends before the slow grind of work returns while enjoying incredible authentic Filipino grub.
Mama's Kubo
Finchley Road
£
Mama's Kubo, which means "Mama's hut," is led by husband and wife team Rommel Bustarde and Claudine Bleza and located on Finchley Road in North-West London.
The food comes prepared with all the love you'd expect, and as you step inside the charming boutique restaurant, you've immediately been transported thousands of miles to South-East Asia.
There's something to suit every imaginable taste, but if we had to recommend a dish, we'd go with their Sinigang every time. A traditional broth containing fish or prawns (you can choose!), made in a tamarind soup base packed with healthy radishes, leeks, onions, celery, tomatoes, pak choi, and french beans.
Grab a vegetable, pork, or prawn lumpia starter, too, if nothing else, to sample their dreamy chilli pineapple sauce.
Kuya Fernando
Southall
££
Don't be fooled when you enter Kuya Fernando in Southall. This restaurant doubles as a Filipino grocery store and is one of the best Filipino eateries in West London.
From snacks, which include excellent Chicken or Pork Siopao, through starters that include the fragrant and mildly spicy treat of Aroskaldo (ginger-infused rice with fried chicken), and into the mains, where we were lucky enough to choose the Pork Lechon Kawali.
We say lucky, because the flavours and textures of this slow-roasted pork belly, complete with the perfect crispy crackling, garlic rice, and dreamy lechon sauce, is a dish not to be missed.
Cirilo Filipino Kainan
Whitechapel
££
Located in the East End's Whitechapel district, Cirilo Filipino Kainan is a delight, whether you're looking for something quick and well-priced for lunch or a more leisurely dinnertime delight.
We love their light Pancit Bihon noodle dishes, packed with vegetables, flavour, and your choice of chicken, beef, or vegetable base. On the main course menu, we firmly recommend the Kaldereta, which consists of thin slices of beef rump with potatoes, carrots, onion, gherkin, and olives, flavoured with ginger, soy, pineapple, and tangy tomato salsa.
Grab a starter, main, and side for around £20, and enjoy the finest Filipino food London has to offer.
Kamayan Sa
Earls Court
££
Kamayan Sa is situated in the trendy West London neighbourhood of Earls Court and is firmly established as one of the favourite restaurants for locals and tourists in the area.
One taste of their authentic Filipino food is enough to see why.
Alongside their fantastic range of starters, noodle dishes, traditional curries, and mains are their daily Boodle Fights, priced at just £15.99 per person for a minimum of four persons. Each boodle comes packed with your choice of starters, four entrees, and sides of jasmine rice, salad, and free soup.
If you're eating a la carte, we urge you to try the Bulalo, a beef shank with bone marrow served in a fragrant, wonderfully tasty clear soup. Another treat is their Crispy Pata, crip, and crunchy fried pork knuckle, but if we had a gun pointed at our heads, we'd go with the Bulalo. Just!
Filishack
£
If you're in South East London and want to try something different, Filishack and their take on Filipino street food is the place to head.
Located in Peckham Square, Filishack offers three sizes of rice boxes, two sizes of Burrito, and two sizes of salad boxes. Enough for any hungry visitor.
Choose your filling (we went for the Chicken Inasal, unmatched anywhere in our opinion!), salad, and sauce, and you're ready to chow down. A tasty AF meal with change from a tenner – unless you choose the biggest rice box, that is.
Practical Tips for Exploring the Best Filipino Restaurants in London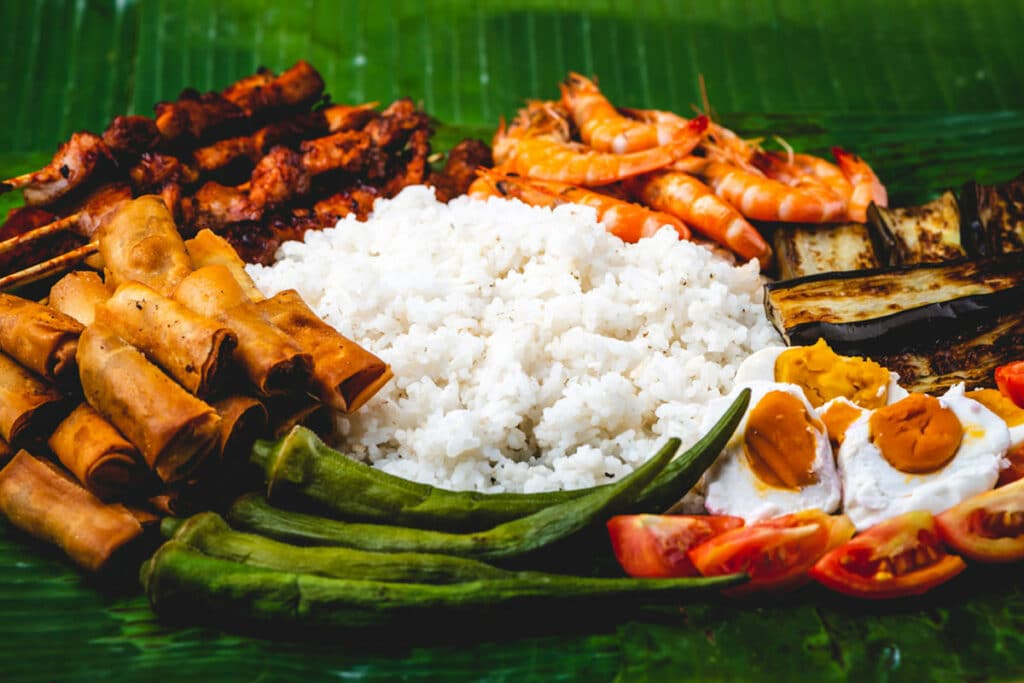 Be brave and try new things! Popular dishes include the infamous Adobo, Lumpia, Kare Kare, Sinigang, Bulalo, and Lechon. Filipino food isn't usually too spicy, and has a variety of flavours and influences from China, Spain, and Thailand.
Filipino food is becoming ever-more popular with Londoners, and with every dish packed with subtle flavours and alluring aromas, it's easy to see why.
If Filipino food is tantalising your taste buds, we recommend booking before turning up on the off-chance that tables might be available. We'd hate for you to go home disappointed.
All restaurants do their best to mark allergens on their menus, but if in doubt, don't be afraid to ask. Hospitality is a Filipino speciality, and your waiting staff will only be too happy to help guide you through the menu.
Filipino Restaurants in London: Map